Adulting started for me by setting up autopay on my utility bills in lieu of waiting for 17 emails and texts from Dominion Energy firmly reminding me that my payment was due. It progressed by me adopting a ridiculously overpriced skincare routine, going to the gym before work (thanks to copious amounts of instant coffee), and folding clothes in lieu of wearing them straight from the dryer. Call it a low bar, but these were not regular pillars of my lifestyle until more recently.
However, the peak of adulting for me at this point is having commissioned my own piece of art. Doesn't that verb just sound impressive?? For me art previously meant downloading a $7 print from Etsy and getting it printed on the least expensive paper at Staples, but like most things in life, you get what you pay for, and it certainly was adding minimal aesthetic value to our home.
Recognizing I needed to level-up my game, I did an Expert consult with Brian Paquette (truly the kindest and most helpful designer I've ever met) and he showed me Katrine Hildebrandt, a mixed-media artist based out of Boston. She has a number of available works on Uprise Art (added some of my favorites below), but I needed a custom-shaped piece for the massive blank wall above our bed.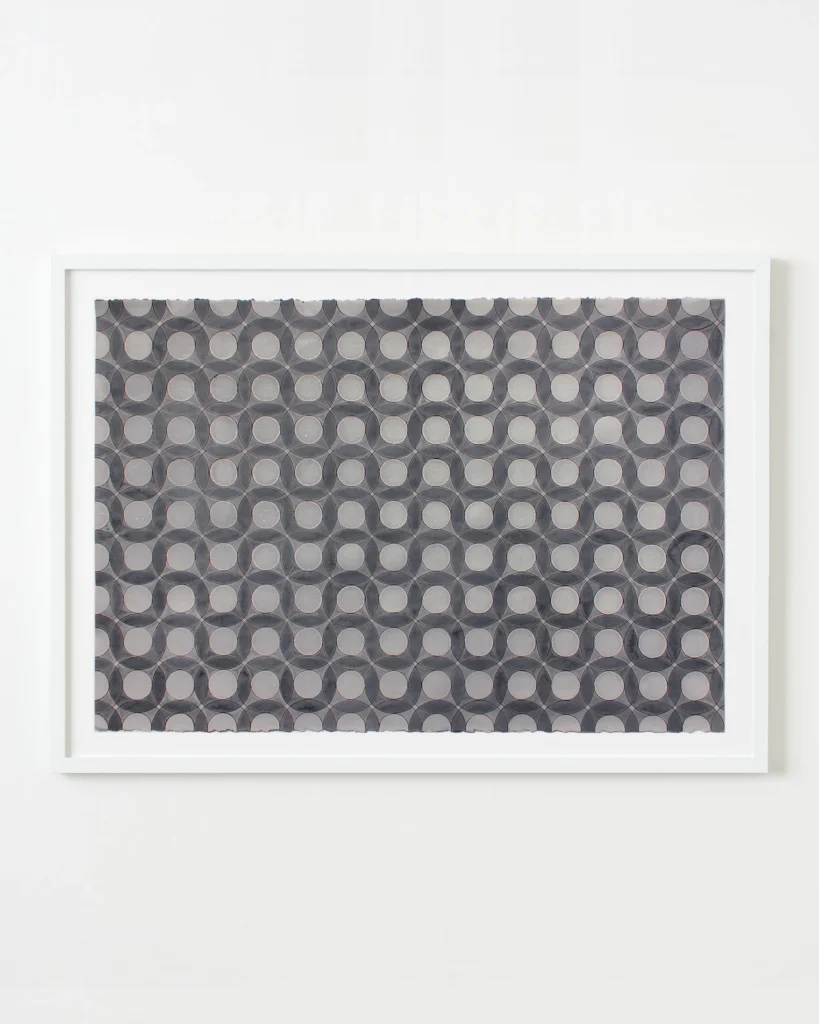 As someone who loves linear and logical things, her work immediately jumped out at me. The patterns were calming and I felt like it would be perfect for our bedroom. I reached out to her and showed her what I liked, the measurements I needed, and sent a 50% deposit prior to her starting.
She drew the work in pencil and sent it to me for approval, then burned the lines into paper. I love the very subtle rust color the burning creates, and feel like it's a soft enough pattern to work in our neutral space. Check our new baby out!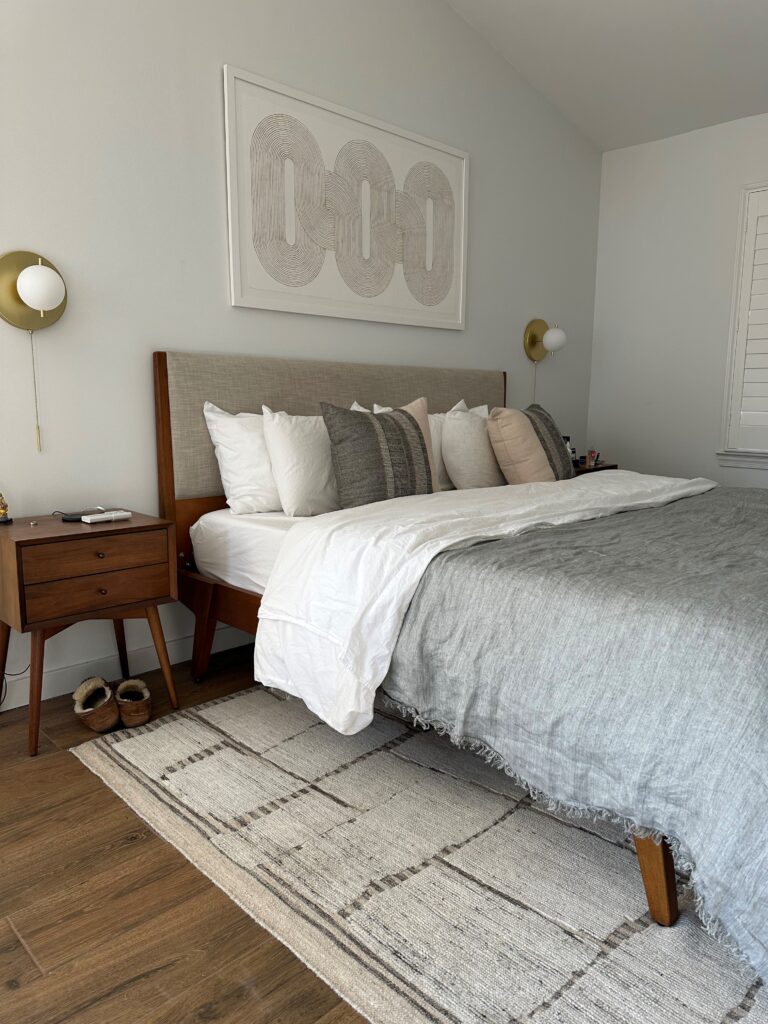 The art arrived perfectly packaged in a tube, but needed to be framed. Cue adulting level 2.0. I had absolutely no idea about what custom framing entailed and only knew of the $30 Target frames of my past. This piece was far too large for a standard frame, so I researched local framing shops.
The first place I visited quoted me the same price as the art for a simple white frame, which earned them a hard no, and took me back to the drawing board. I ended up finding a review that recommended KH Art and Framing on Lee Highway, and miraculously they were 1/3 of the price of my first estimate. I highly recommend them if you're in Northern Virginia.
Katrine thankfully guided me on how to frame the print: float-mounted, white background, simple white frame. This saved me tons of indecision as the options are truly limitless on what you can select. Two weeks later I picked up the beautifully framed art and we hung it in our room.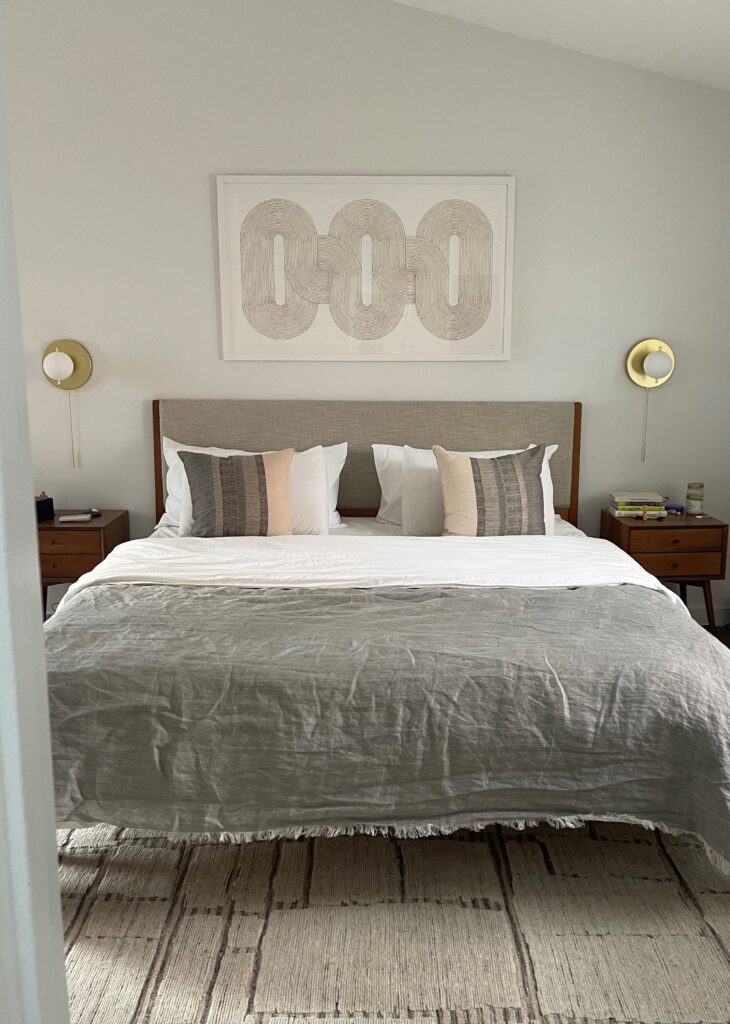 I feel like this is a timeless piece that can stay in our room, or can be flipped vertically to go in a hallway. Unlike bill autopay, I am so excited by this part of adulting and can't wait to continue collecting art for our home. Do you have artists that you love? Please share any in the comments below!