Rishil and I just got back from the most incredible vacation in Spain and while we were there we fell in love with Barcelona. It's an edgier city than Paris or London and far less expensive, which made eating and drinking out (and coming up with this list!) so much fun. While our Spanish didn't improve much, we felt like we got such a good sense of the culture and energy through their food scene.
I know that "essential" is a bold word, but I love these suggestions because they capture so many of the amazing things about Barcelona- two of the top 50 cocktail bars in the world, unbelievable tapas in a place that makes you feel like a local, churros that are what dreams are made of, and a 150-year old Barcelonian bakery with a classic pastry that would put American donuts to shame.
We're dying to go back as soon as we can, but until then I'll be living through this list, and I hope it helps you plan your trip if you end up in this magical city.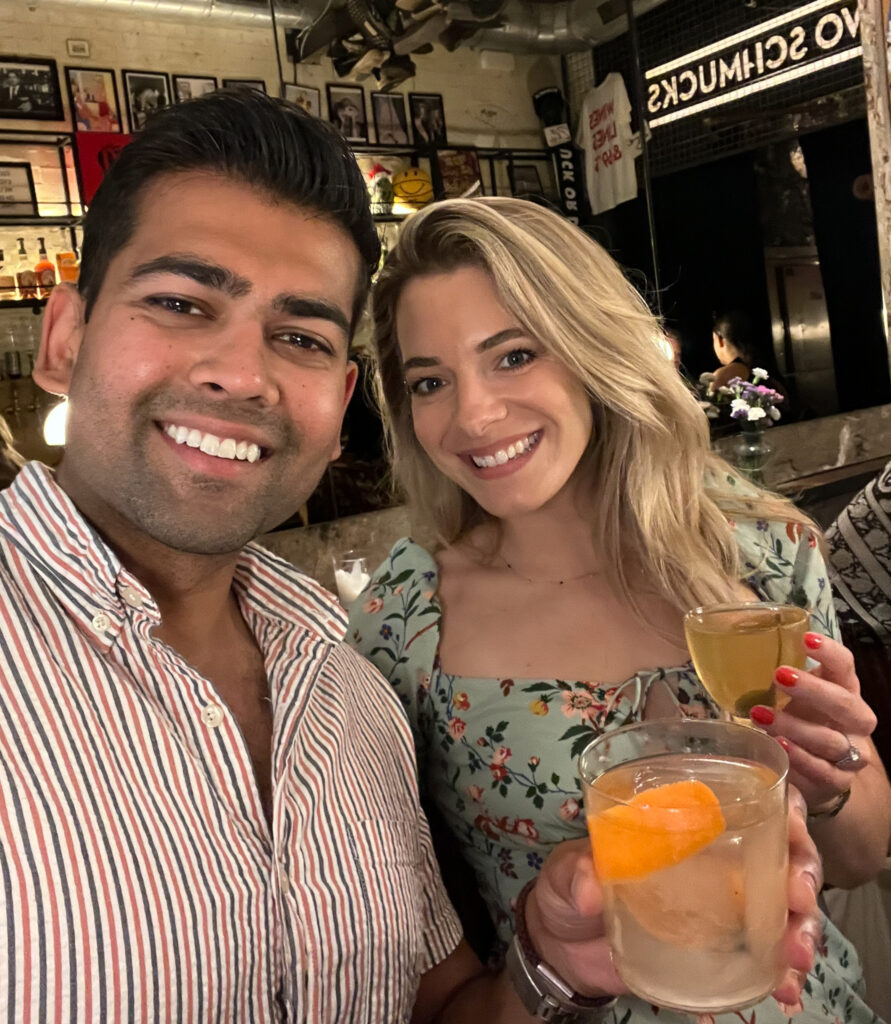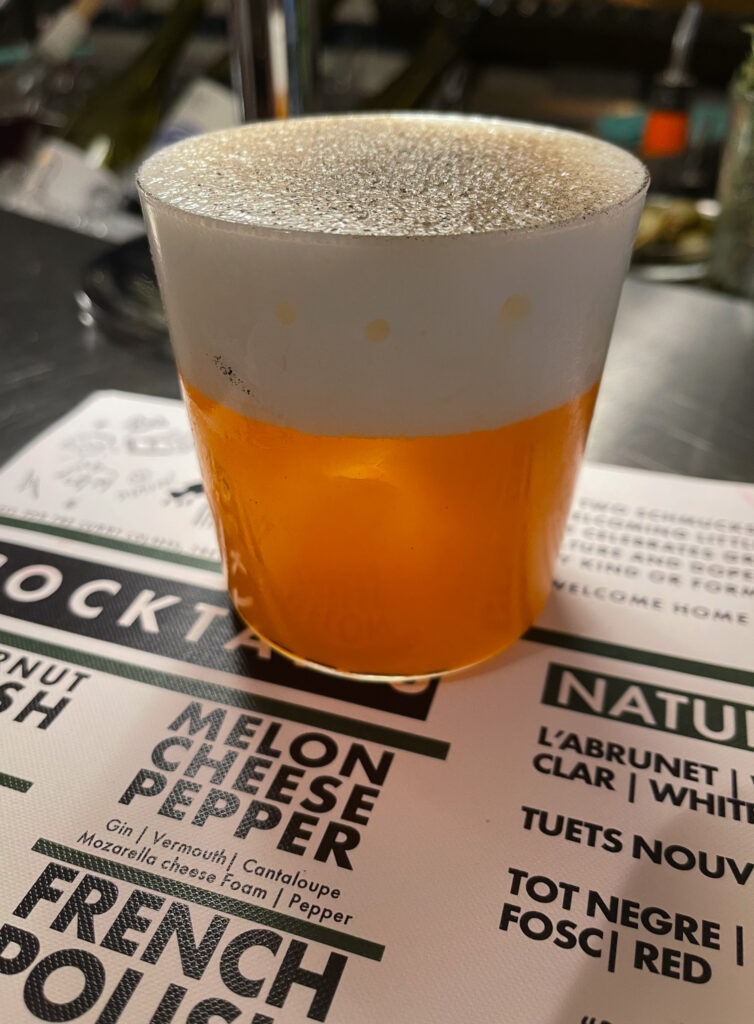 Two Shumucks was recommended to us by a chef we sat next to at Paradiso (more on that next), and it's now our favorite bar in the world. We've never had cocktails as unique as these- I mean who the heck thinks of a French Onion Soup Manhattan or a cantaloupe-gin cocktail topped with mozzarella foam?!
We had so much fun here that we came back after dinner with friends we met at our paella class to try the remaining drinks that we didn't get to earlier in the day. After trying quite literally every cocktail on their menu, the curry colada is an absolute must. Did I mention these world class cocktails are only 11 euros?!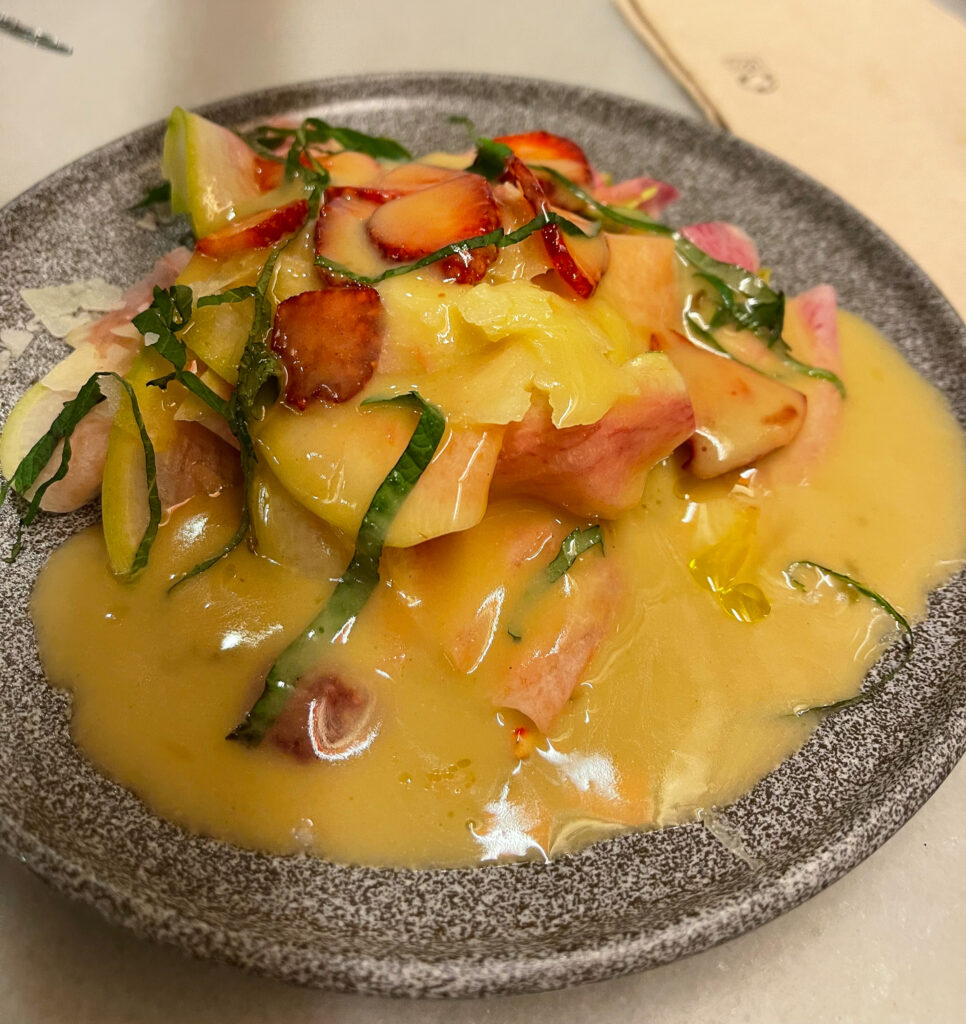 We had our best meal in Barcelona at Bar del Pla. It's an unassuming tapas restaurant that came highly recommended to us that I strongly suggest making a reservation for. If the t-shirts don't get your attention (they say "Fuck Sangria, Drink Natural Wine"), then the wasabi dressing on their famous mushroom salad will.
One of my favorite things to do on a trip is to feel like a local somewhere, and Bar del Pla gave us that. We started chatting with the staff to learn more about natural wine and became instant fans of the clean beverage. We each tried 5 different variations and were hooked- it's biodynamic, lower alcohol, free from sulfites or preservatives, and made in the most natural way possible, meaning the hangover is much much less. We stayed till close trying as much of the food as possible; get the bimi tempura, cannelloni, mushroom salad, and millefeuille dessert. This will forever be one of my most memorable meals that somehow was only $107.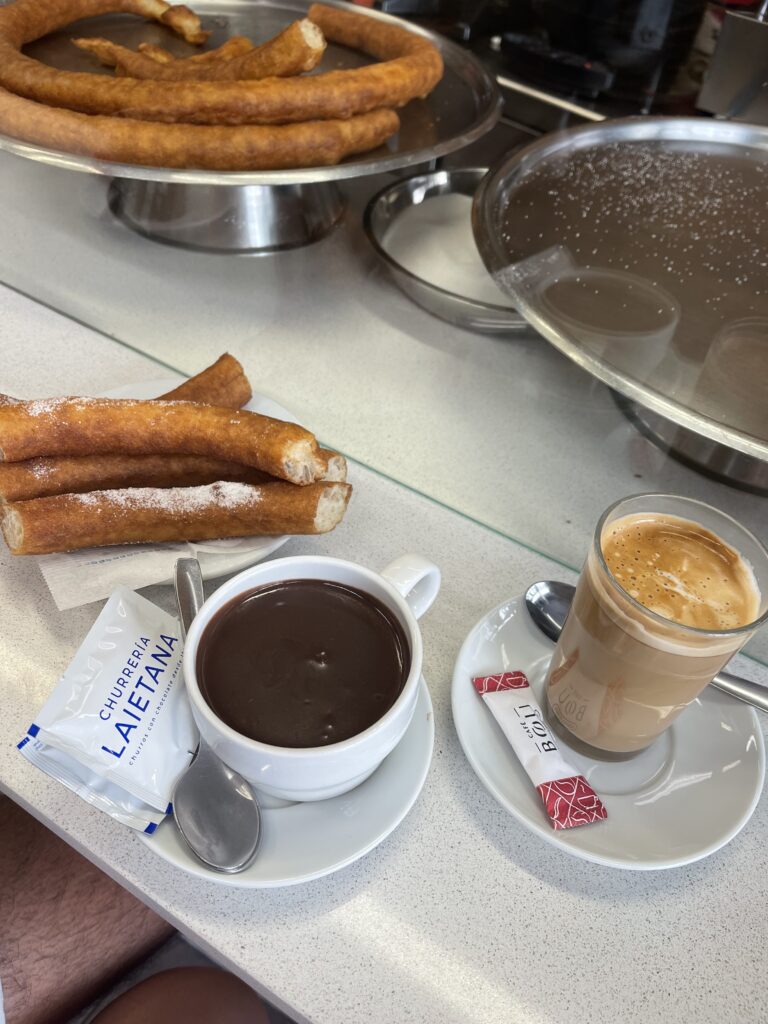 We knew about churros before Spain, but we had never had a porra until Barcelona. This hole in the wall shop was the perfect place to try this delicious fried breakfast. It's thicker and softer than a churro, but light and airy and the perfect vehicle for their luscious hot chocolate. Get a cafe con leche and an order of porras with chocolate and prepare for an unbeatable breakfast.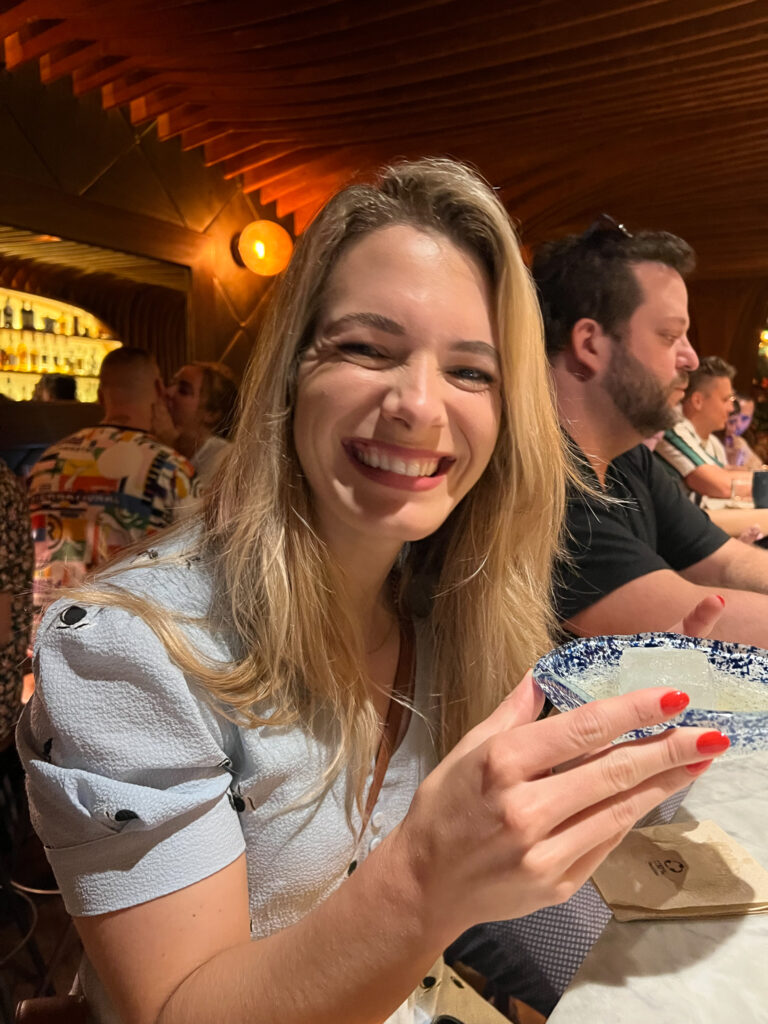 It's no secret that Rishil and I love good cocktails, so when we found out that the 3rd best bar in the world is in Barcelona, we queued up at 4:45 for their 5pm opening.
If you love fanfare and presentation, you can't skip Paradiso. Aside from having wild flavor combinations they have the most unique presentations I've ever seen. I drank a briny sherry-based cocktail out of a glass oyster shell and they turned off the lights in the bar to show Rishil how his lemongrass gin drink glowed in the dark.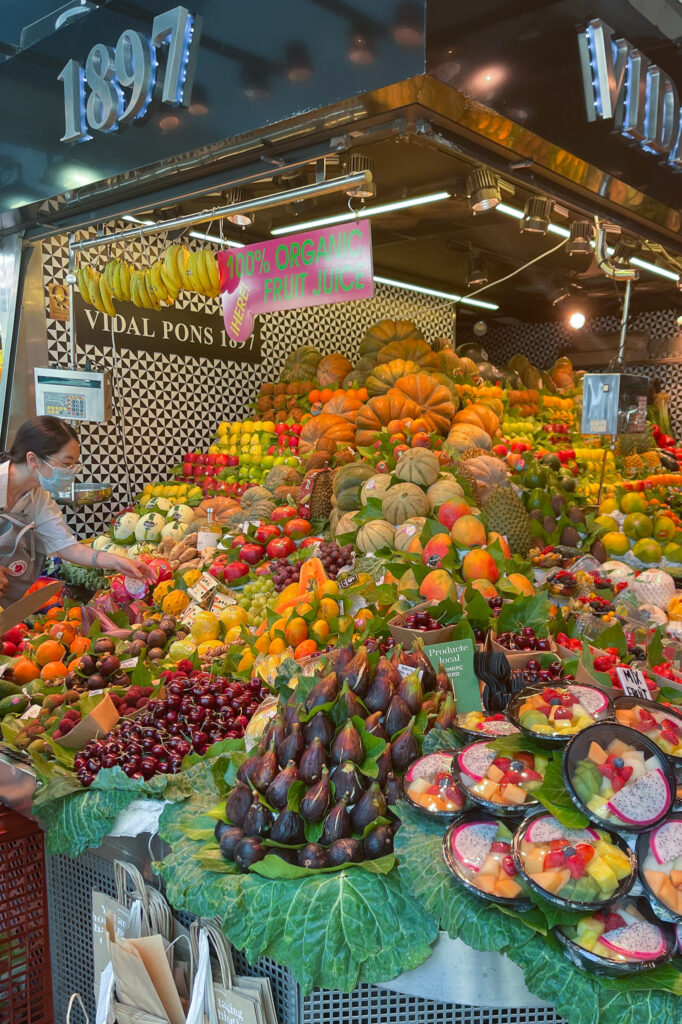 This is one of the highest-rated things to do in the city for a reason, it's truly spectacular and a feast for every sense. Grab a fresh juice from one of the stands and peruse through the market deciding what catches your eye. Our favorite place was a bar counter called Bar Quiosc Modern that served some of the freshest seafood we've experienced.
Razor clams were grilled on a flat top and drizzled with parsley butter, perfect for sopping up with pan con tomate. Get the padron peppers (like shishito) as well as the fried anchovies. You could easily spend half a day here exploring and trying different things, so if you're a foodie please carve out time for this.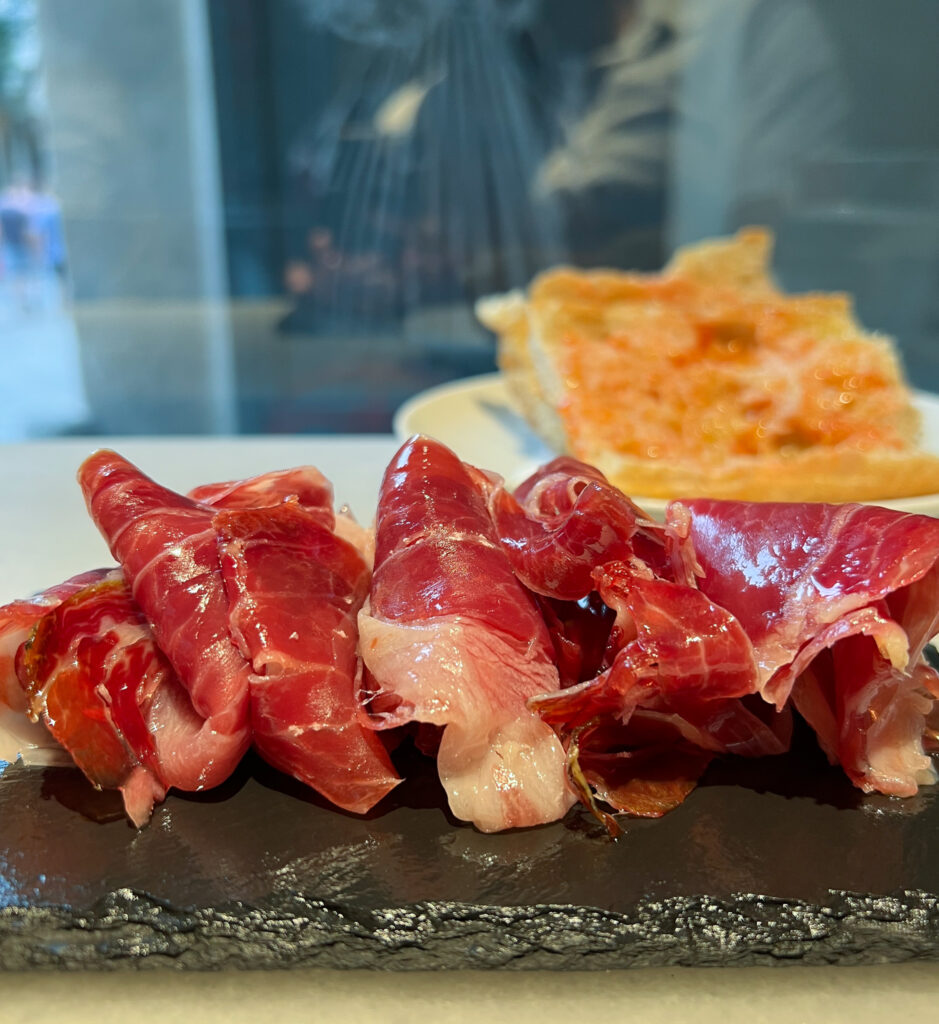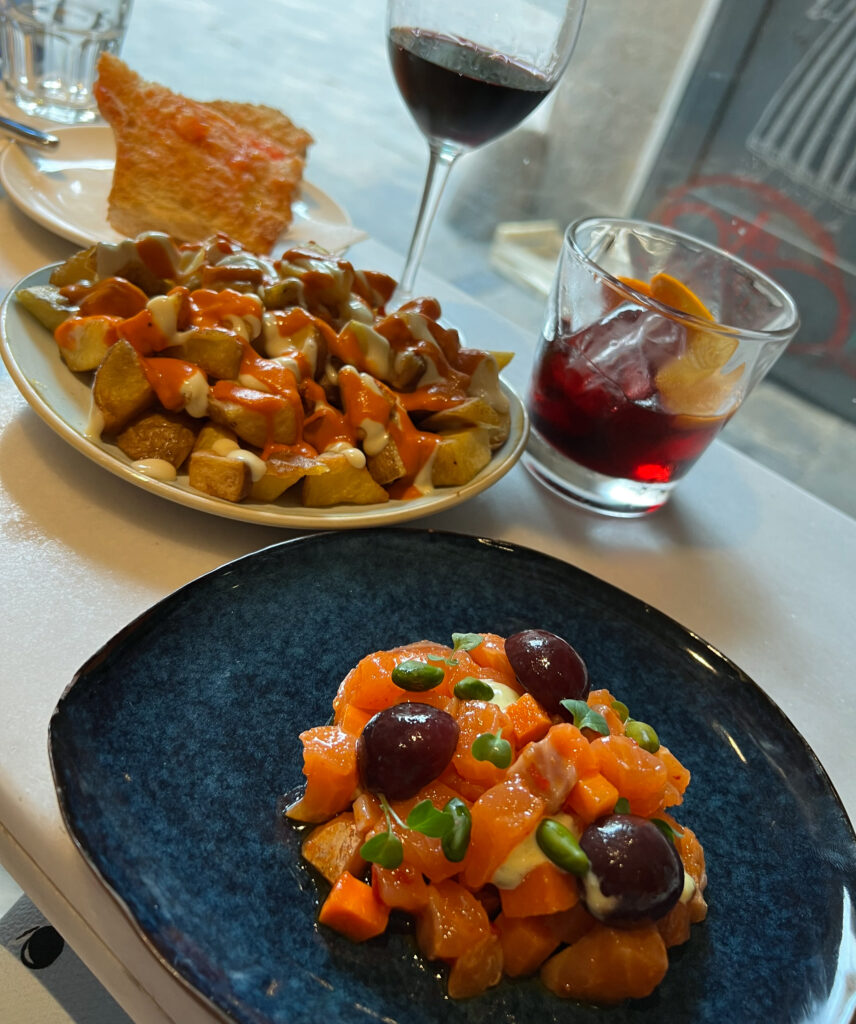 Every time we travel it makes me realize how small the world is. We were in line for Paradiso when Rishil saw someone he met years ago at a bar in Tampa, Florida. After a few minutes of conversation he recommended Orvay for dinner. We didn't make a reservation since it was so spur of the moment (make one if you decide to go) but thankfully since we were eating early by Spain standards, they fit us in.
The salmon tartare was phenomenal, Rishil raved about the Iberian ham, and their homemade vermouth was excellent.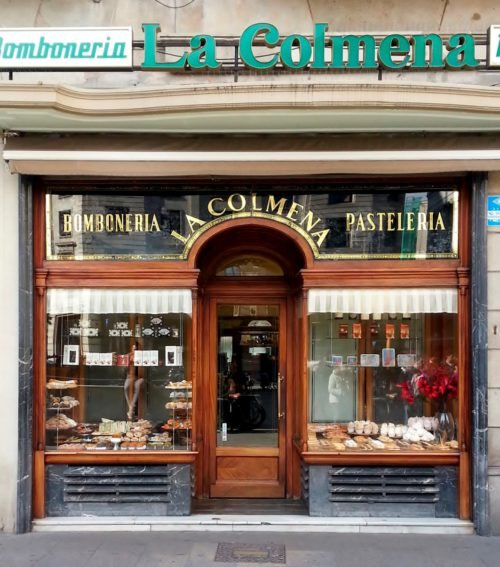 We did a food tour on our trip and while most of the places weren't worth mentioning. La Colmena was unforgettable. We tried something called a Xuxo (pronounced chu cho) which was like a custard stuffed donut scented with cinnamon and orange. It was phenomenal and I cannot stop thinking about it. Please eat one for me, and get some of the unique caramels (they're actually hard candy) to take with you.
And there you have it, 7 places in Barcelona that I would visit again in a heartbeat. Are there any you tried in this amazing city that I may have missed? Please give me a reason to go back!