If you know me, you probably notice that I tend to obsess over things until they're the way I want them, and my office/guest room was certainly no exception. It started from humble beginnings (check out the purple walls below!), and after two years of changing things, I finally feel like it's the haven I've been looking for. This post is primarily on the guest room part of the space, and I'll do a separate post for the office side once my desk is a little neater!
Now, I won't pretend that my ingenuity led to the finished product. I was so excited when I learned about a service called The Expert, that allows you to pick from an unbelievable roster of the top interior designers in the country and schedule a 25 or 55-minute session with them. I have been obsessing over Jean Stoffer Design for the past couple of years, so I immediately decided to go with Jean's daughter and designer, Grace Start.
I prepped for the meeting by making a Power Point showcasing the room, the style of the rest of our home, and previous work JSD has done that I loved (can you tell I'm type A??). When I Zoomed with Grace I immediately knew I was in great hands and I couldn't believe how many helpful tips she provided. Let's talk through some of them, but first can we take a look at this room!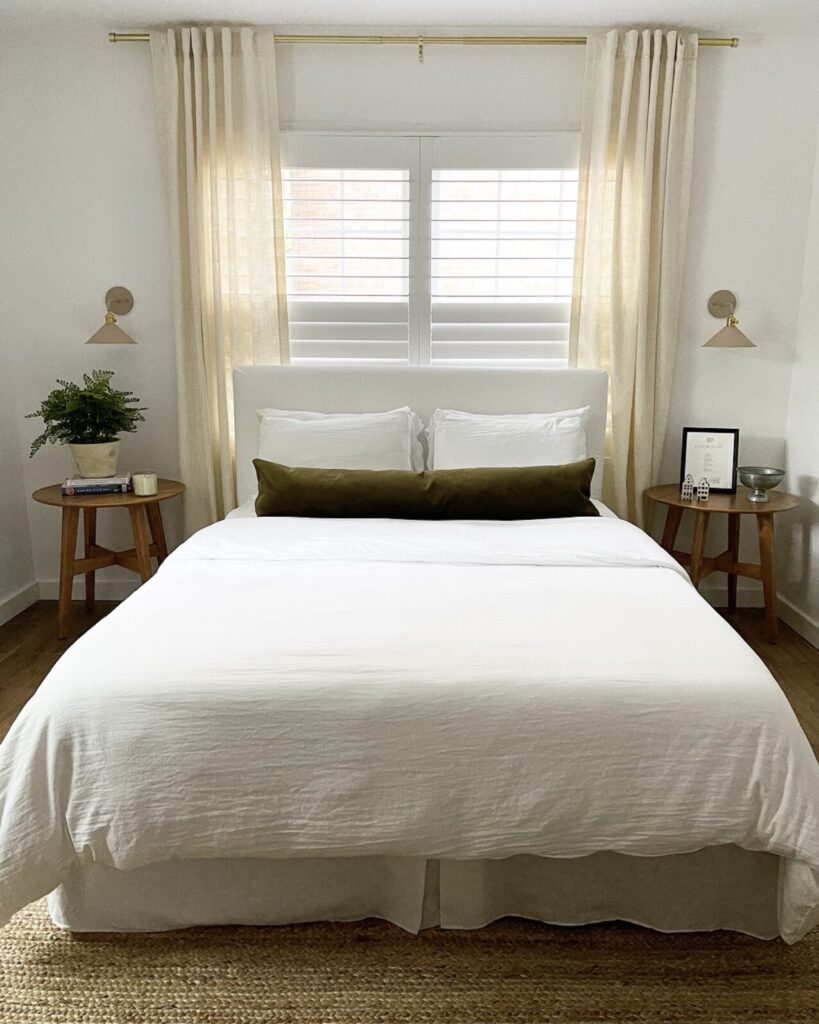 Clearly paint was an issue with the befores. As soon as we moved in we tackled the purple walls and went with a warm grey color. I hung bookcases on either side of the bed to give it more of an office vibe, but in all honesty it just looked cluttered. The channeled headboard and awkward throw pillow also didn't contribute much.
Grace recommended painting the walls white and moving the bookcases to another part of the room. She said round nightstands would be a better fit and more functional for a guest staying the night, and also suggested adding some curtains for softness and texture.
She approved of the rug and the sconces, so we kept those!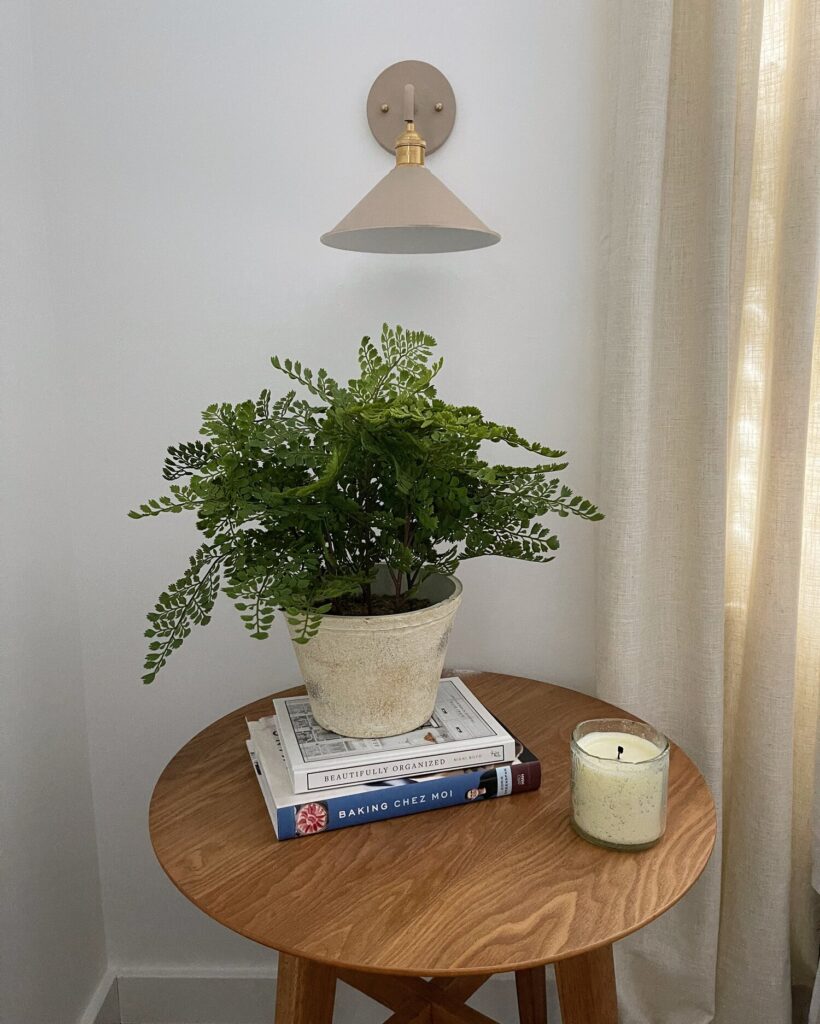 Over the last month I painted (and repainted) the walls a creamy white, bought a white headboard, invested in the most stunning juniper velvet lumbar pillow that completely transformed the bed, and added linen curtains.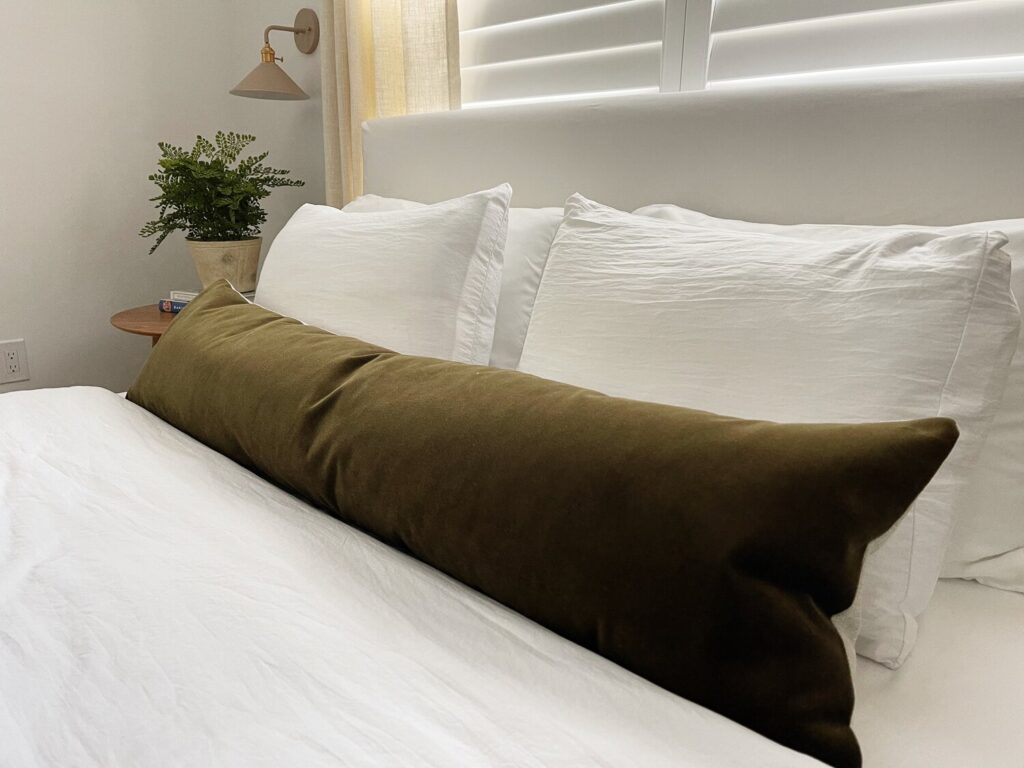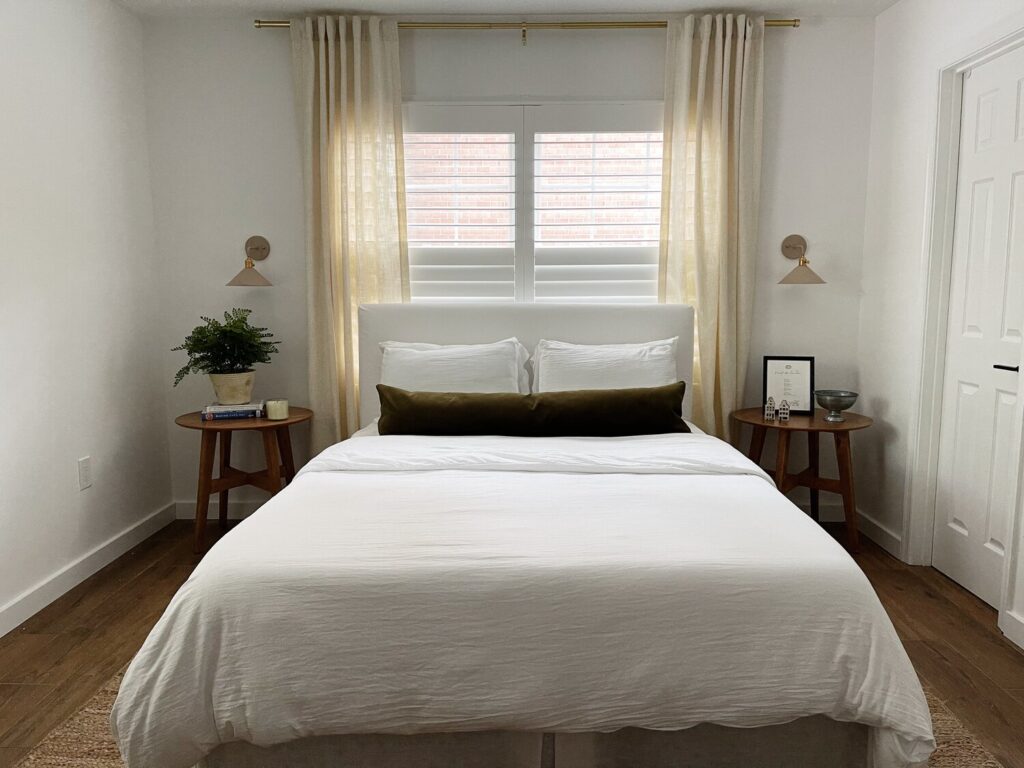 Last night I hung the sconces after a few espresso martinis, and they really pulled everything together! A few of you asked me on Instagram how they turn on since they aren't hardwired, so I included a picture above of the puck light inside the scone that can turn on with a remote.
I'm so happy with how it turned out, and it was a massive relief to turn the room over to a designer and stop overthinking it. I would absolutely use The Expert's service again, and can't recommend Grace enough! What's your favorite part of this new room?
Side Tables (I have the oak which are sold out, but the walnut are in stock)
Paint color: Chantilly Lace by Benjamin Moore