There are a few magical times I'll make something and it'll turn out exceptionally well, and I'll promise myself that if I ever own a restaurant that it will be on the menu. I'm happy to report that this cake was one of those times! I found myself with extra sour cream after a turkey chili night we had on Sunday, as well as a can of pumpkin in the pantry. I was craving a fall dessert and maybe a mid-day cocktail, and thus this stunner was born.
I've heard the term "snacking cake" and I think it refers to a cake that's not too sweet that you can eat at any time of the day. Obviously I'm in full support of this concept and I think, correction, I know that this falls into that category. How do I know? I've cut a tiny sliver off every hour or so just to make sure it's still good. Does anyone else do that??
Anyway, the batter is made up of a ton of liquid ingredients (pumpkin, bourbon, sour cream) that give the cake an incredible dense and moist texture, which goes so well with the crunchy crumbly topping. It looks like a lot of ingredients, but don't be put off, a lot of them are used in both the cake and the streusel and I promise it's worth it! With no further ado, here she is: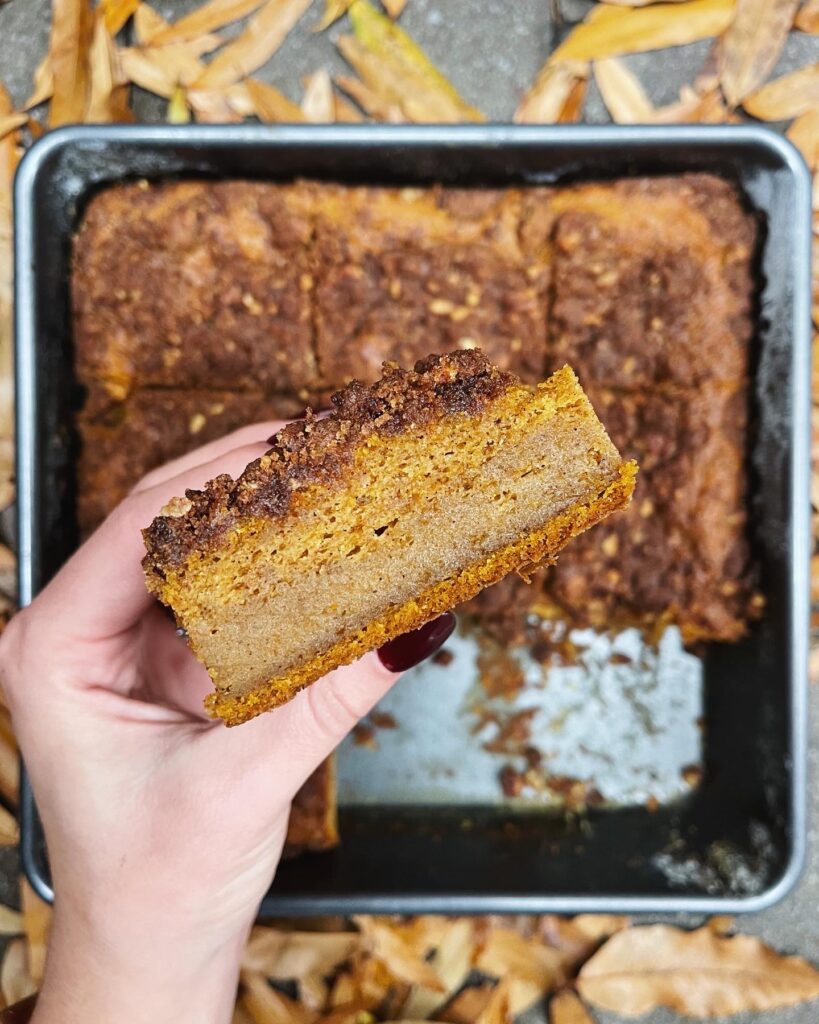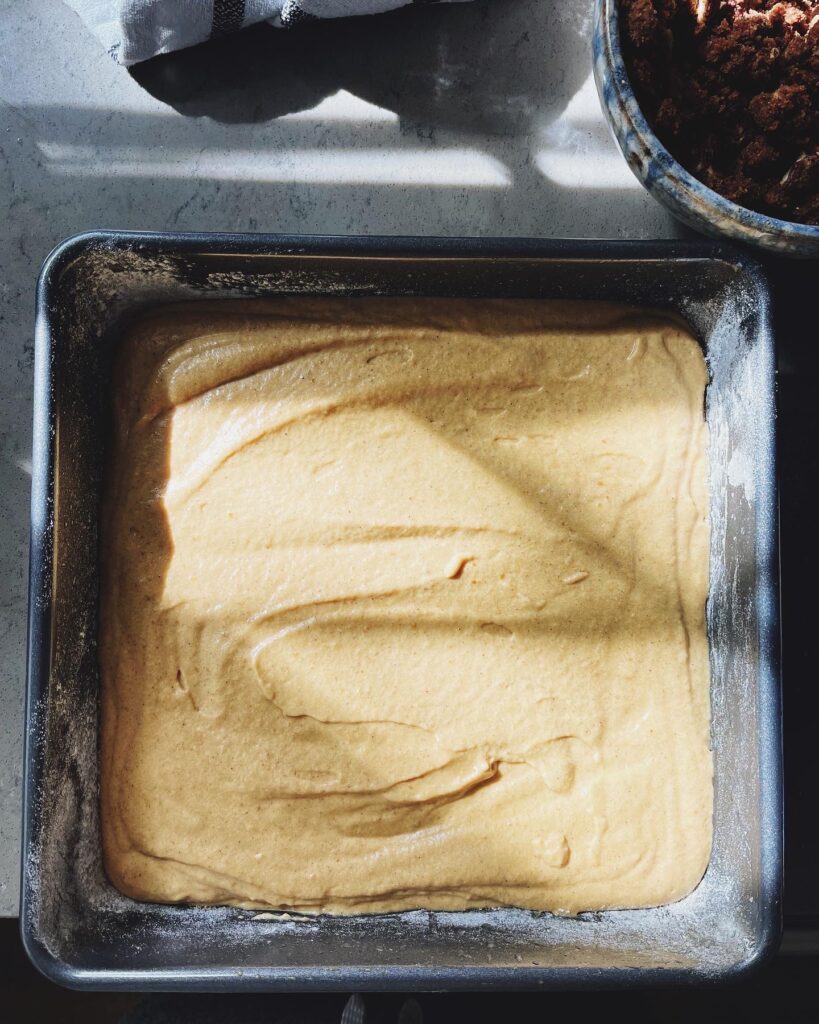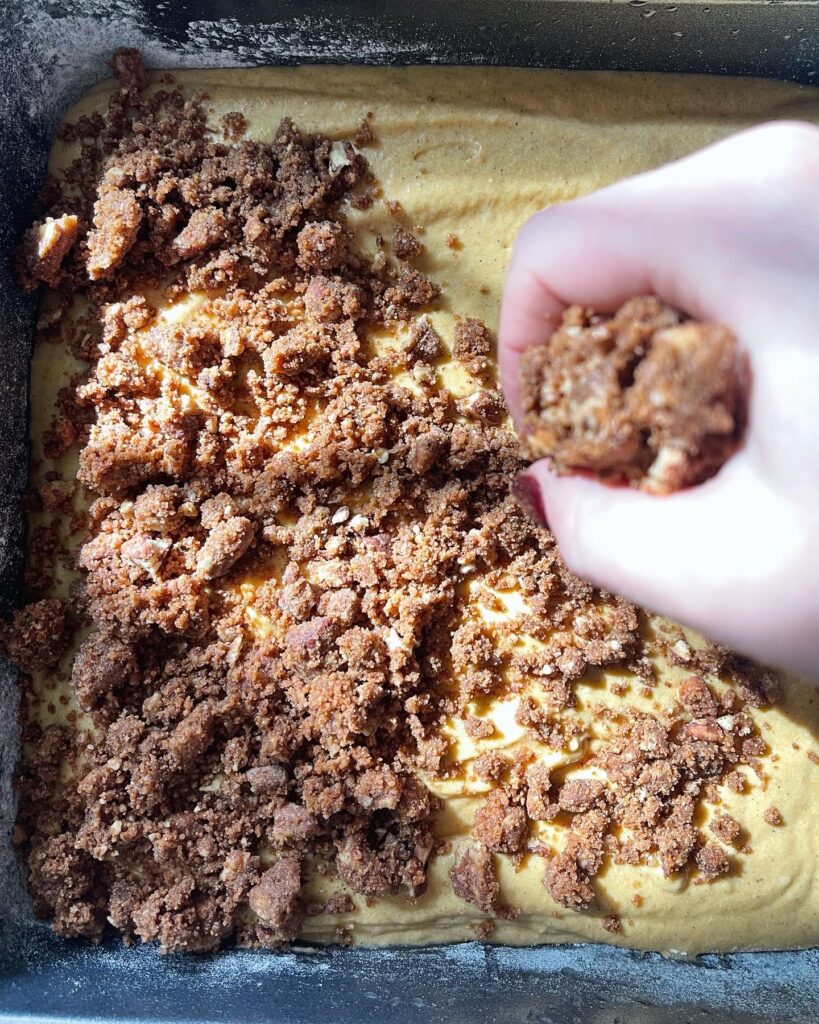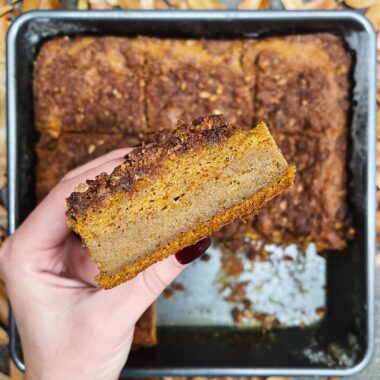 Pumpkin Sour Cream Bourbon Cake with Pecan Streusel
The perfect fall snacking cake laced with cardamom and bourbon and topped with a salted pecan streusel.
Ingredients
Salted Pecan Streusel
1/4

cup

brown or coconut sugar

1/4

cup

flour

2

tbsp

melted butter

1/4

cup

pecans, chopped

I used the Trader Joes candied pecans

1

teaspoon

ground cinnamon

big pinch

salt
Pumpkin Cake
1

stick

butter, softened

1

cup

sugar

2

eggs

1

cup

canned pumpkin

1/2

cup

sour cream

1/4

cup

bourbon

I used Four Roses

1

tsp

vanilla extract

1.5

cups

all-purpose flour

1

tsp

baking soda

1

tsp

ground cinnamon

1/2

tsp

salt

1/2

tsp

ground cardamom

Omit if you don't have it, it won't make or break this recipe
Instructions
Pecan Streusel
Combine all ingredients into a bowl and mix well until the streusel is crumbly and the texture of wet sand. Set aside.
Pumpkin Cake
Preheat oven to 350 degrees. Butter and flour a baking dish, I used a 9×9 square pan, but feel free to use whatever you have available. These would also be fantastic muffins, just reduce the cooking time by half.

In a large bowl using a hand mixer, beat butter and sugar until light and fluffy. Add in eggs, one at a time, mixing well after each addition. Add in pumpkin, sour cream, bourbon, and vanilla extract and blend well.

In a medium bowl combine flour, baking soda, cinnamon, cardamom, and salt. Gradually beat the flour mixture into the pumpkin mixture.

Scrape batter into baking dish and top with streusel. Bake for 40 minutes, or until a knife/toothpick inserted comes out clean.

Cool for at least an hour, slice into 9 servings, and enjoy!