*Cue dramatic sigh* This is the last and final Iceland blog post! I'm not sure if you all are sick of hearing about Zack and my trip there, but hopefully it's inspired you to take a look into traveling to one of the most beautiful places I think I'll ever go. Also, I'm sorry if the title of this sounds like an Elite Daily article.. I promise there will be no mention of the "16 Ways You Can Tell if He Likes You", or the "7 Things You Must Leave Behind in College".
Anyway, as a final Iceland post, I wanted to give you three experiences we did that really made our trip there. The country is very expensive (for a lunch salad it's roughly $18), so unless you're a Kardashian it's really important to spend your money where it matters!
This brings me to my first splurge, which given my interest in food should be no surprise.
1) Do a tasting menu at a restaurant in Reykjavik.
We chose to do the tasting menu at The Apotek in Reykjavik, and the creativity of the food blew our minds. It's expensive, about ~$90 a person, but I swear it's so worth it. Just check out these courses they served that night: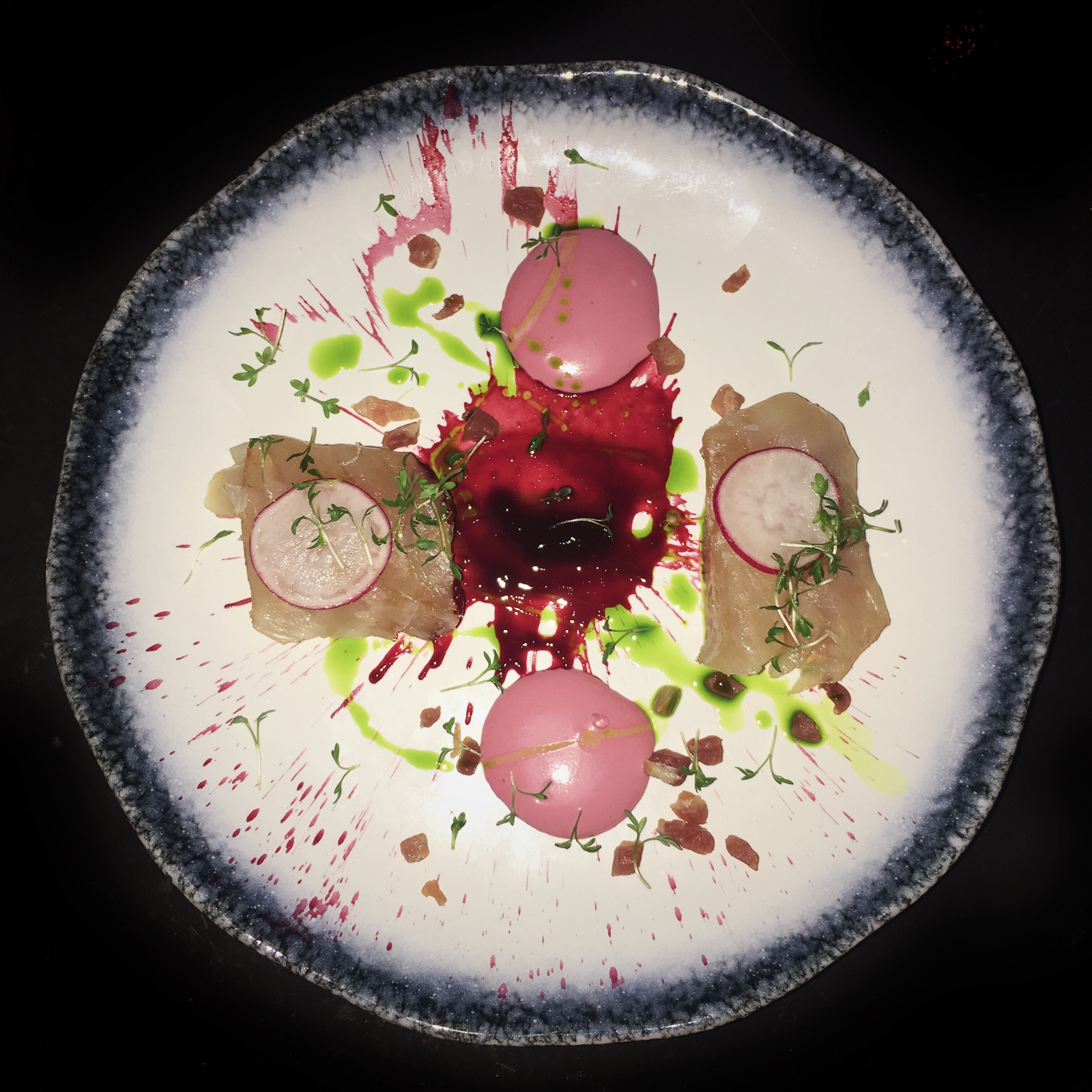 Slow cooked ocean perch, beetroot purée, spicy butter, and serrano ham. Our favorite! The fish was silky smooth and paired very nicely with the earthiness of the beet.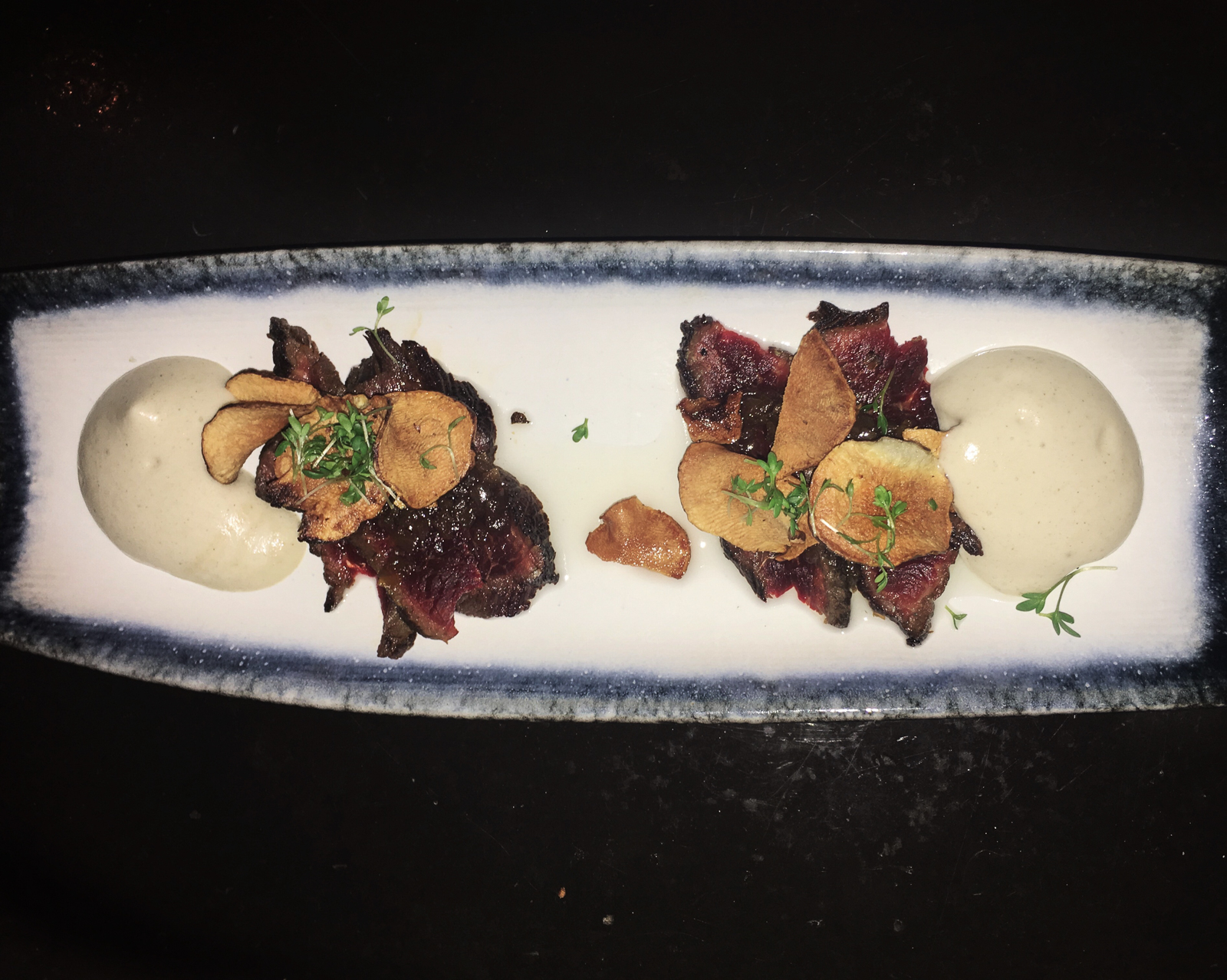 Icelandic Mink whale with shallot vinaigrette, crispy Jerusalem artichokes, and artichoke foam. Surprisingly good, but a little hard to get over the fact that you're eating whale. I gave my portion to Zack on this one…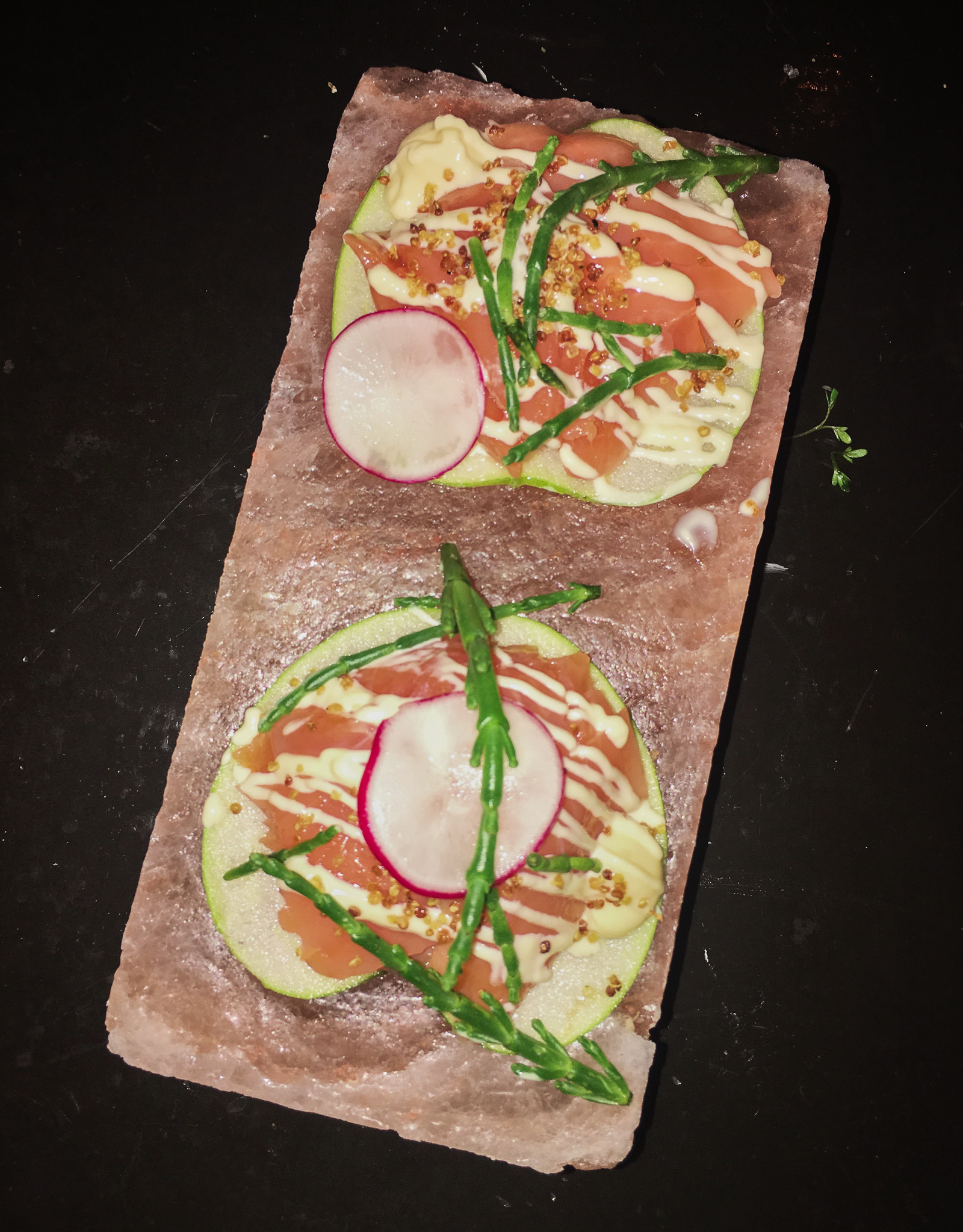 Icelandic sea trout with yuzu mayo, truffle mayo, crispy quinoa, and apple. Loved the saltiness that the himalayan salt block imparted on the dish, and the textures from the apple and radish were great!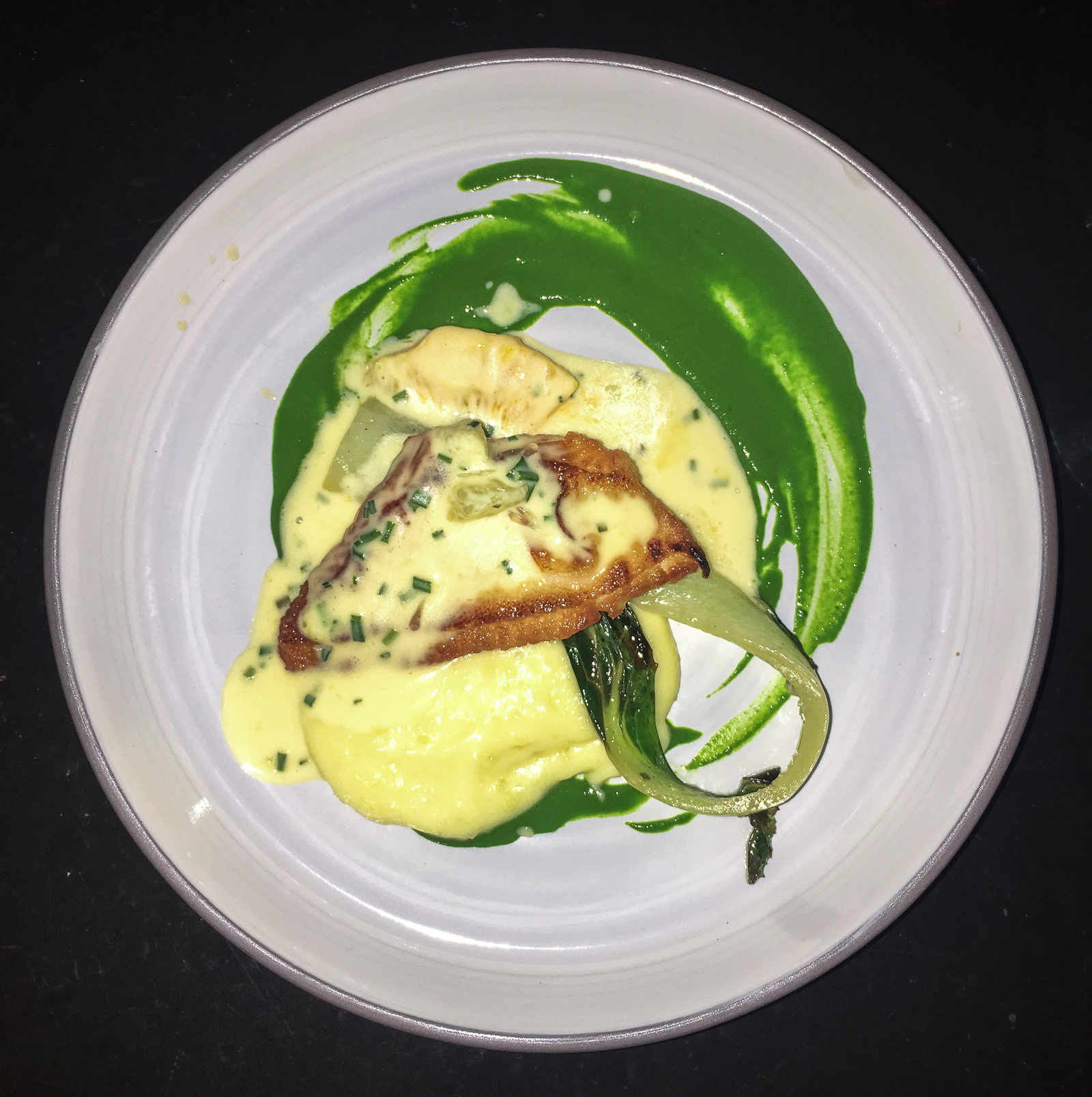 Icelandic Plaice with samphire, green asparagus, blood orange, and lime beurre blanc. I've never had the fish 'Plaice' until Iceland, and it's my new favorite. The fish had a very tender and creamy white flesh, which was delicious with the citrusy beurre blanc.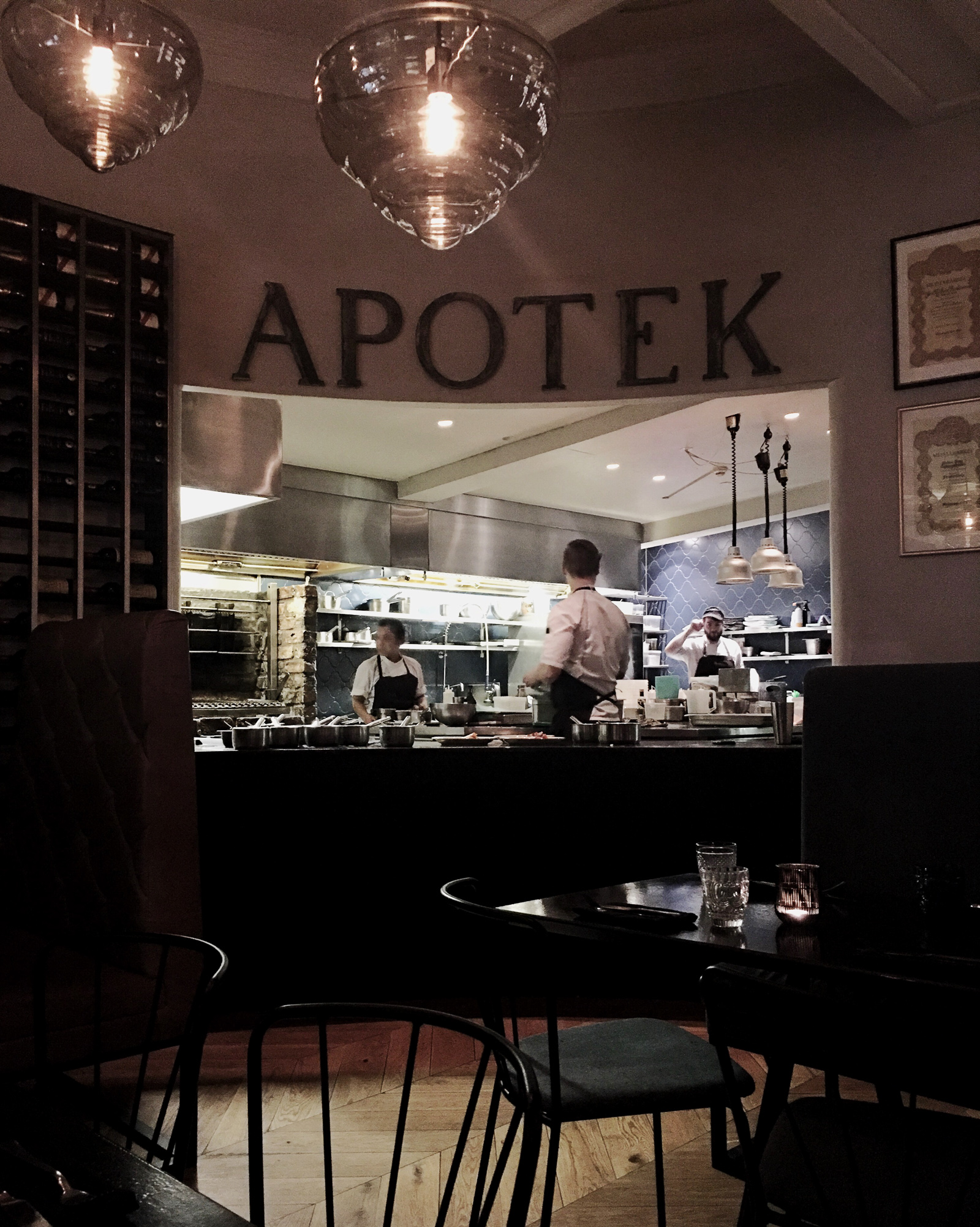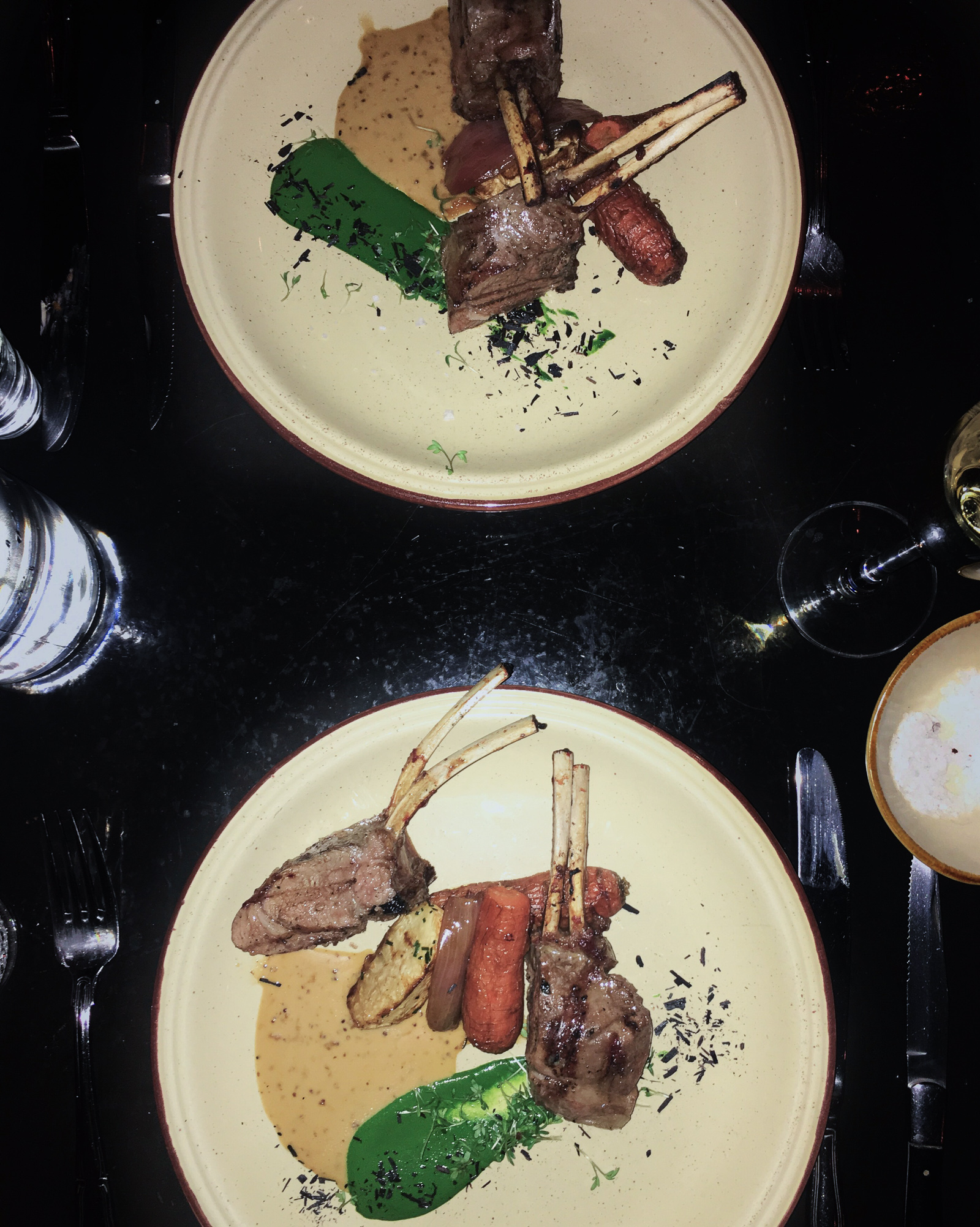 Grilled Icelandic lamb fillet, leeks, pickled shallots, carrots, baked celeriac, dill-spinach, and mustard sauce. Icelandic lamb is SO good, unlike anything I've tasted in the US before. The animal roams freely and eats a varied diet which contributes to the incredible taste.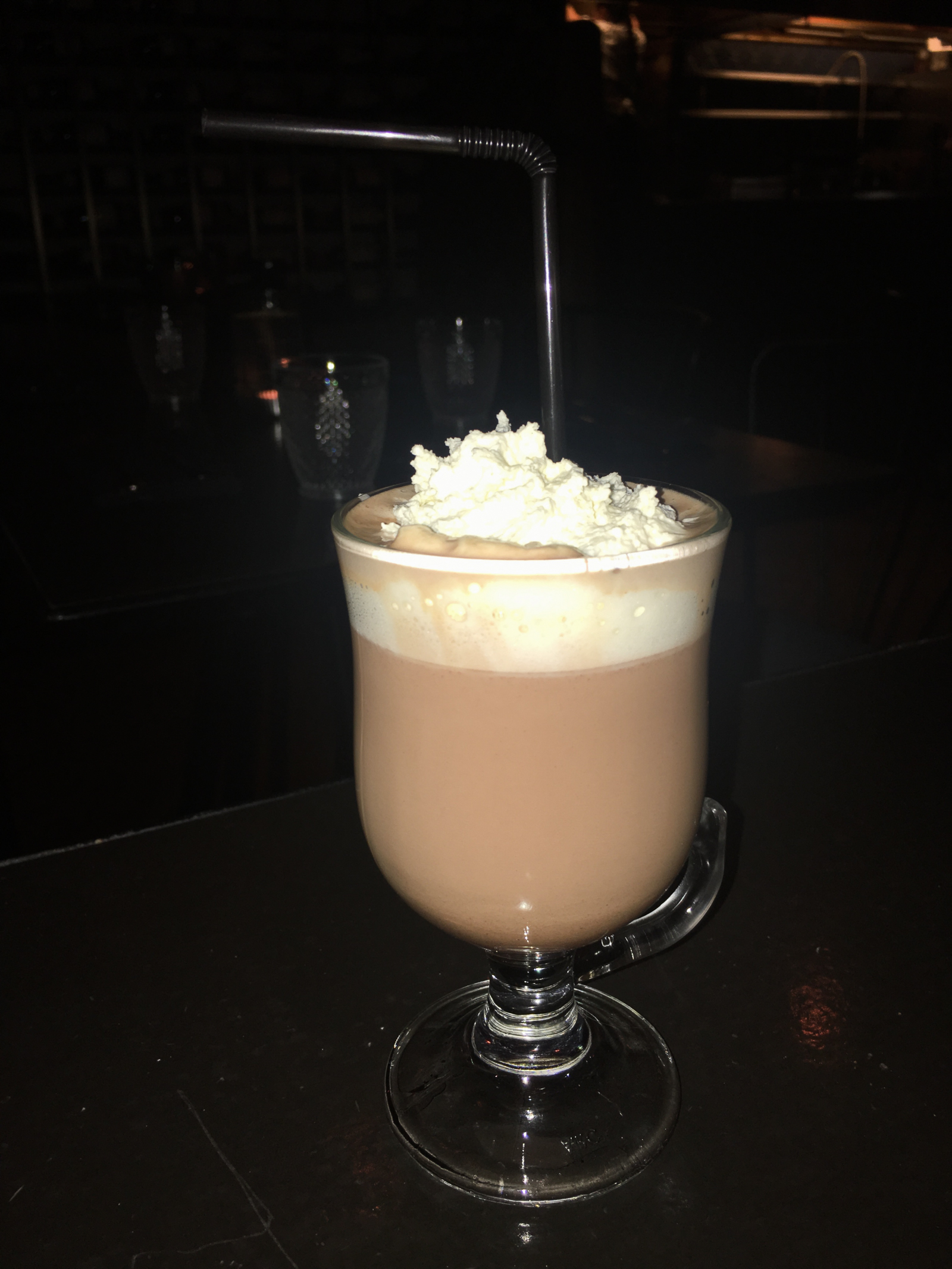 Amazing hot chocolate.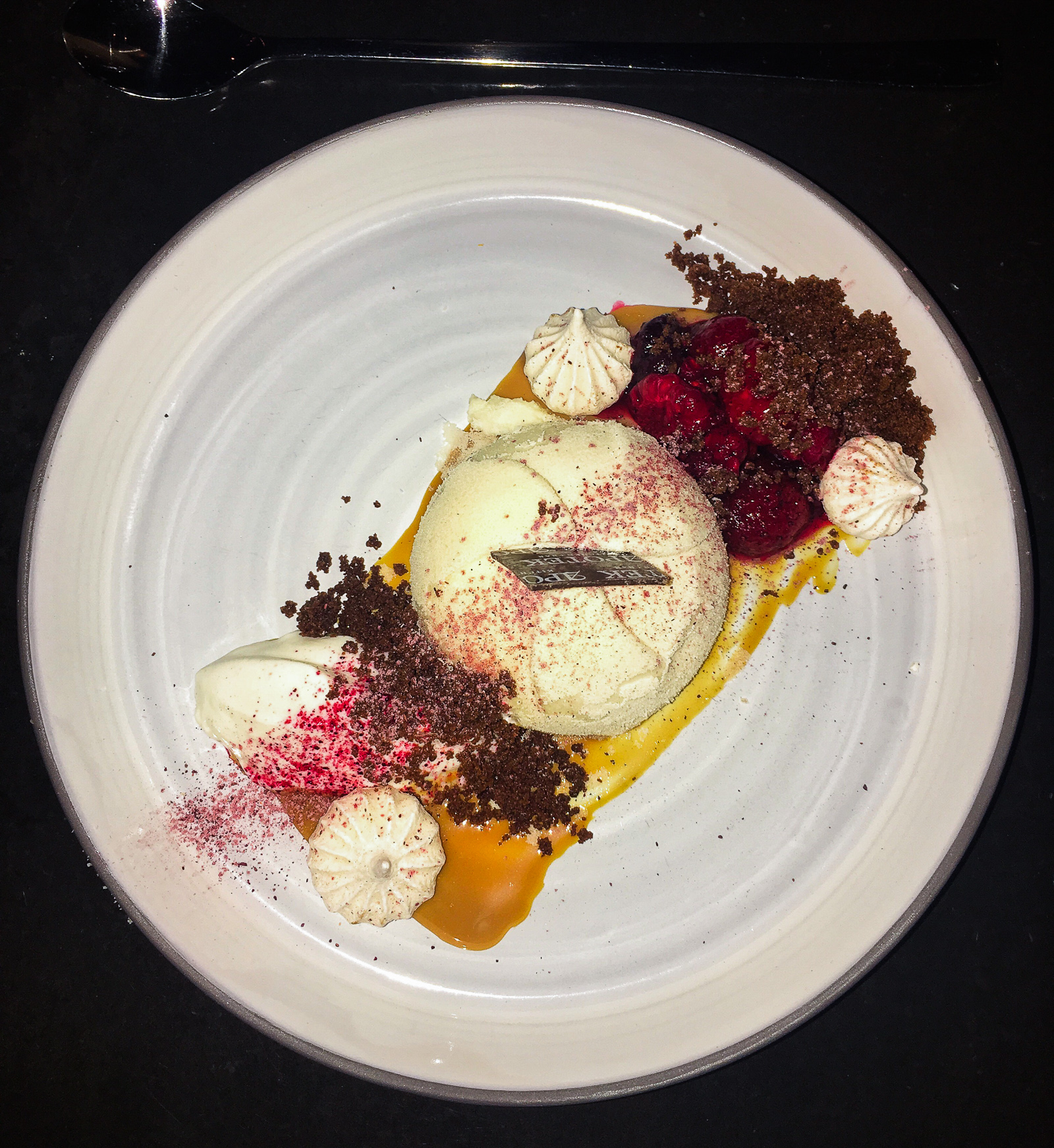 Skyr fromage, Skyr mousse, strawberry & lime gel, and lime sponge cake. A fabulous and light dessert to end the meal!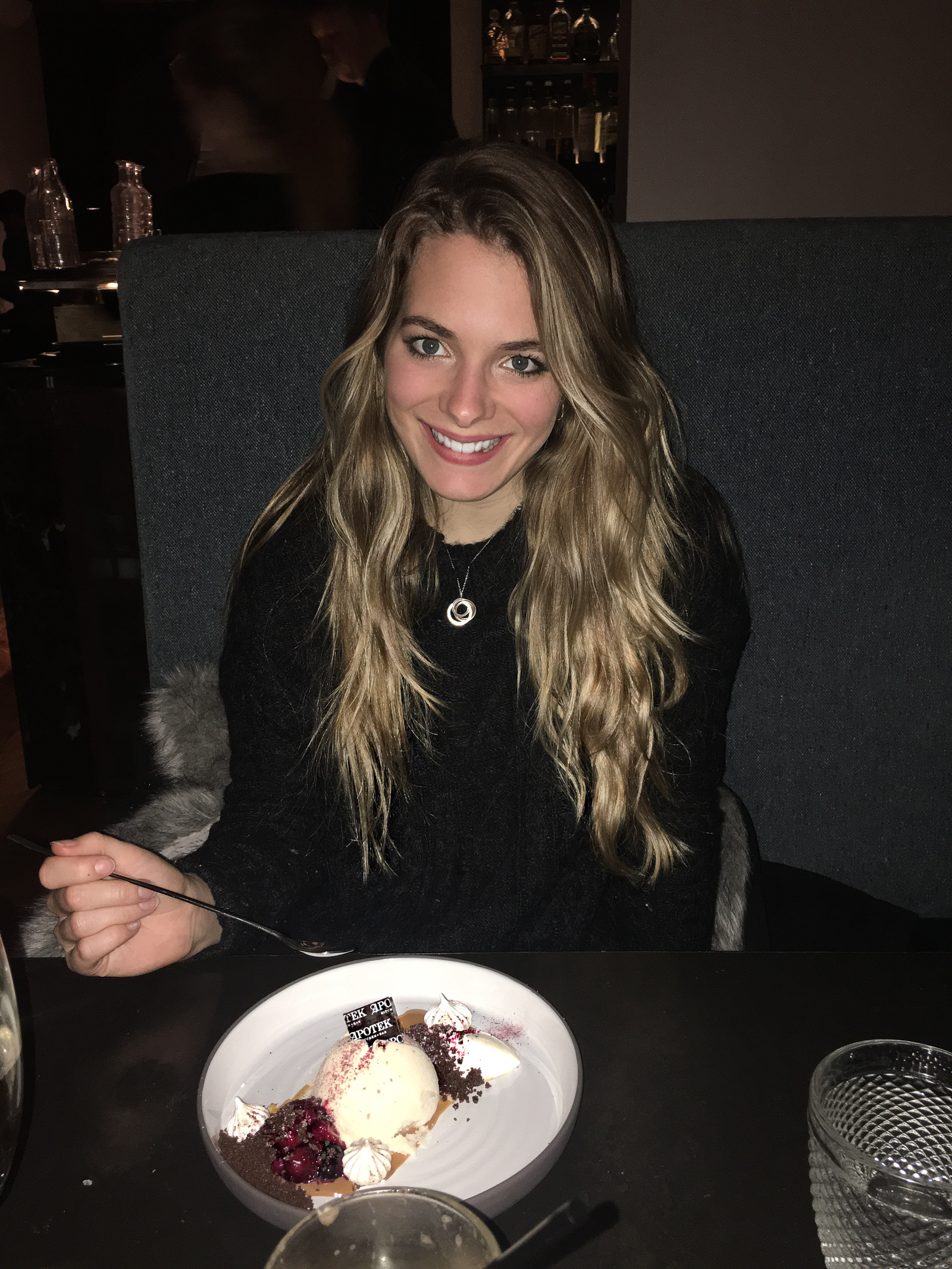 There are other amazing restaurants to try in Reykjavik, and one I wish we had gone to was FoodCellar. So, step out of your comfort zone and splurge on a tasting menu if you end up in Iceland! Now onto experience #2..
This was definitely one of the top things Zack and I did in Iceland while we were there. I know that when you think of a freezing cold country the last thing you think of is snorkeling, but when you go in Silfra you have the once in a lifetime opportunity to swim between two continents!
If you're worried that it will be too cold for you, know that you're wrapped up in a layer of flannel, and then a dry suit, so no water will ever touch your body.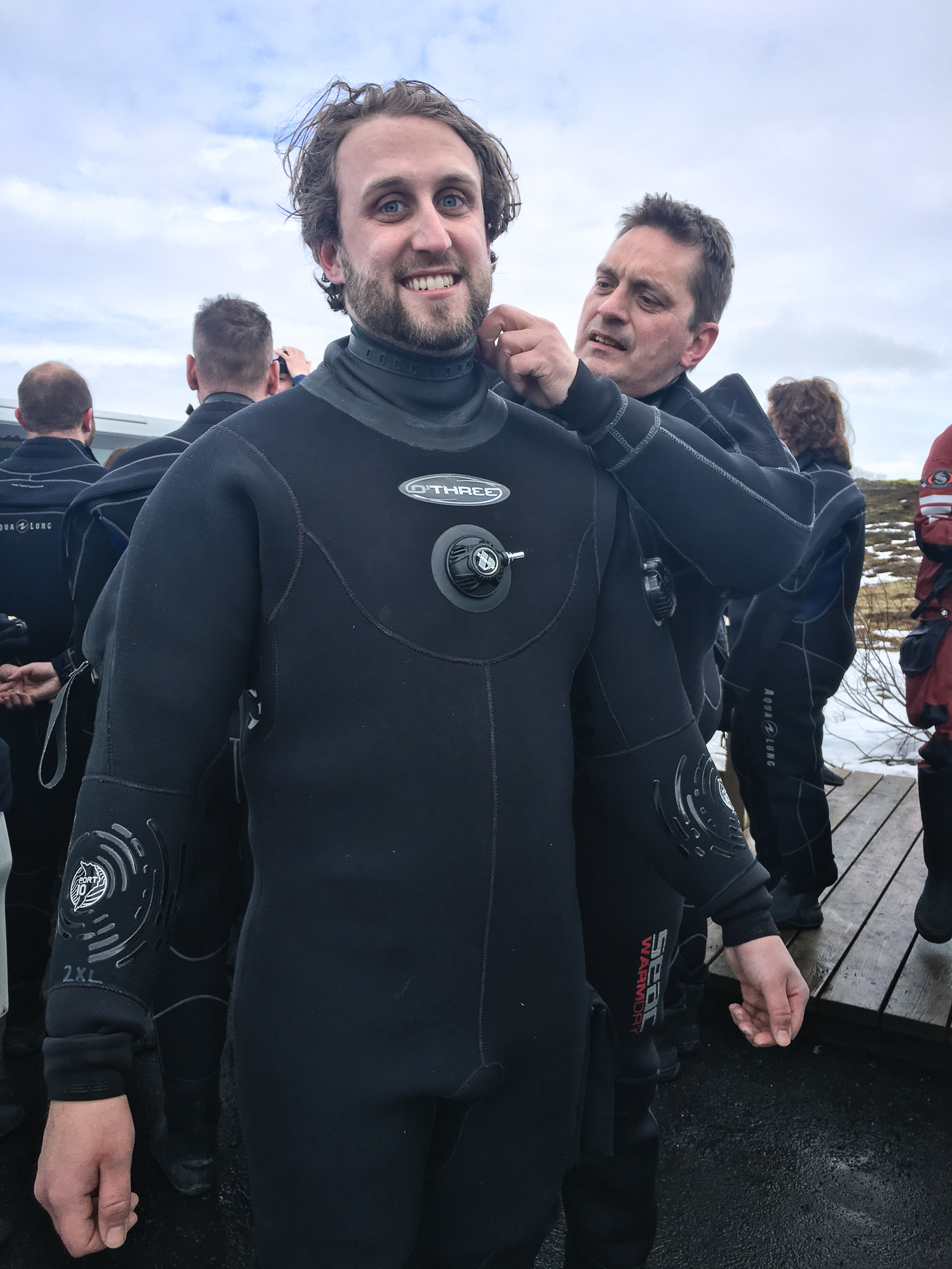 It is quite a process to get dressed! Here is Zack getting squeezed into his dry suit. Looks comfortable right?? When you have all your gear on you can barely move, but it's worth it to be warm in the icy waters!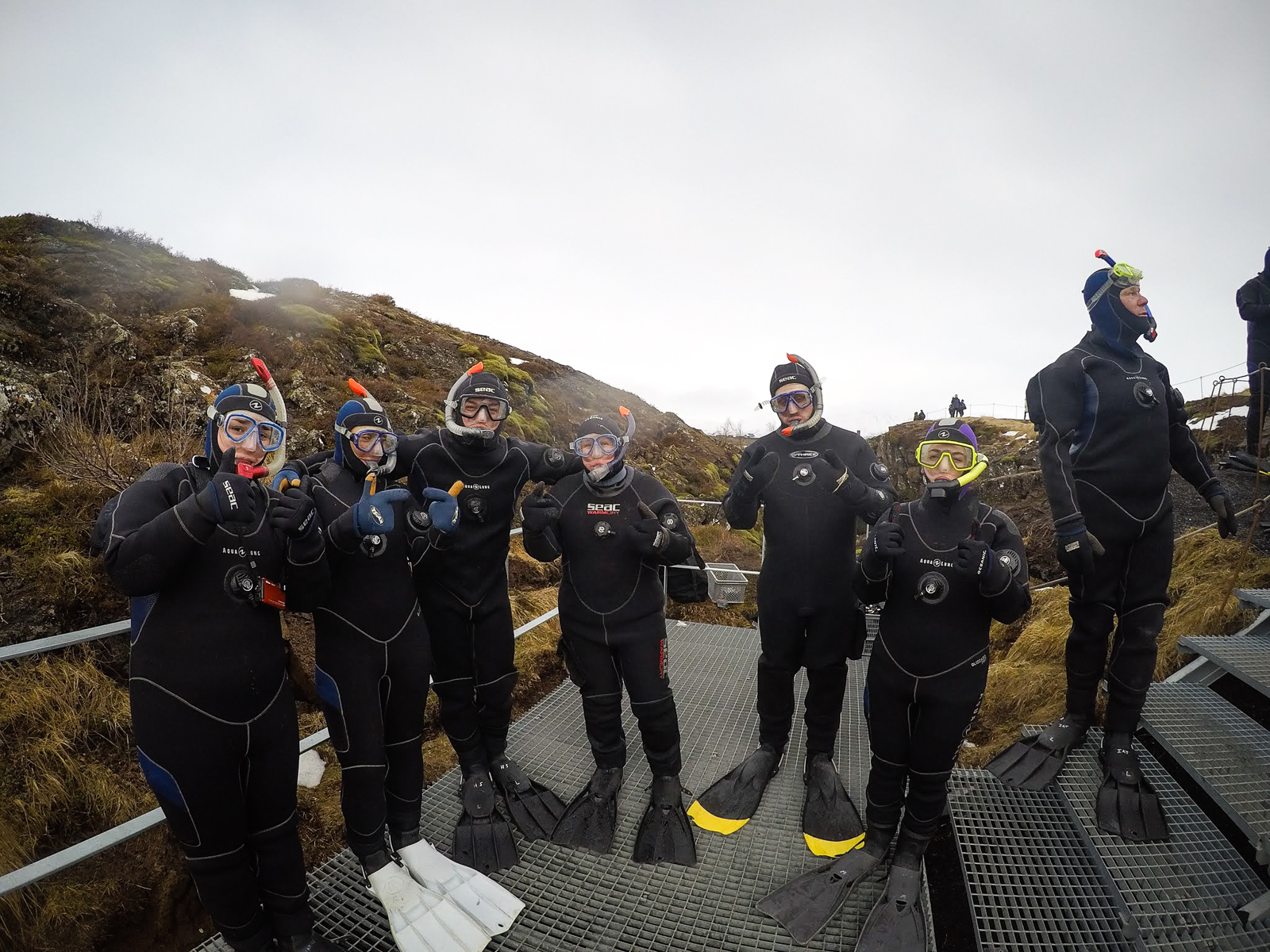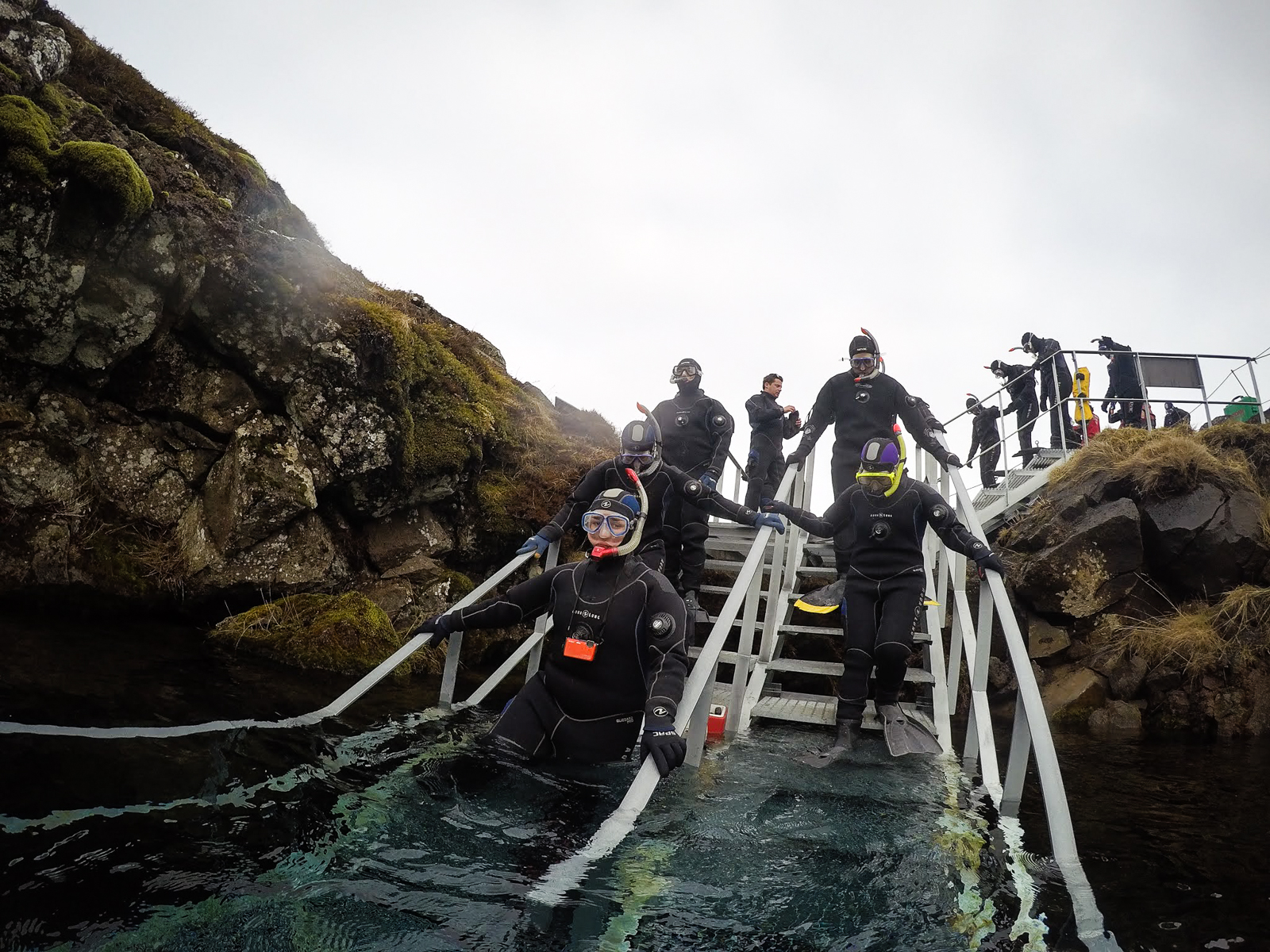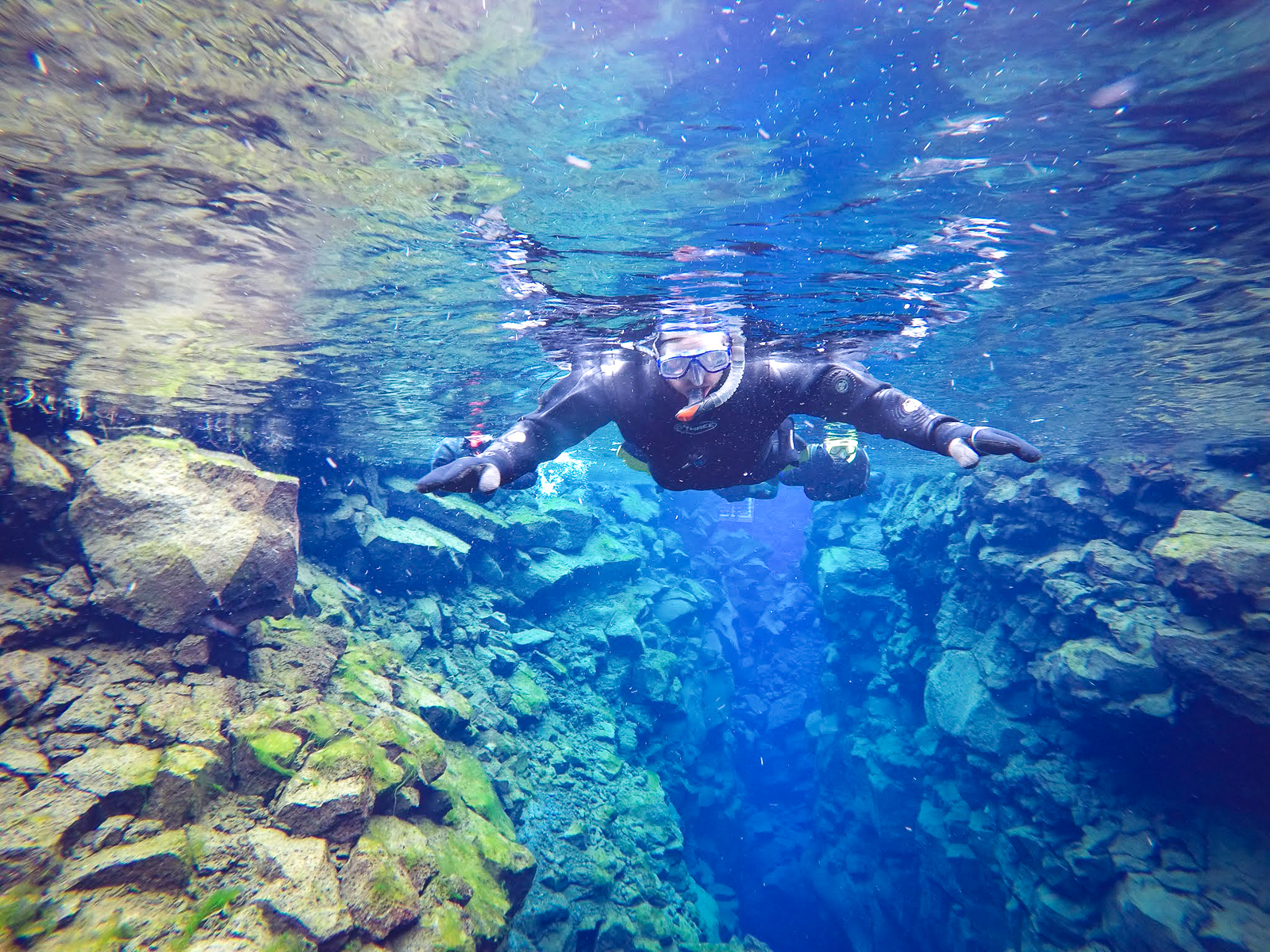 You wobble down the stairs in your fins that lead you to the beautiful glaciar fresh water. It's so pure you can easily see to the bottom, and it may be the cleanest water you'll ever taste, so you're encouraged to take a sip while you're in!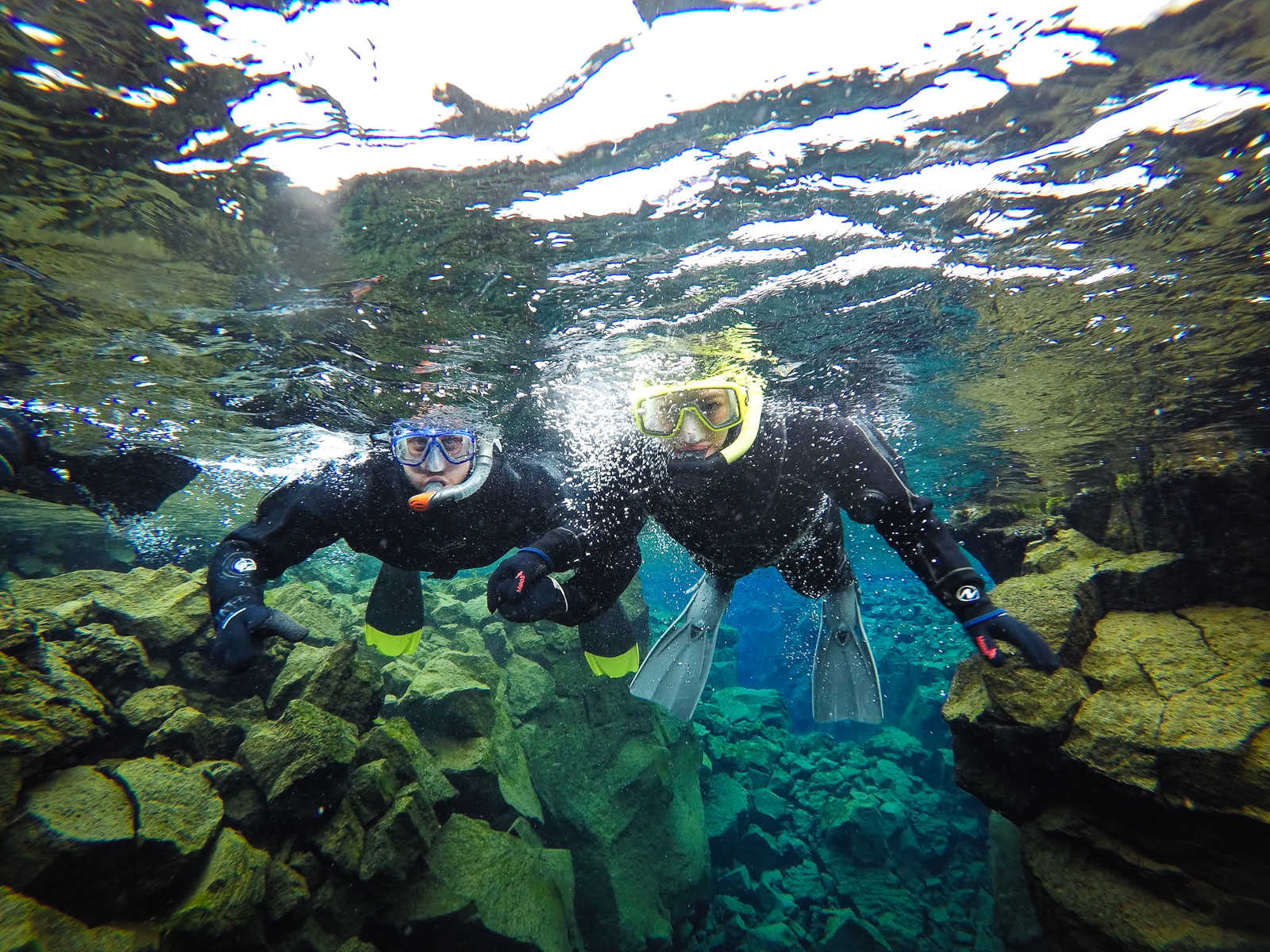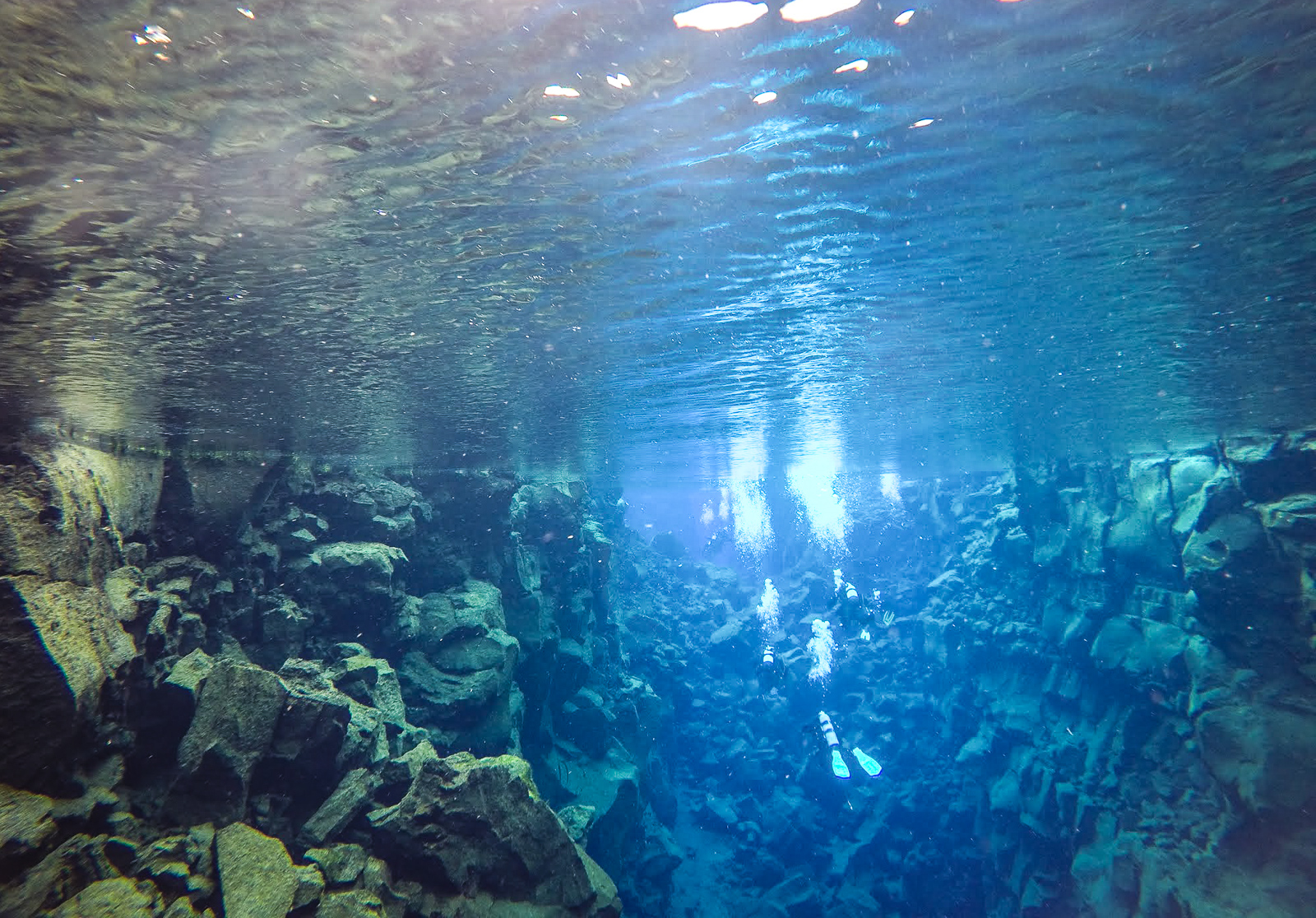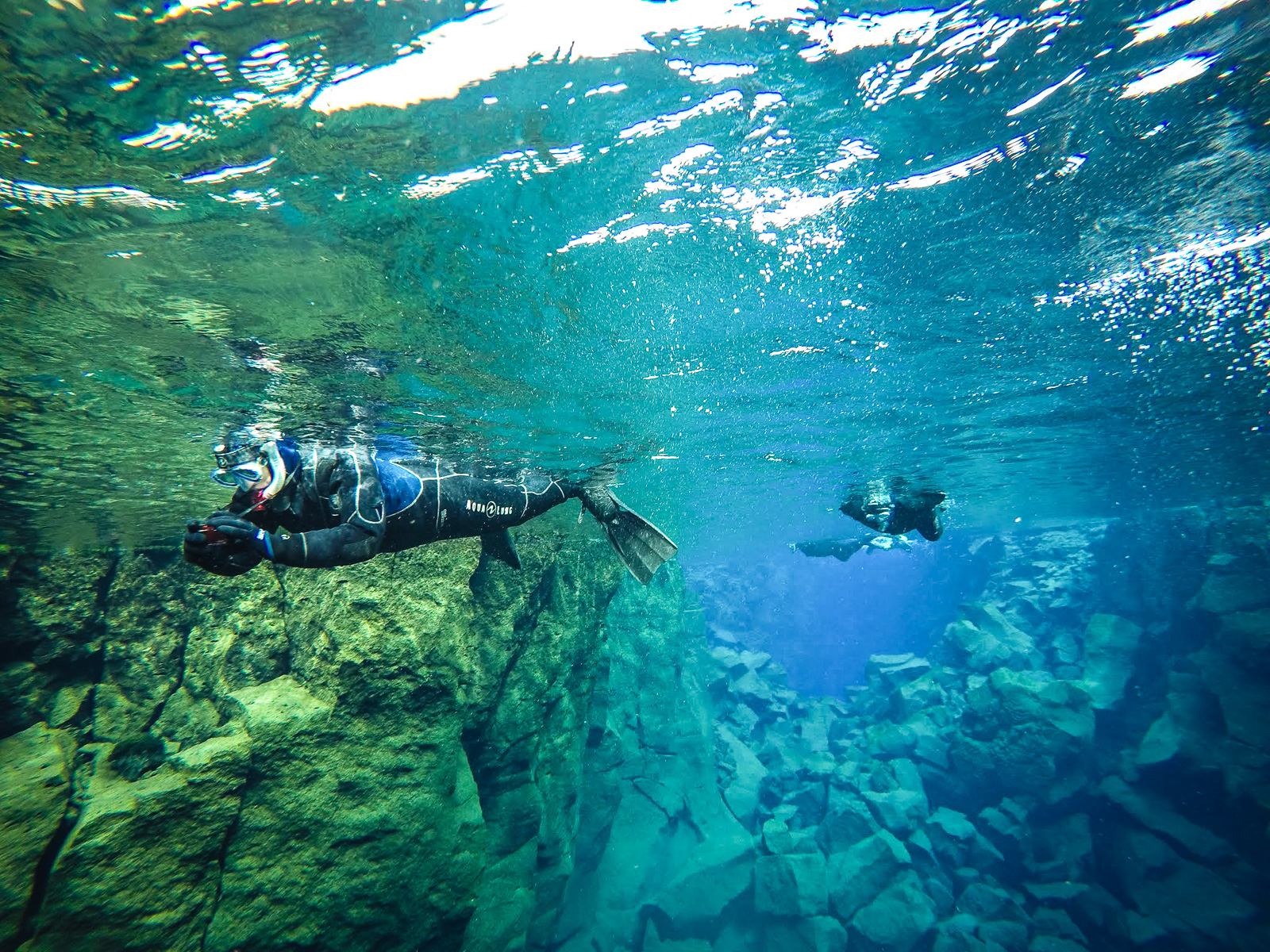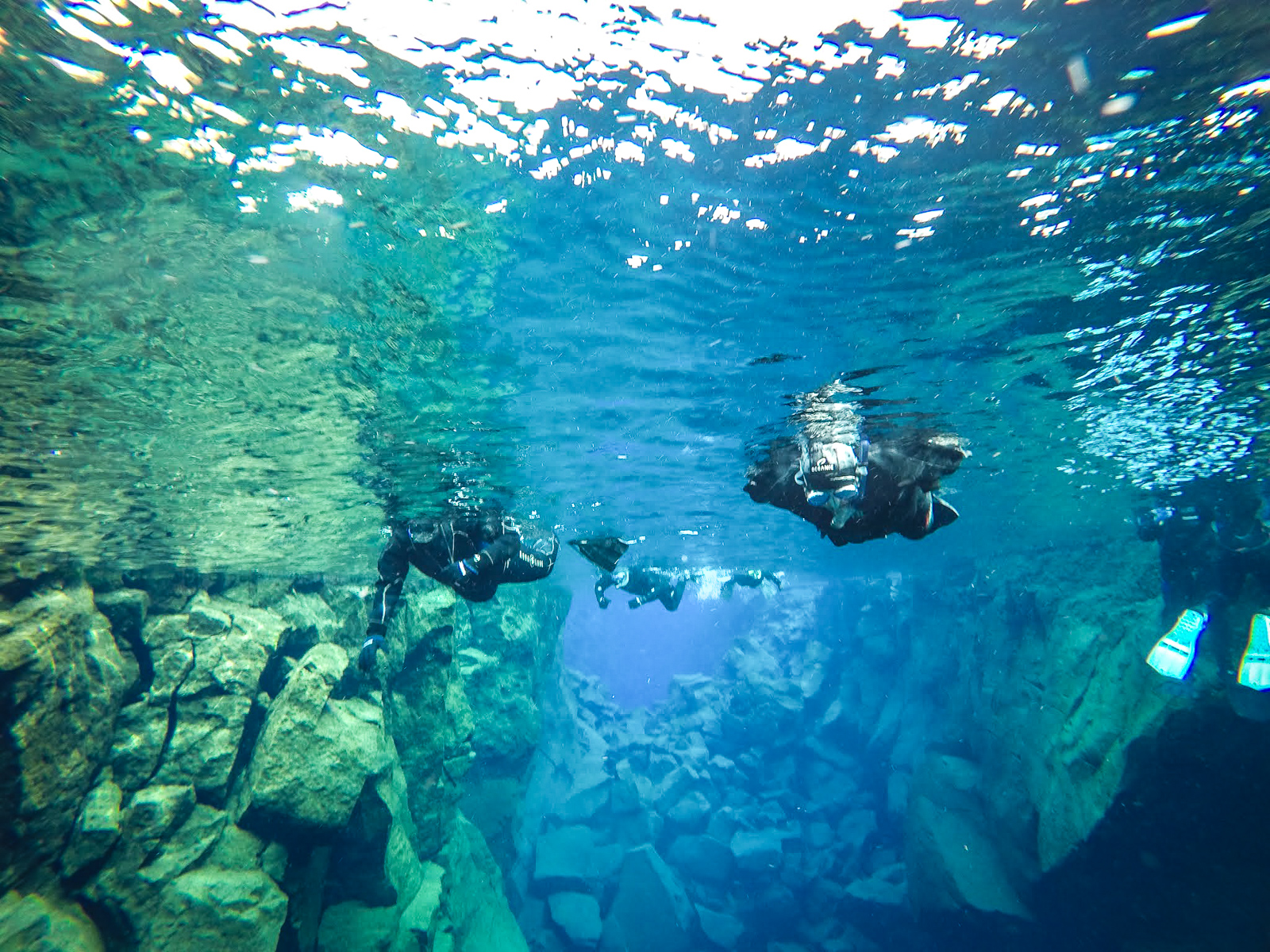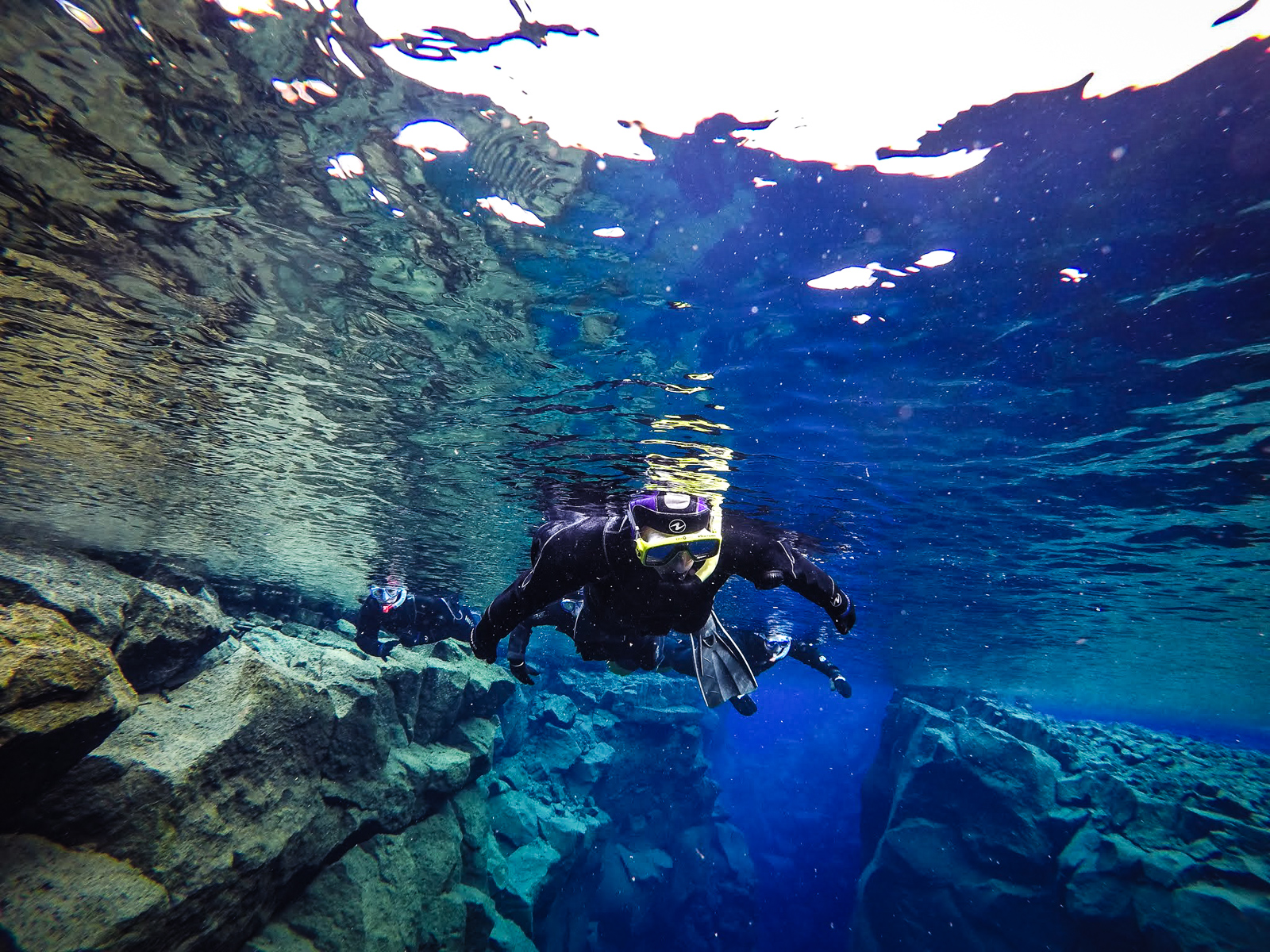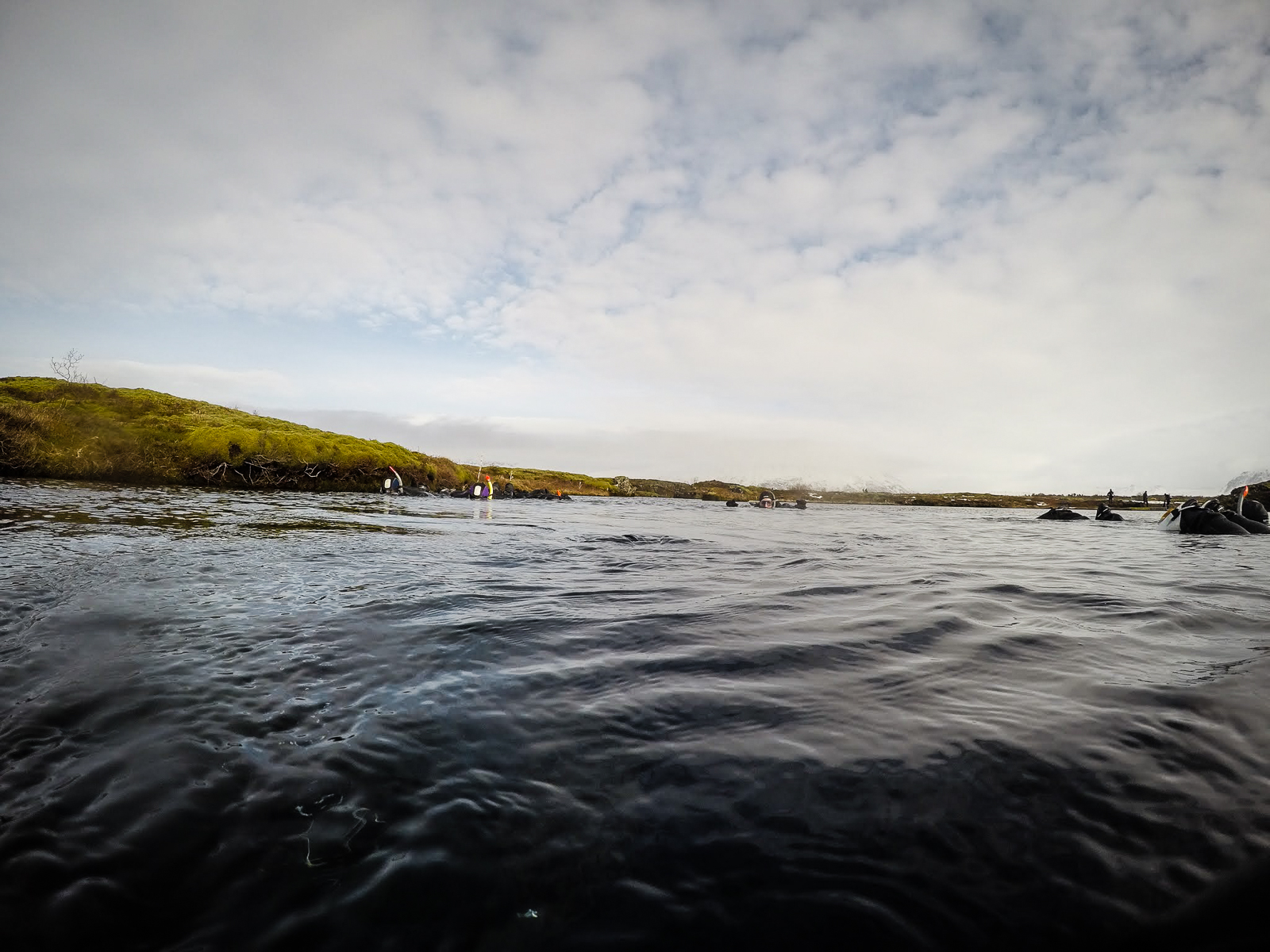 It was a magical experience to be able to snorkel in between continents in the middle of winter, and then when you bring your head out of the water to see the mountains and beautiful mossy landscape. I was so cold by the end but would do it again in a heartbeat!
This one is considered a splurge because it's about $150 per person, but it truly is a once in a lifetime experience. And not to mention at the end of the snorkel they give you hot chocolate and cookies, the sweetest ending. We did ours through Iceland Adventure Tours, and I would highly recommend them!
3) The SuperJeep Northern Lights Tour
This was my hardest experience to wrap my head around splurging on, since I was under the naive impression that you can see the Northern Lights from anywhere in Iceland….needless to say I was wrong.
Due to the light pollution in the city and any inclement weather, it can often be difficult to see the lights, and it was something Zack and I definitely wanted to cross off our bucket list. My friend Dom recommended the Super Jeep tour, since they use these massive vehicles that off road to get to the best spots.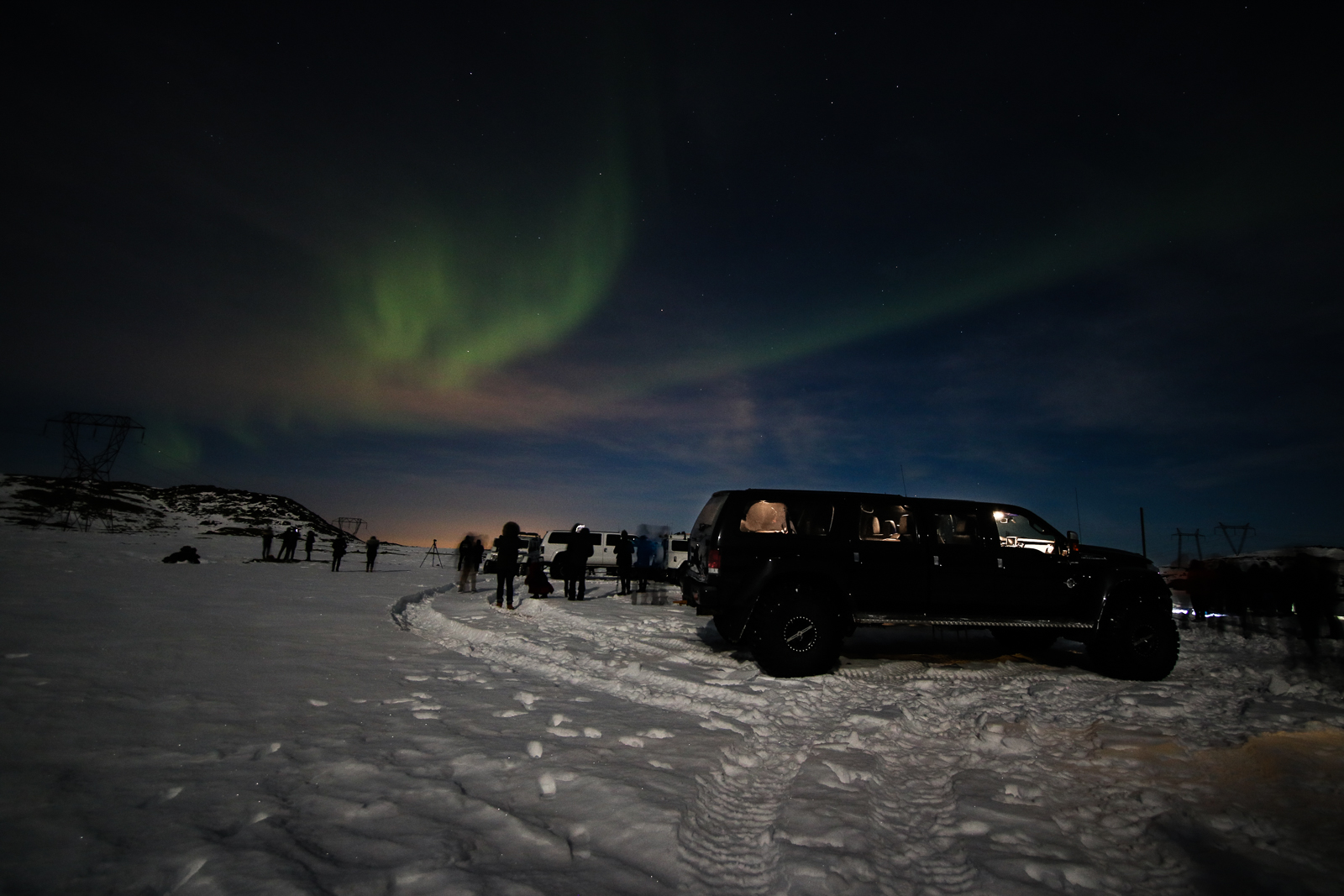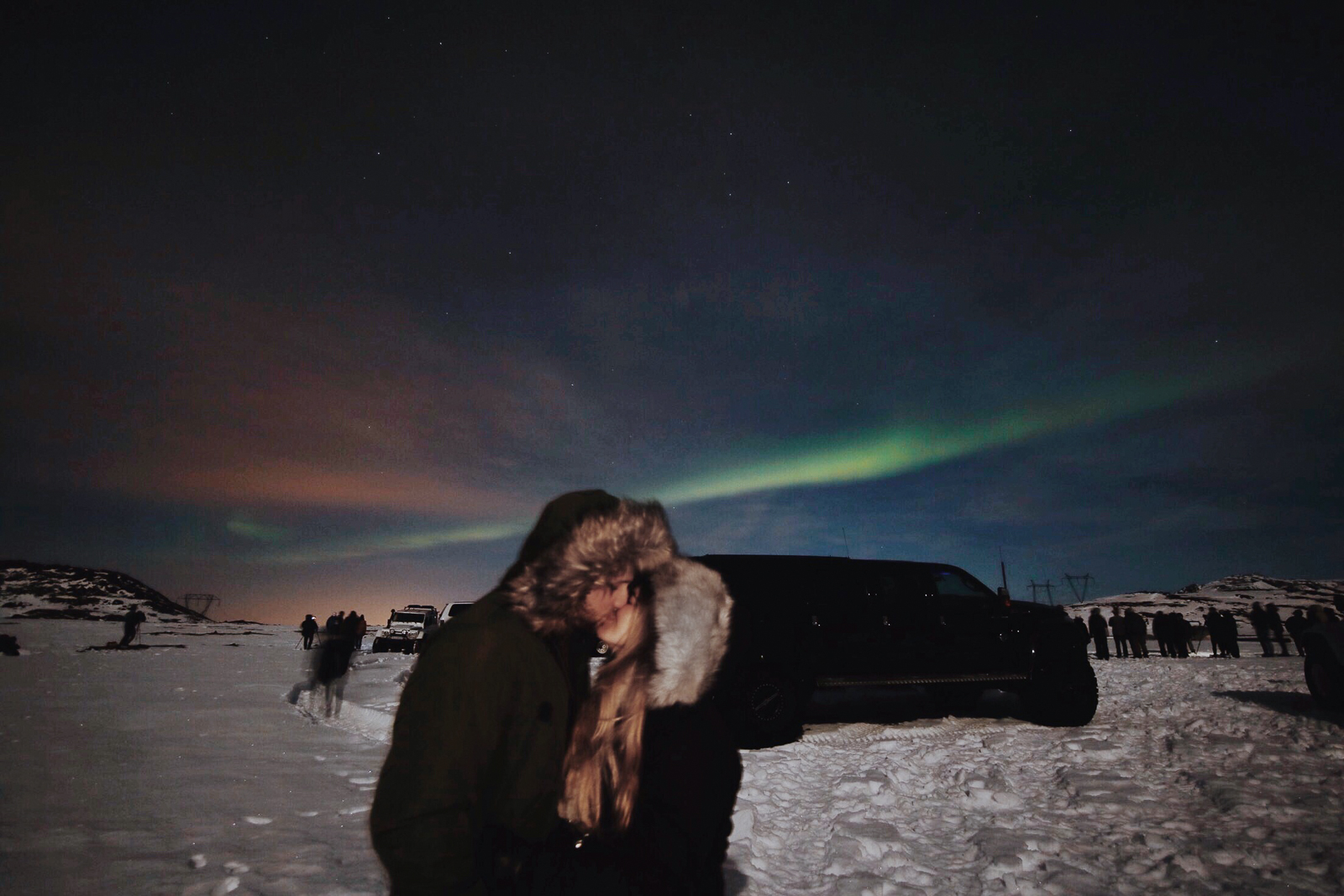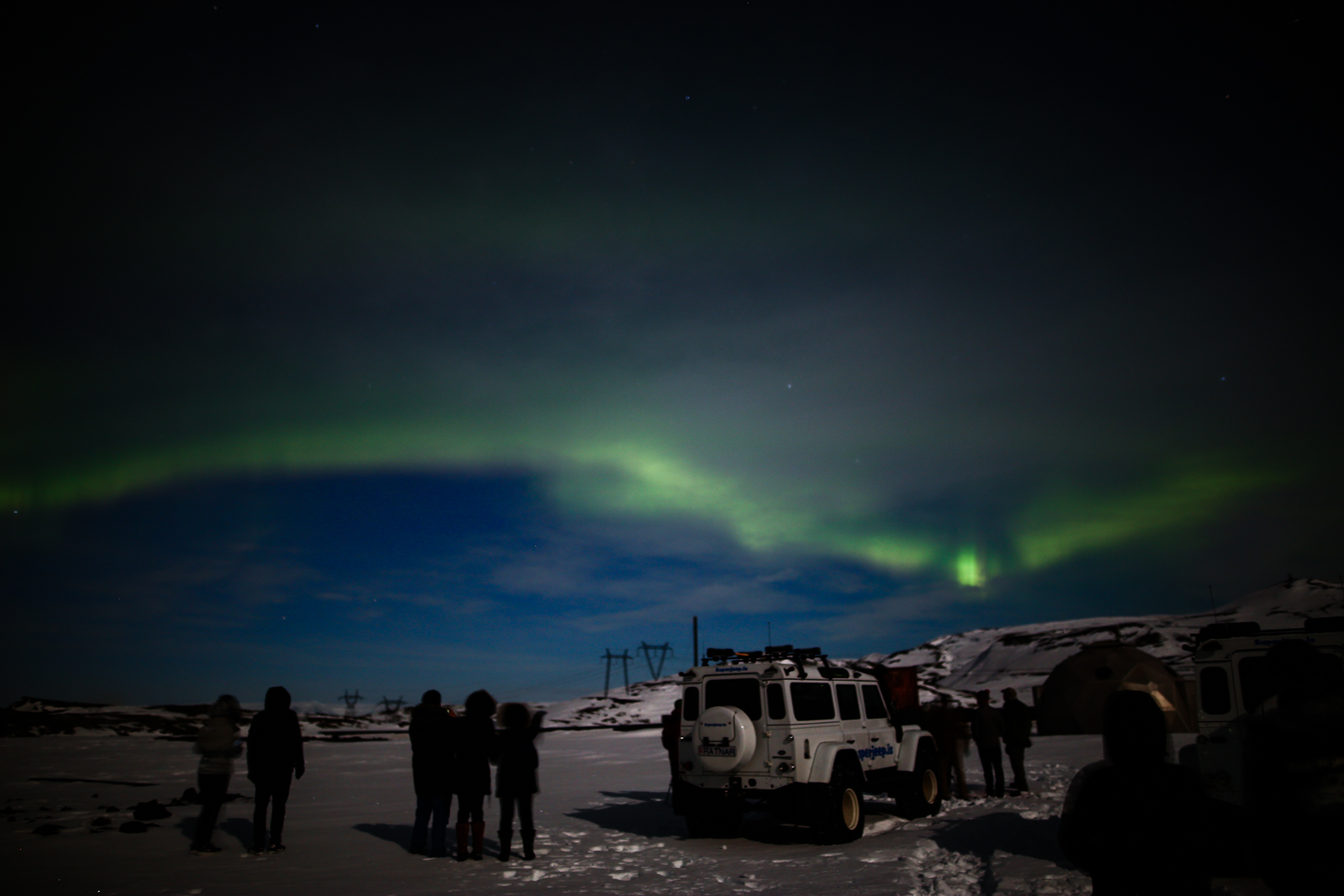 It. Was. Awesome. At $180 a person I was very skeptical, but just being in the off roading vehicles alone was worth it! We went to a few sites and didn't see anything, and at that point thought they were going to refund us. However, at the last place we got to catch a glimpse of the turquoise auroras!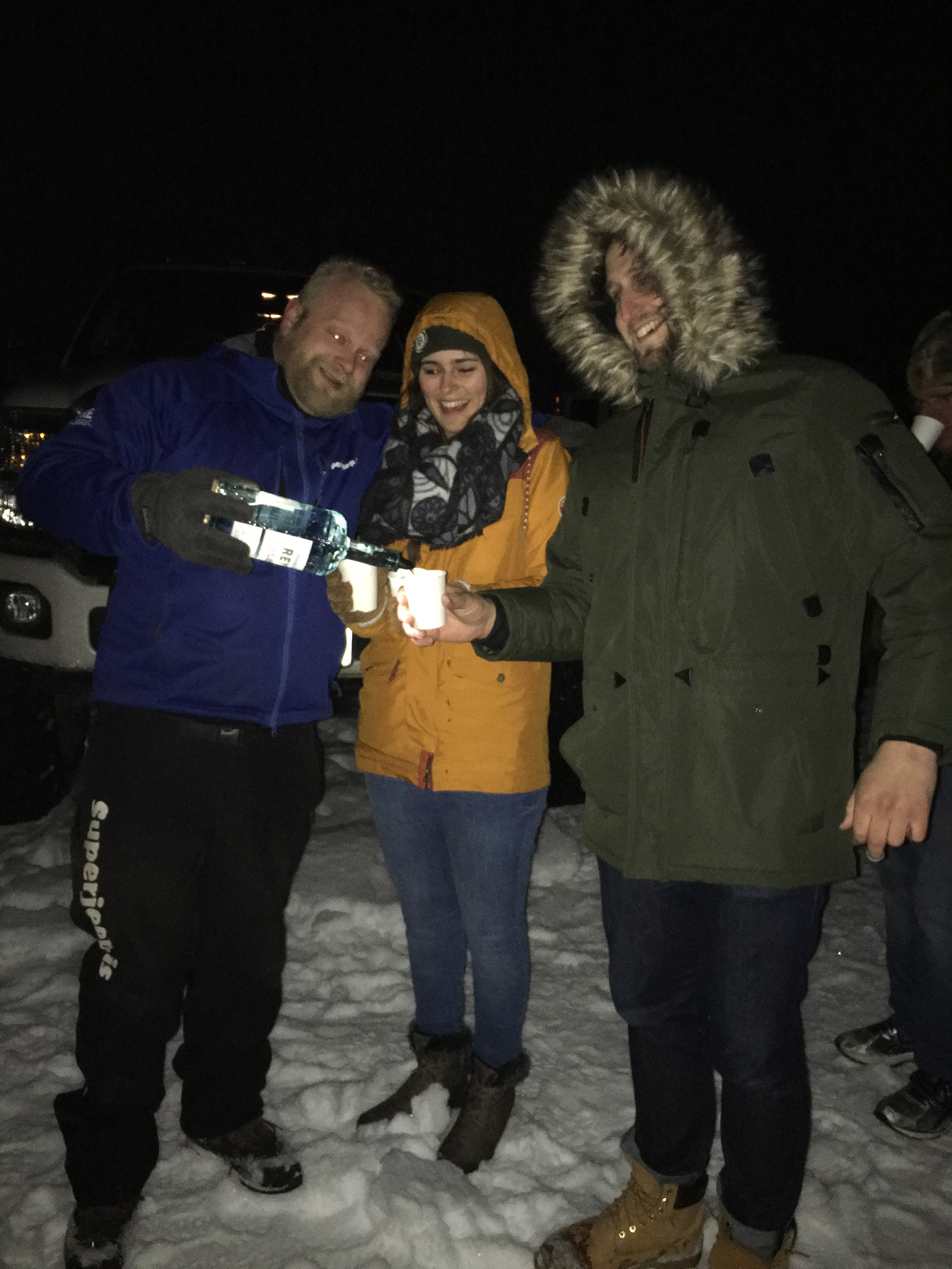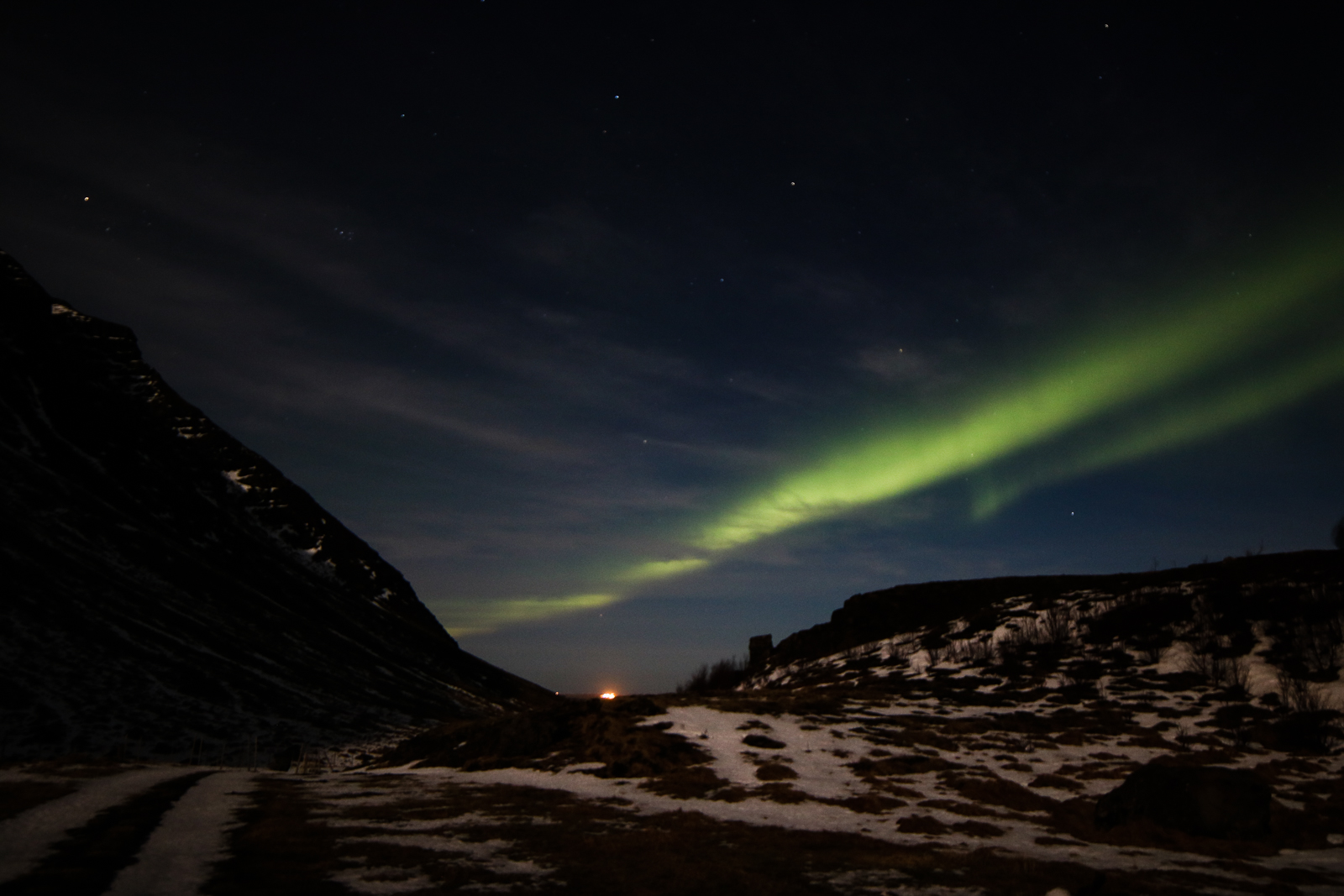 For the sweetest finish they give you hot chocolate and vodka, yes, together. Trust me when I say its so delicious and definitely something we recreated at home 🙂 Pro tip: dress super warm since you'll likely be standing outside for hours!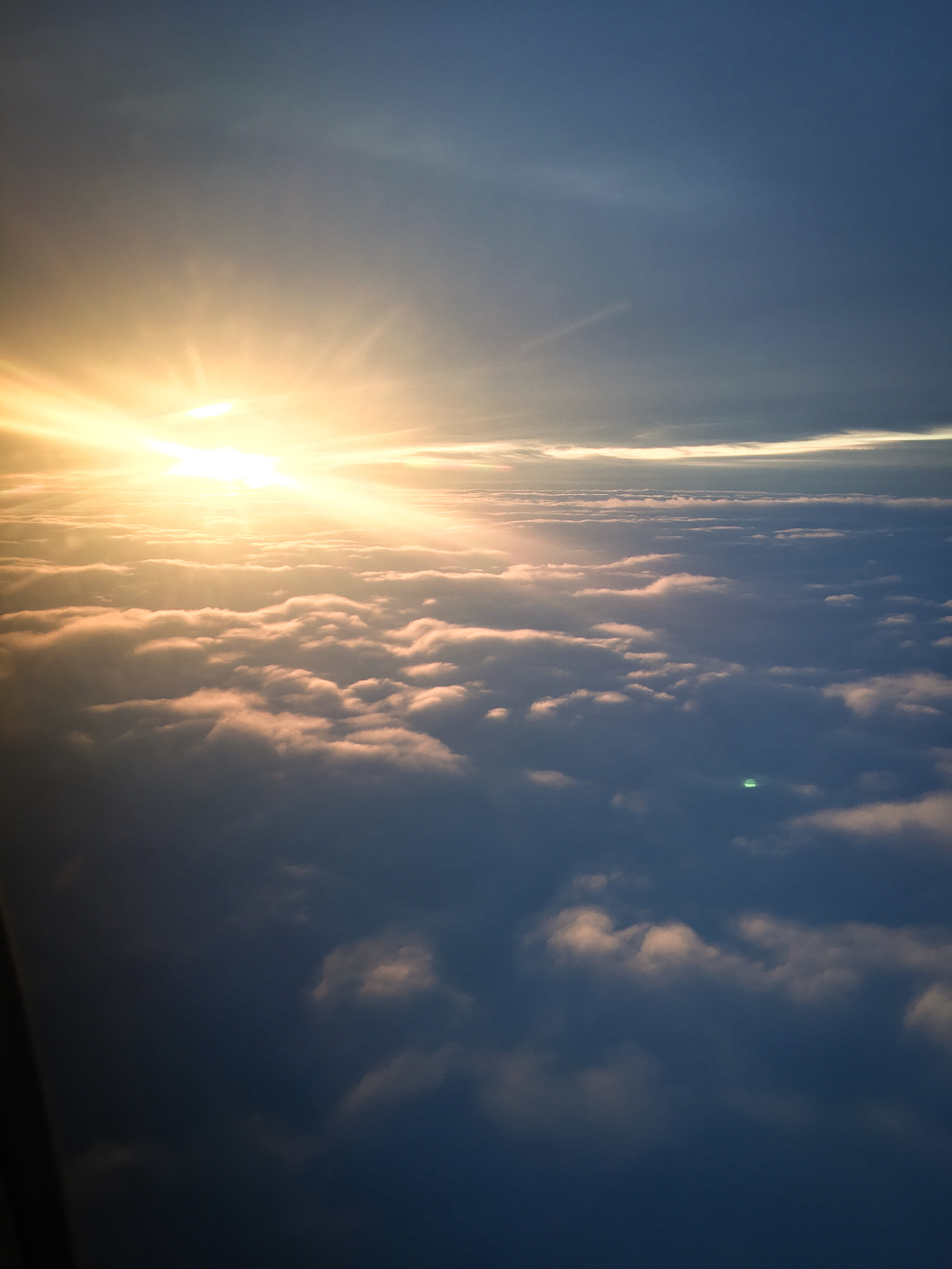 So there you have it everyone, our favorite Iceland splurges! I hope you enjoyed the past couple posts on our trip, and that it inspires you to take one of your own.
In case you haven't checked them out, here are the others:
And with that tala við þig fljótlega (Icelandic for talk to you soon)!