If you're like my family, Spring is a time of many holidays. We have Passover, Easter, Mother's Day, and three birthdays all between April and May. If you're also like my family, holidays = food, and lots of it. My parents handle the entrees, and I'm usually in charge of dessert, which is an assignment I take very seriously!
I love making cheesecakes since there's very few people who get upset when you bring one out, but I had a bad experience before involving water from the water bath seeping into my spring form pan and ruining the crust. Can you say first world problems??
Anyway, it was Brittaney's fiance's birthday last week, and I figured that would be the perfect opportunity to try making mini cheesecakes where the water couldn't possibly seep into the cupcake pan. Guess what? They turned out perfect!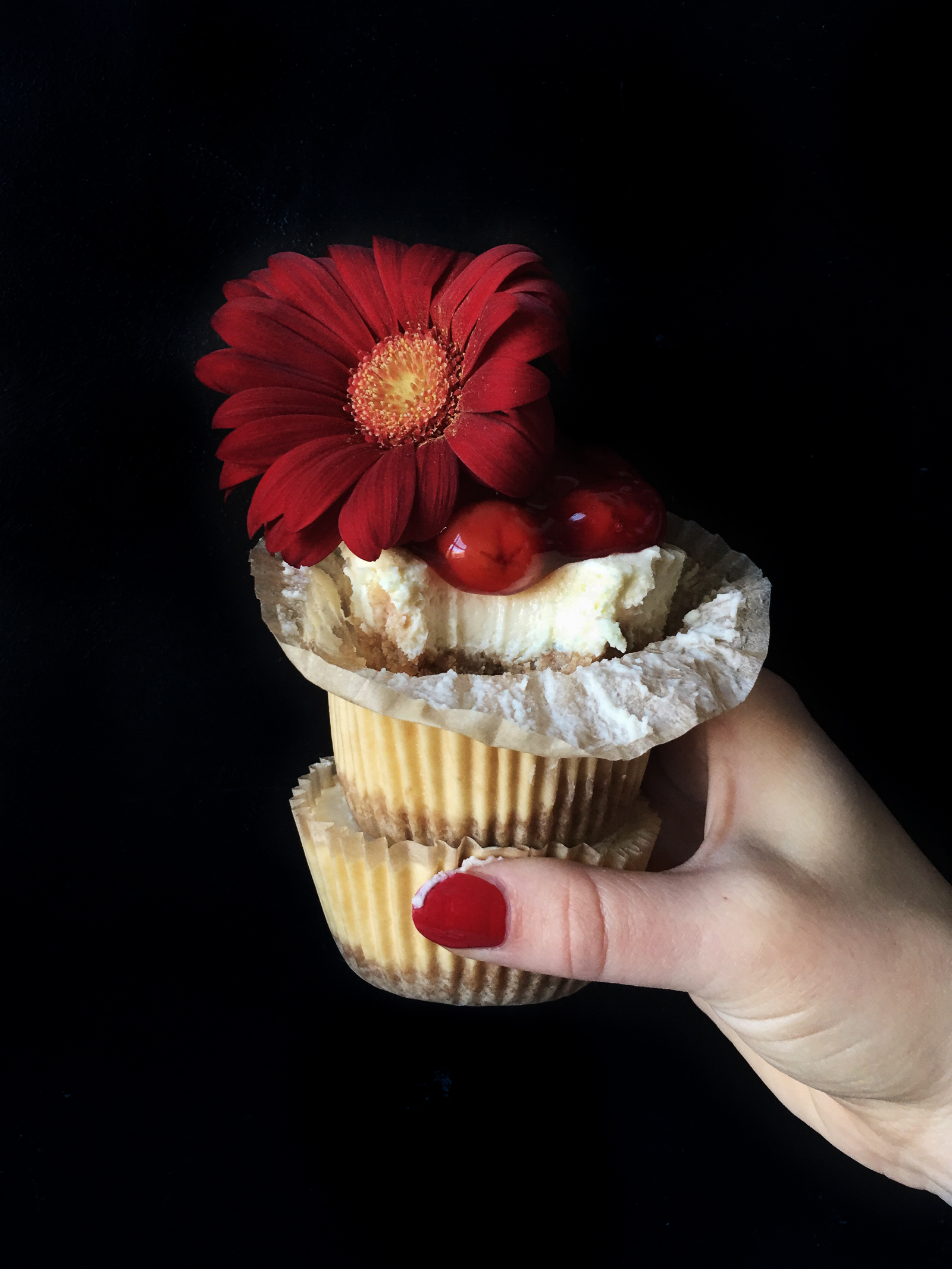 I was worried it would take forever to make crusts for 24 cupcakes, but with the help of a shot glass to pack the graham cracker crumbs it was a cinch. I had Brittaney, Holly, and Ciara over, poured us each a huge glass of vinho verde (my new obsession, get the one from Trader Joe's), and made these in less than an hour!
We obviously had to taste test them for quality control before we gave them to Dan, and I just so happened to have a jar of cherry pie filling in the pantry. How convenient?!
Cherry pie and cheesecake are meant to be together, but I promise I won't be upset if you keep these plain. They're just as good without anything on top!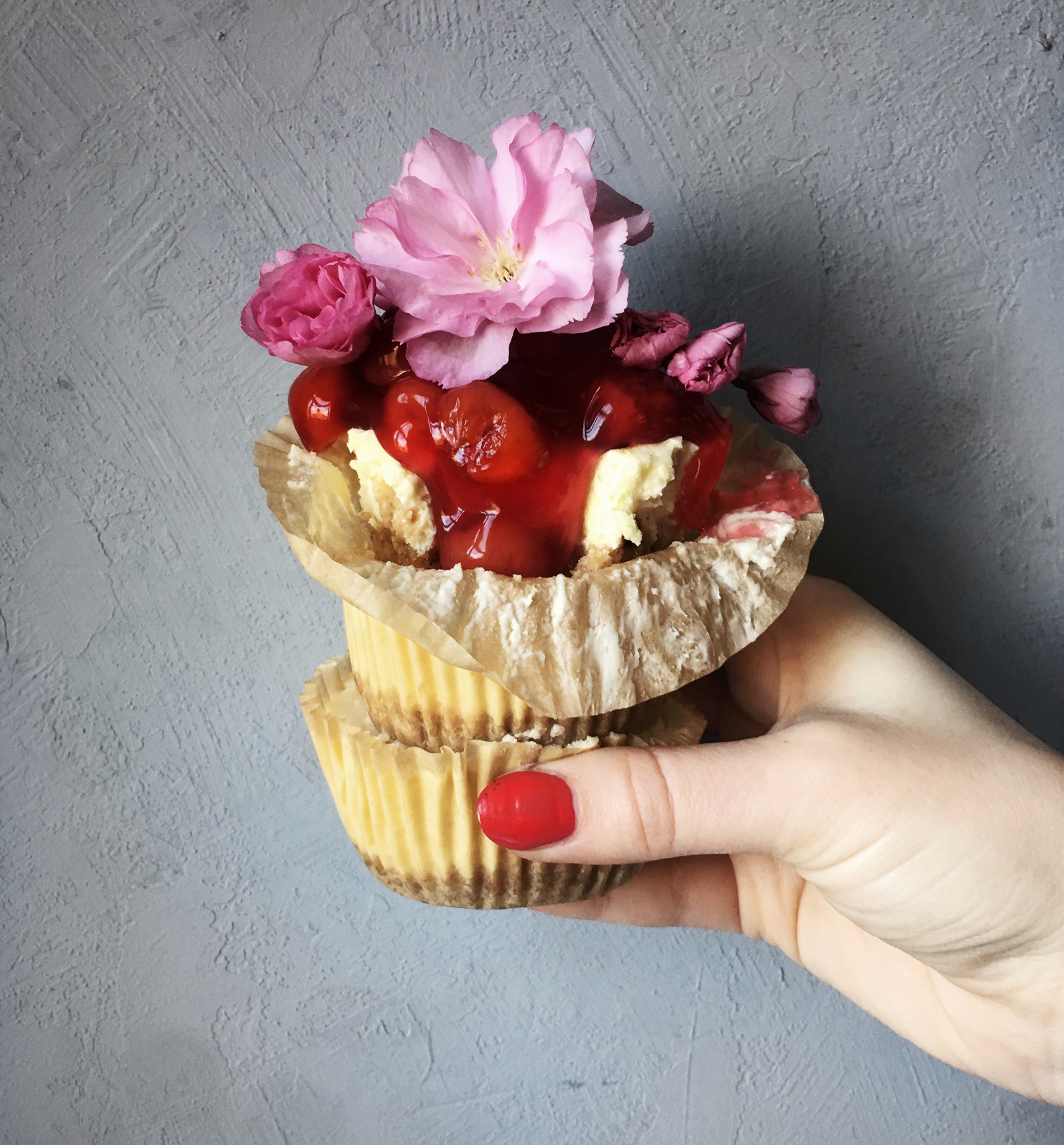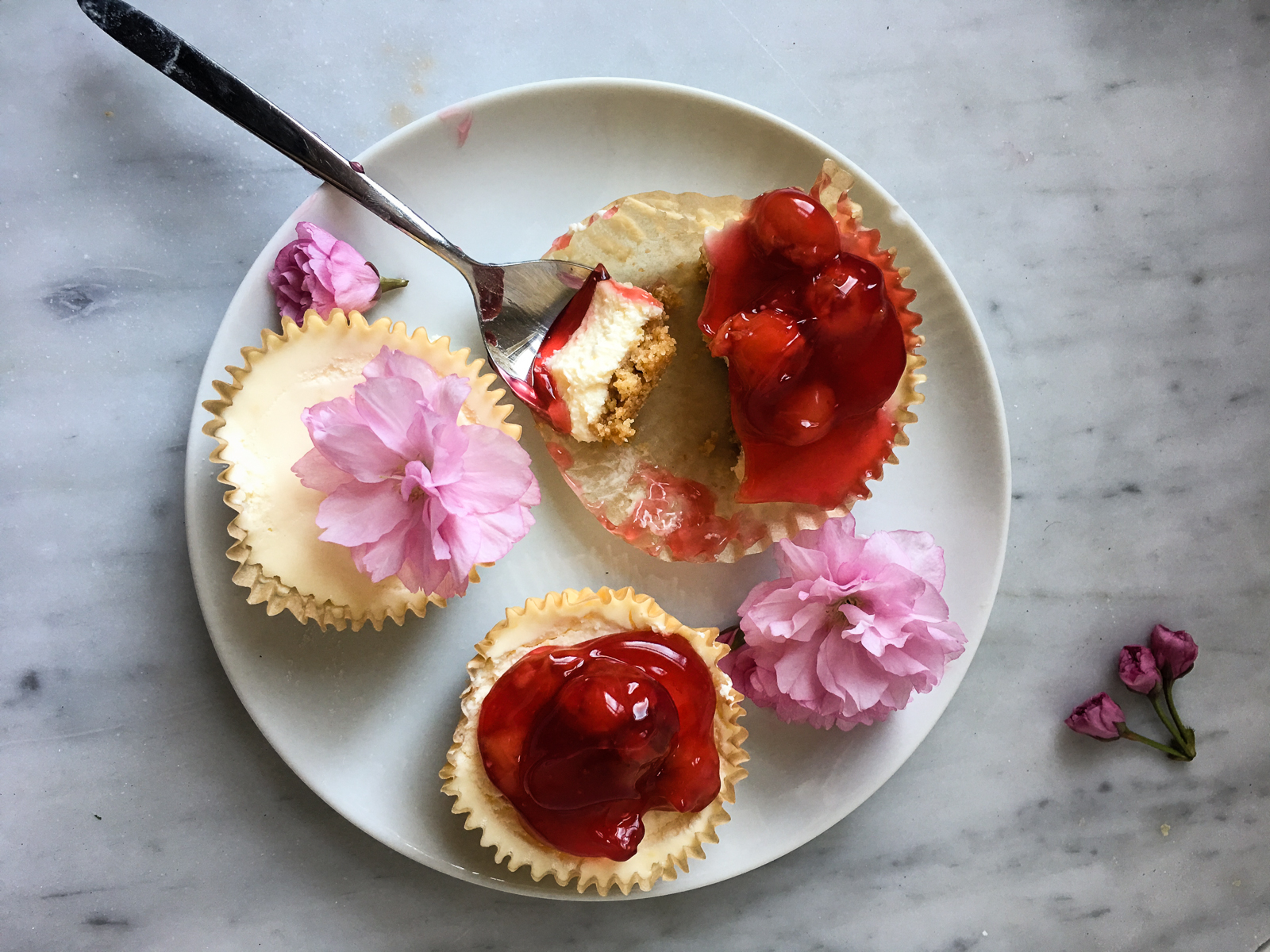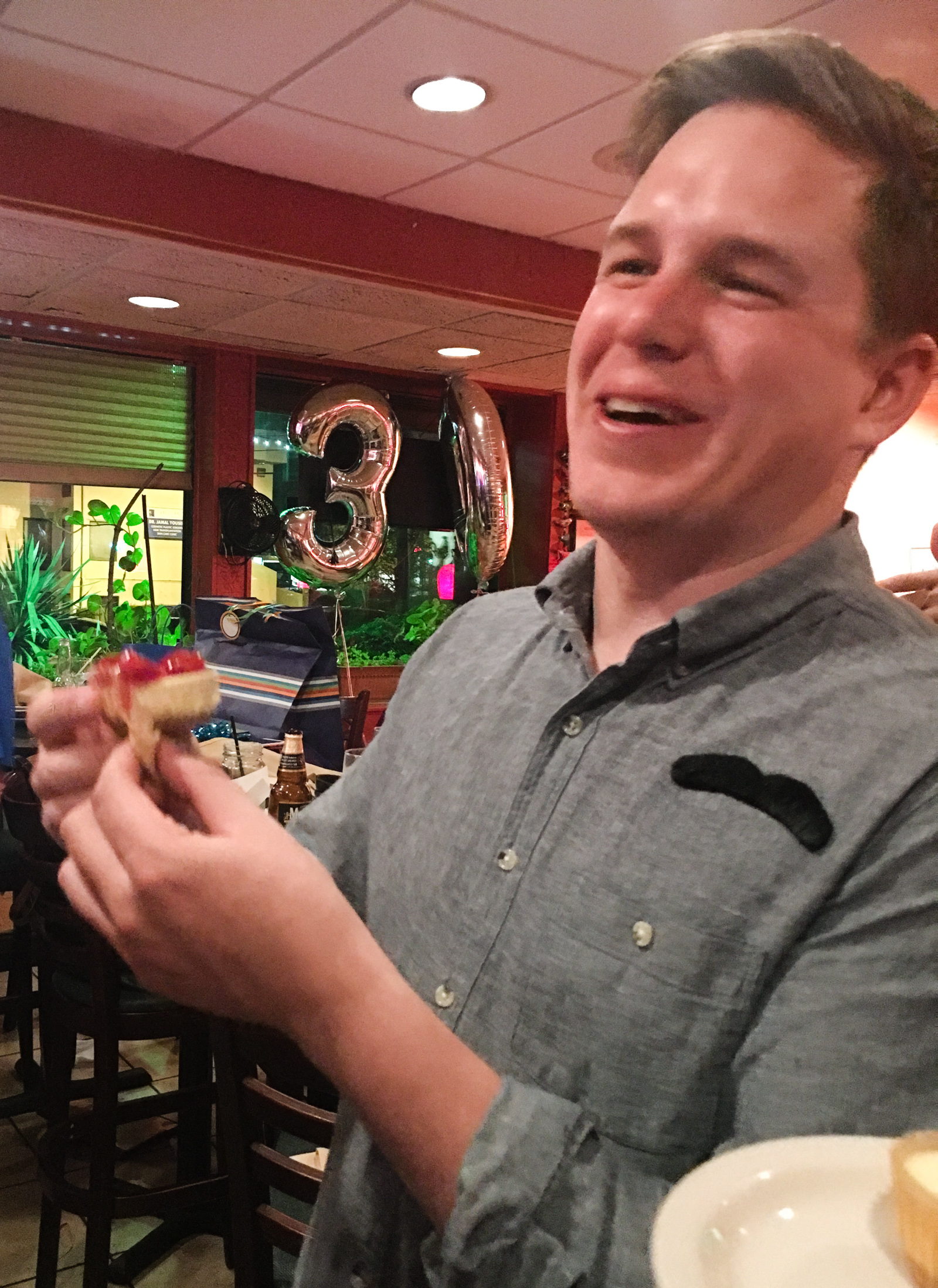 Just look at Dan's face, it really says it all! And finally this crucial testimonial from Brittaney: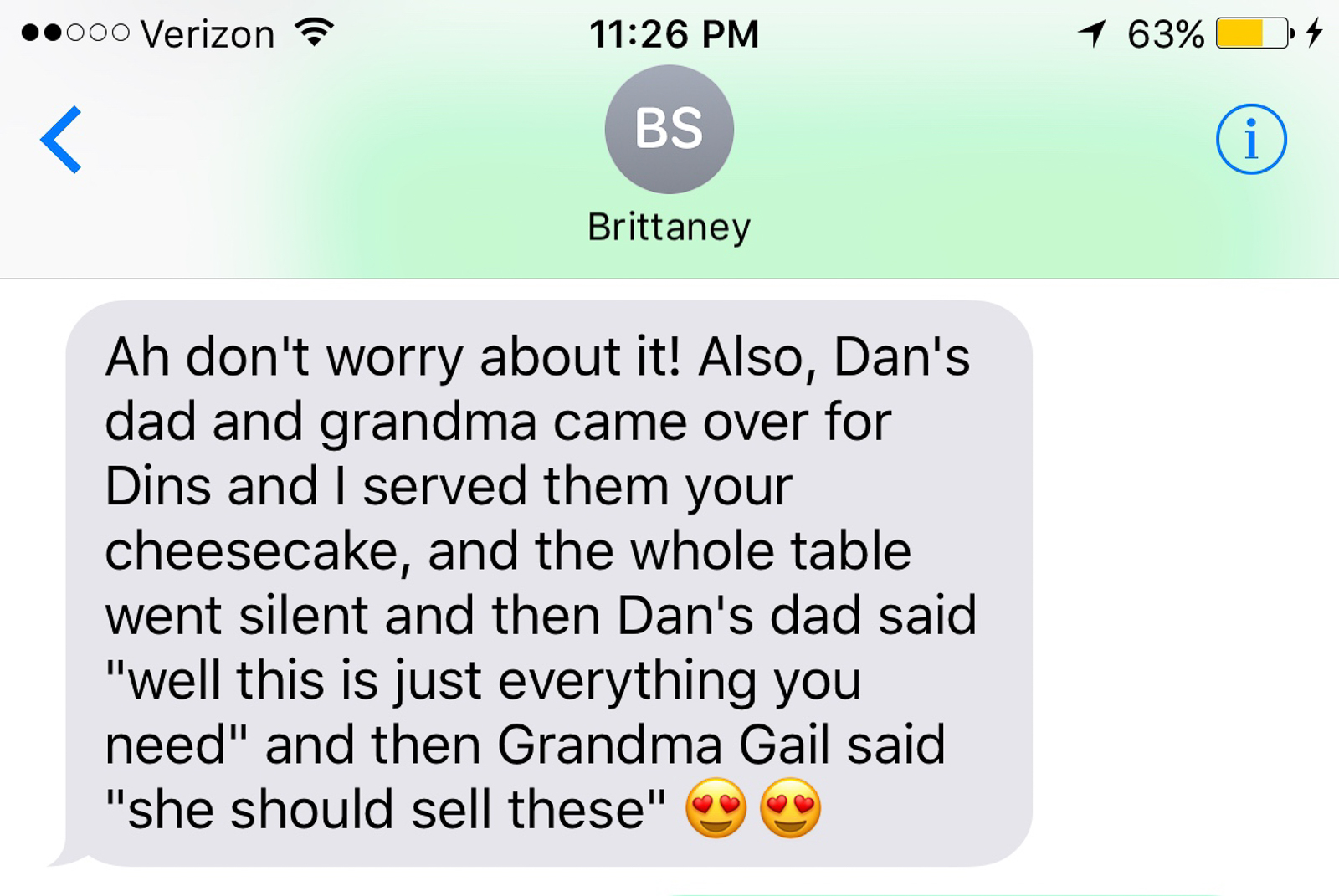 So enough endorsements, here's how to make them:
Cherry Cheesecake Cupcakes (makes 24) recipe adapted from here
Crust:
2 cups finely ground graham cracker crumbs (about 30 squares or half a box of crackers)
1 stick melted butter
Filling:
2 8 ounce cream cheese blocks, softened
3 eggs
1 cup sugar
1 pint (2 cups) sour cream
Zest from one lemon
Dash (big splash if you're me) vanilla extract
Cherry pie filling to top, optional
Preheat oven to 325 degrees and line two cupcakes tins with baking cups.
Combine graham cracker crumbs and butter and put a spoonful into the bottom of each baking cup. Use the bottom of a shot glass to gently pack the crumbs into an even crust in each one.
Using an electric mixer, beat the cream cheese on low speed for 1 minute until very smooth.
Add the eggs, one at a time, and continue to mix slowly. Scrape the sides of the bowl after each egg, as the mixer attachment sometimes doesn't reach the very bottom of the bowl.
Gradually add sugar and beat until combined and creamy, 2-3 minutes.
Add sour cream, lemon zest, and vanilla. Continue to scrape the bowl and the mixer attachment to ensure there aren't any lumps.
Spoon the batter into each cup, and place the cupcake tin on top of a baking sheet with a rim.
Place the baking sheet with the cupcake tin on top into the oven, and pour about an inch of water into the baking sheet. This is a water bath, and will keep the cheesecake from cracking as it cooks.
Bake for 25 minutes, or until the cheesecake's center gently wobbles. Remove from the oven, let cool, and then pop in the fridge to chill for at least 2 hours.
Top with cherry pie filling and enjoy!
Let me know in the comments if you have any other ideas of what you could top these with!