Rishil and I recently got back from a trip of a lifetime in South East Asia, and it was so much more than I could have imagined. The insane traffic, pollution, and crowds were easily overshadowed by the kindest people, most incredible foods, and unforgettable landscapes. I'm going to blog each city that we visited, then I'll do one post with a chart of the entire trip.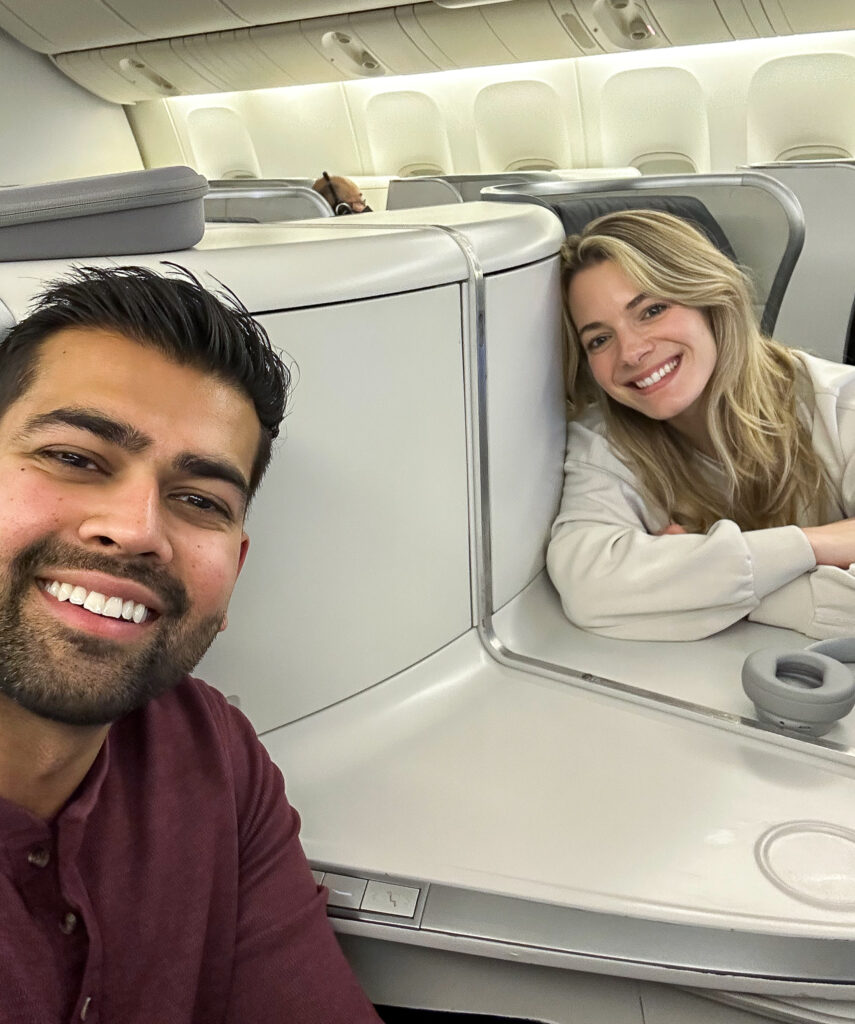 We had reached out to a travel agency to plan the activities for us (since Rishil loves doing flights and hotels on his own), and they wanted to charge us $5,500 for just activities. We looked at each other skeptically and said "thank you, next" and quickly opened up TripAdvisor. I plan all of our trips in OneNote, which helps keep us organized and all of our links, trip confirmation numbers, hotels, and itinerary in one place.
The advice we got before going to Bangkok was to get in and get out, and after being there that seemed like the right advice. The traffic was truly the worst I've experienced (saying something as someone who has lived in DC and New York) and it was just an overwhelming place to start the trip. However, most international flights are to Bangkok, so it's an ideal place to begin your trip. Follow our recommendations below and you'll love this energetic city.
After groggily stumbling off the plane and into a Grab (Asia's version of Uber) we checked into Le Meridien and meandered around the City on our own. Our hotel location wasn't near most of the things we wanted to go to, but the rooms and breakfast buffet were epic.
We attempted to get into the legendary Jai Fai's restaurant (impossible) and ended up eating our first Thai meal at Krua Absorn @ Dinso. It was delicious and not full of tourists, which made us feel like we found someplace authentic. The Tom Ka soup was something I could eat every day and definitely get the stir-fried morning glory, a vegetable we found everywhere in Thailand but have yet to find here.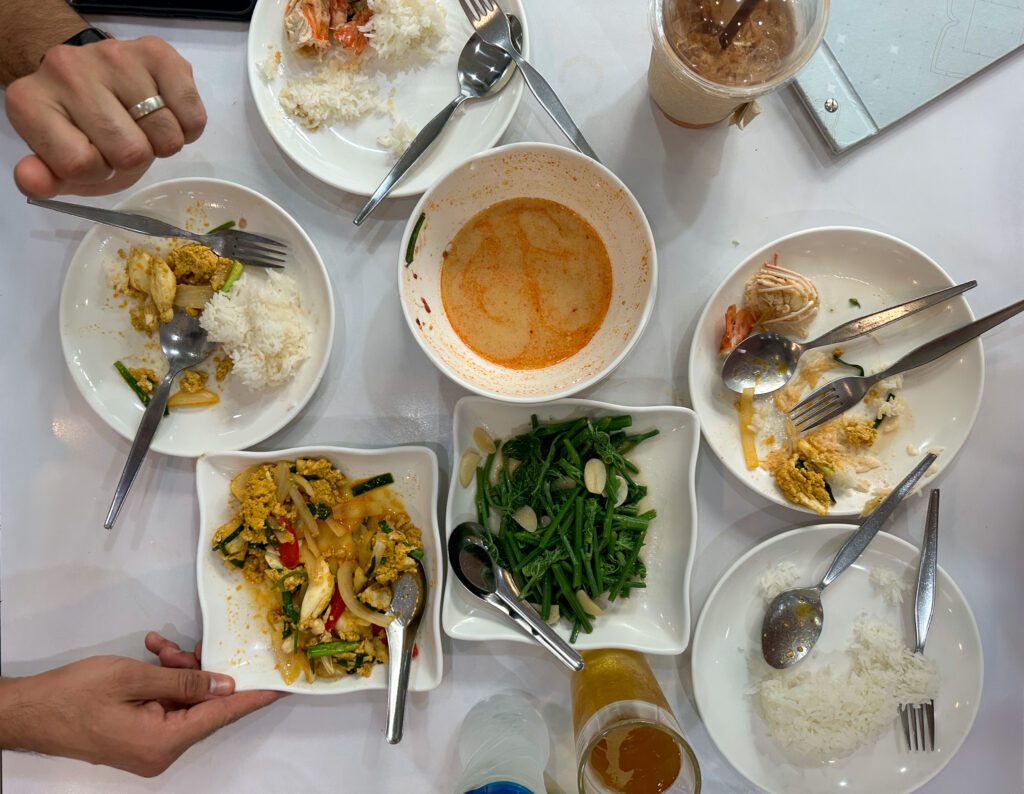 Our highlight of the first day was the most epic food tour I've ever experienced. We booked the Chef Designed Bangkok Food Tour and they showed us street vendors, hidden restaurants, and places we never would have tried or found in Bangkok's Chinatown.
You may be thinking "why would you come to Thailand to go to Chinatown?", but what I learned was that China has a large influence on Thai cuisine, which can be seen in the frequent use of soy and oyster sauce in Thai cooking.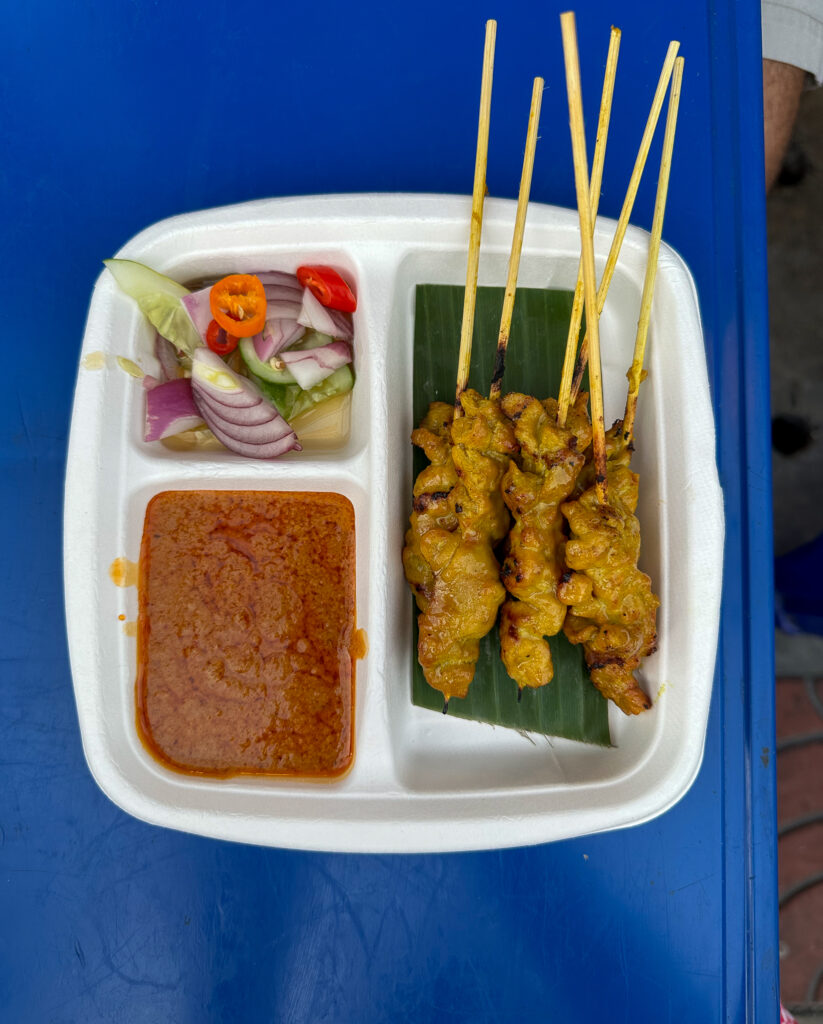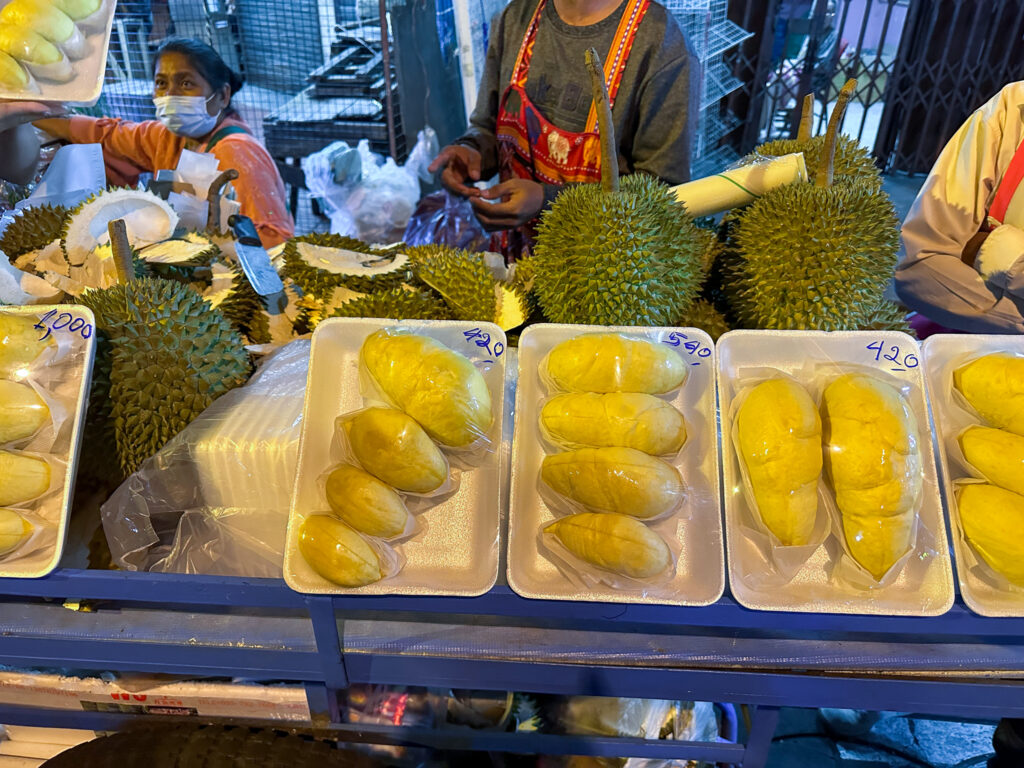 Annie and Eileen were the most energetic and fun tour guides and accommodated our interests so well. I knew that I had to try durian while in Thailand, so she excitedly bought some for our group to try. This controversial fruit had a surprisingly creamy texture (was not a huge fan of that haha) but the flavor was more mild and tropical than the smell would suggest.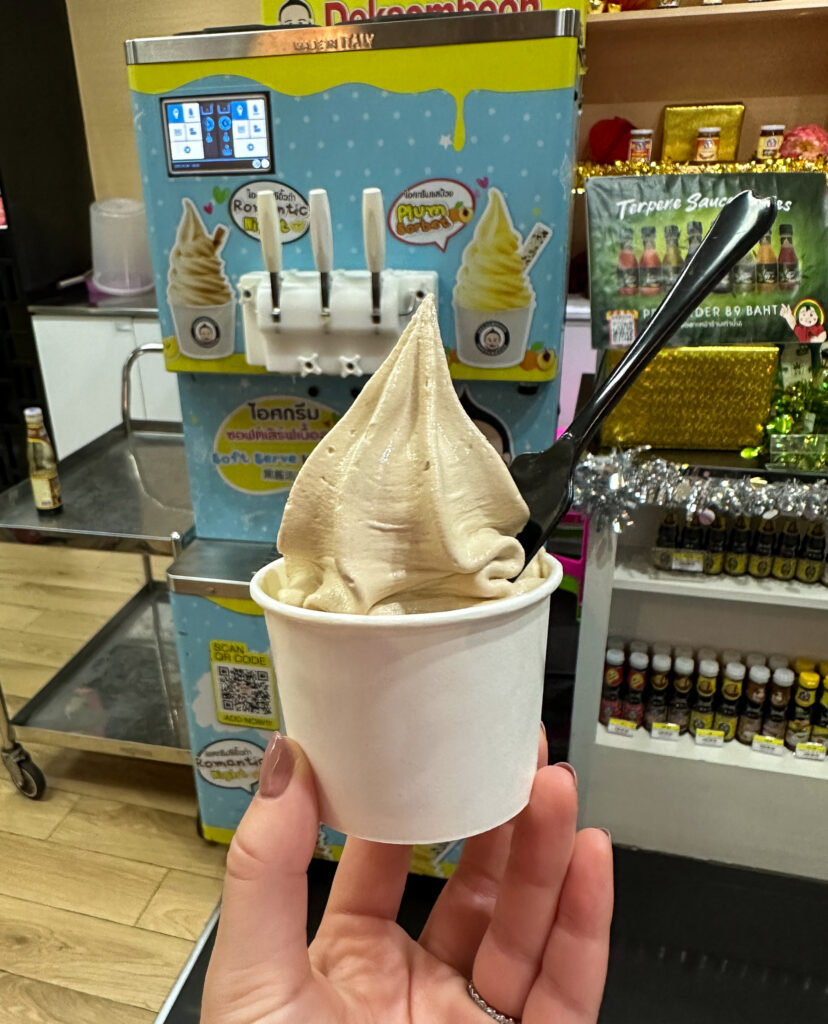 Some of our favorite foods were the soy sauce ice cream, which reminded me of salted caramel in a way, the satay with the sweet and spicy curry dipping sauce, the green mango with shrimp dip (shockingly good), and of course the mango sticky rice was perfection. I was grateful for this tour because they were able to check some of the places we saw on Street Food off our list, like Jek Pui Curry. If you don't do the tour, please go here. The green curry was unreal!
We were beyond full and left the tour with a deep appreciation for Chinatown and all of it's incredible foods.
One thing I knew before going to Asia was that Rishil and I needed to do tours as we didn't speak the language and would have no idea where to go, especially if we wanted to go off the beaten path. Enter our fantastic tour guide, Peach. We found her through Private Guide In and Around Bangkok: Custom Tour, one of the highest rated things to do while in Bangkok.
We WhatsApp messaged her some ideas of what we wanted to do ahead of time and had a chat that morning in our hotel lobby. We shared that we wanted to do less touristy things and see the real Bangkok, and she said say no more (not in those exact words, but we knew she had us covered).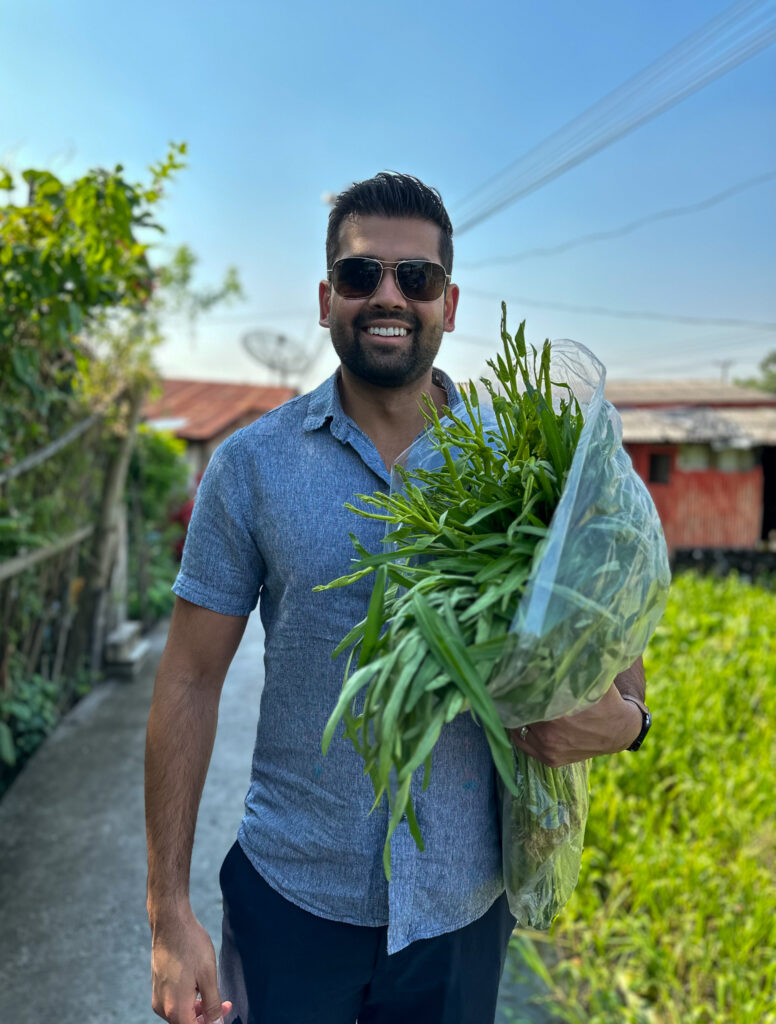 We took a taxi outside of the city and went to a local market to pick up some green vegetables to feed white water buffalo. They were so excited to see us and it was interesting to see the places locals shop for their meals. After a quick stop at a temple, Peach arranged for a boat tour around the canals.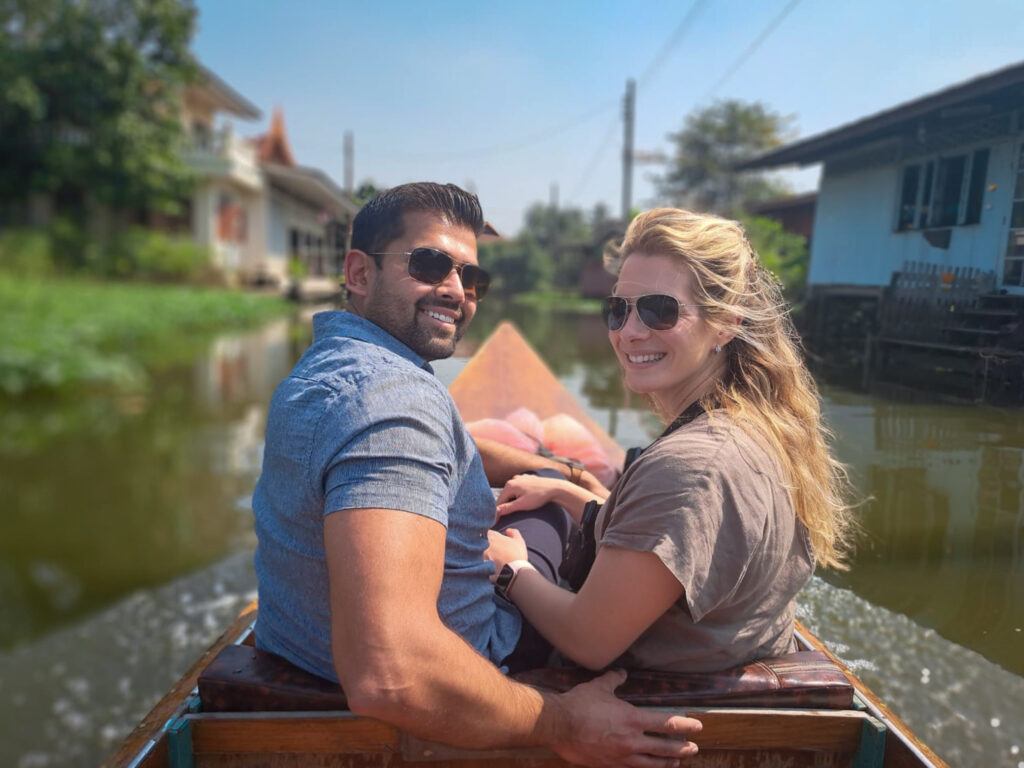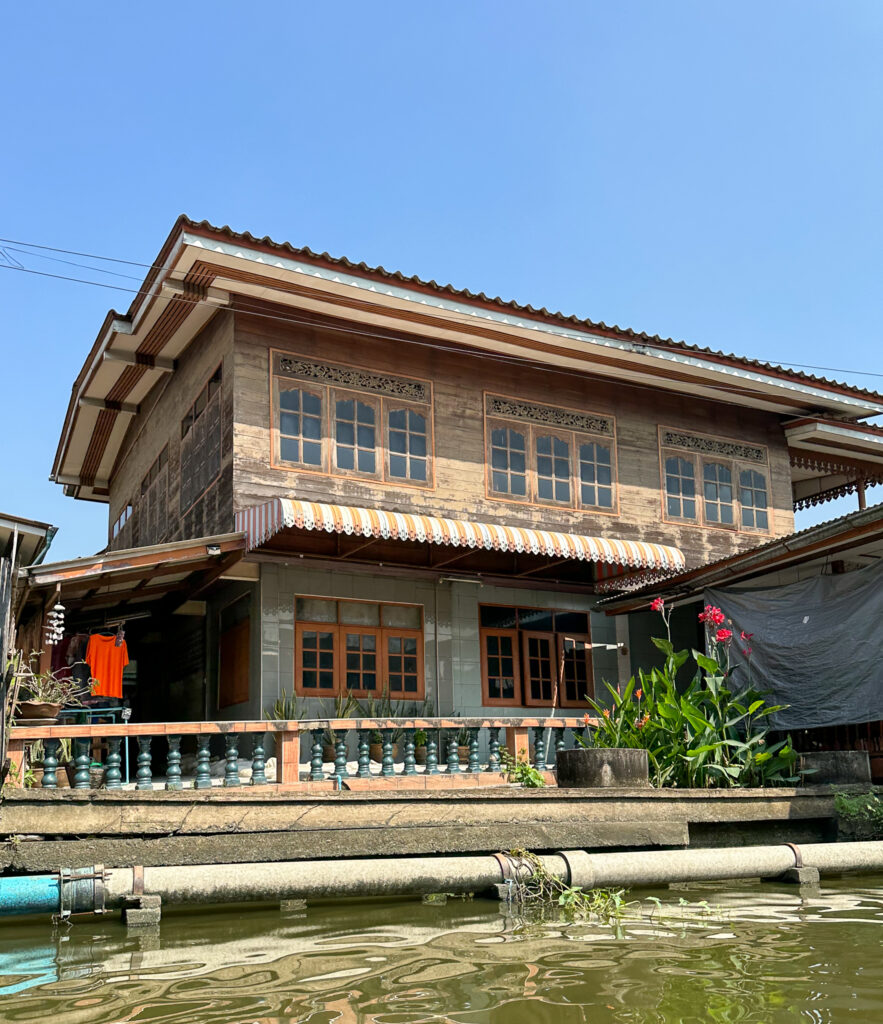 This was easily one of my favorite parts of our trip- the chance to see where and how locals live and to experience Thai culture is why we came to Asia in the first place. Peach took us to a "drive through", a canal store front where you shout what you want from your boat and the attendant hands it to you, so cool!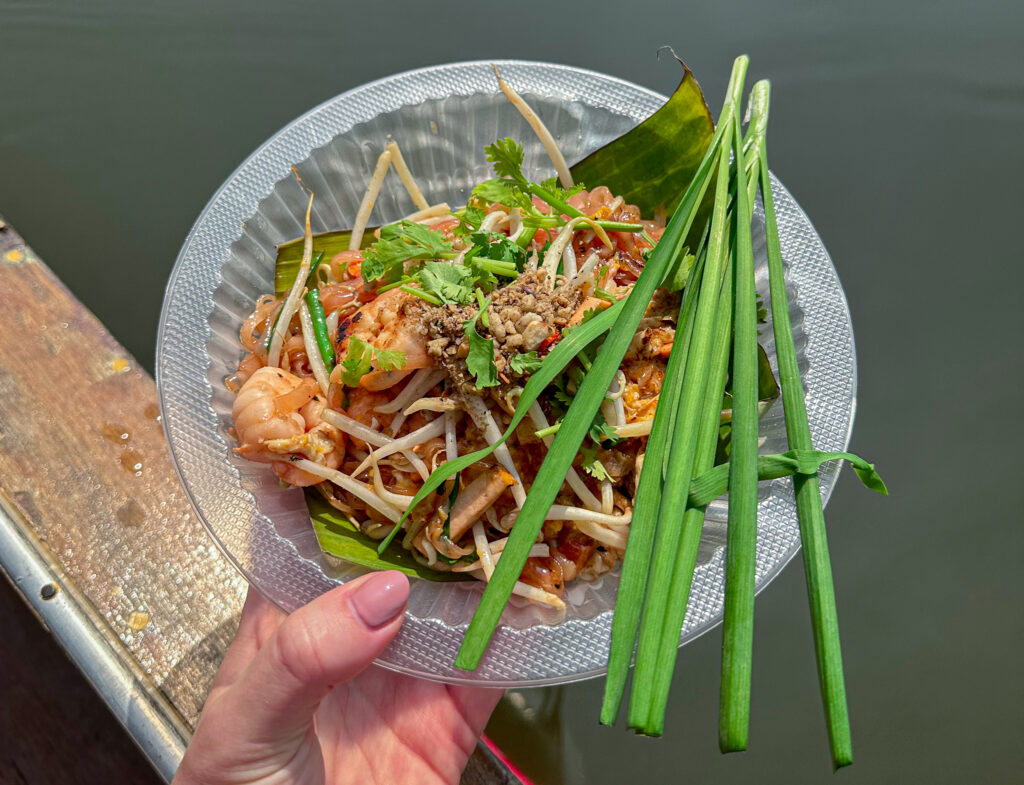 I'll never forget us pulling over to a small boat where a woman whipped up the most delicious pad thai for us using her wok and a portable burner.
Peach explained that Thailand is a Buddhist country, so complicated retirement plans like we have in America are not found here. People live in the moment and off the land; we saw people doing everything from bathing in the canal, to eating fruits grown on their trees, to fishing for a meal. As we walked down to the canal Peach rubbed the fragrant herbs in the resident's gardens in her hands, explaining that neighbors love to share with each other. It's a beautiful culture and such a different way of living than what we're used to.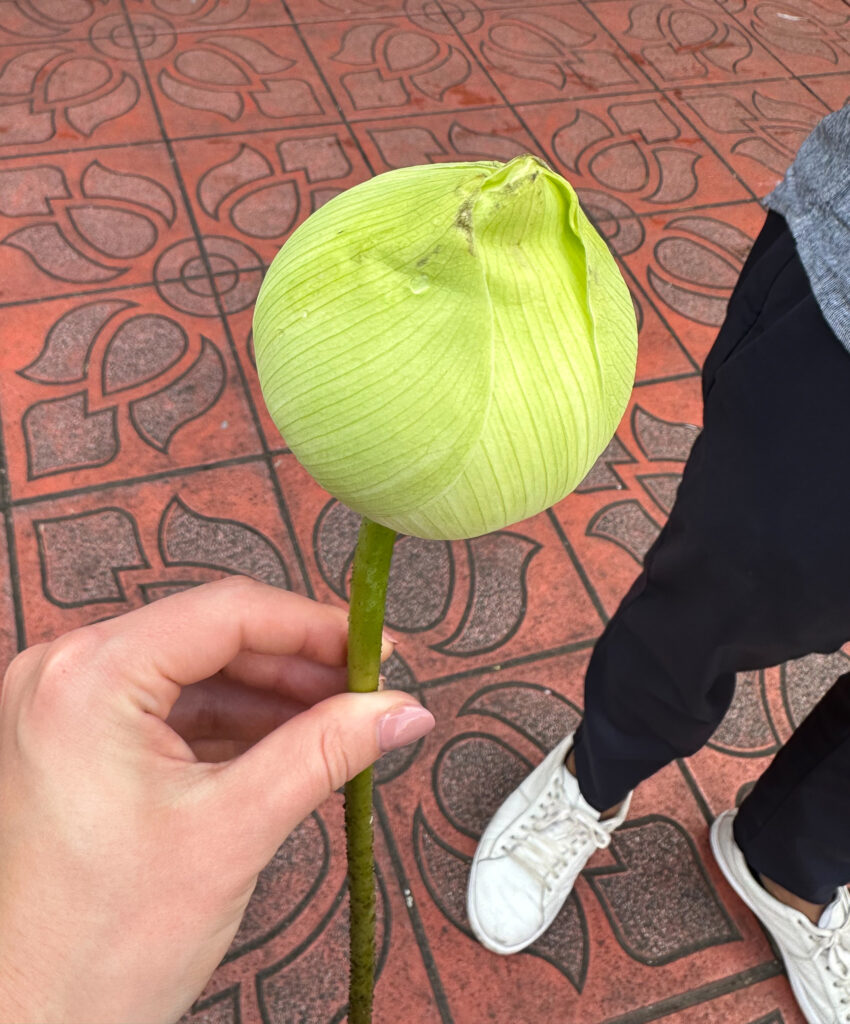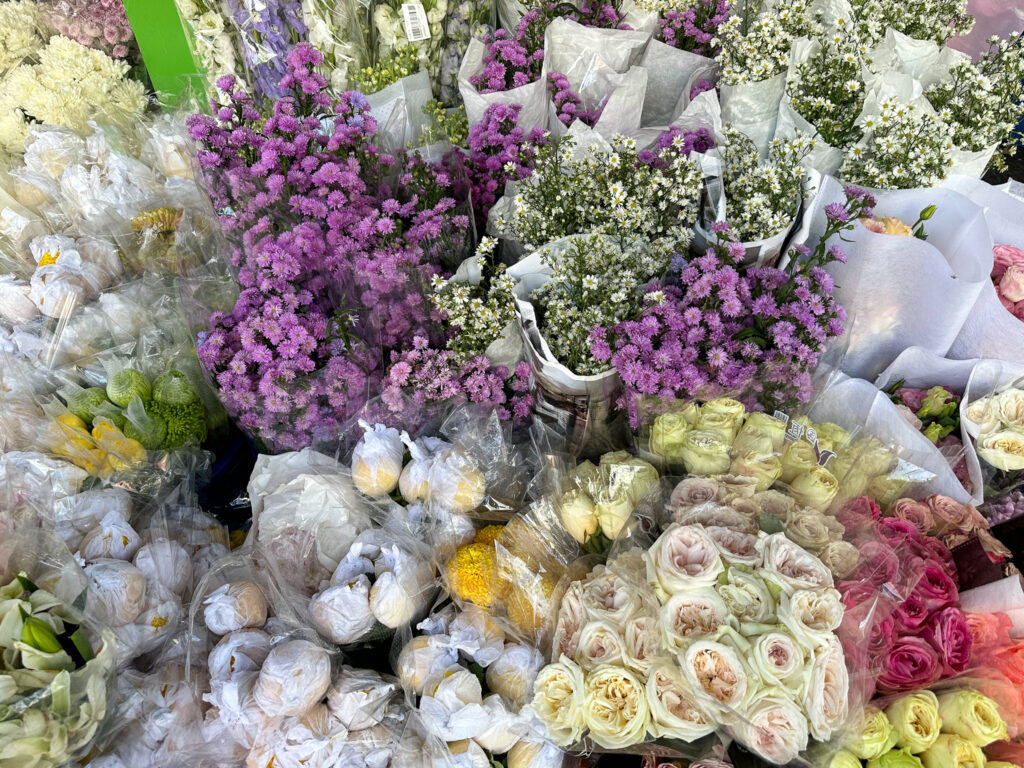 Our next stop with Peach was to the incredible Bangkok flower market where we learned how to turn a lotus flower from a bud into something so beautiful, just by folding the petals.
Rishil joked that there's more ice at the flower market than at any of the meat markets we passed, which is sad but hilariously true. Food safety is not really a concept in Asia, so come mentally prepared and go with a guide when you eat street food.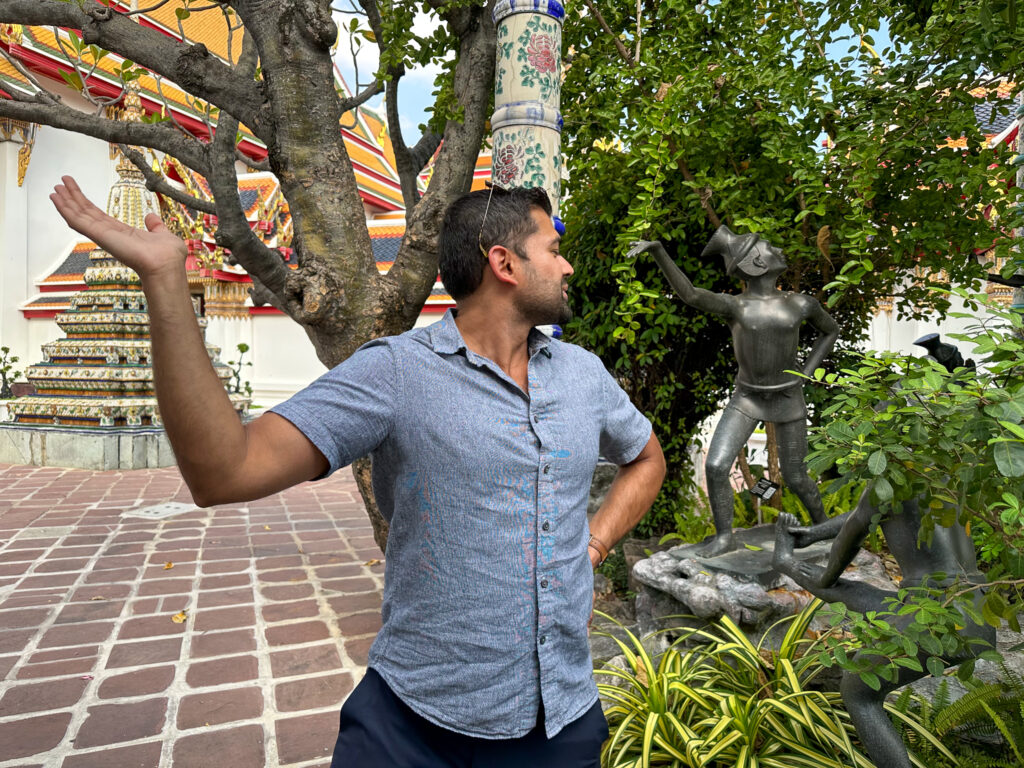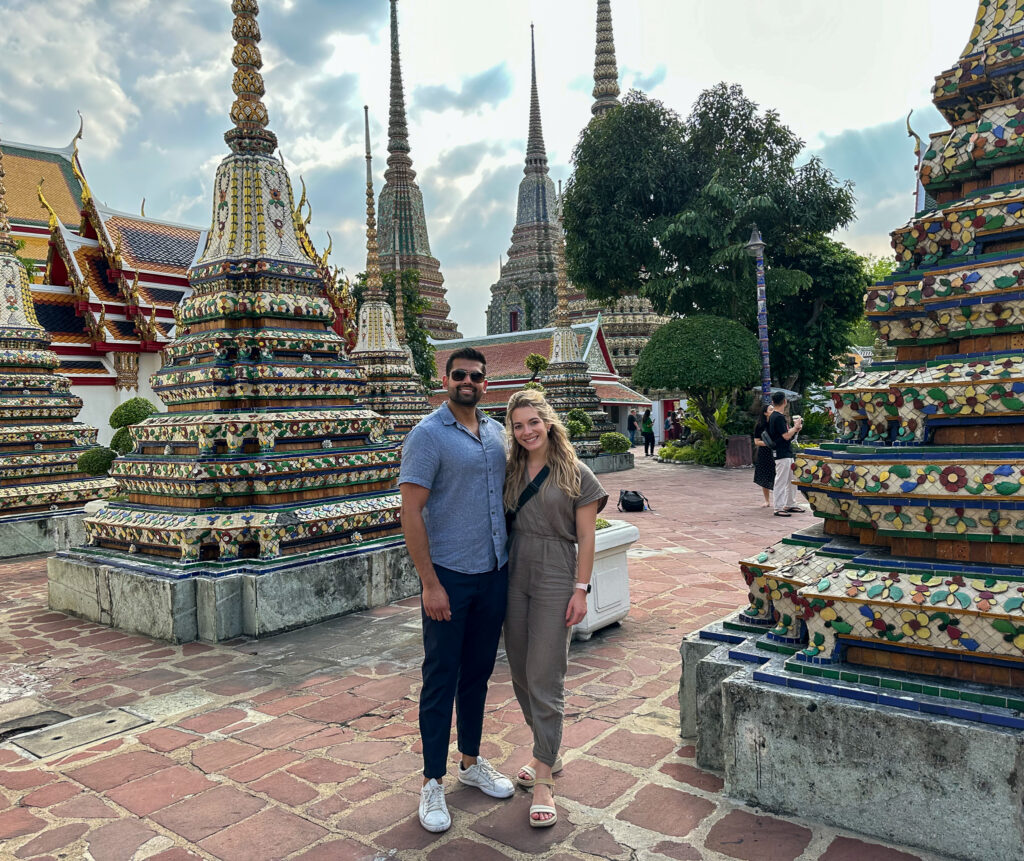 Our final stop with Peach was the Wat Pho temple, which is the famous reclining Buddha. We parted ways with our lovely guide and heading to Botanika massage for an epic Thai massage.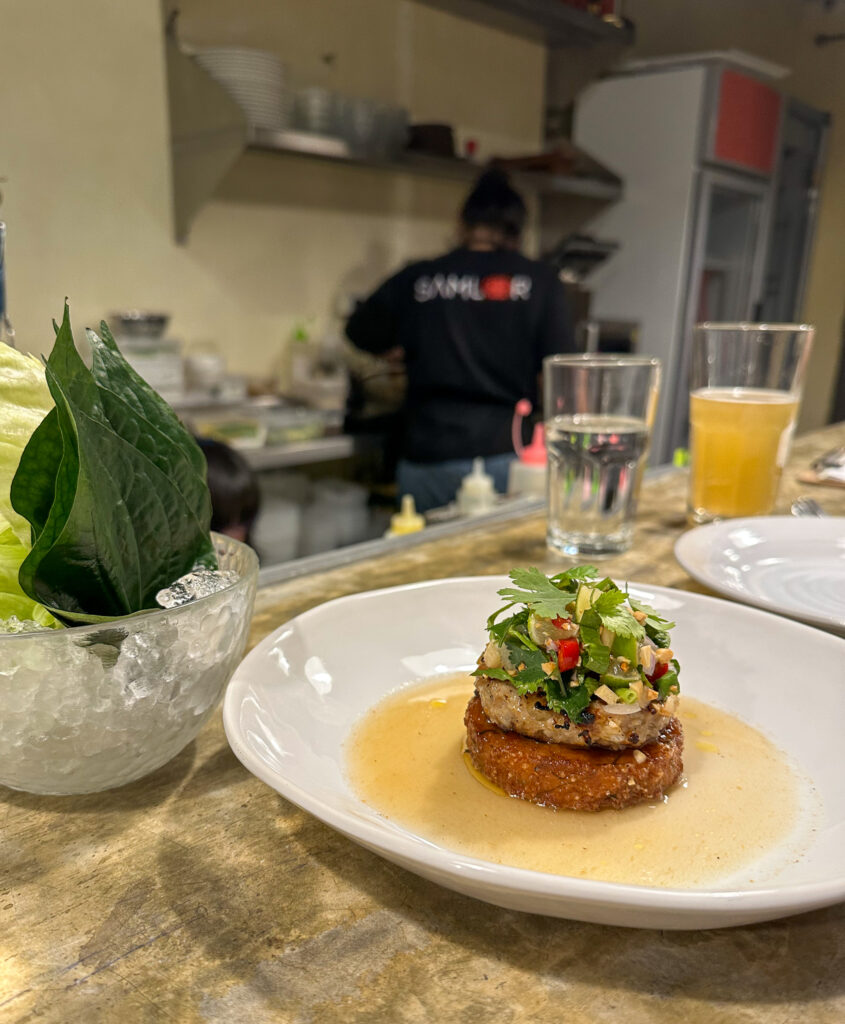 All that touring left us hungry and we stumbled across Sam Lor, an upscale and unpretentious Thai restaurant recommended to us by the bartenders at Tropic City, one of the best bars in the City.
They managed to fit us in at the bar, but make a reservation if you plan on going. The food was so flavorful- we loved the sour pork dish, the duck, and the coconut dessert. The restaurant's owner is the pastry chef and was also waiting tables, while their daughter sat at the bar with us. A true family business!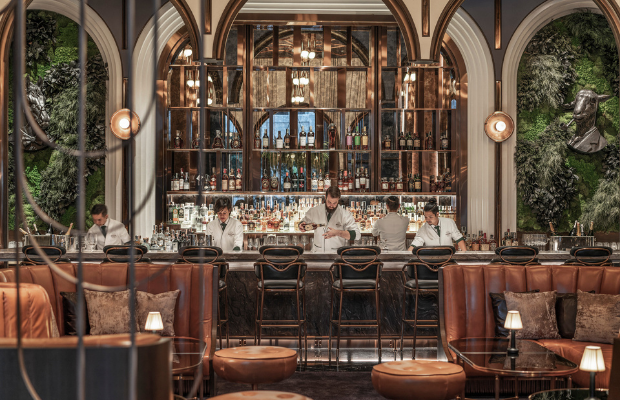 To cap off our time in Bangkok, we went to Bangkok Social Club, the 10th best bar in the world. It's in the Four Seasons and was so elegant, and the drinks were so creative. I had a Cynar julep which I'm dying to recreate at home.
Overall I treasured our time in Bangkok, but feel like we checked it off our list for awhile. I've made Google Maps for all of our cities; find the Bangkok one here. Let me know in the comments if you have any questions before you go!