After our whirlwind two days in Bangkok, we were relieved at the possibility of enjoying some relaxing island time in the South of Thailand. Our three days in beautiful Koh Samui was met with some inclement weather, but we embraced the rain and explored everything from fragrant durian farms to exhilarating fire shows to welcoming local restaurants.
As I'm writing this 3 months after coming home, I feel a deep sense of gratitude to have been able to take this trip. I can still taste Mr.Eung's green mango salad, I can feel the splash of mud from our jungle ATV tour, and I can see the warm smiles of our hospitable hotel staff.
If you have the opportunity to go to this lush island, below are 5 things that made our experience there unique and unforgettable.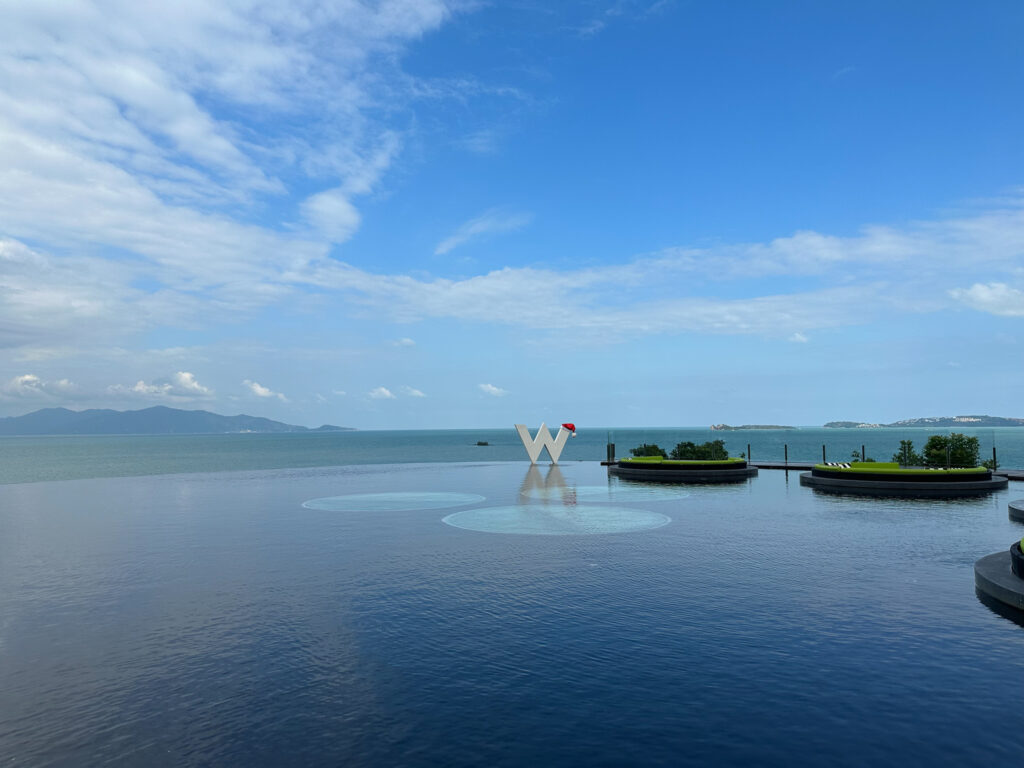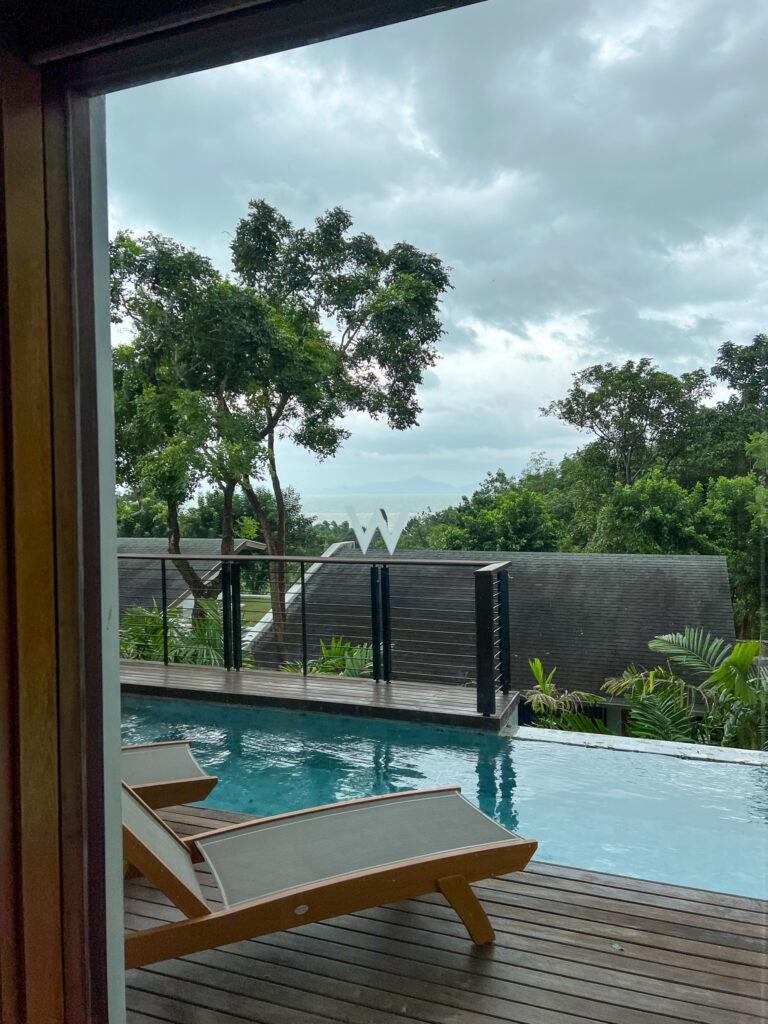 Koh Samui is known for beautiful and luxurious hotels at a fraction of what you would pay in the US. Rishil booked us an incredible mountainside villa at The W Koh Samui with our own pool, an amenity that we experienced for the first time.
We loved the privacy of the room, the great gym, but most importantly the breakfast buffet. Each morning we indulged in exotic fruits, tom yum soup (an excellent breakfast!), and a fresh coconut branded with the hotel's logo. While it's not walking distance to anything, the hotel has cars that can take you around, plus getting a Grab is very inexpensive.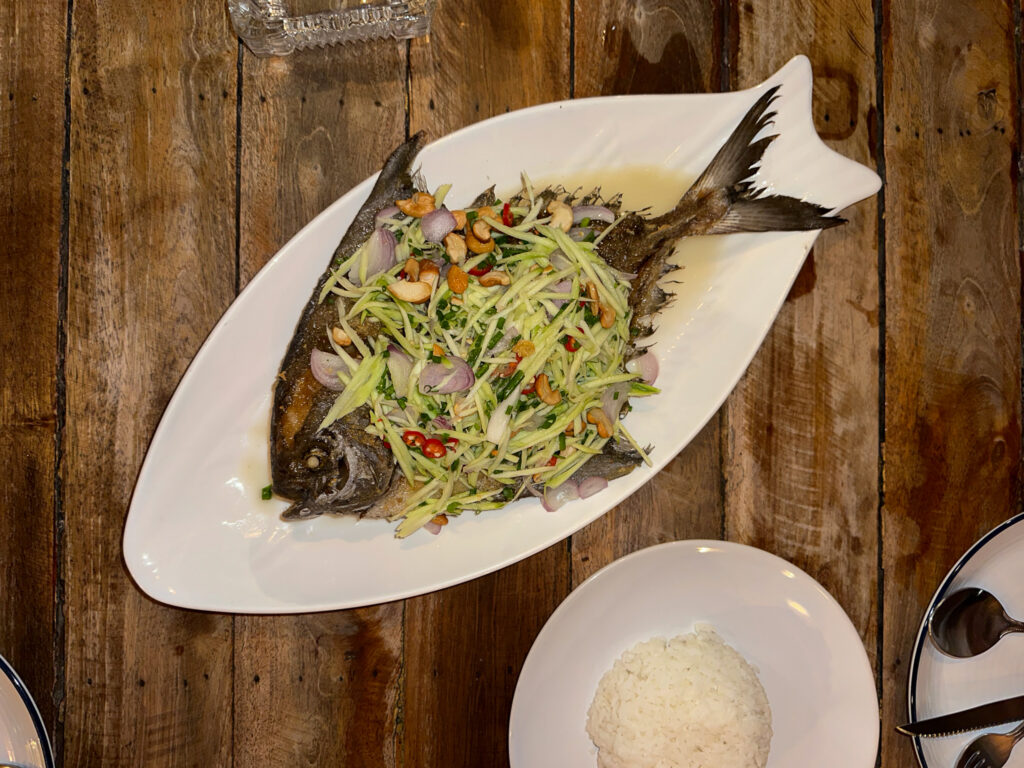 Mr.Eung's wins my award for best dinner that we had in Thailand, and absolutely the most entertaining. Mr.Eung aka Lisa is a hilarious man who will tell you all about his boyfriend, his wild nights out, etc. He's hilarious and makes your meal one to remember not just through his conversation, but through the most delicious food.
We had a fried fish with a spicy, sour, and sweet green mango salad on top, and a roasted duck curry punctuated with tiny bitter eggplants that I will never forget. I would fly across the world again in a heartbeat to eat his food and hear a few of his jokes.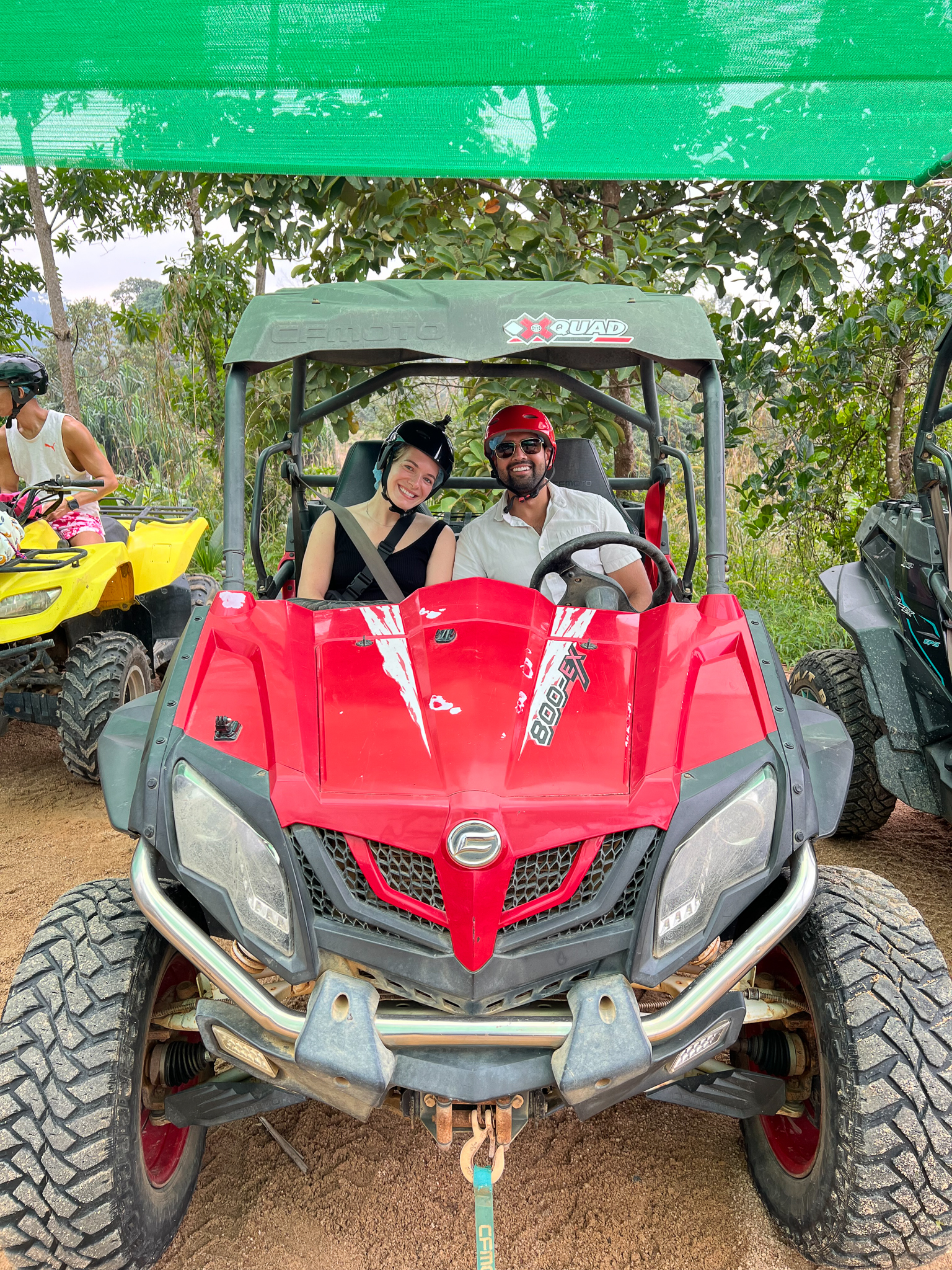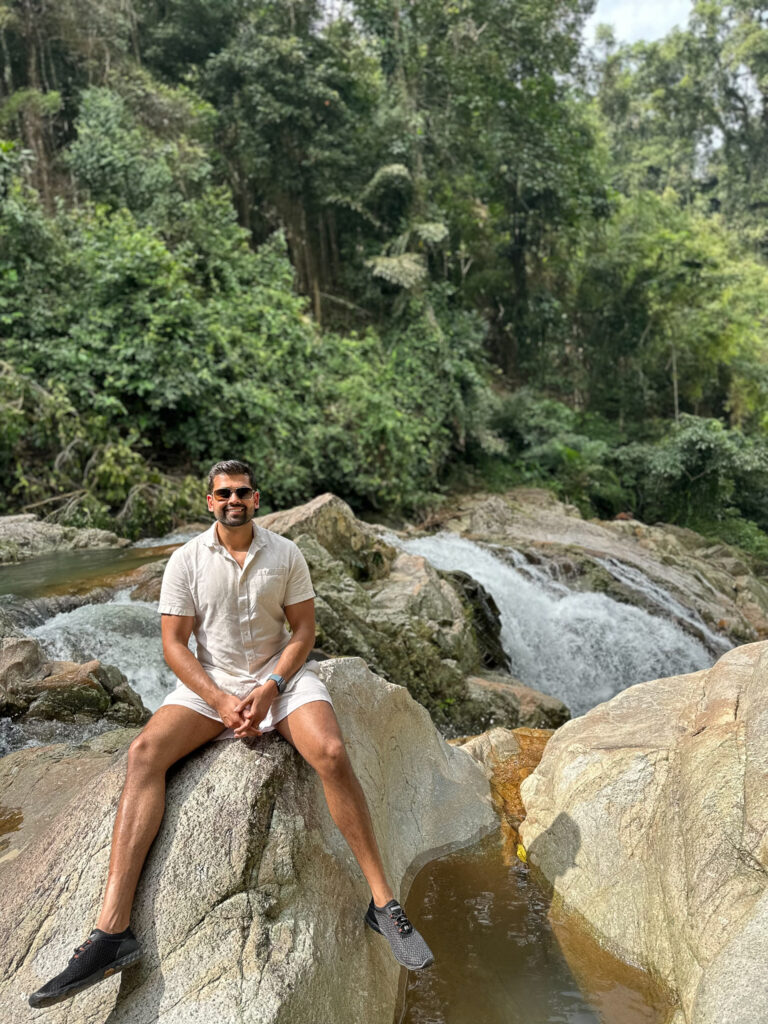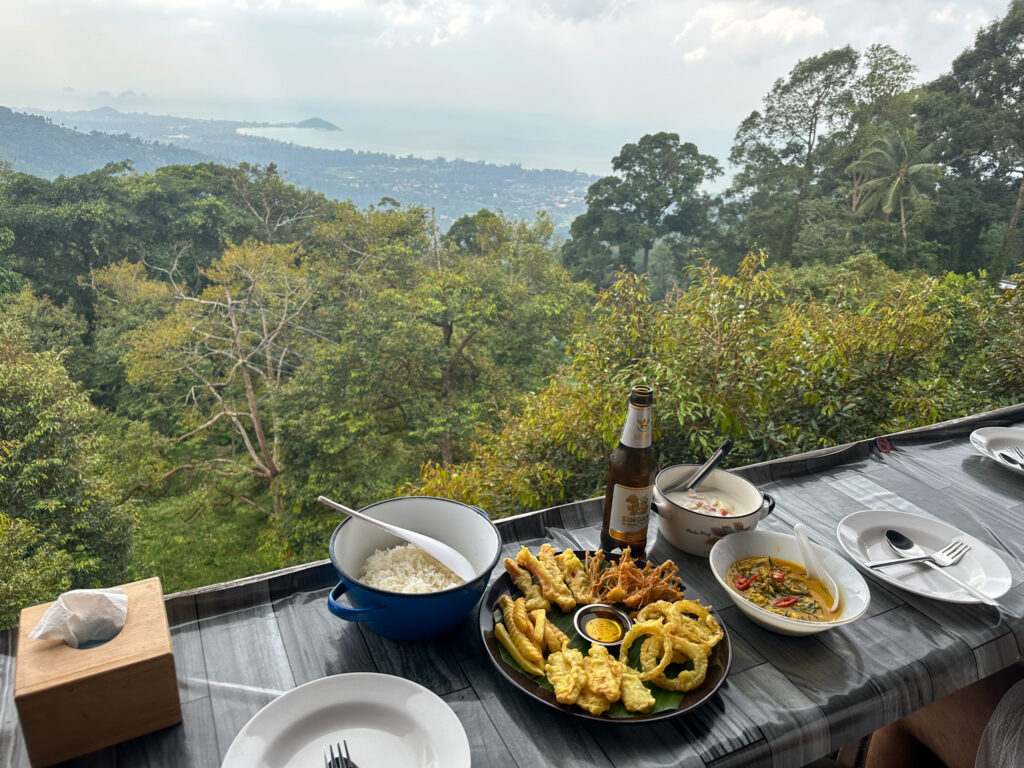 This ATV tour was one of the coolest things Rishil and I have done. We chose a quad (which is more like an open car than an ATV), and went around the island to see waterfalls, durian farms, and unforgettable views.
It rains in Koh Samui often and Rishil took full advantage of that by gunning it into mud puddles, soaking us completely. Once we embraced being filthy, we laughed harder than we had in awhile. We aren't the kind of people that can sit at the pool or beach all day every day, so if you need a break from lounging, this is such a fun way to see the island.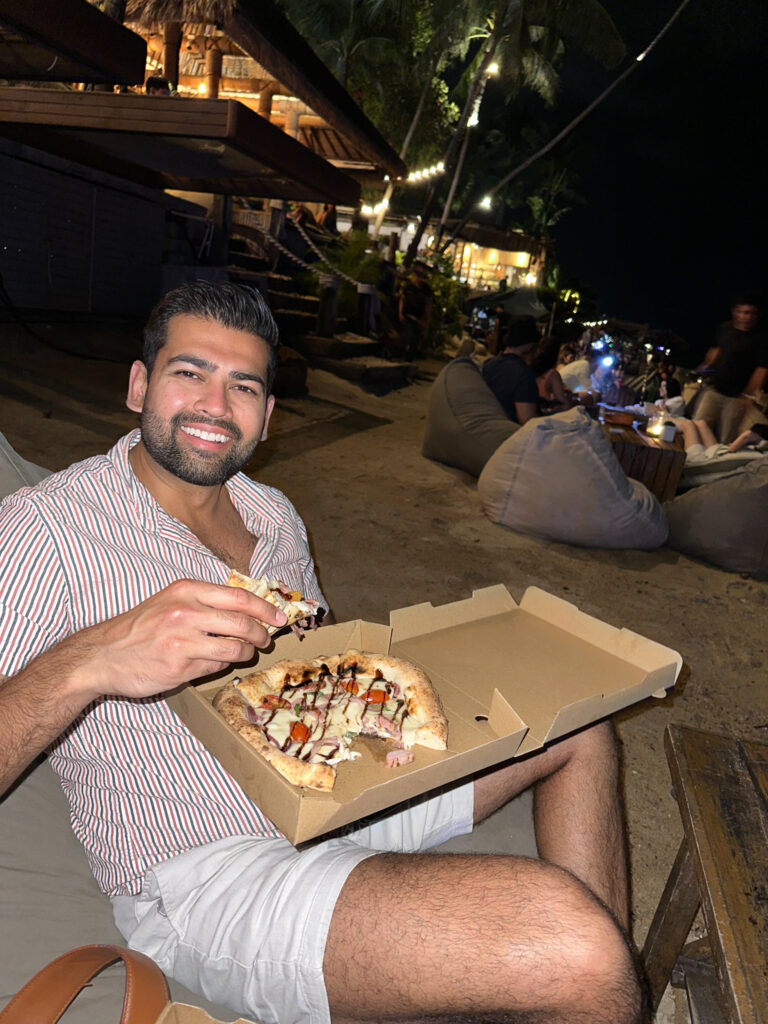 I found Coco Tam's on Tripadvisor while planning this trip and immediately knew that we had to go here based on the authentic looking pizza and everyone's comments about the delicious drinks.
Little did I know that they also have a fire show that would put our 4th of July celebrations to shame. It's packed every night, so get there early and be prepared to wait. There's both a restaurant and a beach club; we loved the giant bean bag chairs at the beach club and the fact that we could eat our pizza while watching an epic show.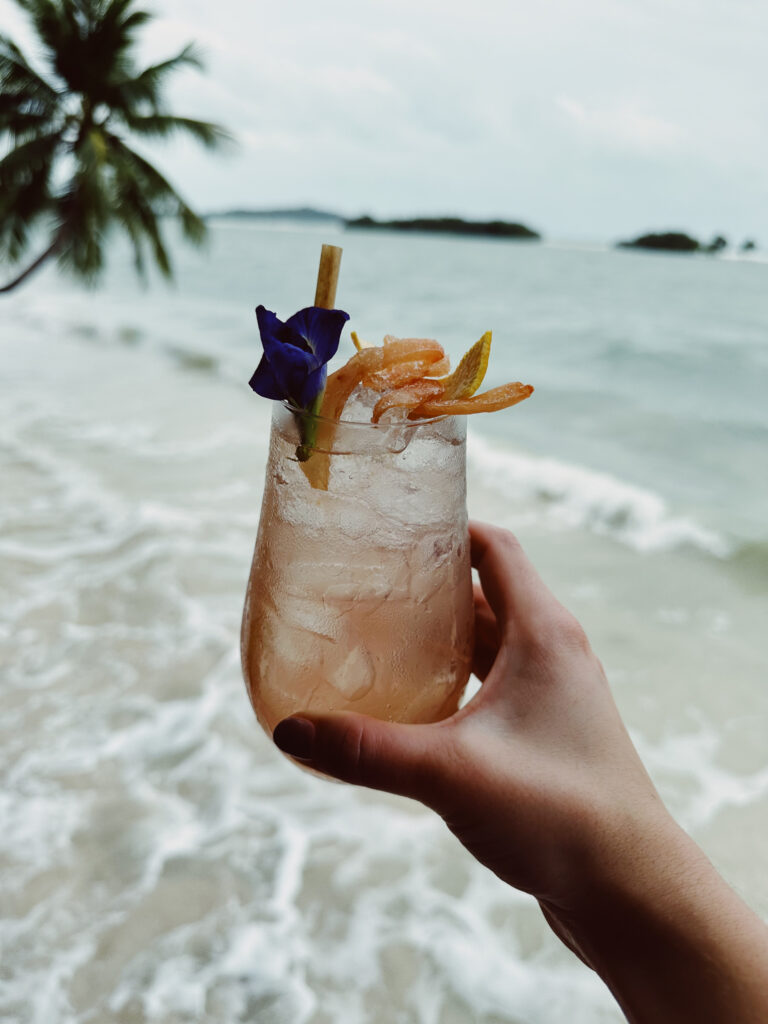 We spent each afternoon trying a different beach front restaurant, knowing that our next stop of Chiang Mai was completely land locked. We loved the funky Treehouse restaurant. Their fried fish was so fresh, and we excitedly sampled their vast mojito selection- my favorite was the lychee one.
If you're staying closer to downtown Bo Put, definitely stop by Moonrise Beach Bar. You're seated right on the water and they had the most creative cocktails. I had one with fino sherry that was so refreshing.
Next up is Chiang Mai- please let me know in the comments if there's anything you want me to share from that portion of the trip!