So many people tried to talk Rishil and I out of going to Brussels. "Go to Bruges" they said, "it will be more romantic". We seriously contemplated dealing with the Airbnb cancellation charge and switching our train, but after visiting Brussels I couldn't be happier that we kept our destination as is.
We only had a day there in between Amsterdam and Paris, so Rishil booked us a Beer and Chocolate Tour to occupy the majority of the day (more on that later). I obviously had three things in my mind that were a must while we were in Belgium:
Chocolate.
Belgian waffles.
Beer.
If we experienced all three things, I would have deemed our day to be a success. Thankfully it was! The train from Amsterdam was a short two hour ride, and when we arrived we stored our bags at the station and set off to explore.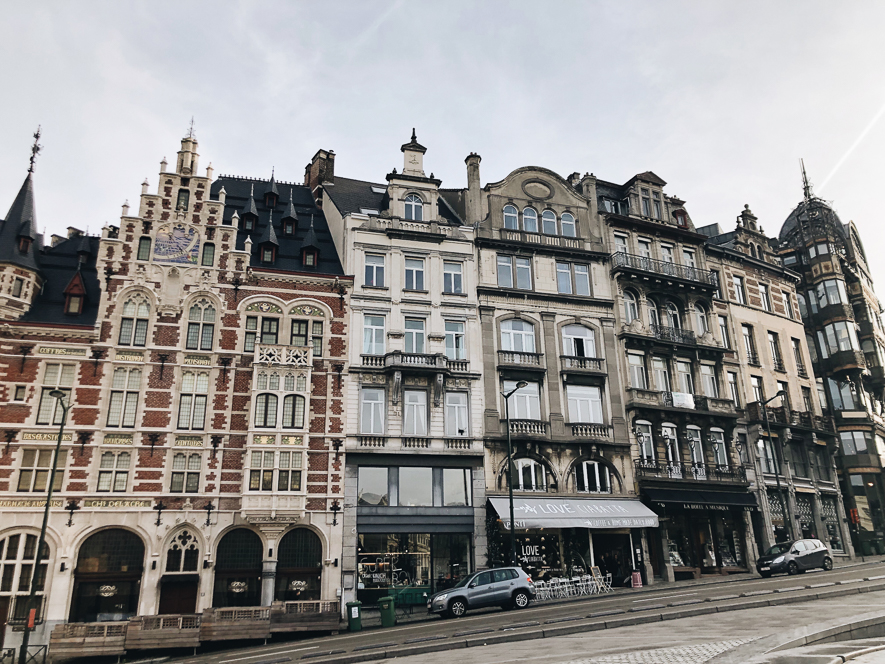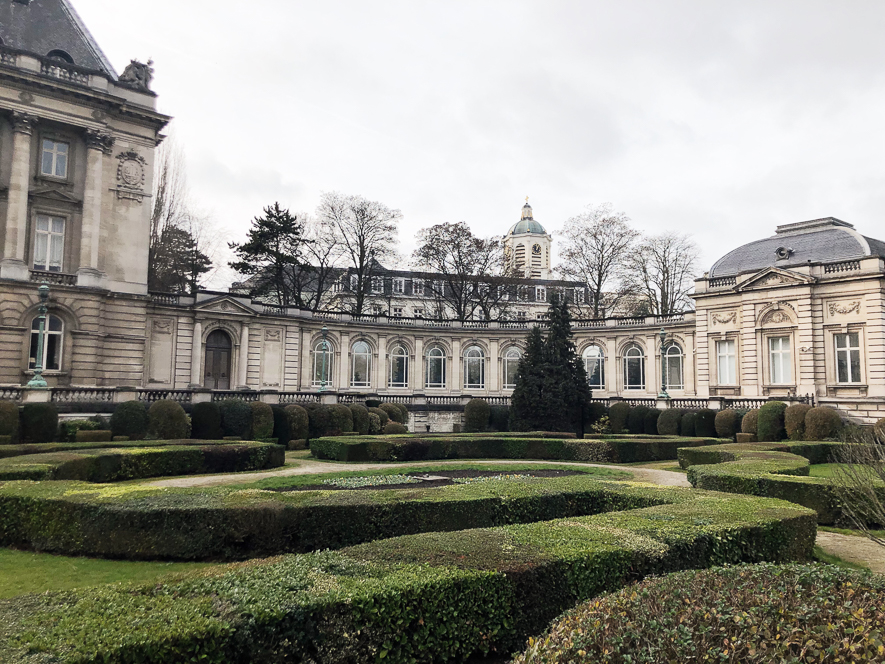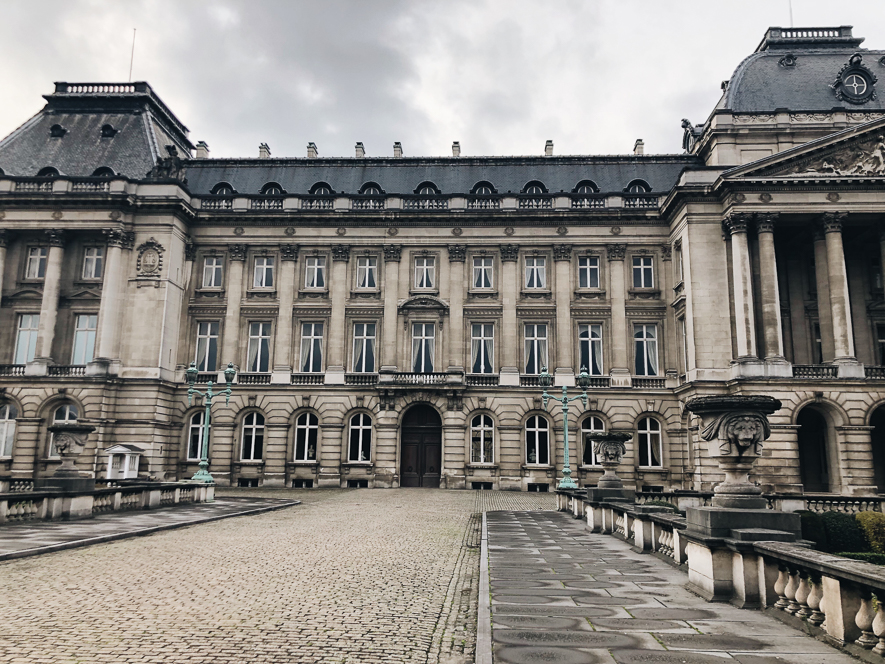 We found the beautiful Palais Royal while on the hunt to get frites, and then quickly focused back on our original mission. Like in Amsterdam, I was so impressed by the architecture here.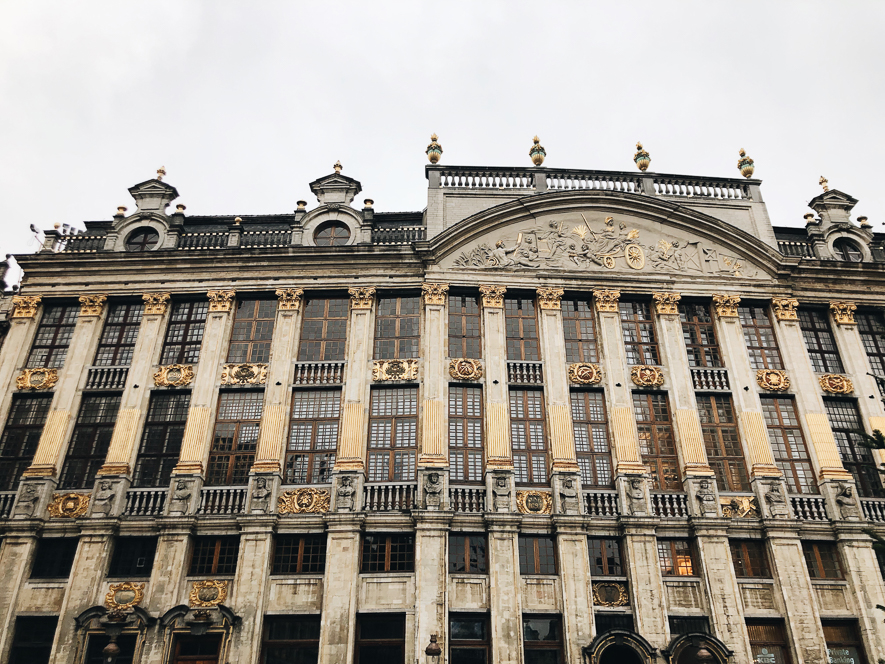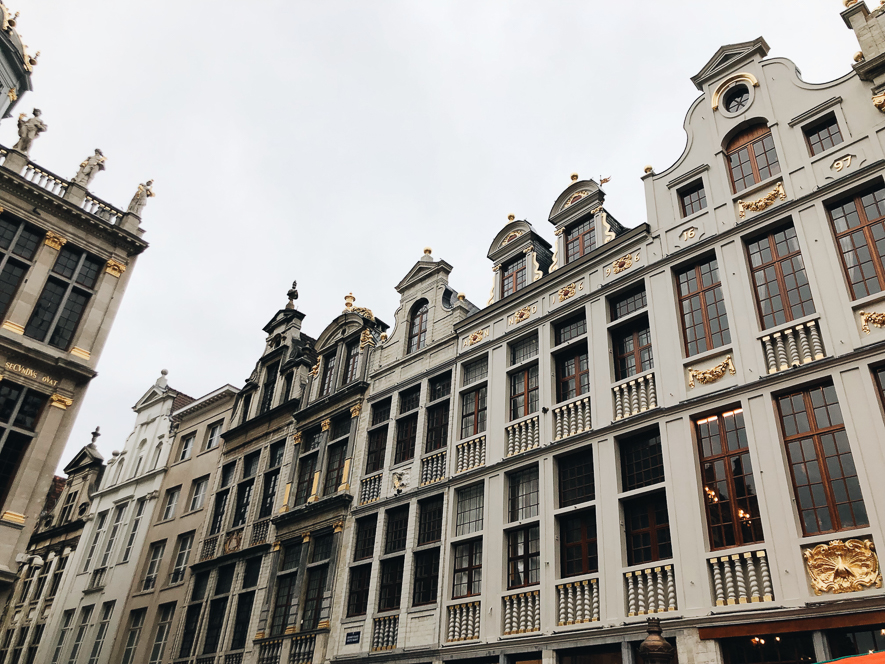 As we walked toward the smell of Belgian frites in Grand Place, we passed Christmas markets that were still in full swing. There were vendors lining the streets that sold mulled wine, homemade food, toys, kitchen utensils, you name it.
I can't recommend this area enough if you're in Brussels!
We had wanted to get lunch at a highly recommended sandwich shop called Tonton Garby, but unfortunately due to it being close to the Christmas holiday they were closed.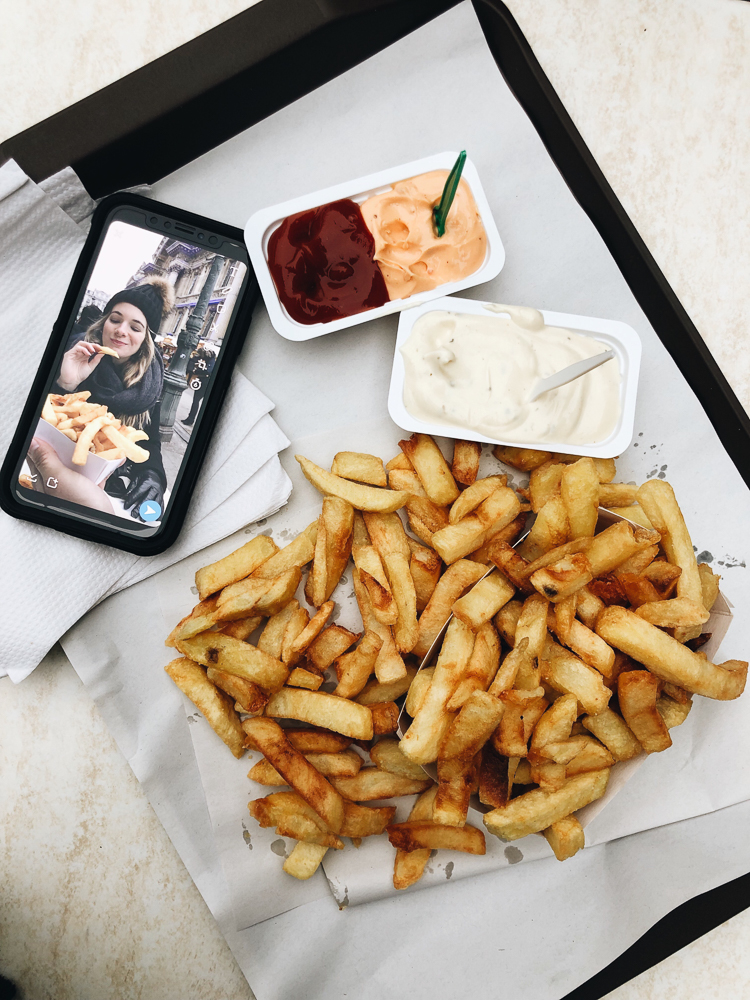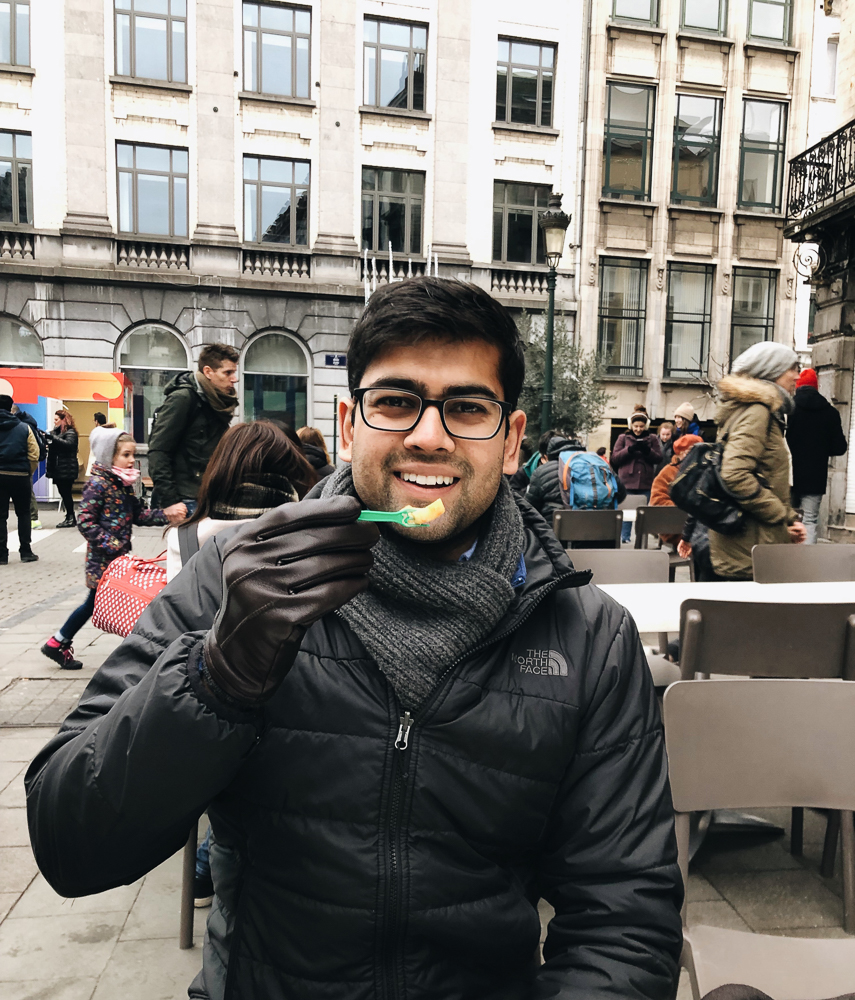 So we consoled ourselves at Fritland, a restaurant famous for their Belgian frites. They had so many sauces to choose from (my favorite was the Samurai), and the hot fries were so welcomed in the frigid temperatures.
By that time we could check in to our AirBnb, so we picked up our bags and ubered over. We loved the place that we stayed. It was huge, a short 5 minute walk from everything, not expensive, clean, well decorated, etc.
Here's a photo I borrowed from their listing: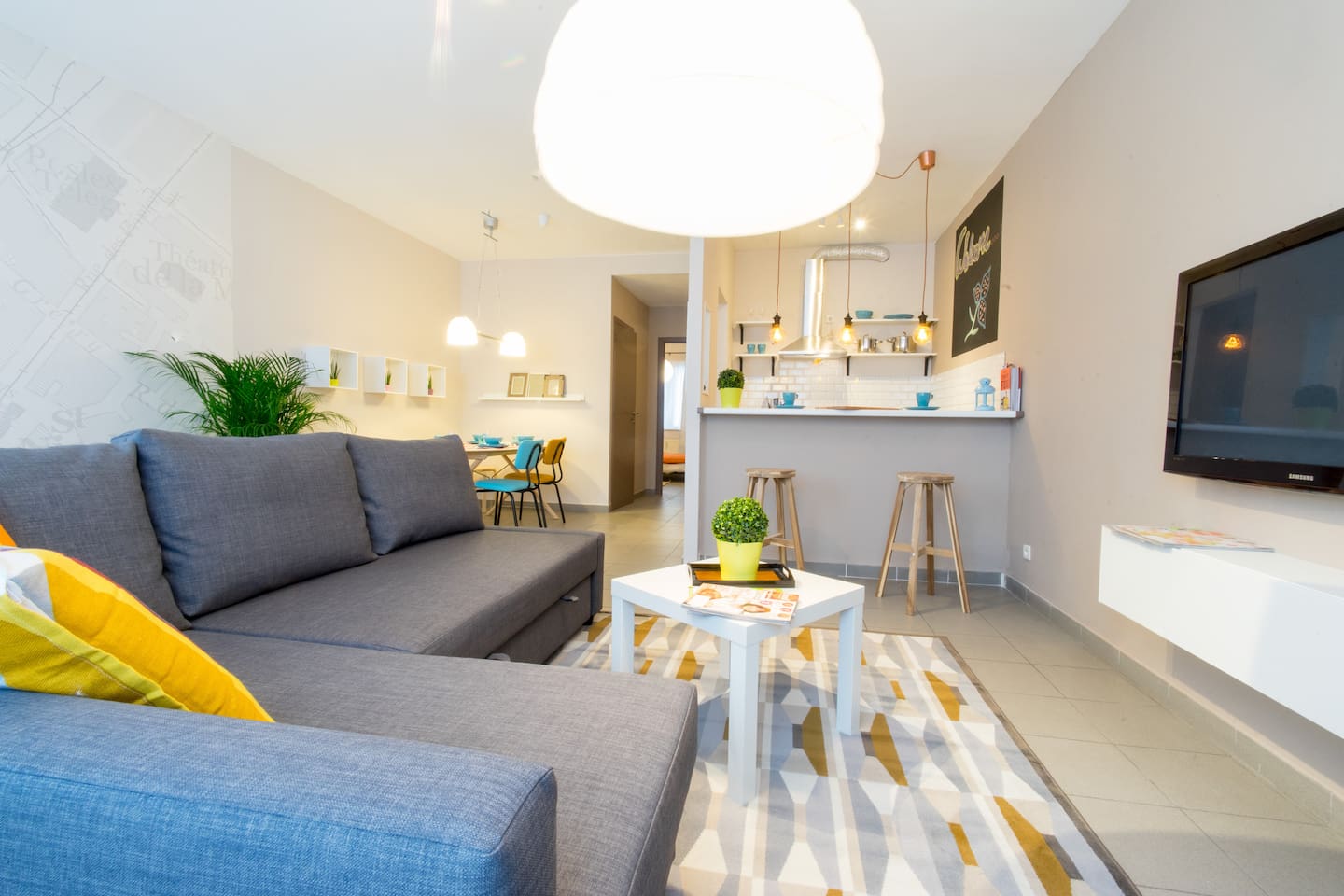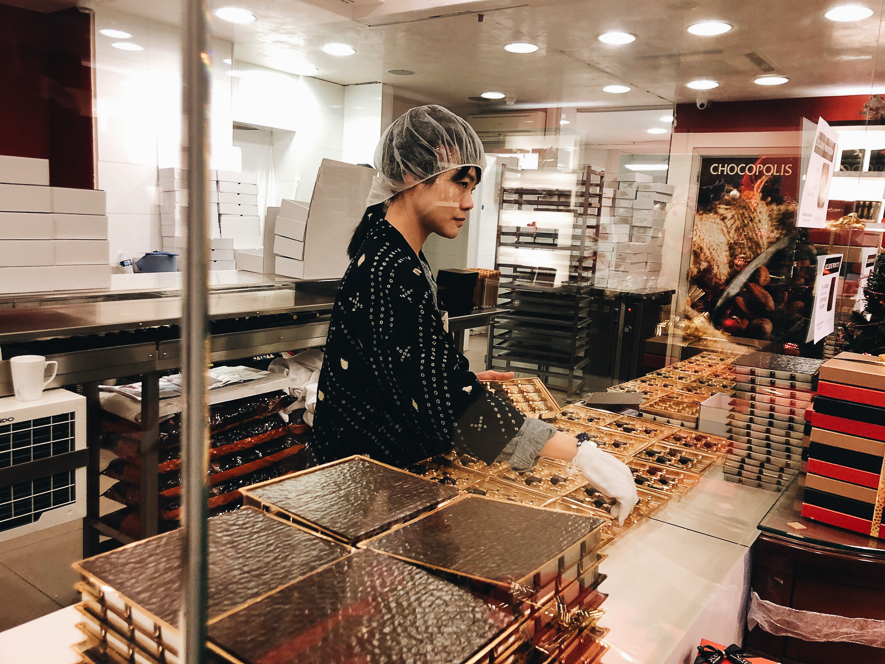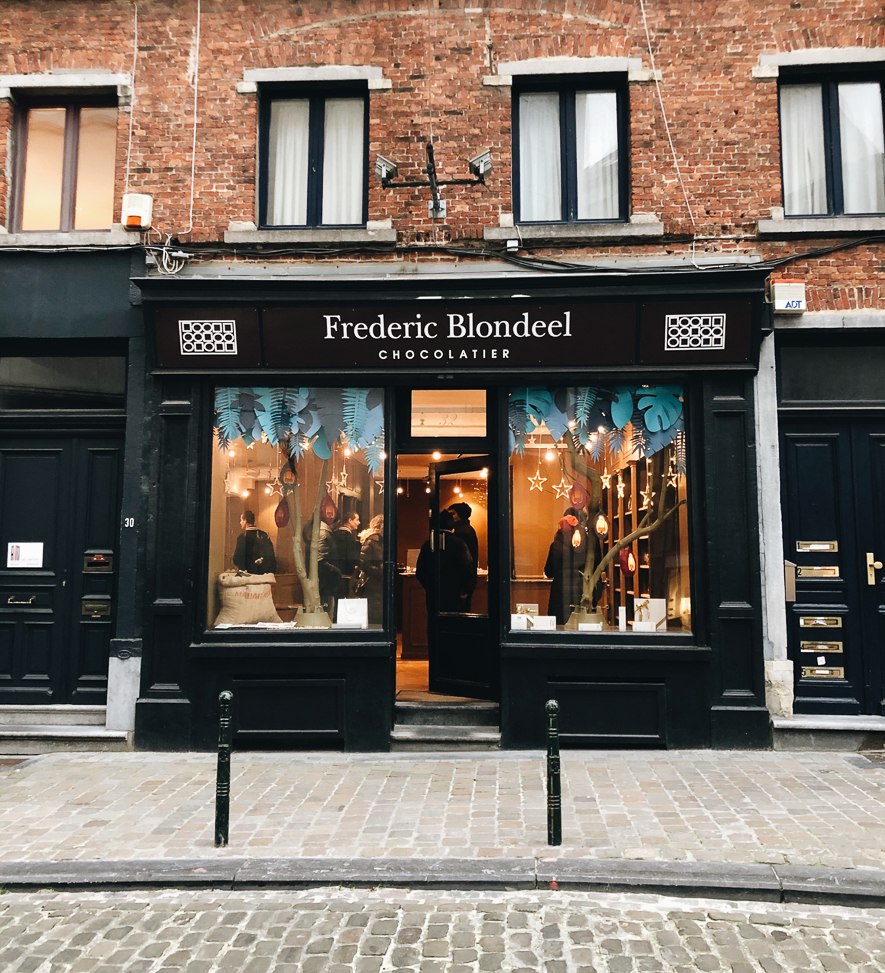 After a short nap (vacation is tiring ok??), we met our tour group for the Beer and Chocolate Tour at Chocopolis.
Our tour guide was Baptiste, a Belgium native who's passionate about all things beer and chocolate. He began by telling us that Belgians take their chocolate very seriously. There are some touristy shops in Brussels, but many of the true ones follow the 'bean to bar' approach, meaning they own the full process of sourcing the beans in Africa, making the confectionery chocolate disks, tempering and melting them down, and finally creating them into beautiful truffles.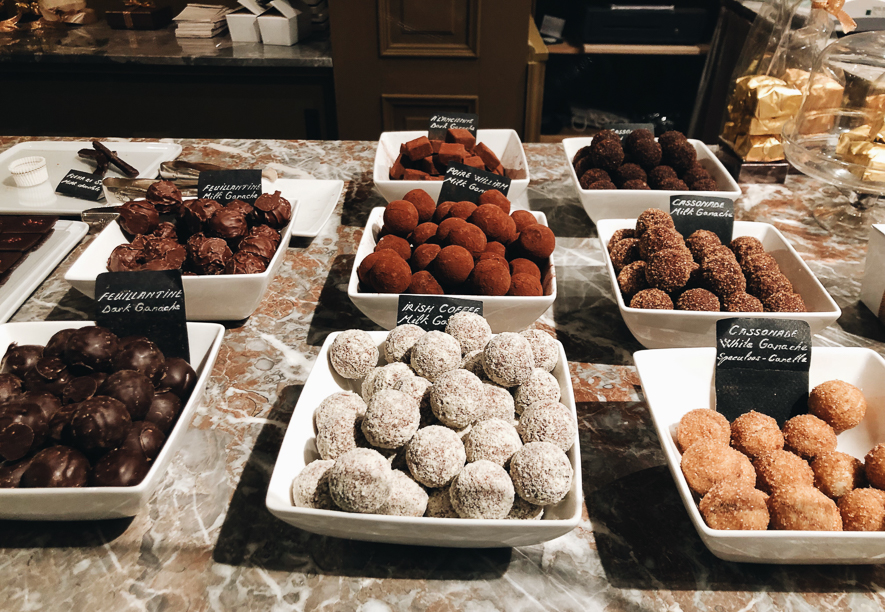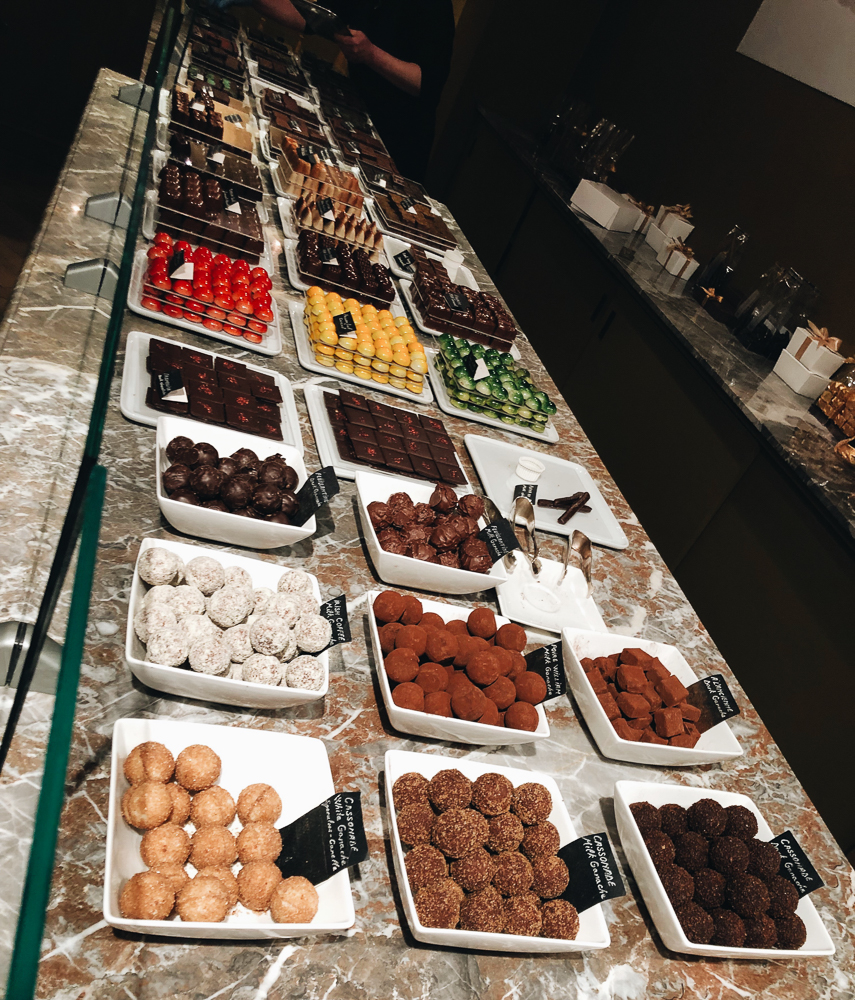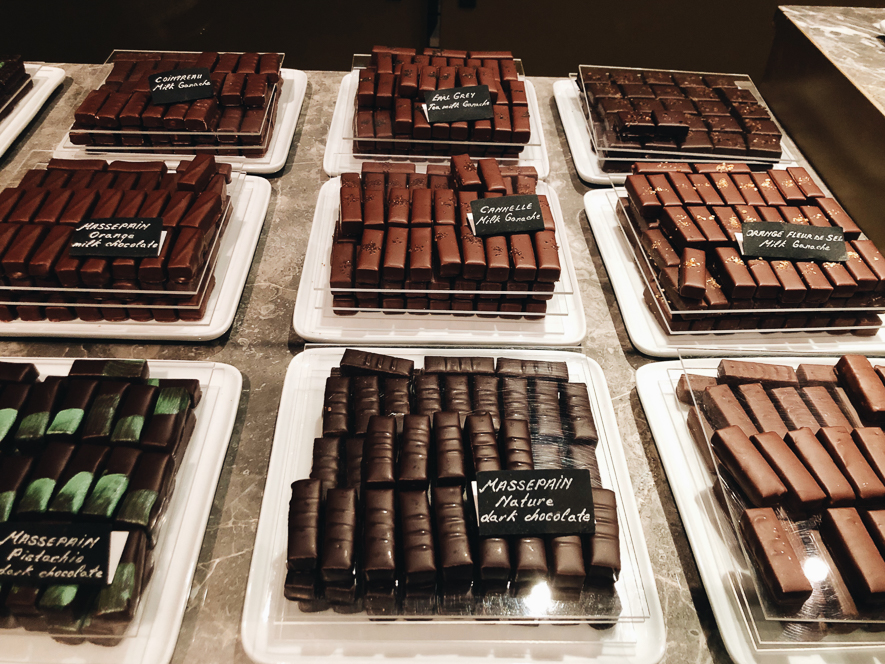 The second shop (and out favorite of them all), Frederic Blondeel, made true art out of chocolate, and had some of the deepest dark chocolate we'd ever tasted. They let us try 4 truffles, my favorite being the bright and rich passion fruit caramel.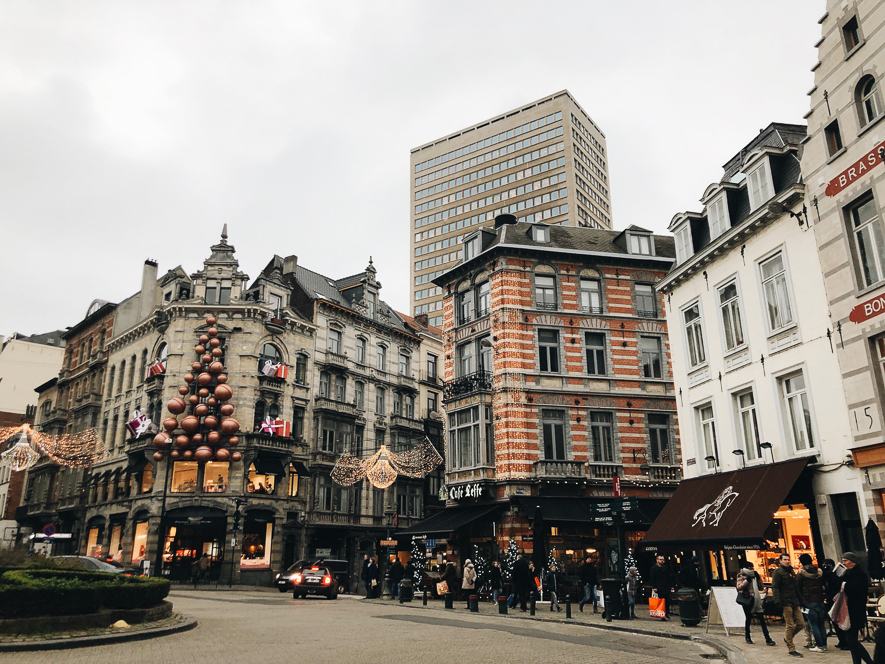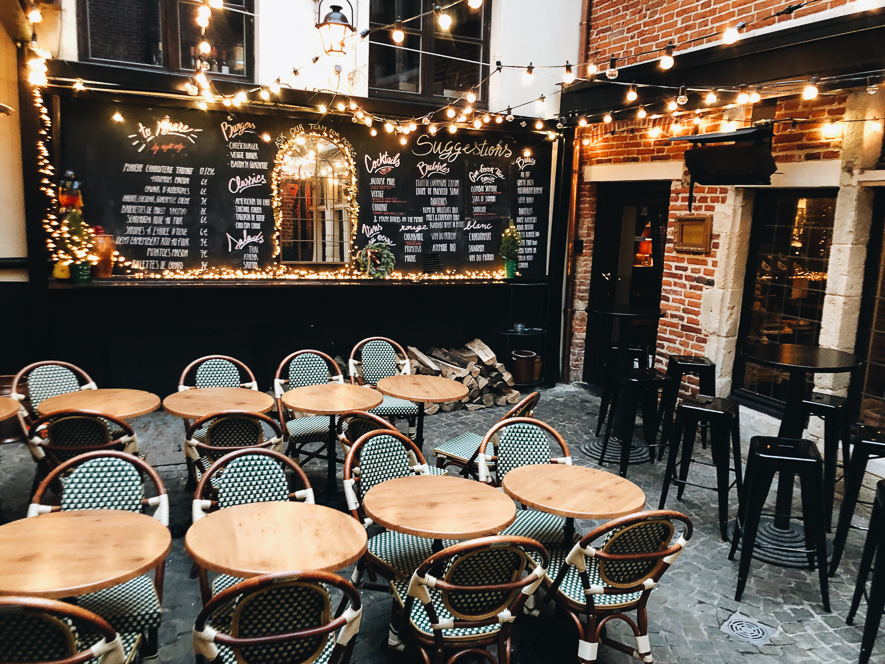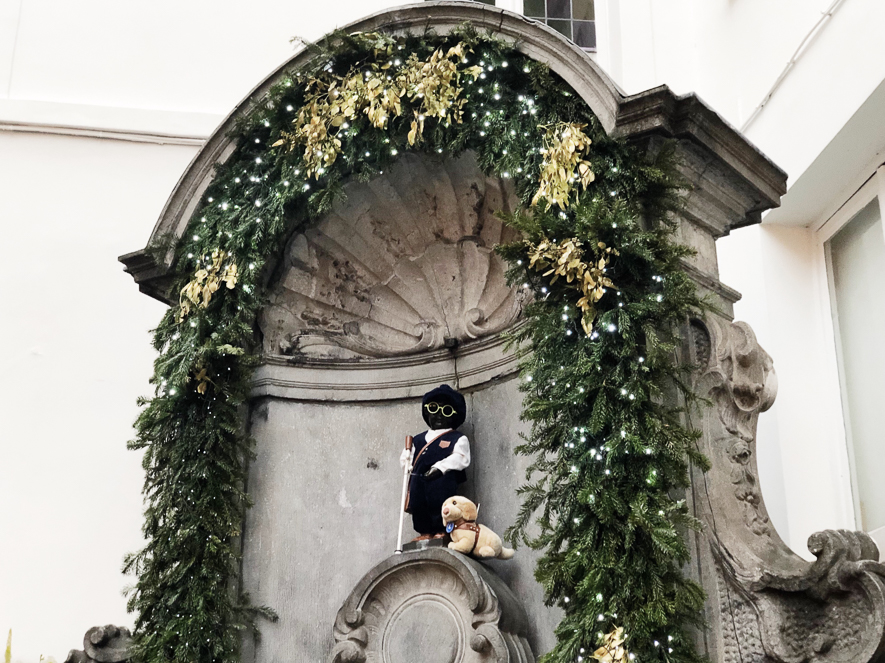 As we walked, Baptiste gave us a tour of the City, and one of the most interesting parts was the Manneken Pis. It's a bronze statue of a peeing boy who had a council of people that dress him up for various occasions. While we were there it was a day Blind awareness day, hence his outfit.
Brussels is filled with quirky art, and this is just one of the examples!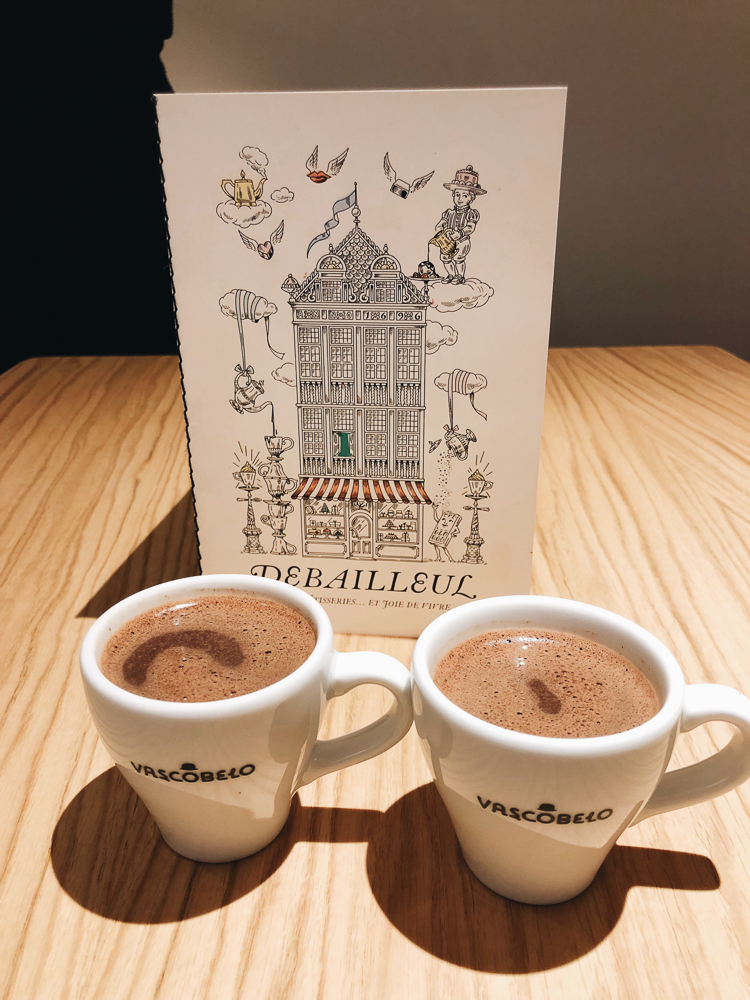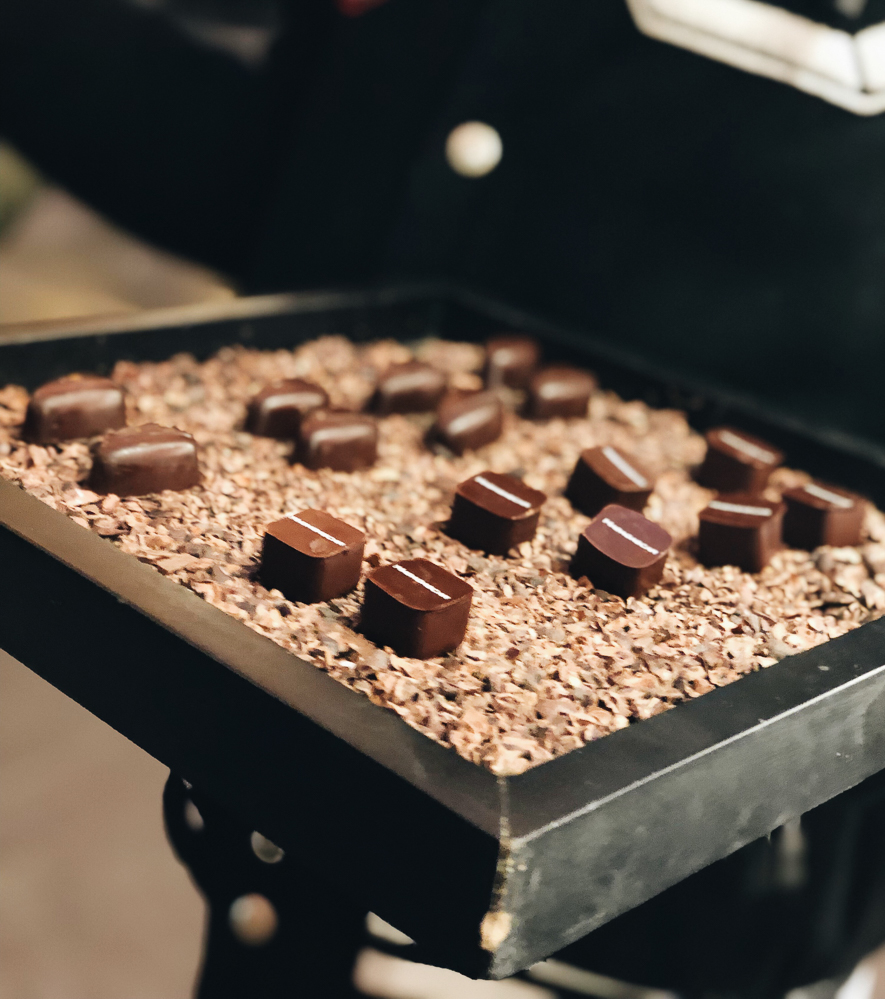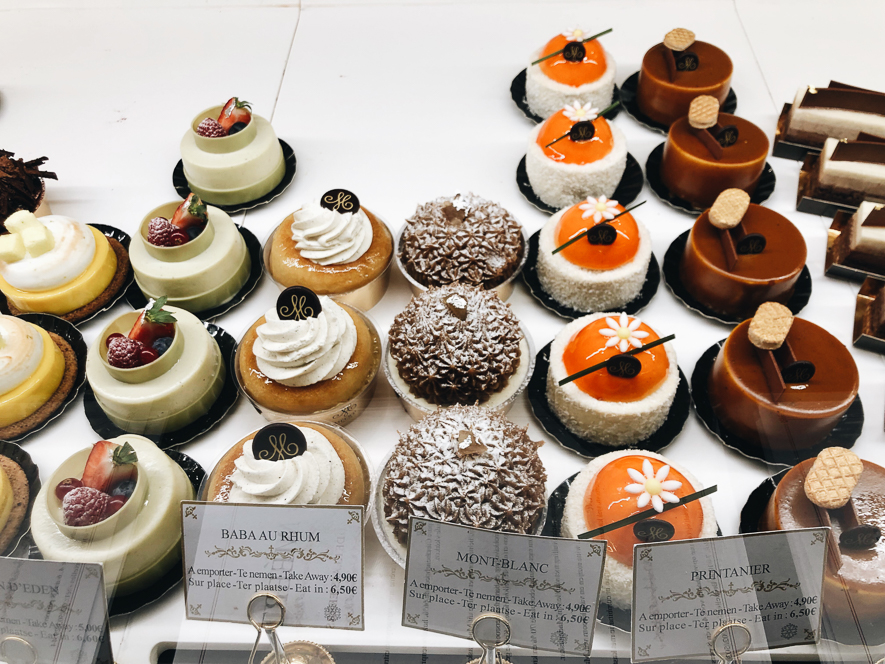 Our second to last stop was Debailleul, where we had some of the richest hot chocolate of our lives. At this point we'd had at least 15 truffles, and I didn't want to see chocolate for at least two hours.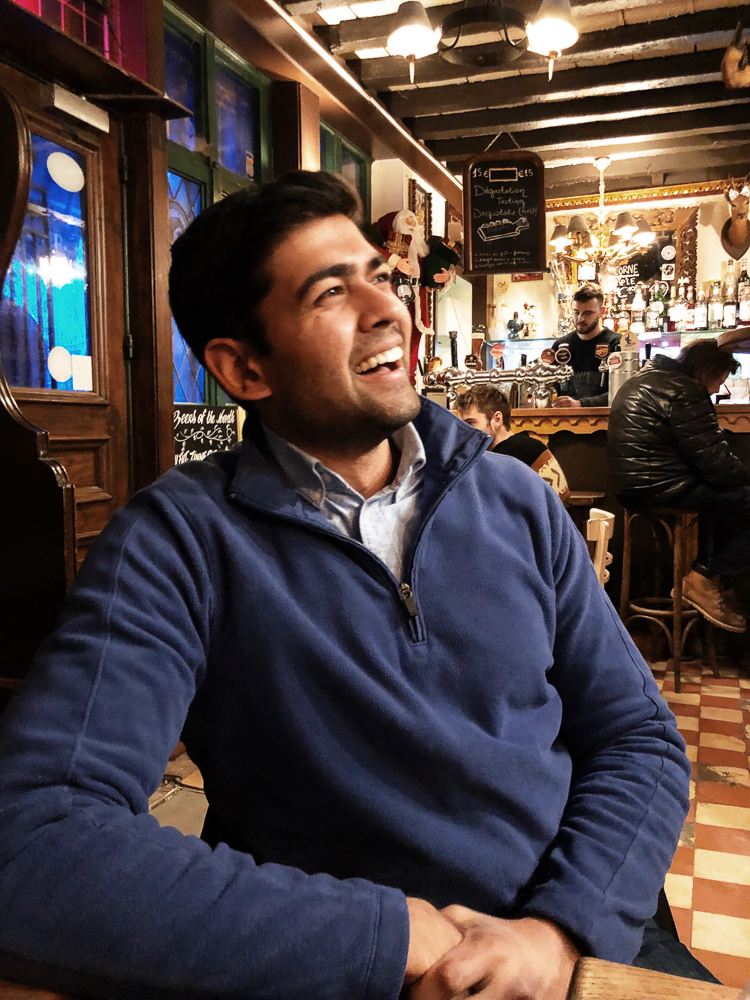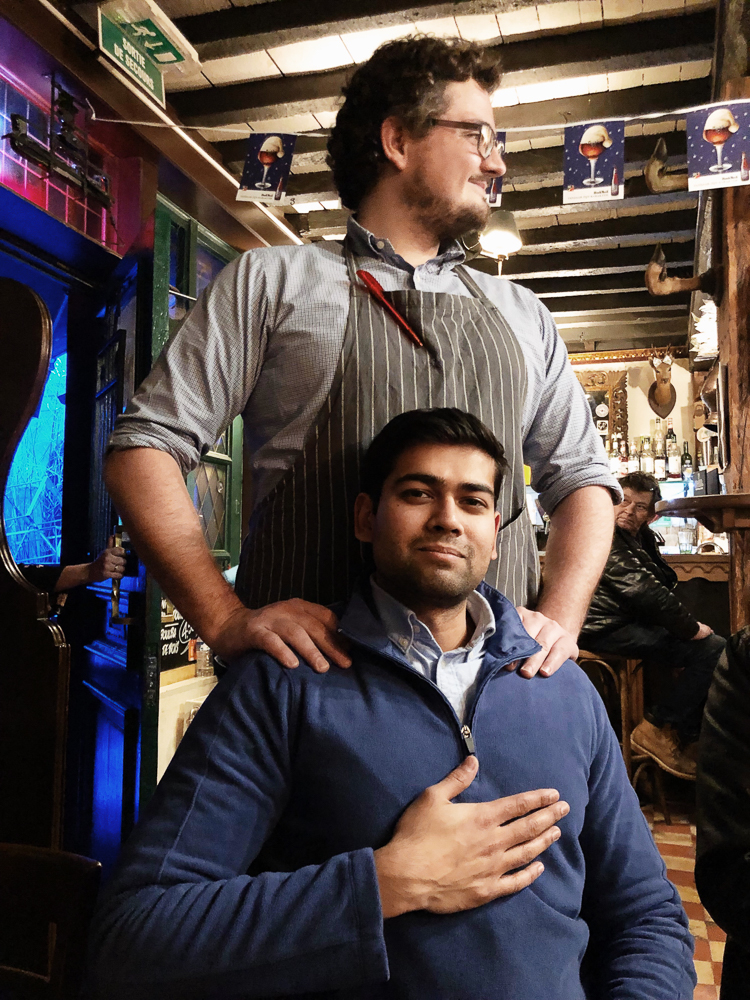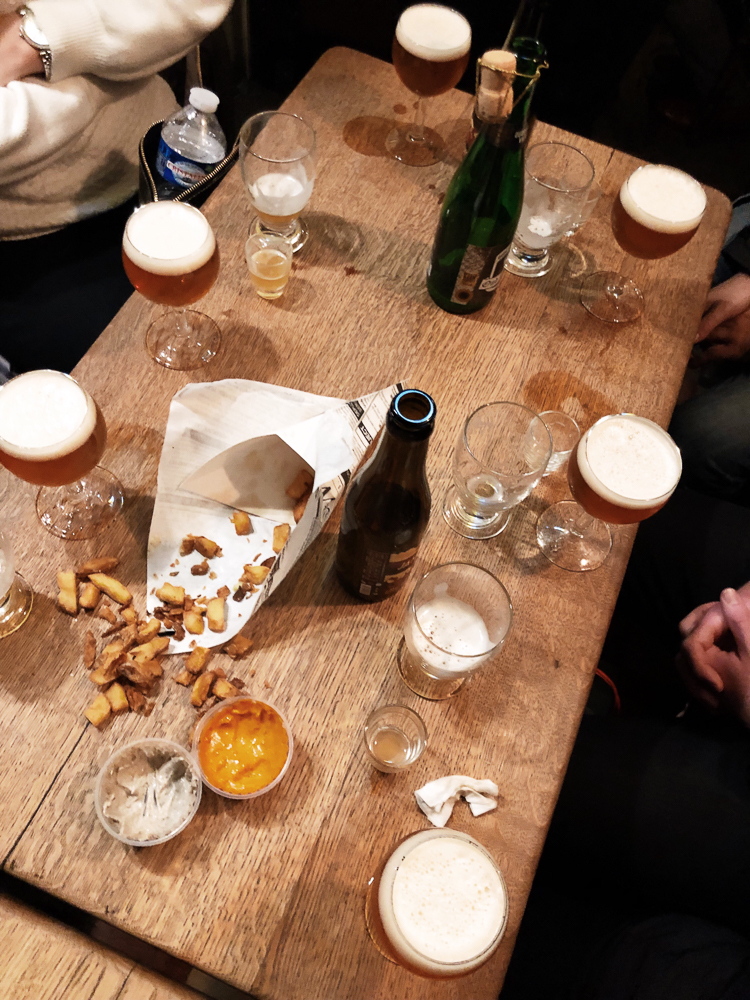 Thankfully it was time for the beer part! Baptiste took us to the oldest pub in Brussels, where Rishil was challenged to a beer chugging contest by Igor, the bartender.
Before Rishil could even get the beer glass to his mouth, Igor had already finished his! Baptiste had also gotten us fries from Maison Antoine, which I think was better than Fritland, but try them both and let me know what you think!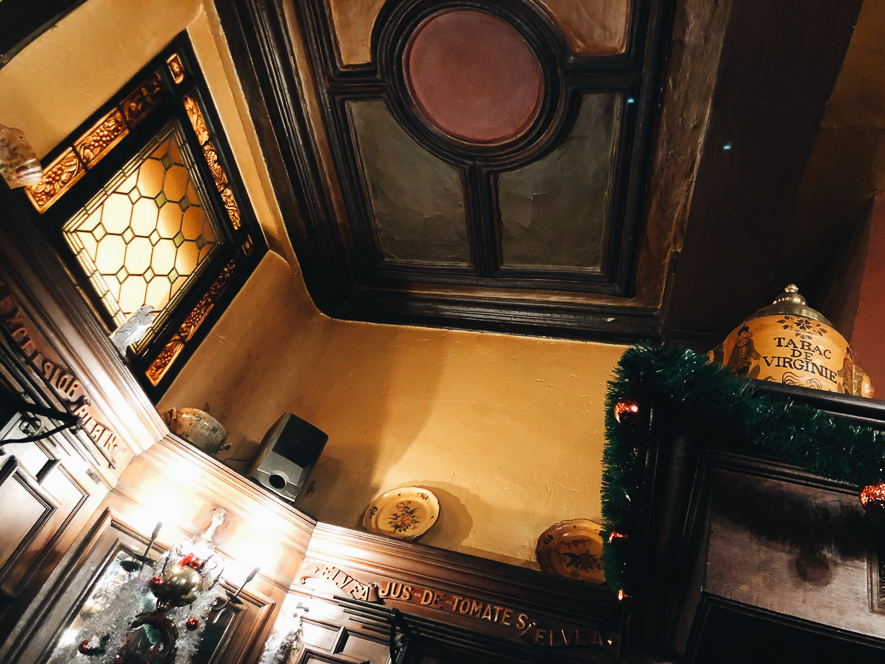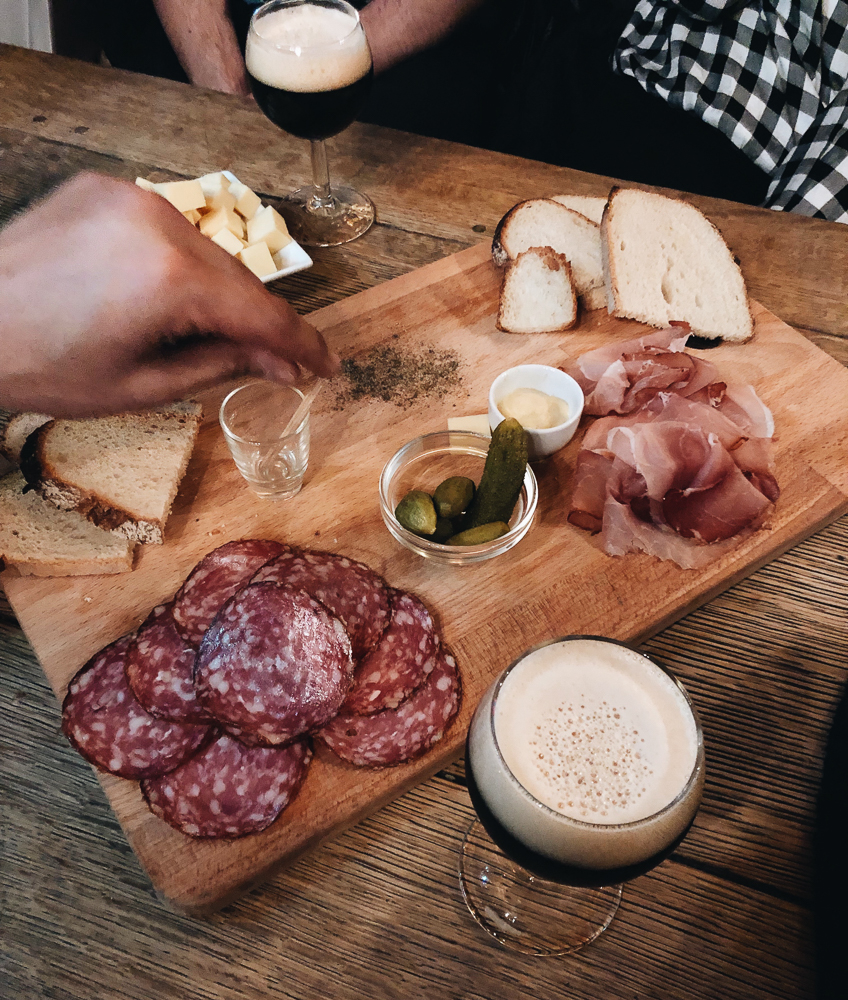 Finally we went to one of the brown cafes, named because their once white paint turned a brownish color from all of the previous cigarette smoke over the years.
Baptiste must've known I was coming, and ordered us a charcuterie board and a few great beers to try. While I still prefer my cheese board, this was a welcome addition of food after drinking. We had such a great time with our group that we ended up missing our dinner reservation and just staying out with everyone!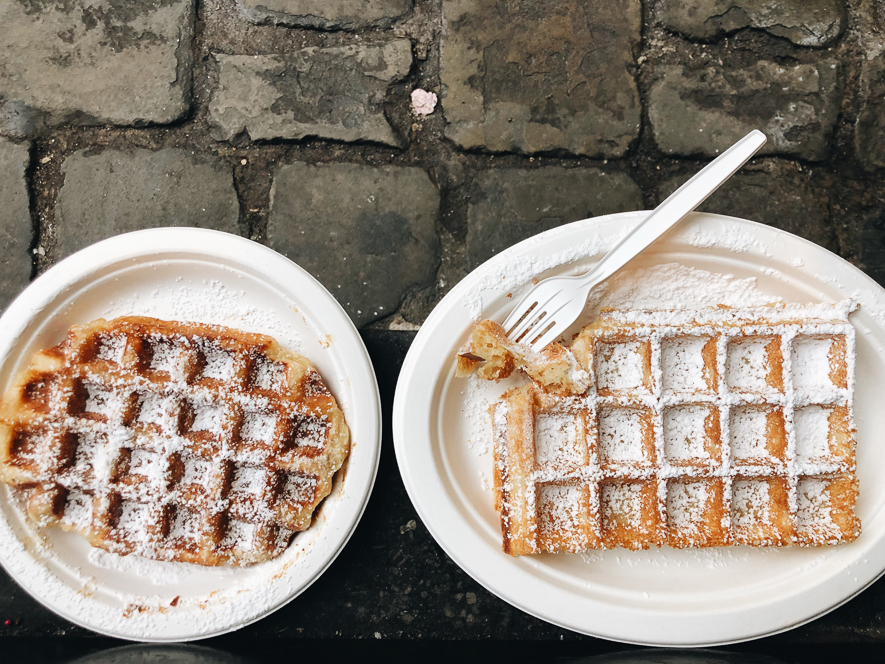 The next morning we had one more item to cross off our list, a Belgian waffle! Maison Dandoy is supposed to be the best place in Brussels, and they have both the light and crispy Brussels waffles as well as the rich and buttery brioche Liege waffles.
We of course had to get both to decide what one we liked more, but they were both fantastic.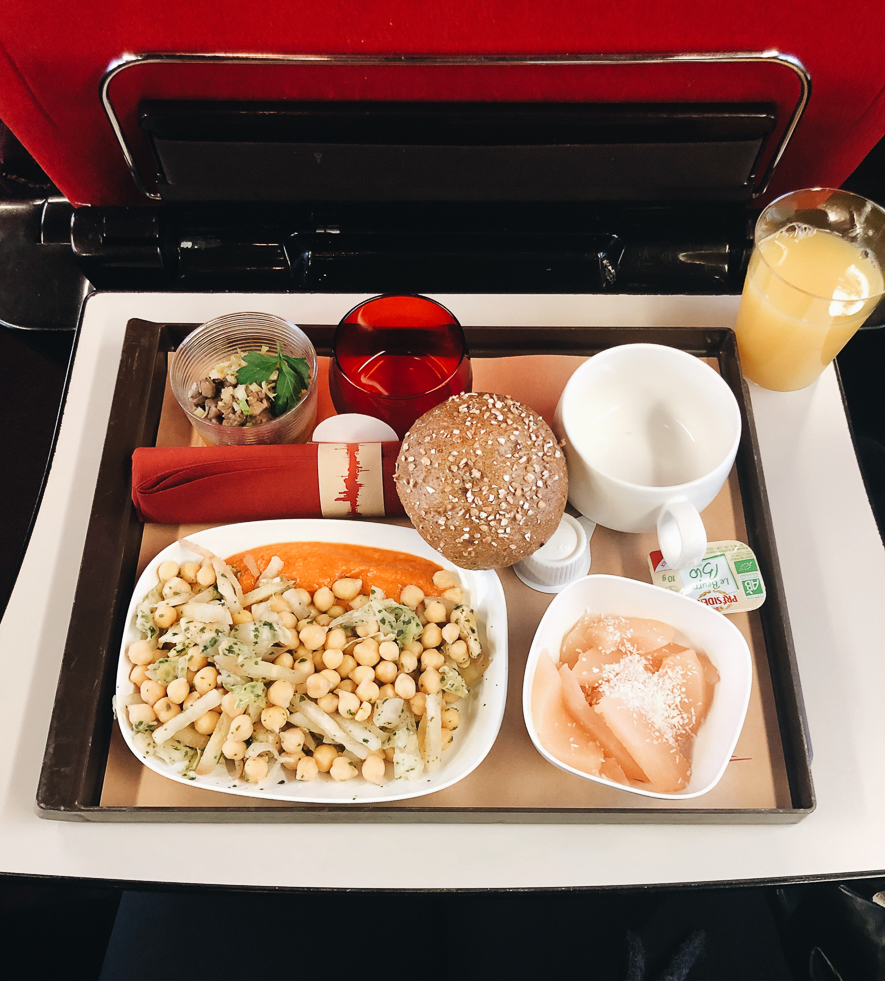 Full from waffles, we headed to the train to make our way to our final stop, Paris! Rishil had upgraded our seats for only a few euros more, and they served us this amazing lunch. I have so much to share with you all on Paris, and will be posting about it next week!
Itinerary:
8:15: Train to brussels
10:00: Arrive and drop bags at train station
Lunch at Tonton Garby
Find frites!
Check into AirBnb
3:00: Beer and chocolate tour
8:00: Dinner at le bistro or Le Rabassier