Rishil and I recently got back from a Euro trip, and this one was very different from the one I took post college. For one, I thankfully have more than $200 in my savings account (although that may change with this credit card bill on February 1), I got to travel with my love/the most patient person I've ever met, and we spent many nights planning in lieu of just buying the flights and figuring it out when we got there.
As you guys know, I love planning trip itineraries since it helps you spend every minute of your vacation enjoying yourself and trying new things, instead of glued to TripAdvisor on your hotel wifi (we've all been there). Granted, we always try and throw a few spontaneous things in there, but the bulk of the trip is pre-planned.
We decided on Amsterdam, Brussels, and Paris as our destinations, and you can probably tell from the title what we'll talk about today! We treated ourselves on the way there and upgraded to business class, since it's a red-eye flight and we wanted to be rested to make the most of our two days in Amsterdam. We flew KLM out of Dulles airport, and were able to go to Virgin's lounge at the airport. It was un. real. The food was gorgeous and so delicious, and the cocktails were a collaboration with the famed DC Columbia room. It was the perfect way to start off the trip!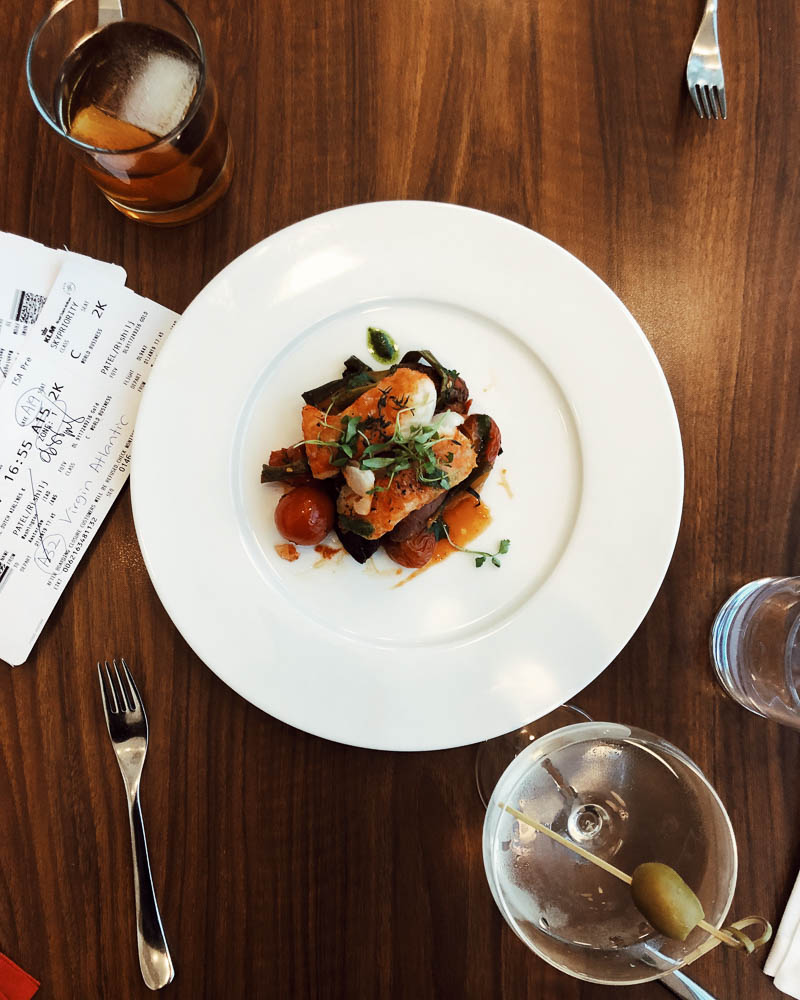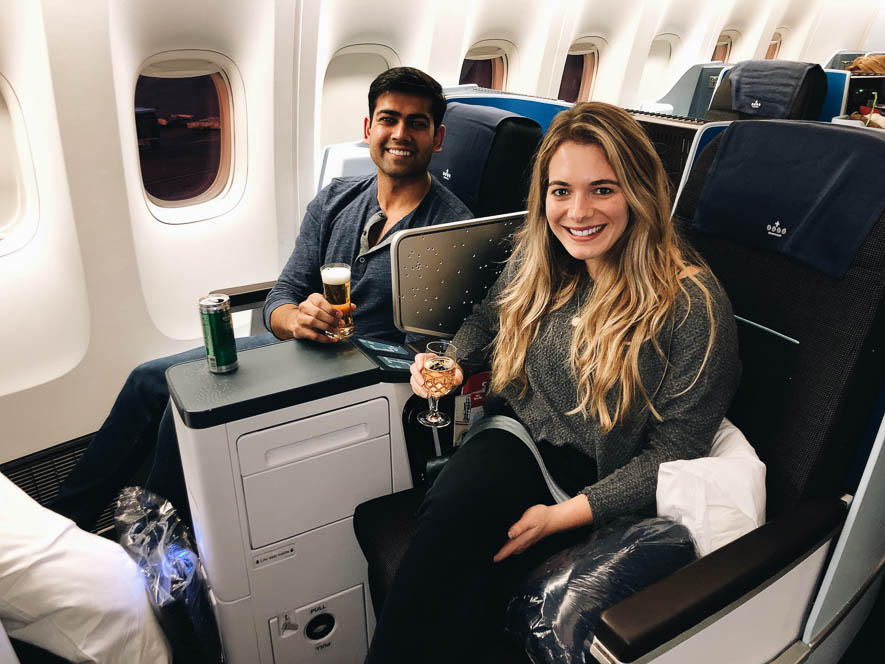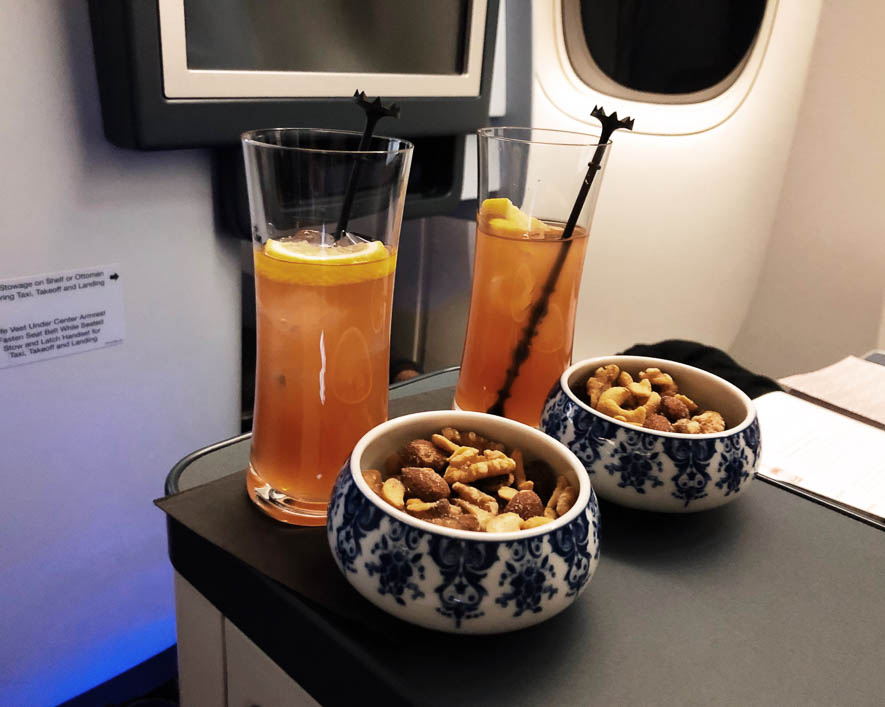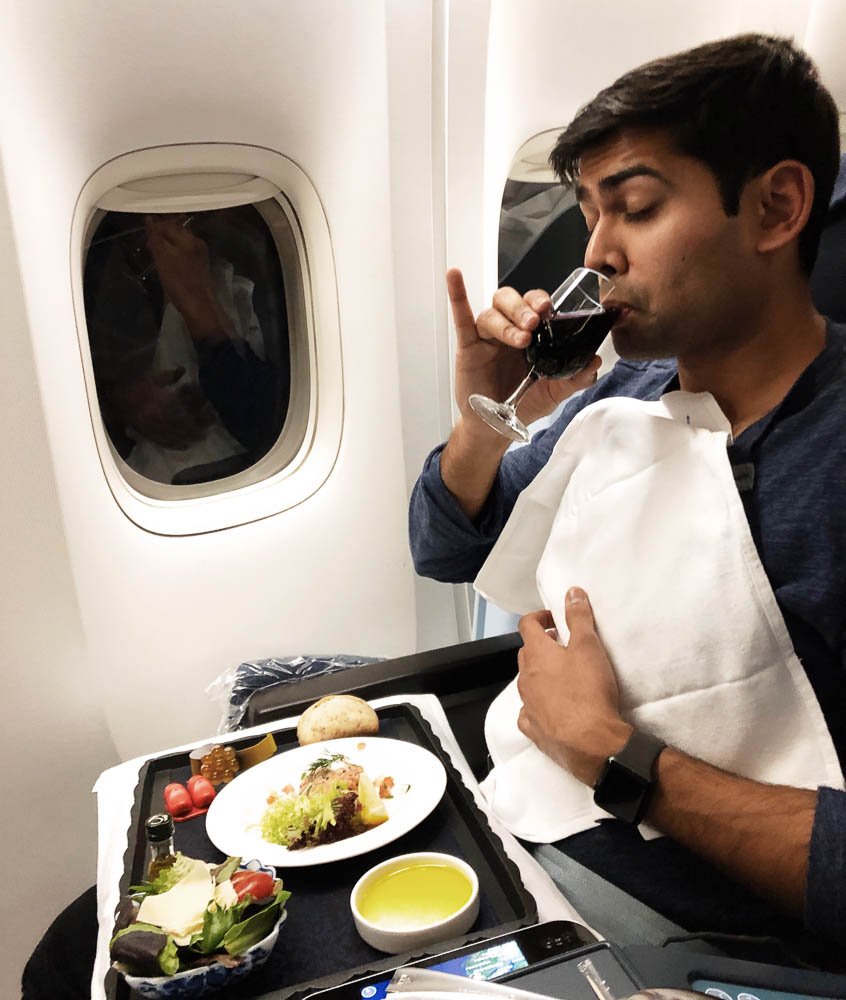 I'd love to review KLM's business class and tell you how it was SO much better than any other business class flight I've taken, but truth be told it was the first time I've ever upgraded…and I think it would be hard to beat.
The food was amazing, the seats reclined into full beds, and the kits they provide with various toiletries (socks, moisturizer, chapstick, an eye mask, etc.) were great. It will not be something that I do often, but absolutely worth the splurge.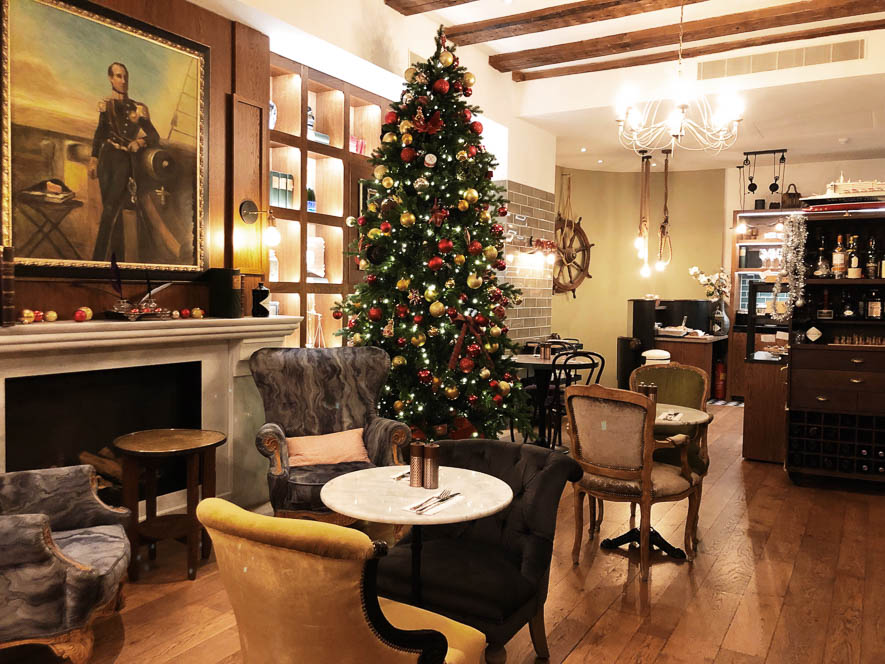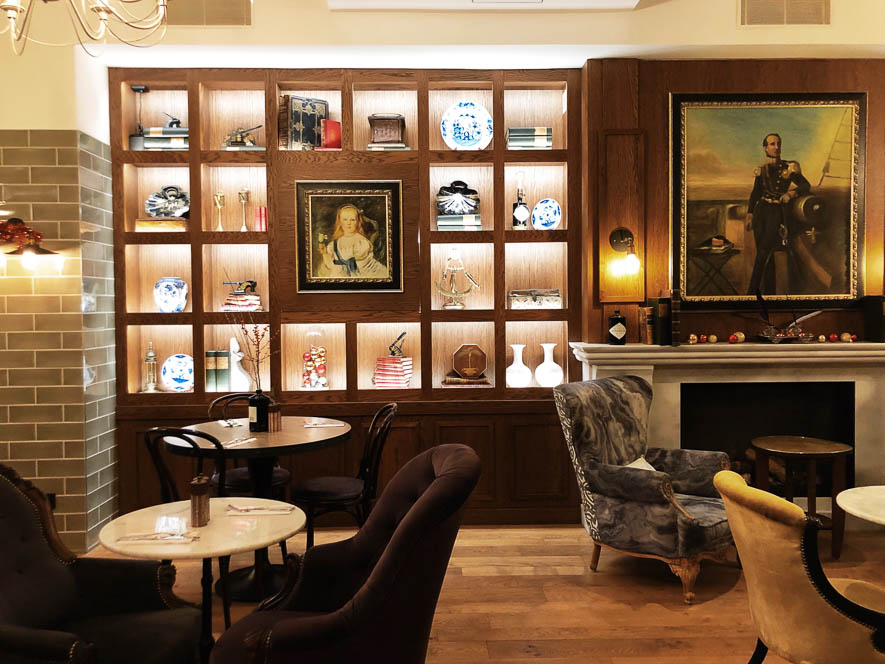 We arrived early in the morning and headed straight to our hotel, called The Hendricks. We got a great deal for the room on Expedia, and the reviews made us feel confident.
Once we arrived, everything was more than confirmed. The hotel staff was incredible; they allowed us to store our bags and freshen up (since check in wasn't until 3:00), and they drew out all of the best spots to visit on a map for us, while giving us coffee and tea! We took their advice and decided to fight the jet lag and start exploring.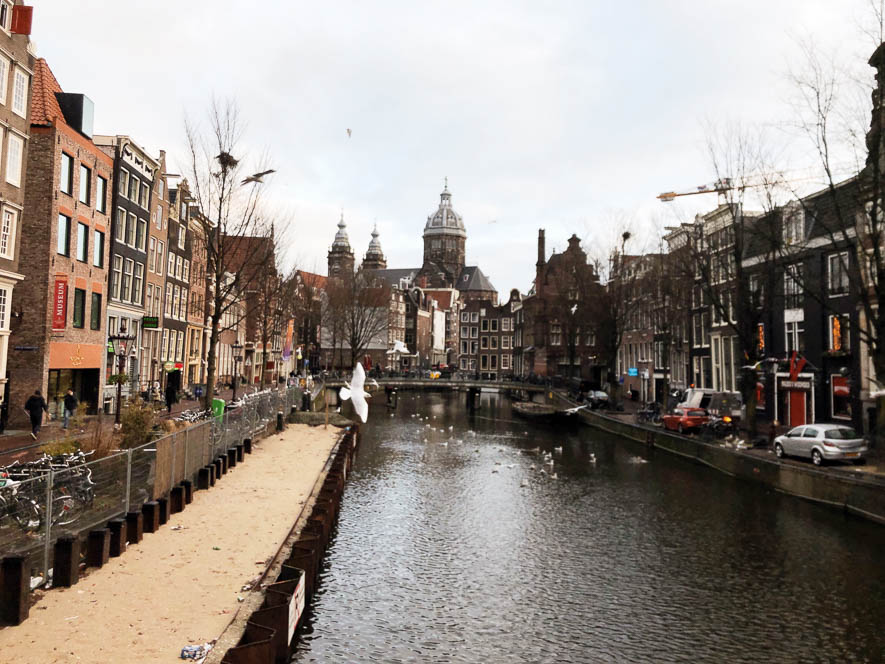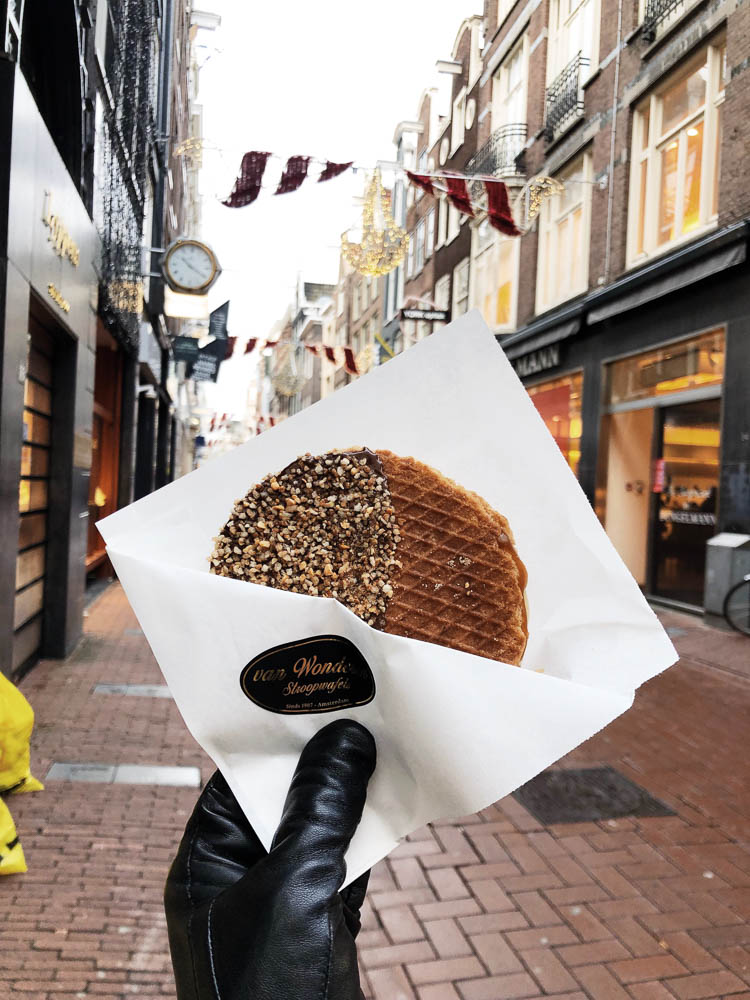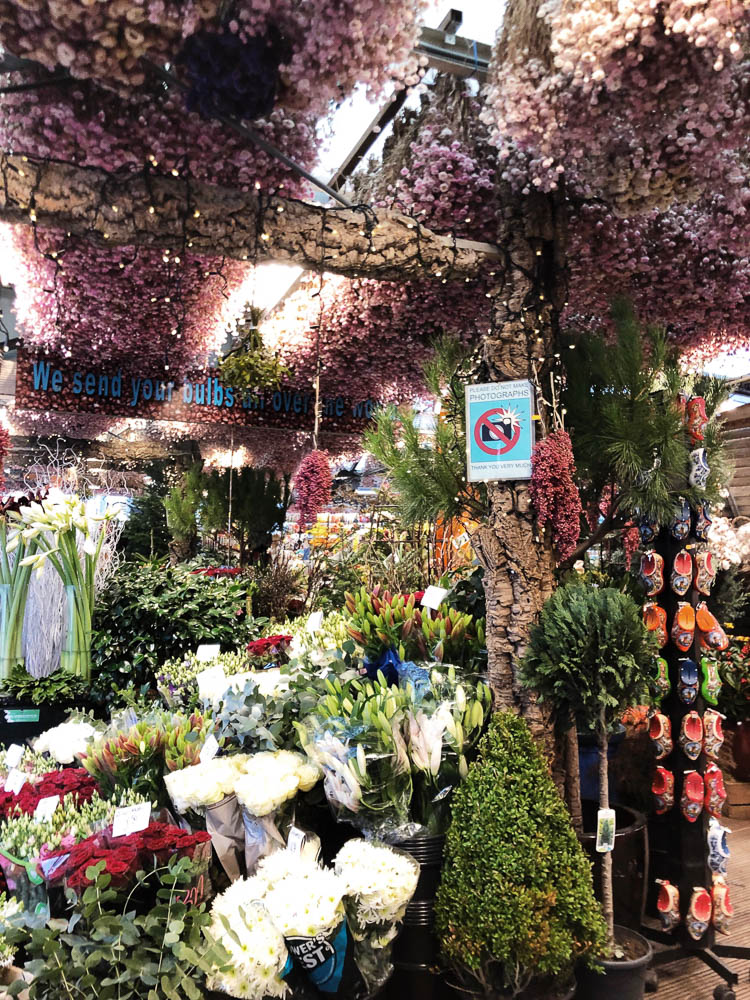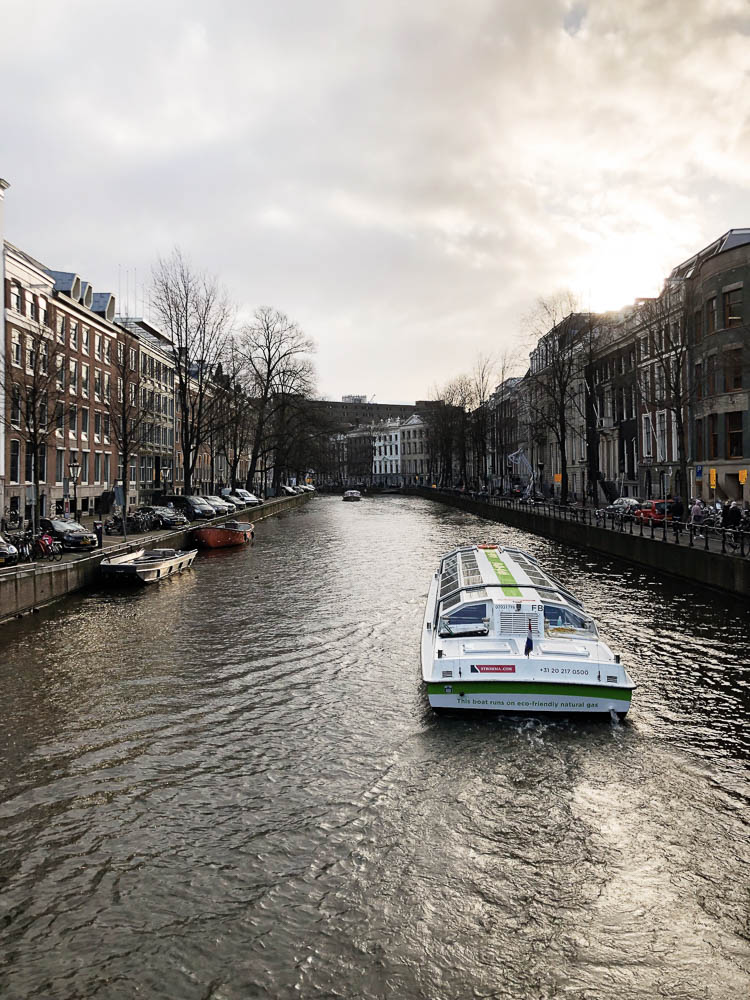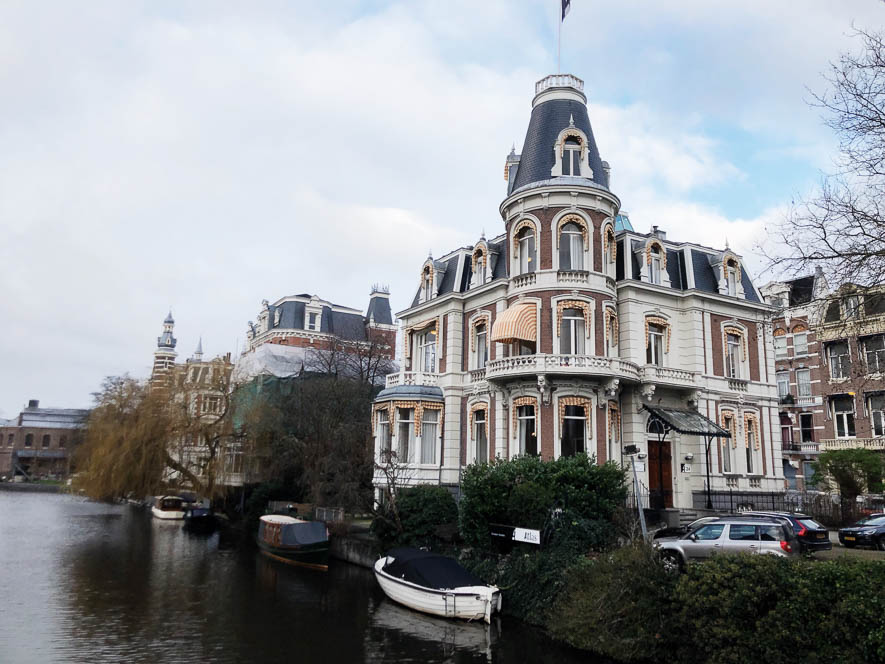 Amsterdam is known for a few things: the canals, flowers (especially tulips), cheese, and stroopwafels. Thankfully we were able to see all of those within 30 minutes of arrival. We left the hotel and walked towards the de Bijenkorf department store and down the Rokin st to grab a Stroopwafel.
It's a small city that's very walkable, so my best advice is to put on comfortable shoes and just wander around and sample cheese from one of the many Henry Willig shops, admire the canals, and most importantly stay out of the bicycles' way!
We heard nothing but great things about the Rijksmuseum, so we walked there next.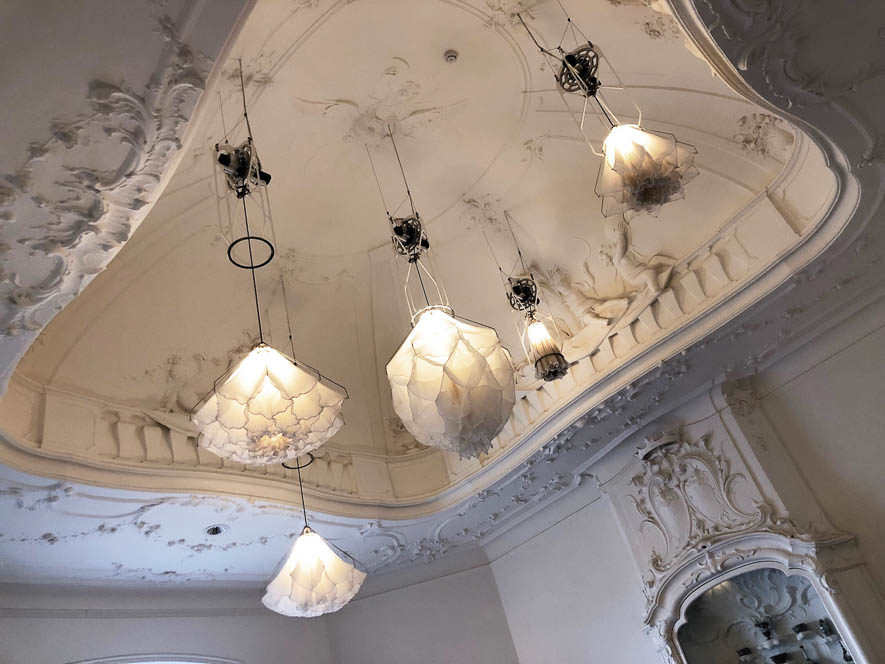 It was gorgeous and massive. There were easily 50 rooms with different themes, focused on Dutch art ranging from paintings to pottery. My favorite part was the library. So still, quiet, and with an jaw-dropping number of books from floor to ceiling.
We were starving after and headed to Gartine, a restaurant that we saw great things about on TripAdvisor and Yelp.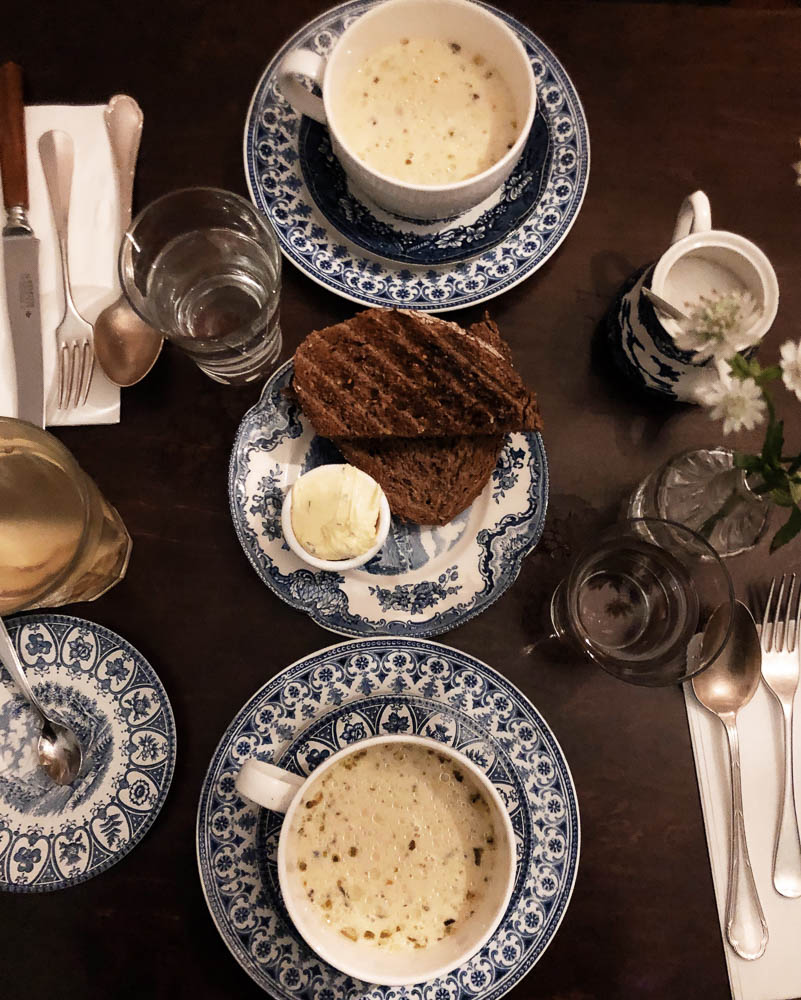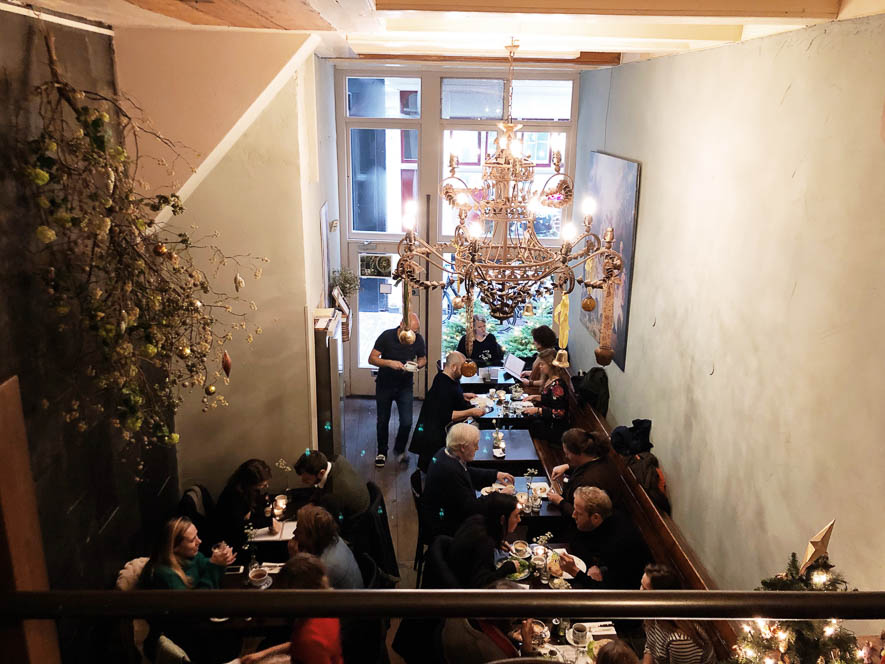 It was the coziest restaurant ever with just a few tables, so I would highly recommend making a reservation. The truffle potato soup was exactly what we needed to warm us up from the cold. We had a salad with dates and a salmon sandwich that were both fantastic.
At this point the jet lag was kicking in, so we walked back to the hotel to get to our room. At this point we had walked 6 miles, so please wear comfortable shoes!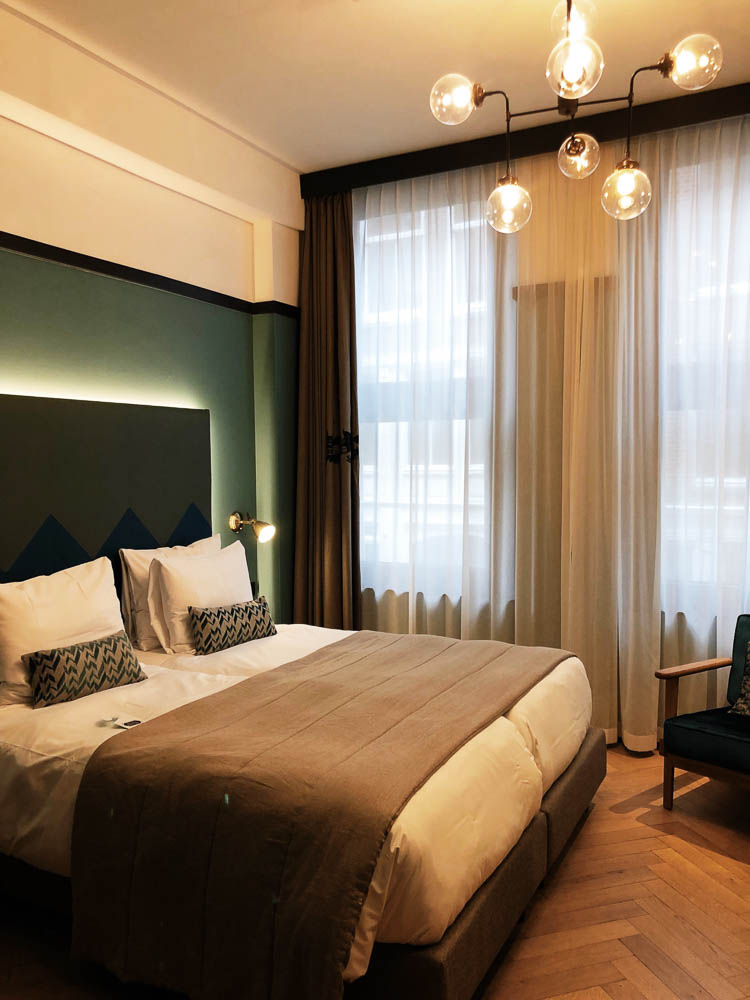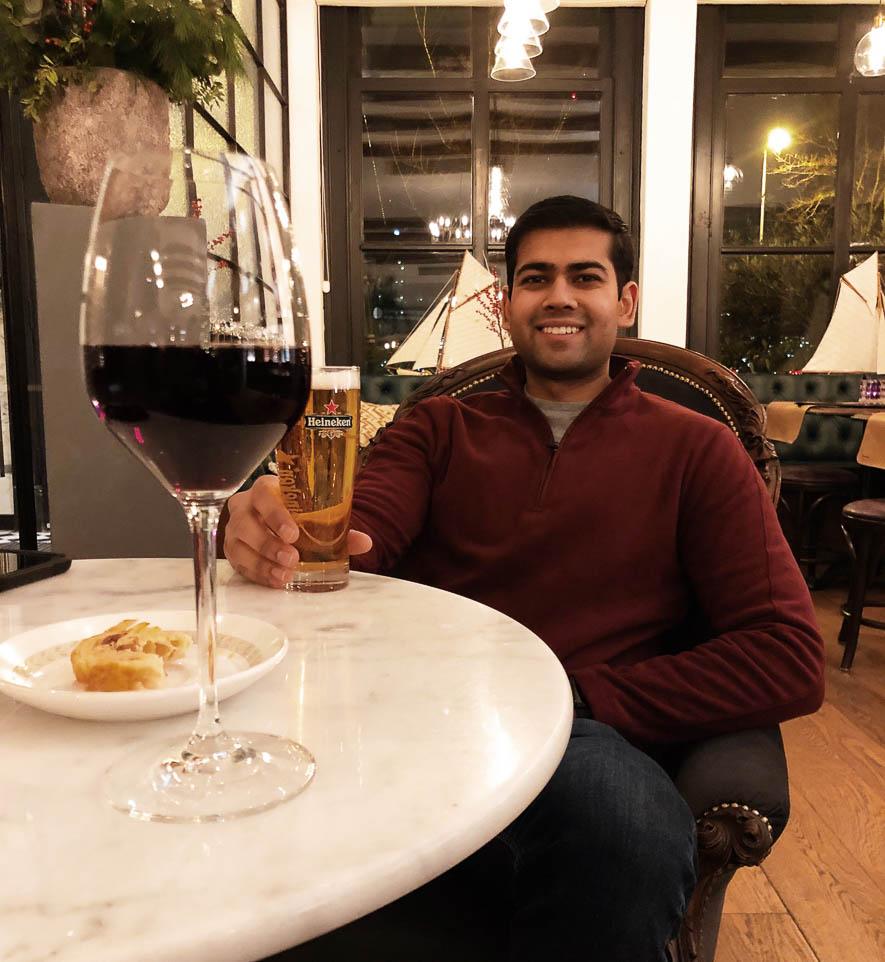 The room was gorgeous, and after an embarrassingly long nap (4 hours haha oops), we got ourselves together for a complimentary drink in the lobby that they provide every night.
Rishil had found an awesome food hall appropriately named FoodHallen, so we called an Uber and headed over.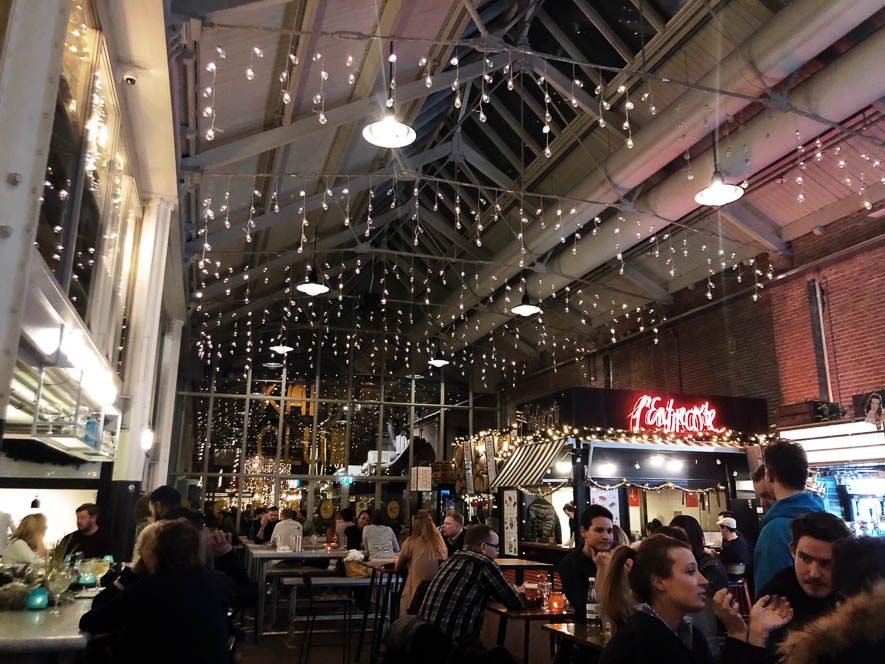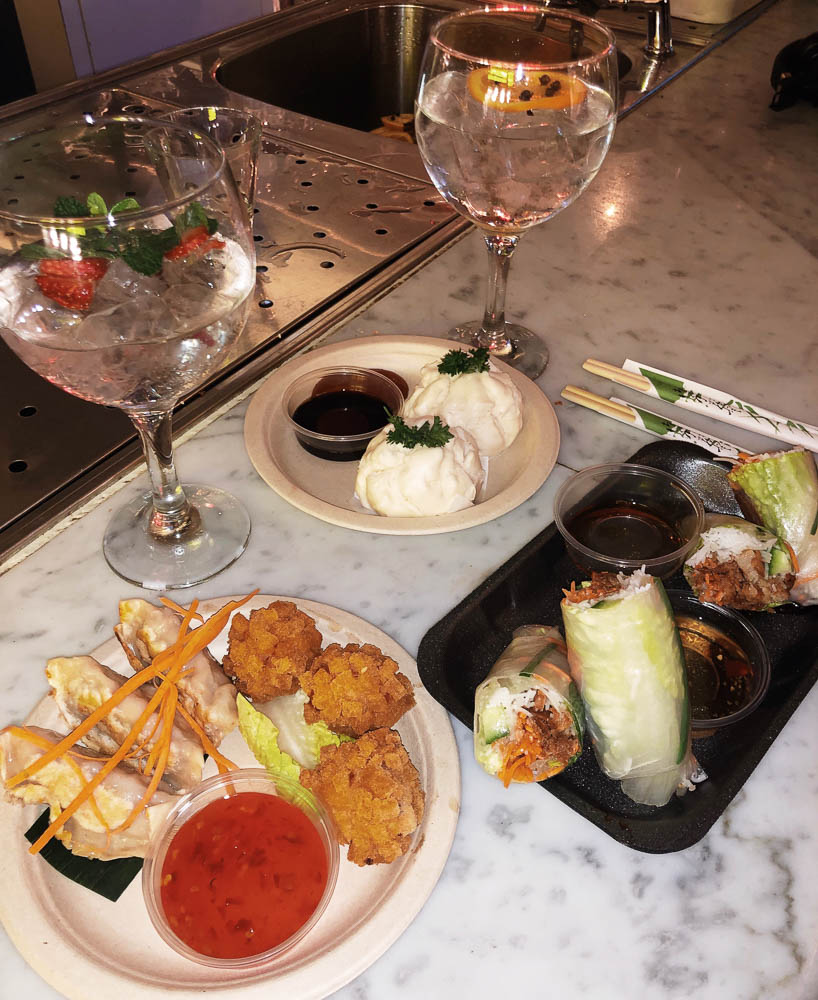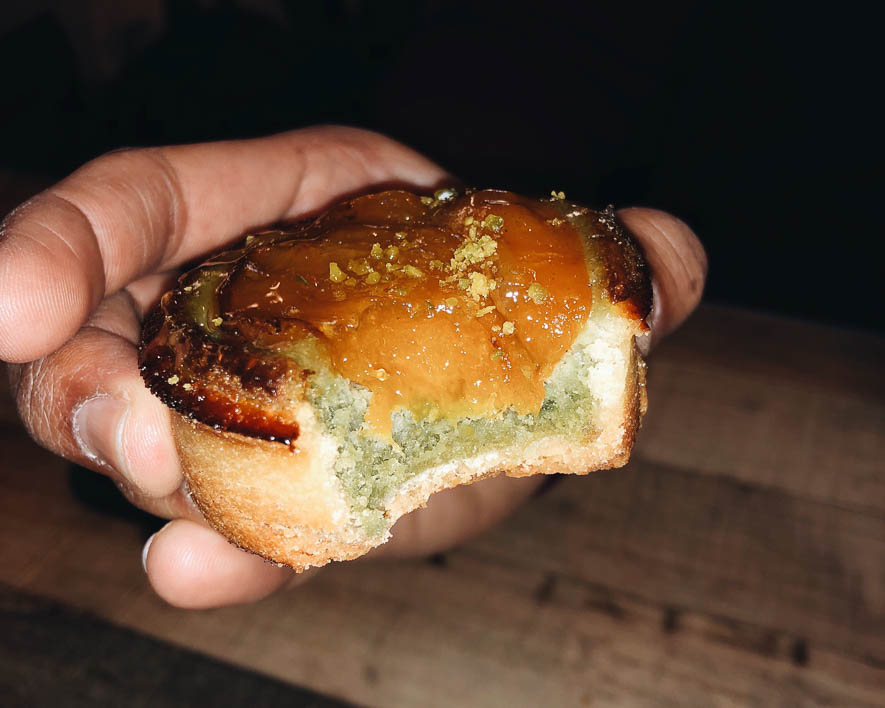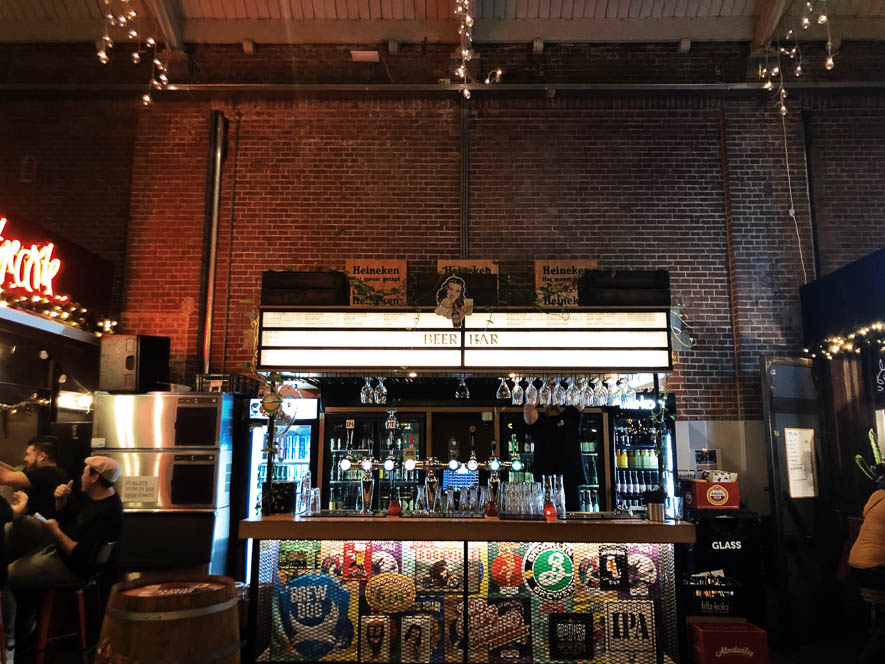 FoodHallen was amazing. We started off at a gin and tonic bar that has 30+ gin and tonic combinations. Rishil had one with orange and clove, and mine was strawberry mint. We also went to a few of the different food stands to try some dumplings, unreal springrolls, bao, and finally an apricot pistachio pastry that I will never forget.
The beer bar was also another great place to stop. The place was packed on a Wednesday night and I see why! Tons of food options, a few different bars, and an awesome atmosphere.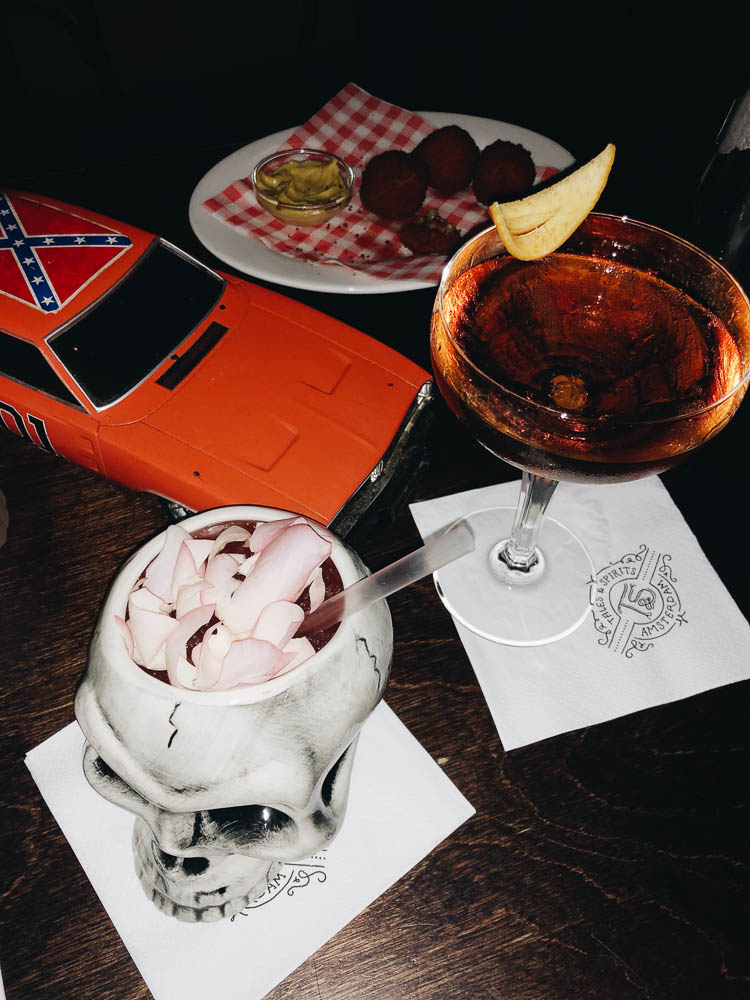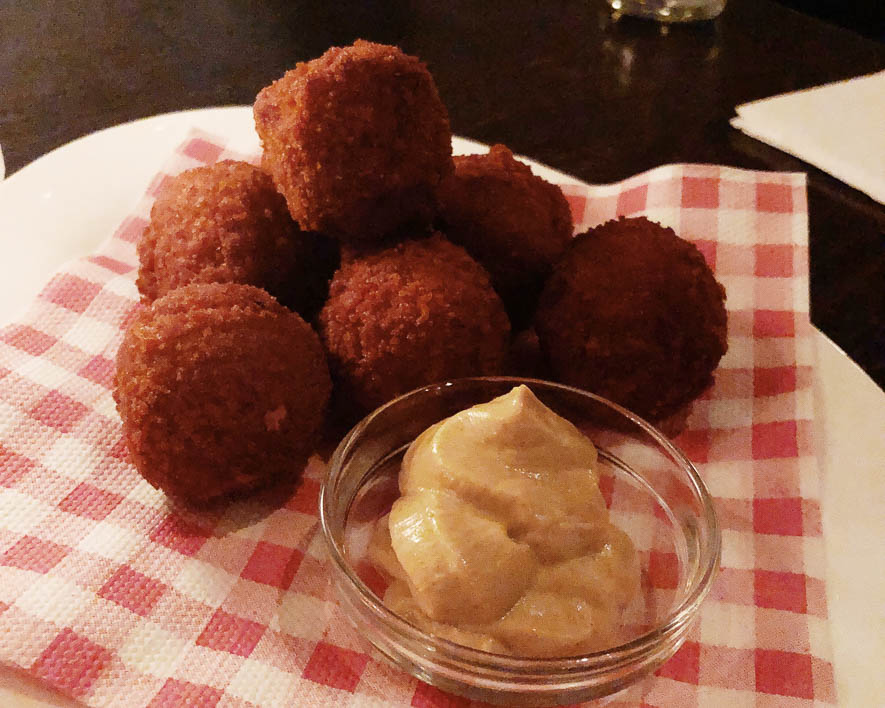 Our final stop was Tales and Spirits, a cocktail bar near the Red Light District. We loved this place; the complimentary water and crisps were such a nice touch, and the cocktails were so good. I had the La Muerta with mezcal, two types of tequilas, hibiscus, agave, mole bitters, and ginger. It's so strong that they only allow you to have two, and I highly recommend it.
The meatball looking things in the second picture are a common bar snack in Amsterdam called bitterballen, which are basically like a croquette with a mustard dipping sauce. So good!
We walked past the Red light district on the way home, and it was interesting to say the least. I was blown away by the concept and there seemed to be a lot of bachelor parties to enjoy the *ahem* festivities.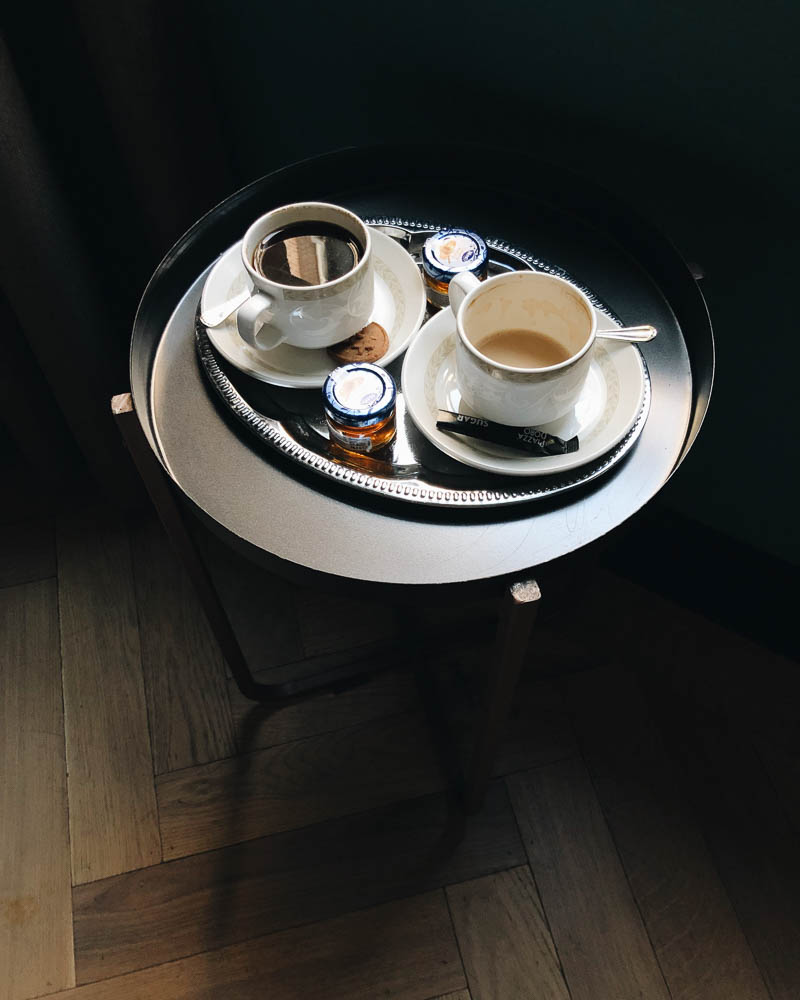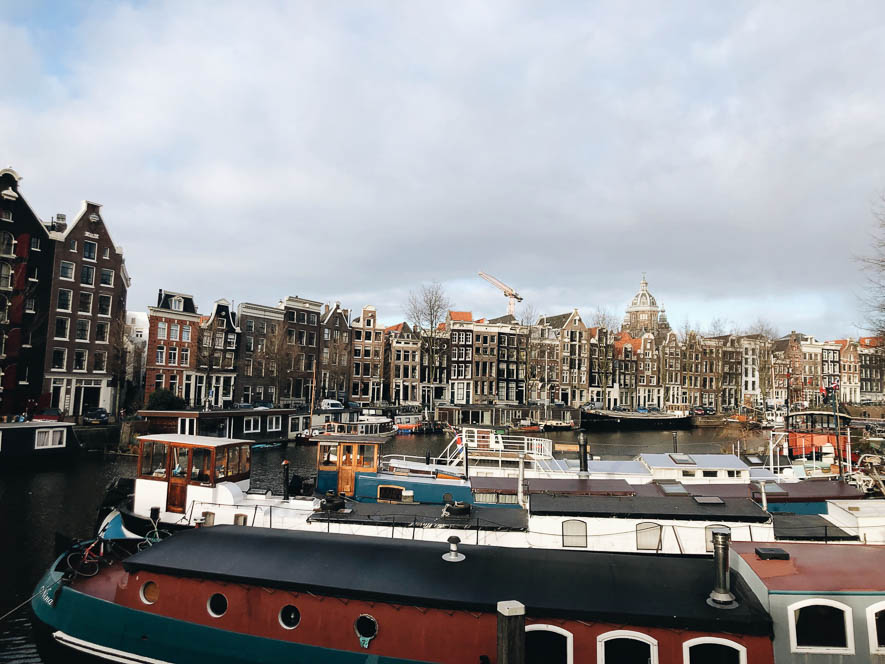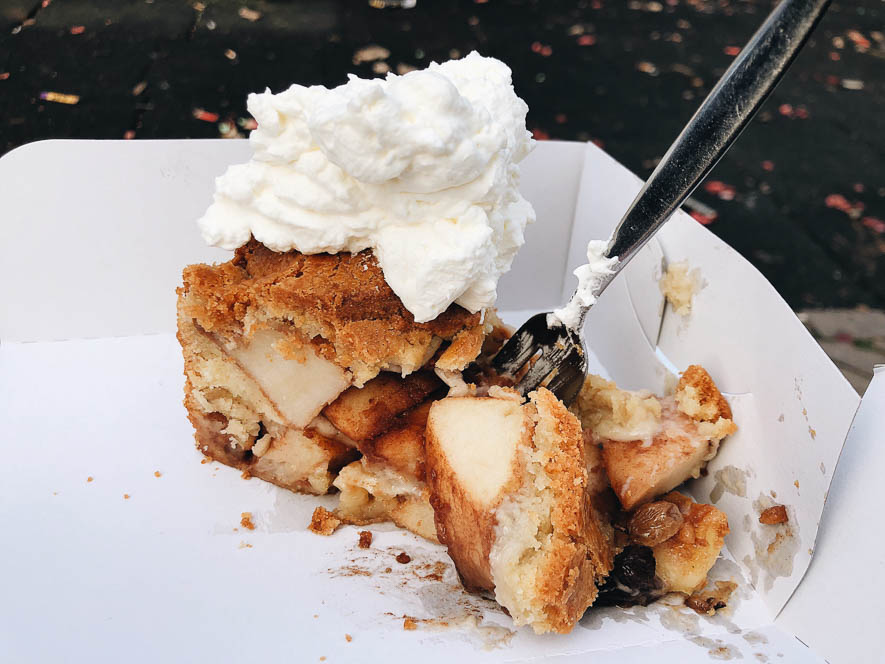 The next morning we woke up to a lovely cup of coffee in our room while we got ready for the day. We walked over to Jordaan, a cute neighborhood with those classic Amsterdam streets that you see in pictures. It's also where the Anne Frank House is, in case you're able to get tickets.
Winkel 43 is a very famous cafe known for their apple pie, so naturally we considered that breakfast!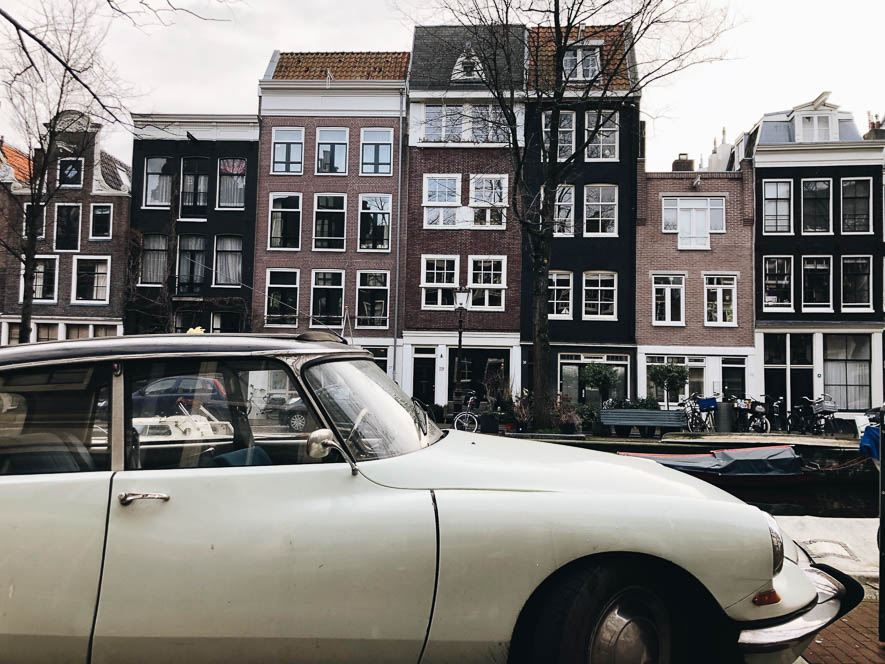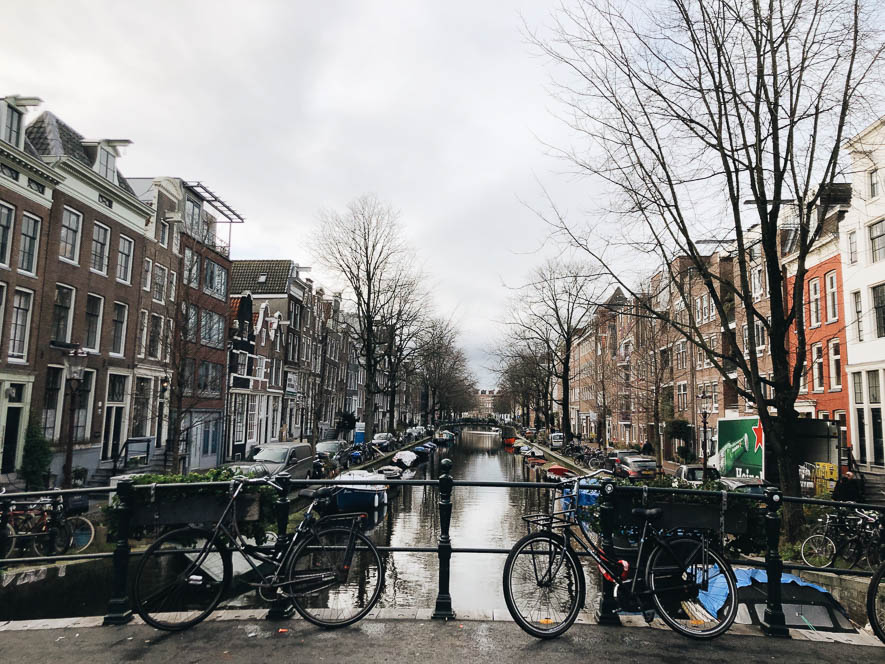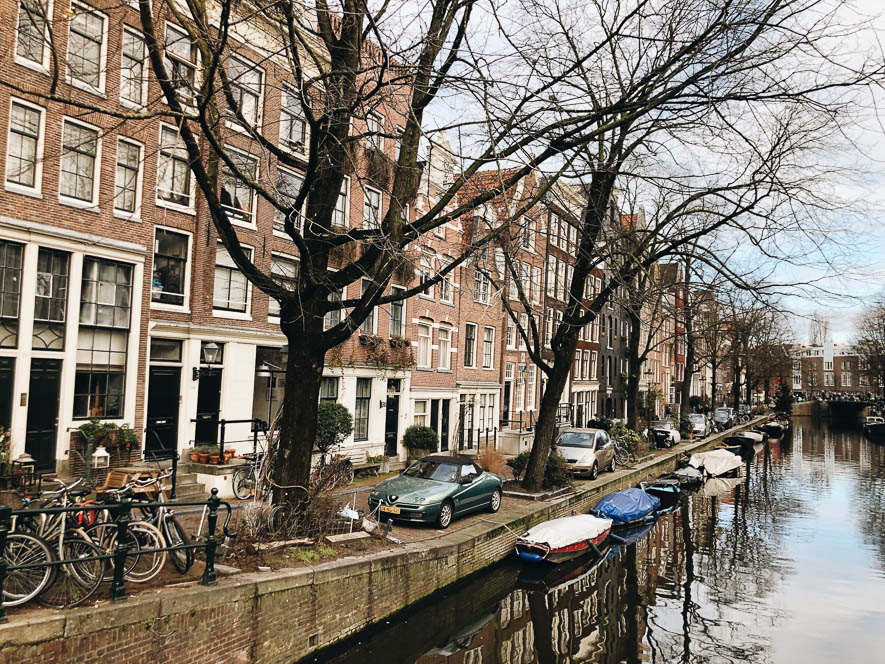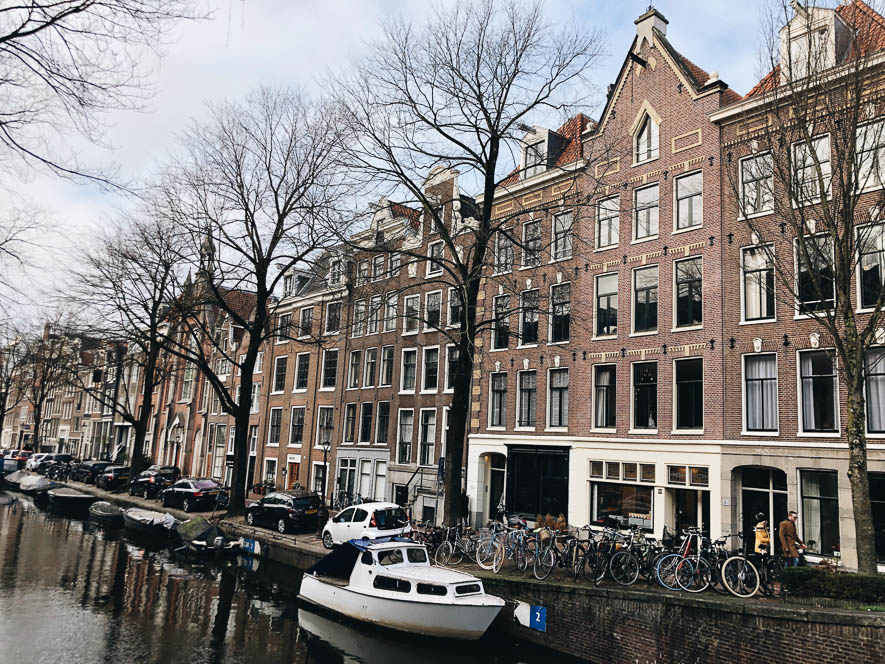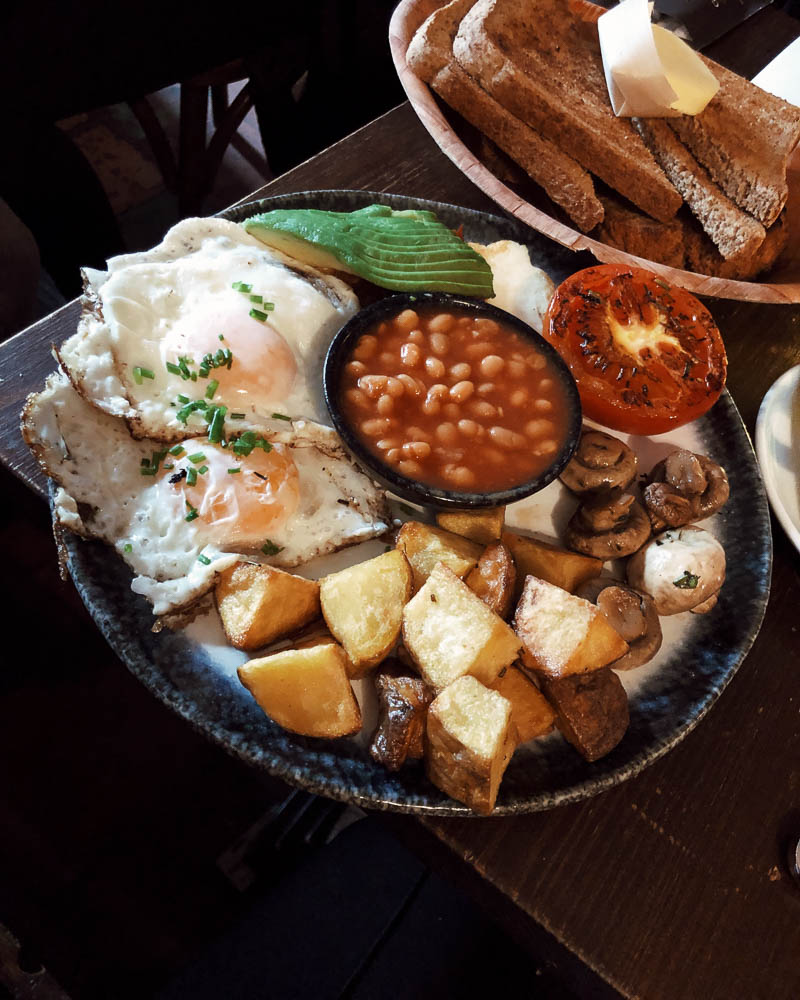 Of course we were starving after walking around, so Rishil found us Greenwoods. It's an English restaurant that serves a classic full English breakfast, with enough food for probably three people.
Rishil got the classic and I had the veggie version with grilled halloumi, tomato jam, and avocado. It was fantastic and kept us full until dinner.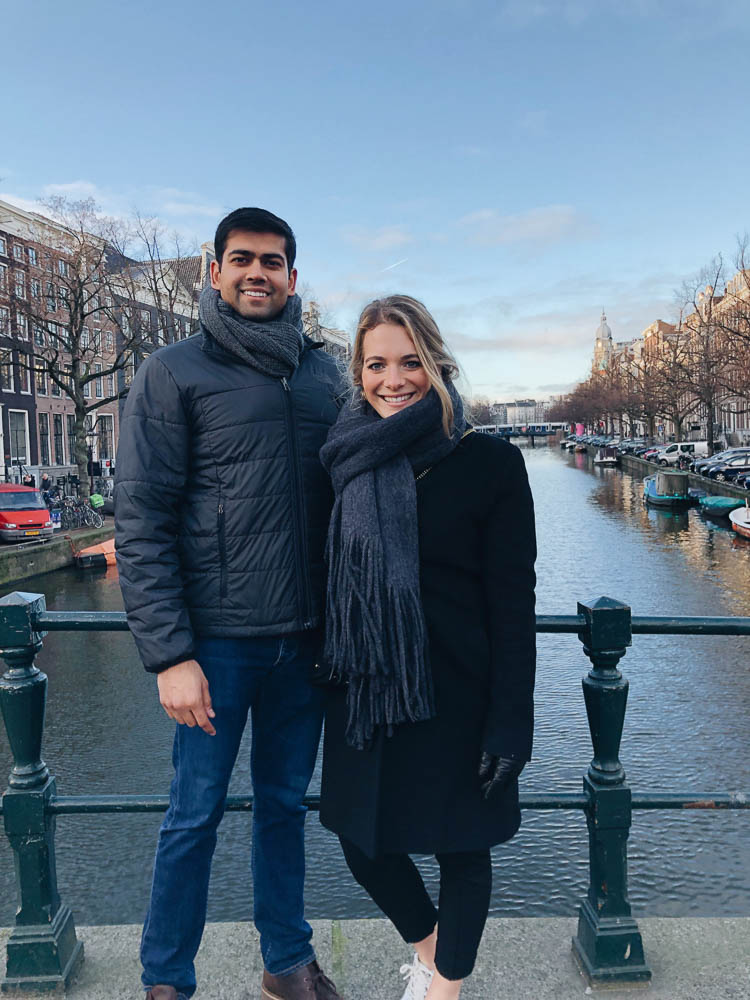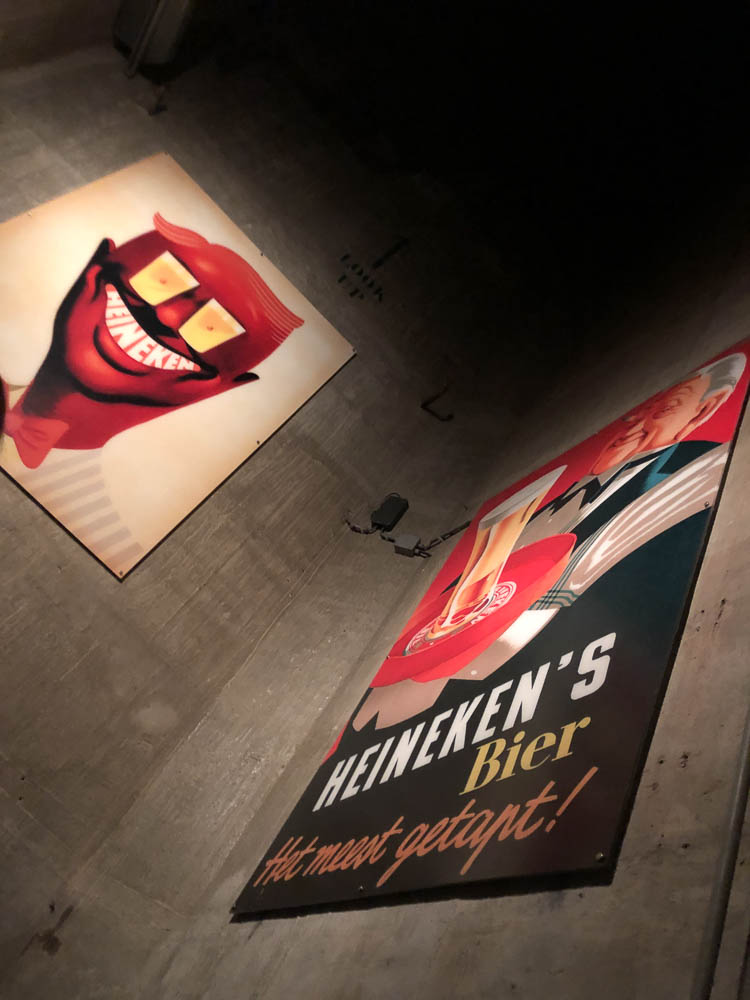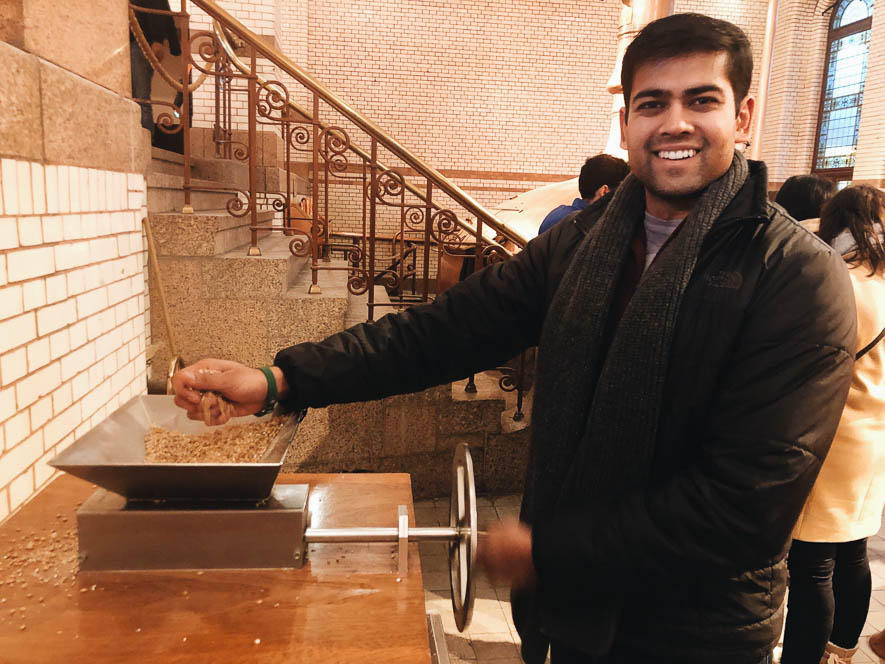 Our next stop was the Heineken Experience, the first Heineken brewery that's now transformed into a self guided and interactive tour walking you through how they brew their beer.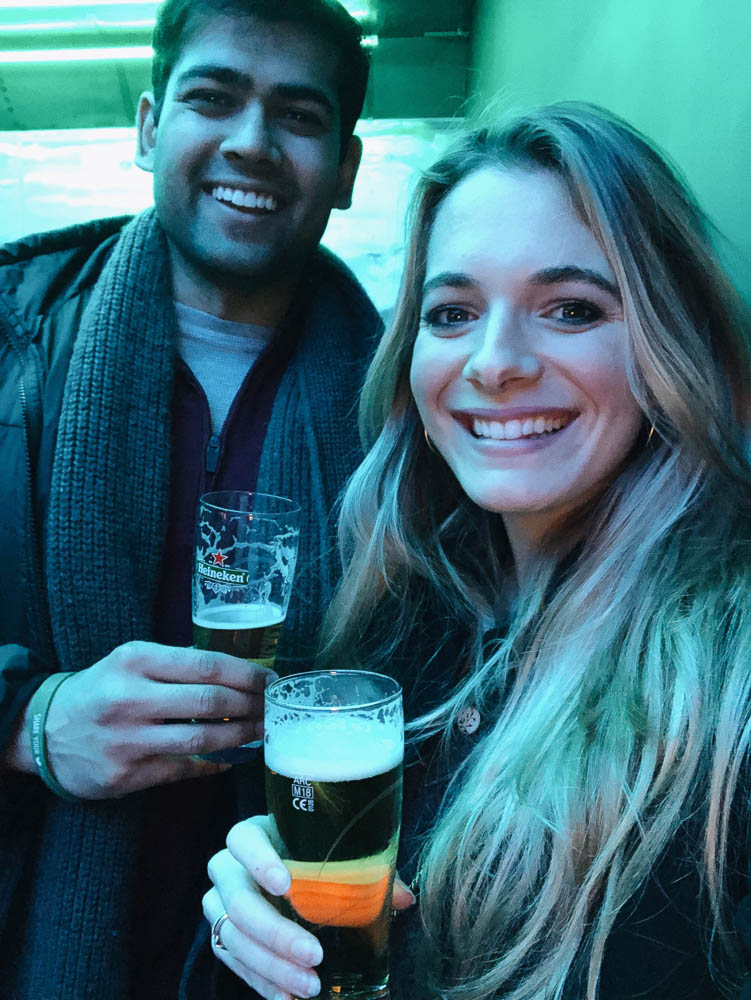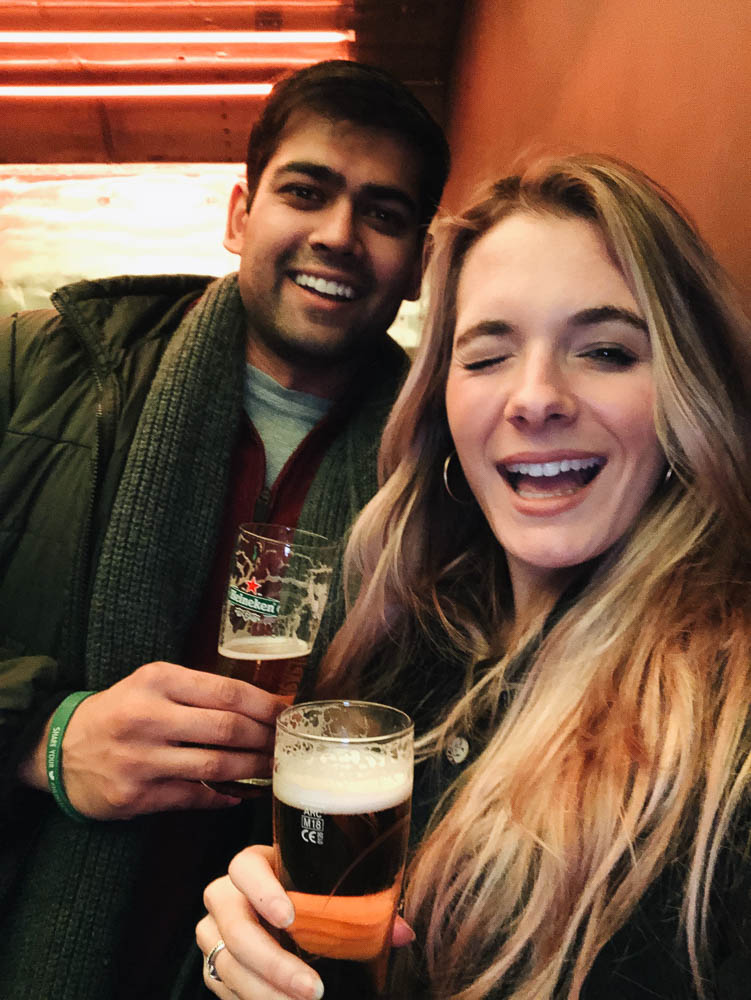 Photo 1: Before.
Photo 2: After the included beers. We even entered a pouring contest where we got to see how well we poured a Heineken from a tap. To say I didn't nail it is an understatement; there was more foam than beer…
After the Heineken tour we took a canal cruise that took us to the A'dam overlook, a skyscraper with a swing on the rooftop where you can swing over the edge of the building! The cruise was great because the Amsterdam light festival was going on, so we got to see the exhibits that were on the bridges, projected on the houses, or strung across the canals.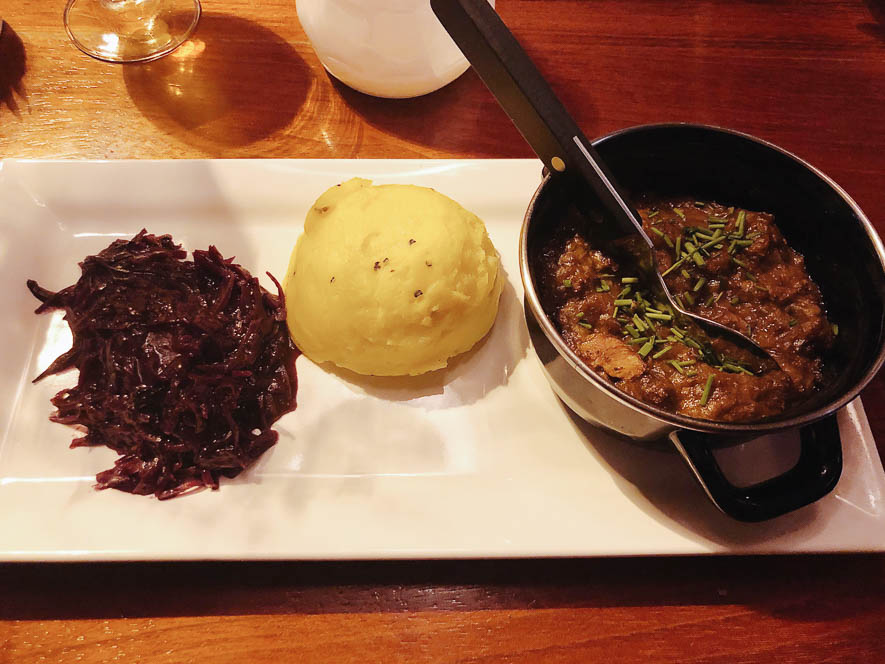 Our final stop after the cruise was The Pantry, a traditional Dutch restaurant with 3,000 reviews. I had the savoury beef and onion stew with mashed potatoes and red cabbage. It was amazing and exactly the kind of food we wanted to end our trip in Amsterdam!
The next morning we took a super early train to Brussels, and I can't wait to tell you all about the beer and chocolate tour we took there!
For the Amsterdam itinerary without all the photos and commentary, see below, and if you're thinking about traveling to Amsterdam please let me know if this is helpful!