This is going to sound dramatic, but I really struggled writing the title to this recipe. If you scroll on Pinterest or Instagram for a few minutes, you'll see that recipe names right now have become SO complicated, and it never ceases to amaze me how a simple dessert like the one we're about to discuss is called a "sweet summer all-butter raw sugar peach crostata". Like whaaattt?! Didn't your momma teach you to not reveal it all at once??
Or how about "Quick Balsamic Fig Roasted Tomato and Burrata Cheese Tarts" (just saw that one yesterday)? Or even "5-Minute Vegan and Gluten Free Carob Tahini Crunch Granola". I bet it took longer to come up with that name than it did to make the recipe!
So with that being said I feel more than a little plain calling this just a "peach crostata", but honestly that's what it is.  You're probably thinking "Hailey, you're keeping it simple?? We don't even know what a crostini is!" Well first of all it's a crostata, and it's just an Italian word for a free-form tart. There's nothing fancy here, but I promise you that summer peaches when tossed in brown sugar and baked in a butter crust become an unforgettable dessert that you'll make many more times over the next hot, humid months.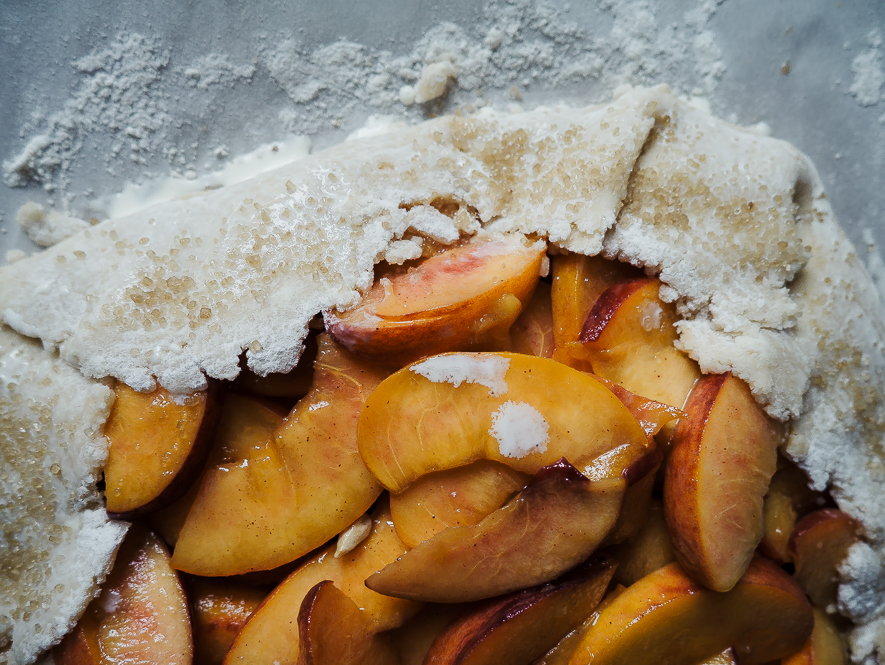 When something looks this good before going in the oven, you know it's going to be bomb.com (thank you Guy Fieri). After the crostata bakes, the peaches become caramelized, the crust crisp and golden, and the juices from the fruit are bubbly and sweet. It's perfection.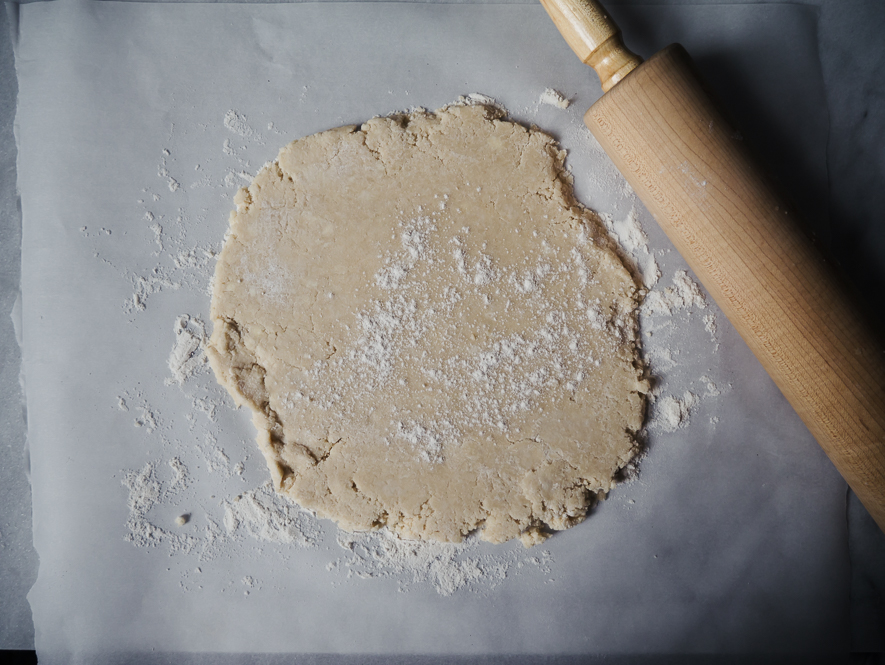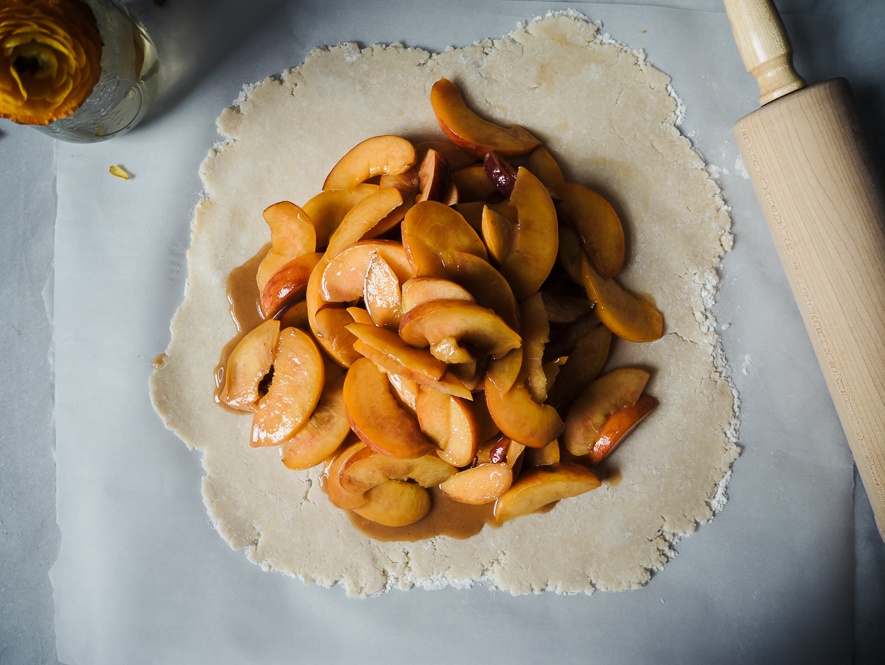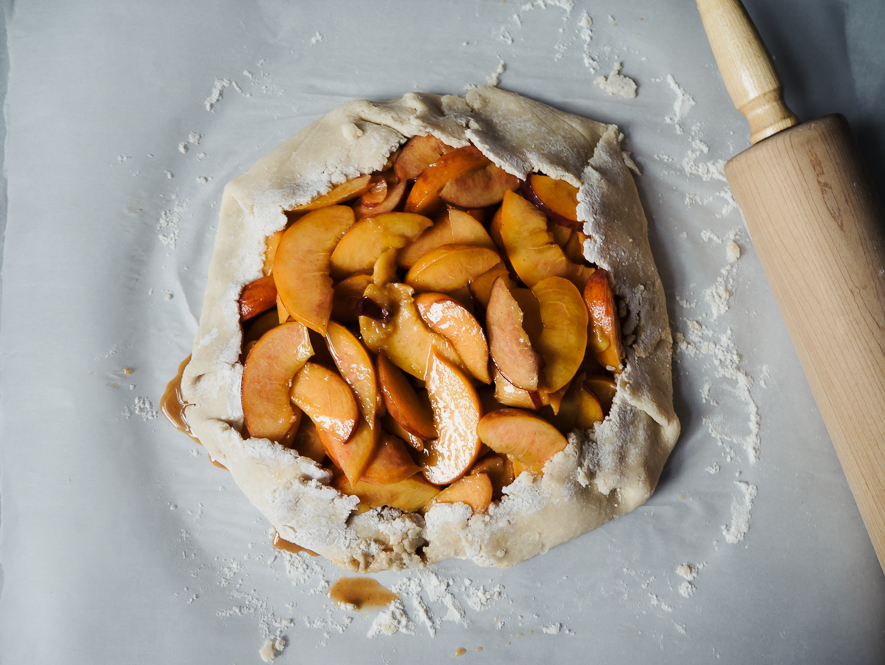 The best part about this is how easy it is. Don't be scared by making the pastry dough yourself, it takes literally 60 seconds using a food processor and doesn't have all the chemicals that store bought dough contains.
If you MUST buy the dough, I forgive you, but you need to promise to not use canned fruit.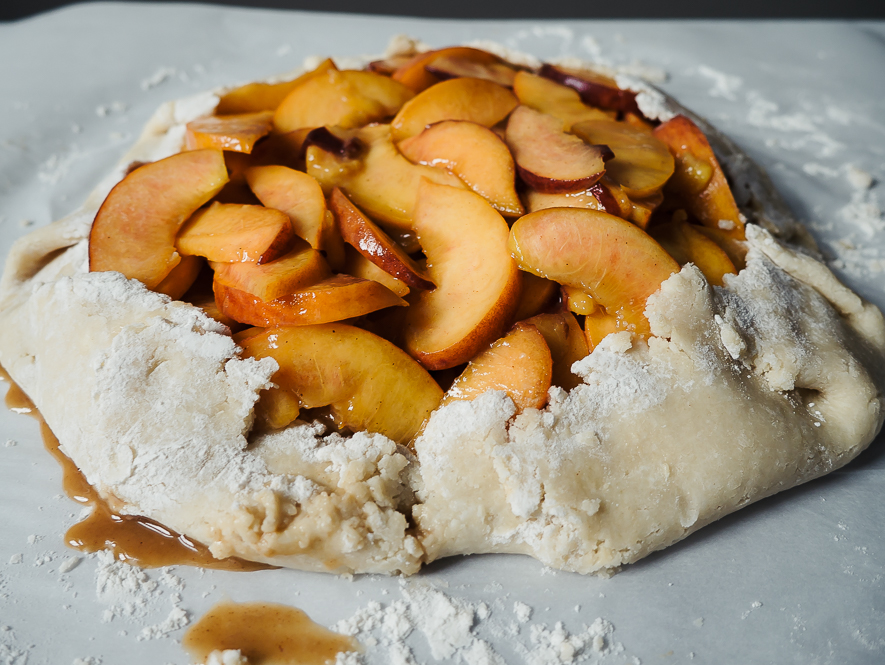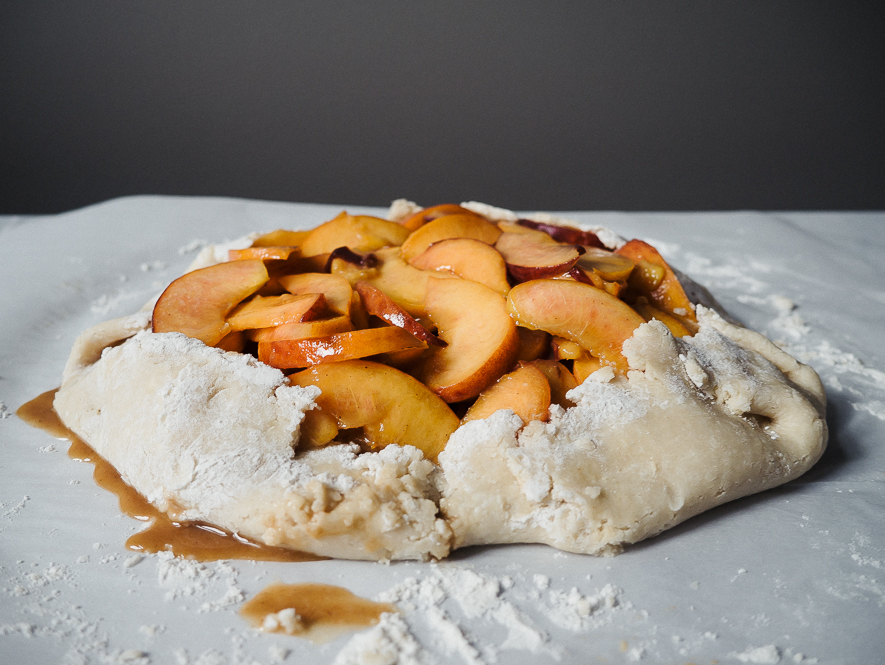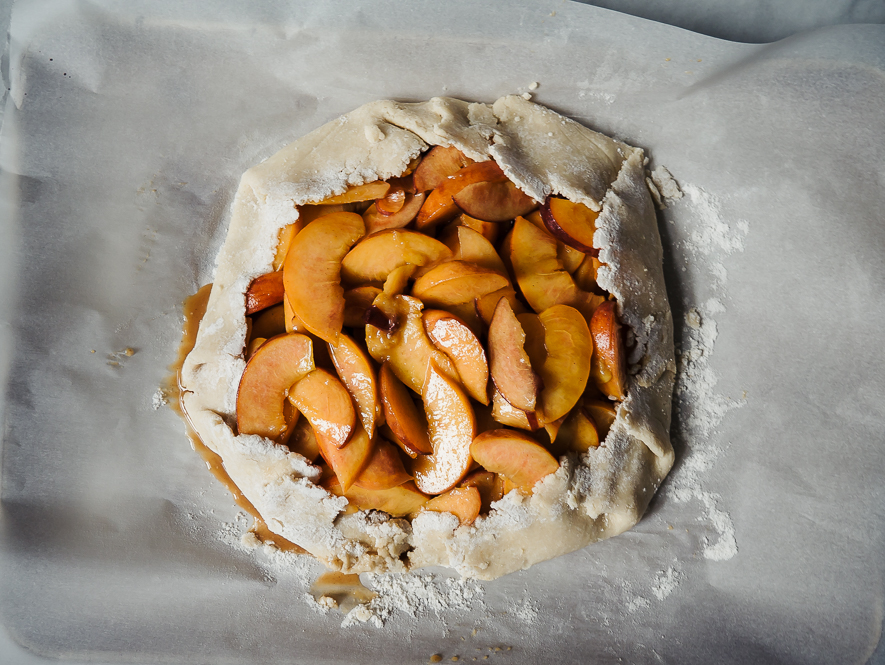 So long story short (Rishil loves when I say that because my stories are always super long and he waits for an abbreviated version that never comes), we just toss peaches with brown sugar, cinnamon, salt, and flour, and spoon then on top of your homemade dough.
Brush with cream, sprinkle with sugar, and bake until bubbly and golden, or until it looks like this: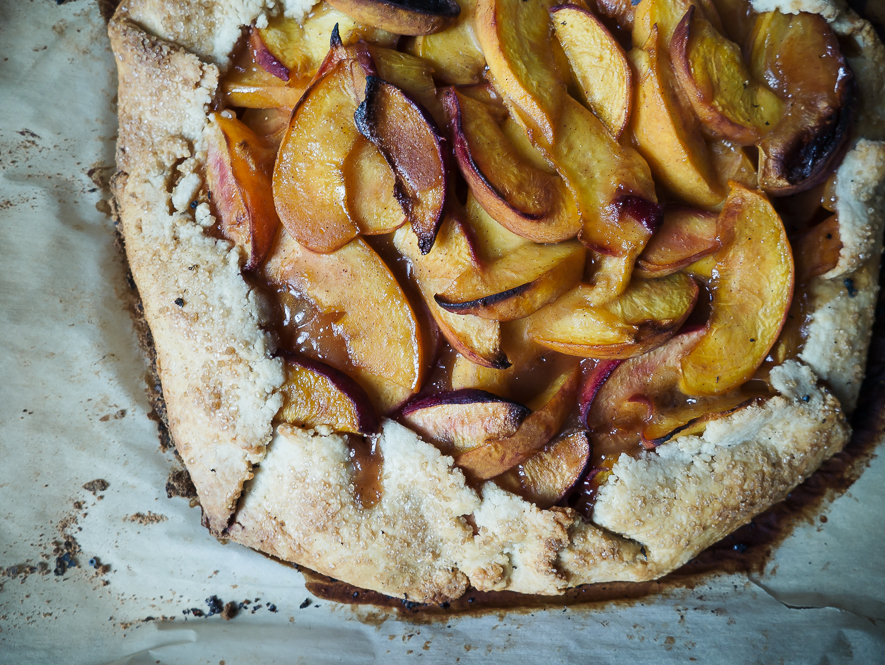 Sexy can I?! I can't even imagine how beautiful this would be with a few scoops of ice cream on top, because my family wouldn't let me properly food style it before I served it. Ugh.
Hopefully you have more lenient relatives, and can send me a picture once you make this and top the crostata with the garnish it rightfully deserves!
Peach Crostata (serves 8) recipe slightly adapted from here; my edits from original recipe are in italics
1 1/2 cups plus 2 tablespoons all-purpose flour
2 tablespoons granulated sugar
Salt
6 tablespoons cold unsalted butter, cut into 1/2-inch pieces
1/4 cup ice water
5 peaches (2 pounds)—halved, pitted and sliced 1/2 inch thick
1/4 cup plus 2 tablespoons dark brown sugar
1/2 teaspoon pure vanilla extract
Pinch of cinnamon
2 tablespoons heavy cream
2 tablespoons turbinado or other coarse sugar
In a food processor, pulse 1 1/2 cups of the flour with the granulated sugar and 1/2 teaspoon of salt until blended. Add the butter and pulse until it is the size of peas. Add the water and pulse until the dough is evenly moistened (it will be very crumbly, don't be alarmed). Transfer the dough to a piece of plastic wrap and pat it into a disk. Cover the disk with the plastic wrap and refrigerate until chilled, about 30 minutes. If you don't have a food processor, use a pastry blender like this one instead, and just mix by hand.
Preheat the oven to 425°. In a medium bowl, toss the peaches with the brown sugar, vanilla, cinnamon, a pinch of salt and the remaining 2 tablespoons of flour.
On a lightly floured work surface, roll out the dough to a 12-inch round. Transfer the dough to a parchment-lined rimmed baking sheet. Mound the peaches with their juices in the center of the dough, leaving a 2-inch border all around.  If the peaches are really juicy, leave most of the juices in the bowl so they don't seep out of the crust and onto the baking sheet like mine did… Fold the edge of the dough up and over the peaches. Refrigerate the tart until chilled, about 30 minutes.
Brush the dough with the cream and sprinkle with the turbinado sugar. Bake for about 50 minutes, until the crust is golden and the peaches are bubbling. Let cool for 15 minutes before serving.
Make Ahead
The tart can be baked up to 6 hours in advance. Serve warm or at room temperature