Hi guysss! I've been in Seattle for the past two weeks for work, and dear god am I excited to get back in my kitchen and out of that rain! I love Seattle to death and am already writing my next post on my favorite restaurants there (hint: best dim sum ever). I've eaten out literally every meal for the past 14 days, and think that any dreams of a six pack are about as promising as Betsy De Vos finding a new profession. Sorry, I'll keep politics out of this.
Anyways, I wanted to share with you one of my new favorite meal preps when I'm trying to be healthy, but want something not quite as light as a salad. I won't go as far to say that you'll be convinced the spaghetti squash is pasta, but it definitely fills the gap when I'm trying to avoid eating bucatini mid day.
The bolognese sauce is lightened with ground turkey but doesn't lack the flavor of traditional pasta sauce, the spaghetti squash is a gluten free and vegetable alternative to pasta, and what I love most is how easy it is to make. Bake the squash, combine pasta sauce with a few ingredients, and you have four meals ready for the week!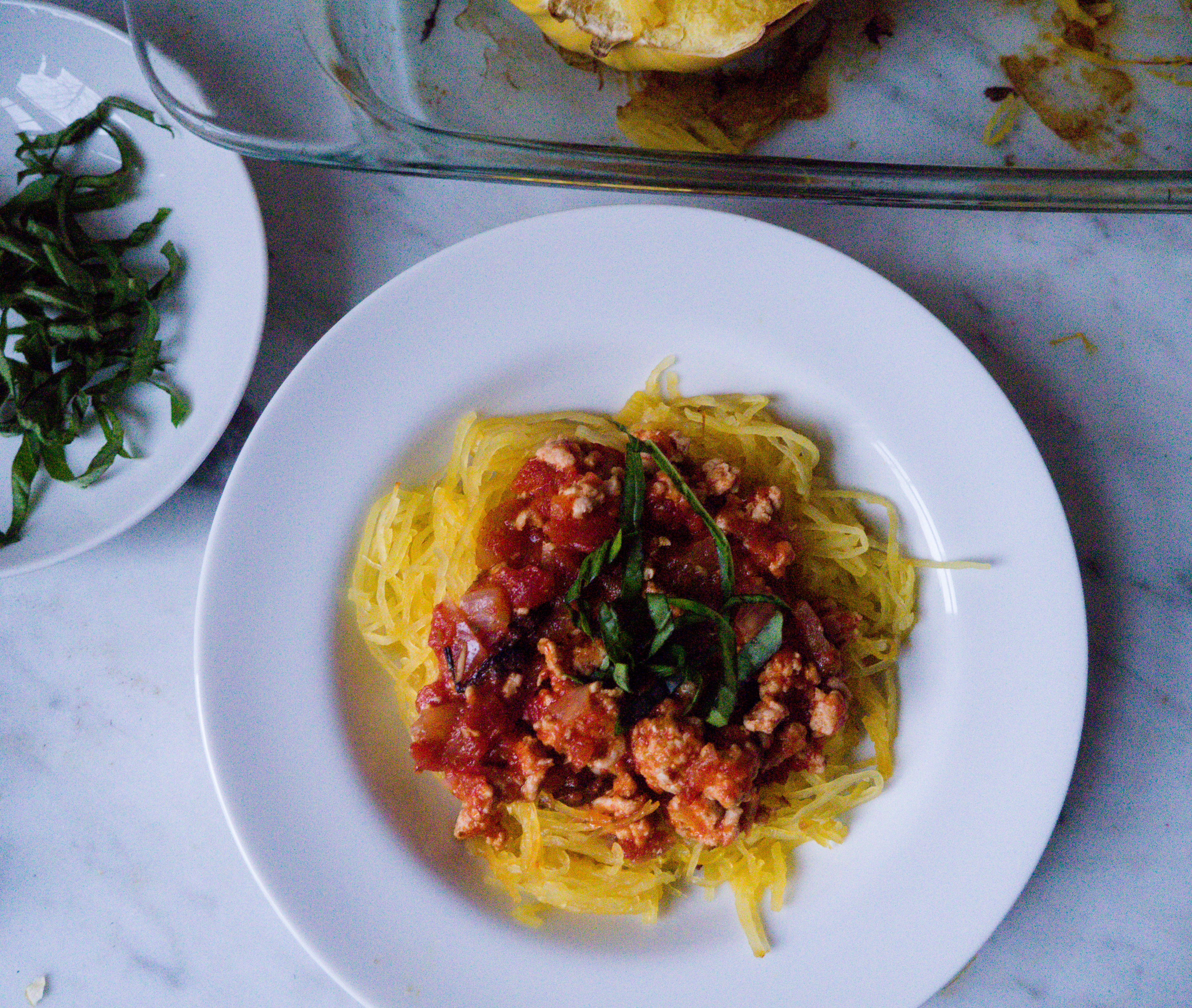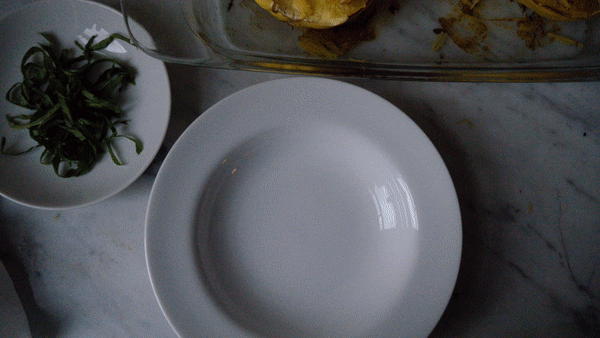 Also, I decided to try my hand at a stop motion video a la Betty Liu. It's far from perfect, but a fun project to work on improving! Ok, here's how to get started: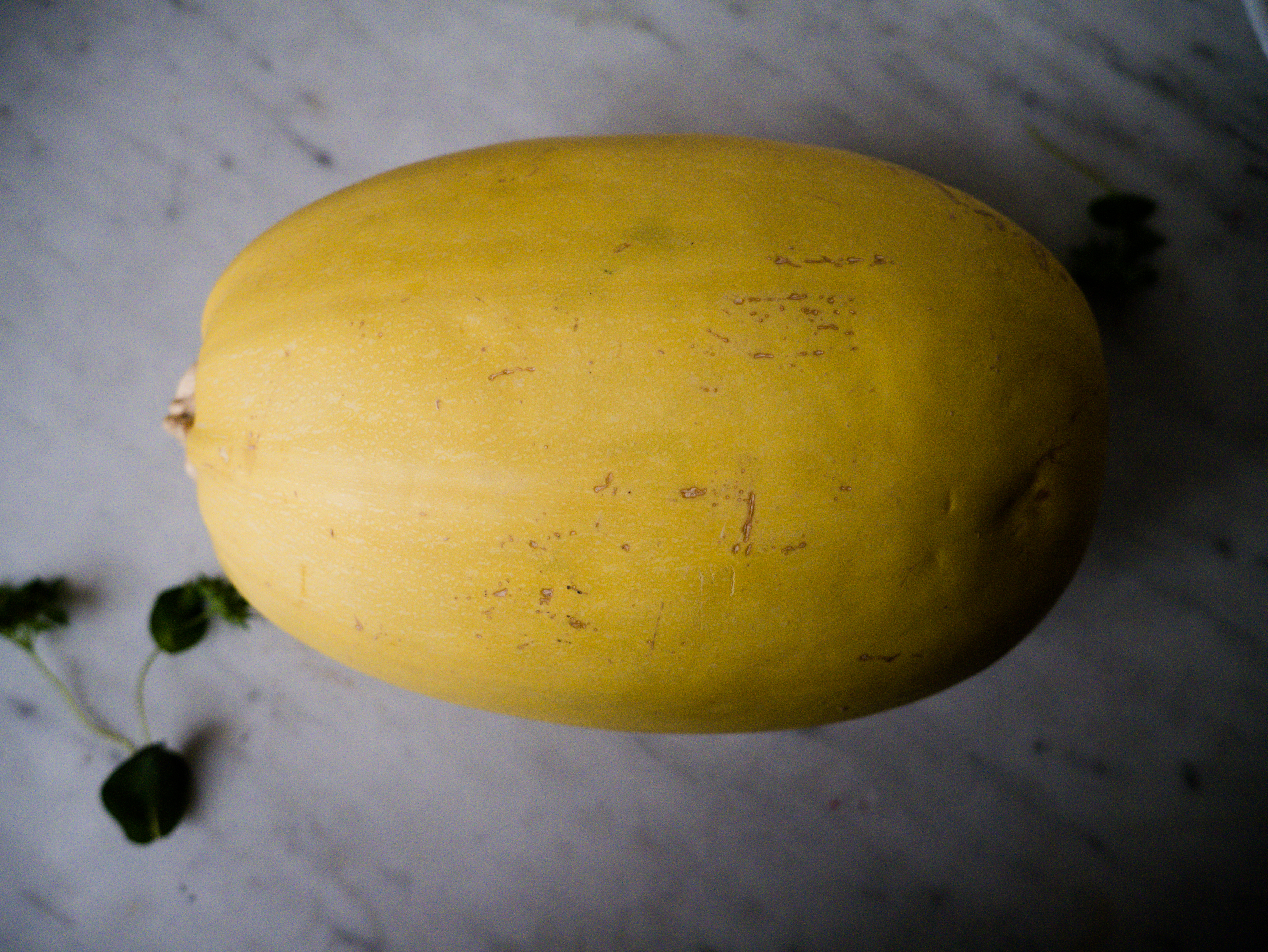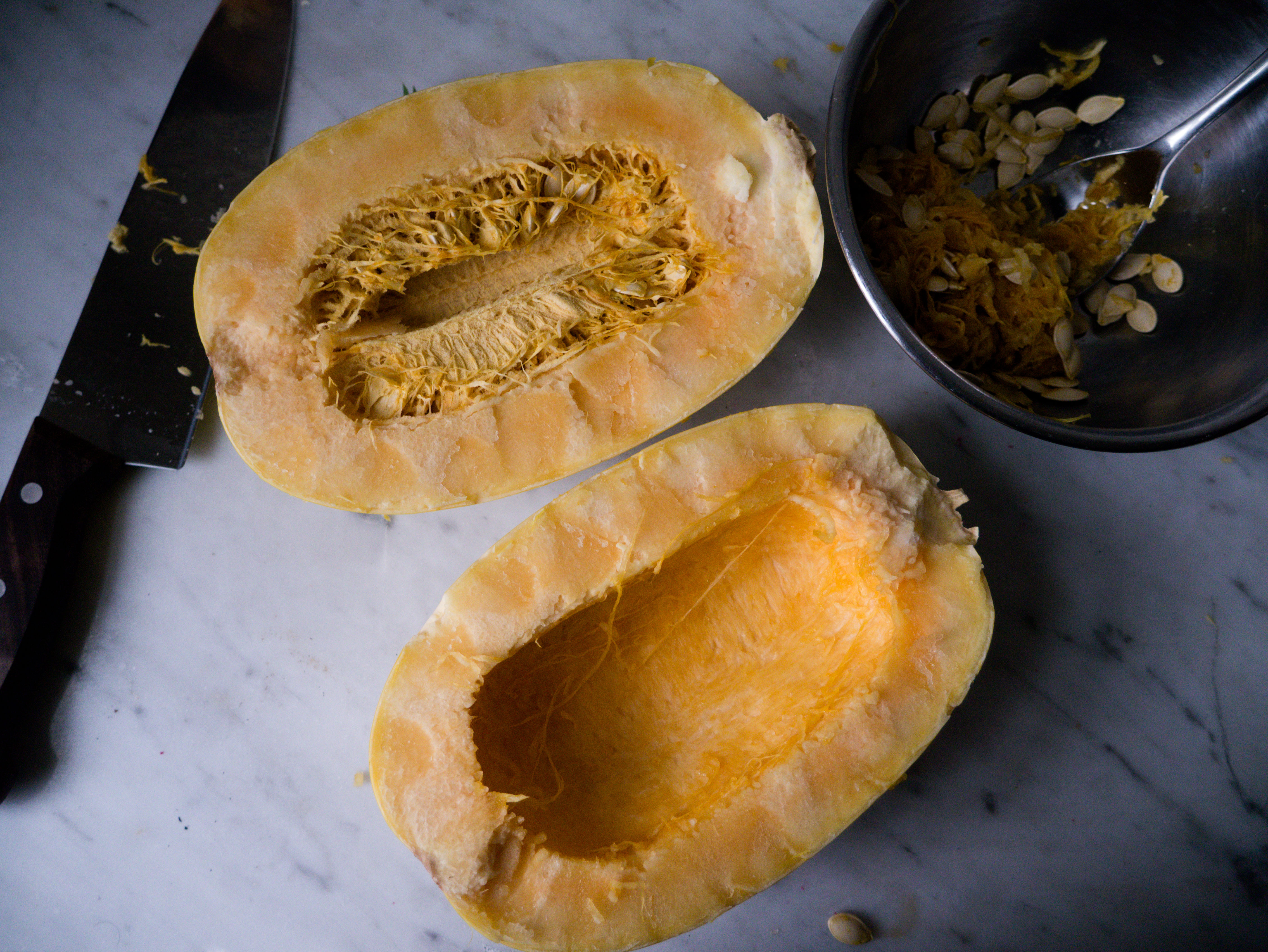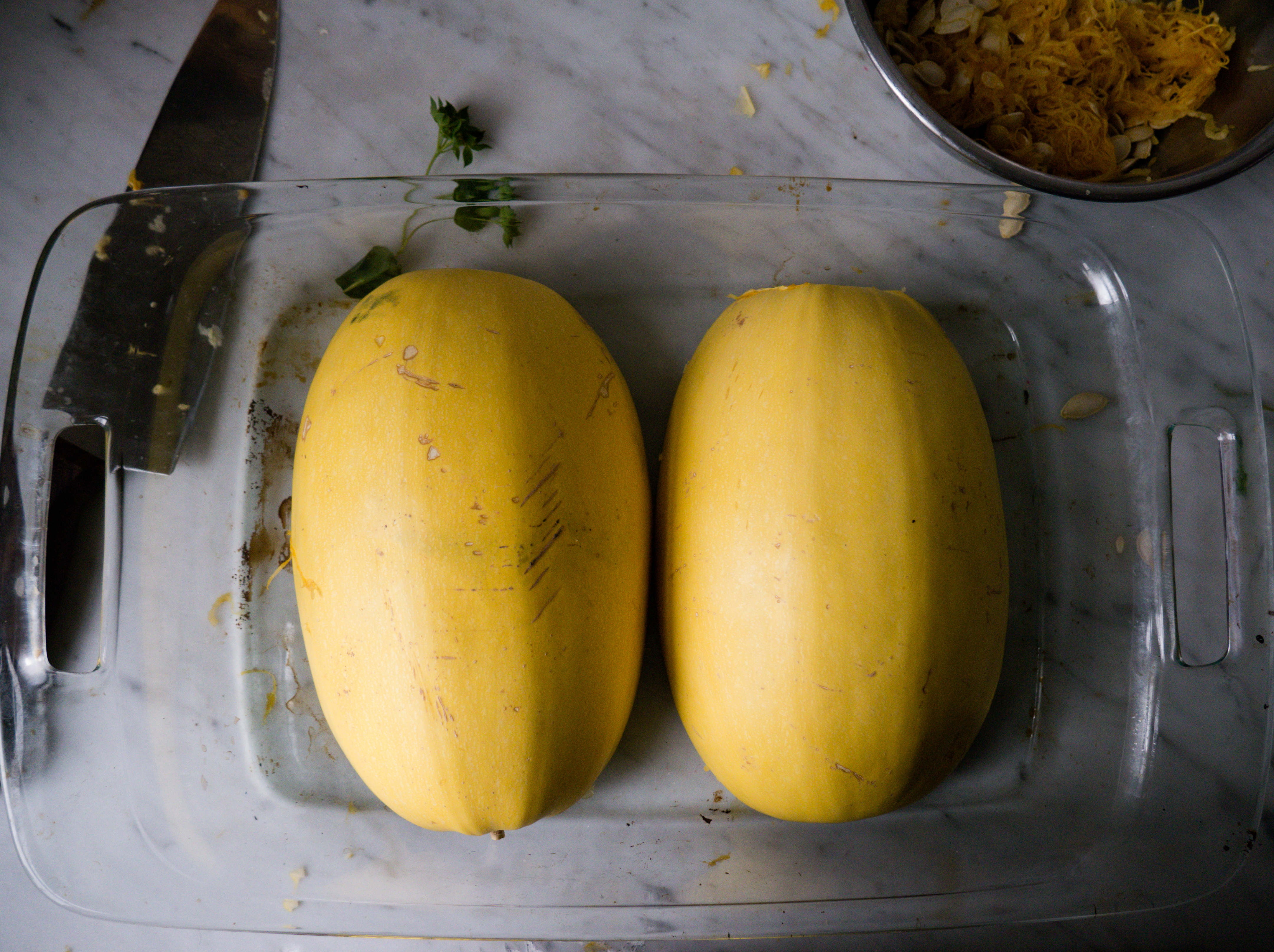 Your first step, albeit the most difficult, is prepping the squash. Cut it in half (carefully), scoop out the insides, and place cut side down on a baking sheet. Bake until you can easily pierce a knife through the skin.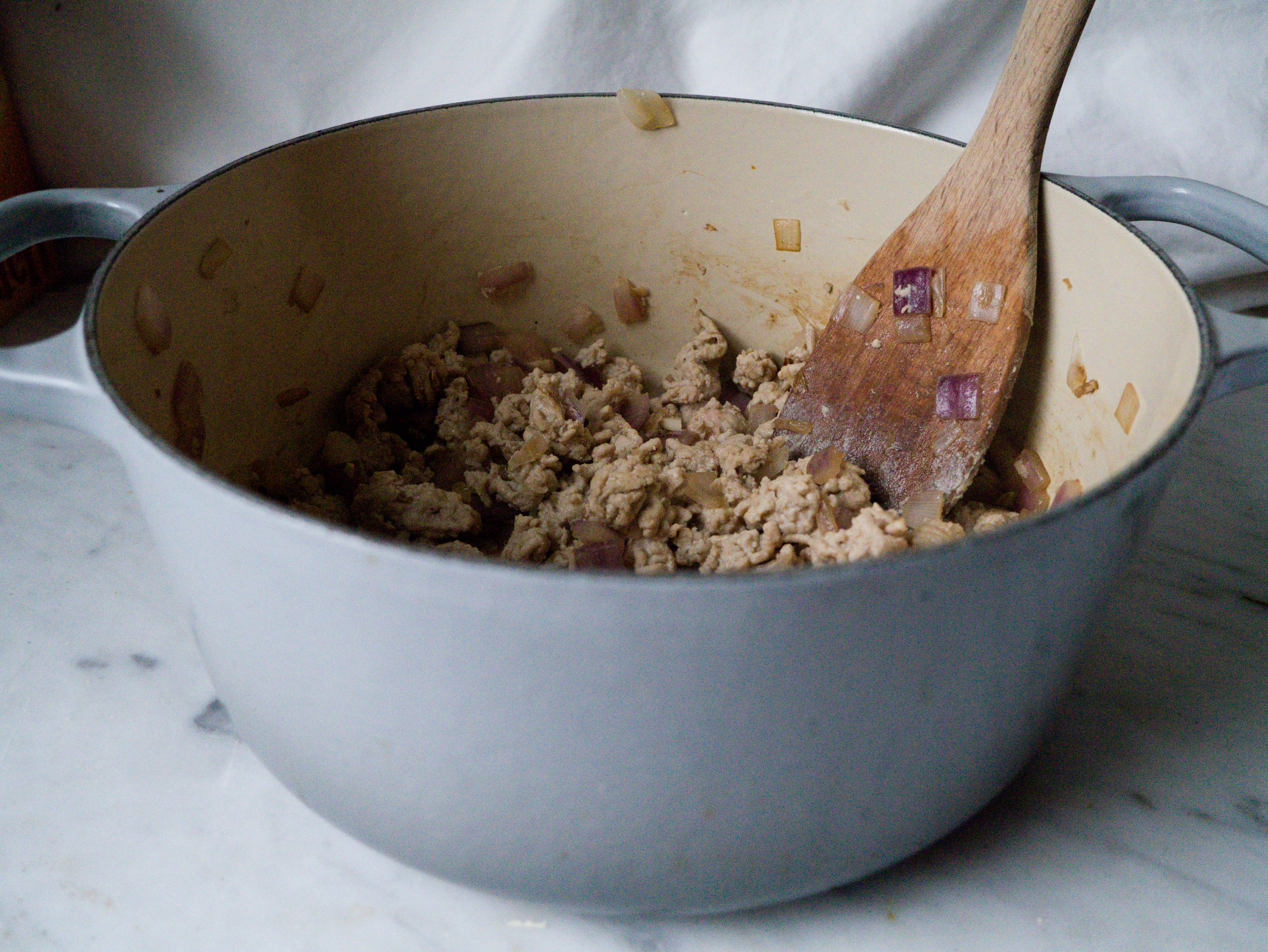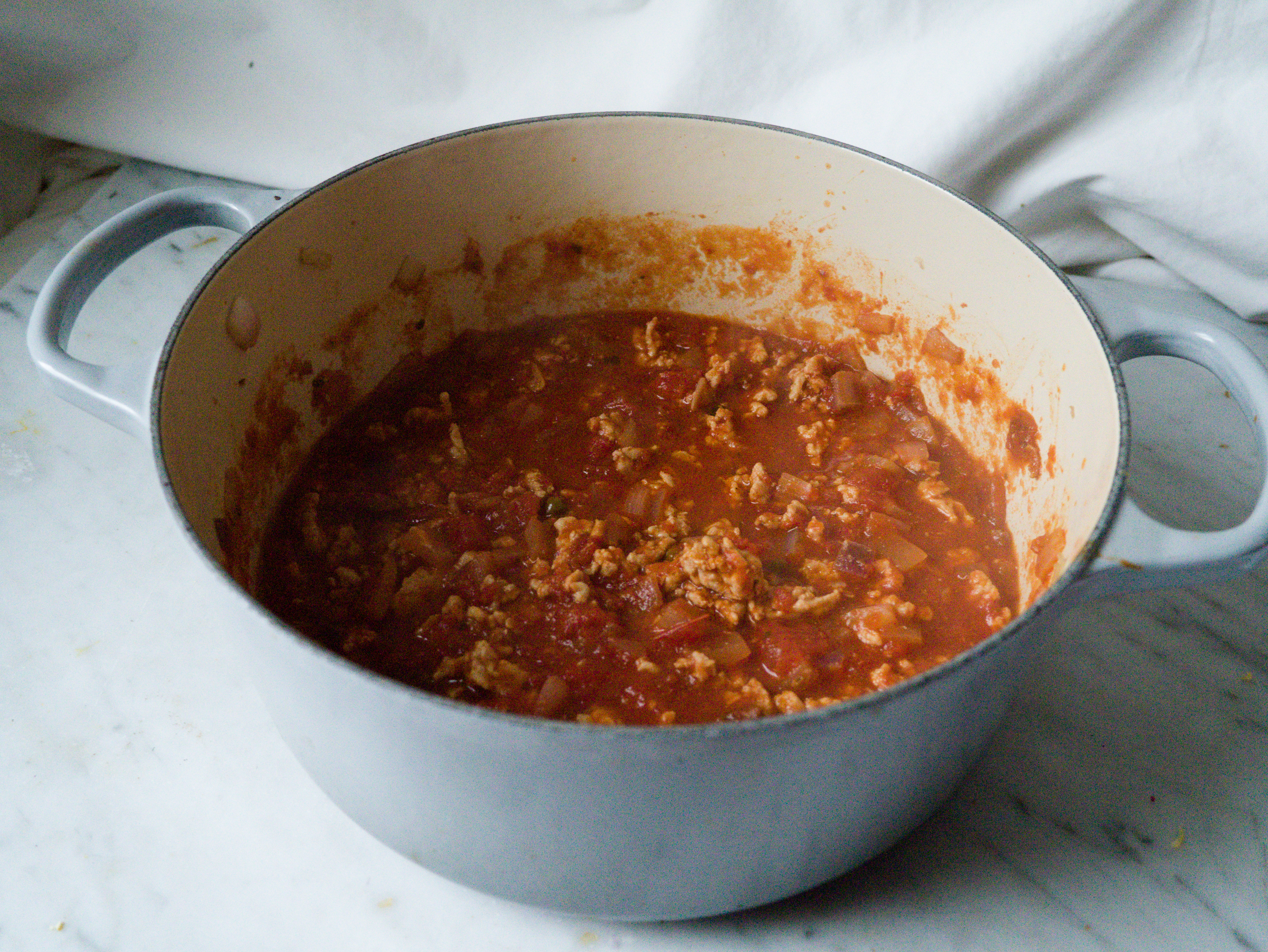 Guess what? You're half way done! The next step is to saute an onion with olive oil and a package of ground turkey or chicken. When browned, add in a jar of pasta sauce.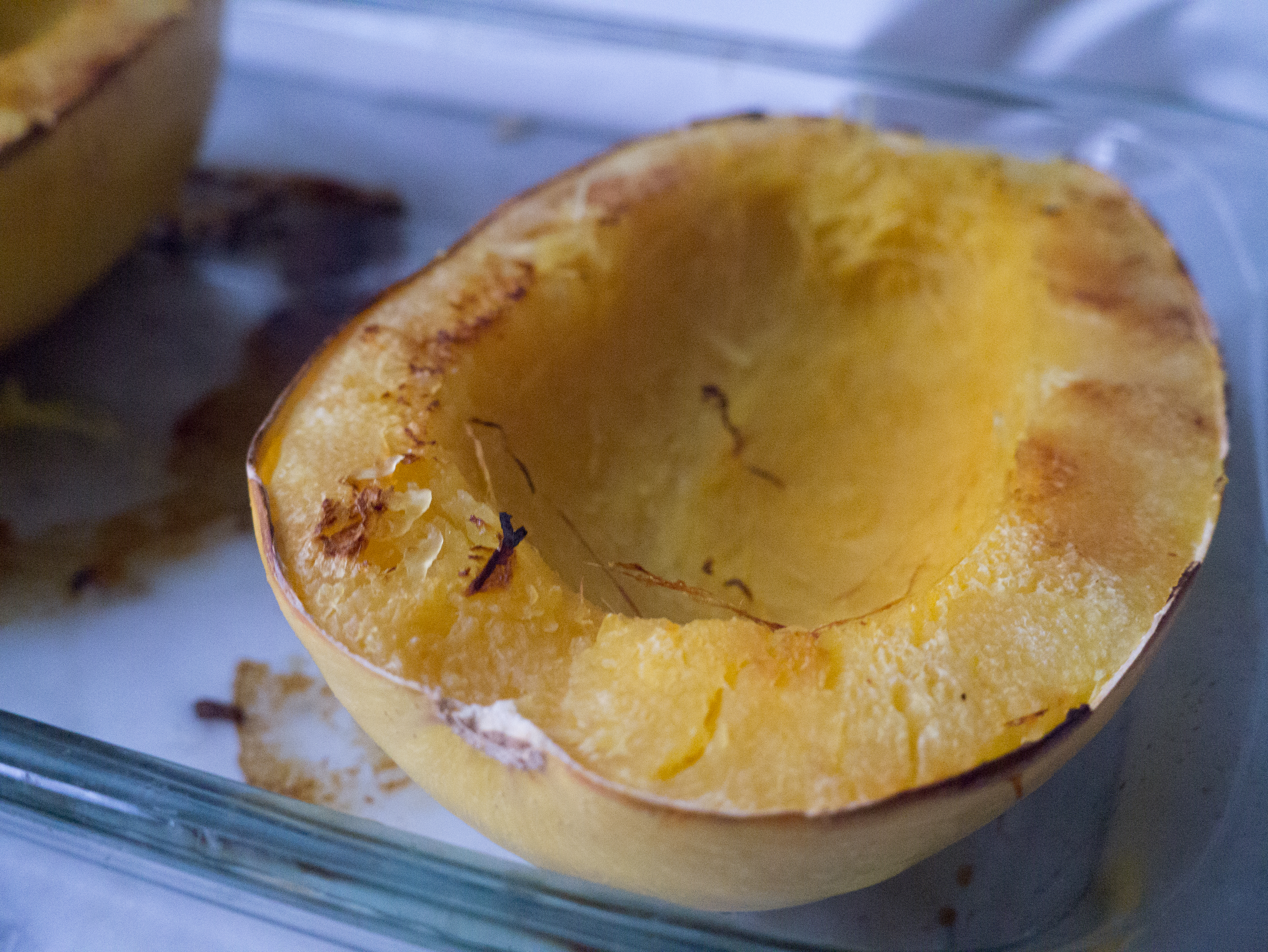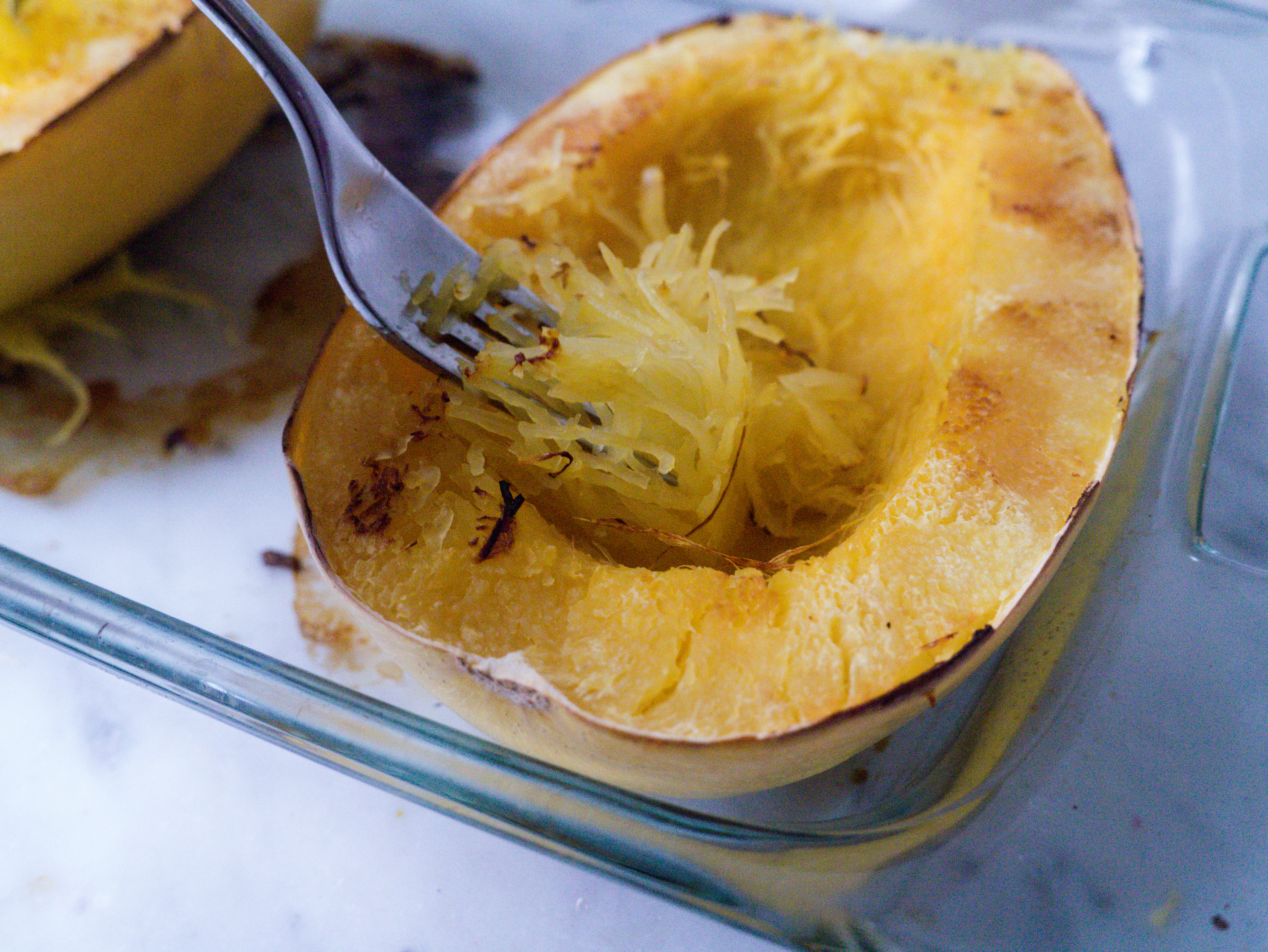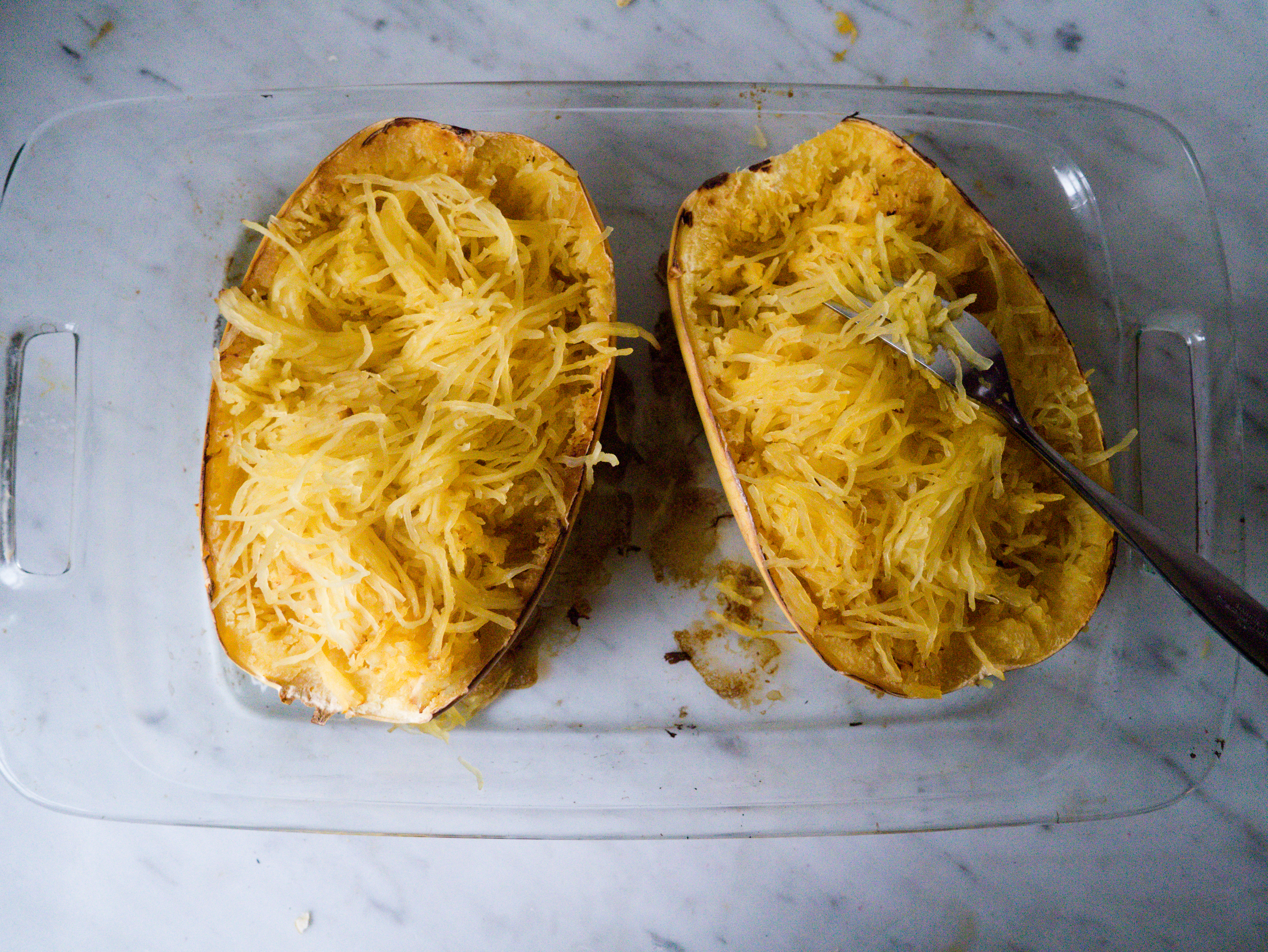 Scrape the squash with a fork to make "spaghetti" and set aside while your sauce is simmering.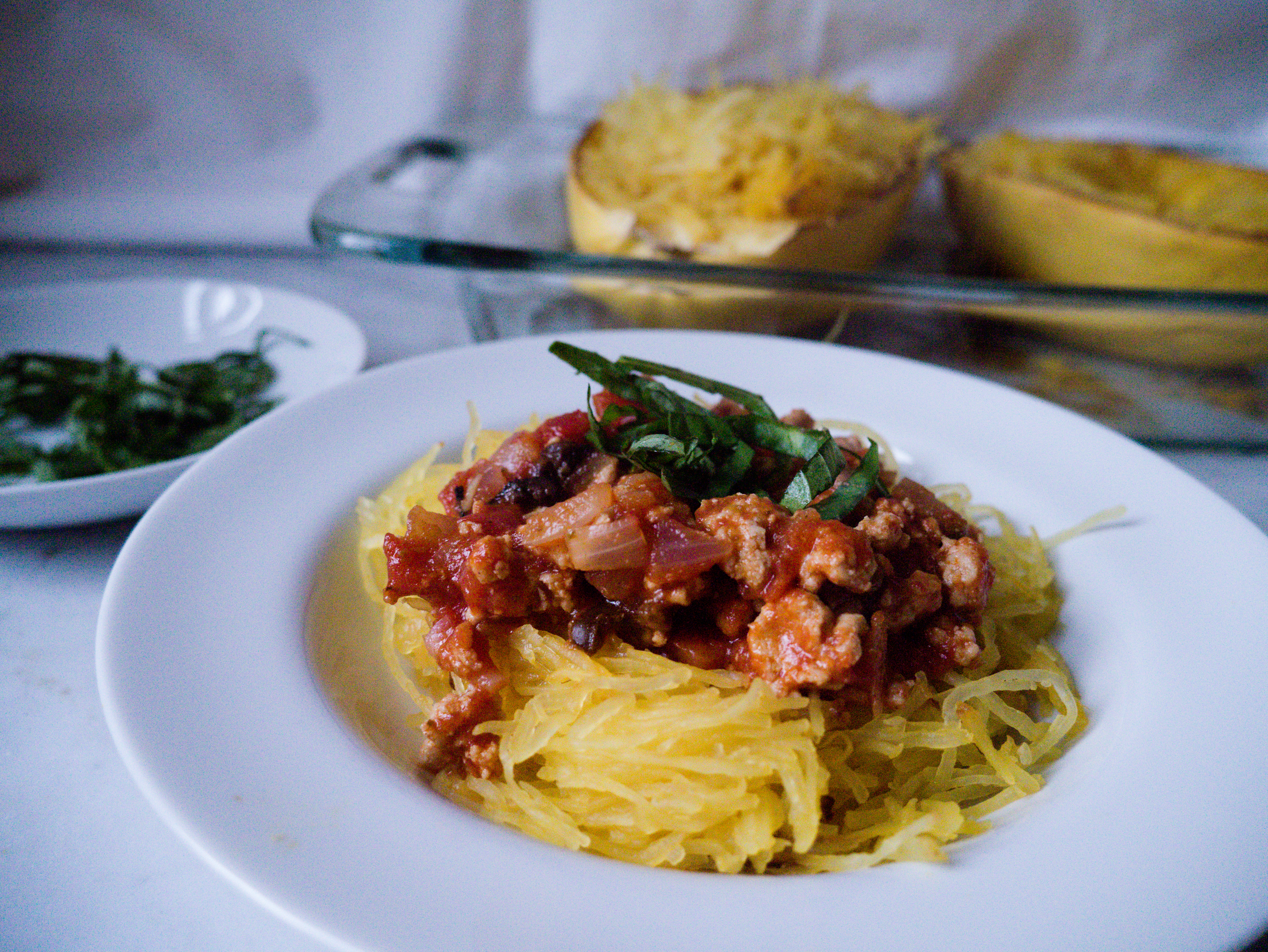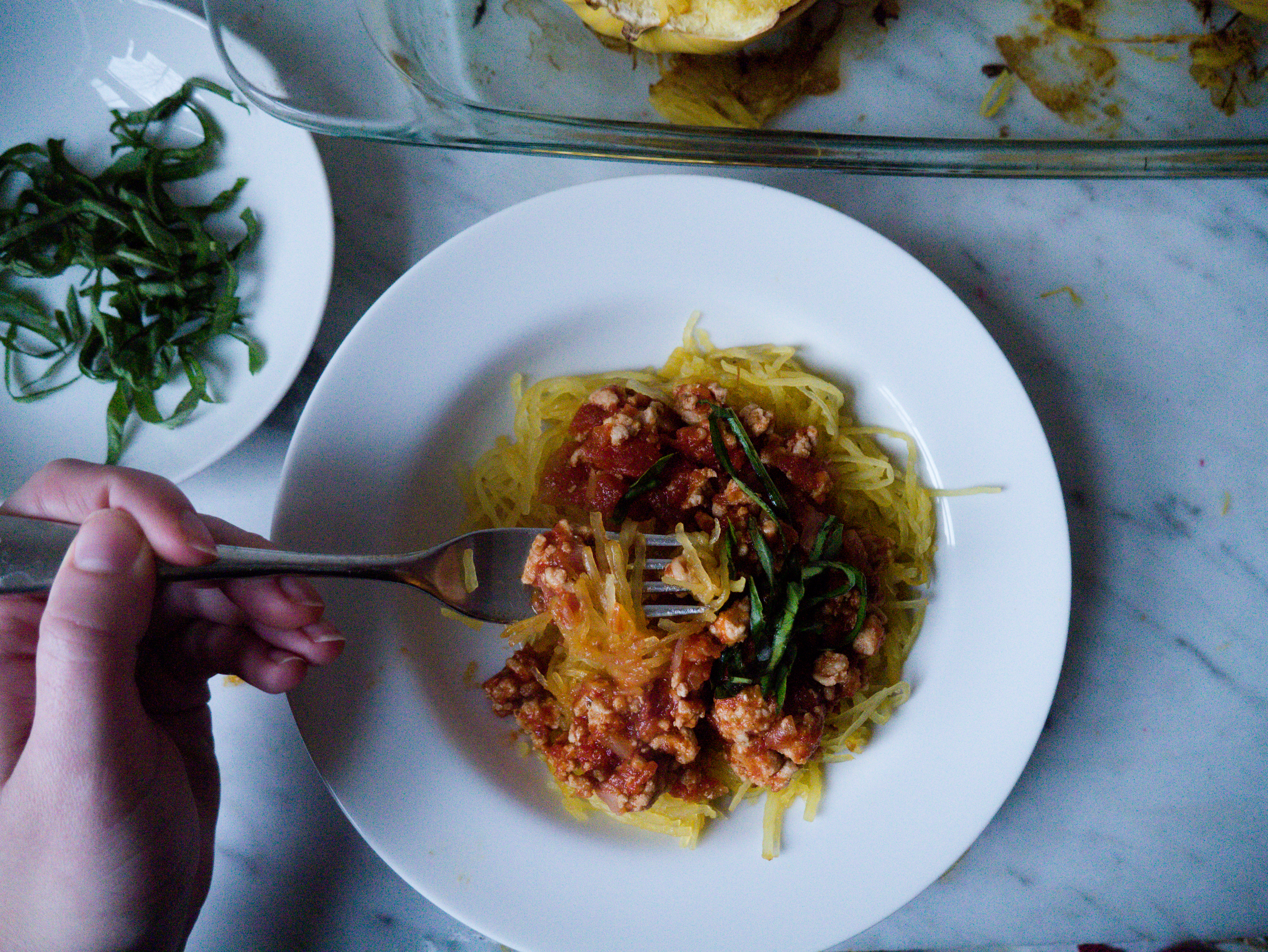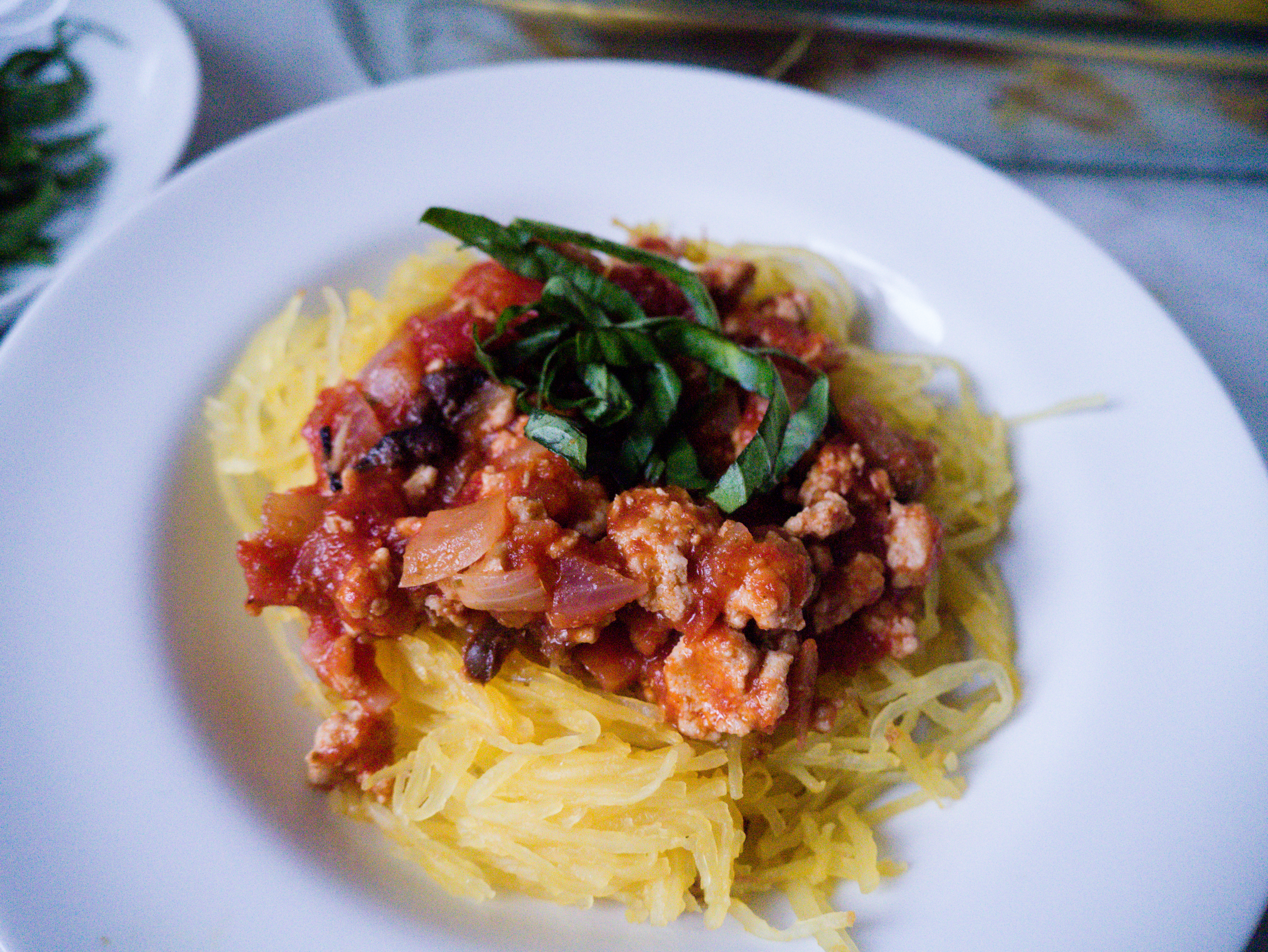 To finish, pile some spaghetti squash into a bowl, top with your bolognese, and finish it with some shredded basil and parmesan. Feel free to channel your inner salt bae when sprinkling the cheese. And that's it, a simple and easy meal prep for lunch or dinner!
If you make it and feel like it's insta worthy, please feel free to tag #whiskedaway on your post so I can see your masterpiece!
Spaghetti Squash Bolognese (serves 4)
1 large spaghetti squash
1 red onion, diced
1 package (16 ounces) lean ground turkey or chicken
1 jar (24 ounces) pasta sauce (I like Trader Joe's Arrabiata sauce)
Olive oil
Salt and pepper
optional: basil and parmesan cheese
Preheat oven to 375 degrees. While oven is heating get a heavy sharp knife and slice off the stem end of the squash. Use that flat surface of the squash to stand it up vertically, and carefully slice lengthwise down to cut it in half.
Scoop out the seeds inside and discard. Place the halves cut side down on a baking sheet, and bake for 40-50 minutes, or until a knife easily pokes through the skin. You don't want to over cook it, because it will become mush instead of spaghetti shaped strands.
While the squash is baking heat about a tablespoon of olive oil on medium high heat and add your diced onion. Saute for a minute until translucent, and then add the ground turkey.
Using a wooden spoon break the turkey up into small pieces as you saute it.
Once the turkey is starting to brown and mostly cooked through, about 3 minutes, add the jar of sauce.
Lower the heat to simmer, put a lid on the pan, and simmer until the squash is finished cooking. Season to taste with salt, pepper, and chili flakes if you like spice.
Once the squash is cooked, remove from the oven and let cool. Using a fork, shred the squash into spaghetti. Plate and top with the bolognese, basil, and parm. If I'm meal prepping I just put a portion of squash and sauce into tupperware containers to heat up at work.
Enjoy!