I could complain about the 30 degree mornings, my (very quickly) fading summer tan, or even the daylight that begins to dim around 6pm, however the fact that it's pumpkin season more than makes up for it all! I know I know, how basic is that. I'm sure you can imagine me writing this post in Ugg boots, PSL in hand, typing "i literally can't even", but I can assure you I'll leave all of those things out of this.
The only thing that matters is this cake. By now you guys well know my affinity for crepe cakes. The 30 layers of bronzed crepes smothered in a decadent filling and maybe (definitely) topped with warm dulce de leche is dreamy, and the perfect dessert for fall.
Now I'm not one to throw food into categories. There's absolutely no reason why waffles shouldn't be eaten for dinner, acai bowls for lunch, and in this case crepe cake for breakfast. My original recipe for the filling calls for sour cream to provide the tart foil against the sweet pumpkin butter, however, I asked myself why can't greek yogurt take it's place?? Clearly I've taken it upon myself to ponder life's toughest questions for you guys. So, I'm here to tell you that it can, and at that point you have a protein packed breakfast fit to hold you over for your apple picking Insta photo shoot 🙂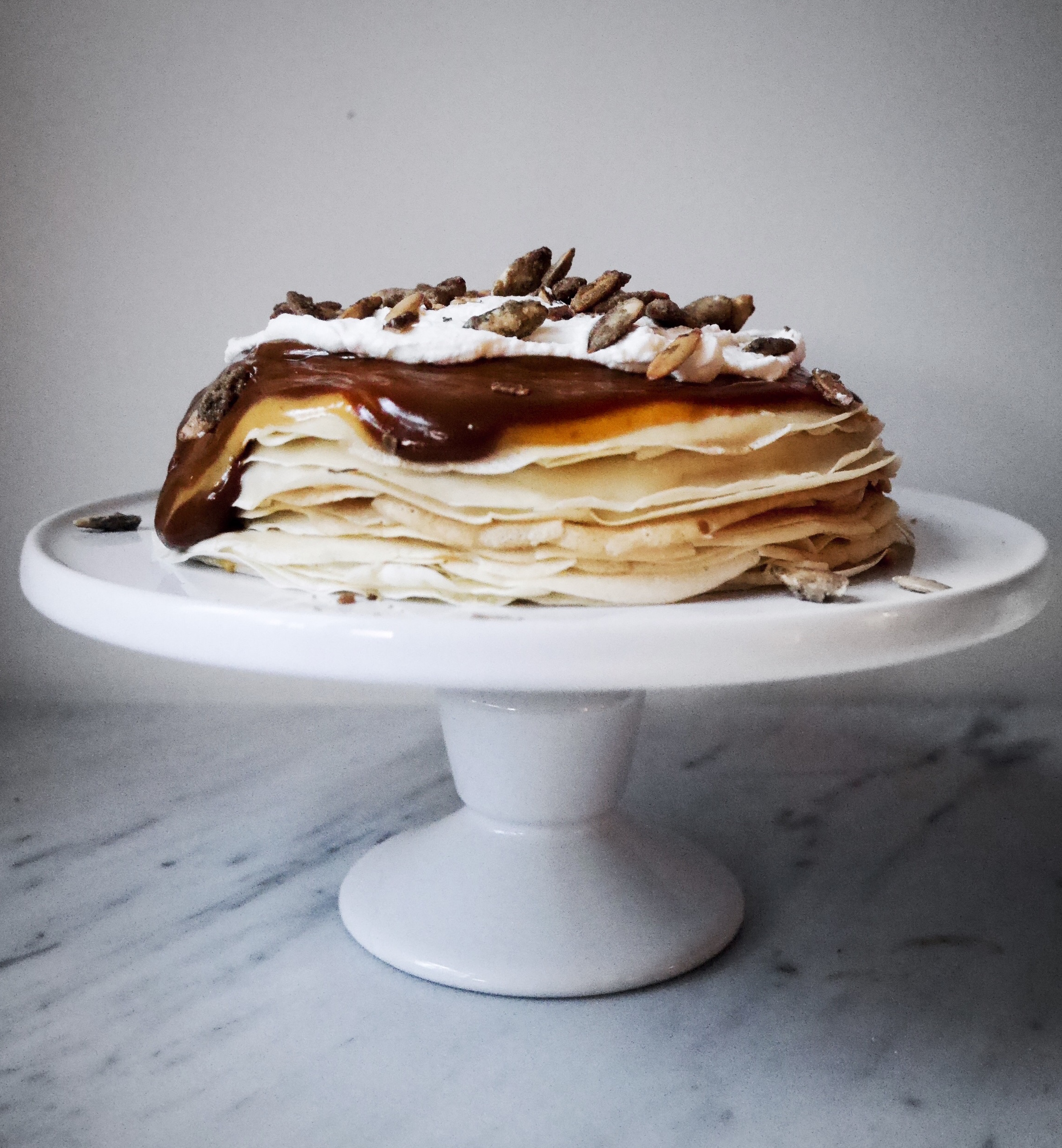 Look at this beauty (read in Steve Erwin voice). The almost cheesecake like filling in between fluffy crepes is dusted with cinnamon and sprinkled with pumpkin seeds. So. Good. And did I mention it only takes 6 ingredients?!
Ok let's begin: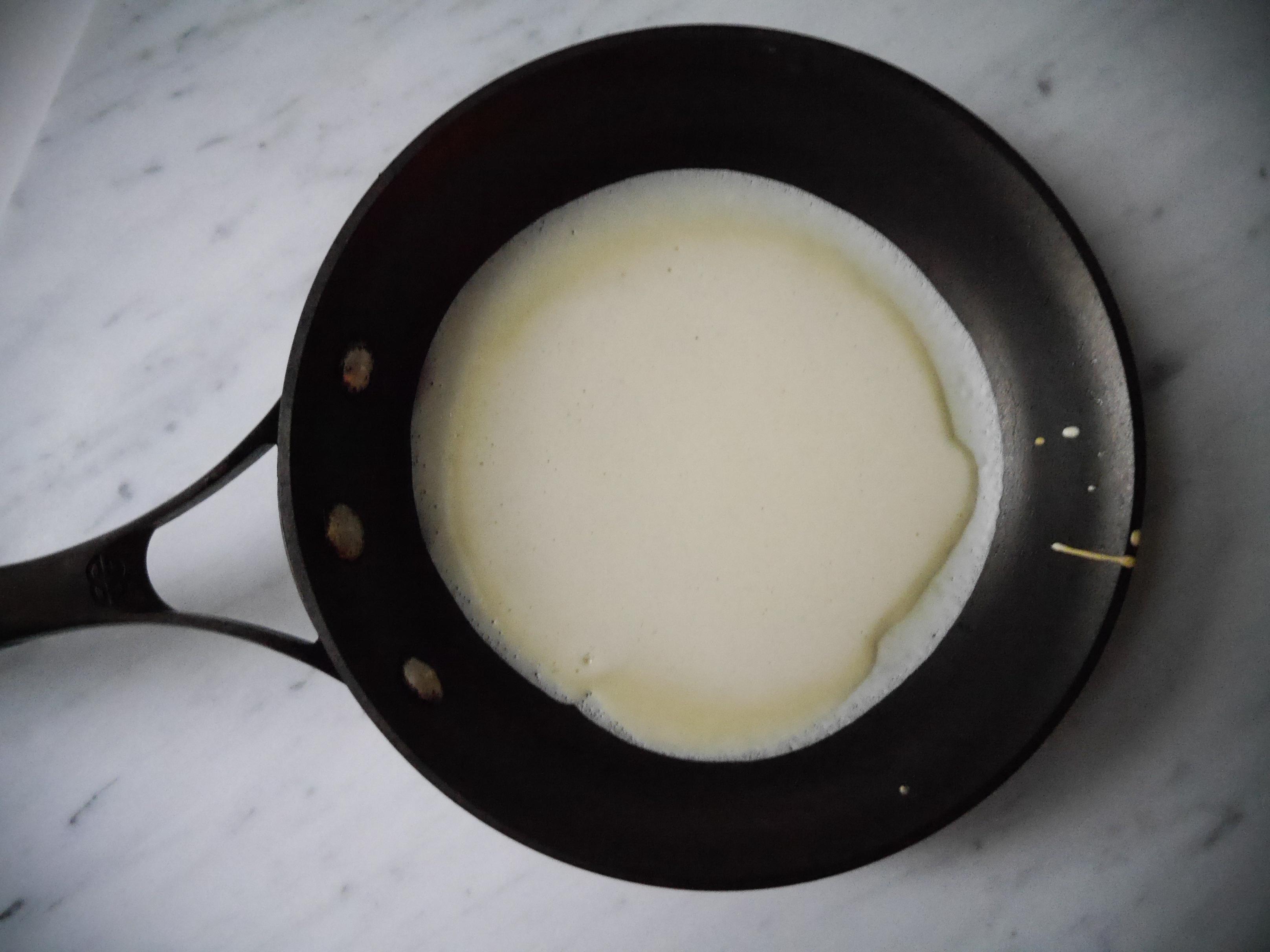 We're going to be making crepes (thin French pancakes) and a lot of them. They're easy I swear, and the rhythm of swirling the batter in the pan, seeing the little bubbles pop up, and giving it a good flip is actually very relaxing.
So, make your crepes, and then allow them to cool.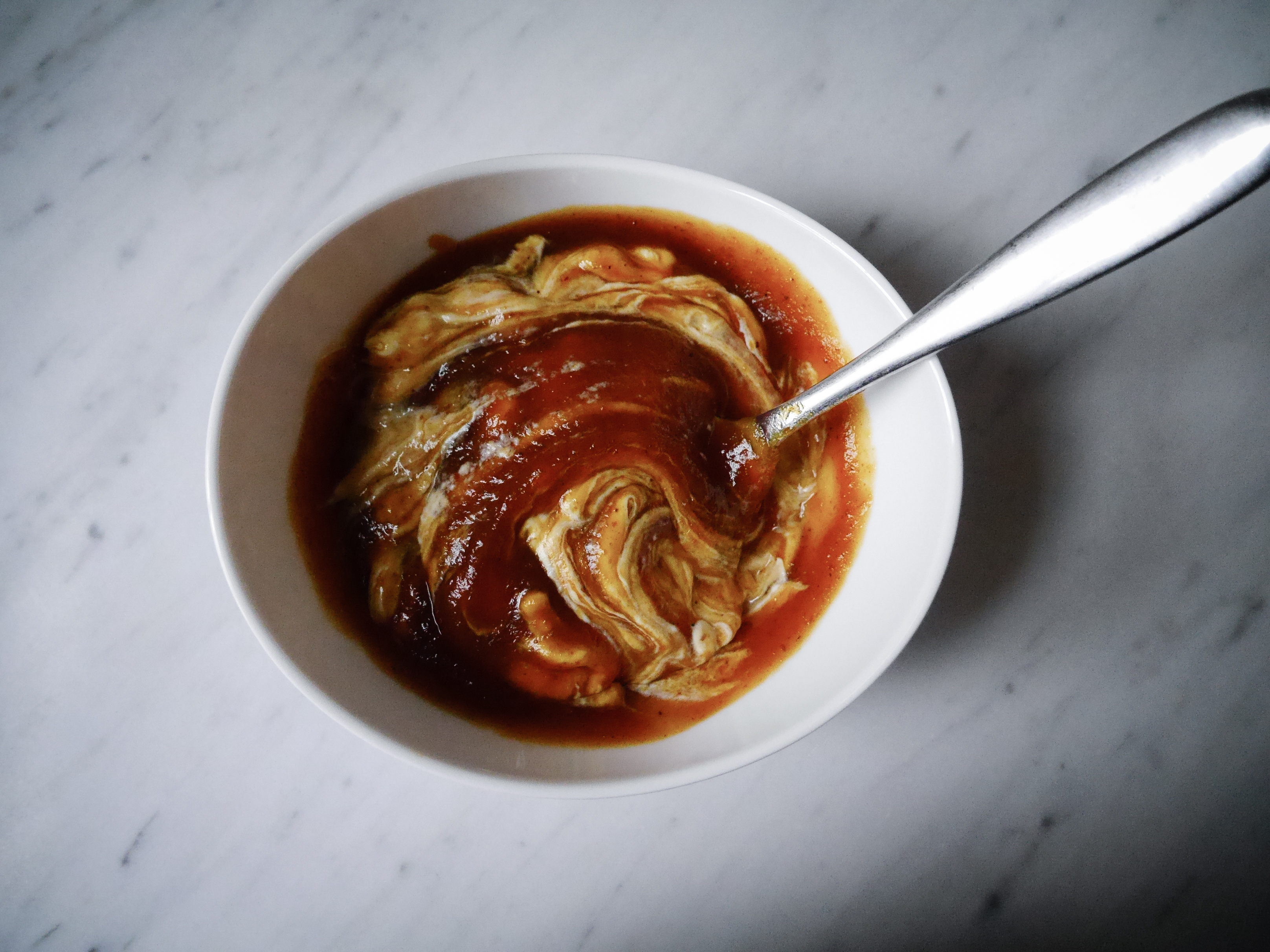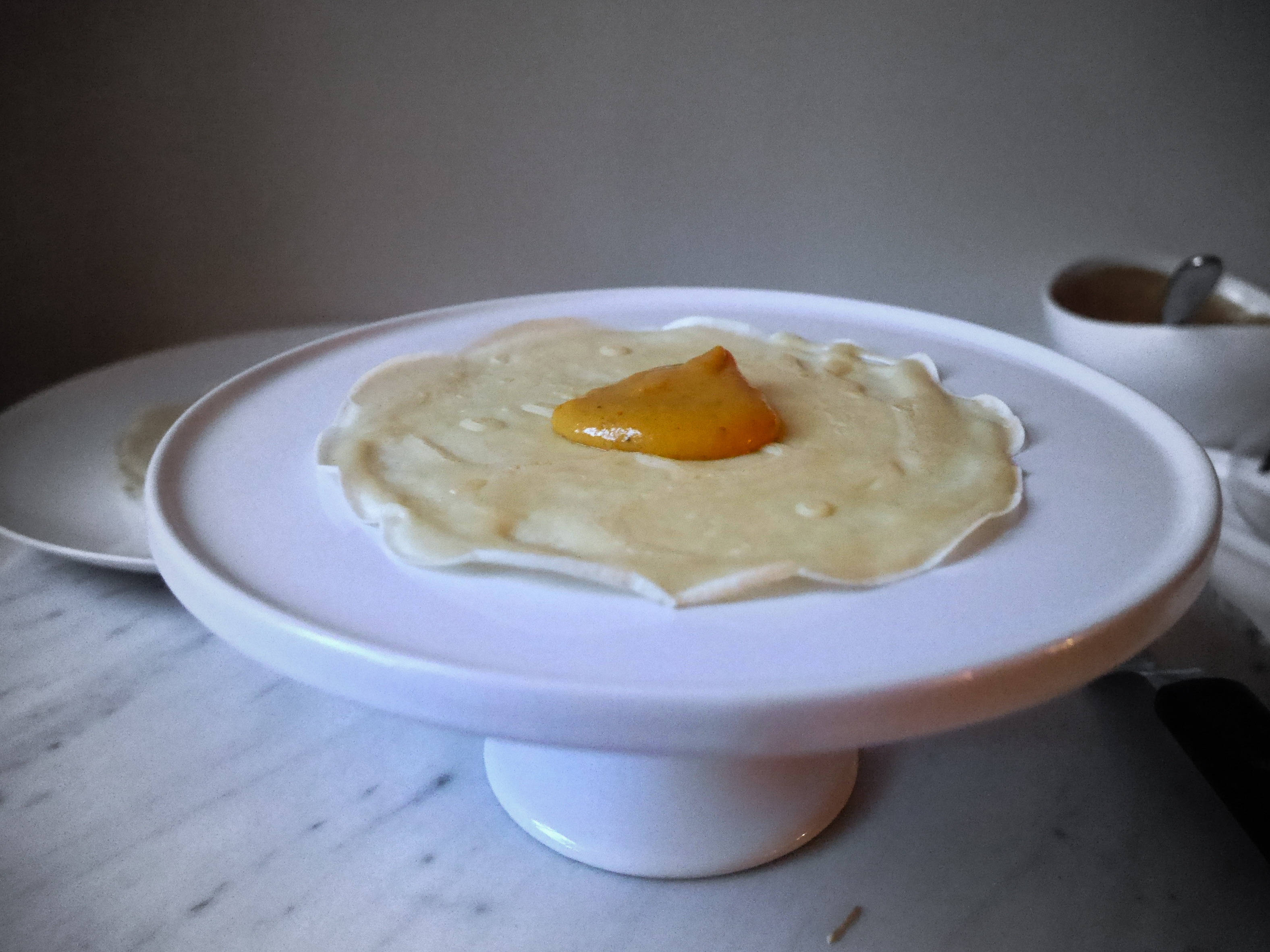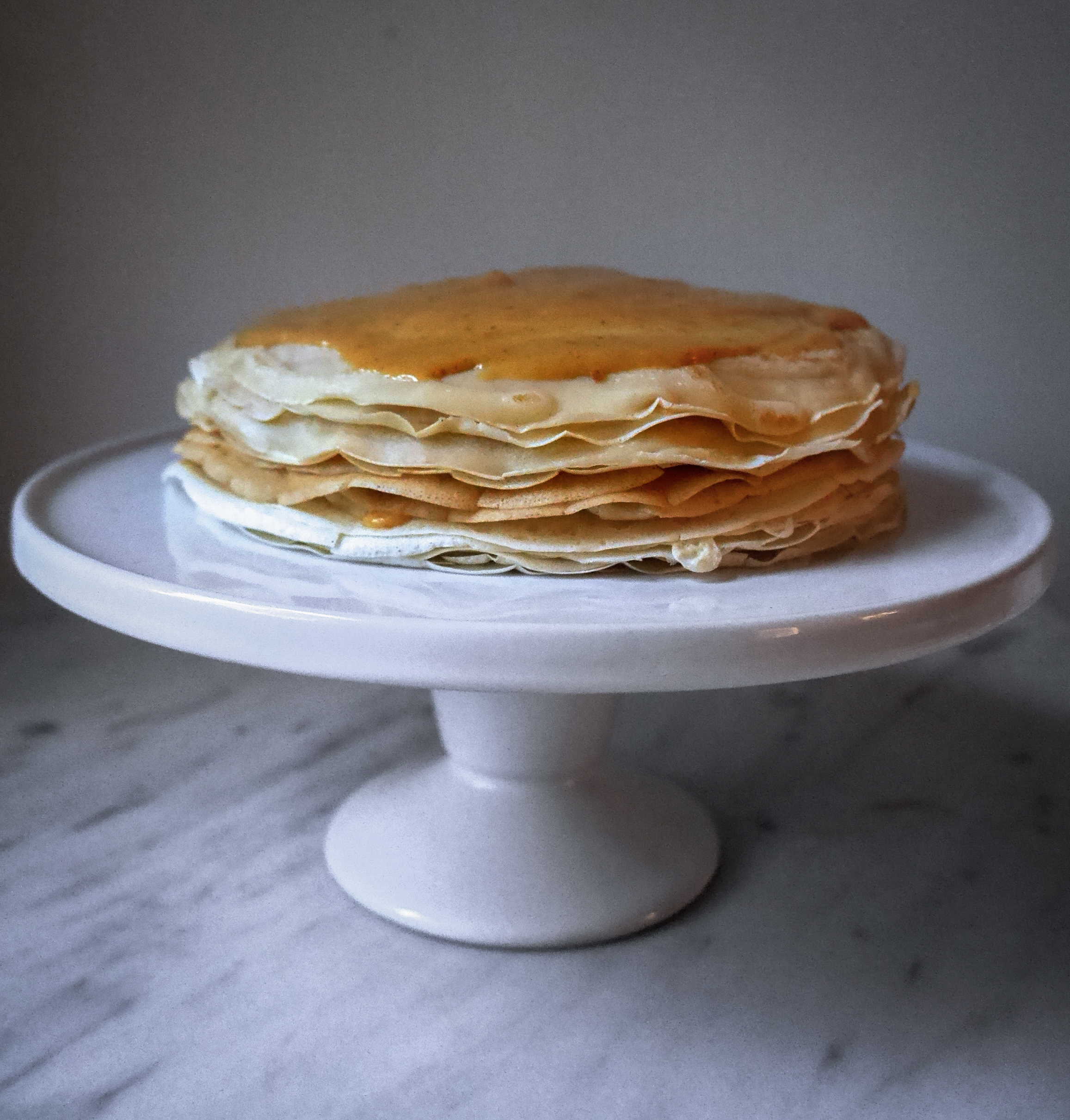 Next we layer the crepes with a pumpkin cream filling. You could of course make pumpkin butter from scratch, but I cheated and got mine from Trader Joe's.
Spread a thin layer onto a crepe using a spatula or the back of a spoon, and repeat the process until you've used up all of the crepes. Put the cake in the fridge for at least an hour to allow the filling to set. This makes the cake much more stable.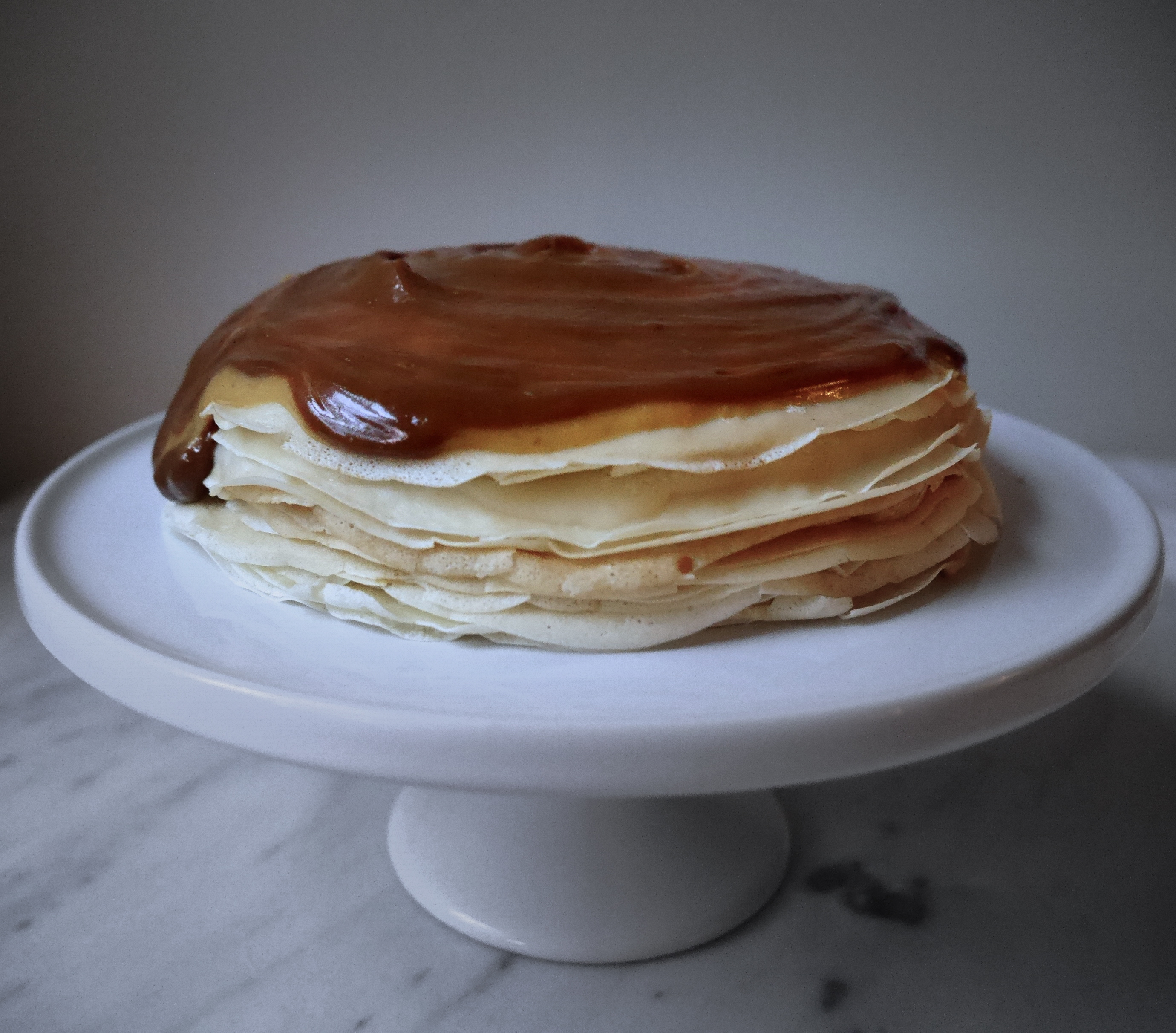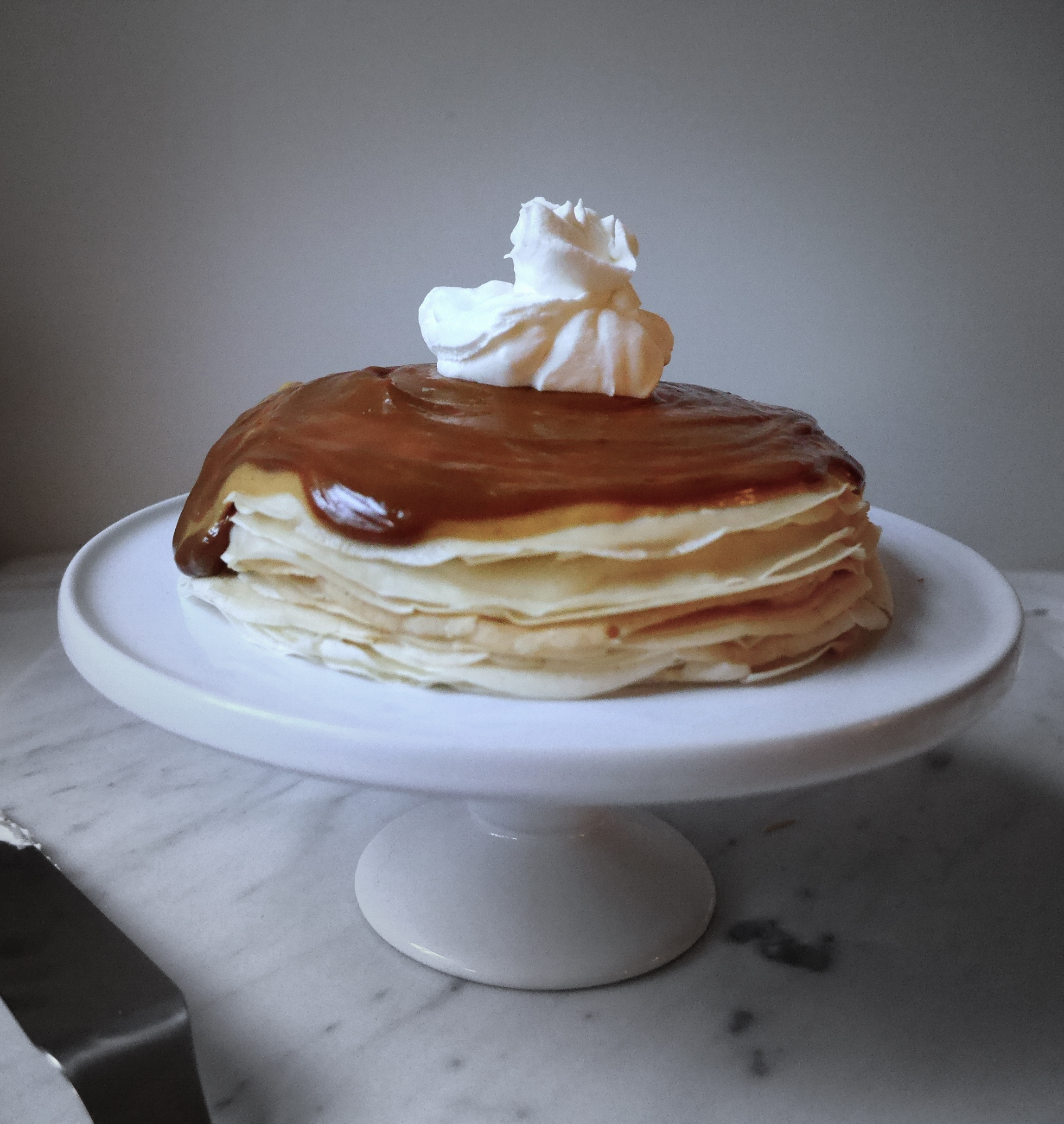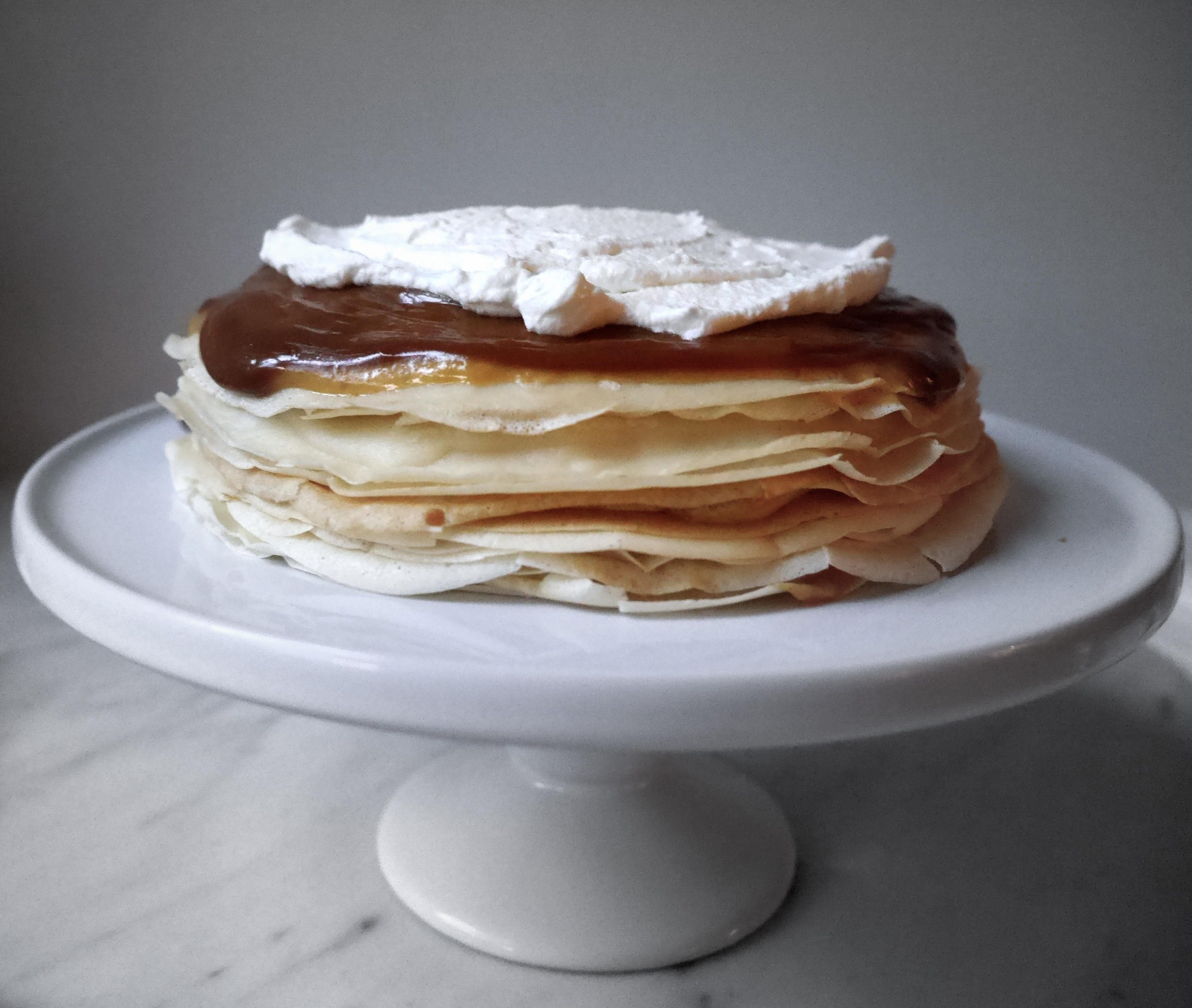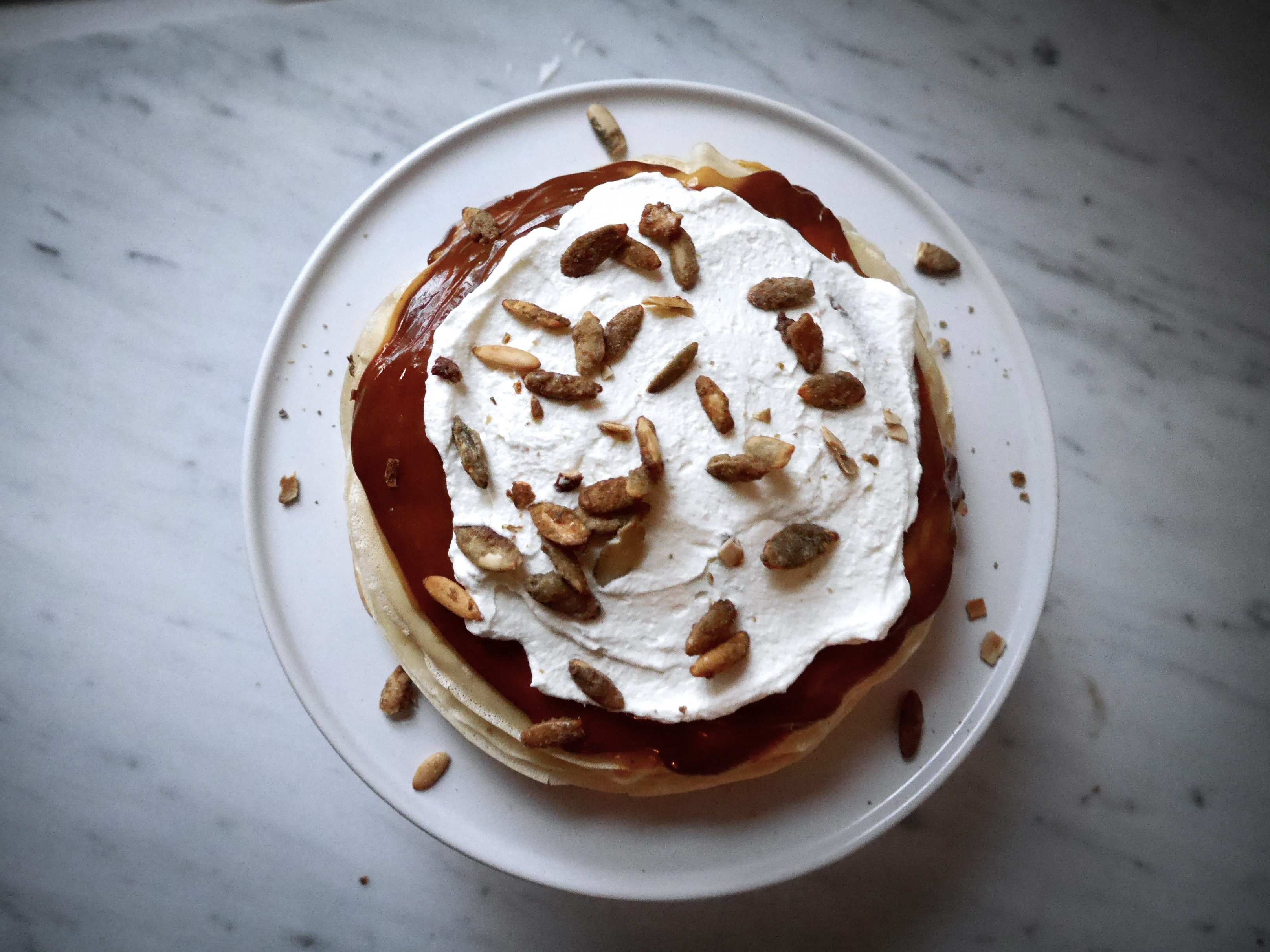 Once the cake has set, warm up some dulce de leche or caramel sauce (once again bought this from Trader Joe's), and pour it over the cake.
I topped mine with some unsweetened whipped cream, a sprinkle of cinnamon, and finally pumpkin seeds!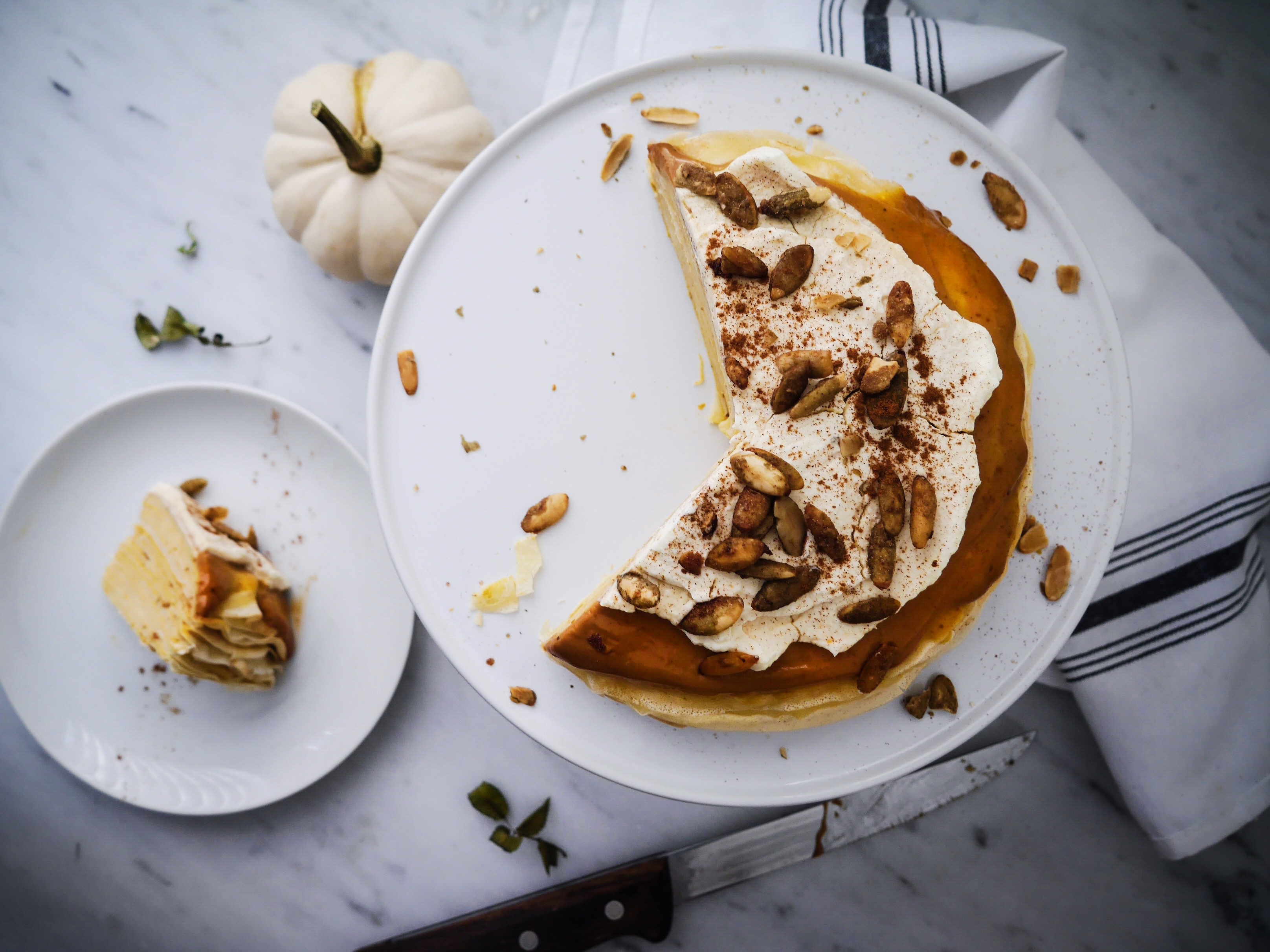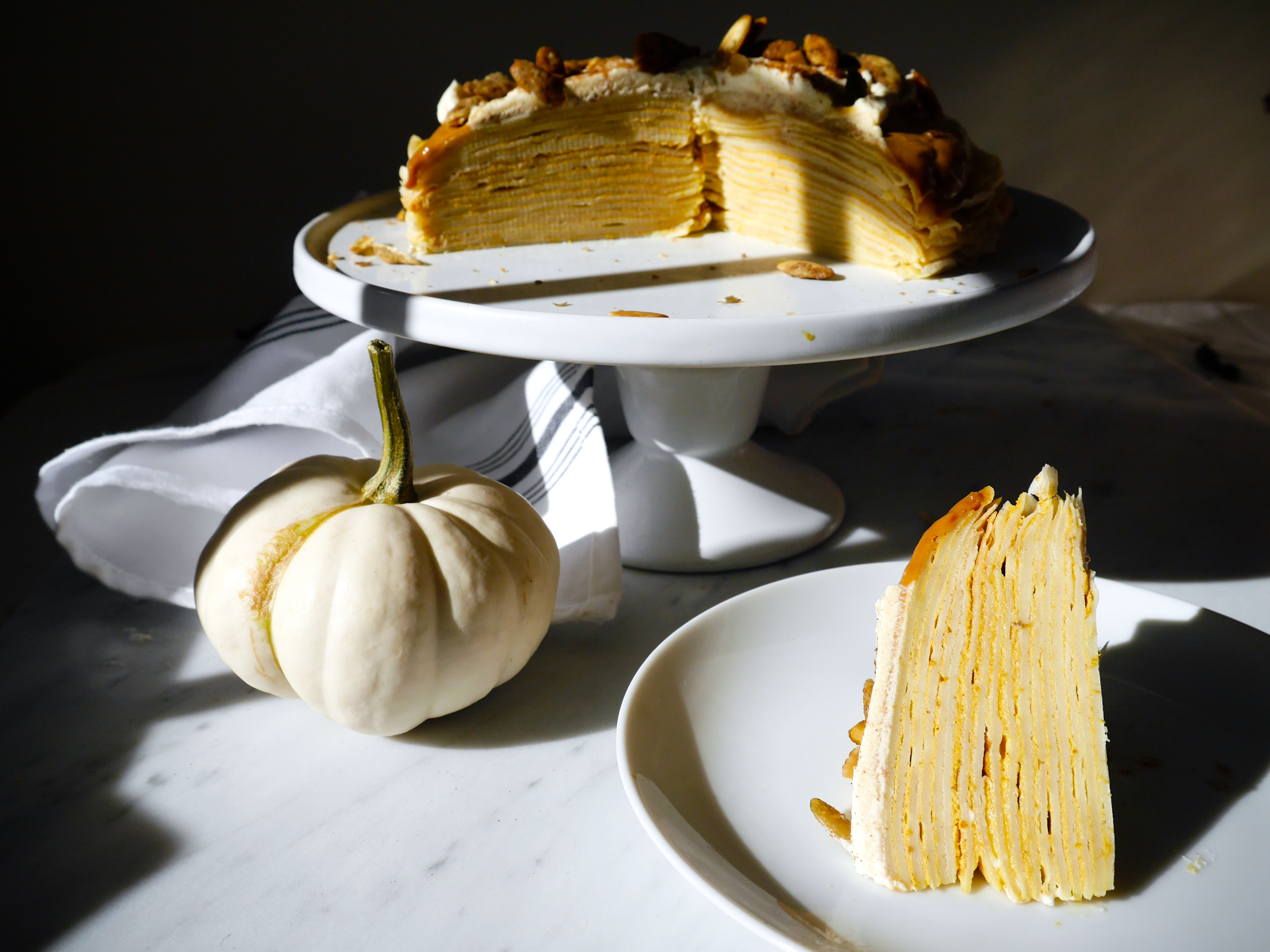 *mini pumpkin mandatory*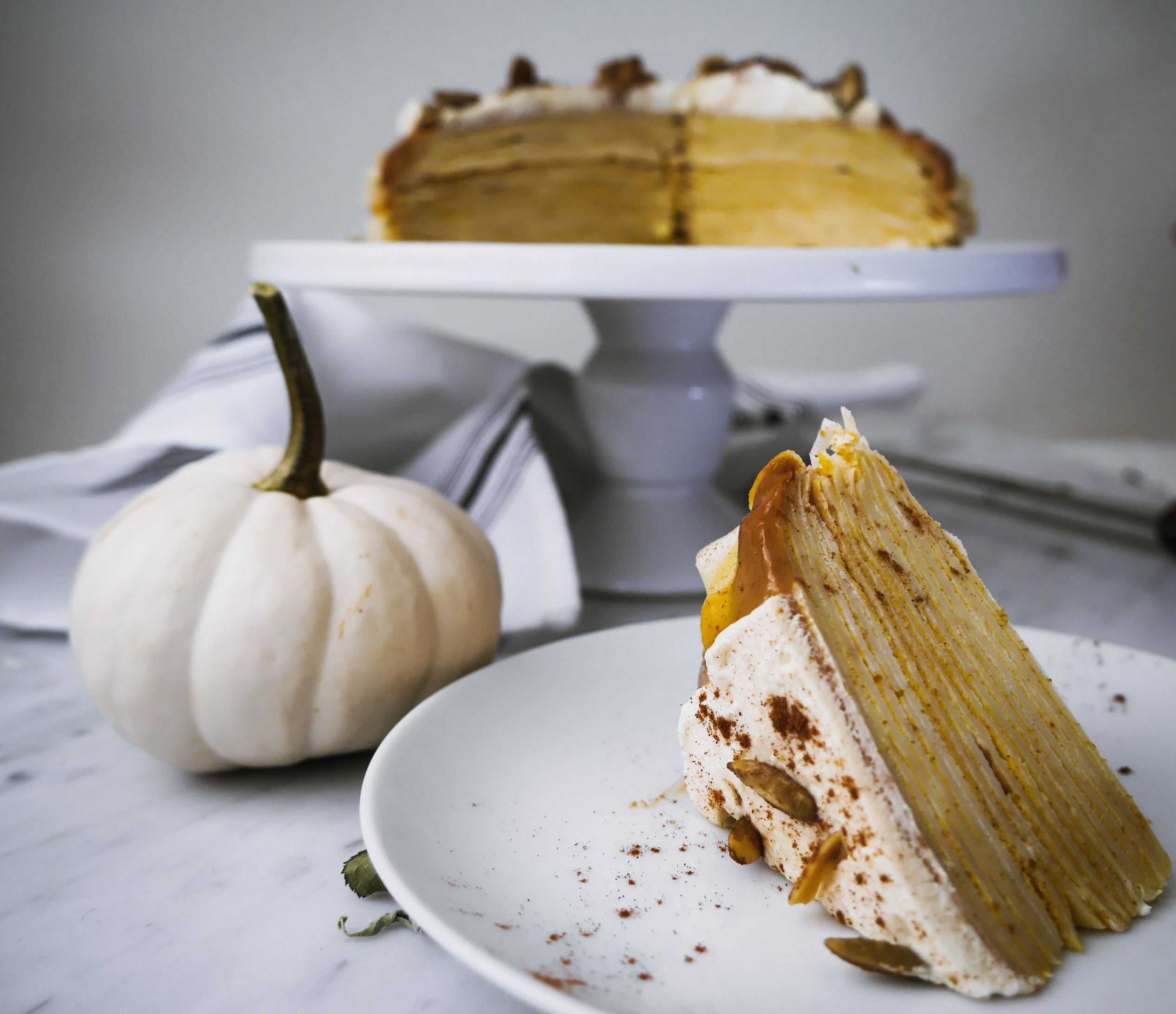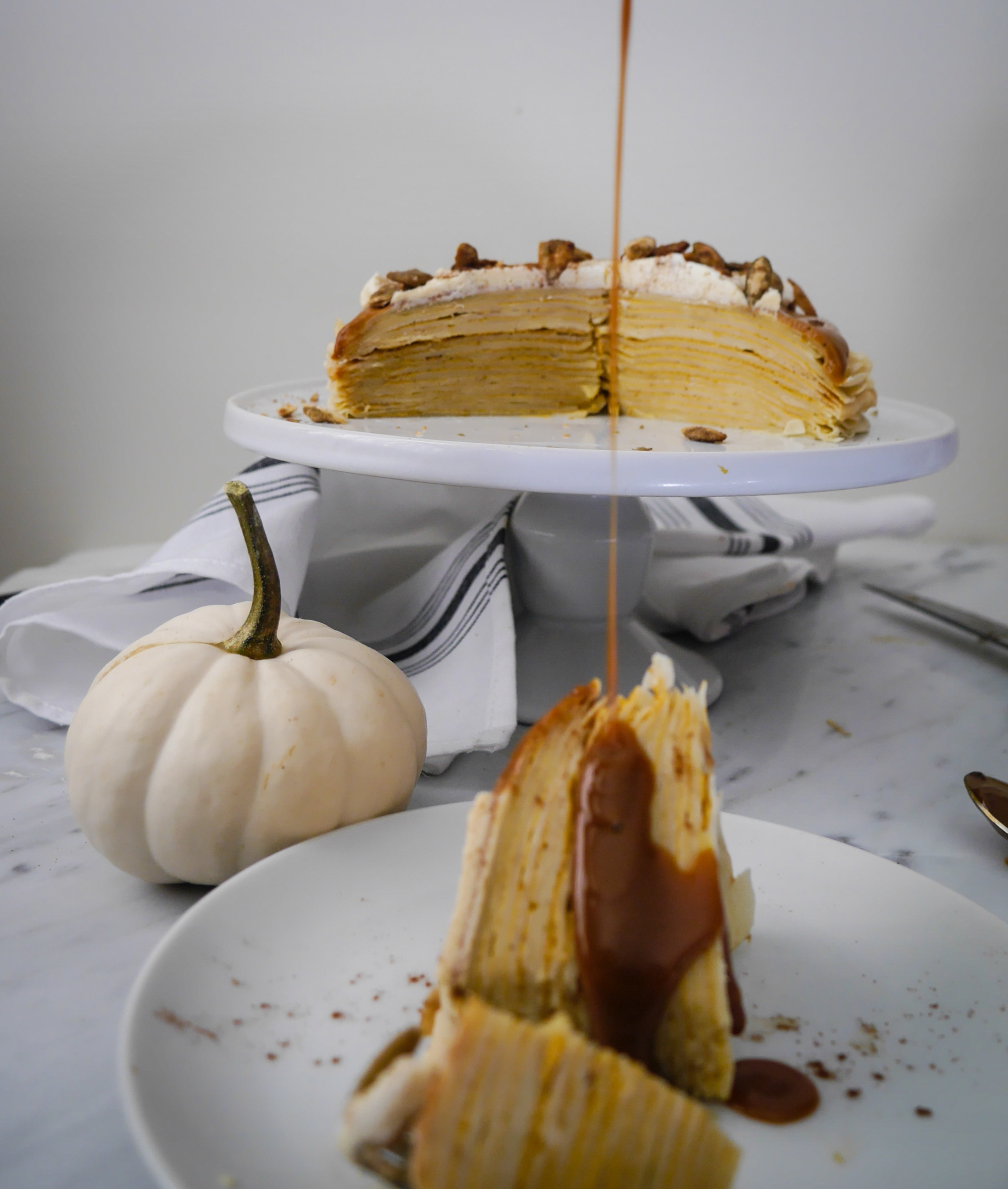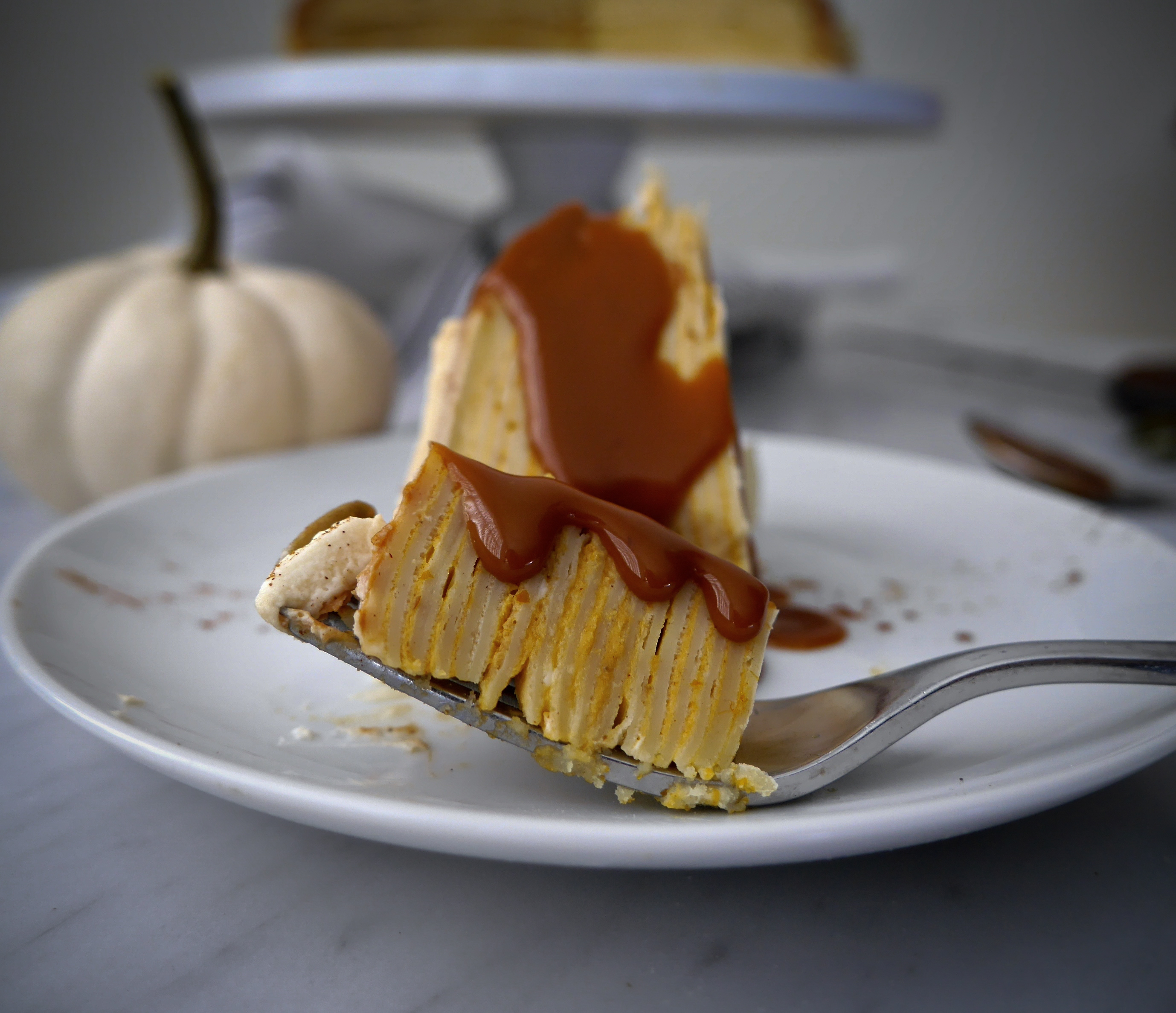 And there you have it, a 6 ingredient crepe cake worthy of both a dinner party and a breakfast in bed! I know this may look complicated, but I promise it's easy. I've even included a video below on how to make the crepes!
Crepes (makes enough for one 8′ crepe cake) recipe from Alton Brown
2 large eggs
3 Tablespoons melted butter
3/4 cup milk
1/2 cup water
1 cup flour
In a blender, combine all of the ingredients and pulse for 10 seconds. Place the crepe batter in the refrigerator for 20 minutes. This allows the bubbles to subside so the crepes will be less likely to tear during cooking. The batter will keep for up to 48 hours.
Heat a small non-stick pan (mine was 8′ in diameter). Add butter to coat. Pour 1 ounce of batter into the center of the pan and swirl to spread evenly. Cook for 30 seconds and flip. Cook for another 10 seconds and remove to a plate. Lay them out flat so they can cool.
Repeat step 2 until all batter is gone. After they have cooled you can stack them and store in sealable plastic bags in the refrigerator for several days or in the freezer for up to two months. When using frozen crepes, thaw on a rack before gently peeling apart.
Pumpkin Cream Filling (makes enough for one crepe cake)
1 10 ounce jar pumpkin butter (Trader Joe's carries it)
3/4 cup sour cream or Greek yogurt
Mix ingredients together until smooth.
To Assemble:
Crepes from above
Pumpkin filling from above
Dulce de leche or caramel sauce (optional)
Whipped cream (optional)
Pumpkin seeds (optional)
Lay one crepe flat on a cake stand or plate, and top with about 2 Tablespoons of pumpkin filling. Use the back of a spoon or a spatula to thinly spread the filling over the crepe.
Repeat process until all of the crepes are used. Put the cake in the fridge for at least an hour to set.
Warm dulce de leche or caramel to a spreadable consistency, and spread over the top of the crepe cake. I left the sides naked to show off the beautiful layers.
Top with whipped cream and pumpkin seeds right before you serve the cake!