All of my favorite things have some sort of contrast to them. Salted caramel is creamy and sweet with a salty pop, my fitted leather jacket is tough but still tailored and feminine, my family is crazy but you can still take everyone in public without too much of a worry, etc. To me, contrast is what makes things interesting and keeps me going back for more.
This cake is by no means an exception to this. New Year's Day I had an amazing stack of lemon-ricotta pancakes at Arcuri in Georgetown, and knew that this combination had to find a place in my kitchen. I've been minorly obsessed with crepe cakes since making the chocolate-hazlenut one a few months ago, so I whipped out my batter ingredients, and went to work.
For everyone who is still sticking to their New Year's resolutions diets (props to you for making it nearly a week), this cake believe it or not totally fits the bill. The ricotta filling is lightly sweetened with a burst of fresh lemon, and has 7 grams of protein per serving, so it's even easier to rationalize having two pieces!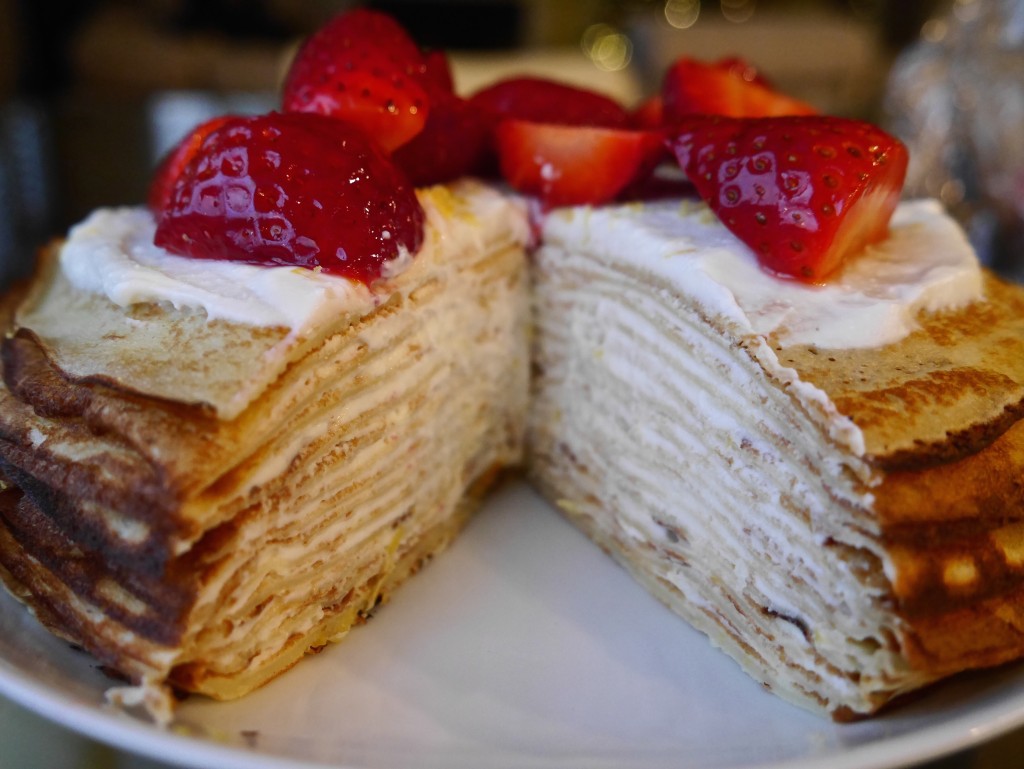 We layer 30 beautifully golden crepes with a light lemon ricotta filling, and top the whole thing with macerated strawberries. If you think this looks too complicated, I promise it's not. The hardest part is getting the crepe made, and those become rhythmic once you get the hang of it! Let's begin: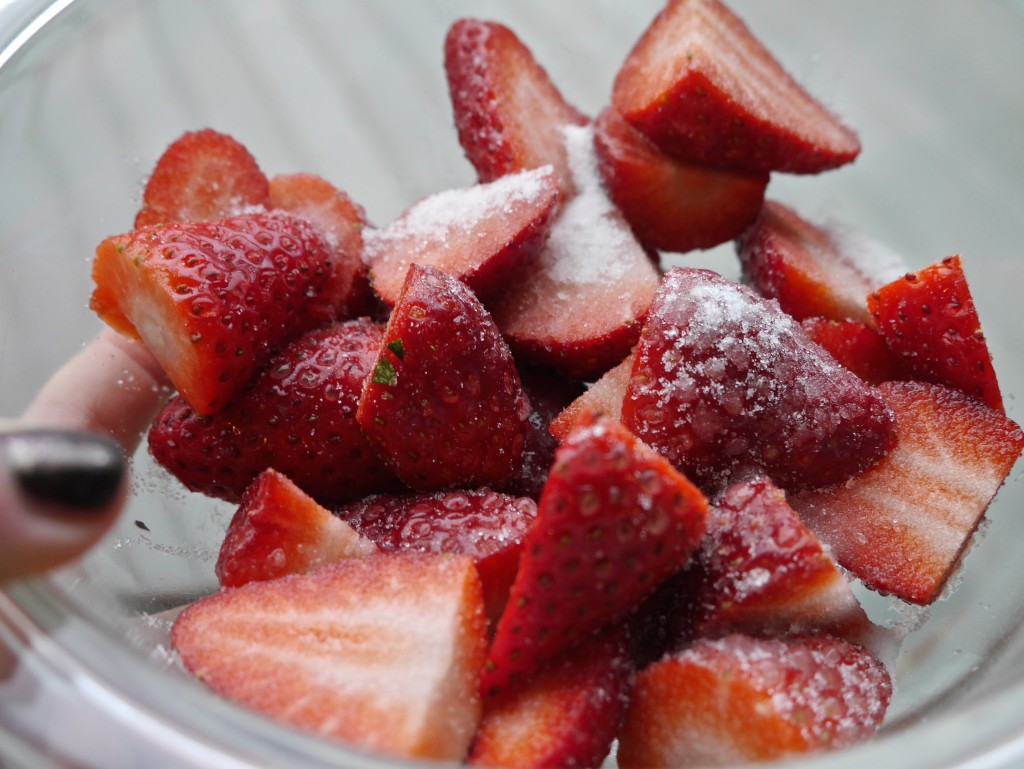 Combine a pint of hulled and halved strawberries with sugar and lemon juice and leave to marinate.
In a blender, pulse flour, melted butter, sugar, vanilla, and egg together until combined. Leave in the fridge for an hour so the bubbles subside.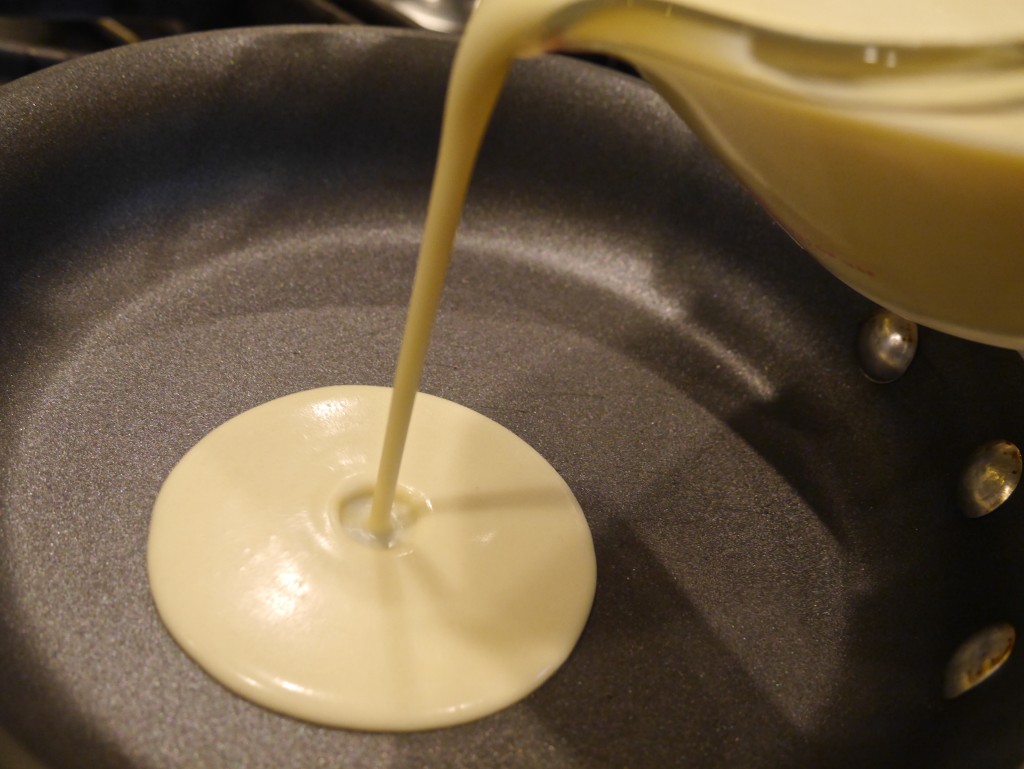 In a buttered pan over medium heat, pour about a quarter cup of batter into the center, and quickly swirl around.
When you see bubbles on the top of the crepe, give it a quick flick and flip it over. I made a video for this when I made my last crepe cake, so if you're confused I think seeing it in motion helps a lot!
Repeat the process until all the batter has been used; you should have about 30 crepes, minus the few sacrificed for taste testing.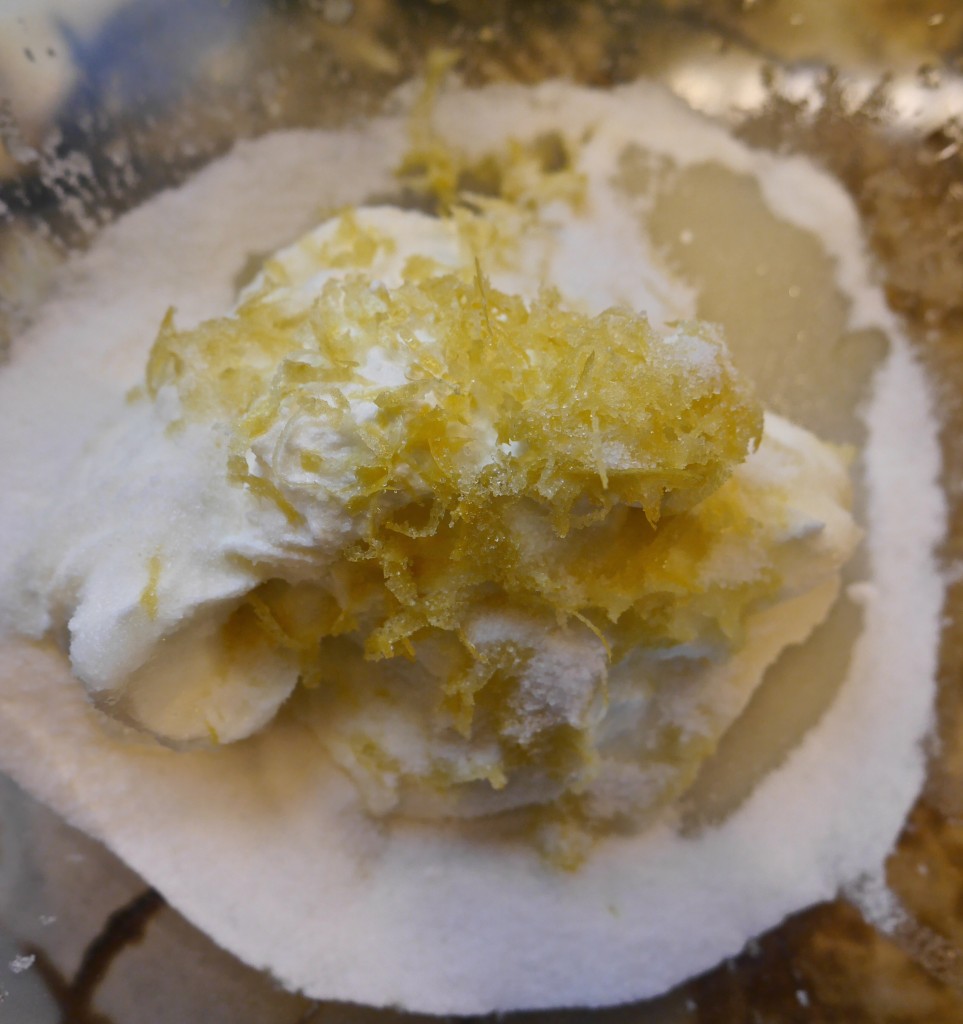 Now on to the filling: mix a container of ricotta, the zest and juice of a lemon, and sugar together until combined and smooth.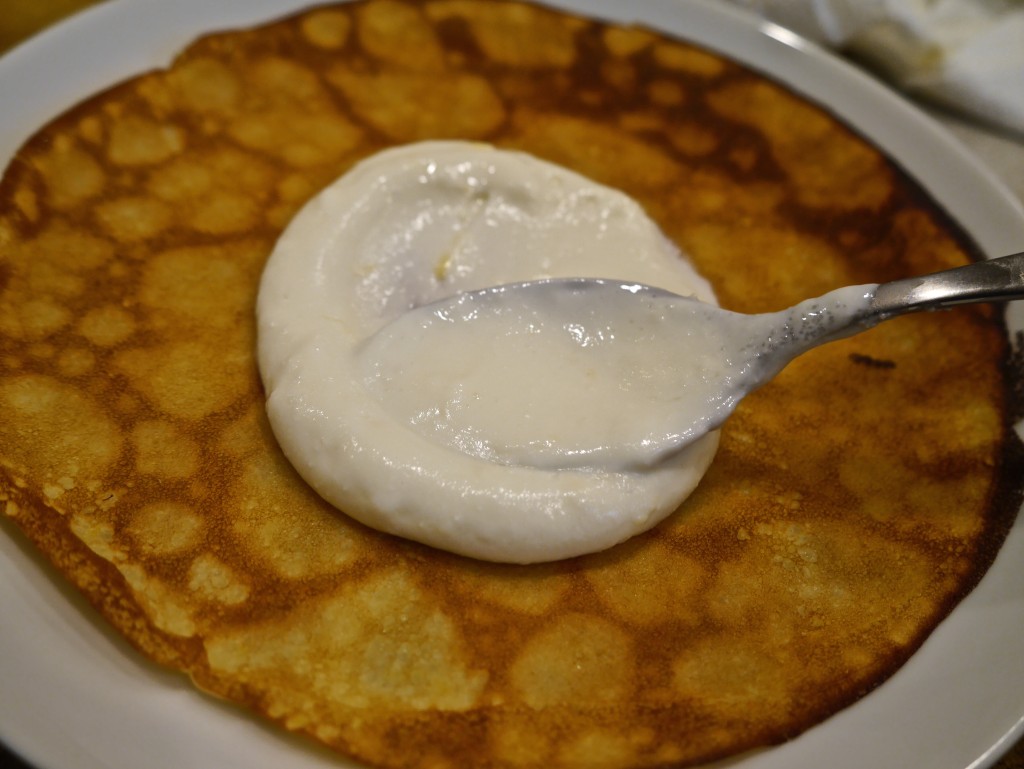 Get the plate that you want to serve the cake on (this one doesn't transport too easily) and layer crepe, filling, crepe, filling, until you've gone through all the layers. The top crepe should be spread with the last bit of filling, and then topped with lemon zest.
They should be very very thin layers of filling on each crepe, think just over a tablespoon. Pop the cake in the fridge for at least 2 hours; this is crucial to helping it set up. If there isn't time for the cake to meld with the filling, the layers will slide off when you go to cut it.
Gently scoop the strawberries on top of the cake, and dust with powdered sugar if you'd like!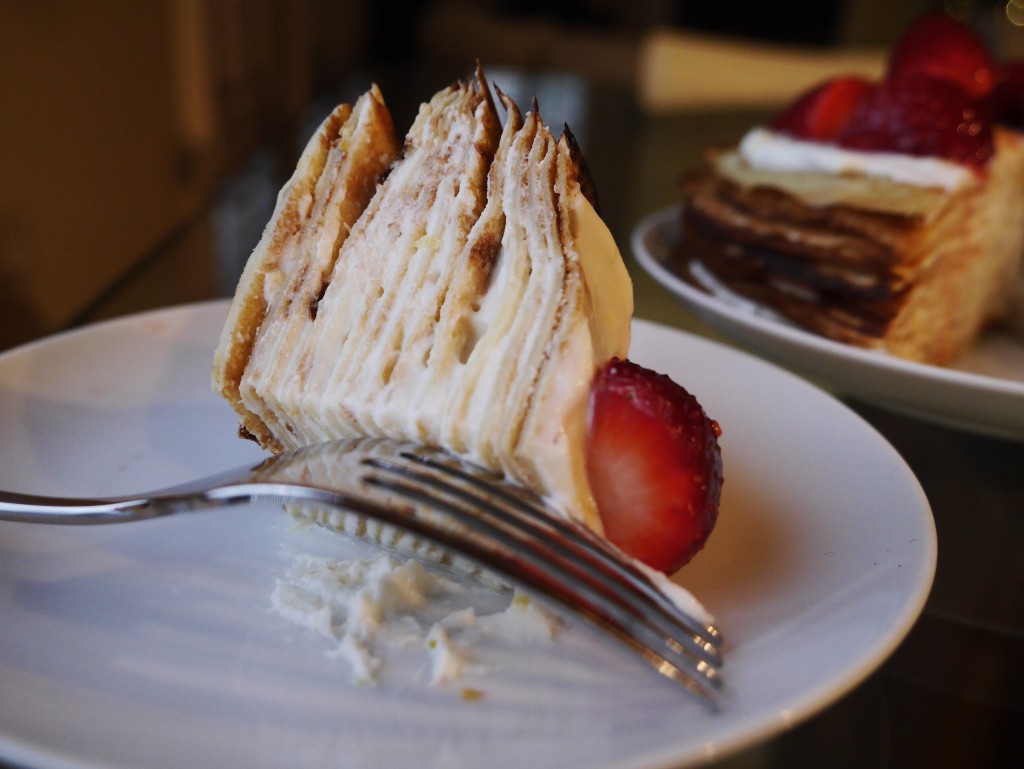 This cake is one of the most versatile baked goods. Serve with coffee and fruit for breakfast, or with a scoop of ice cream for dessert. My personal favorite way to eat it? Standing at the fridge slicing off a sliver while insisitng to myself I'm "cleaning up the edges".
However you eat it, its delicious!
Sweet Lemon Crepes (makes 30 crepes) recipe adapted from here
2 large eggs
3/4 cup milk
1/2 cup water
1 cup flour
3 T melted butter
3 T sugar
Zest of 1 lemon
1 t vanilla extract
pinch of salt
Combine all ingredients in a blender and pulse until combined.
Leave mixture to rest in the fridge for an hour so the bubbles subside
In a 6″ non-stick skillet on medium heat, lightly brush with butter and pour 1/4 cup of batter into the pan.
Flip after about 30 seconds, or when the bottom looks golden.
Remove crepe from pan and continue until all the batter is used up.
To assemble: layer crepes with a heaping tablespoon of ricotta filling, finishing the last layer with filling. Tumble strawberries on top and devour!
Lemon Ricotta Filling (makes enough for 1 crepe cake)
1 15 ounce container whole milk ricotta
Zest and juice from 1/2 lemon
1/2 cup sugar
Combine all ingredients in a bowl. Feel free to adjust lemon/sugar to taste. My lemon was huuuuuuge so I only needed to use half for juice, but if it isn't soft you may need more.
Macerated Strawberries (Makes enough for 1 crepe cake)
1 pint strawberries
1/4 cup sugar
Juice from half a lemon
Combine all ingredients in a bowl and let stand for 30 minutes until the sugar disolves.