I always struggle (god I sound spoiled) between deciding whether to eat chicken or not. I know, how tough is my life?? Try as I might to stay vegetarian, my friends would roll their eyes at hearing me call myself one after frequently watching me inhale a cheeseburger covered in mac n cheese and at least two fried oreos from Billy Jacks. Not my finest moments to say the least…
Of course I love the idea of being a vegan and respecting animals, my body, etc., however it's hard to do without a ton of extra prep work. When I pack my lunch I'm willing to put in 5 minutes, 10 max, into making lunch the next morning,
Any more than that and I might as well walk over to SweetGreen, see my favorite salad maker Jessica, and pay $12 for a salad. I added that up the other week and realized if I saved that money (cue the Lil Dicky video *NSFW*) instead I could be buying something off the Madewell sale rack, 12 containers of gelato, a Naked eyeshadow palette, 1/33 of a Celine bag etc. It's pretty clear where my priorities are.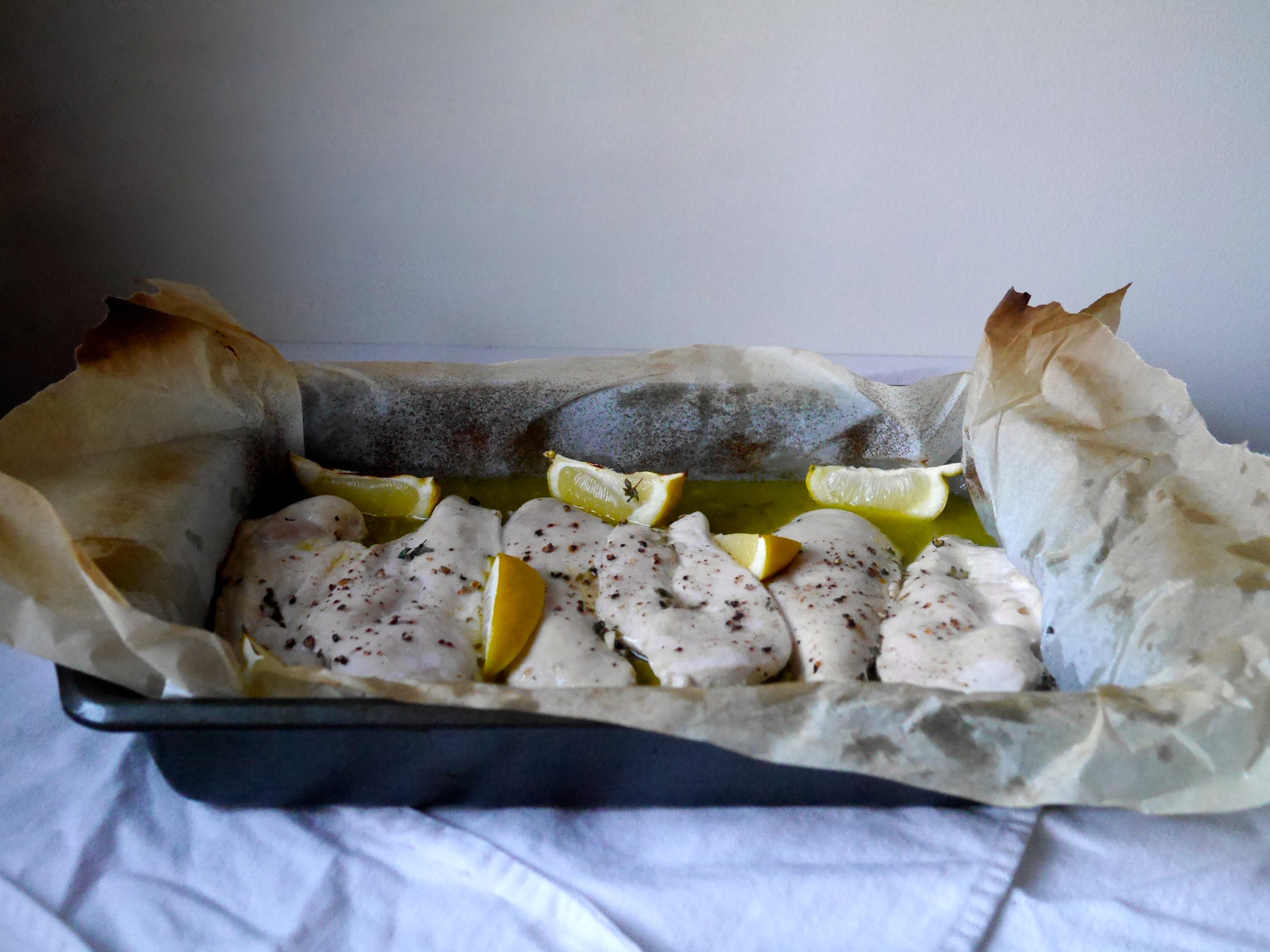 I needed something easy, healthy, and if it had wine it in too I wouldn't exactly be upset. Guess what? This chicken does, and you'll love it. Plus, meal prepping makes me feel like I'm in shape and have my life together. What a fantastic illusion!
Not only can this be for lunch, but you could also serve it on top of pasta for dinner. Talk about versatile.
I know I know, "chicken? wine? hails you've really lost it". No, trust me on this one. The chicken bakes in this crazy good marinade of white wine, lemon, herbs, and olive oil, and becomes so deliciously juicy. Allow me to show you: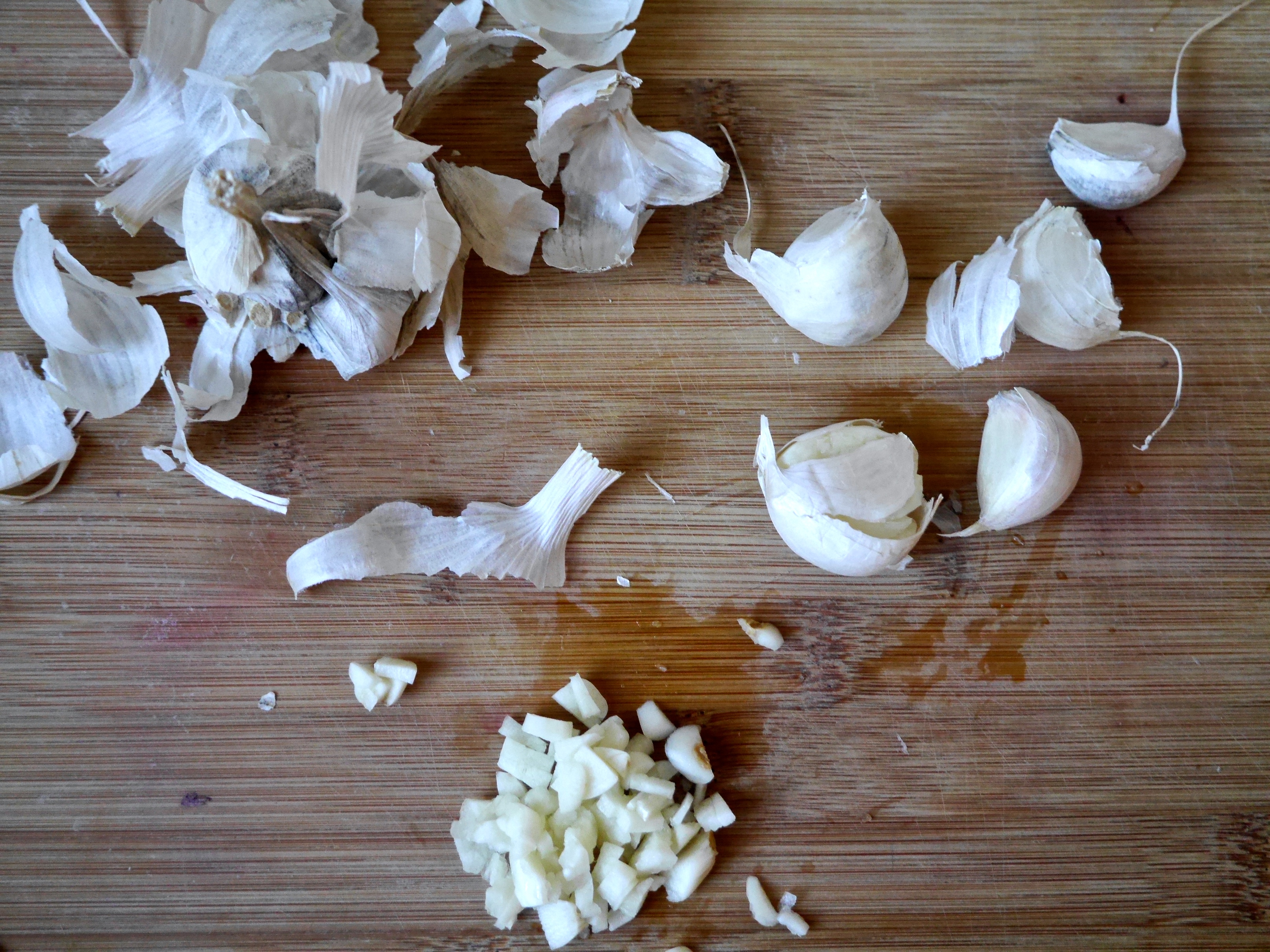 Mince a few cloves of garlic, and grab some olive oil.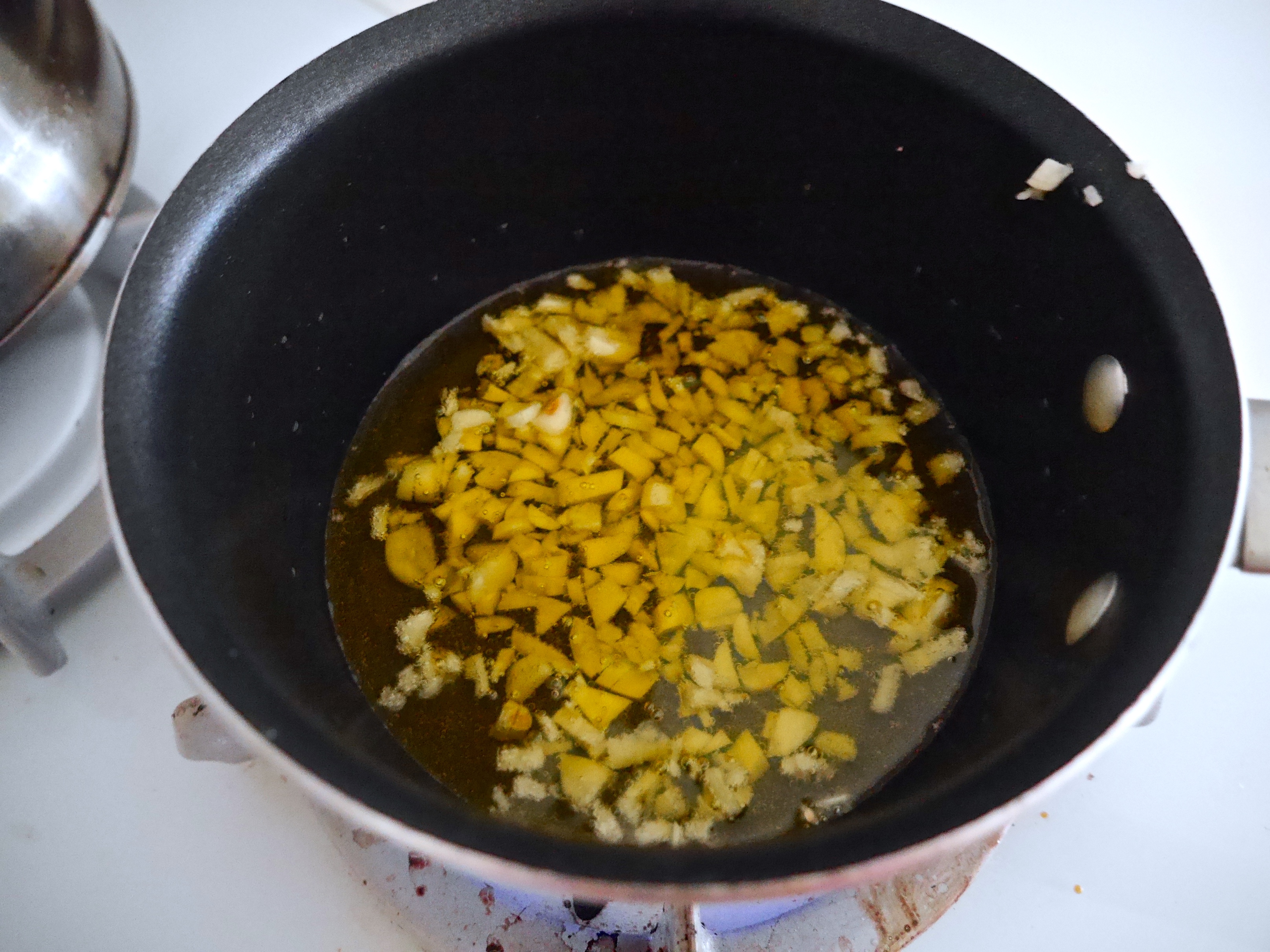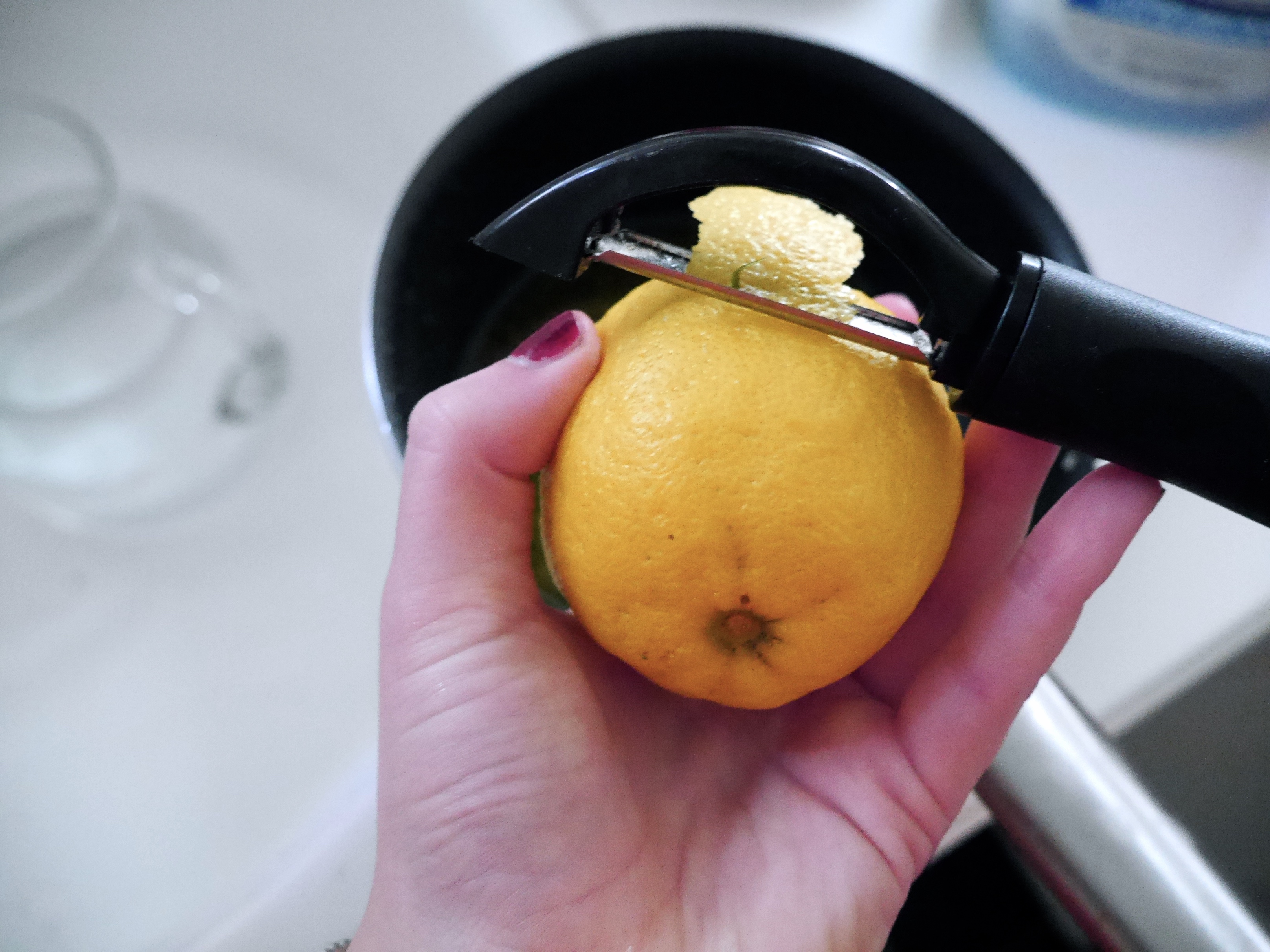 Heat garlic and olive oil on medium heat until fragrant, but don't let the garlic turn brown. Take the mixture off the heat and add in lemon juice, lemon zest, oregano, thyme and some cheap dry white wine. No, Franzia does not count, let's at least step up to Yellow Tail for this.
Luckily we don't even use a full cup, so that leaves you about 3 glasses to drink while waiting for this to cook. I have faith in you!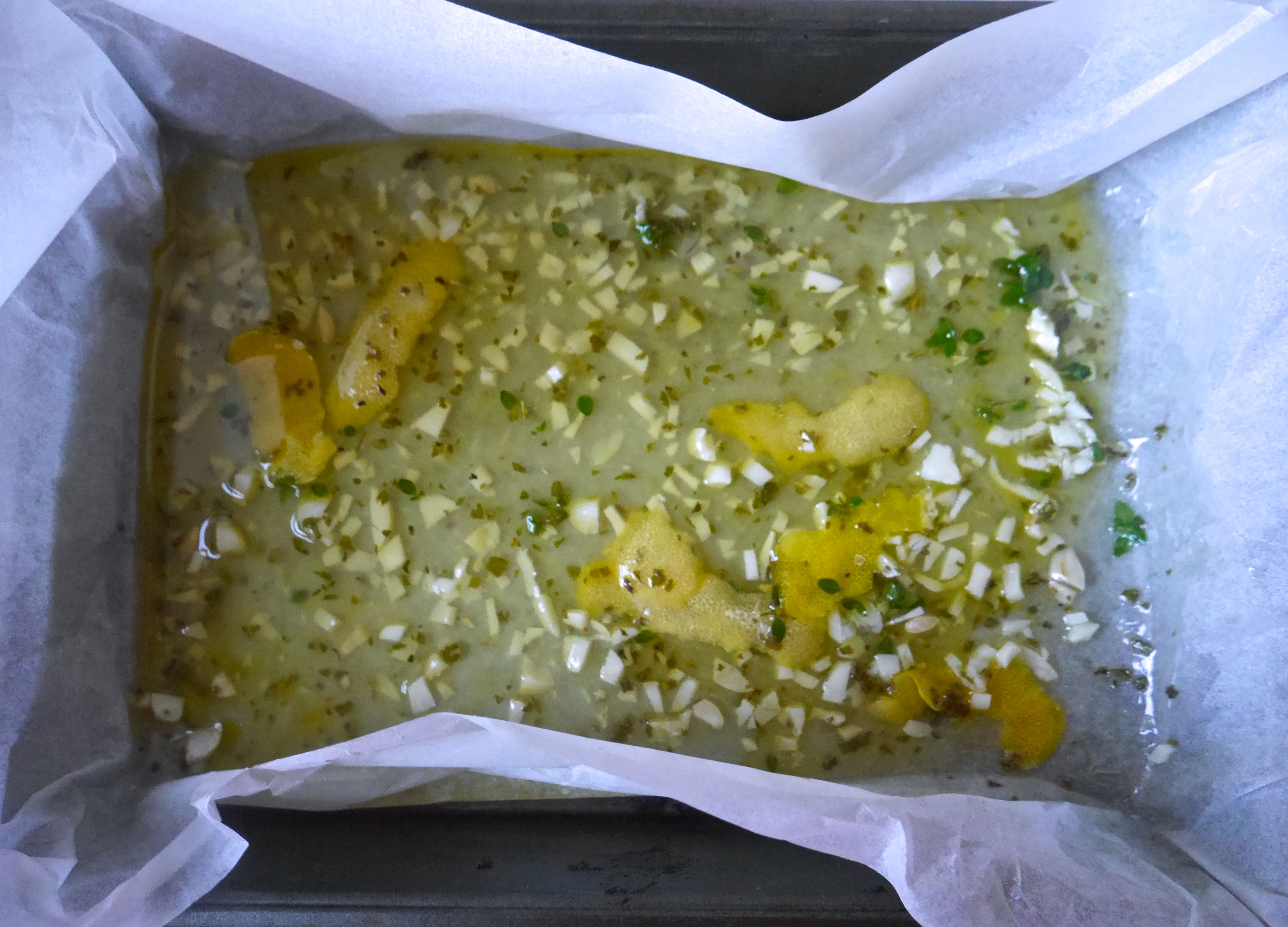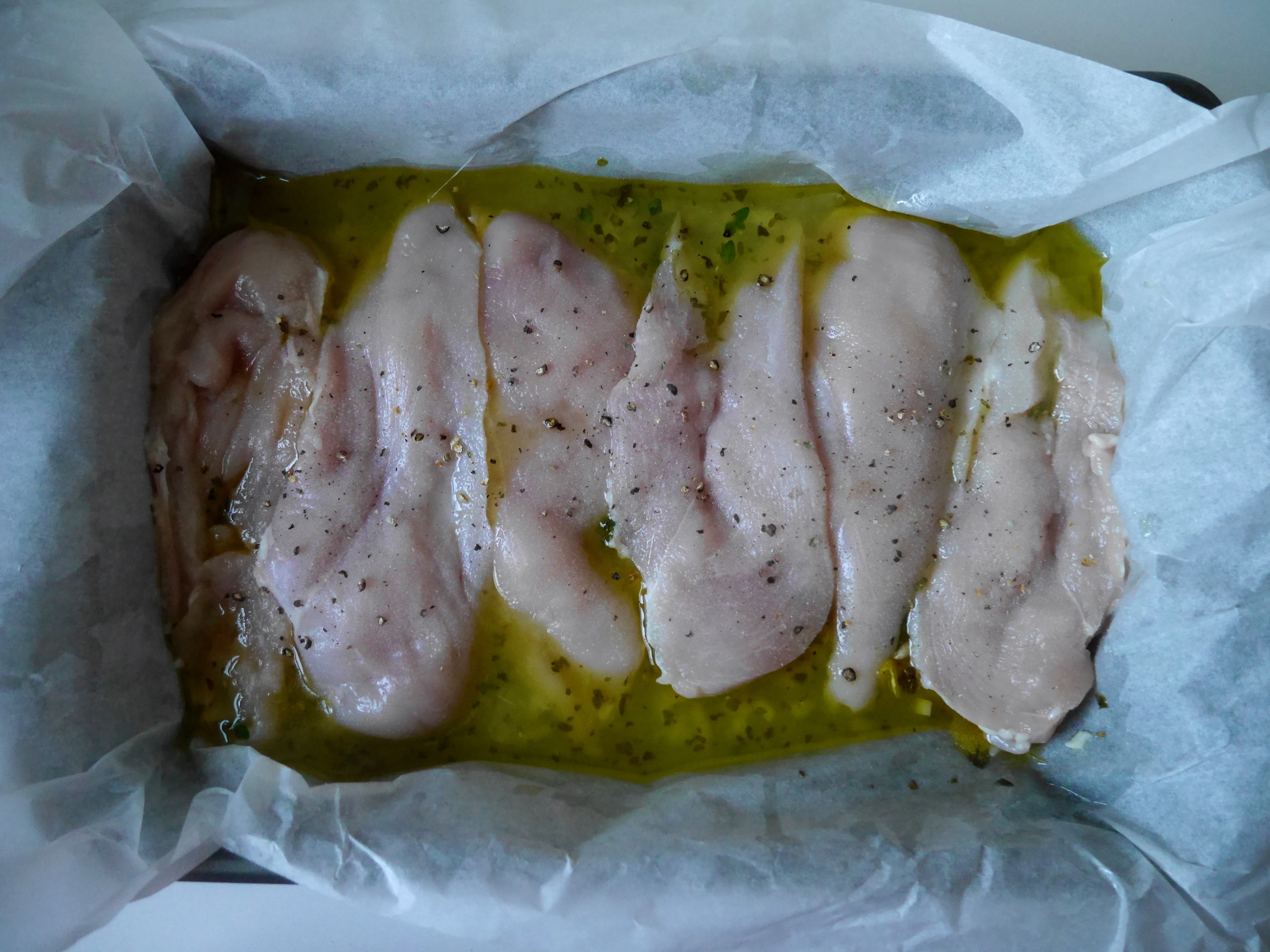 Pour your delish marinade into a foil or parchment lined baking dish, and add in chicken breasts. I cut mine in half horizontally, because I can't (won't) eat that much chicken in one sitting, and since they're thinner it cooks faster this way too!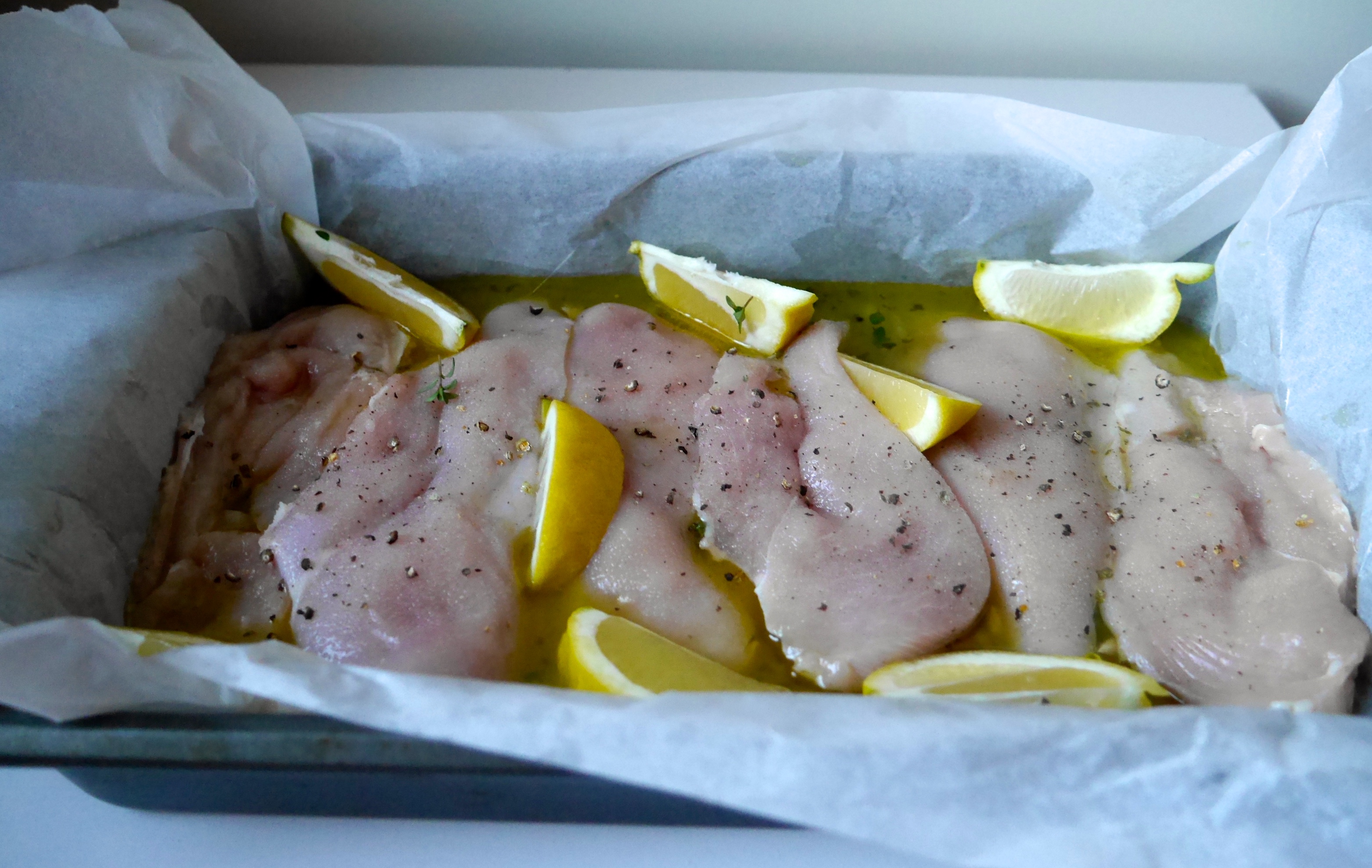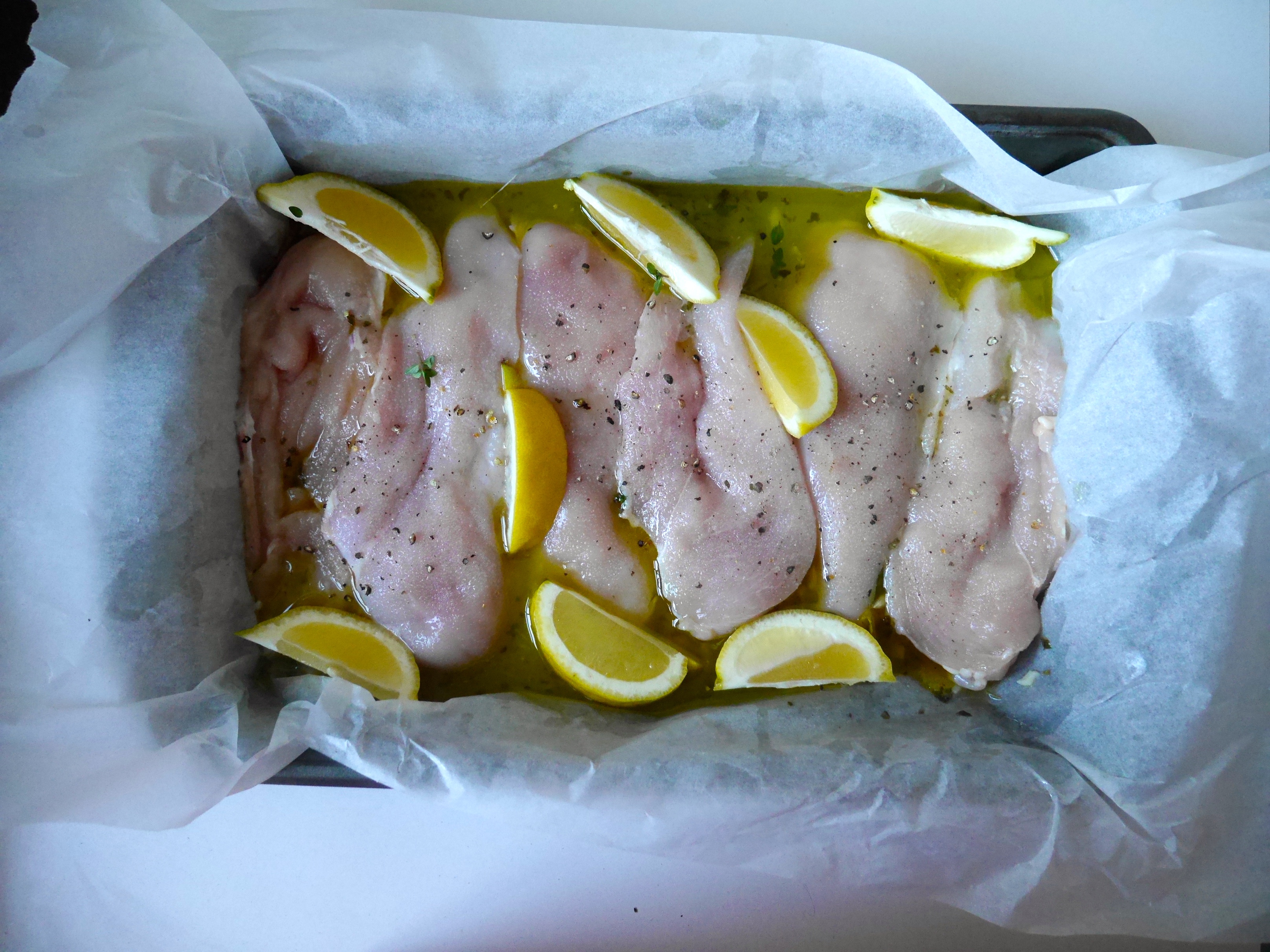 Tuck some lemon slices in there, and bake at 400F for 15-20 minutes. At the end if you want things a little more golden brown, turn the broiler on for a minute or two.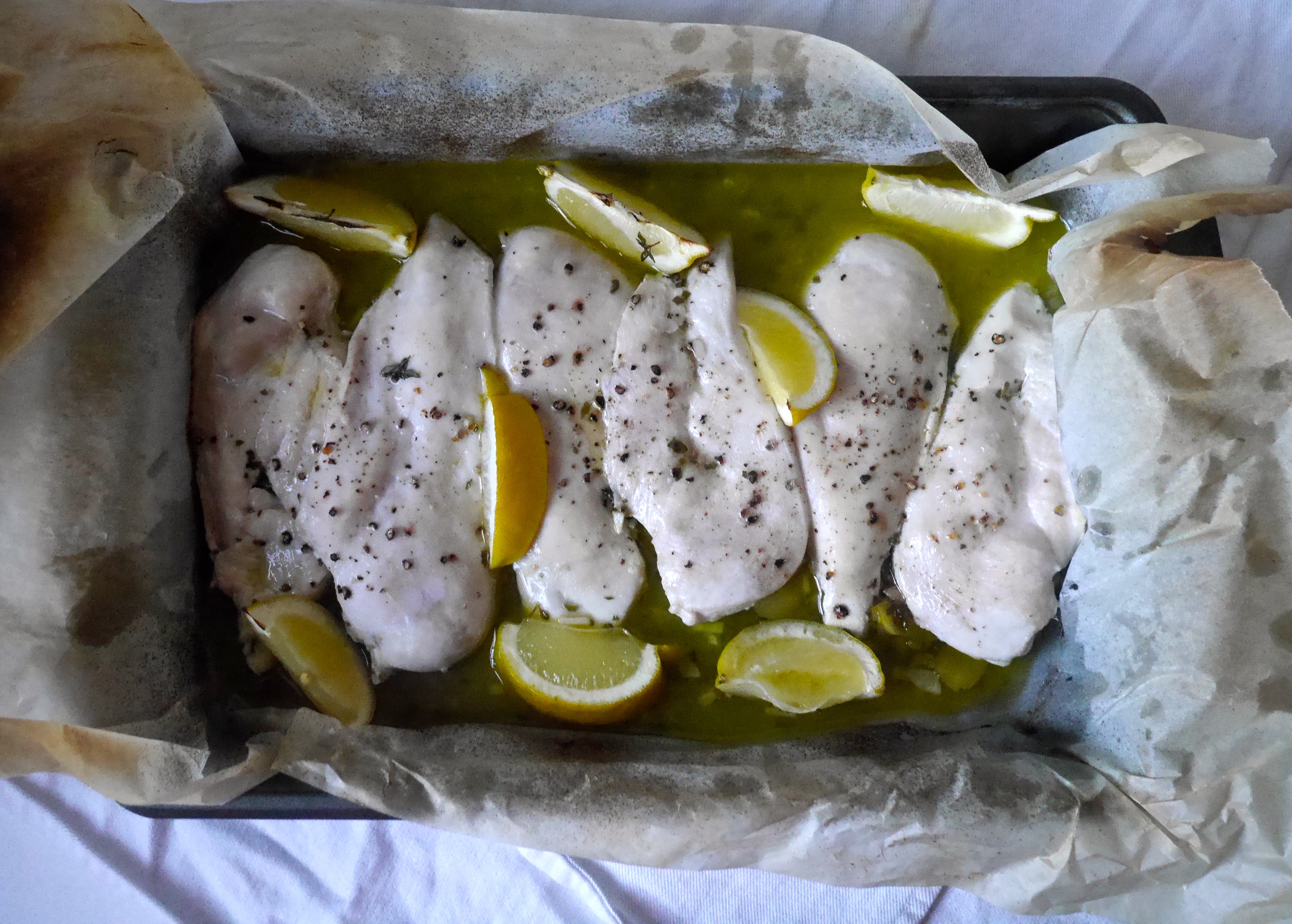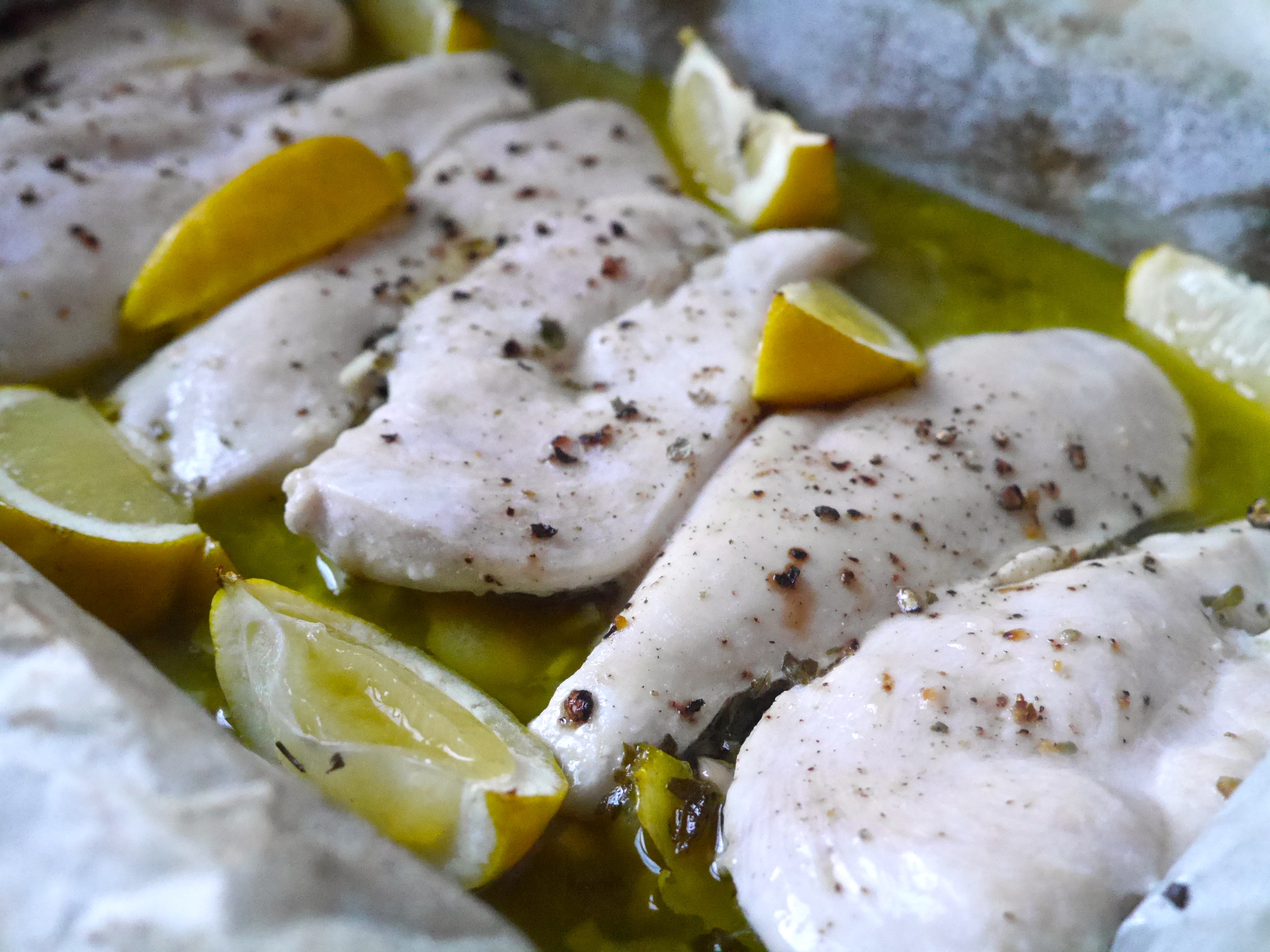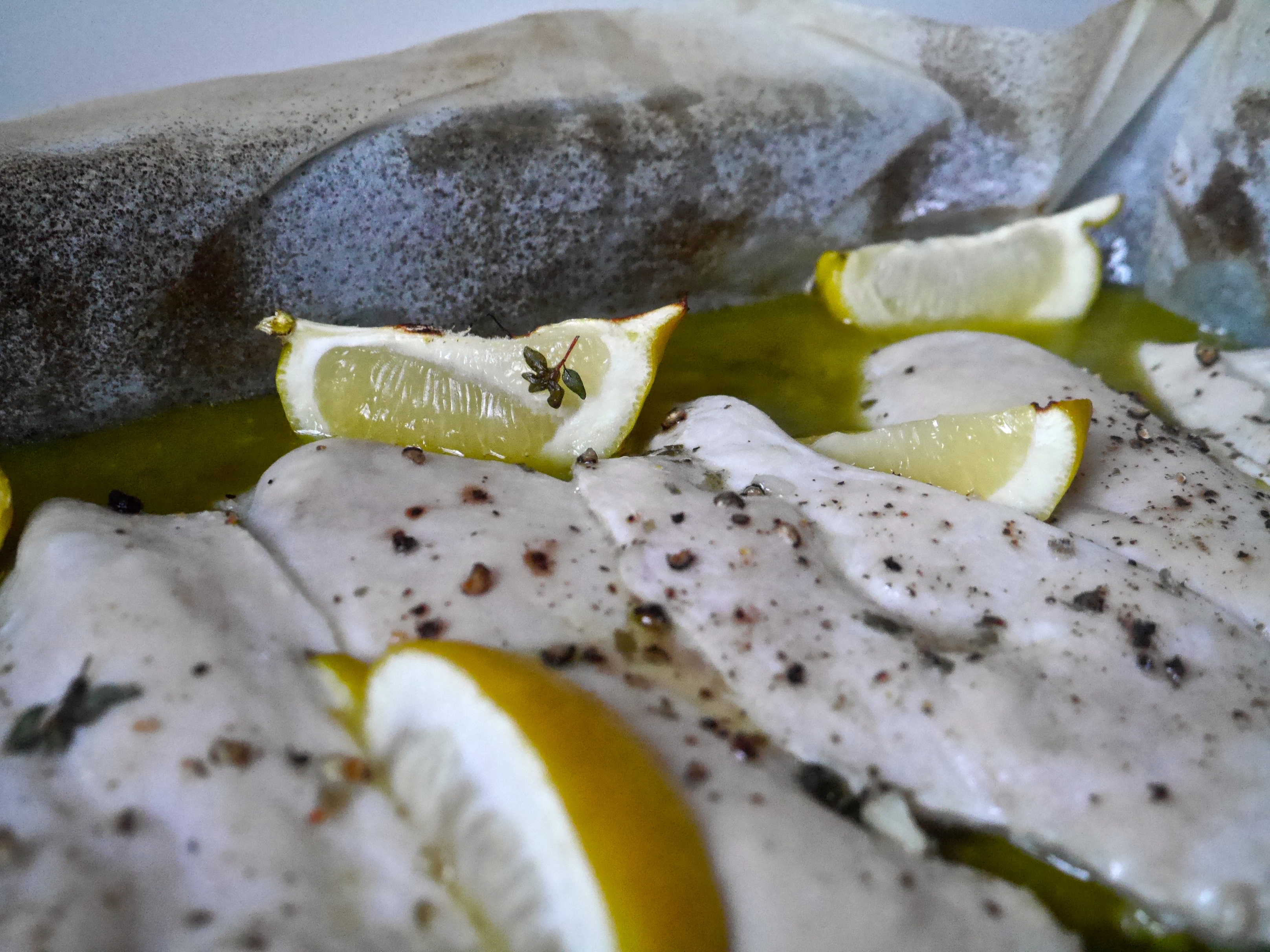 Voila, that's it, you're done! Juicy chicken in a tart, garlicky, most importantly wine infused marinade that is freaking amazing on a salad, on top of pasta, or just straight from the pan if you occasionally lack manners like myself.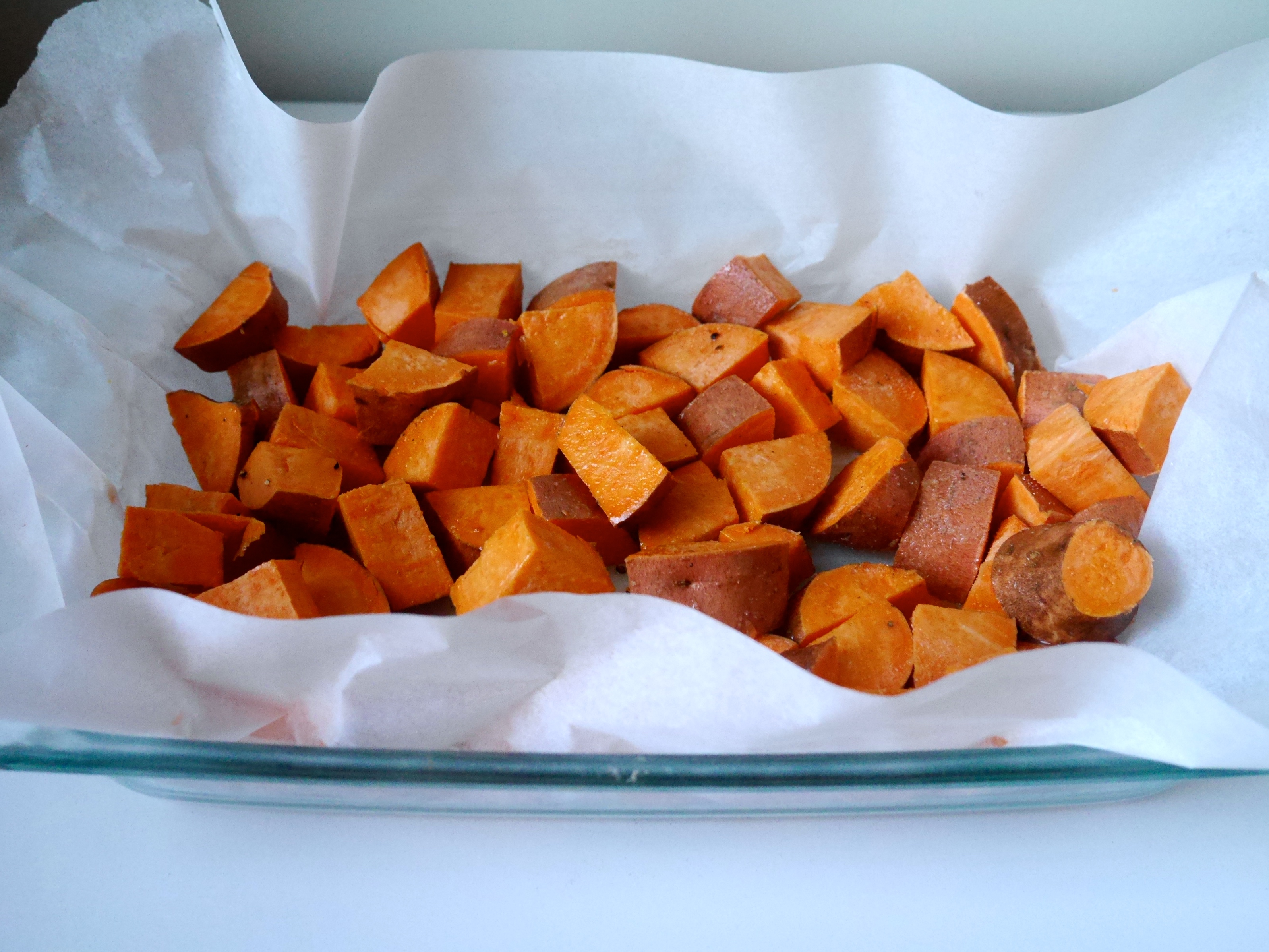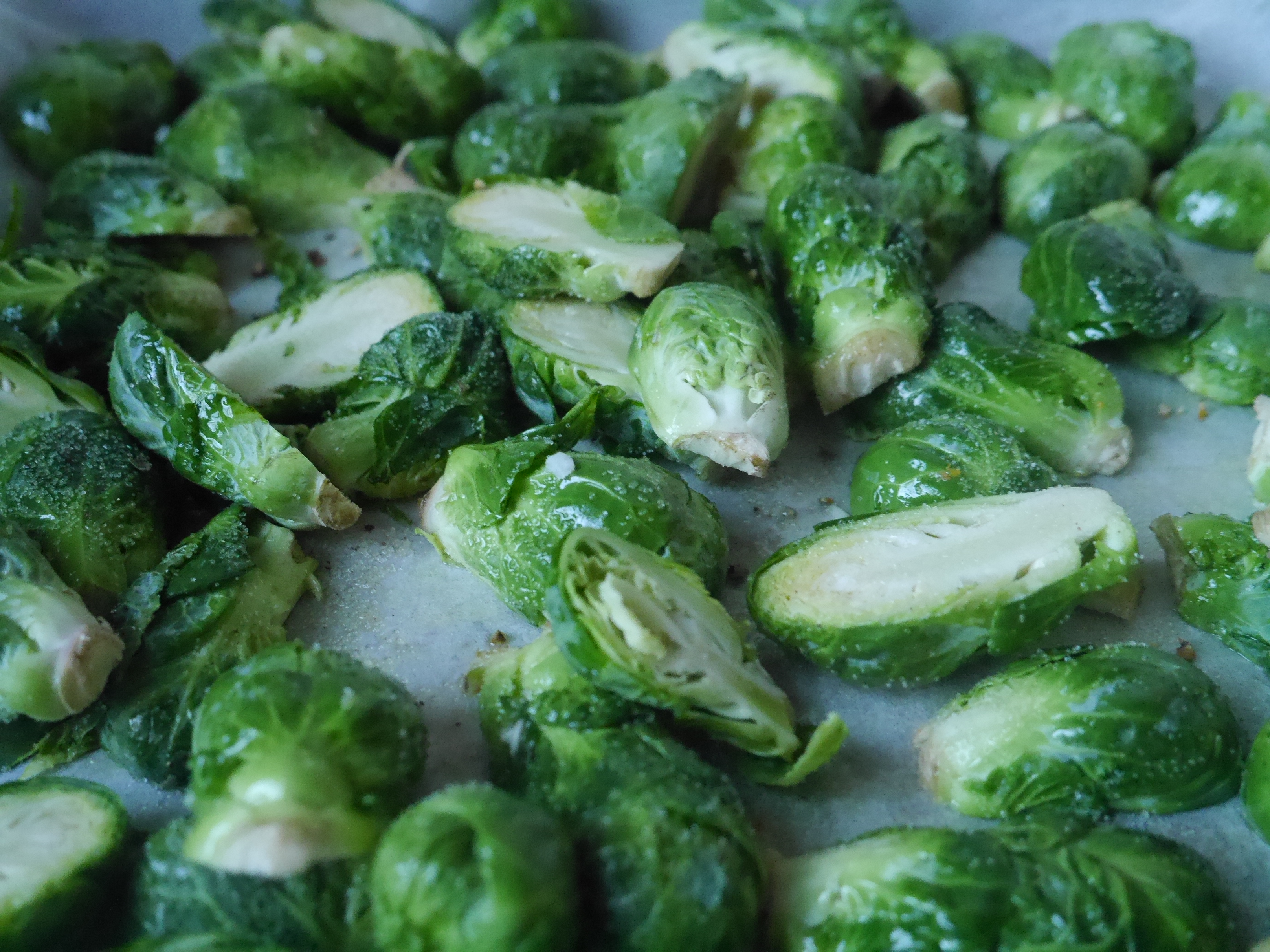 While the oven is on, I chop up brussels sprouts and sweet potatoes, and roast those as well. The sprouts take 25-30 minutes, and the sweet potatoes take closer to an hour.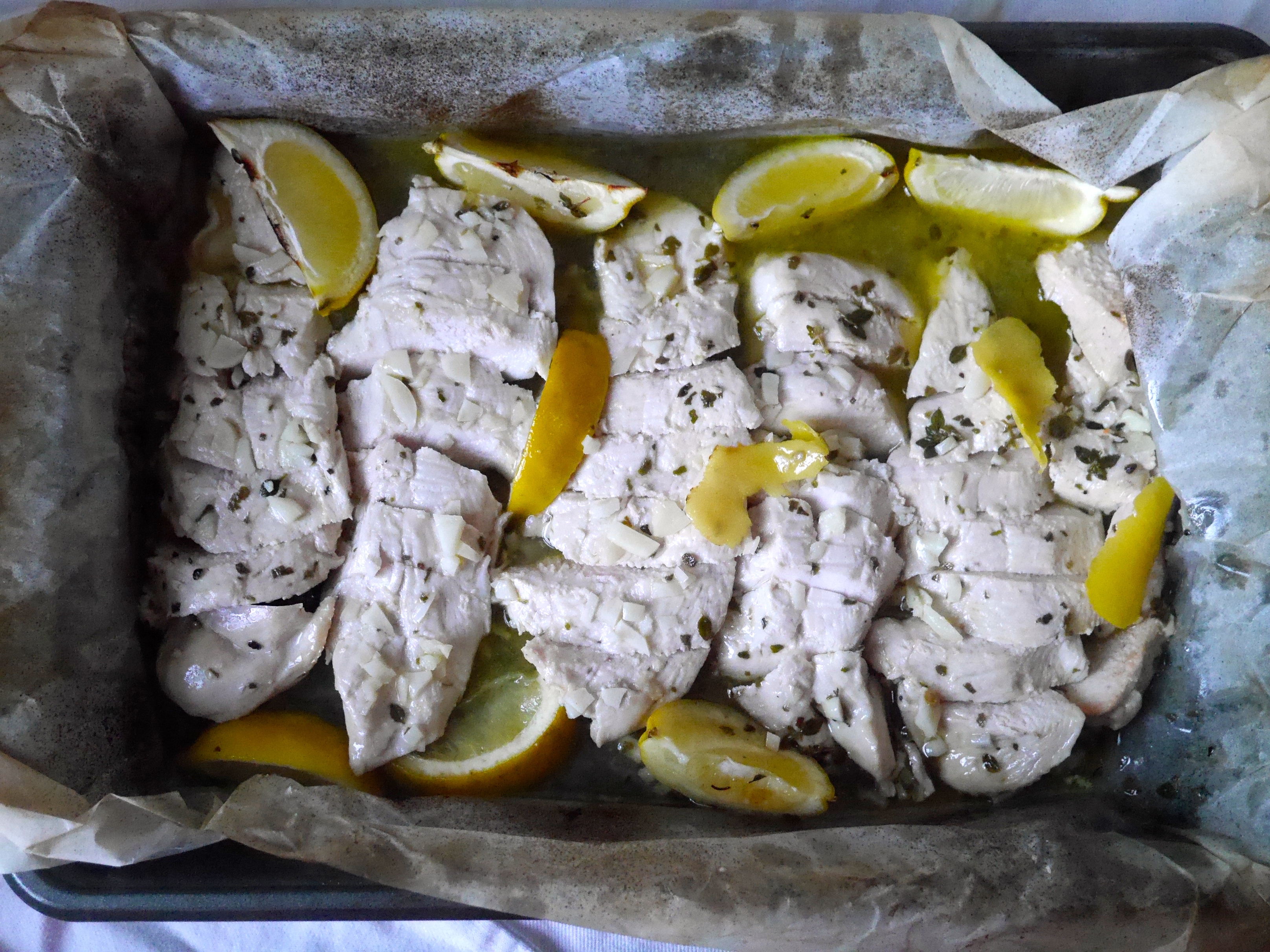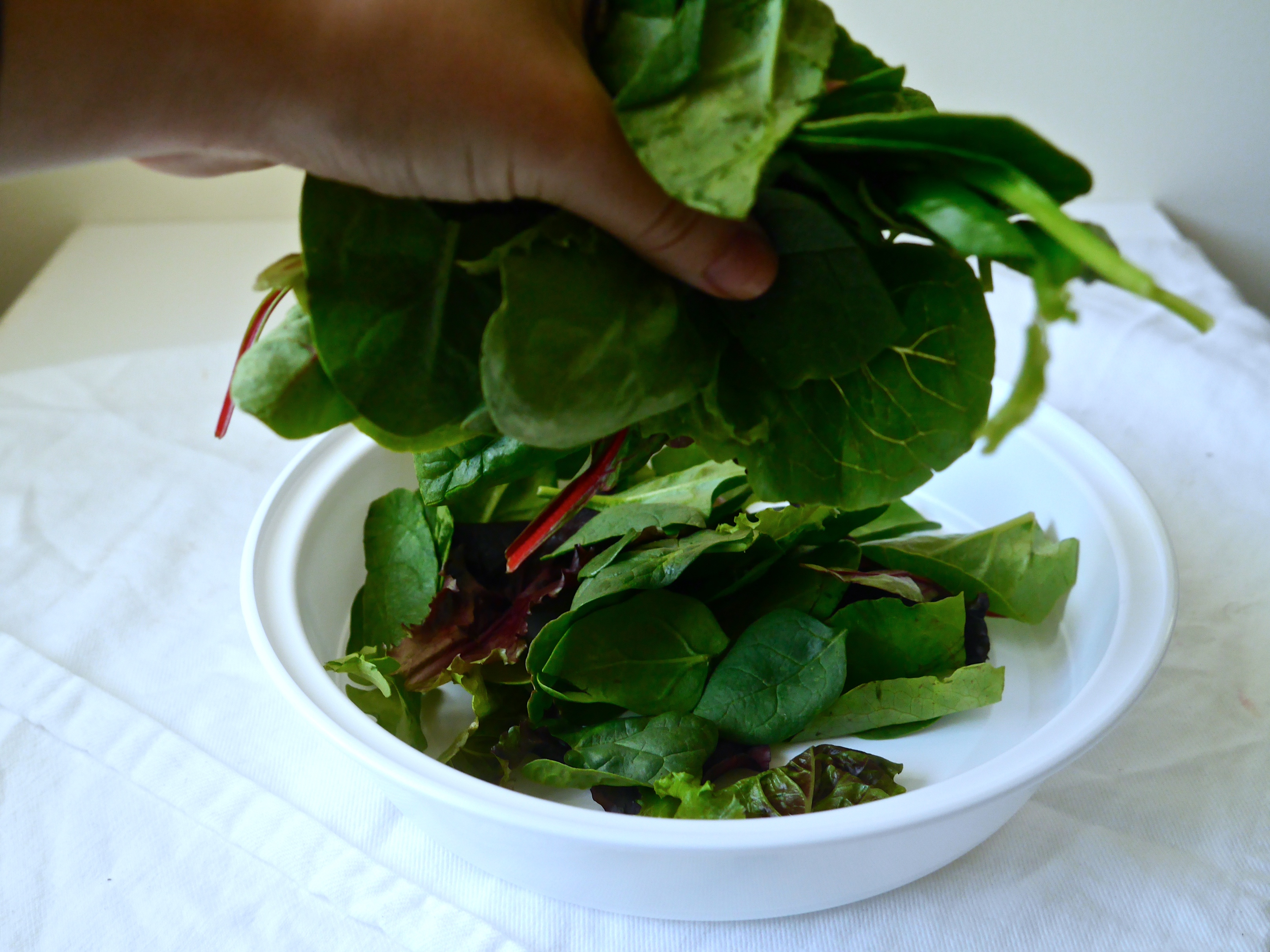 I cut up the chicken so I have literally nothing to do in the morning, and leave it in the pan, covered in my fridge. It couldn't be any easier. The next morning I grab my favorite (clean) Chinese take out container, add in a handful of mixed greens, the roasted sweet potatoes and sprouts and most importantly the chicken.
I top if off with the most bangin sweet onion bacon vinaigrette from Trader Joe's, and call it a day.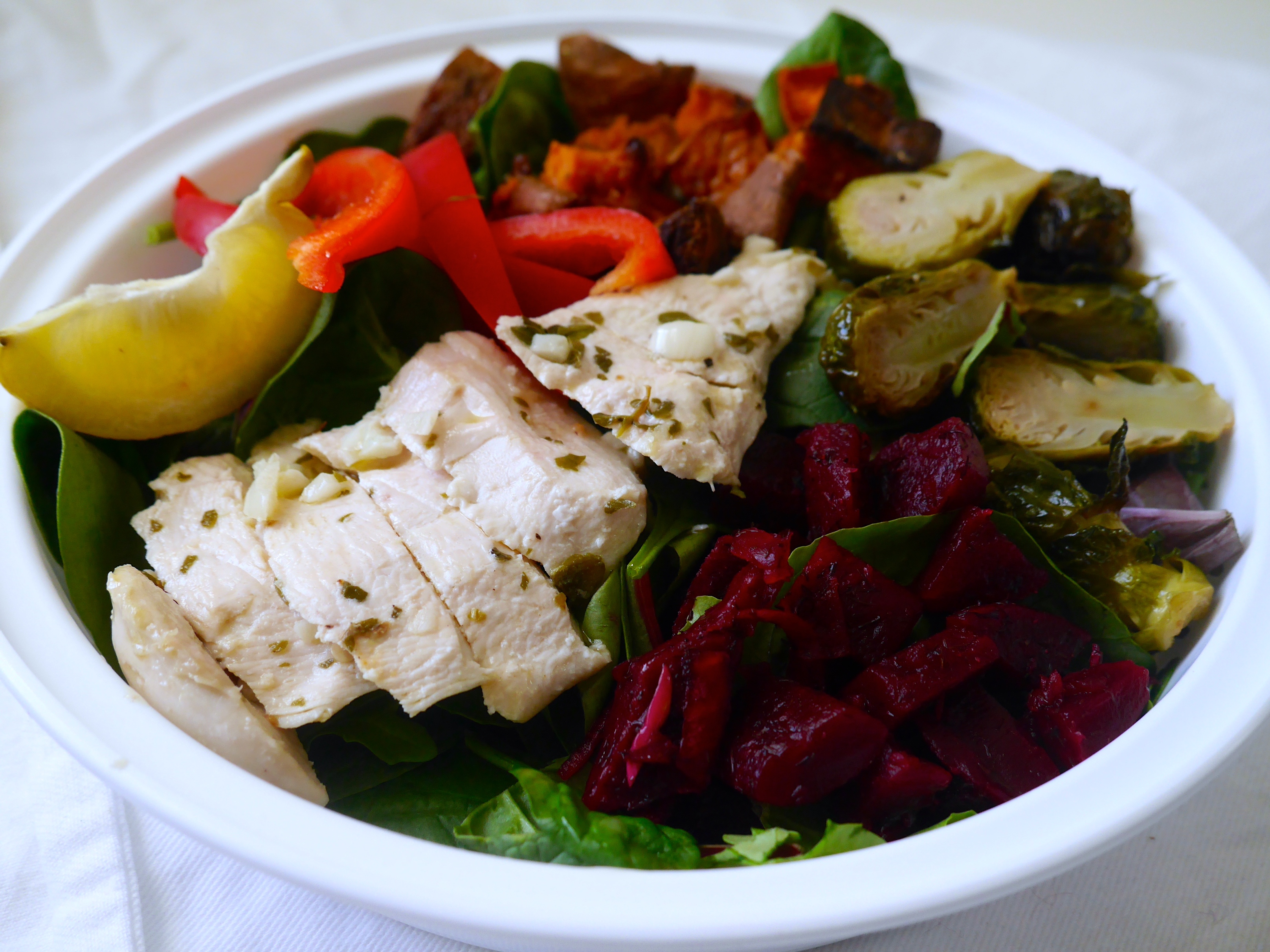 Let us go over the highlights of this meal prep:
healthy
has wine it in
delicious
has wine in it
quick
has wine in it
I think by this point you should be convinced 😉 Make Monday not so bad, pack a lunch, and at the end of the week go buy yourself that Naked palette. I'll be the one in Sephora with 18987 different eyeshadow colors on my wrist trying to pick between the Naked 2 or 3 even though we all know they look the damn same. I digress… Now fire up that oven!
Lemon Chicken (makes 4 chicken breasts; 8 when cut in half) recipe from the domestic goddess Ina Garten
1/4 cup olive oil
3 T minced garlic (about 9 cloves)
1/3 cup dry white wine
1 T lemon zest (I used a peeler and took big strips from 2 lemons)
2 T lemon juice
1 t each of oregano and thyme (use fresh herbs if you can)
4 chicken breasts (boneless, I chose skinless too)
1 lemon
salt and pepper
Preheat oven to 400F. Combine garlic and olive oil in a pan over medium heat and heat for a minute but don't let garlic turn brown (it gets bitter).
Take off the heat and mix in wine, lemon zest and juice, herbs, and 1 t salt. Pour into a foil or parchment lined baking dish. (see below for lazy version).
Lay your chicken breasts in the marinade, and sprinkle with salt and pepper.
Bake for 15-20 minutes (40 mins if the chicken wasn't cut in half) or until meat is fully cooked. I check by pressing on the chicken and if it feels firm it's done.
Take the chicken out of the oven and cover it tightly with foil. Let it rest for 10 minutes and either serve hot with the pan juices, or pop in the fridge for later.
Store in either a tupperware or in the baking dish covered in the fridge. Enjoy!
Lazy Version:
If the thought of breaking out a sauce pan is too much to bear, combine everything in a baking dish and proceed to step 4. I haven't tried it this way, but I can't imagine it wouldn't taste all that different. If you try it like this, please leave me a comment!