Let me start out by saying this was the greatest trip I've ever taken. Zack swears he's never going anywhere else ever again, and as much as I argue that there are other great vacation spots, I'm tempted to come here ever year too. I know, that's a bold statement, but from someone who travels nearly every week for work you've got to trust me!
First off, we stayed at the most perfect resort I could've imagined (all inclusive!), but more on that later. Pictures just don't do the trip justice, so I made my very first video. I splurged on a Go-Pro Session, and attempted to record everything Zack and I did. Occasionally tequila got in the way and made that difficult, but you'll get the gist of everything.
Like I said, it's my first video, so bear with my editing (or lack there of). You may also think dear god this post is long. Yes, I'm aware there are 60 something photos below, but a vacation is a huge investment and I wanted you all to be able to skip scrolling through Yelp, Trip Advisor, Expedia, Hotels.com, etc. So on that note, let's begin!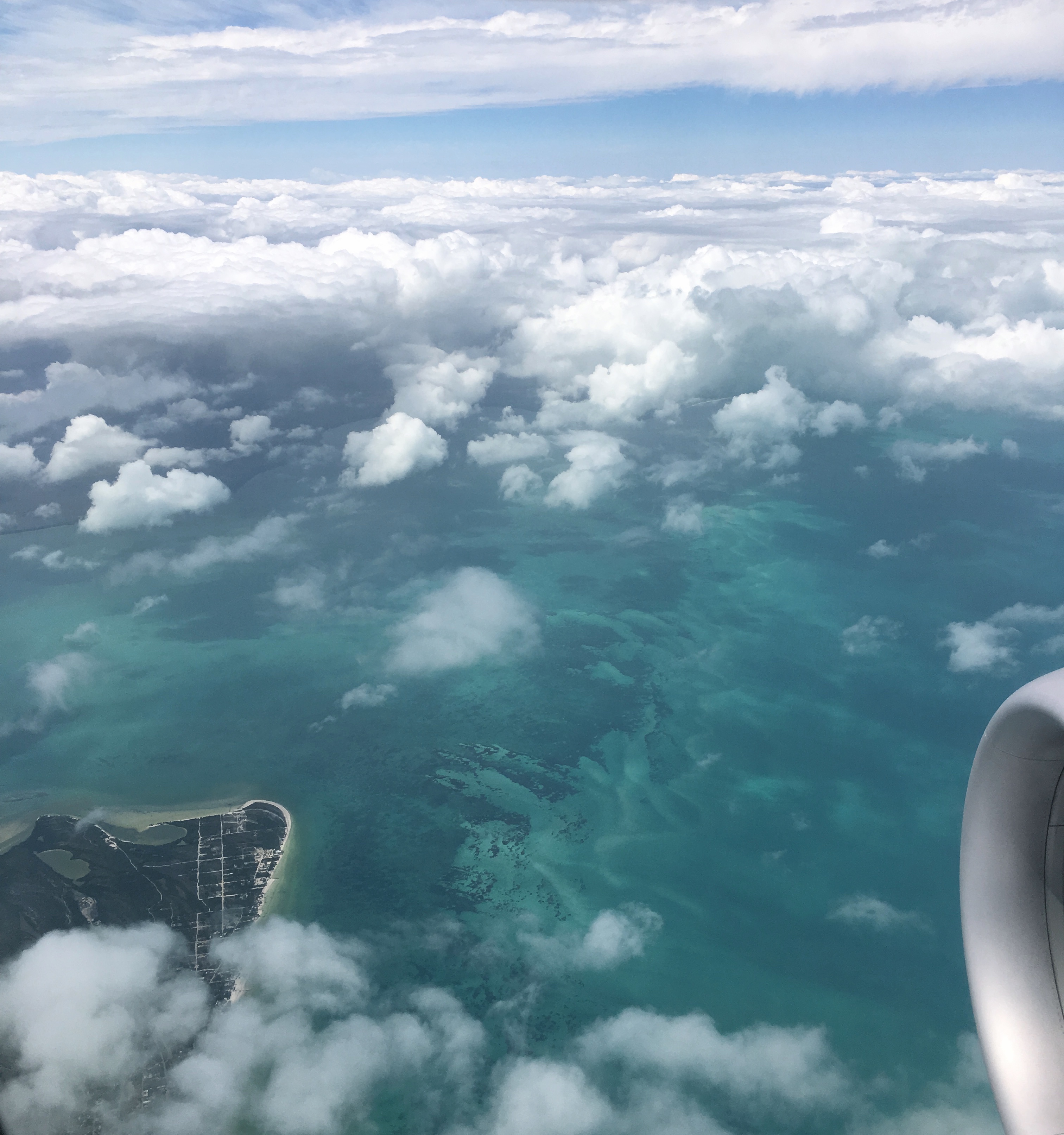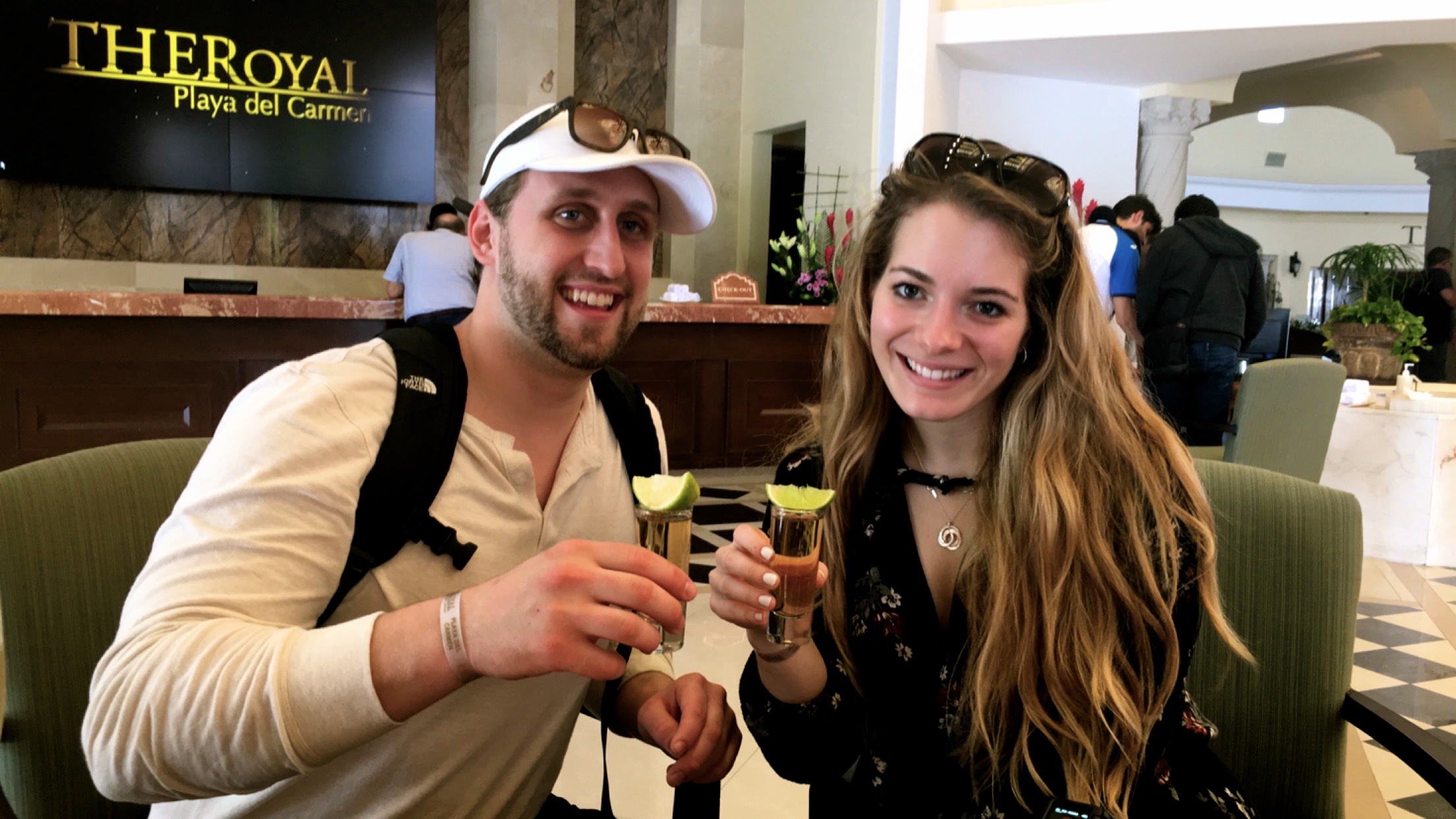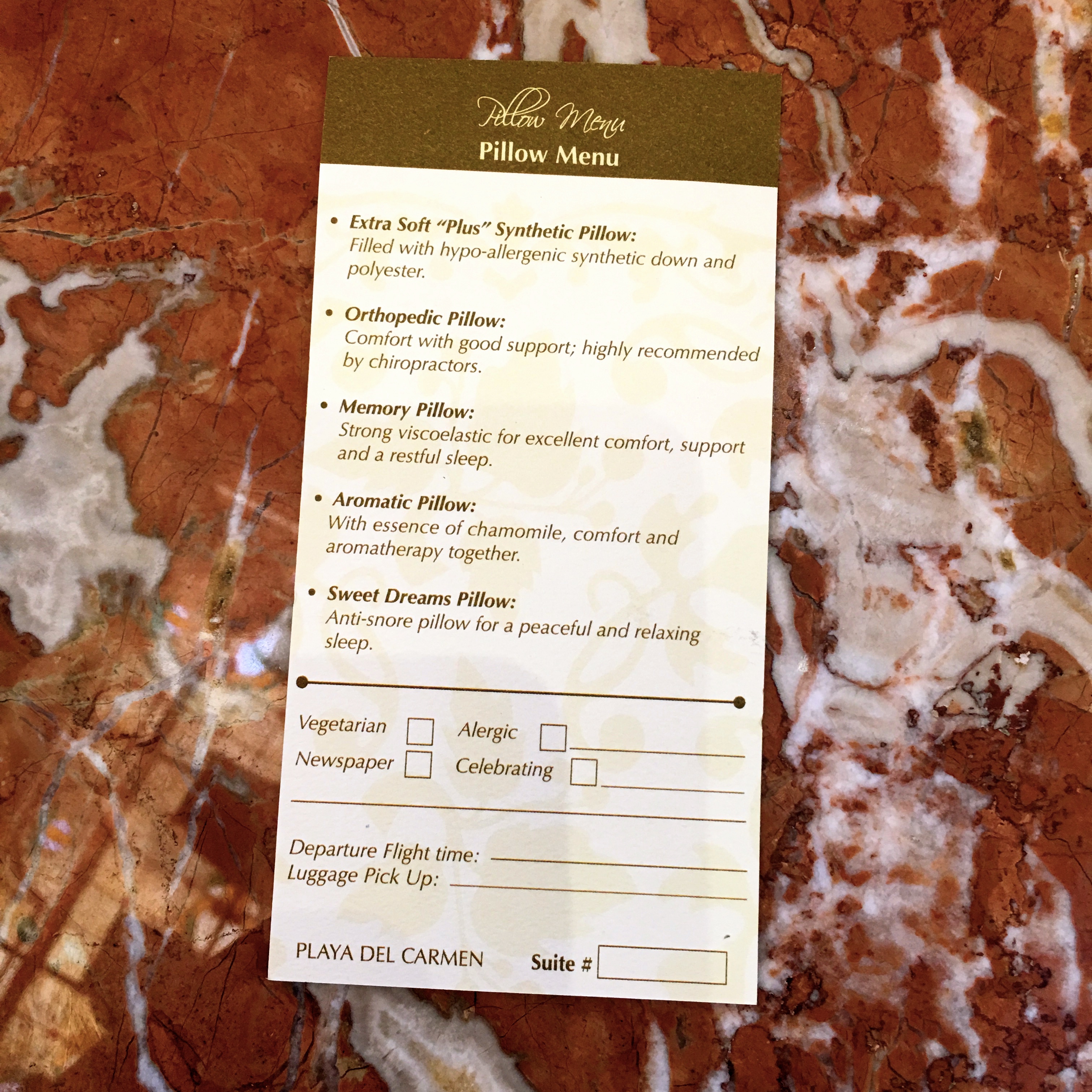 Our flight to Mexico was direct through United (we booked through Expedia), and was a breeze. The resort we stayed at, The Royal, was a short 45 minute drive from the airport.
When we arrived, we were greeted with champagne, and when Zack joked that it wasn't tequila in Mexico, they brought us tequila shots too! That's the perfect example of how incredible the service is. Oh and did I mention they give you a pillow menu to choose from??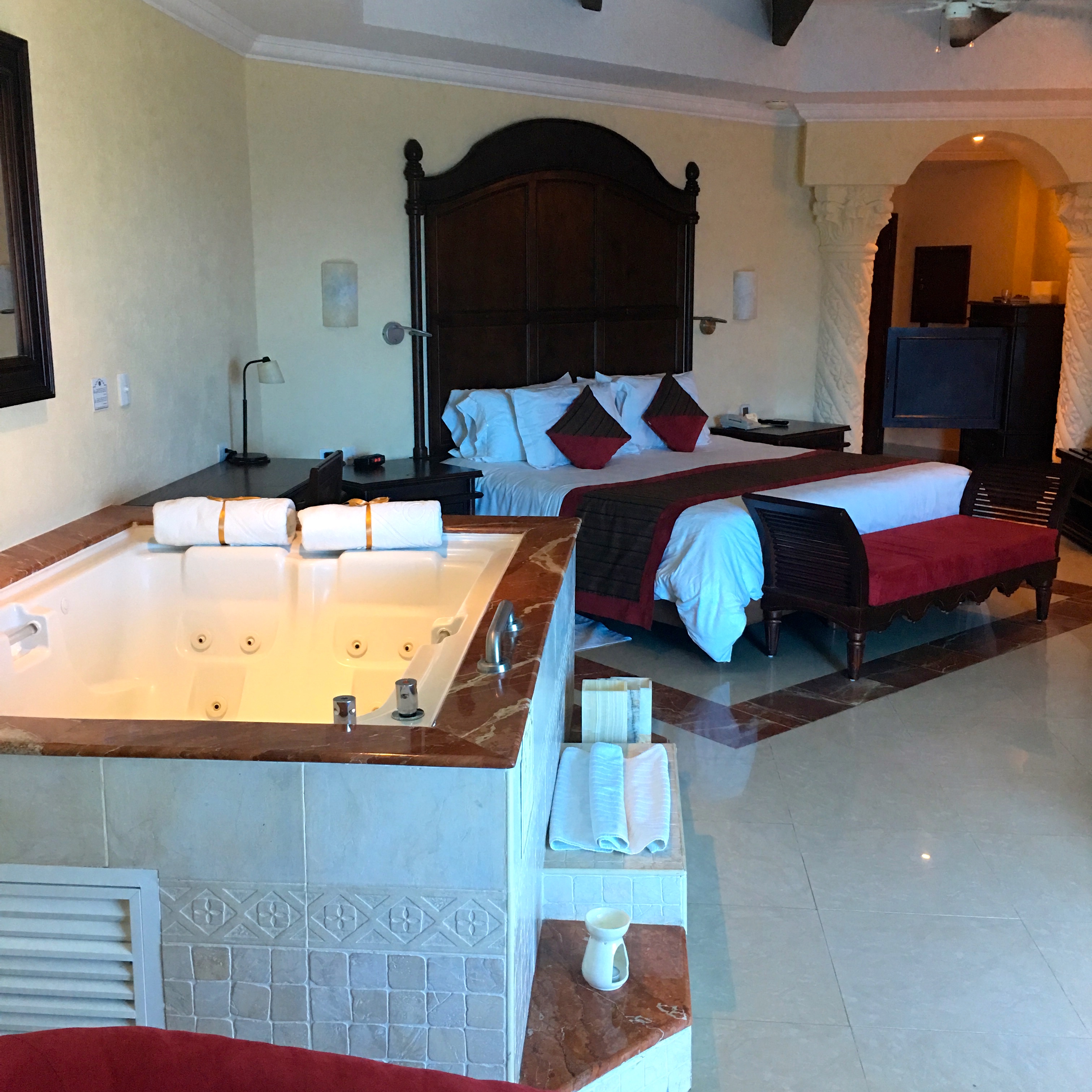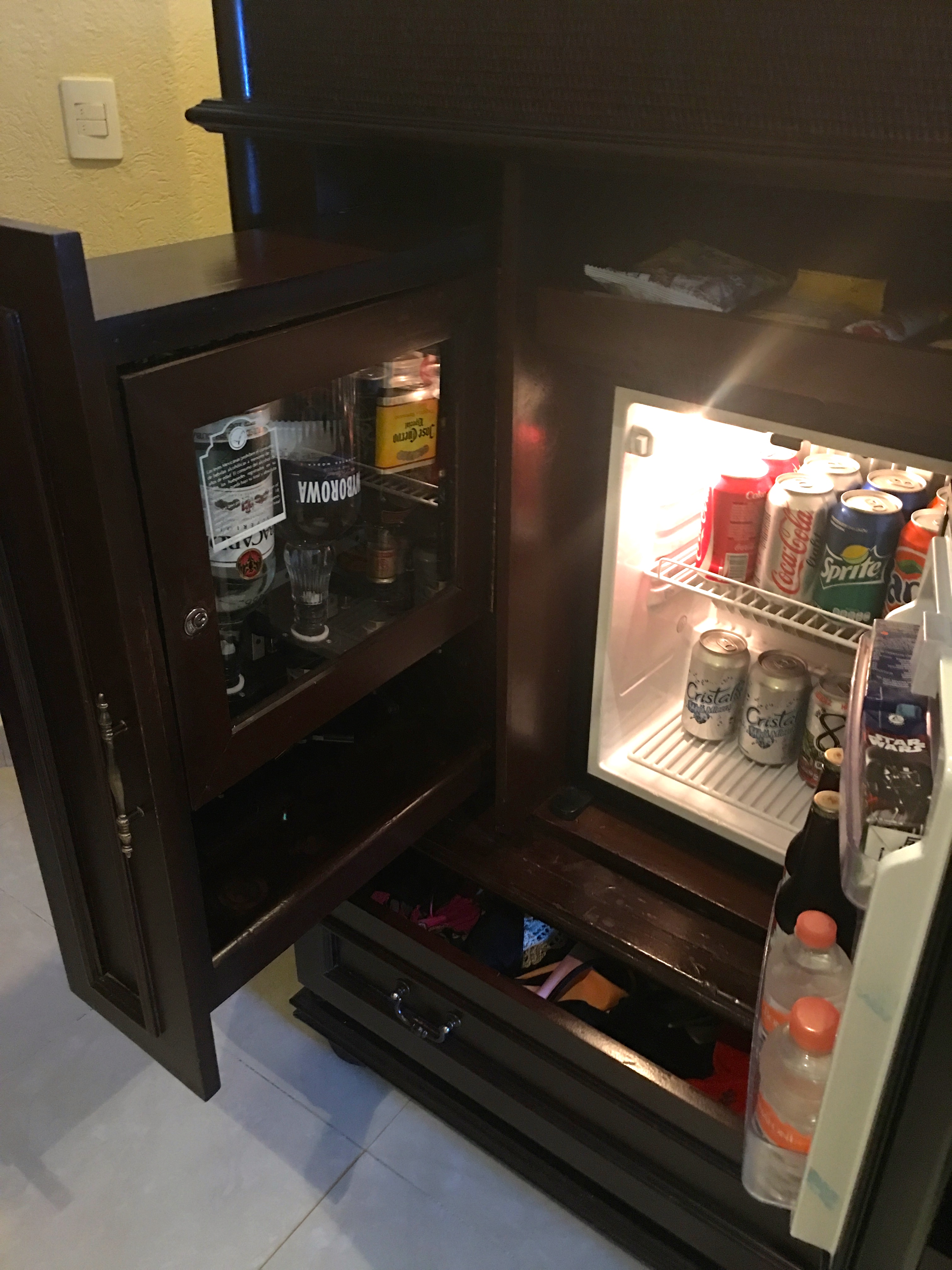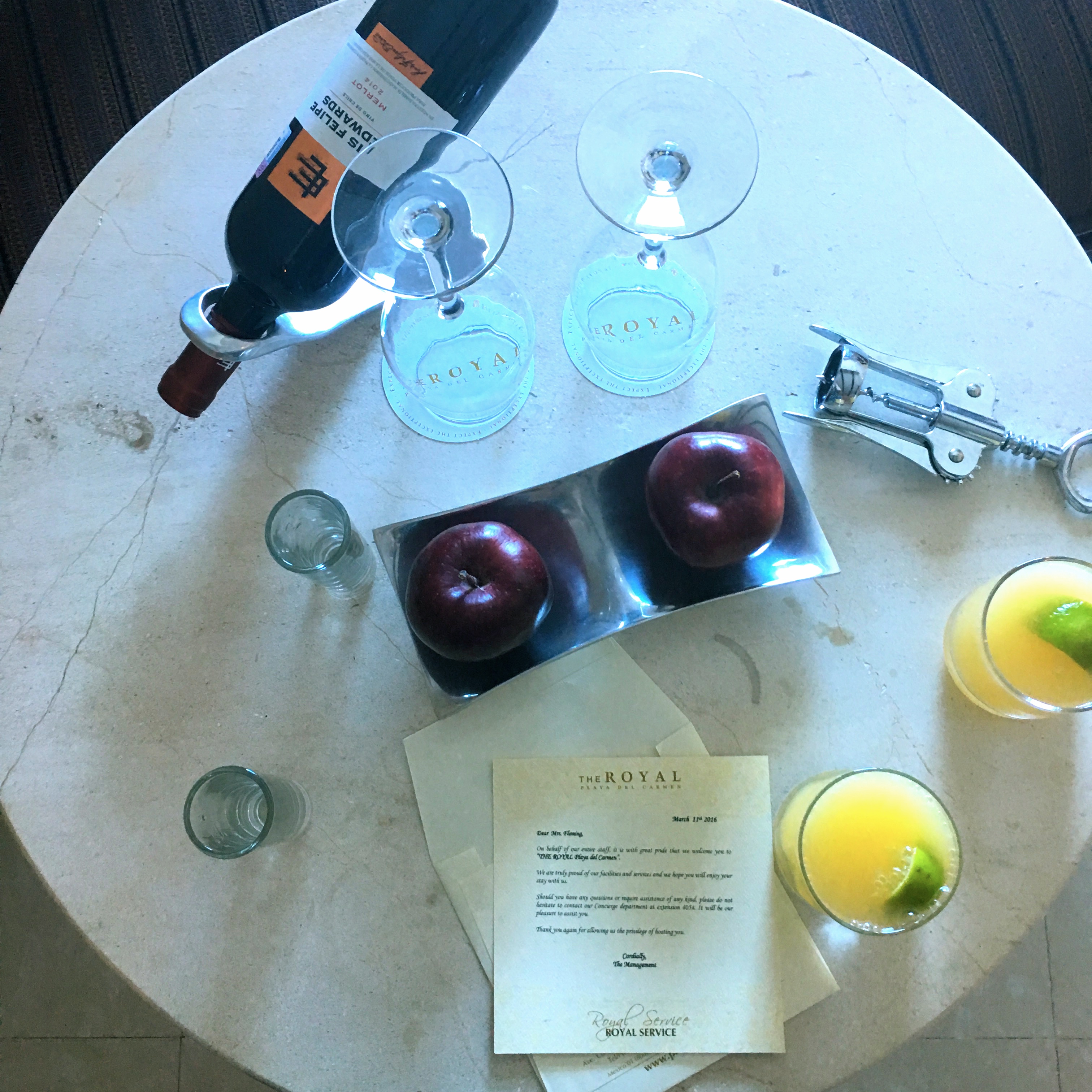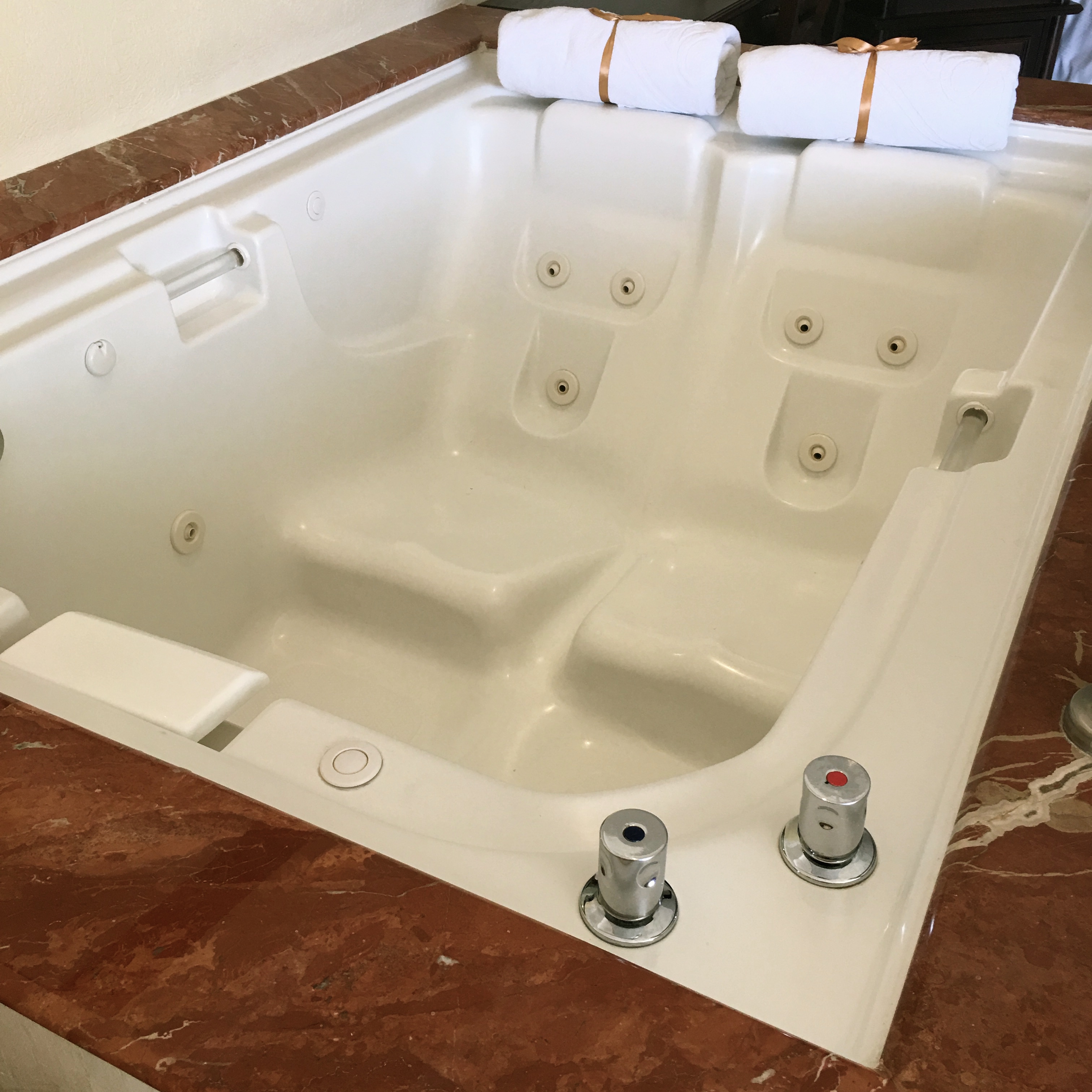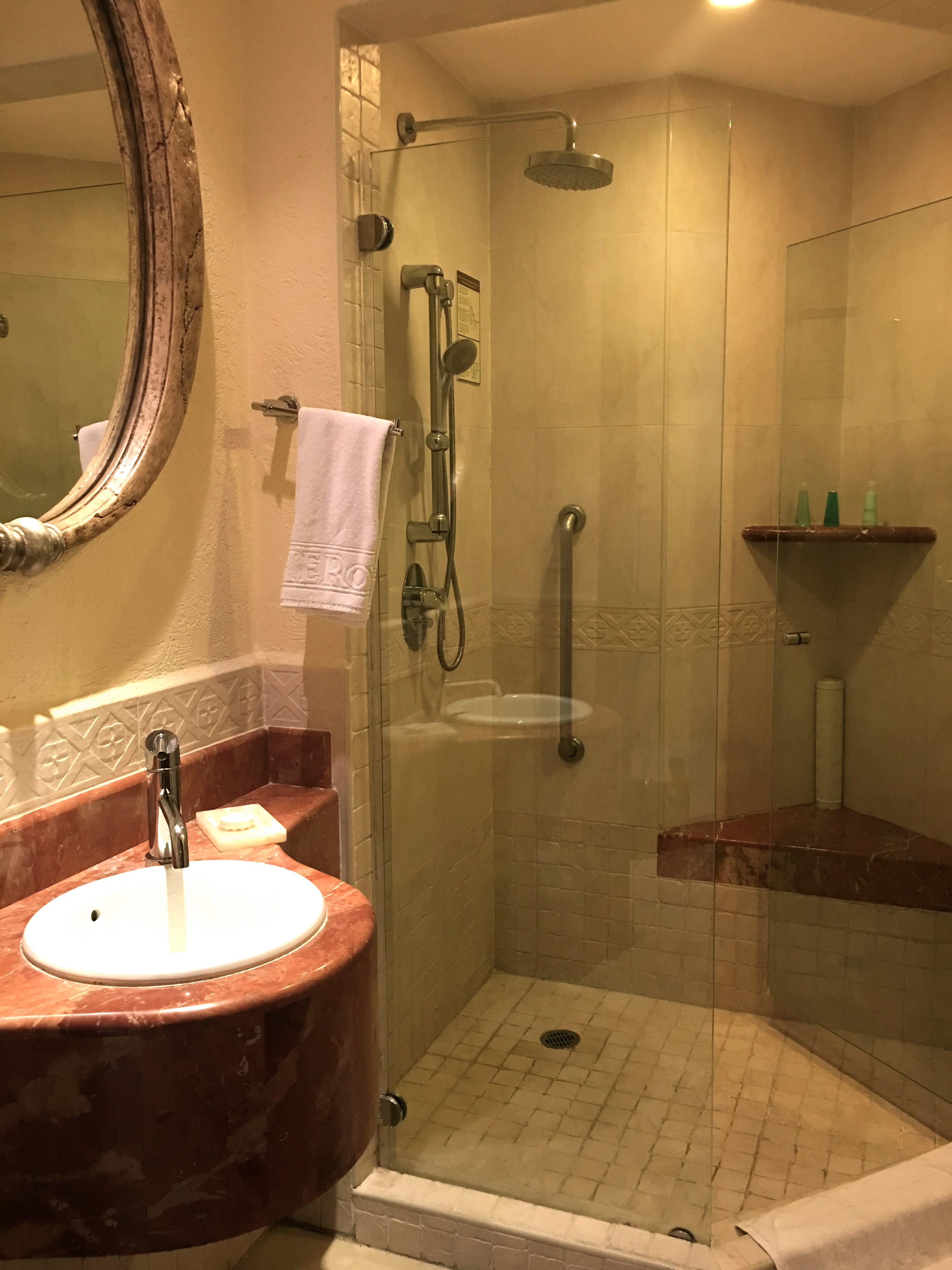 When we got up to our room, we were blown away by the massive two person Jacuzzi, luxurious bathroom, and king sized bed.
Also, I think it's worth mentioning that there's a fully stocked liquor cabinet in every room. This means serve yourself bottles of top shelf liquor, mixers, beer, and a bottle of wine. I think it goes without saying that Zack and I took full advantage of it aka there might have been a few mornings we woke up fully clothed, bleary eyed, and in my case makeup still on. Thank god for Advil…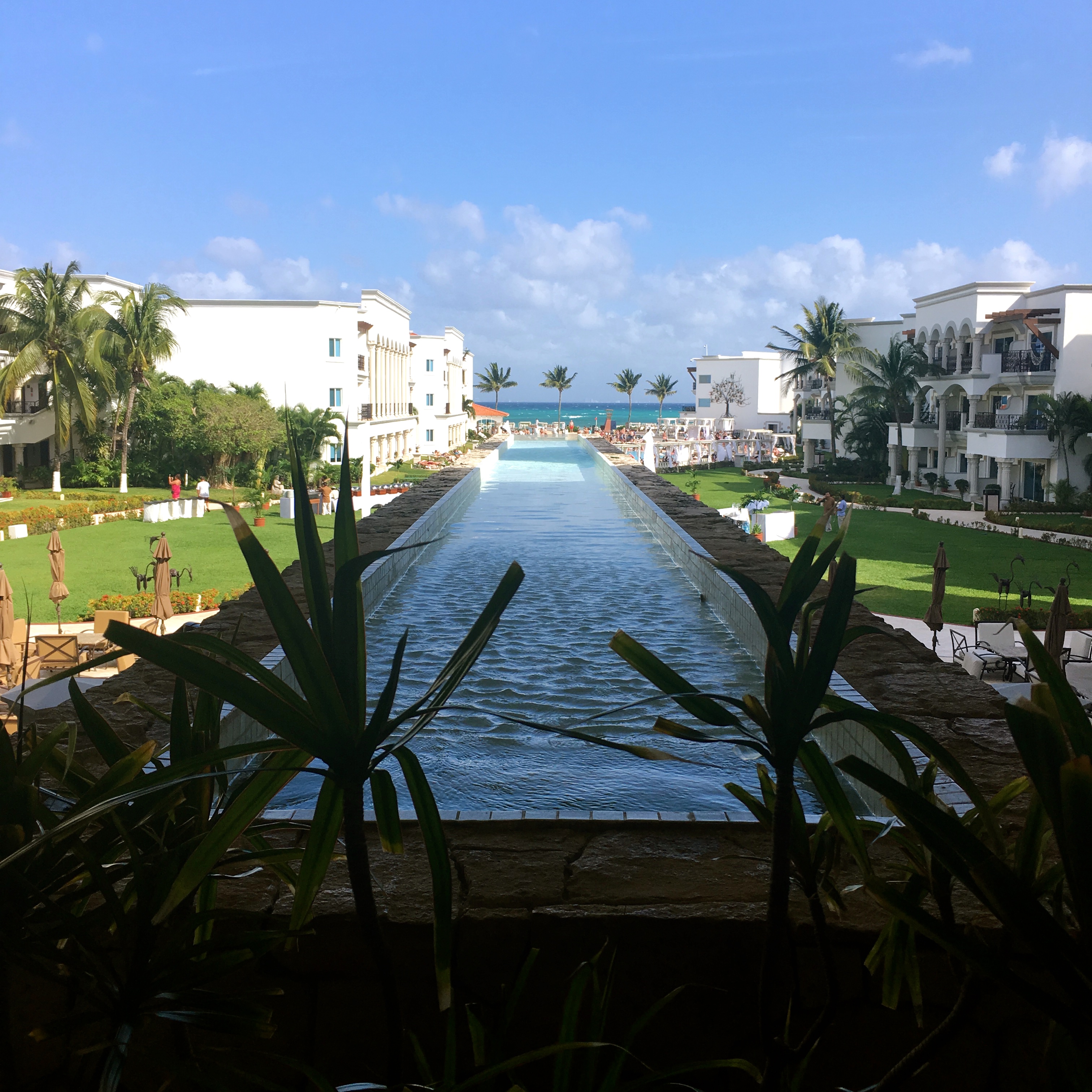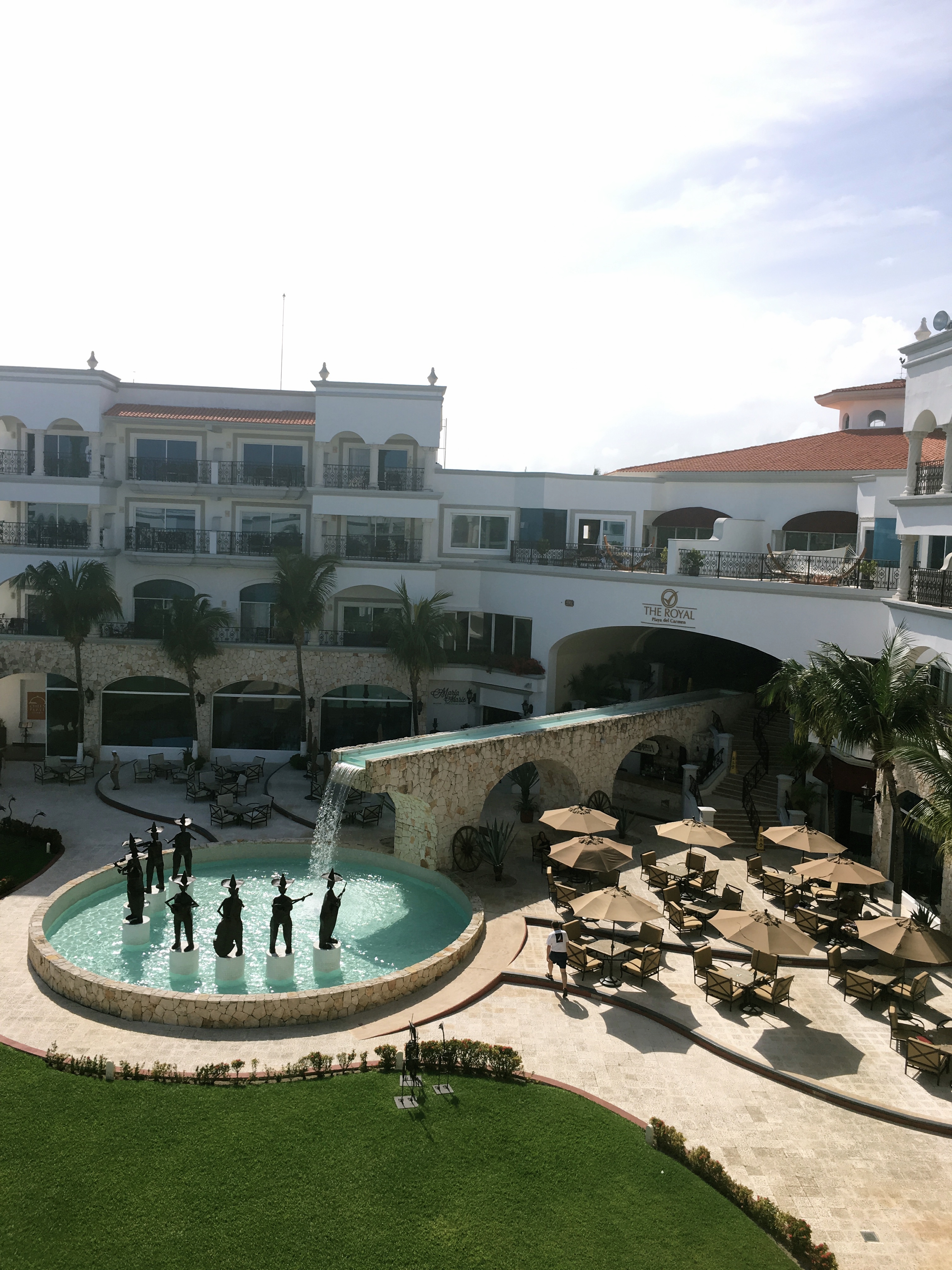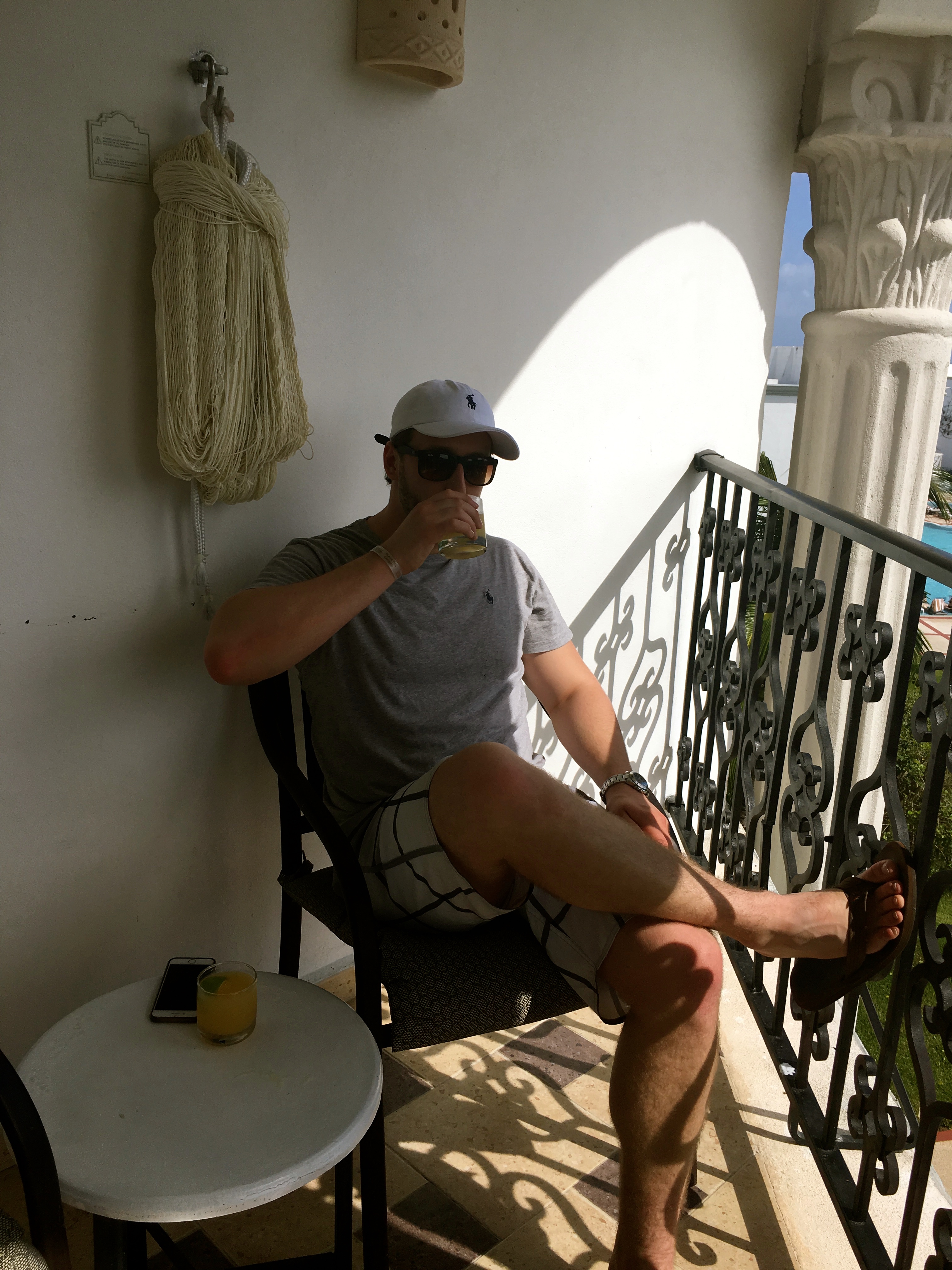 Our room had a cozy porch that overlooked the main pool area, and a hammock for afternoon naps after a tiring day of lounging.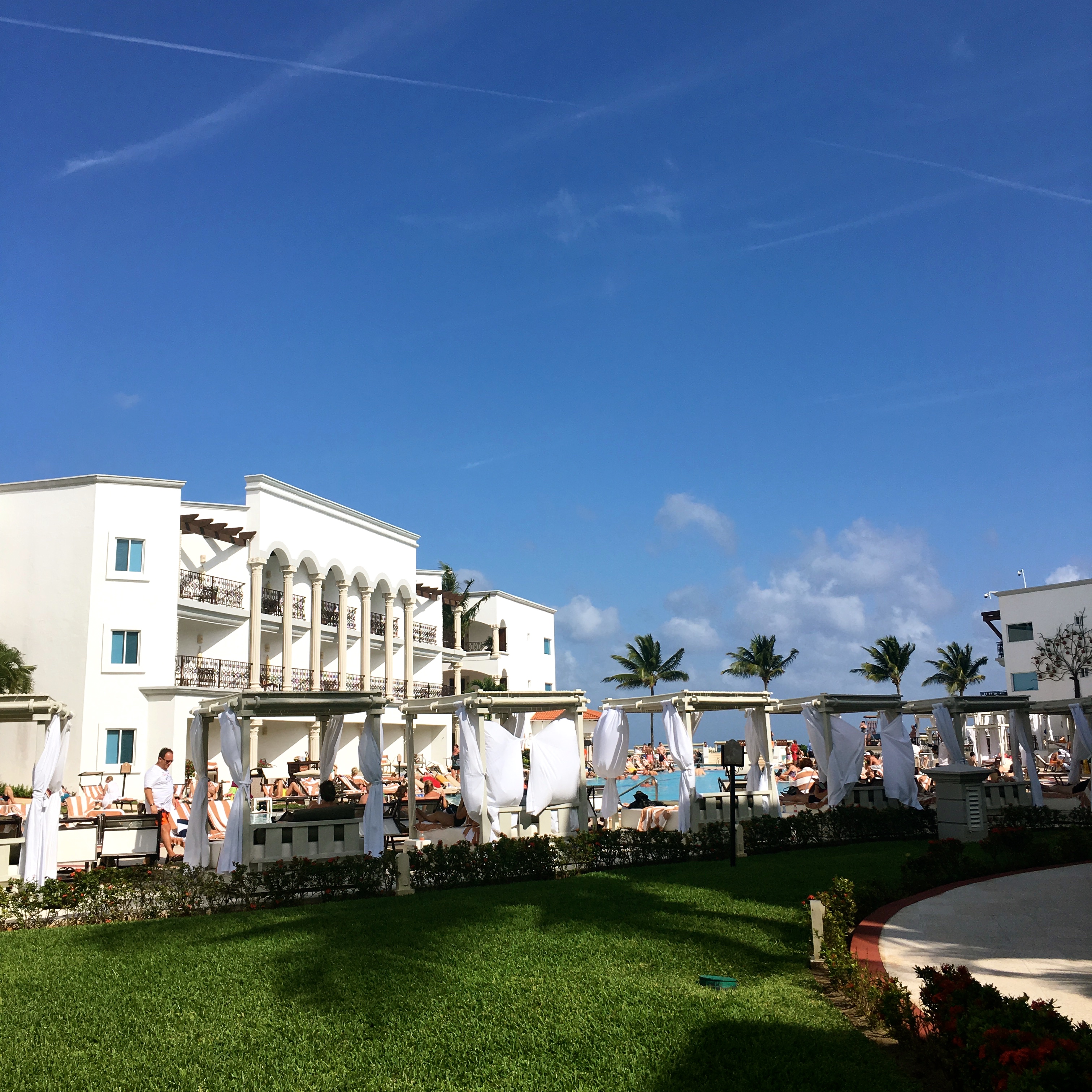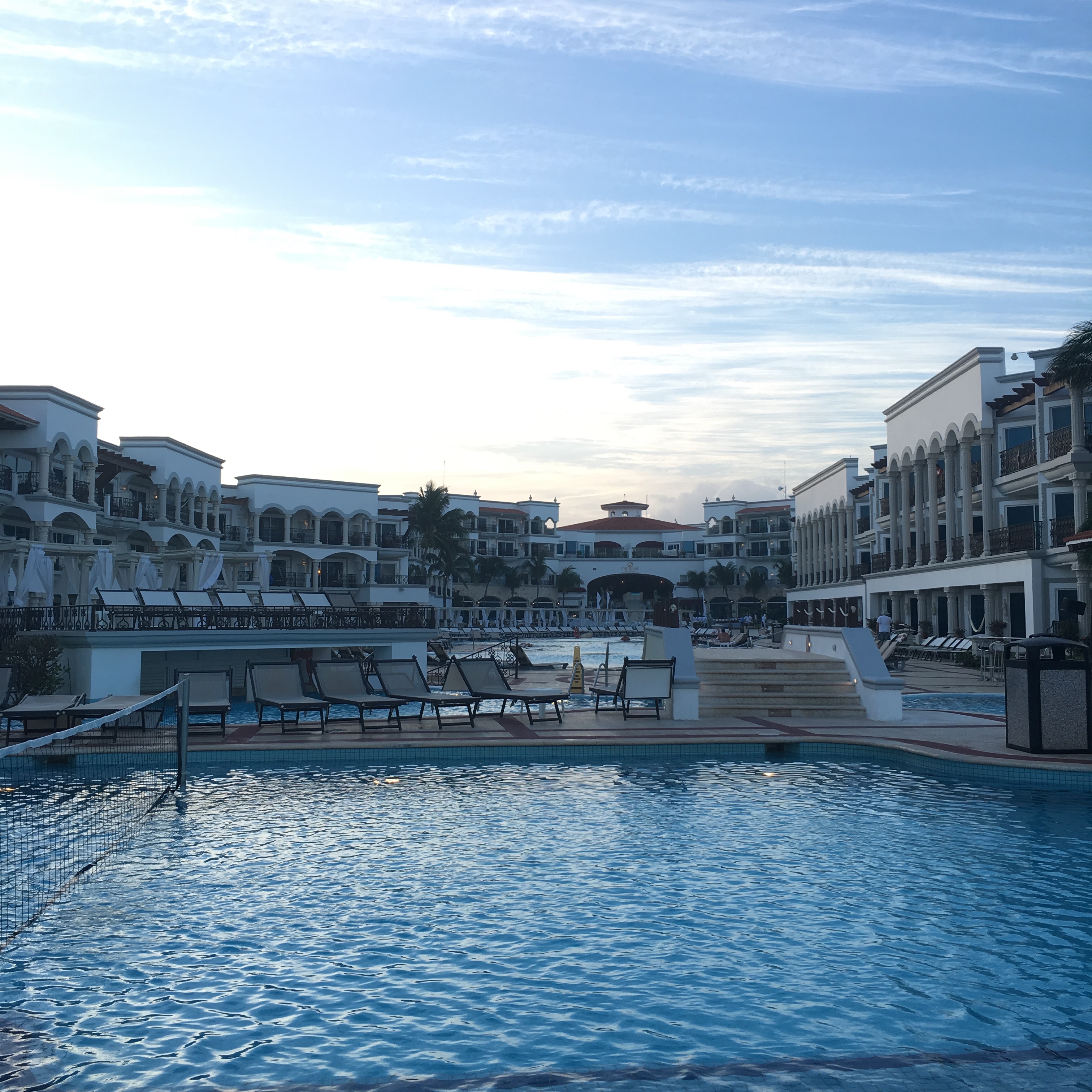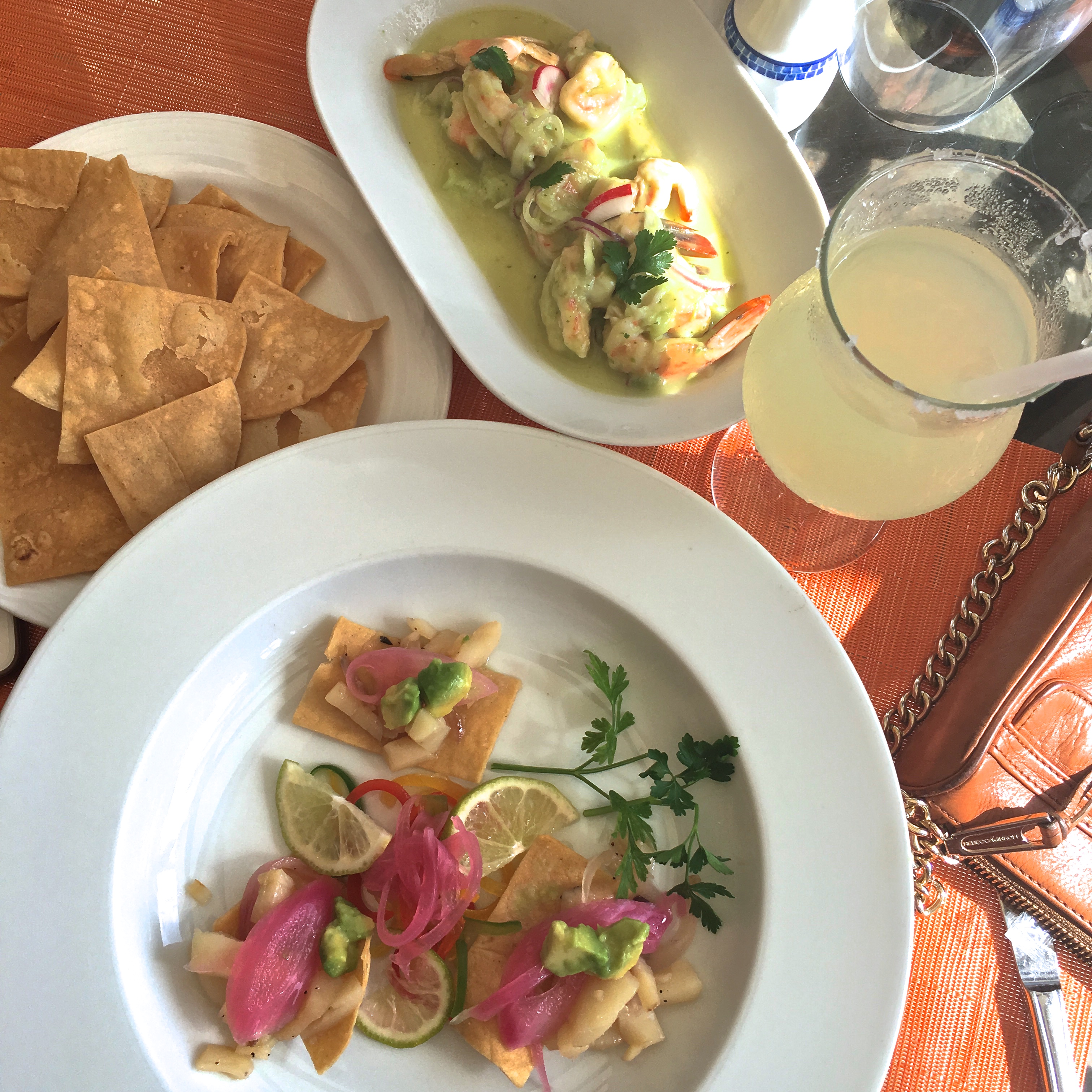 We explored the grounds, and then went to one of the 5 on site restaurants for ceviche, tacos, and margaritas. Everything, and I mean everything is all inclusive, so order as much as you want and you don't pay for a thing! It's the craziest concept but trust me when I say you get used to it quickly!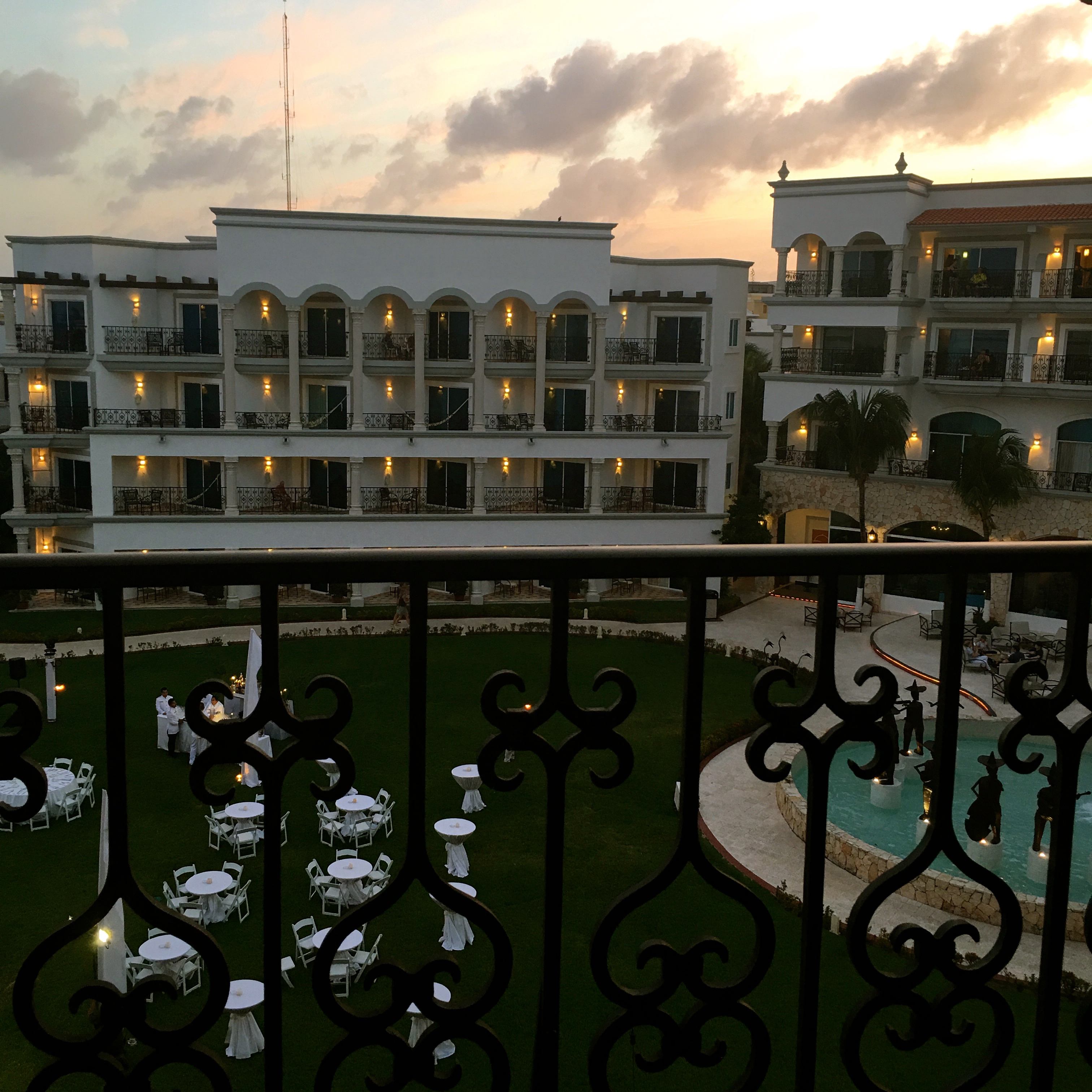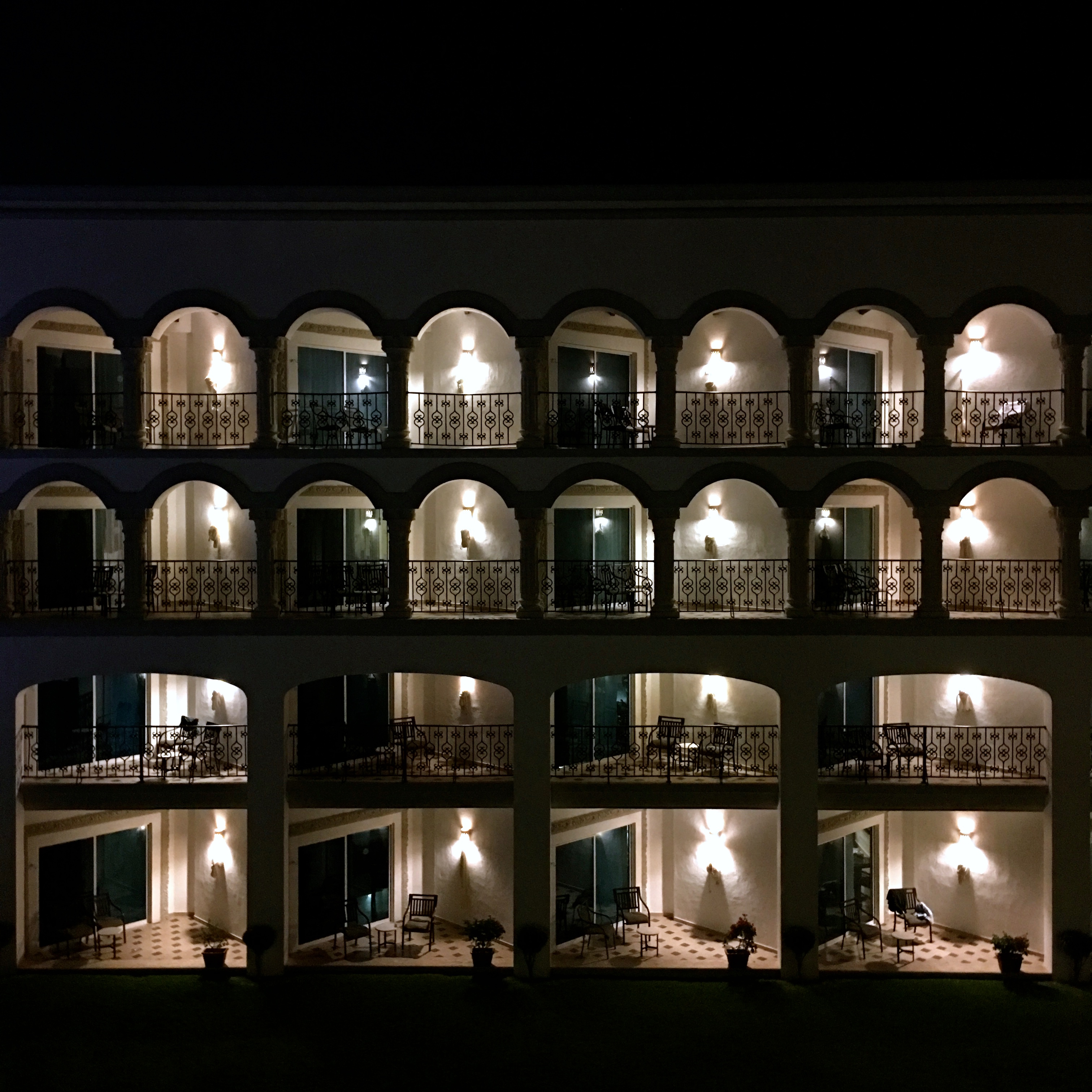 Our first night we decided to leave the resort and venture out to 5th Avenue. That's one of my favorite things about the hotel; it's not only beachfront but it's downtown too! If you're worried at all about it being unsafe, I promise it's incredibly Americanized. Starbucks, American Eagle, and Victoria's Secret line the store fronts, but there are a few hidden gems if you look.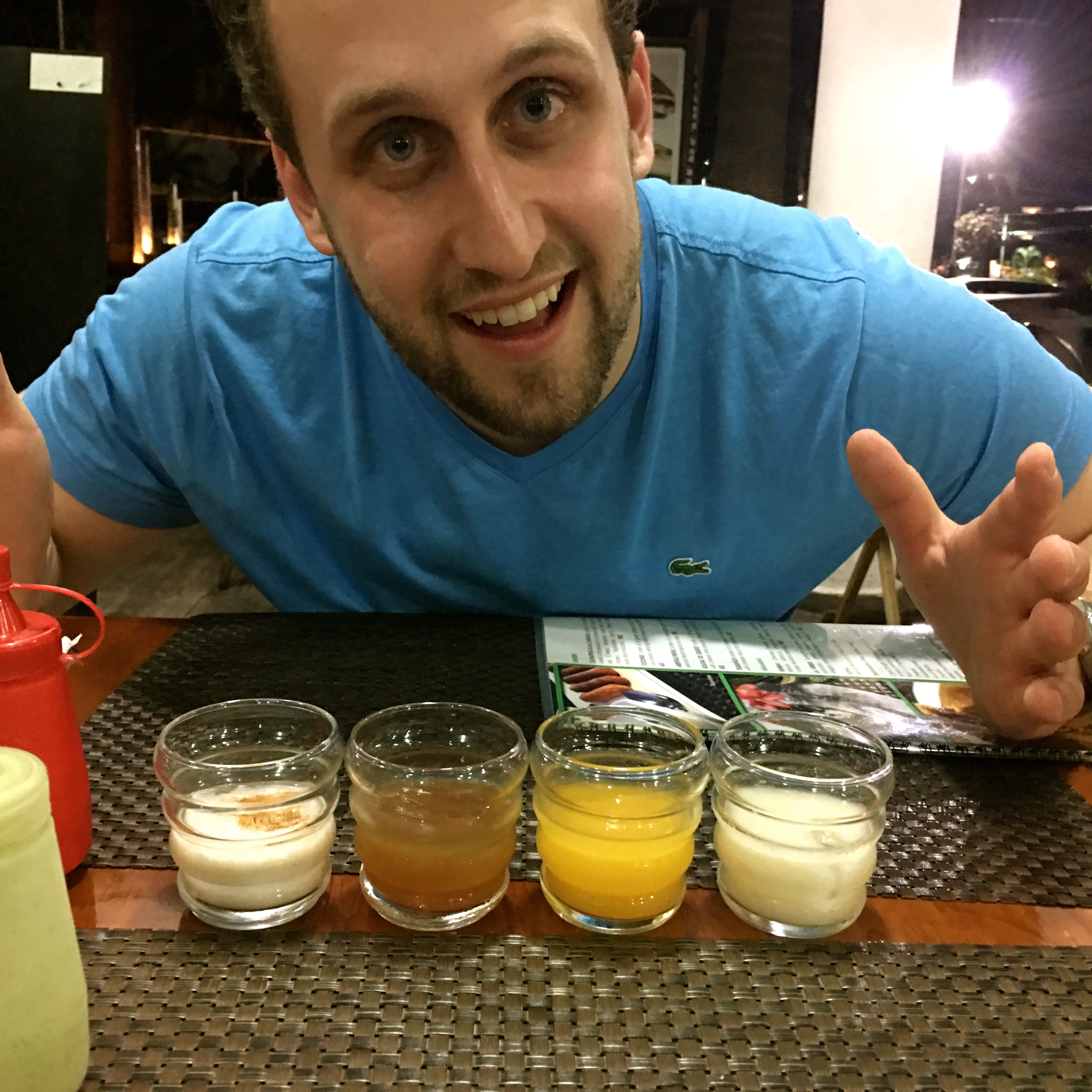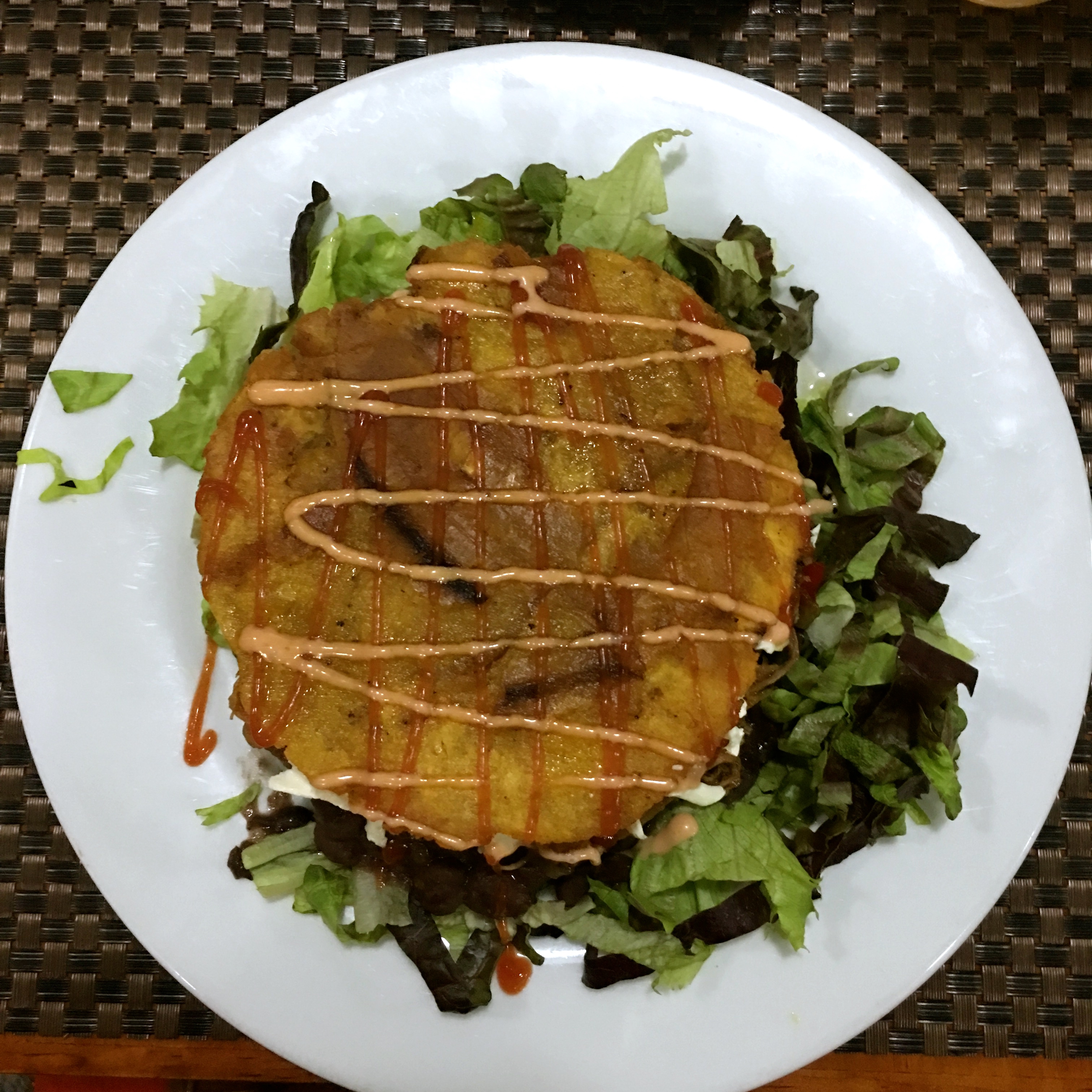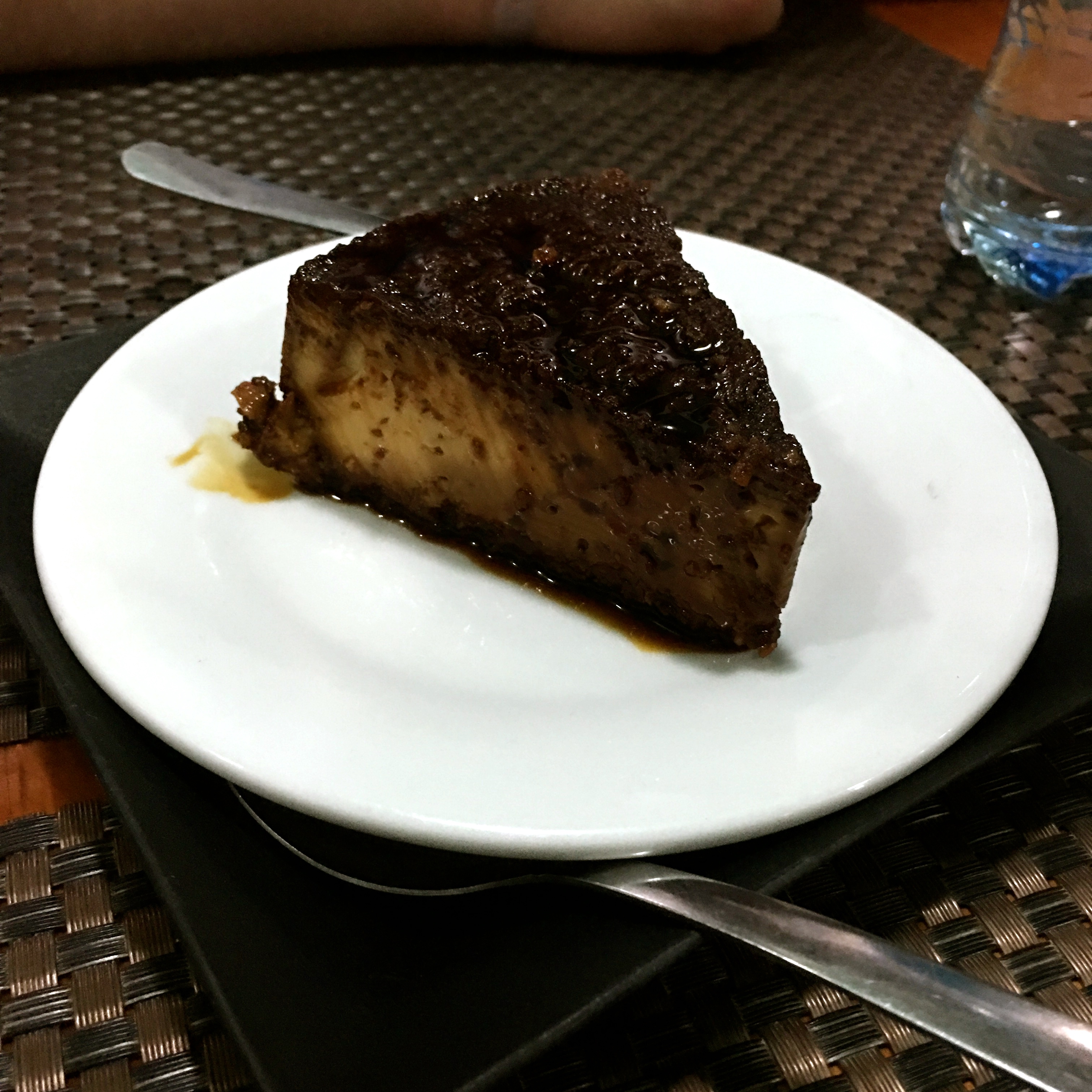 I would recommend El Fogon for authentic Mexican, or Kaxapa Factory for insanely good family owned Venezuelan food. We decided on Kaxapa, and were greeted by the kindest, most hospitable people I've ever met.
Our server brought us a flight of complimentary agua frescas in unique flavors like horchata, soursop, brown sugar lemon, and passion fruit. They were so refreshing and complimented our spicy meals perfectly.
I had a Patacon which is essentially a sandwich, but instead of bread it was fried plantains stuffed with pulled chicken, black beans, queso fresco, with a spicy aioli. There was so much flavor in everything, and the owner even brought us out a coconut flan on the house. Amazing service, great authentic food, I couldn't recommend it more. Oh, and it was only $25 for Zack and I to feast there! Overpriced D.C. restaurants take note.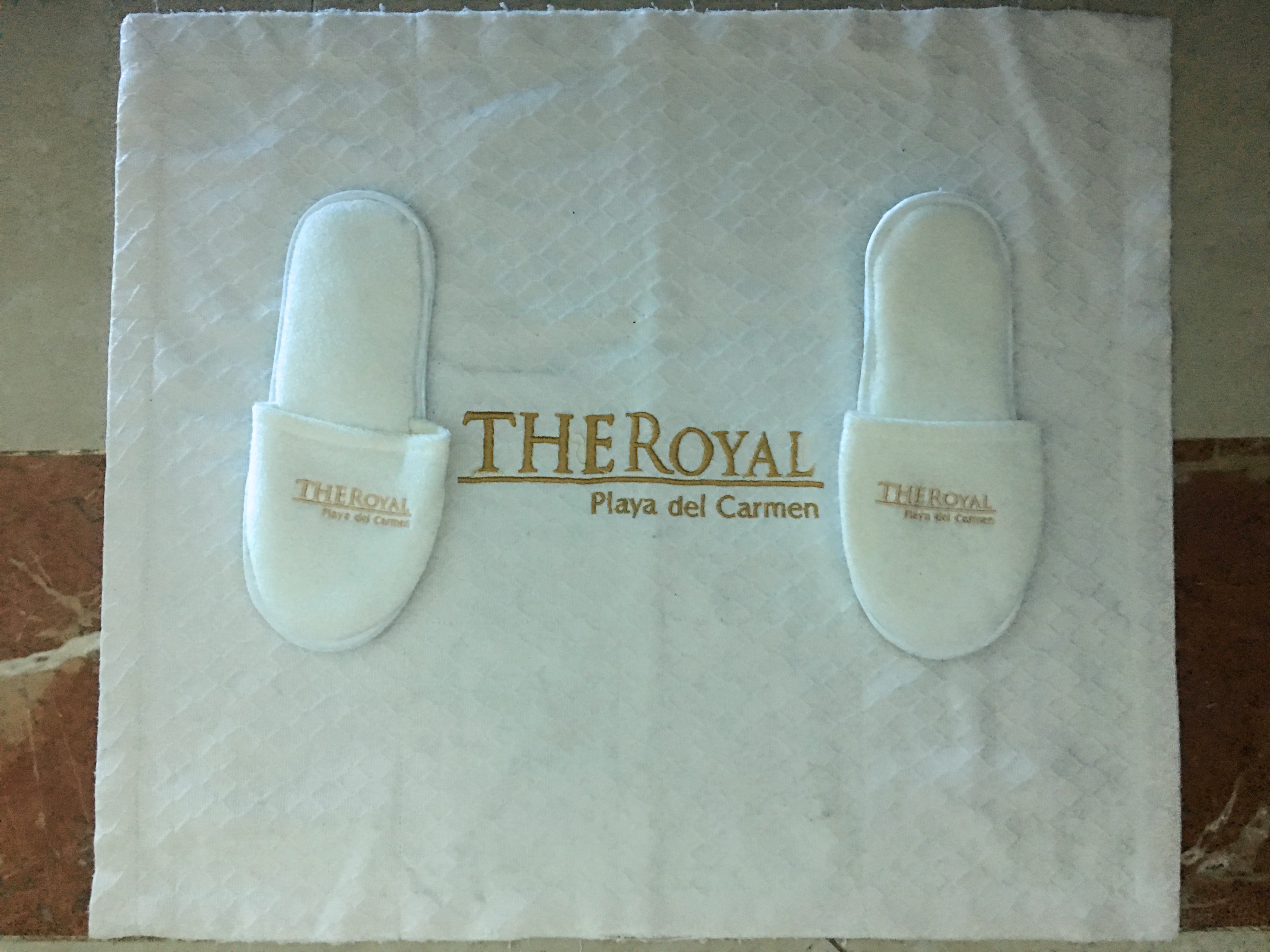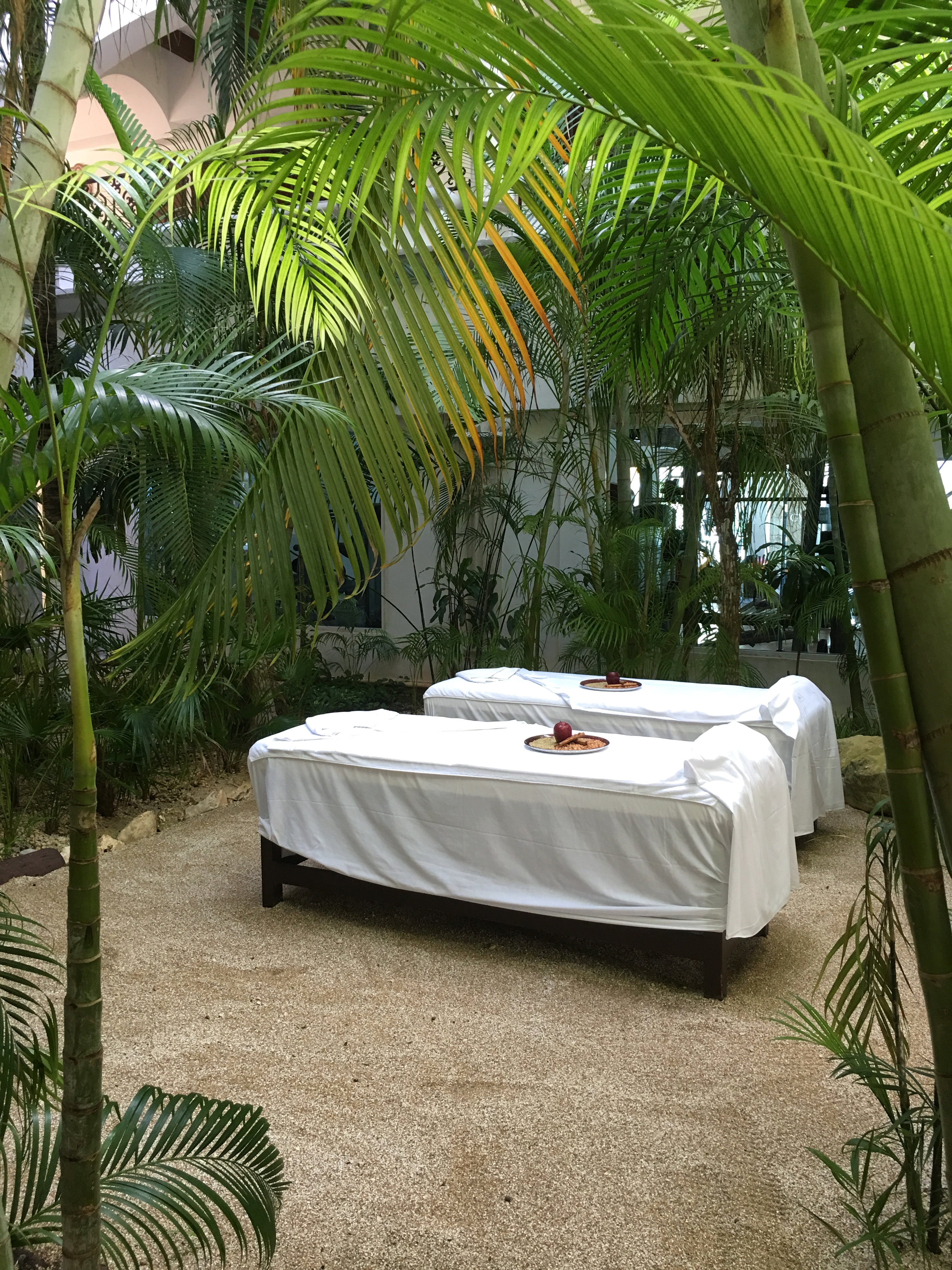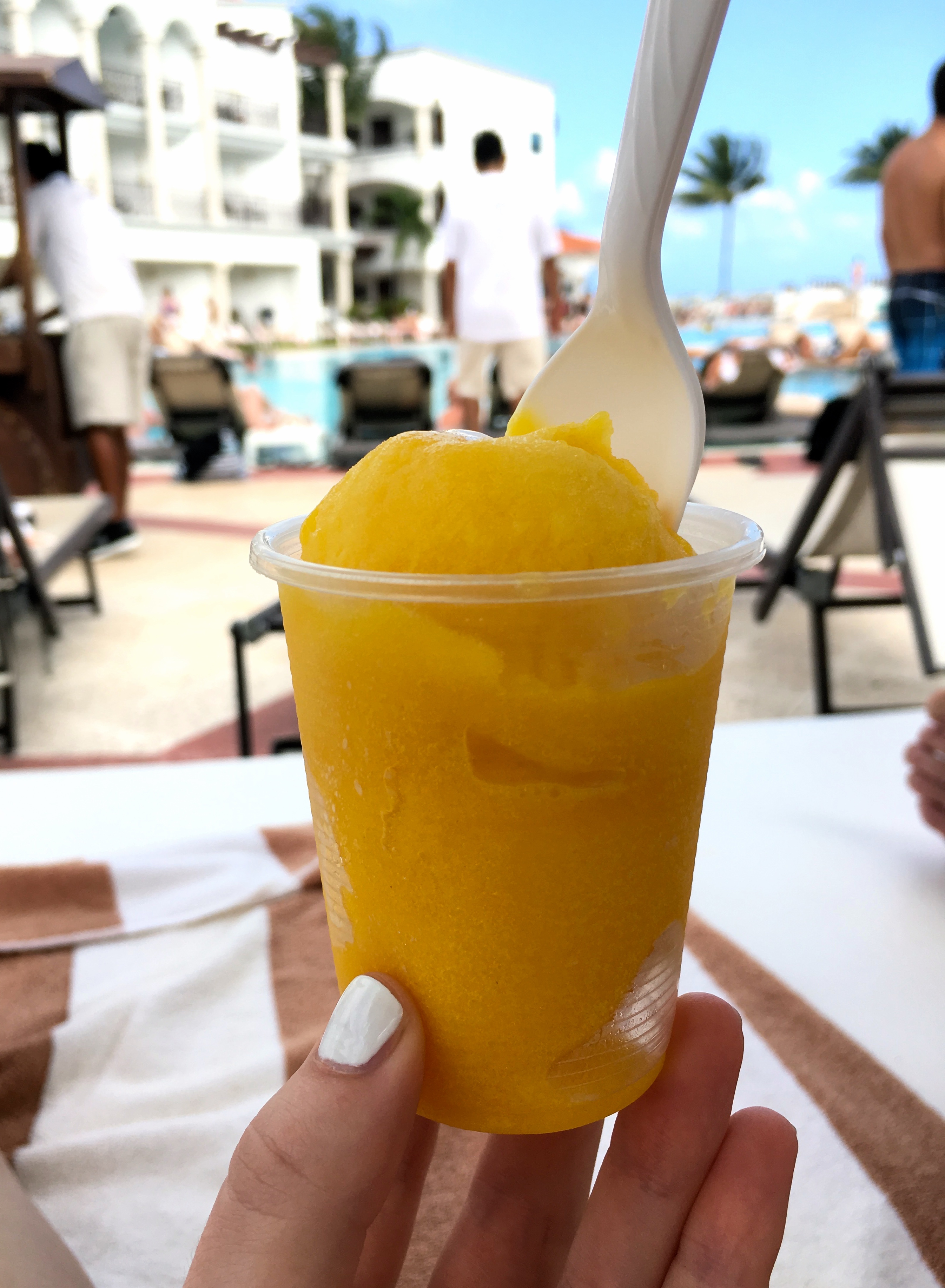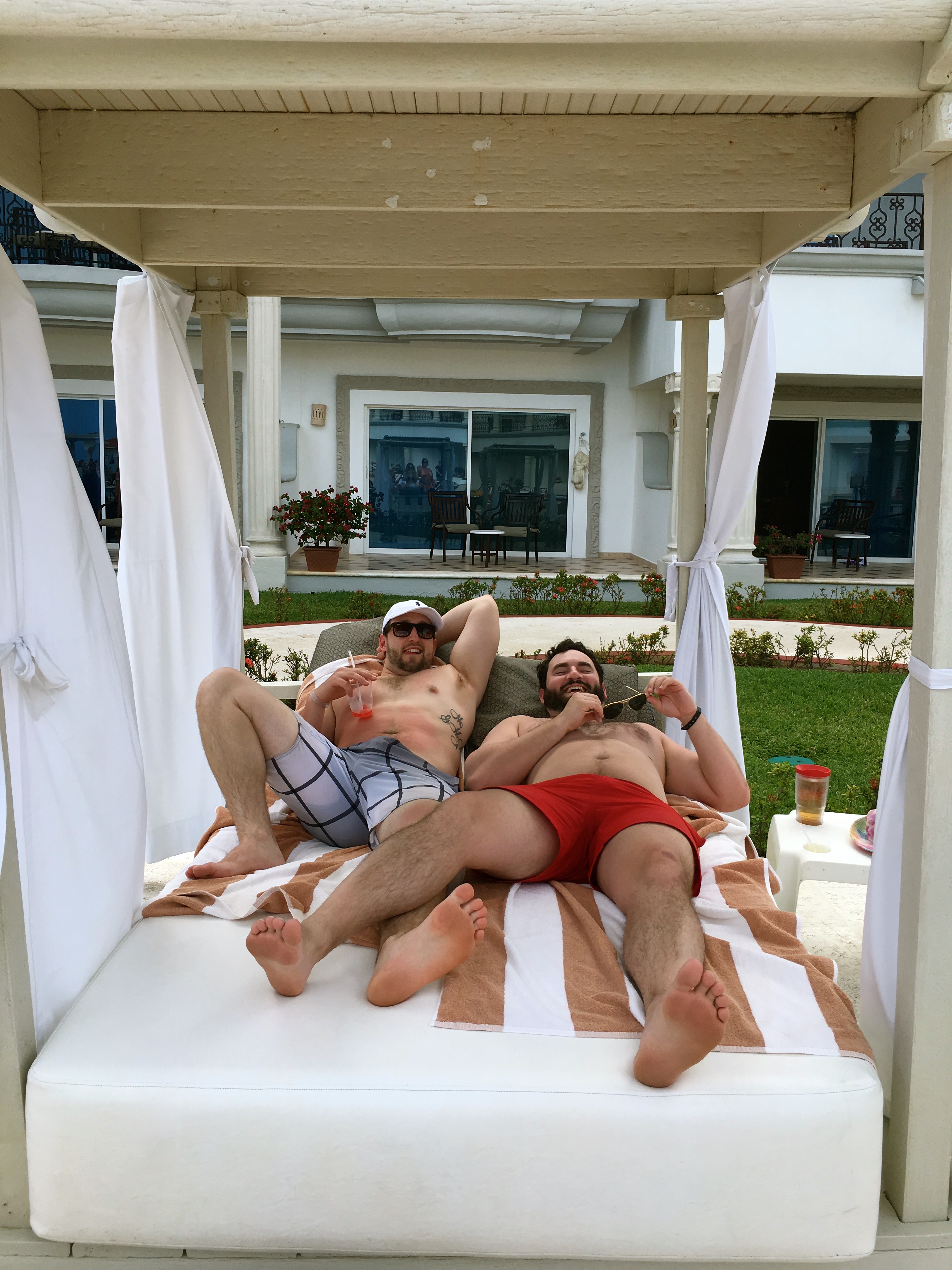 The next couple of days Zack and I just lounged by the pool. The resort has covered cabanas that are first come first serve, so set an alarm for 6:00am and grab one! It's so worth it to have one for the rest of the day.
There are always activities going on by the pool: paella making, dancing, pool workouts, etc., plus waiters come around bringing you free food and drinks. It's seriously heaven.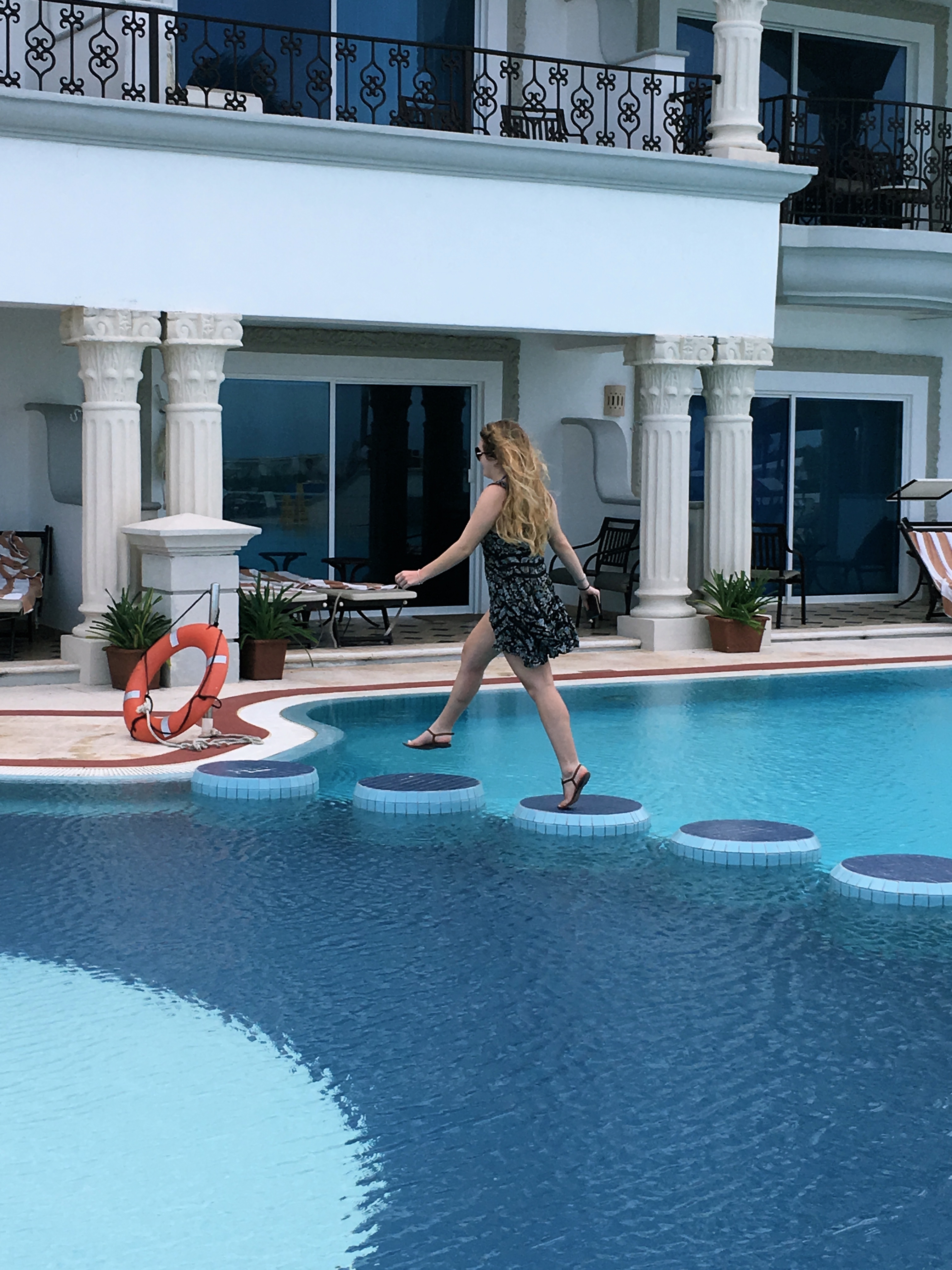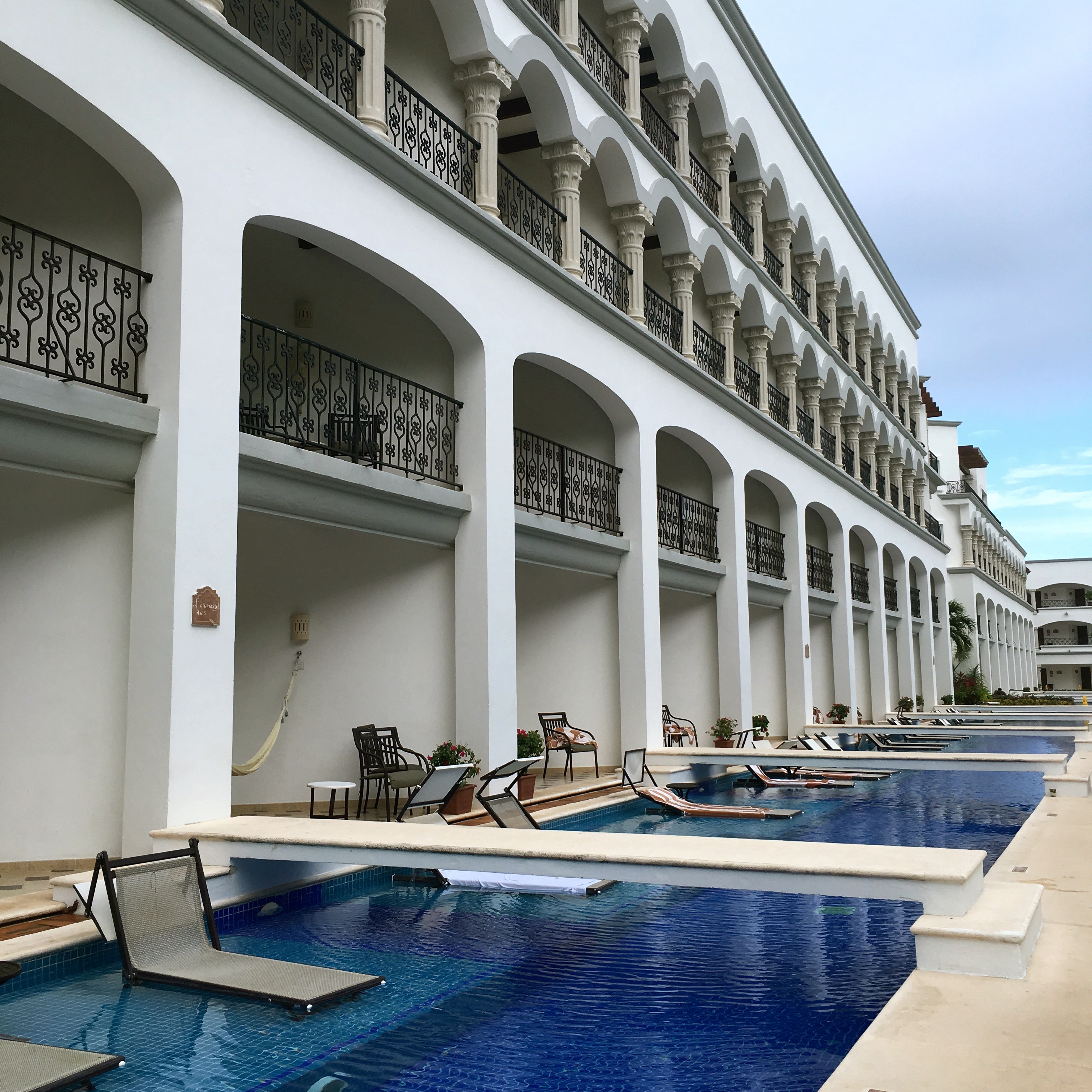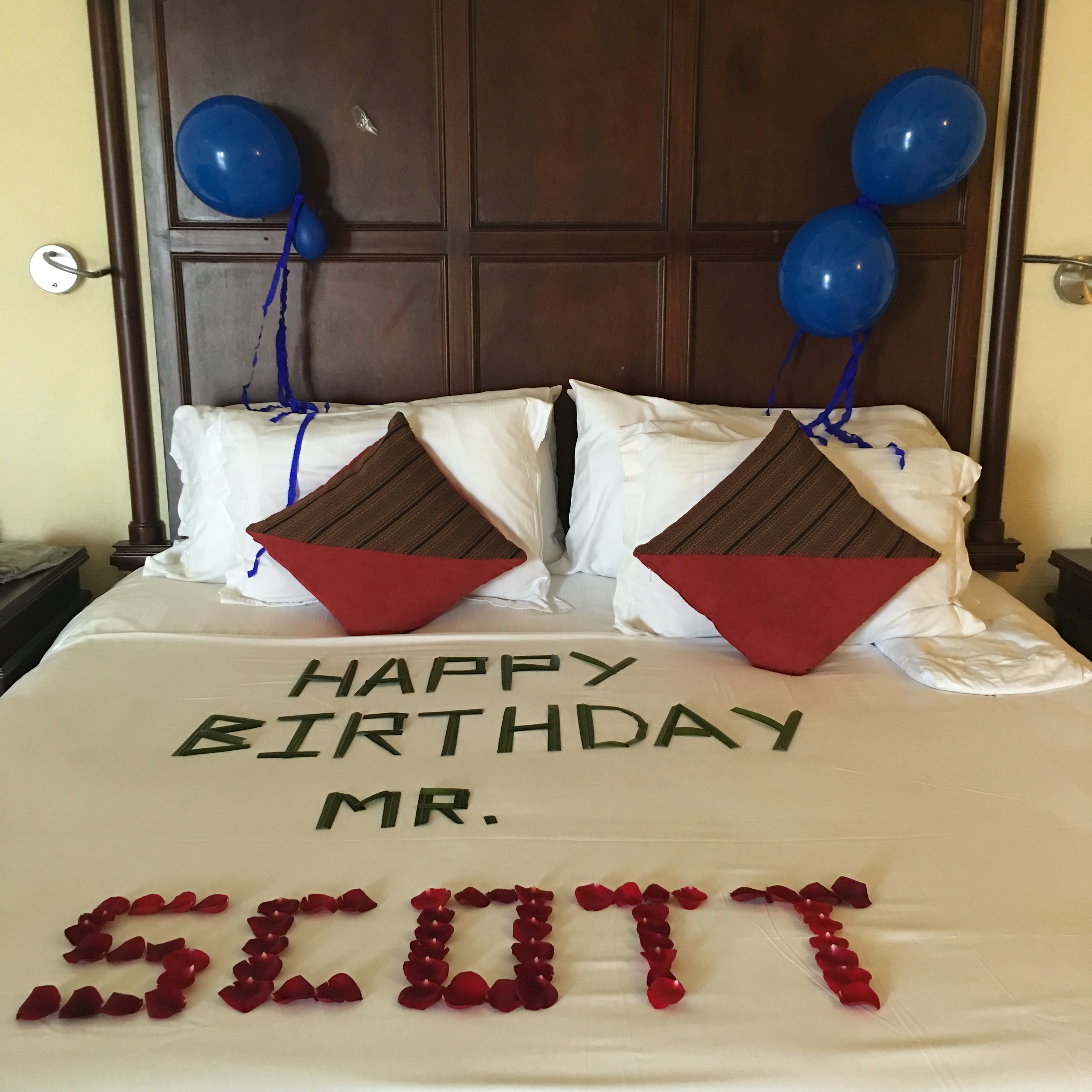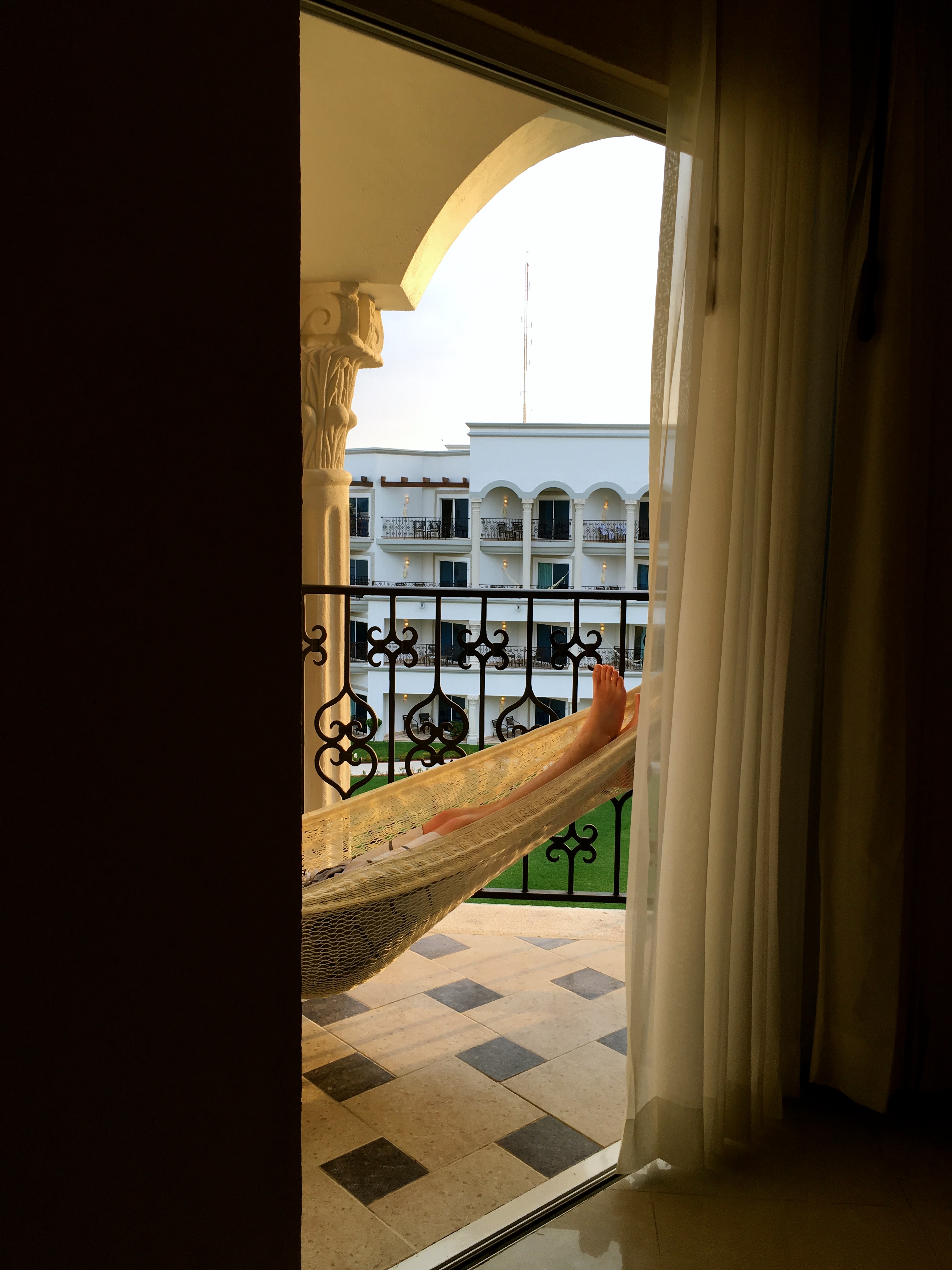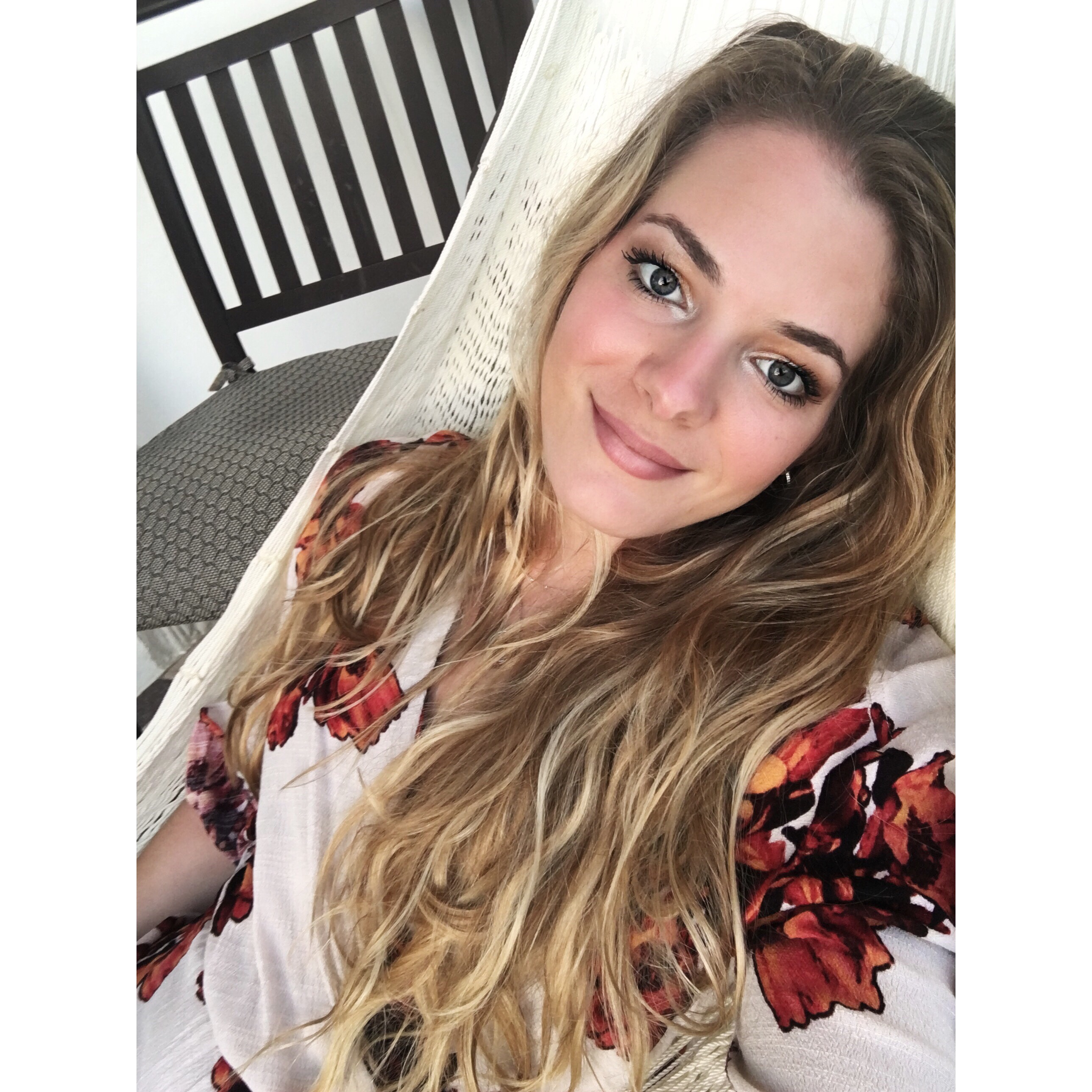 When we came back to our room the housekeeping staff had left Zack a happy birthday message in rose petals! Every day they do something sweet; whether it's towel animals, candies, or in this case a birthday surprise. This hotel has without a doubt the best staff I've ever encountered!
There are many vendors around the resort that sell excursion packages, so Zack and I decided to do one. Three word of advice: negotiate, negotiate, negotiate. You wouldn't believe the prices we got just by asking. And yes, we're both in sales 🙂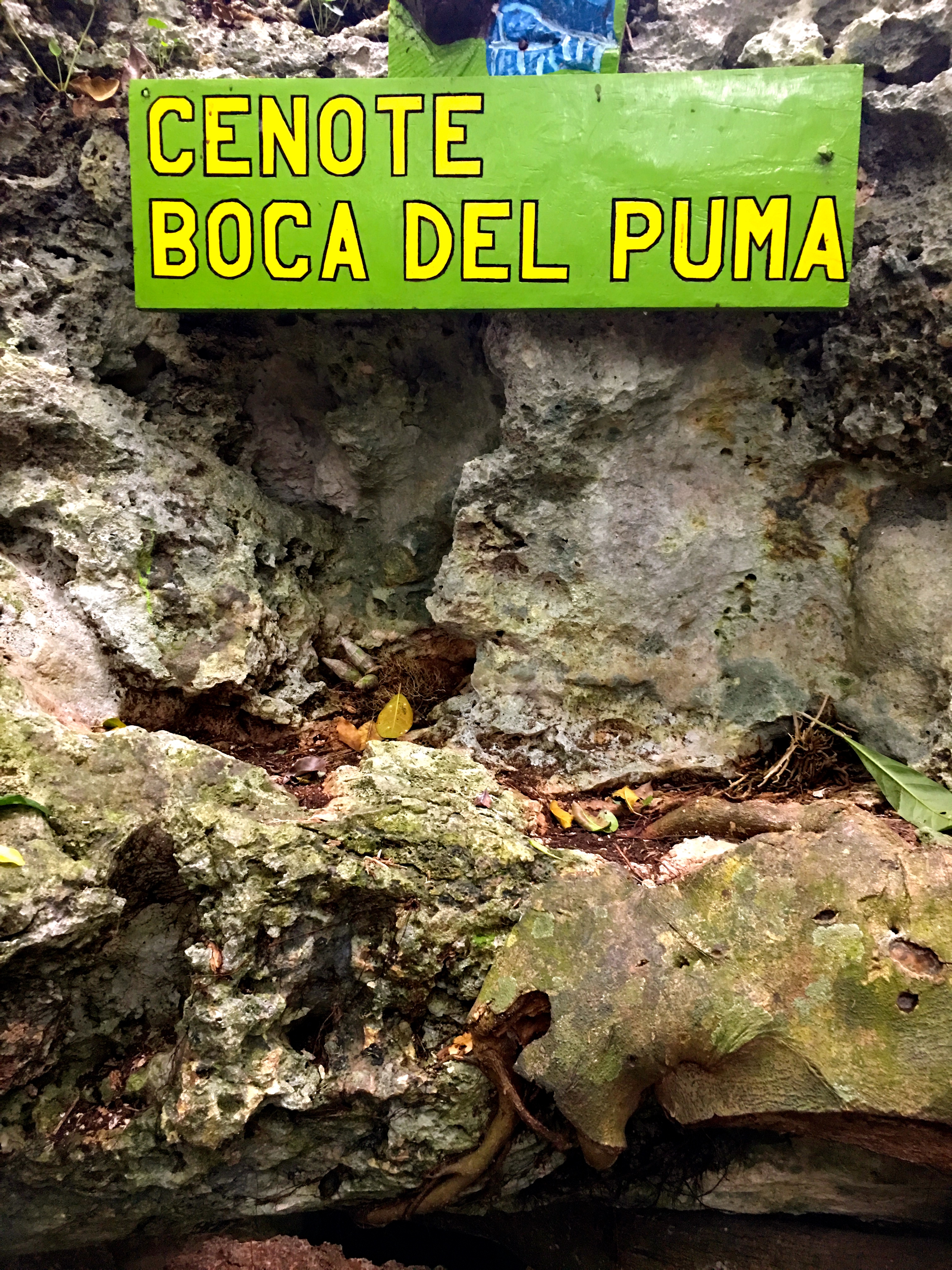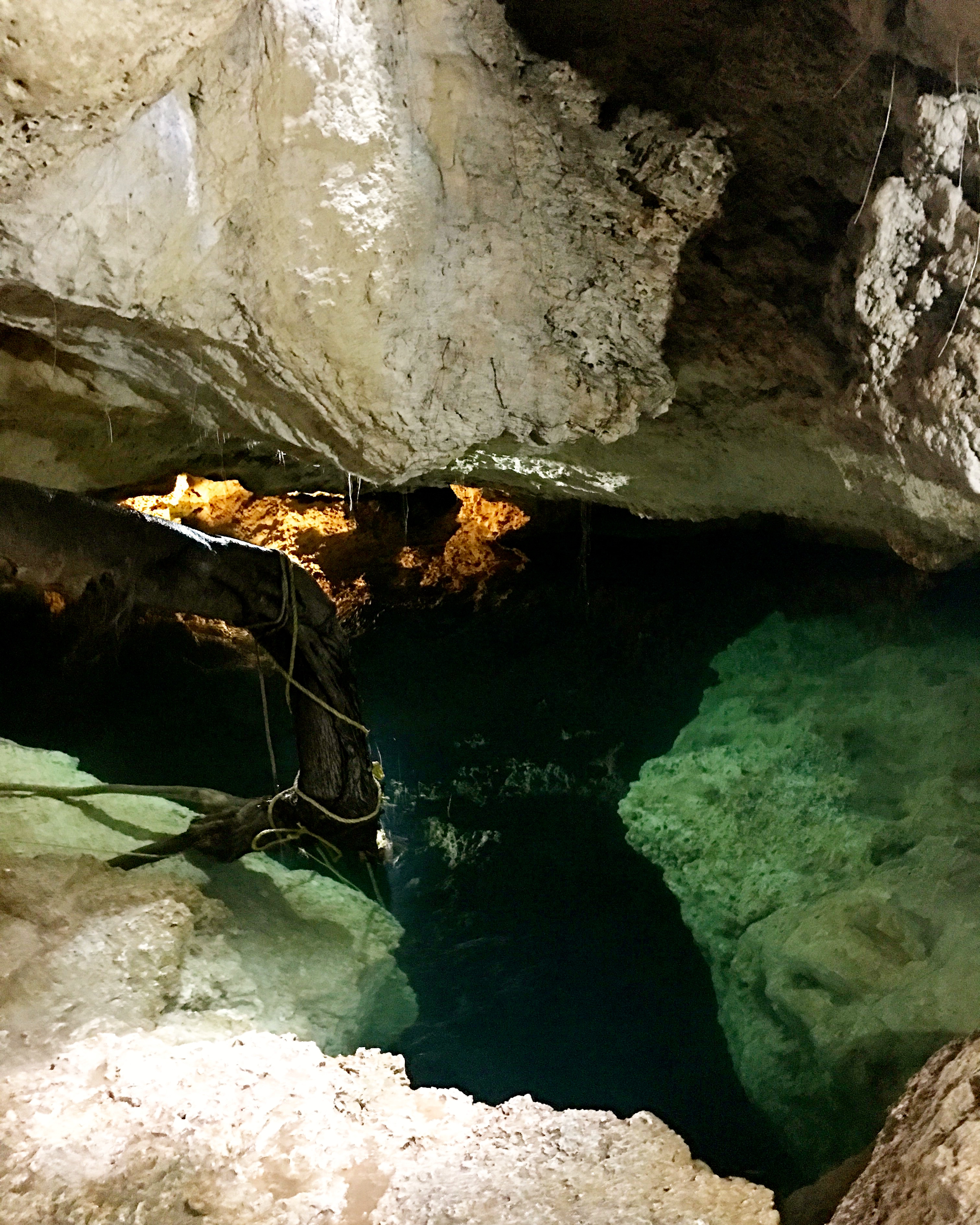 We chose to go to an ecological park called Boca Del Puma, which was a 45 minute drive from the hotel. The staff there reminded me so much of our hotel. Everyone was so kind and went out of their way to make sure we had a great experience.
We went cave swimming in a cenote (sinkhole), ATV riding, and zip lining.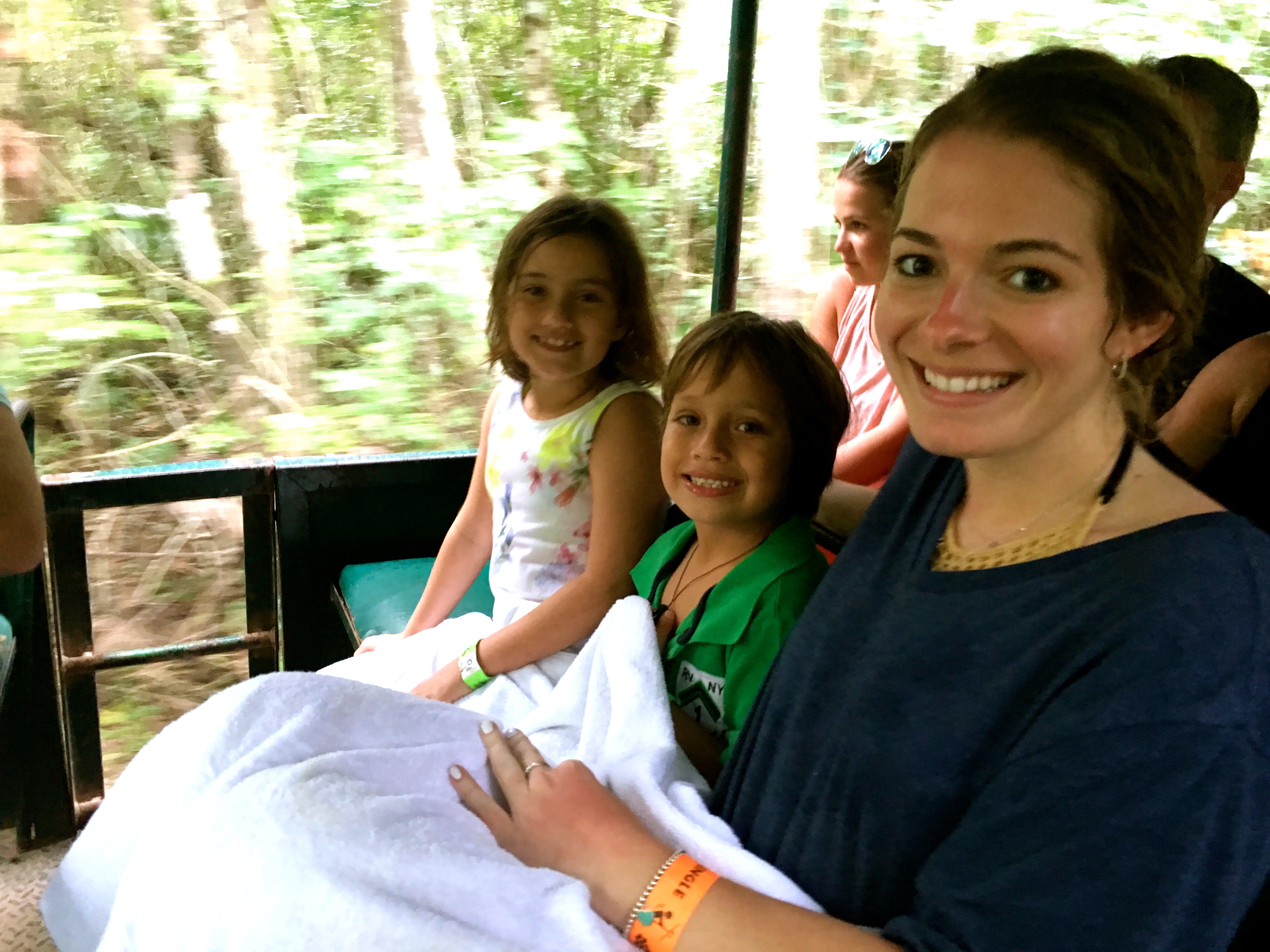 I didn't have my phone to take pictures, but I added a lot of footage to the video I made!
One note about the excursion…They tell you food will be provided, but it was honestly terrible. Pack a snack, and eat at the hotel instead!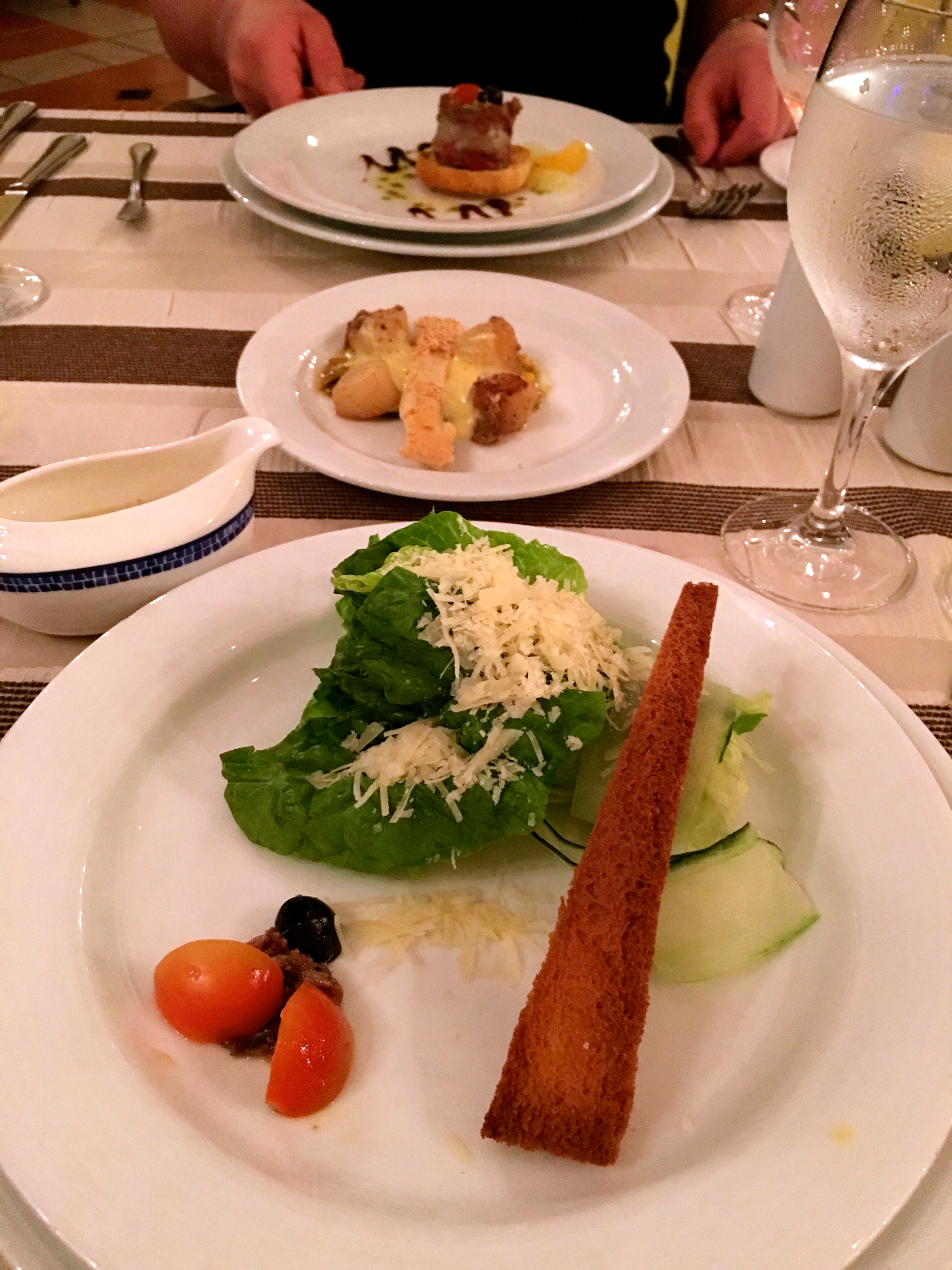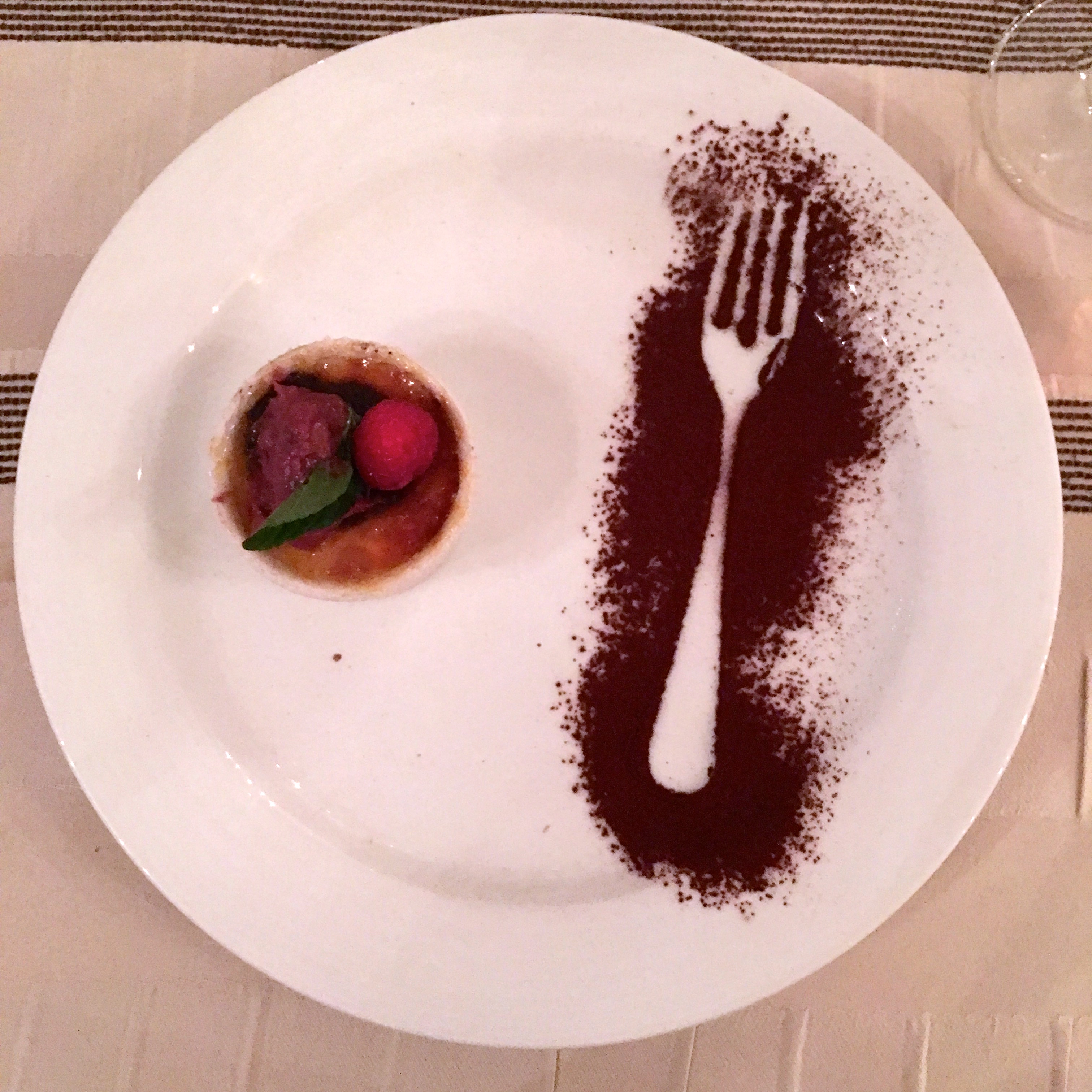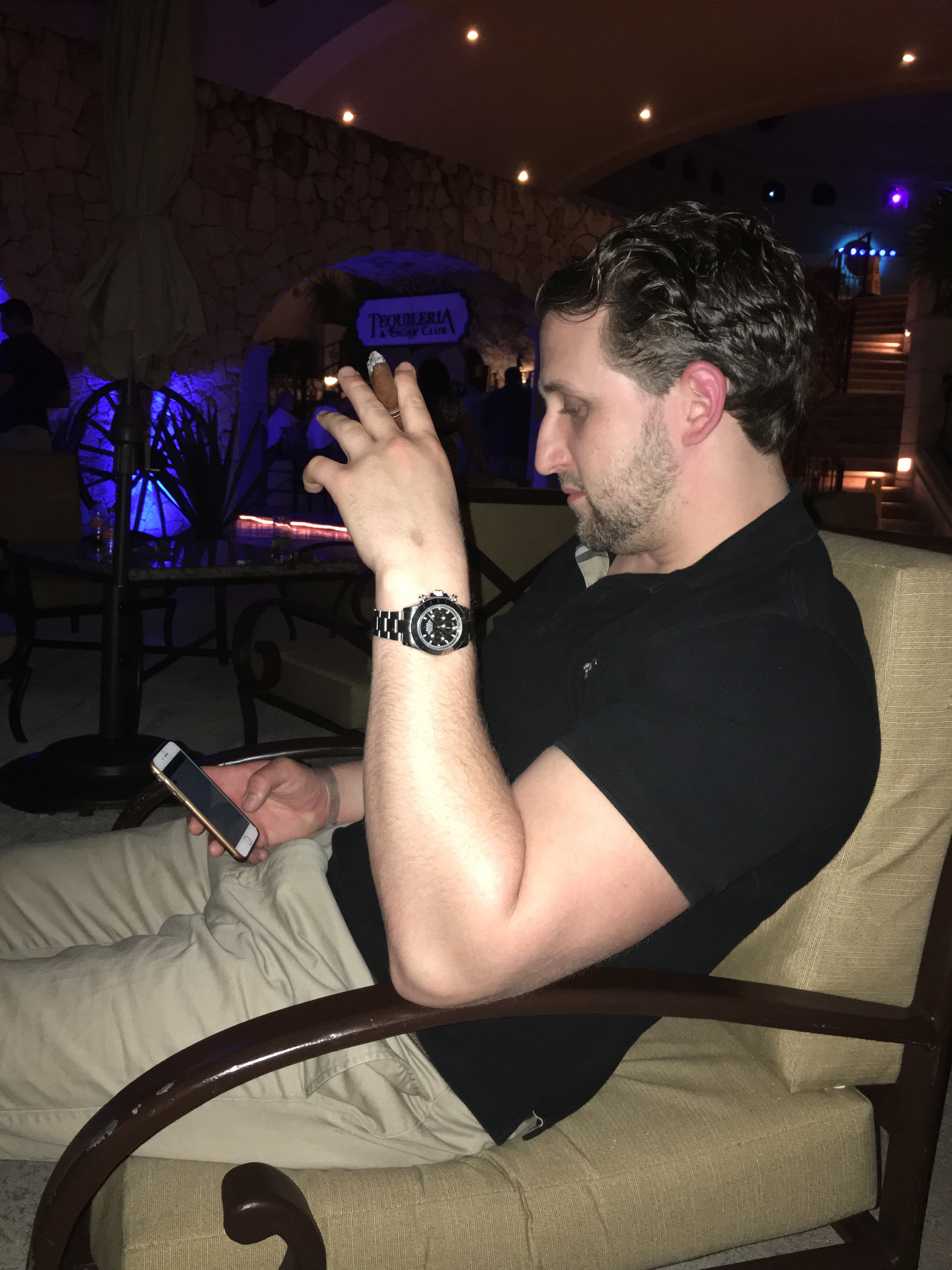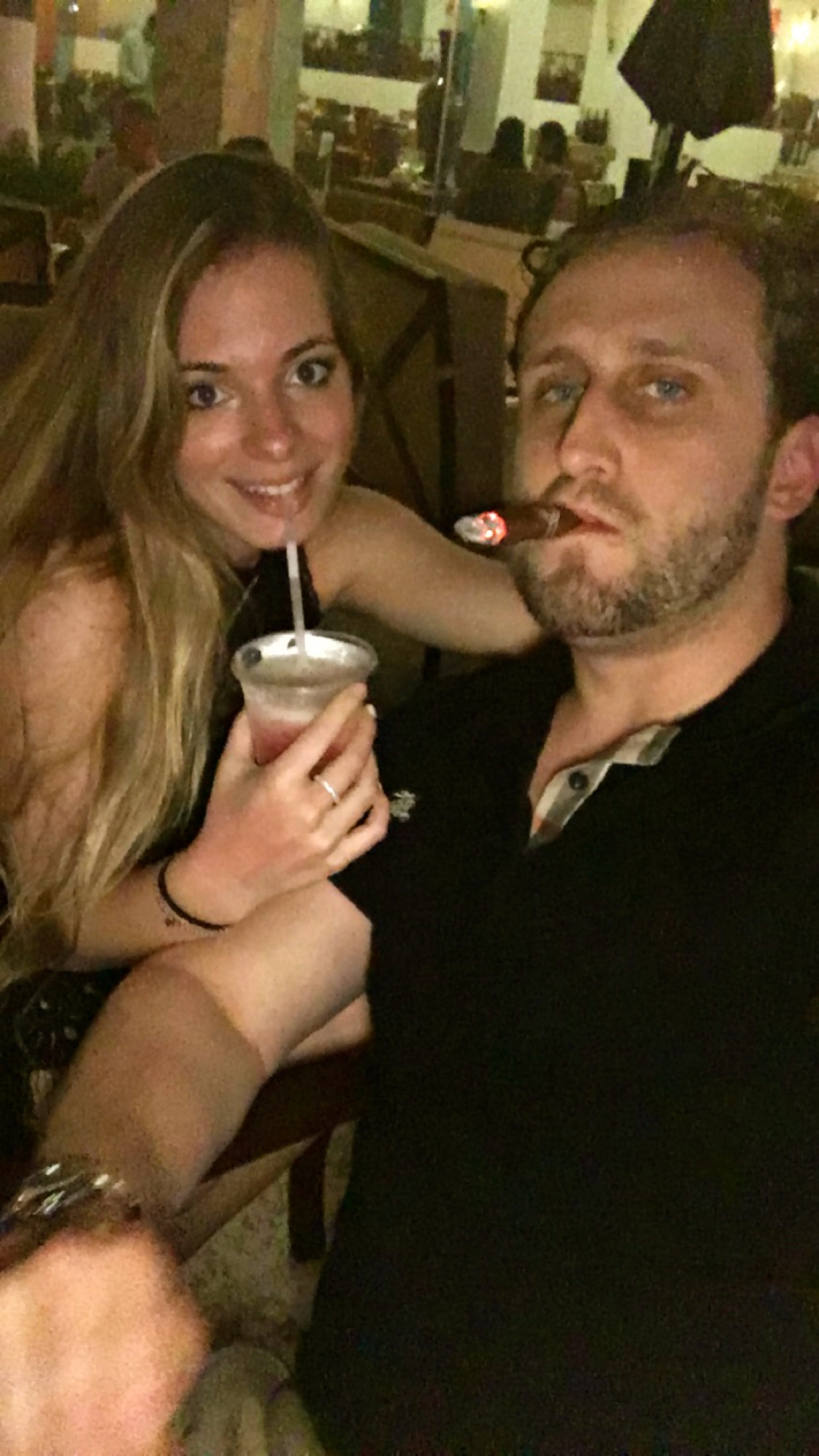 After the excursion we fell asleep for a few hours, and then went to my favorite restaurant at the resort called Maria Marie. It specializes in steaks, and Zack vouched for how incredible they were. I of course fell in love with the creme brulee.
There was a woman outside by the pool that sells cigars, so Zack picked up a Cuban, and we sipped Miami Vices while watching the nightly show the resort puts on. Life is so good! And just when you think it can't get any better, you find the 24/7 food and alcohol buffet….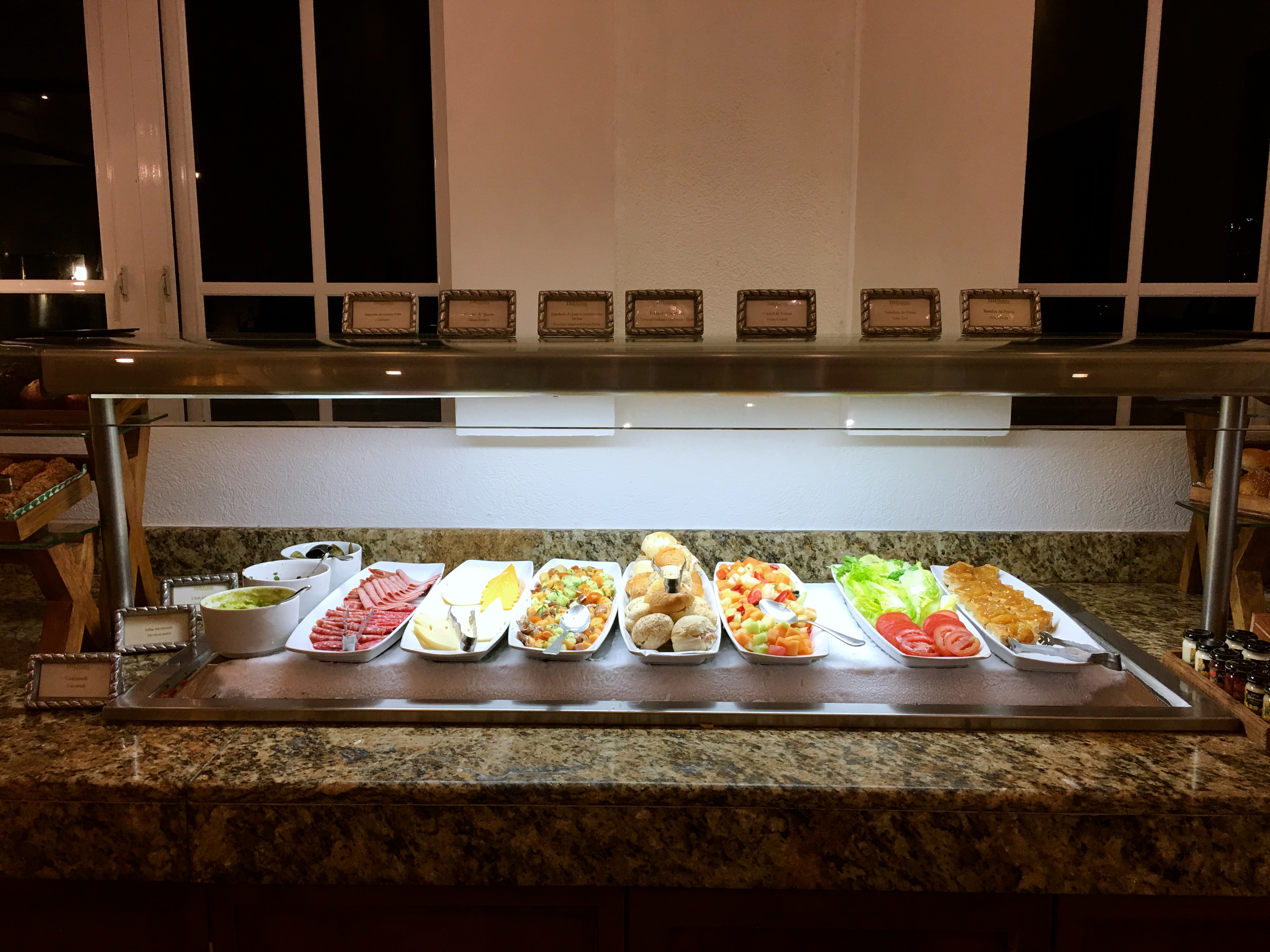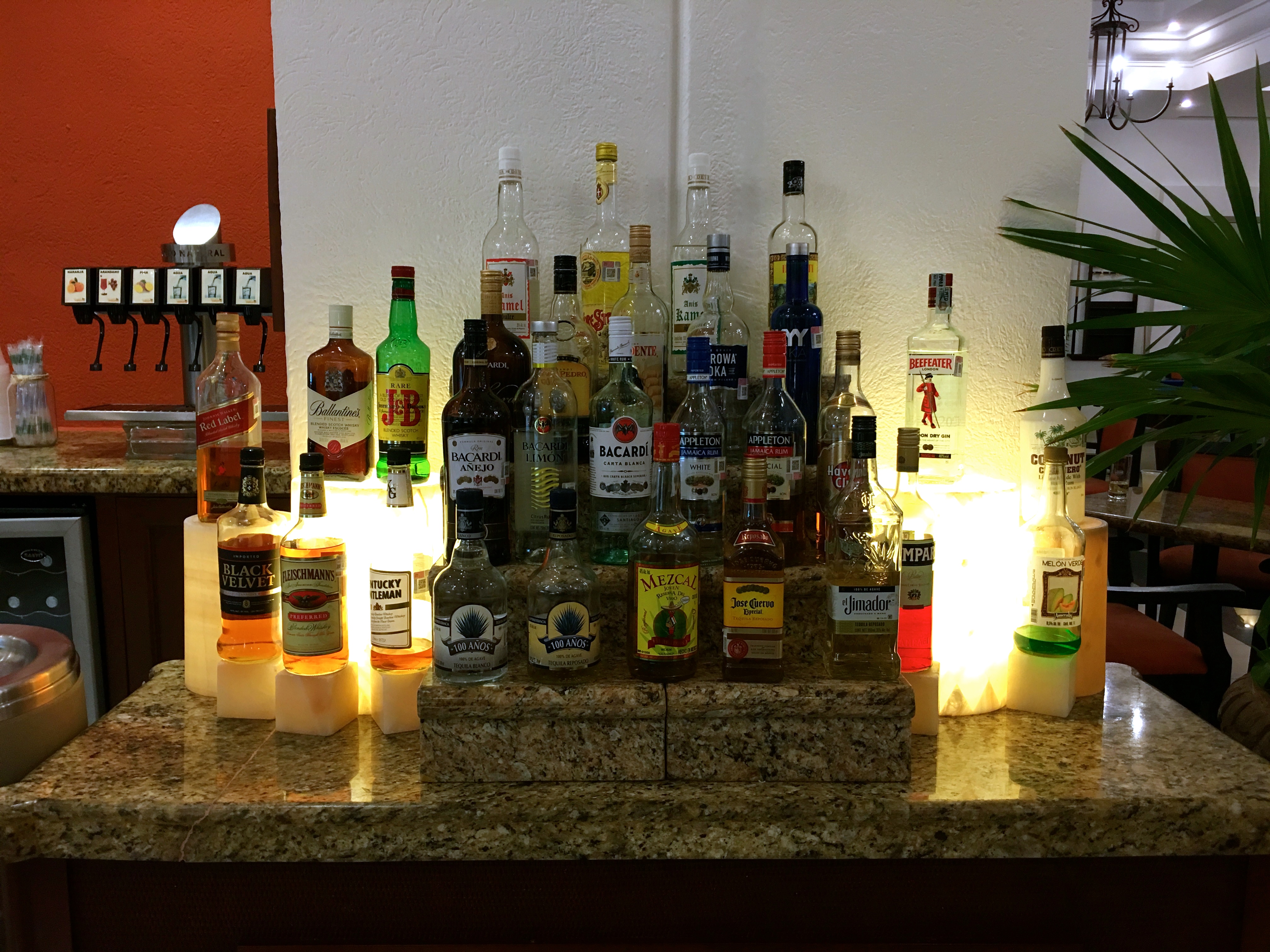 It sounds too good to be true, but I can promise it's not. Unlimited food, liquor, champagne, beer, wine, etc. all available all day e'rry day. Like I said, this place is heaven.
We had our fair share of champagne, and then headed downtown to shop and walk off hopefully some of what we had eaten.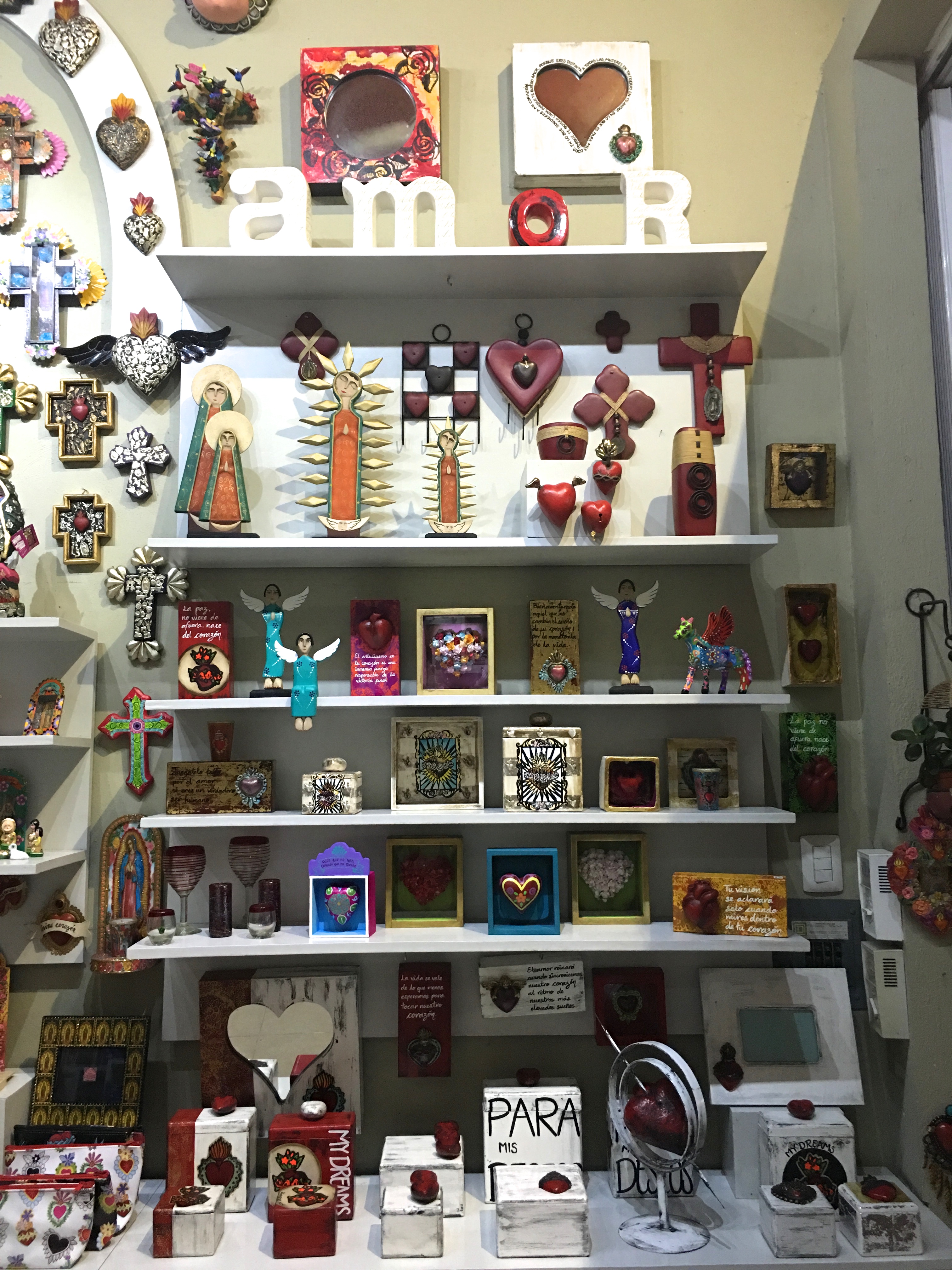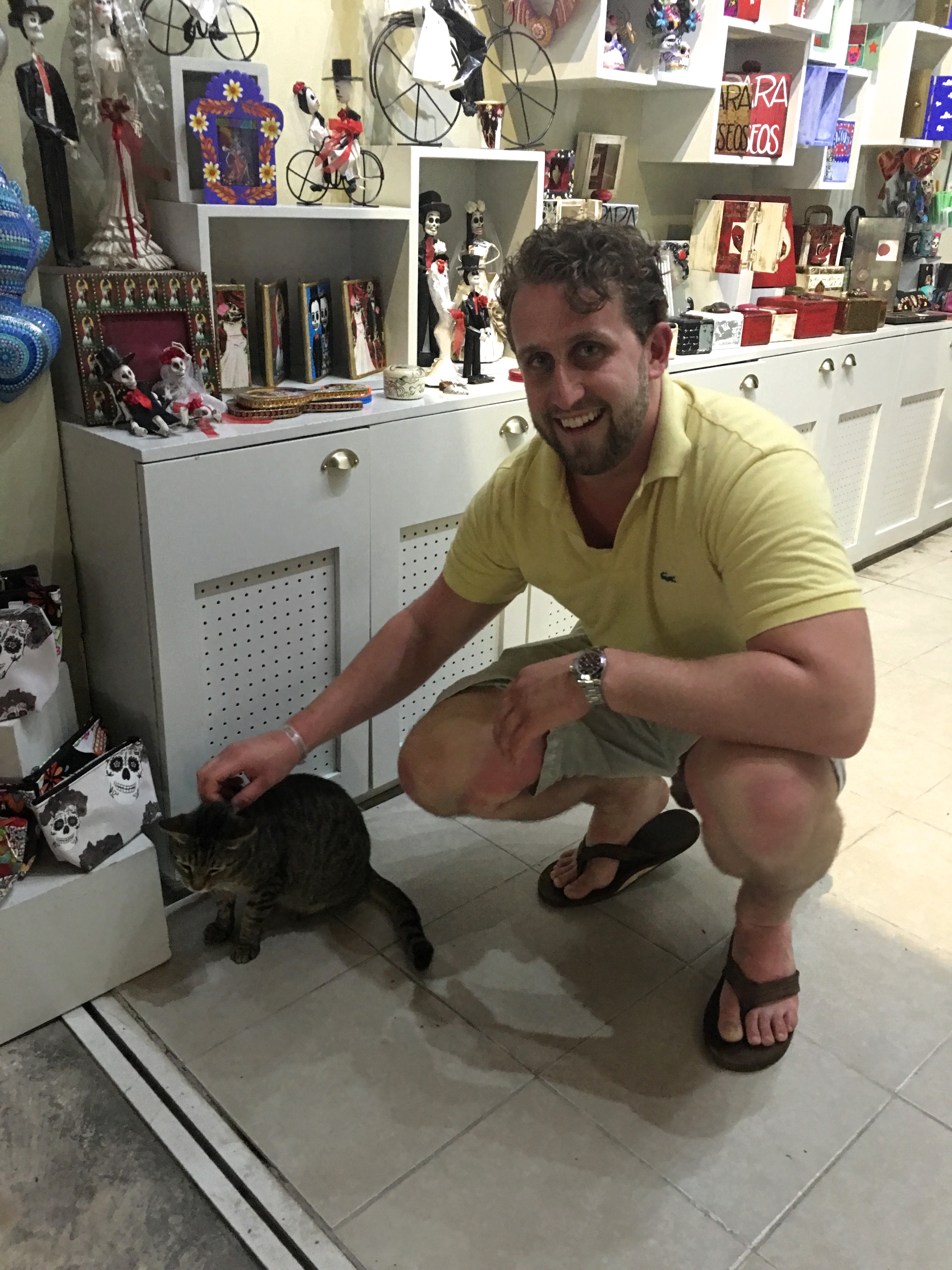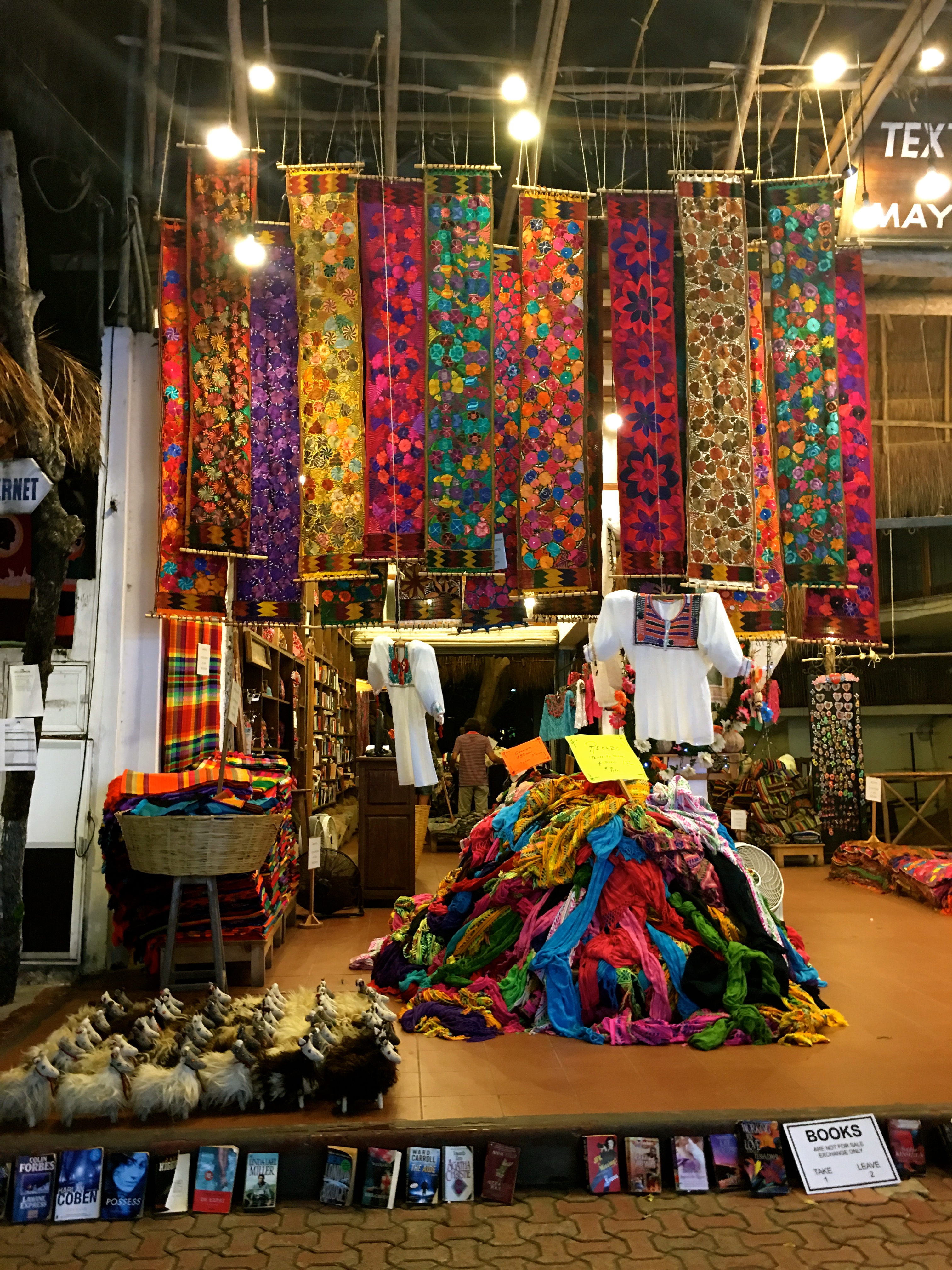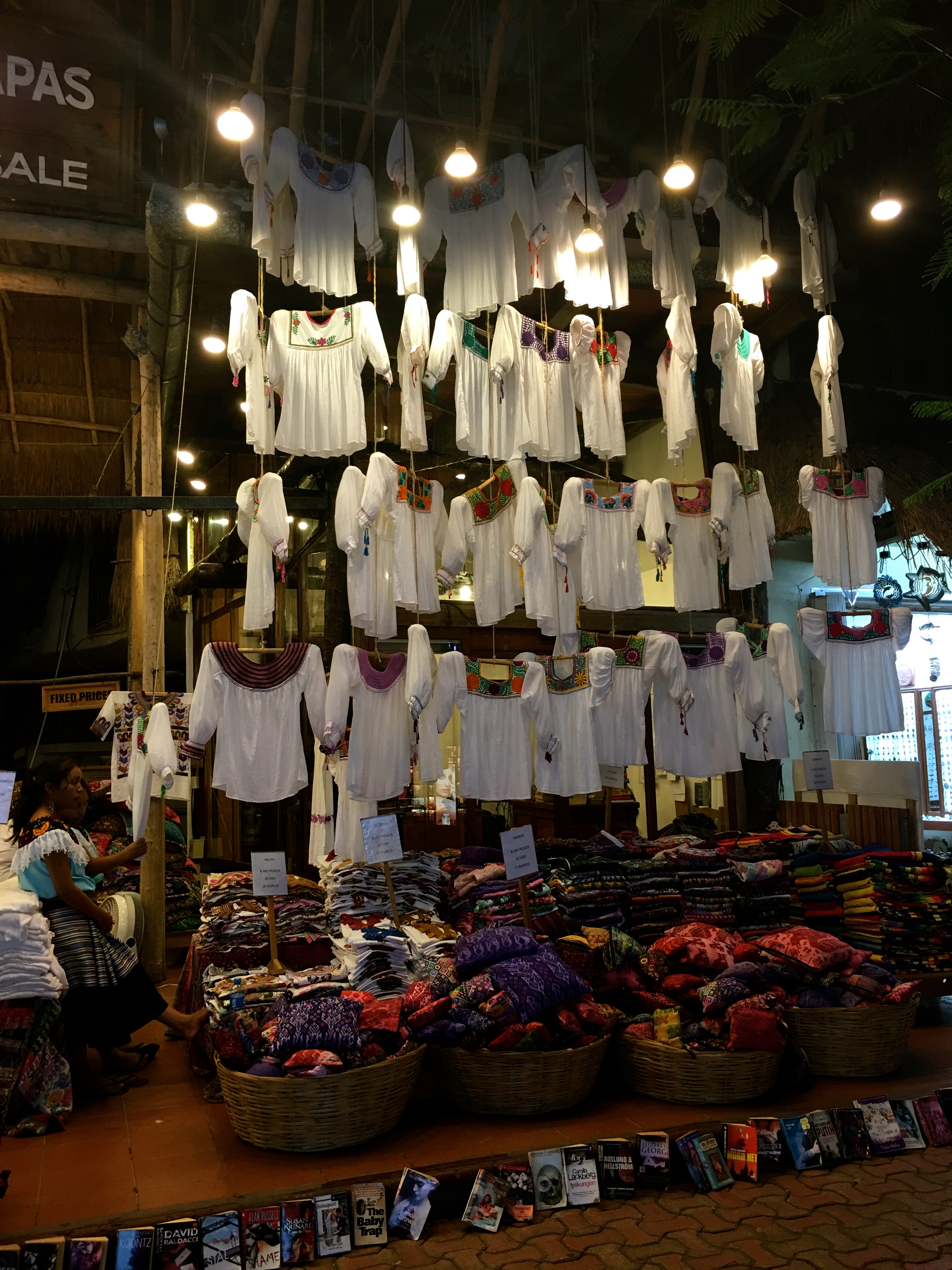 The street shops are vibrant, and packed with great gifts to bring home. I found little glasses with a hand blown cactus in the bottom to bring home to my parents, and Zack as usual found a cat *face palm*.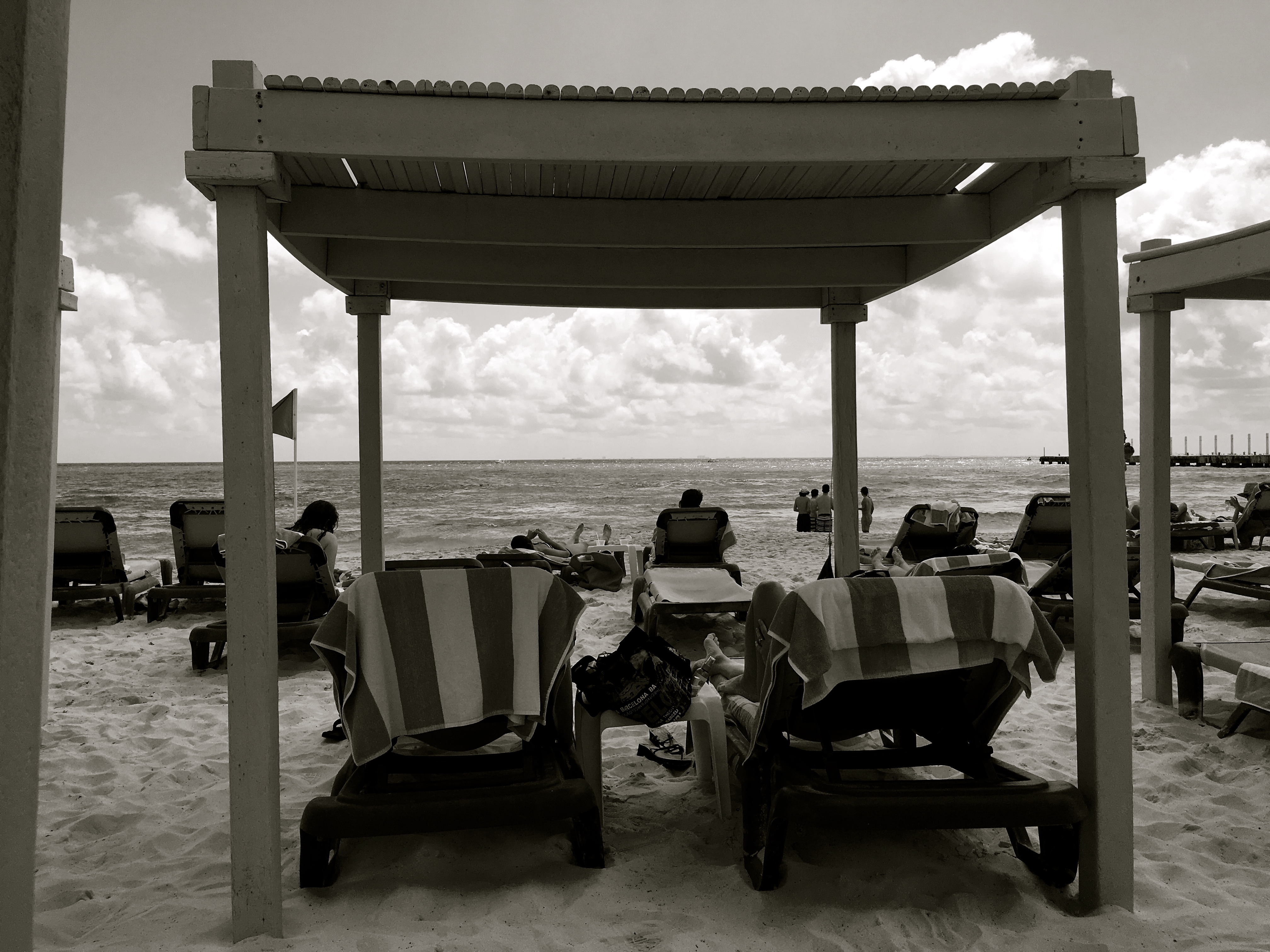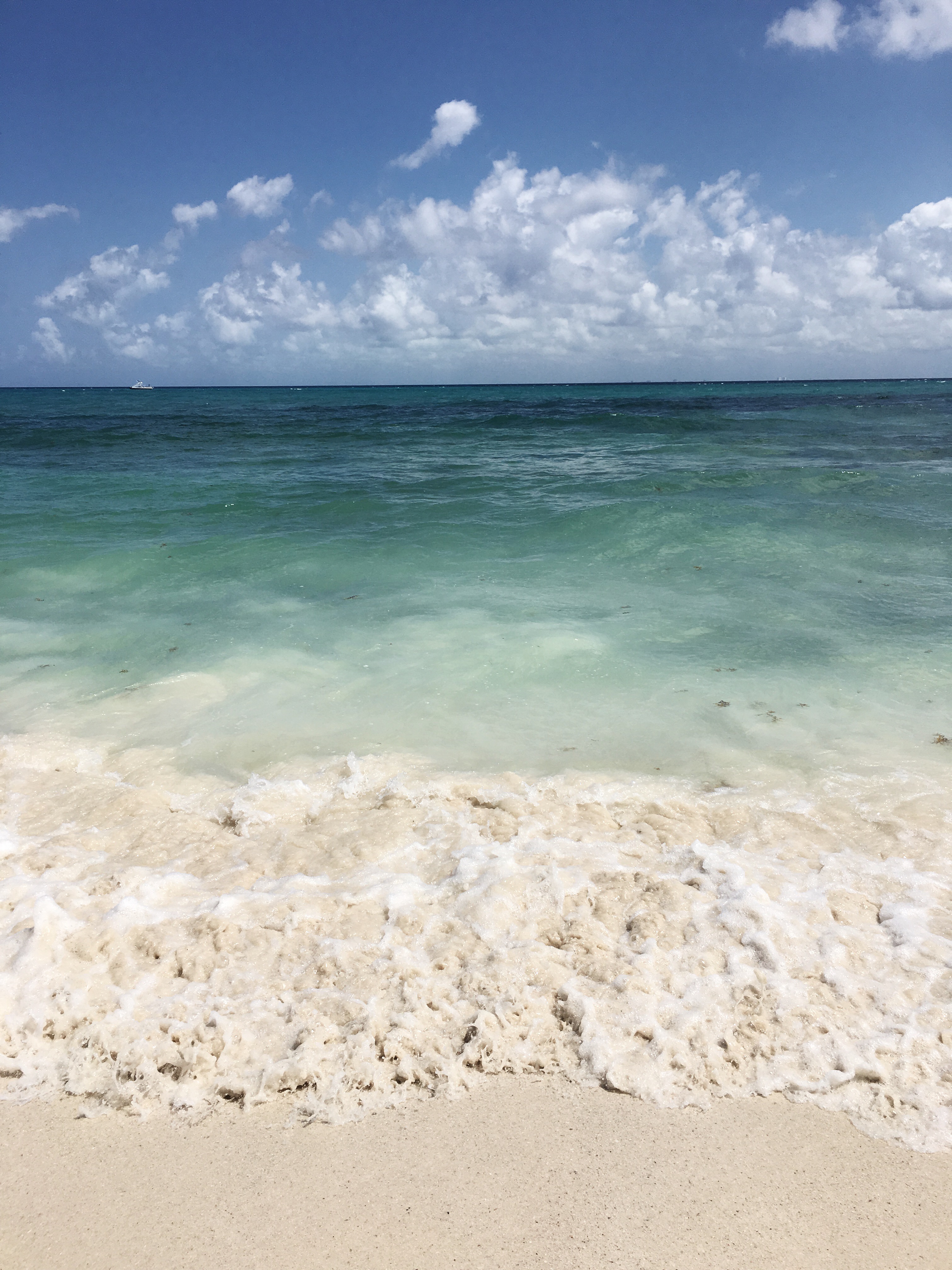 Our last day we lounged by the beach, and spent an embarrassingly long amount of time at the breakfast buffet. This is one thing I can't leave you without talking about.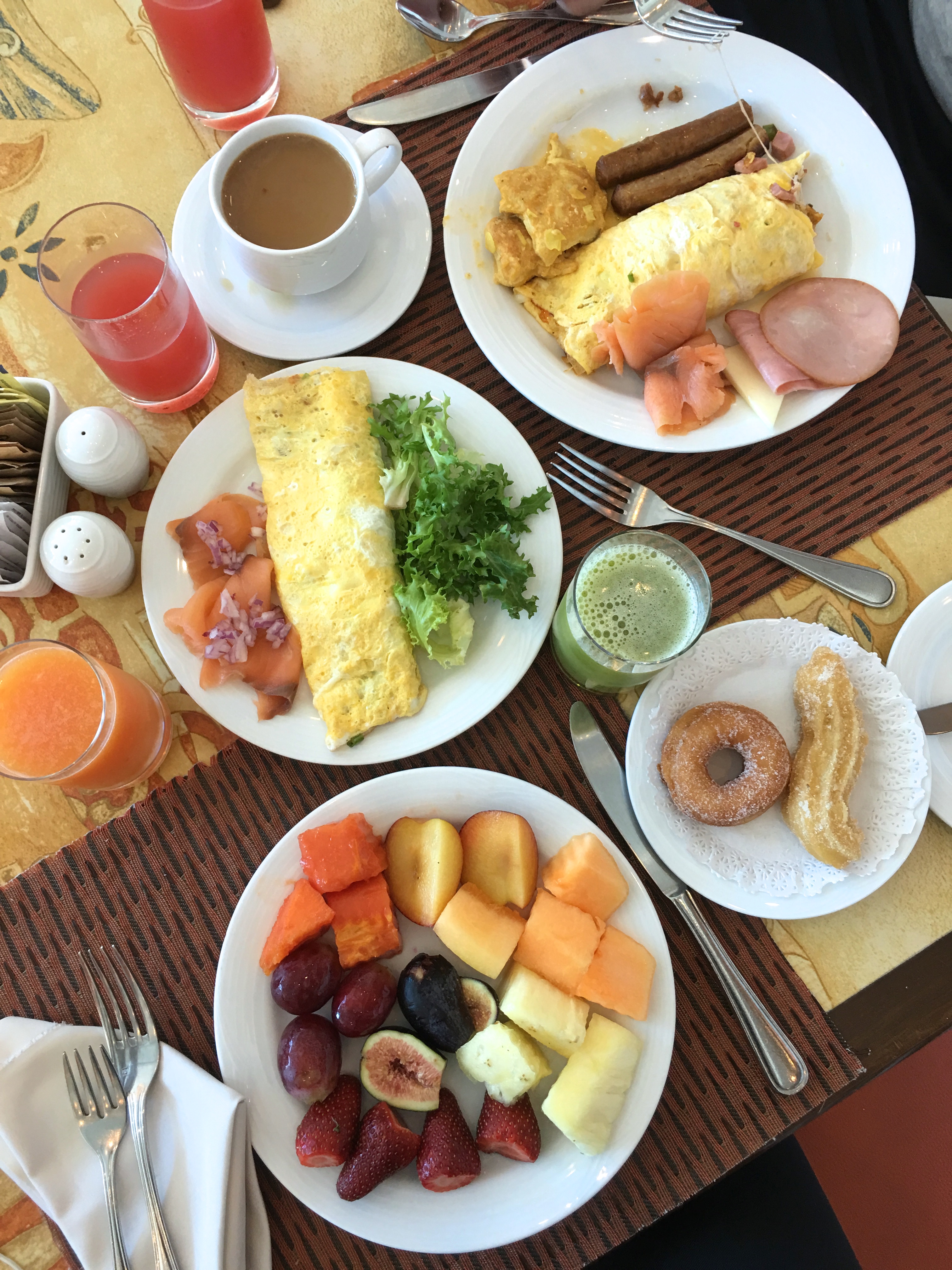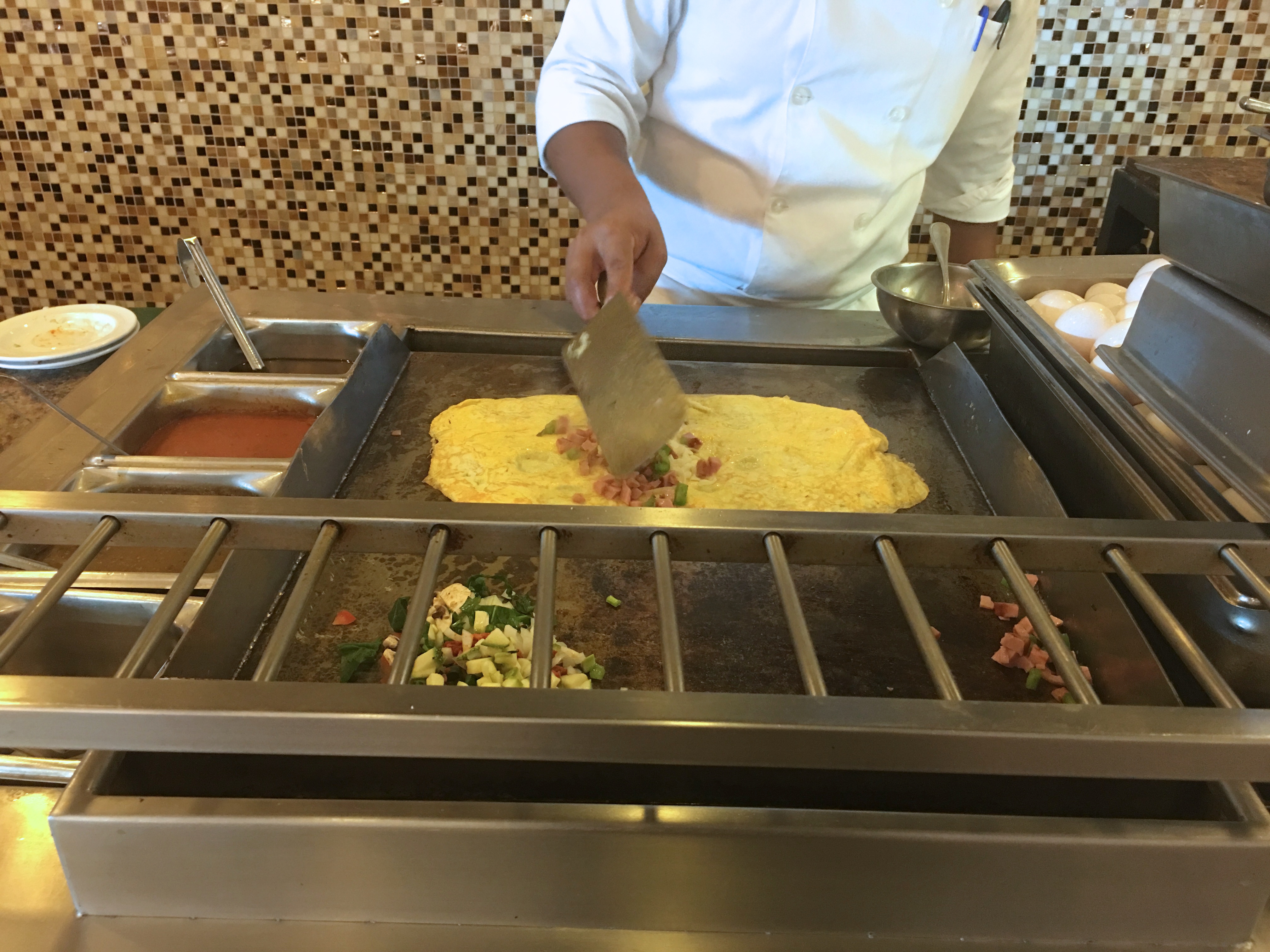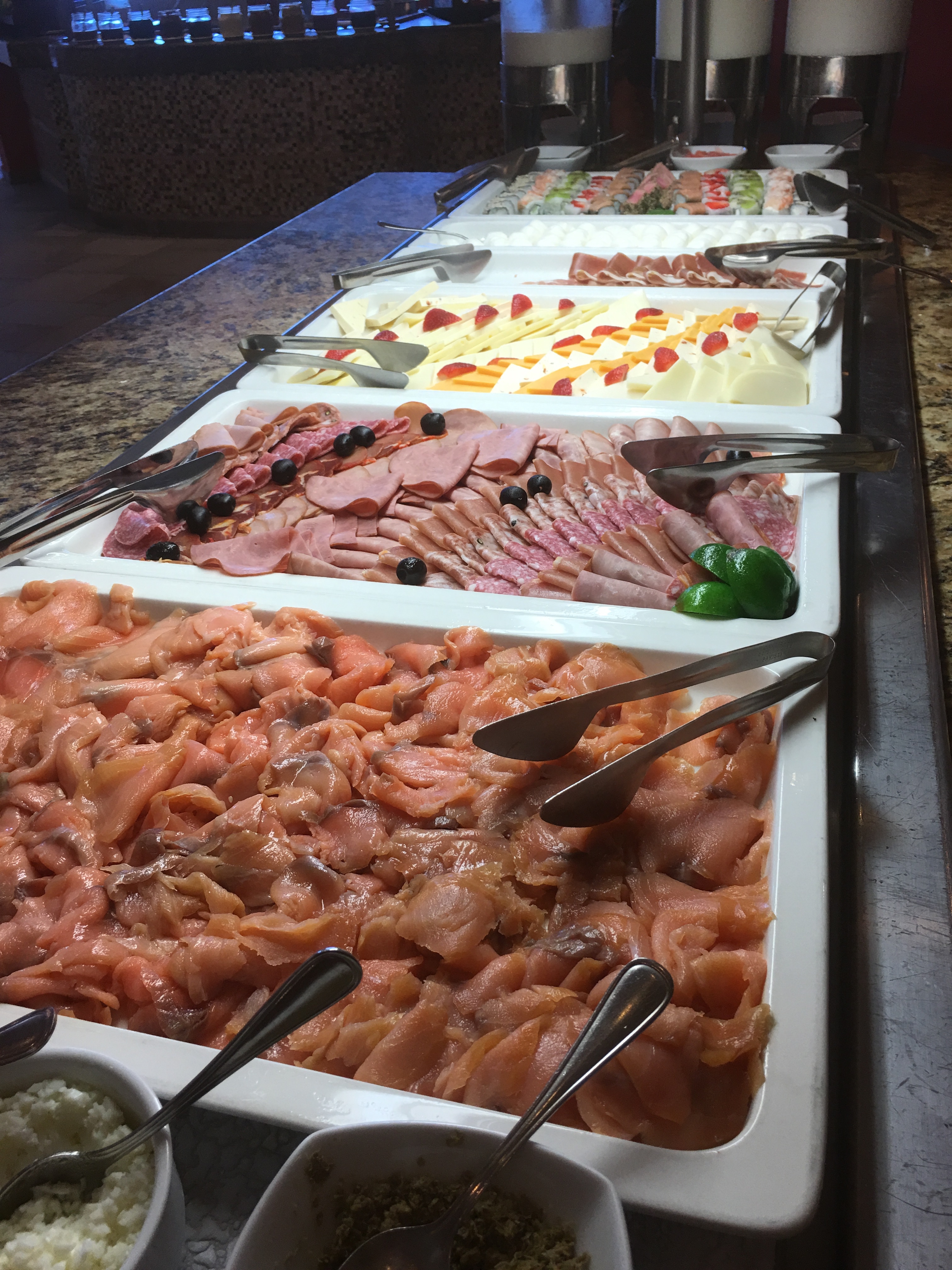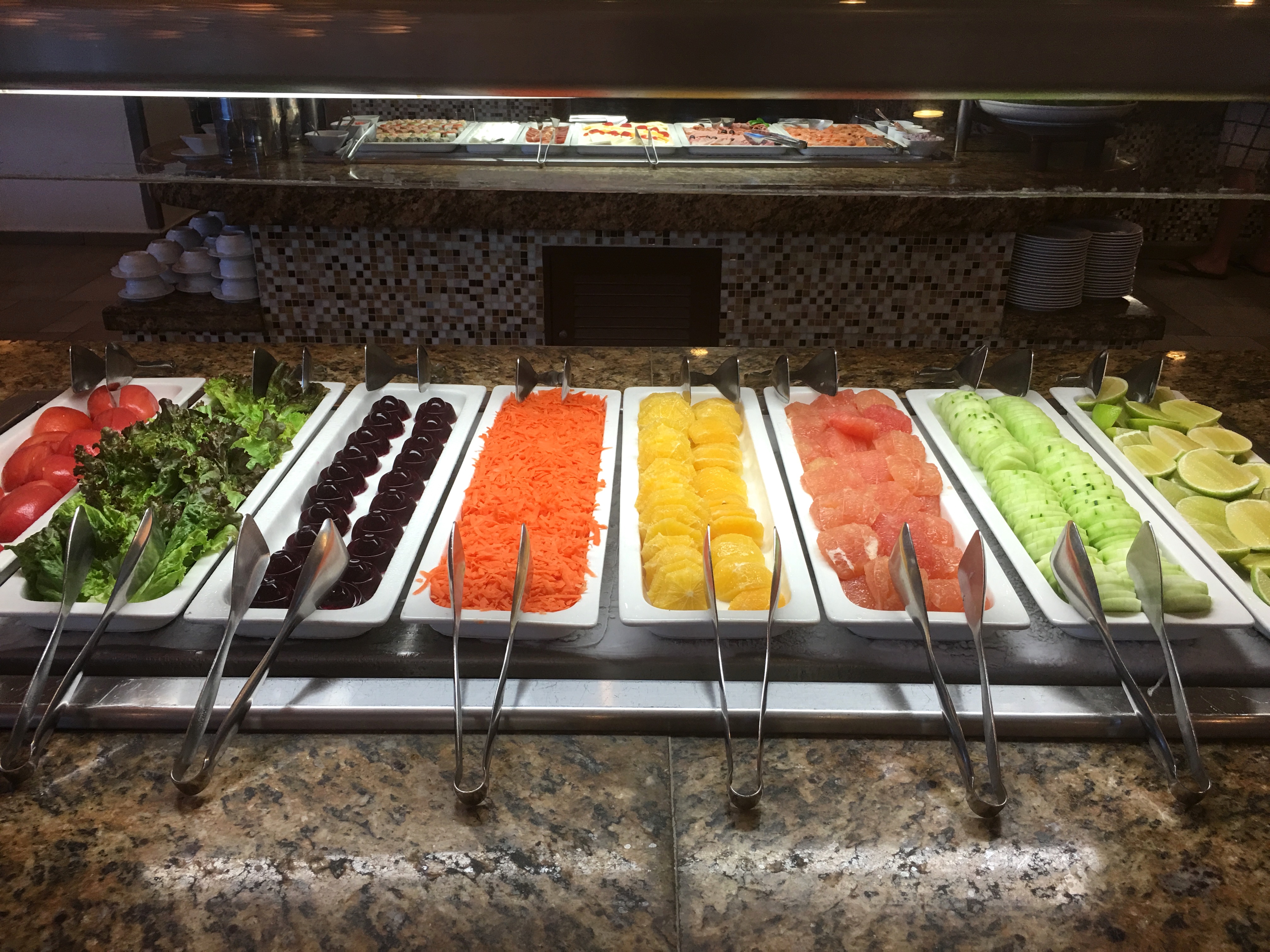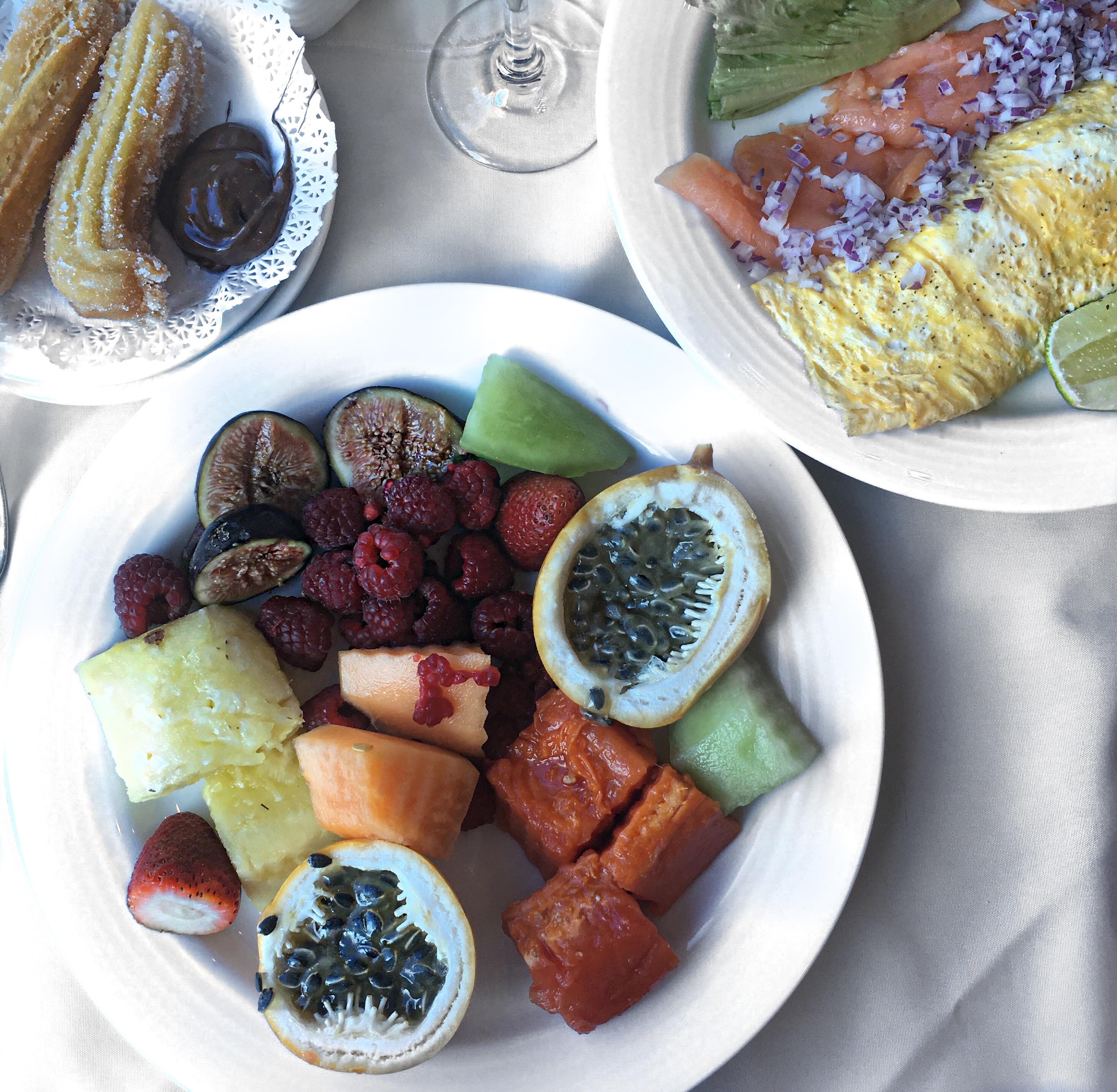 Spice is one of the restaurants in the resort, and you must go there for breakfast. The buffet is endless trays of fresh fruit, smoked salmon, donuts, waffles, bacon, eggs, and an omelette station.
Besides all of that amazing food there are fresh juices, mimosas, and coffee..all bottomless! So, on our last day we spent a good two hours at breakfast. Don't judge.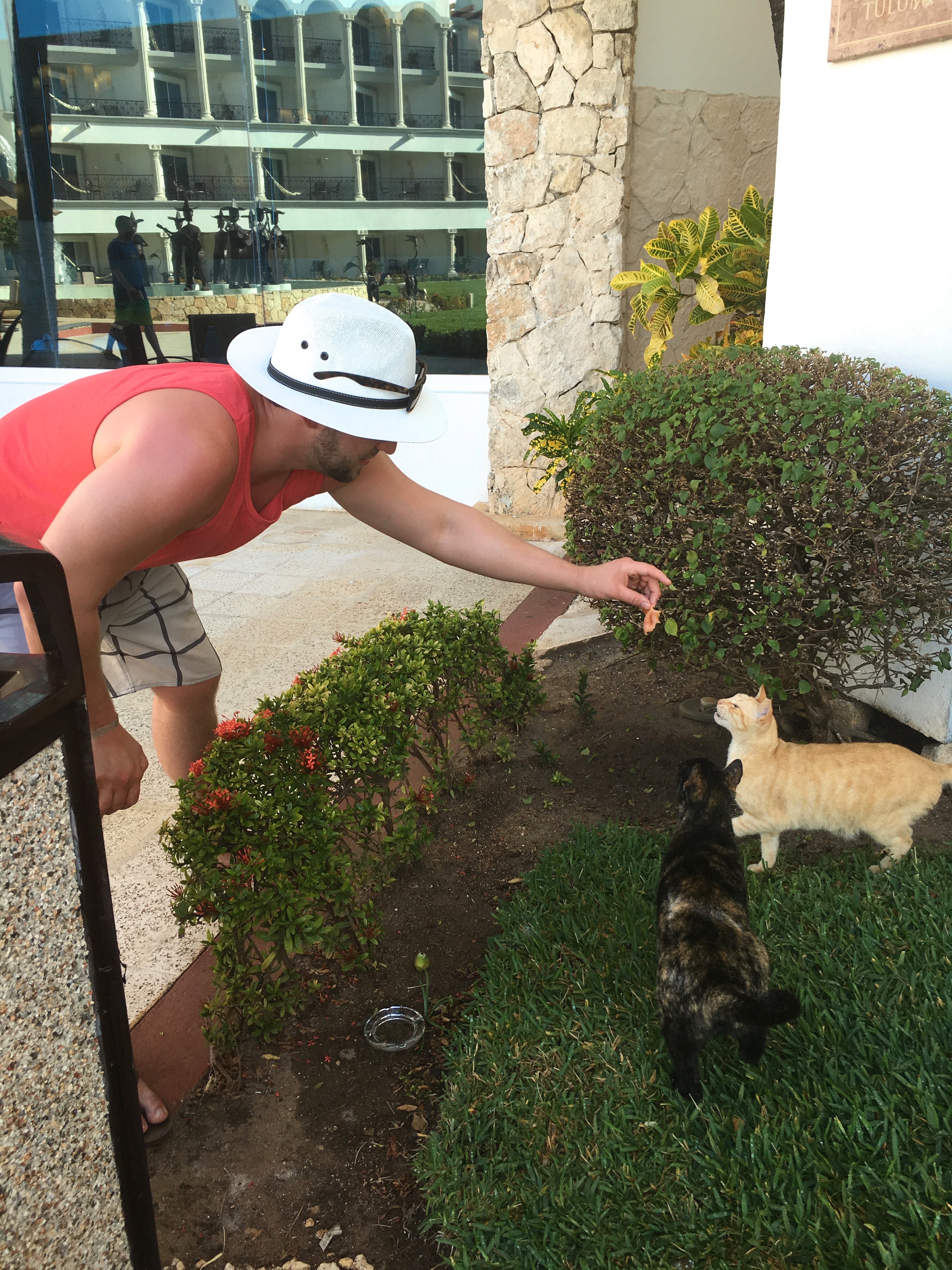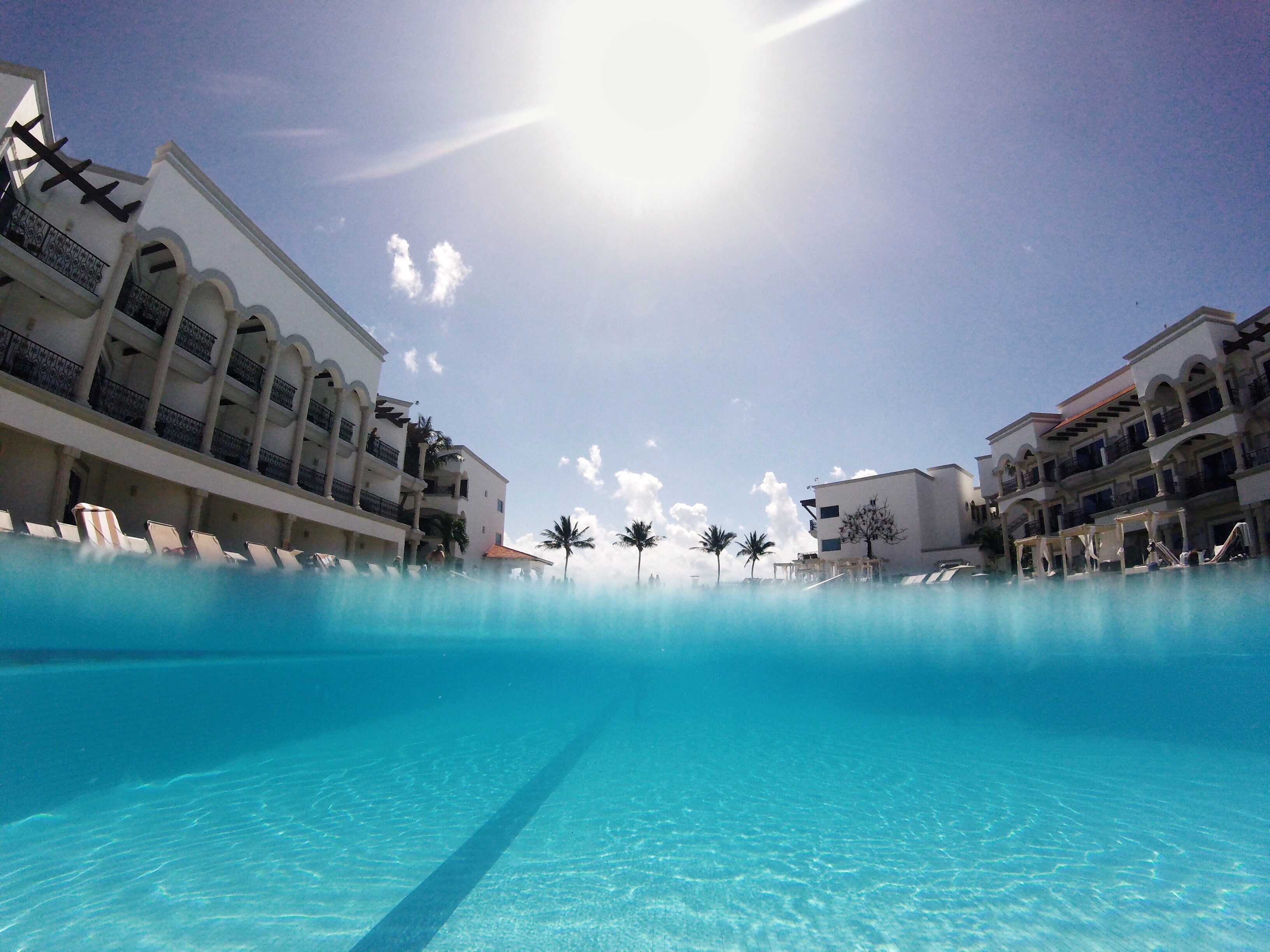 Of course Zack found a cat outside the breakfast place, so when you go grab a little extra smoked salmon to feed them 🙂 Overall, this was a vacation I couldn't have even dreamed of. Every little need was attended to perfectly, the staff was unbelievably kind, and the grounds were beautifully kept.
Anyone who thinks Mexico isn't safe, will make you sick, or is dirty clearly hasn't been to The Royal. Go and thank me later!