After our trip to Saarbrucken, our next stop was Paris! We decided to use Airbnb to find a place to stay since it's much cheaper than hotels, nicer than a hostel, and gives you the feeling that you're living like a local.
We chose Brian's apartment in the gorgeous Marais arrondissement (neighborhood), that had the most amazing courtyard, fluffy bed, and perfect location.
Our train got cancelled from Saarburcken, so we had to take a bus (with a drunk bus driver!) all the way to Paris. Scariest experince of my life, especially when the driver stalled the bus, put it in reverse, and then hit a few signs.
Anyways, I think it goes without saying that once we arrived I needed a drink!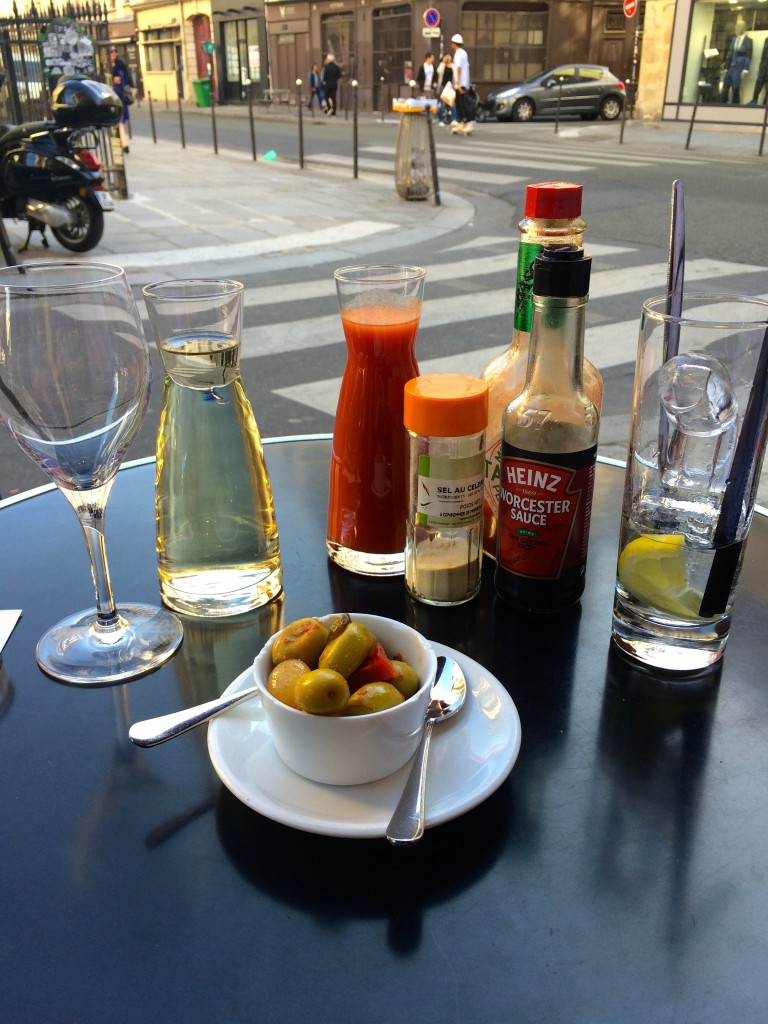 We stopped at a little cafe for a make your own bloody mary, and then headed to Chez Janou for dinner.We met the sweetest Austrailian woman that was traveling alone, so we asked her to join us for dinner!
We started out with goat cheese baked in roasted tomato sauce, an eggplant caponata, and a basket of the most incredible bread with they provide with each course!
For the main, Zack had lamb with an herb crust and I ordered the tagliatelle with escargots. He raved about his lamb, but the pasta left something to be desired.
You know me, and I couldn't not order dessert, and I'm so glad we did! The lemon tart was heavenly with tart, fresh lemon curd and bruleed meringue, and the chocolate mousse was out of this world.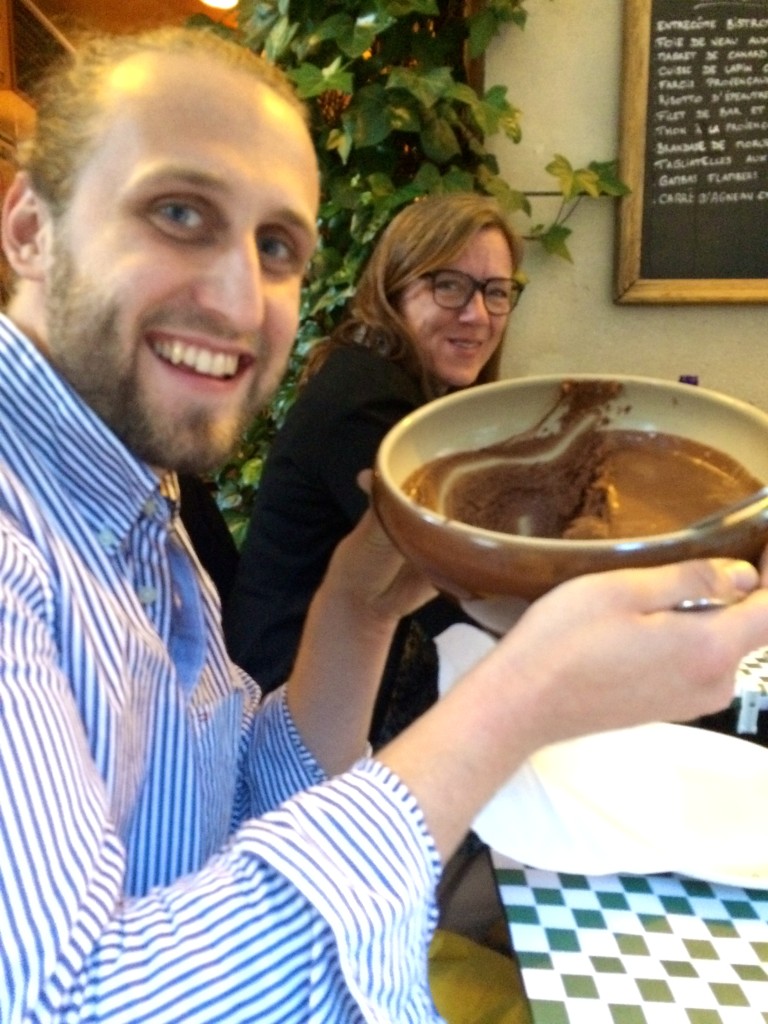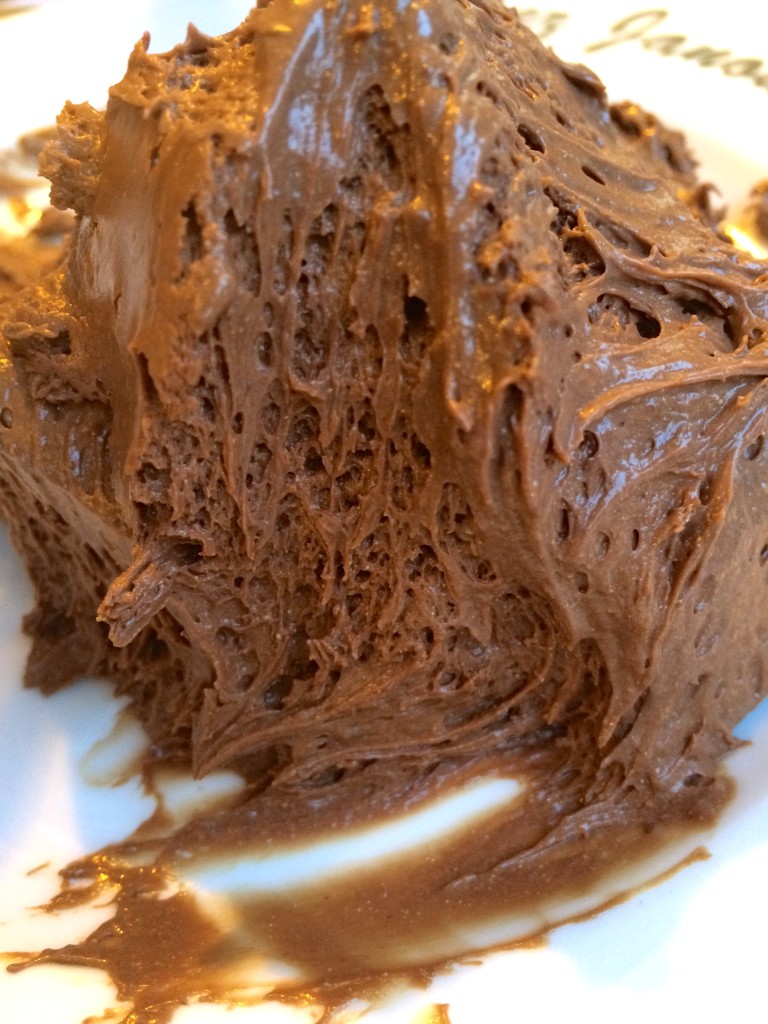 First of all they give you a bowl the size of your head, and scoop a portion on to your plate. The bowl is technically meant for the restaurant to share, but Zack gave himself a few extra scoops!
I know this photo doesn't do it justice, but the texture was somehow both airy and rich with the most intense chocolate flavor.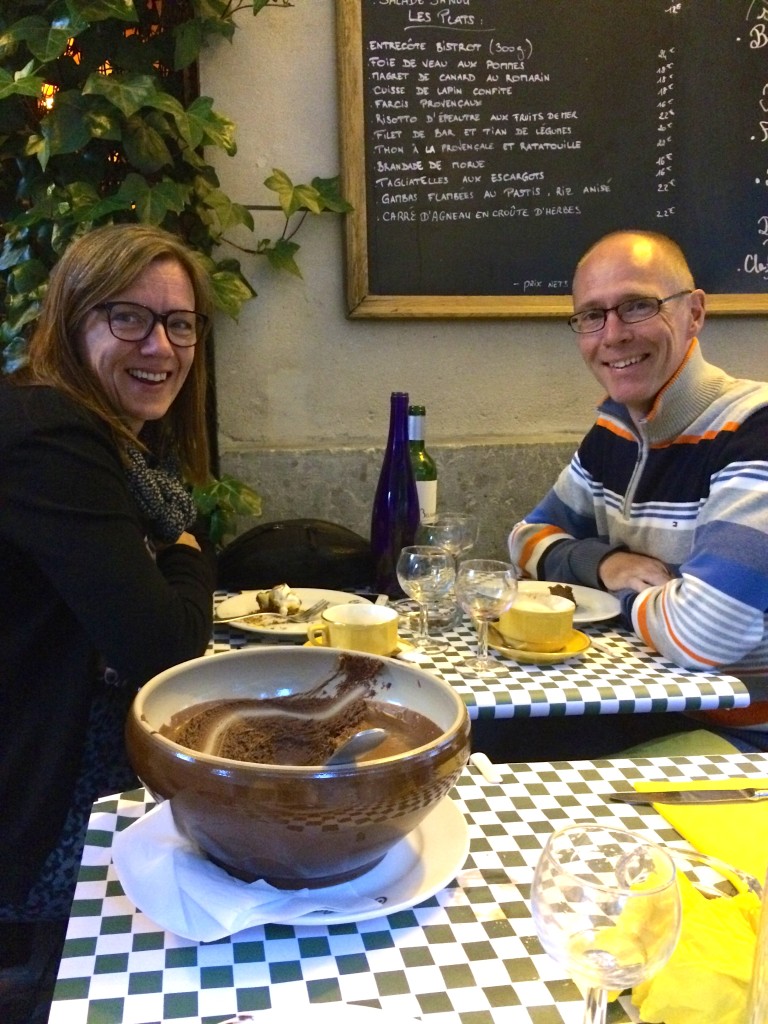 We met the most awesome couple from Denmark and Zack told them I had a blog, so they let me take a photo of them so we could remember our awesome friends! If you guys are reading this know that we loved meeting you both!
Bellies full and a little tipsy off fantastic French wine, we headed to back to our little apartment for a good nights sleep to prepare for a long day of sightseeing we had coming up!
The next morning we figured why not start out with a breakfast for champions, so we had not just a pain au chocolat, but a nutella and banana crepe as well! Those lacey pancake edges, molten nutella, and creamy bananas are the most perfect combo I could ever think of.
After breakfast we meandered over to the Eiffel Tower and I forced Zack to climb all the way to the top. The views from the upper deck are magnificent and I was hoping it would burn off at least part of breakfast (wishful thinking I know).
Of course, we were hungry again!
And splurged on some killer croque madames! Ham and cheese sandwiches smothered in bechamel sauce, baked with cheese on top, and topped with a fried egg. Absolutely amazing,
We continued our sightseeing and took the metro over to Notre Dame.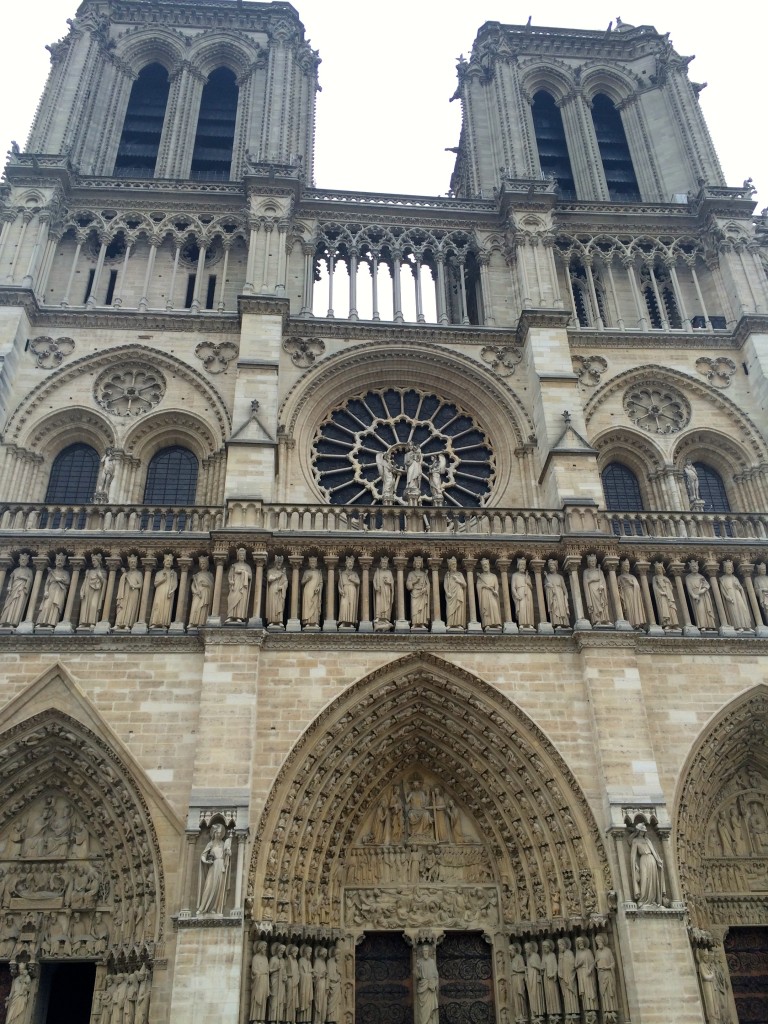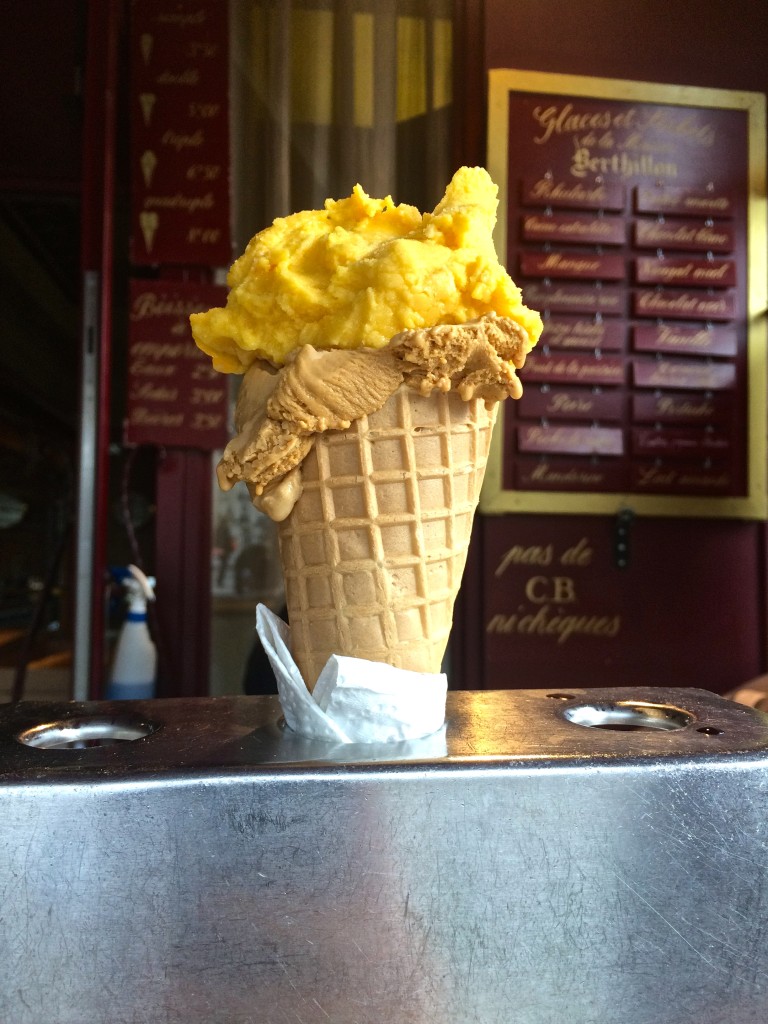 One of the most famous French ice cream places, Berthillon, just happened to be on our way to our next stop, so we had to pop in for a scoop.
Their salted caramel is the most delicious salted caramel I've ever tried. The caramel is almost burned before it flavors the ice cream custard, which gives the cone a fantastically rich flavor. We also tried the passion fruit which tasted somehow better than the fruit itself.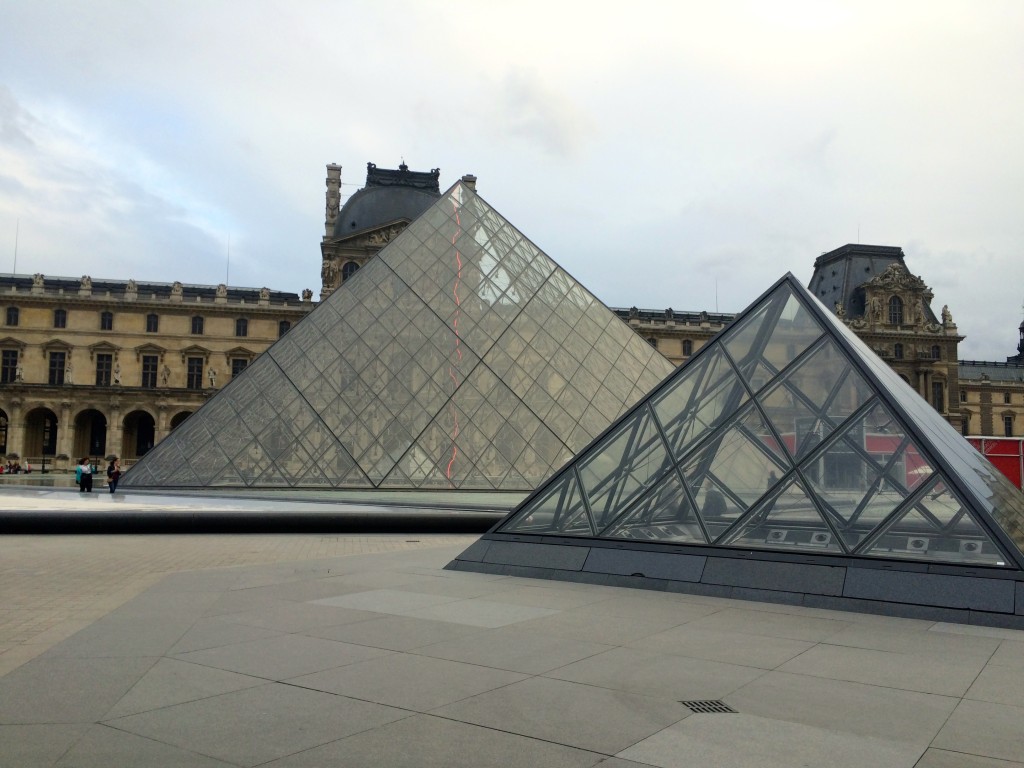 The Louvre is just down the street from Notre Dame, so we stopped by for a look at the famous pyramids!
One place I had been dying to go to in Paris is the Lover's Bridge, a bridge covered in hundreds of thousands of locks with lovers' names scrawled on them!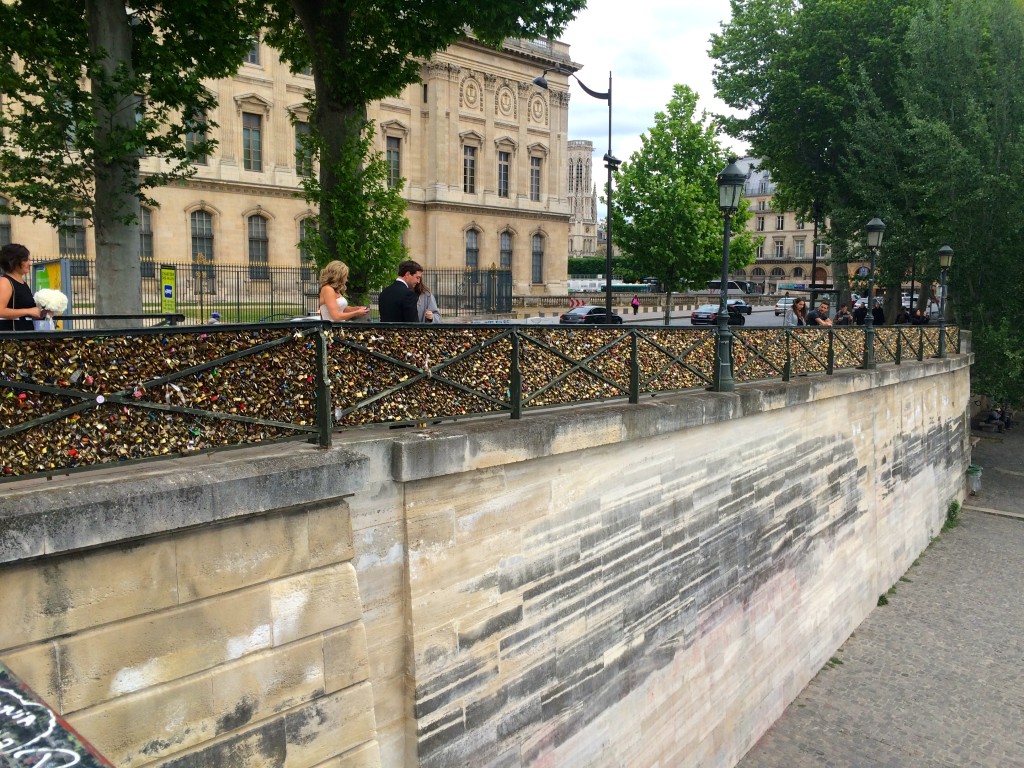 We even saw a couple who had just gotten married place their lock on the bridge.
We placed our lock on the bridge as the sweetest ending to a whirlwind weekend in Paris! Can anyone guess our next stop??