Hi Friends! It's been awhile since we last spoke, but I have such a great recipe for you. I've eaten it twice today and three times this week, so that's how you know it's a keeper.
Yesterday I saw a meme on Instagram saying "if you have a food blog and I have to scroll through a 5 paragraph essay about how your experience doing x got you to this recipe, I'm unfollowing". Awkward, guilty as charged. I can imagine many of you feel this way and probably don't care to listen to ramblings about how Rishil and my weekend trip to Richmond inspired this bowl, SO I've added in two super cool features for you!
The skip to recipe button at the top. Click it, and boom, you're at the recipe, no ramblings whatsoever.
The new recipe plug in! It's an easy format for ingredients, steps, and all the info in one  place.
I'd love to hear what you think of these new additions, so let me know in the comments below!
Ok, so as I was saying, Rishil and I took a weekend trip to Richmond and Charlotte last weekend. Our friends Laura and Katya said we had to try Stella's in Richmond, we happily obliged. Thank god we did, because it was seriously the best Mediterranean food I've ever had, and I can't recommend it enough it you're near there!
Mediterranean food is something I never get sick of. After Rishil and I spend a day at Dacha, we always come home and get Moby Dick kabob. We've made a resolution to start cooking at home more, so I wanted to recreate those flavors we love in an easy and healthy bowl.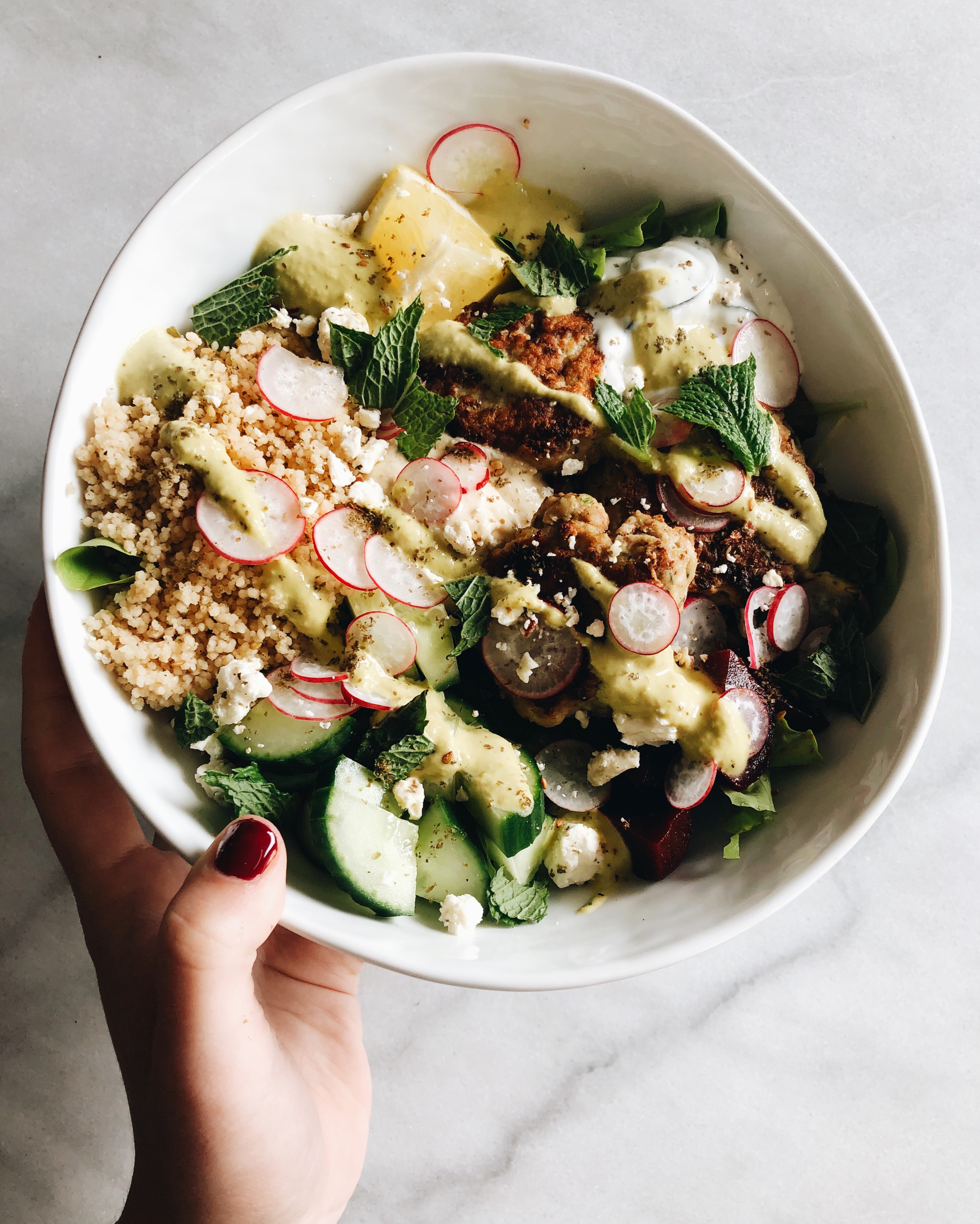 The base of the bowl is entirely up to you. In the one above I did fresh greens and cous cous, and in the one below we did sauteed broccolini. Quinoa, brown rice, or sweet potatoes would also be great, or you can just do veggies to keep it lighter.
I then top ours with the meatballs, cucumber, radishes, feta, store bought tzatziki and hummus, and a drizzle of amazing jalapeno sauce Trader Joe's started carrying! Feel free to go wild with the toppings, and tag me if you come up with any good combos!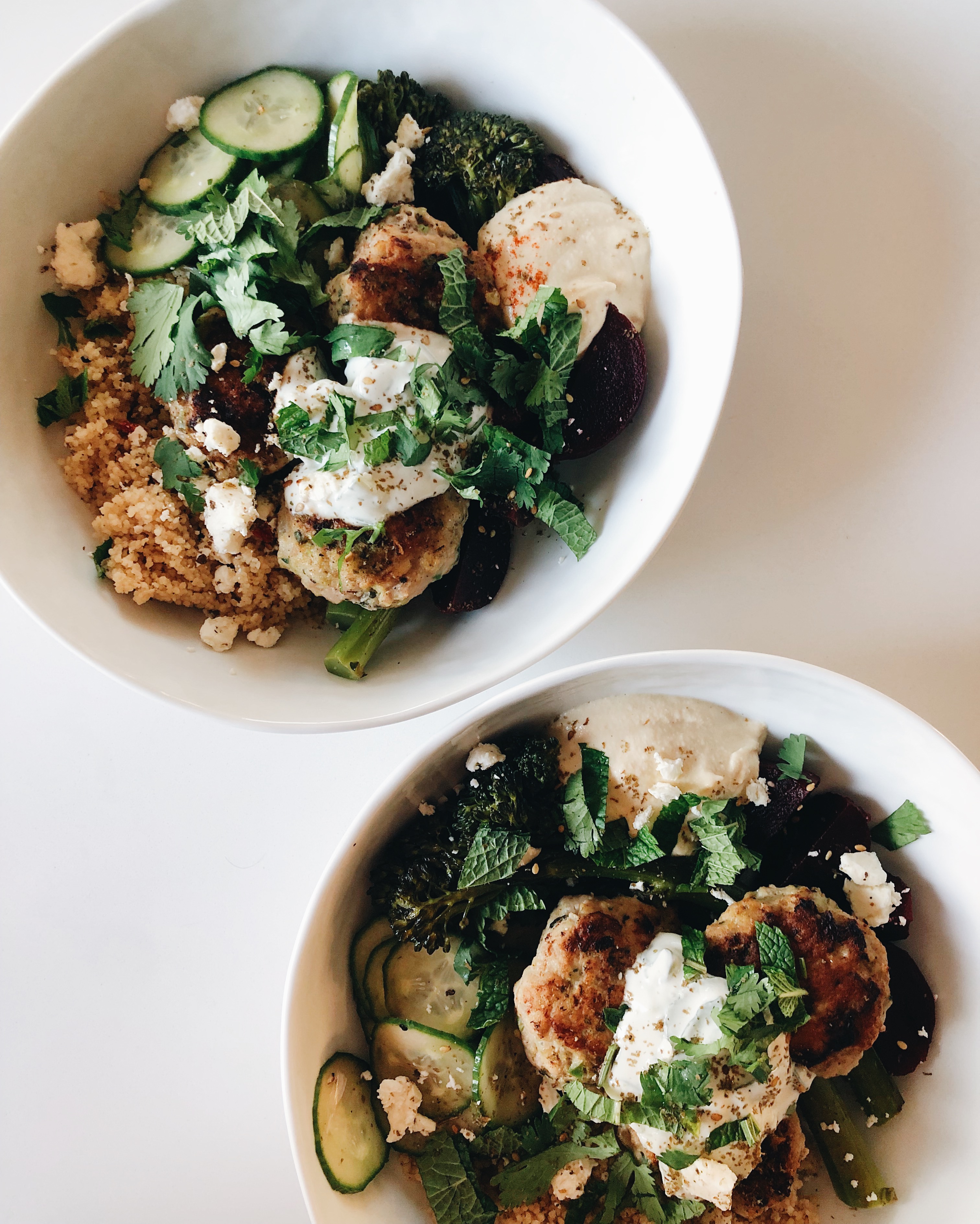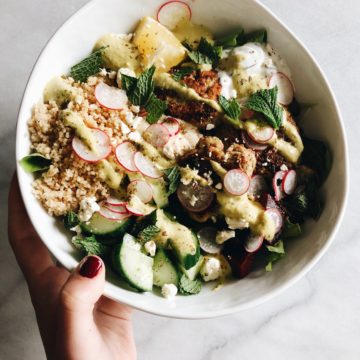 Mediterranean Bowls with Jalapeno Feta Turkey Meatballs
A healthy, fresh, and flavorful bowl packed with Mediterranean flavors.
Ingredients
Jalapeno Feta Turkey Meatballs
1

pound

Ground turkey

I used 90/10 for more fat

1/4

cup

Breadcrumbs

I used panko

1

Jalapeno, de-seeded and finely chopped

2

cloves

Garlic, finely minced

2

tbsp

Fresh mint, chopped

1/4

cup

Feta, crumbled

1

Egg

Salt

Pepper

Olive oil
To Assemble the Bowl
Tzatziki sauce

Hummus

Cucumber, sliced

Cooked grain of choice

we used cous cous, but quinoa or brown rice would be great

Sliced radishes

Fresh mint, torn

Mixed greens

Feta, crumbled

Jalapeno Sauce, we got ours from Trader Joe's
Instructions
To Make the Meatballs
In a large bowl combine breadcrumbs, jalapeno, garlic, mint, egg, a big pinch of salt, and a few grinds of fresh black pepper.

Add ground turkey and gently stir to combine. Fold in crumbled feta.


Heat a heavy, large skillet over medium heat. While skillet is heating form turkey into mini meatballs. This is easy to do with wet hands, so the meat doesn't stick. I got 12 mini meatballs from this recipe.

Add a good glug of olive oil to the hot pan, and once it's shimmering add the meatballs. Sear for ~3 minutes on each side, until a golden crust has formed and the meatballs are cooked through.
To Assemble the Bowl
In a bowl add the mixed greens and a scoop of cooked grains for the base.

Top with three turkey meatballs each, a scoop of hummus and tzatziki, sliced radishes, crumbled feta, and fresh mint. Enjoy!