Before online recipes were as popular as they are now, you could always tell a tried and true family favorite by the condition the recipe printout was in. The more crumpled, torn, and stained the paper was, the better the dish. You're probably thinking "a millennial?? With a recipe print out?? Has she heard of Pinterest??"
Yes, printed out recipes may be a little before my time, but my mom still has the hard copy of this white chicken chili recipe in one of our kitchen drawers, and you best believe it's wrinkled, smeared with cumin, stained with chili, and torn at the edges. We've eaten this meal hundreds of times, and I've never found something as warming and cozy as this creamy chili.
There's no acidic burn of tomato and no ambiguous brown color to turn you off from wanting to eat it. Instead this one is rich with warm spices, has a slight heat from green chilies, and hearty from creamy cannellini beans and roasted chicken.
My favorite part about it is that with the help of a store-bought rotisserie chicken, it comes together in 30 minutes flat. I make a huge pot and have lunch and dinner for the next day. It's a win all around!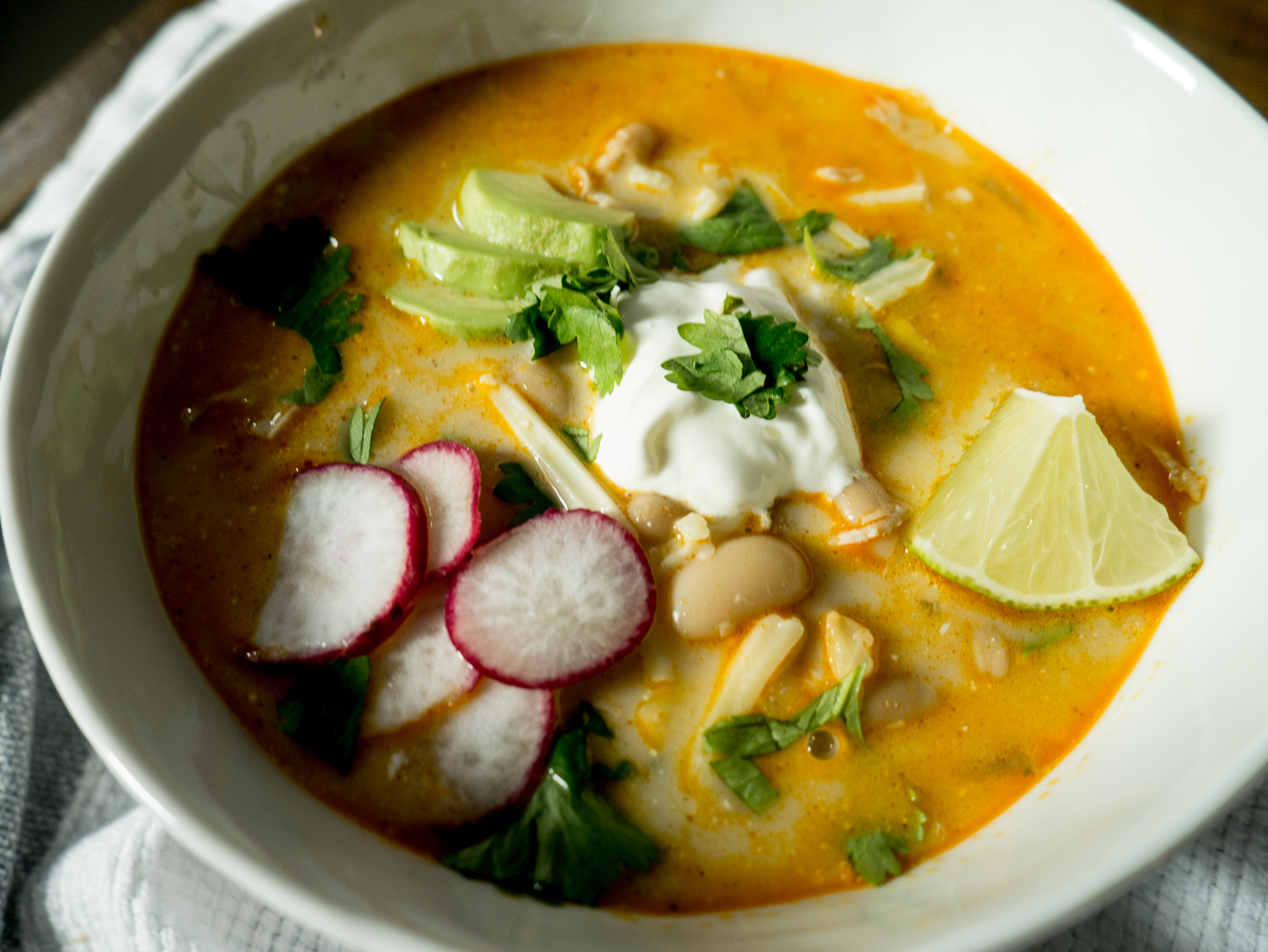 The toppings you can layer it with are endless, but my personal favorites are sour cream, fresh cilantro, tortilla chips, and a squeeze of lime. I'd be lying if I didn't tell you I threw those radishes in for food styling purposes, but they were surprisingly good on top!
Here's all the ingredients you need: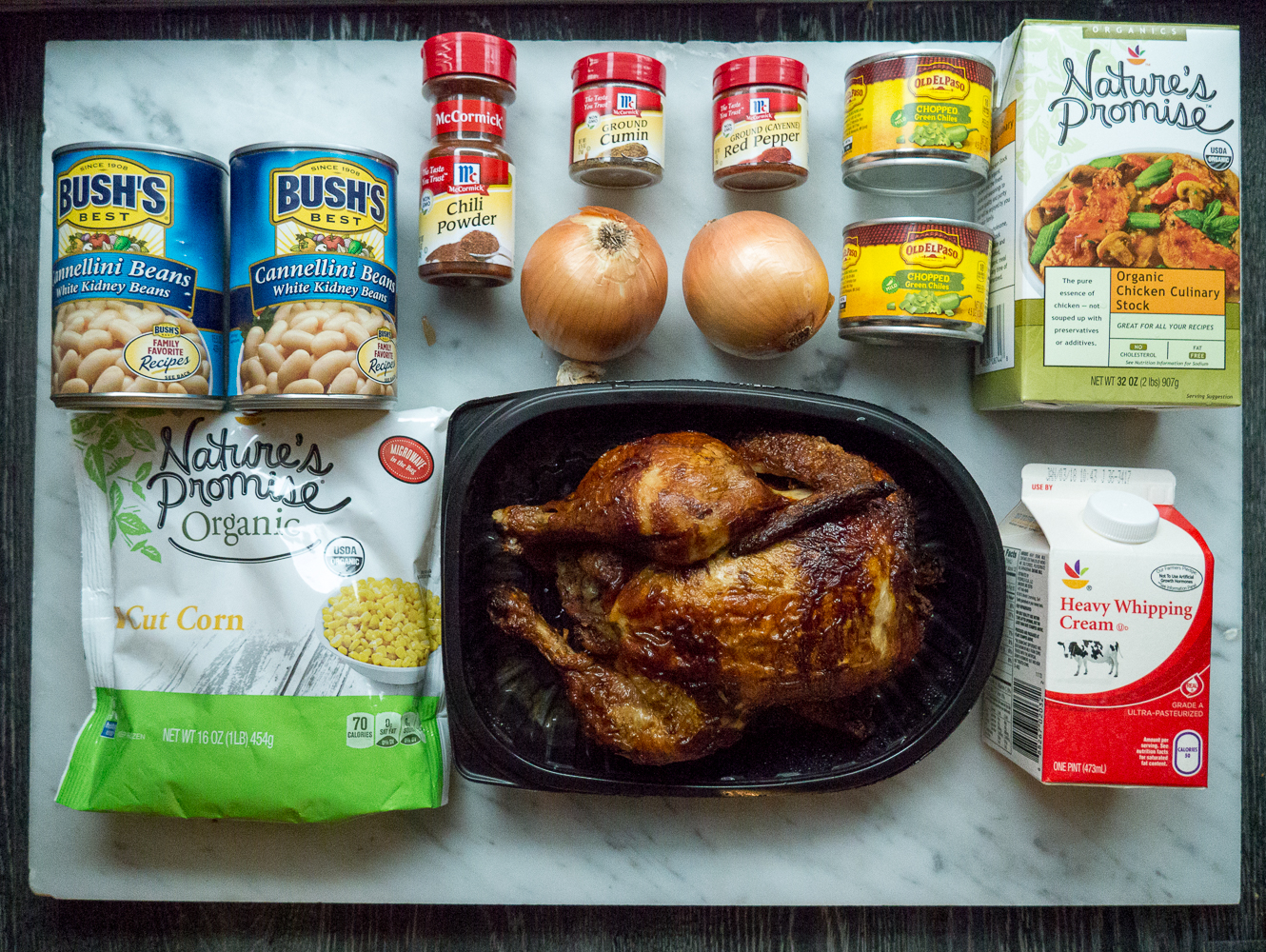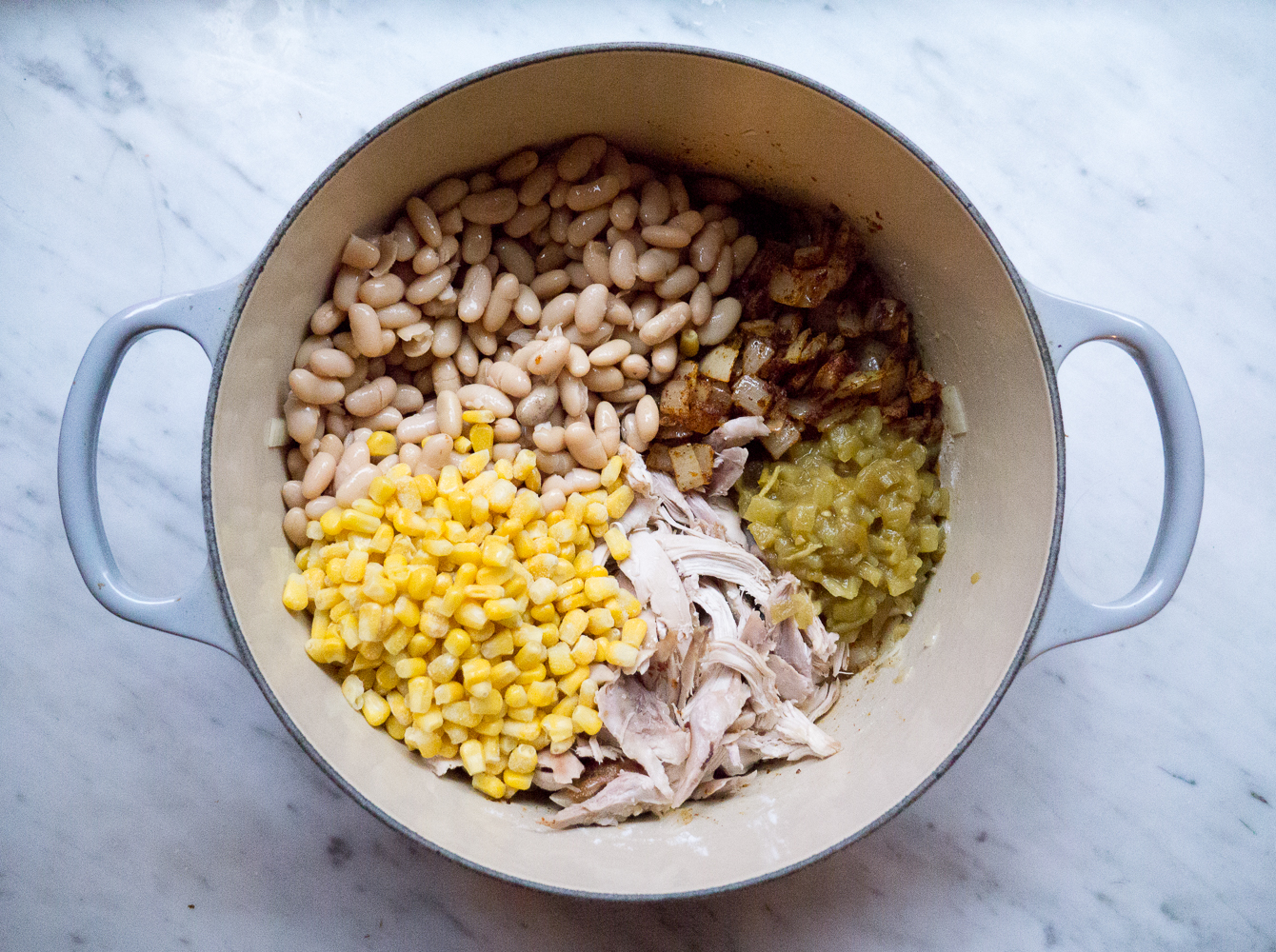 We start the base by sauteeing onions and adding in cumin, chili, and a little cayenne for heat. A can of green chilies, cannellini beans, frozen corn, and shredded chicken complete the dish, and we finish with a splash of cream to round out the flavors.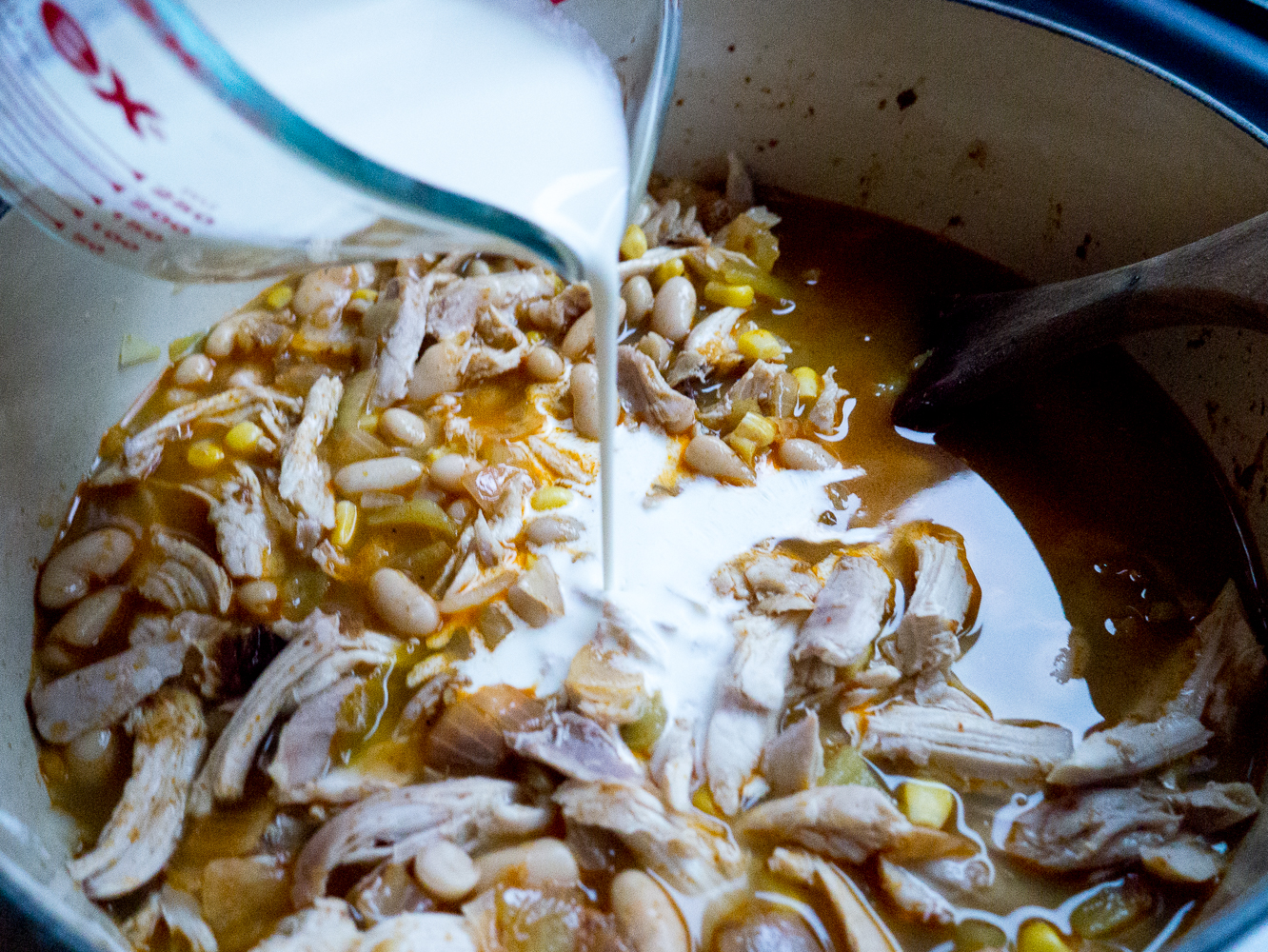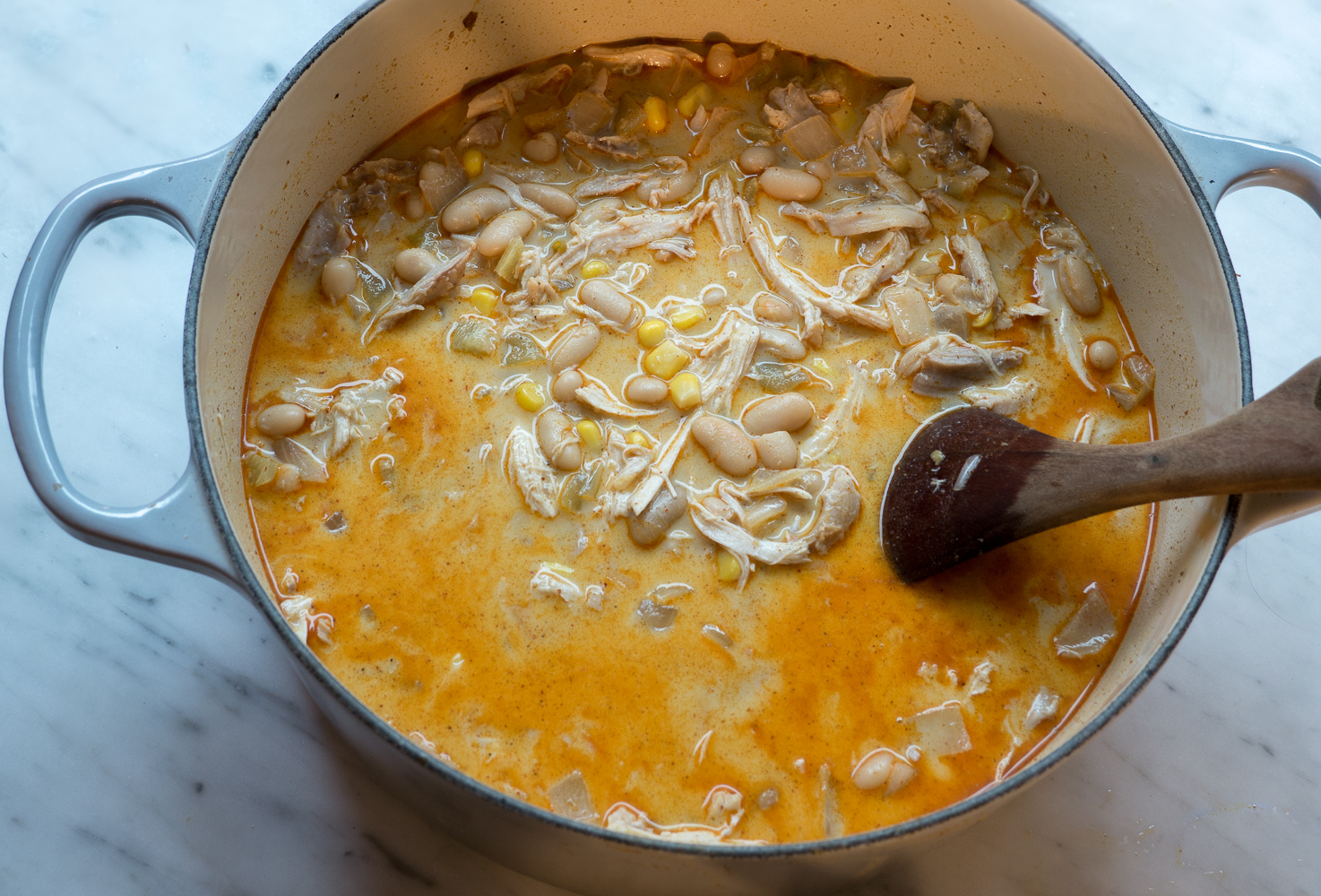 I told you it was easy! Now you have a giant pot of the most comforting meal for when the temperatures outside start quickly dropping.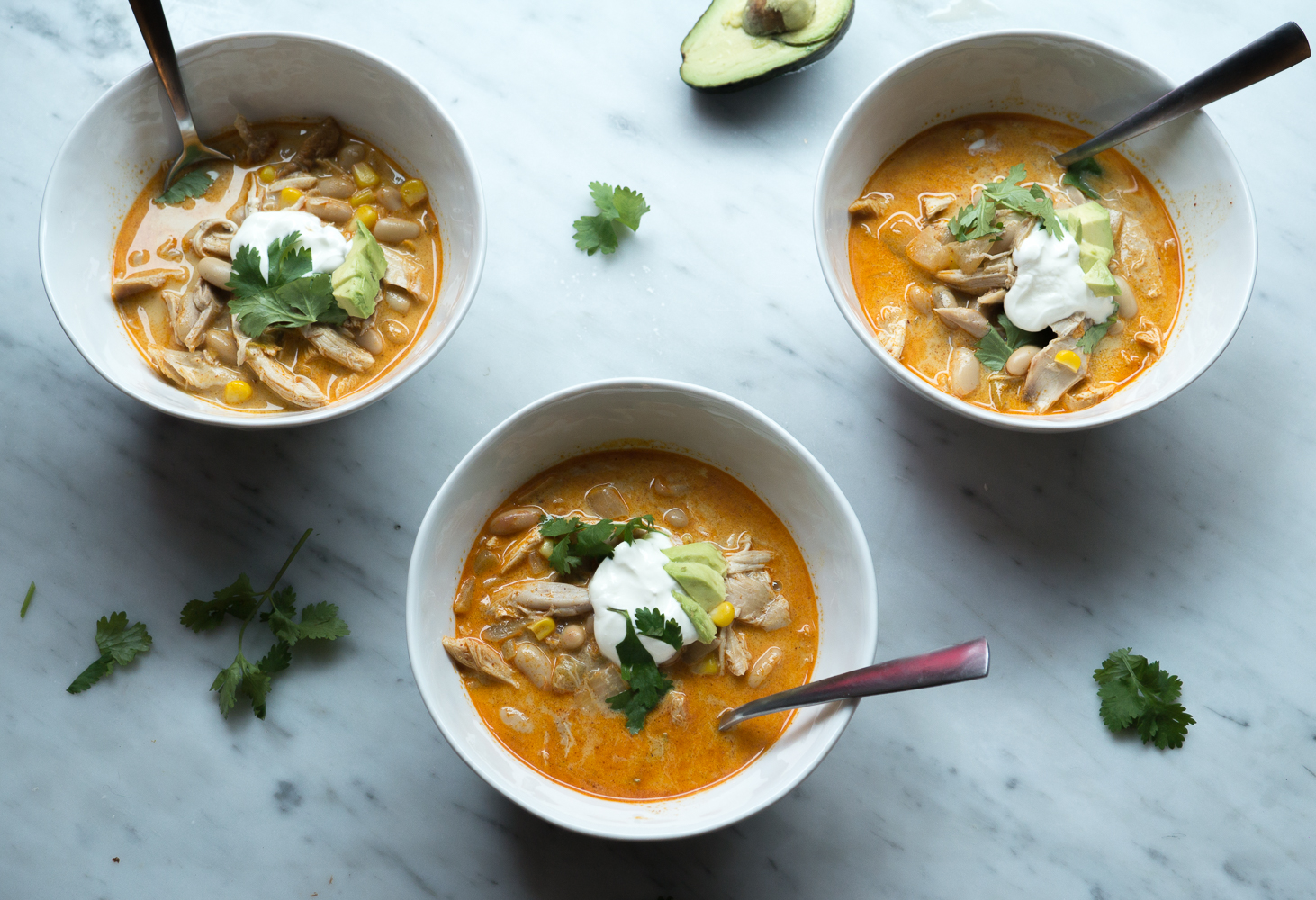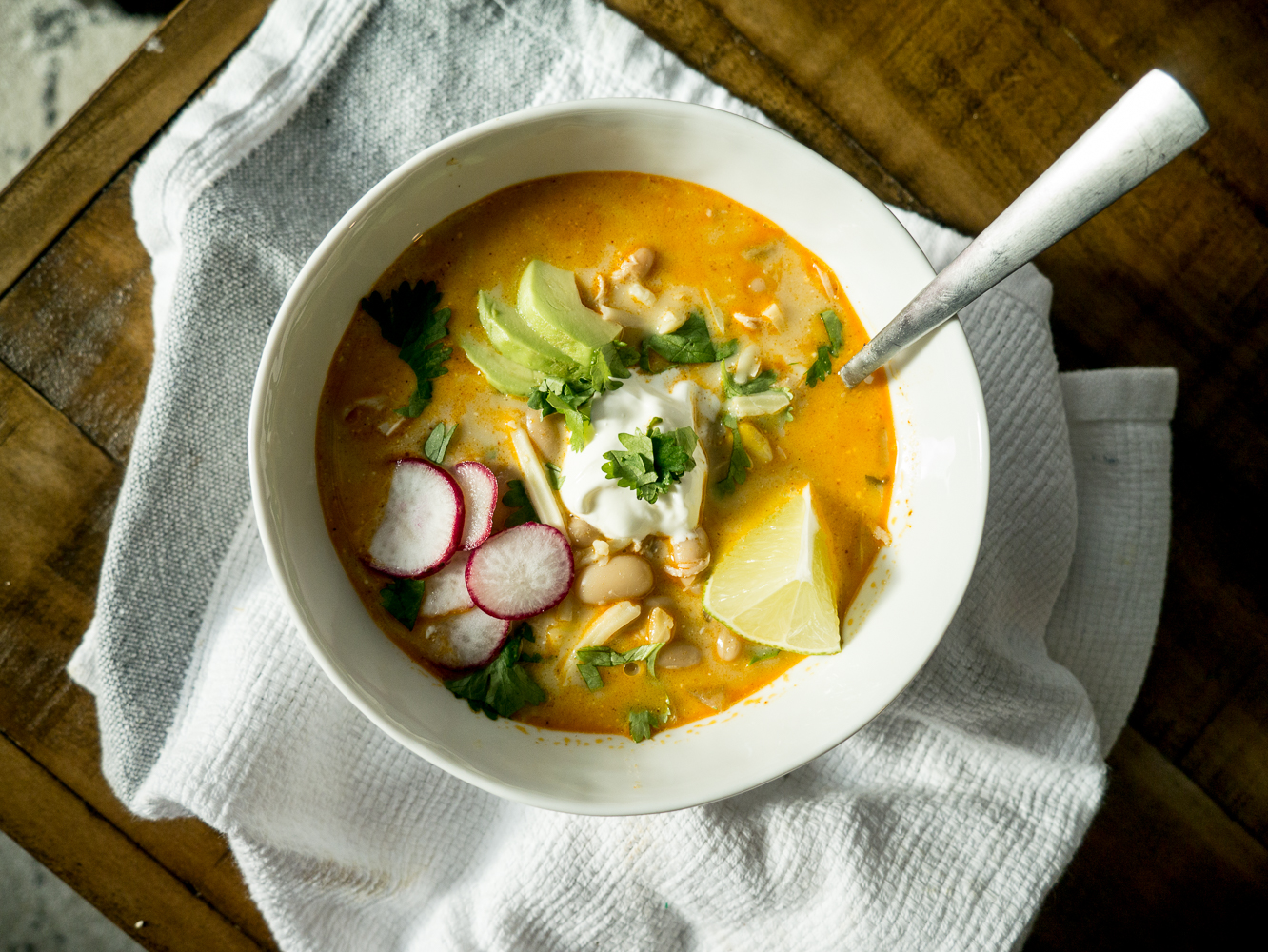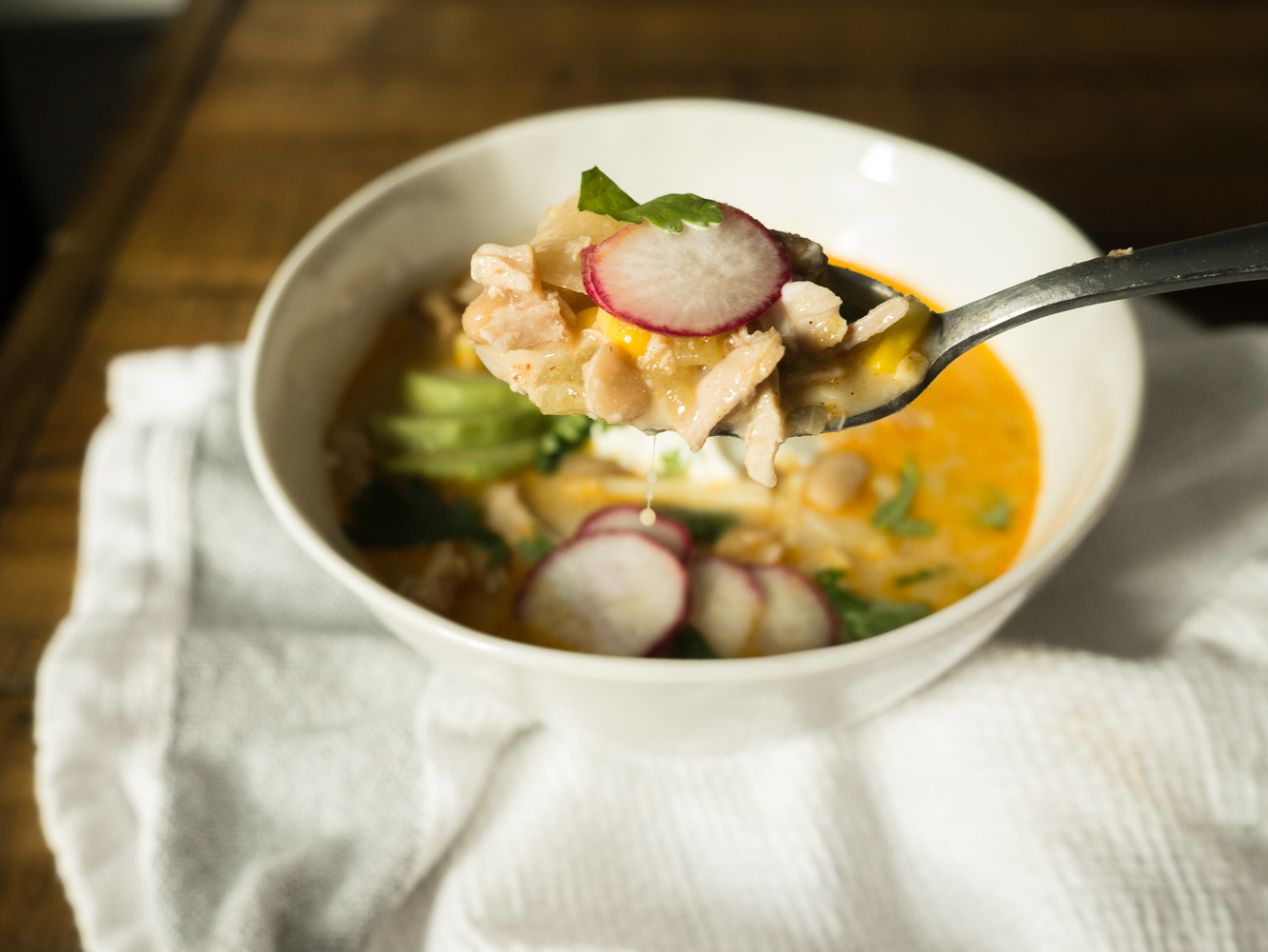 Look at that perfect bite, it's seriously like a hug in a bowl. I hope you make this and love it as much as my family does!
White Chicken Chili (serves 6-8) recipe modified from here
2 Tablespoons olive oil
2 yellow onions, diced
2 teaspoons cumin
2 teaspoons chili powder
1/2 teaspoon cayenne
2 teaspoons salt
2 Tablespoons flour
2 cans cannellini beans, drained and rinsed
1 small can chopped mild green chilis (I find this in the Spanish grocery aisle)
1 cup frozen corn
4 cups chicken broth
1/2 cup heavy cream
Topping suggestions: sour cream, Mexican cheese blend, tortilla chips, avocado, fresh cilantro
In a medium soup pot (I use my Le Creuset) over medium heat, saute onions in olive oil until translucent, about 2 minutes.
Add in the spices, salt, and flour, and stir to coat the onion in spice mixture.
Add the beans, can of chilis, and corn and mix everything together. Pour in the chicken broth and simmer over low heat for 15 minutes.
When you're ready to serve, add the cream, sprinkle with toppings of your choice, and enjoy!