Today we turned the clocks back an hour. As I'm writing this at 5:00pm, it's nearly pitch black outside, and I can't help but feel a little sad. I love natural light, especially when it means I can take pictures of dinner without having to use flash. That's no longer the case, so I'm determined to embrace fall even despite an associate at Trader Joe's in a Hawaiian shirt informing me today that pumpkin season is over.
I kindly wanted to tell him that Hawaiian shirt season was (long) over, but instead I bought myself a can of pumpkin and willed myself to make the best of the limited natural light, and bake pumpkin bars.
I decided to go out on a limb and try to lighten up Paula Deen's recipe by using whole wheat flour and coconut oil. It makes me feel like this is slightly healthier, and they make the bars so moist, especially when you get a bite with the cream cheese frosting. They take just 45 minutes and I promise that your coworkers will worship you if you bring a pan into the office.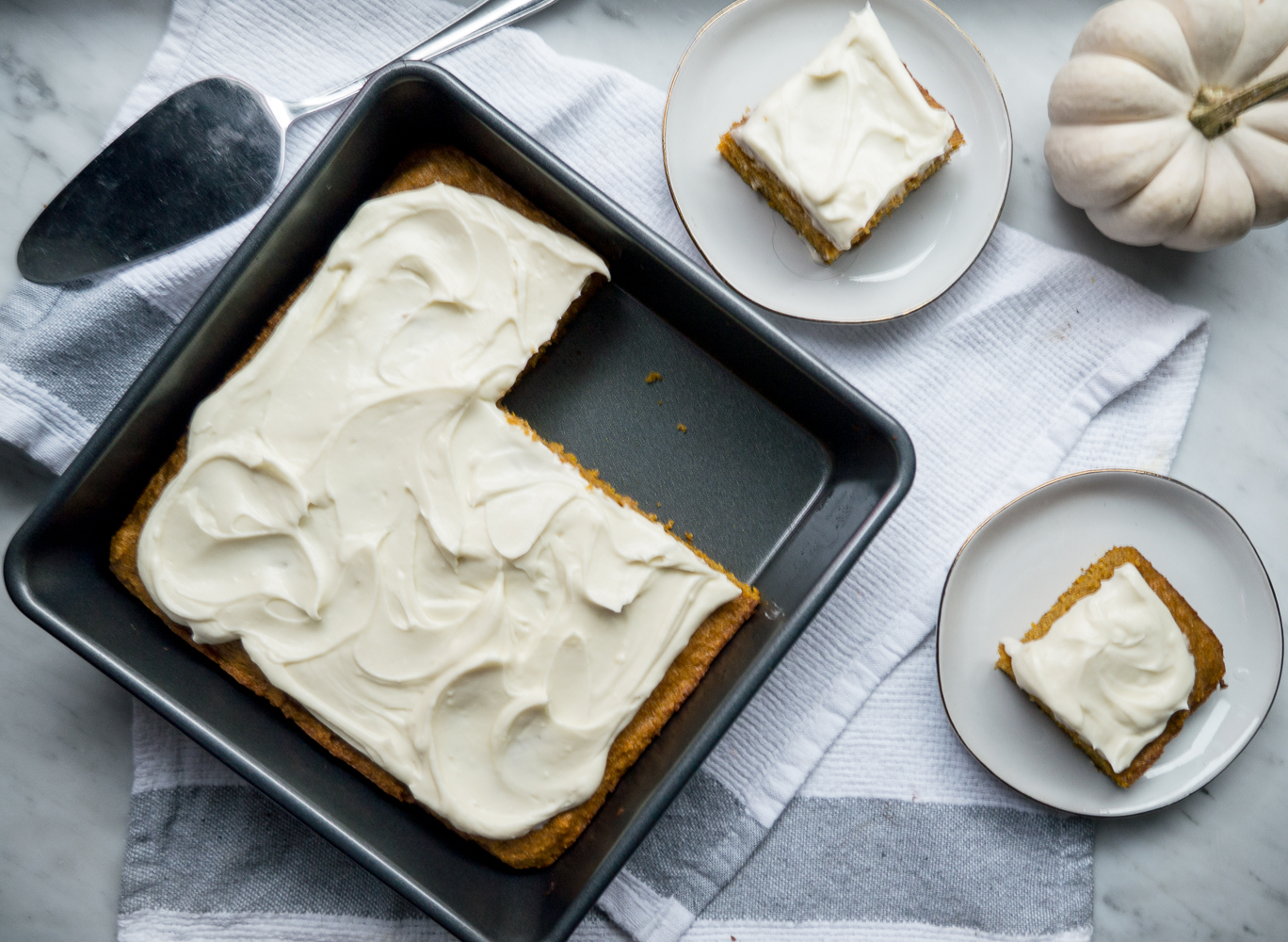 Just look at that swirled frosting perfection. The warm spiced cake and tangy cream cheese frosting is a match made in Heaven! Here's how you begin: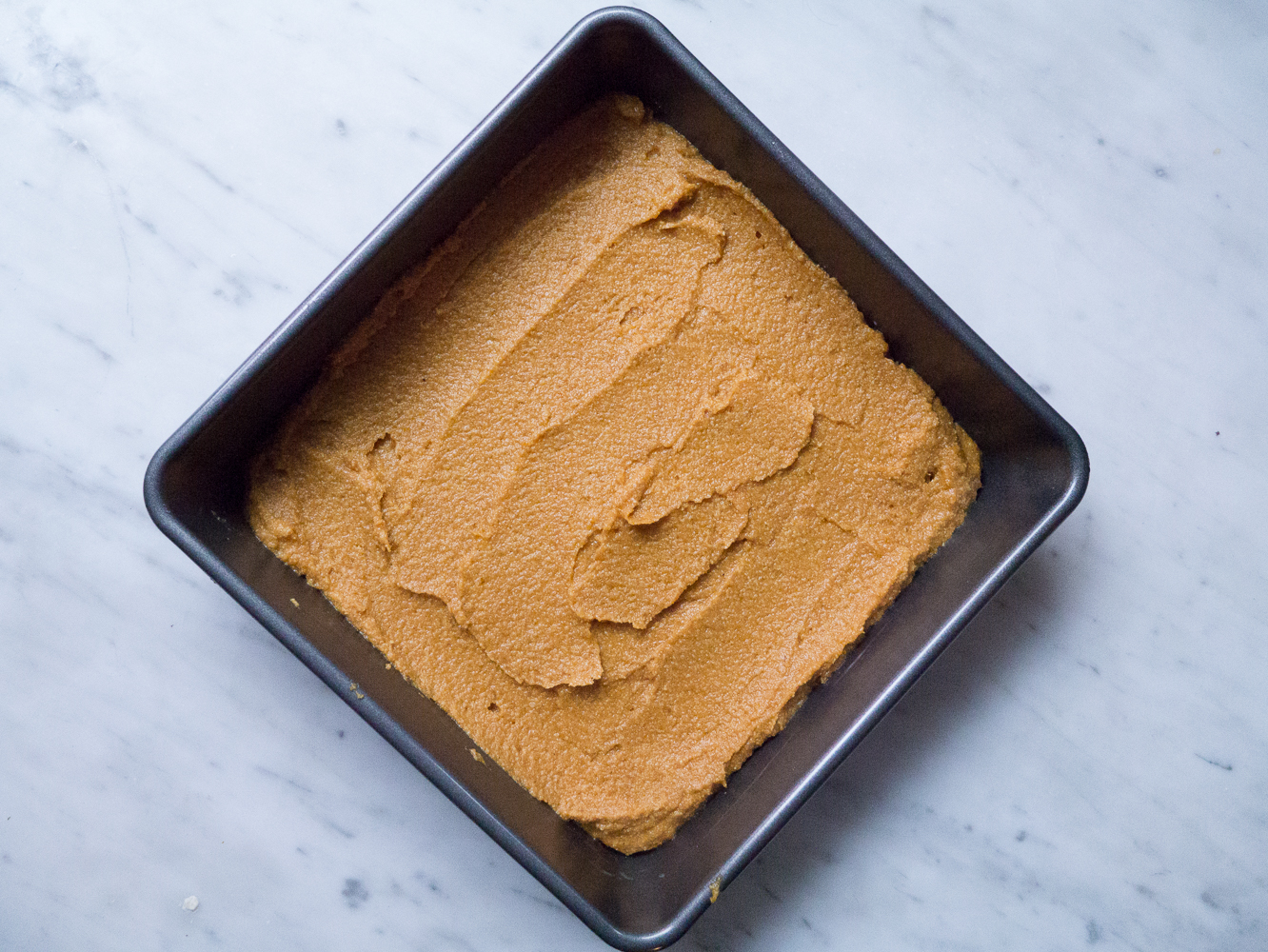 Get yourself a hand or stand mixer and combine your wet ingredients together. Add in the dry and mix until just combined.
Scrape batter into a baking pan and bake until your house smells beyond delicious.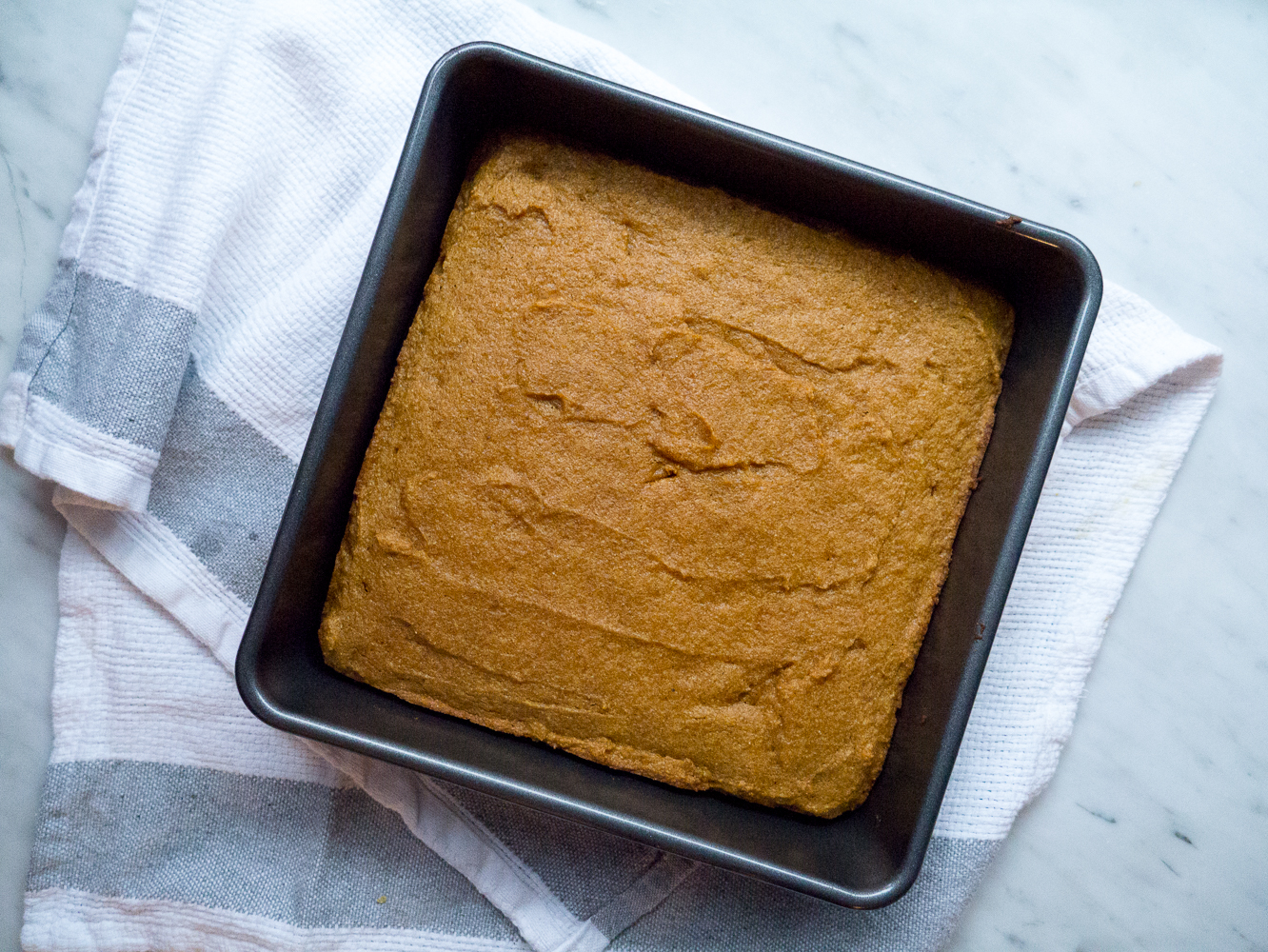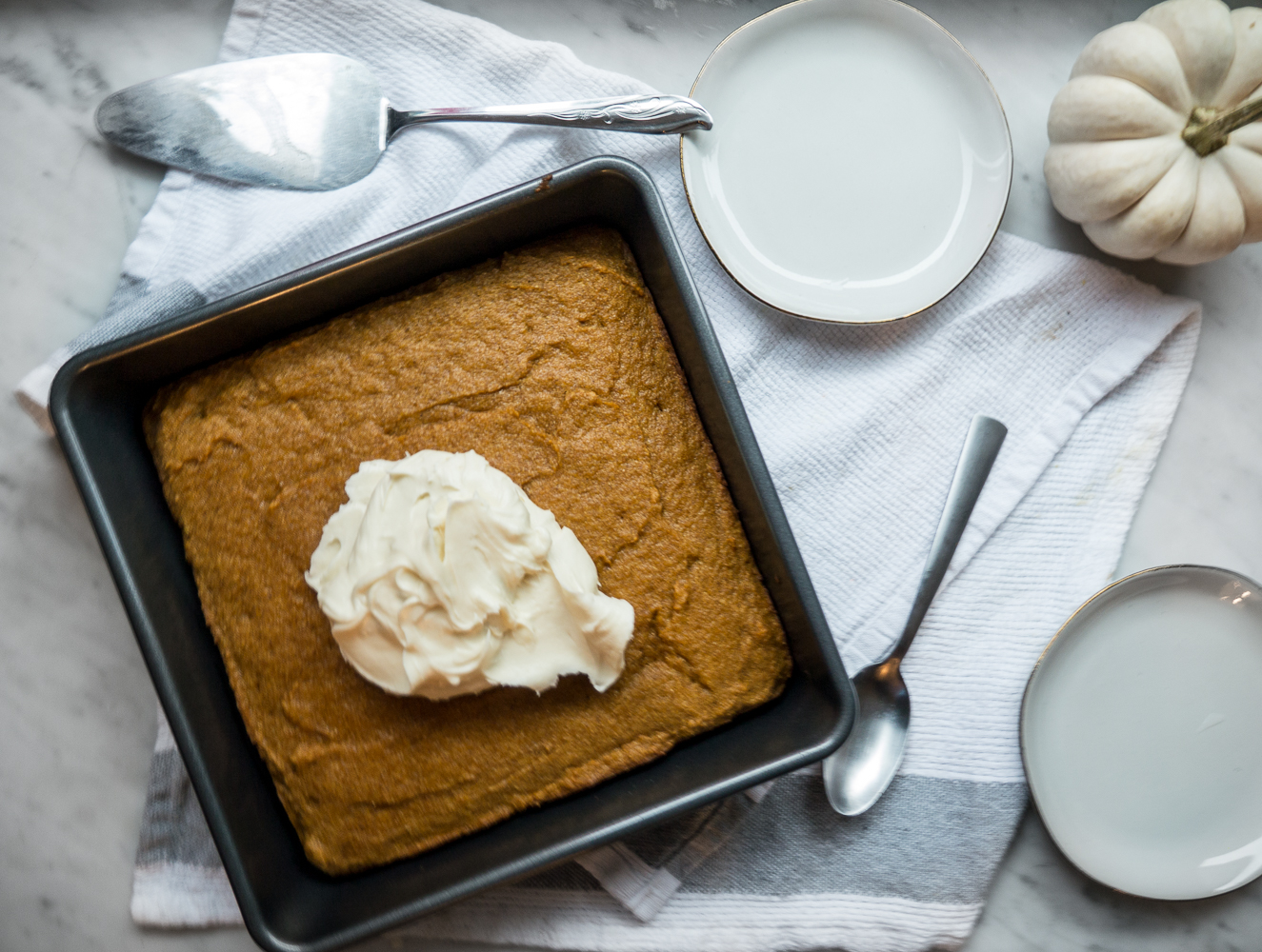 Whip up some cream cheese frosting, and spread onto that beautiful pan of pumpkin cake.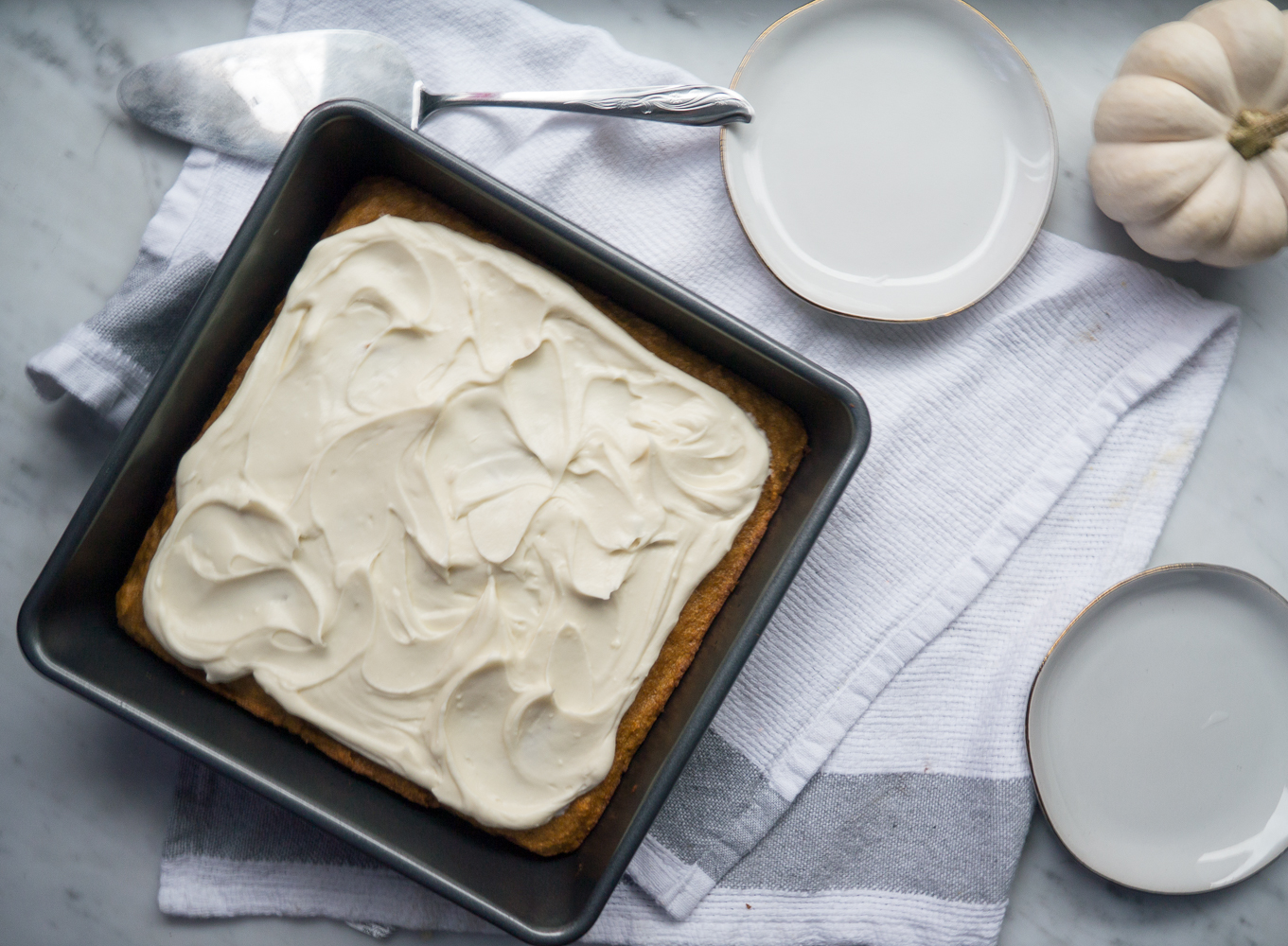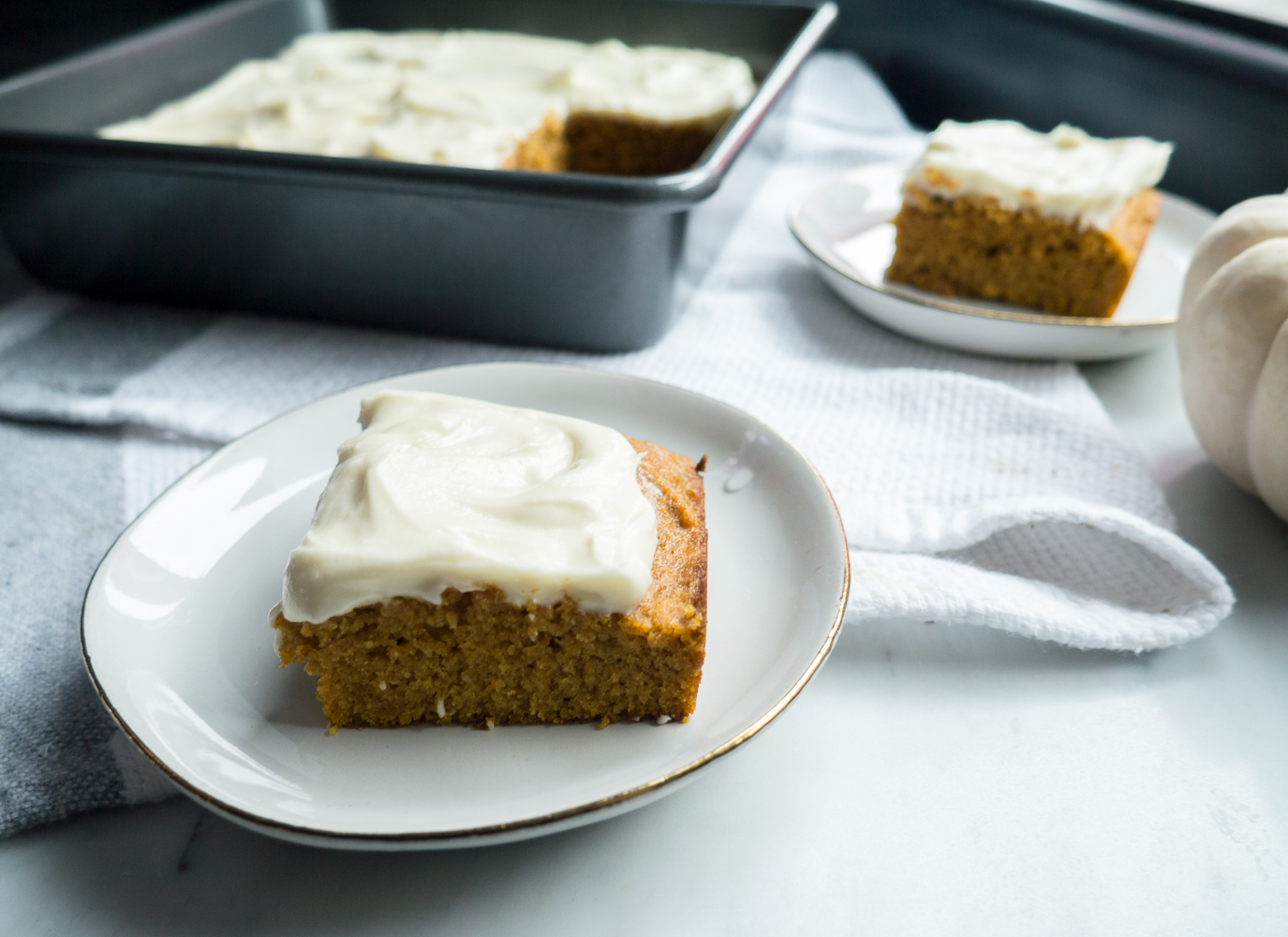 Slice into which ever size slices you want, and keep in mind this pan can be one serving if you believe in yourself! Take a bite, and tell me that doesn't make a hour less of daylight feel just fine 🙂
Pumpkin Bars with Cream Cheese Frosting (makes 16 bars) recipe adapted from here
For Bars:
2 eggs
3/4 cup granulated sugar
1/3 cup coconut oil, melted, plus a small amount more to oil the baking dish
1 cup pumpkin puree
1 cup whole wheat or white flour
1 teaspoon baking powder
1/2 teaspoon baking soda
1/4 teaspoon pumpkin pie spice
1/2 teaspoon salt
For Frosting:
4 ounces cream cheese, softened (half a block)
1/4 cup butter, softened (half a stick)
1 teaspoon vanilla extract
1 cup powdered sugar
pinch of salt
Preheat over to 350 degrees, and oil a 9×9 inch baking dish. You can use an 8×8, but note the bars will be thicker and may take a few minutes longer to cook.
In the bowl of a stand mixer, or in a regular bowl if you're using a hand mixer, combine eggs, sugar, coconut oil, and pumpkin puree. Mix on medium speed until light and fluffy, and don't worry if the batter looks curdled due to the coconut oil hardening.
Combine flour, baking powder, baking soda, pie spice, and salt, and slowly add into the wet ingredients with the mixer on low speed. Mix until just combined.
Scrape batter into the baking dish, and bake for 25-30 minutes until knife inserted in center of dish comes out clean.
While bars are cooling, make the frosting. Using a stand or hand mixer, slowly whip all frosting ingredients together until light and fluffy.
Spread frosting onto cooled bars, cut into squares, and enjoy.