For those of you I don't work with, which is hopefully a lot of you, I have a ritual where every Friday I teach my mostly middle aged coworkers the "Millennial Fact of the Week". Some weeks we talk avocado toast, others we chat about drinking rose on a rooftop, and this Friday we chatted about what millennials do during the fall.
After scrolling through my Facebook timeline I instantly had so much to share with them. Pumpkin patch trips, fall crafting, pumpkin spice literally everything (lotion?!?), and apple picking filled my news feed. We laughed, I felt slightly embarrassed for my generation, and went on with our day. Despite these activities being super cliche, I think the majority of us love them. I've been dying to go apple picking and have been making do by rummaging through the bins at my local super market for the perfect honeycrisps while they're in season.
I decided to post a picture of this gem of an apple cake on Instagram, after getting inspired by all of the pictures of people going apple picking, and little did I know this would be my most requested recipe of all time! I was excited, but not surprised, since this truly is a recipe that belongs in everyone's back pocket.
Besides the fact that it's super easy, it retains the pure honeycrisp apple flavor complimented with just cinnamon and vanilla, is pretty much impossible to mess up, and it has an entire block of cream cheese which makes it heavenly moist and dense. It's like a cross between a cake and a cheesecake, and is quite possibly the best way to use up any extra few (or pounds of) apples you may have lying around!
I've made this with granny smiths, pink ladies, fujis, and honeycrisps, and the best turnout by a mile was with the honeycrisps. They're sweet and tart and bake into delicious puddles of cinnamon apple goodness.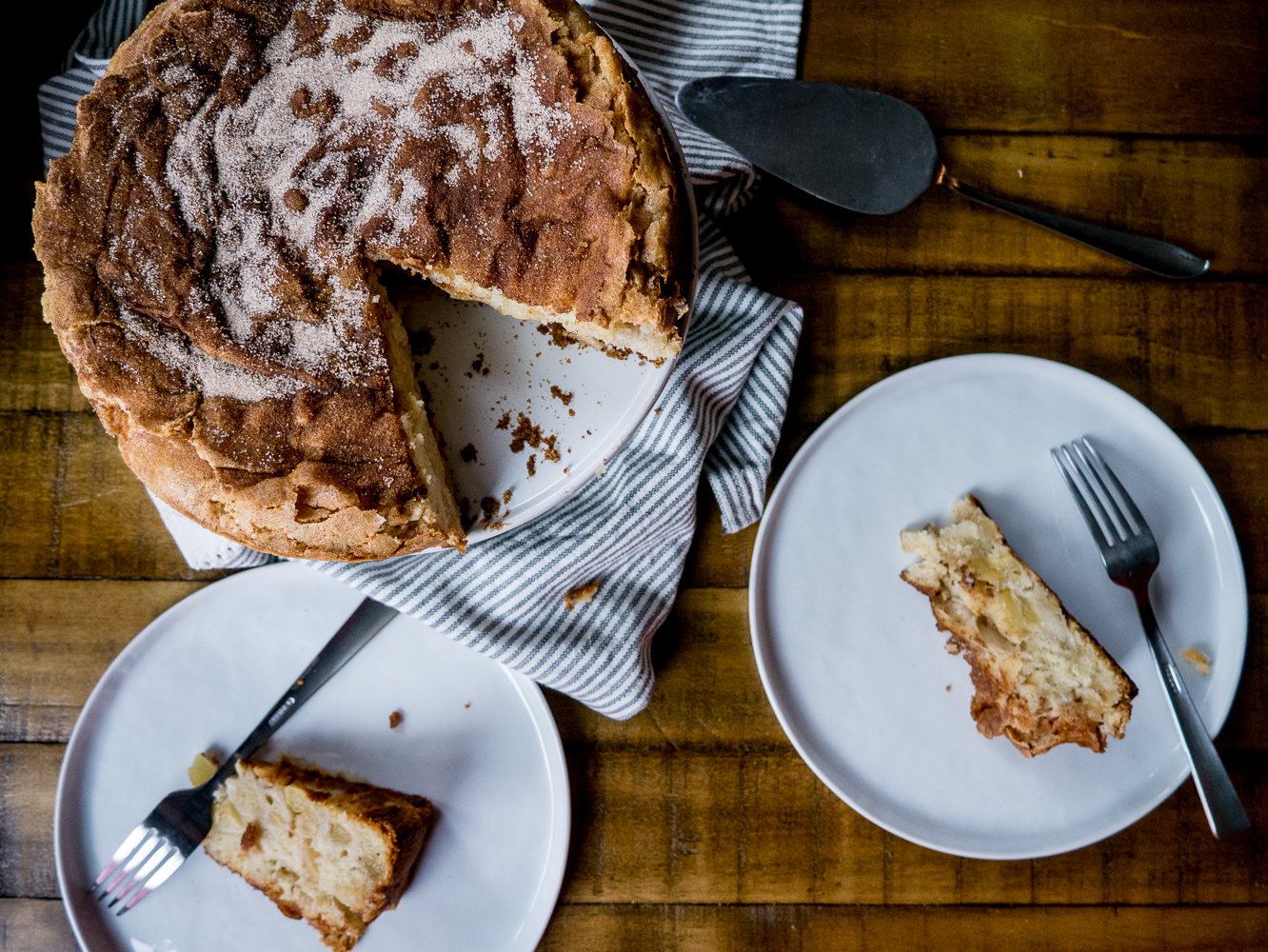 Plus I mean look how perfect it is. Beautifully golden brown with a crisp cinnamon sugar lid. I'm drooling just thinking about it, so let's get started… but first a sneak peak inside: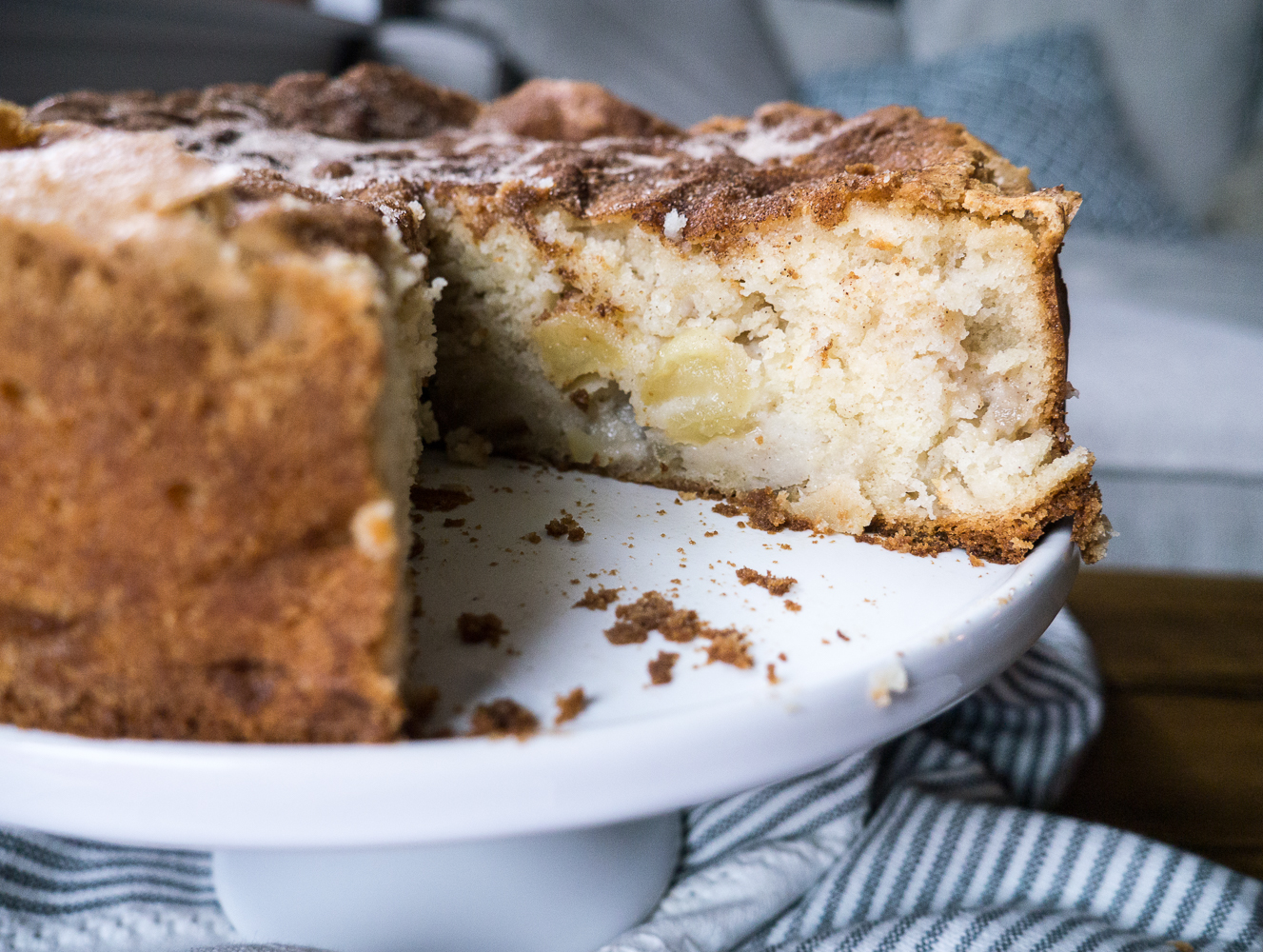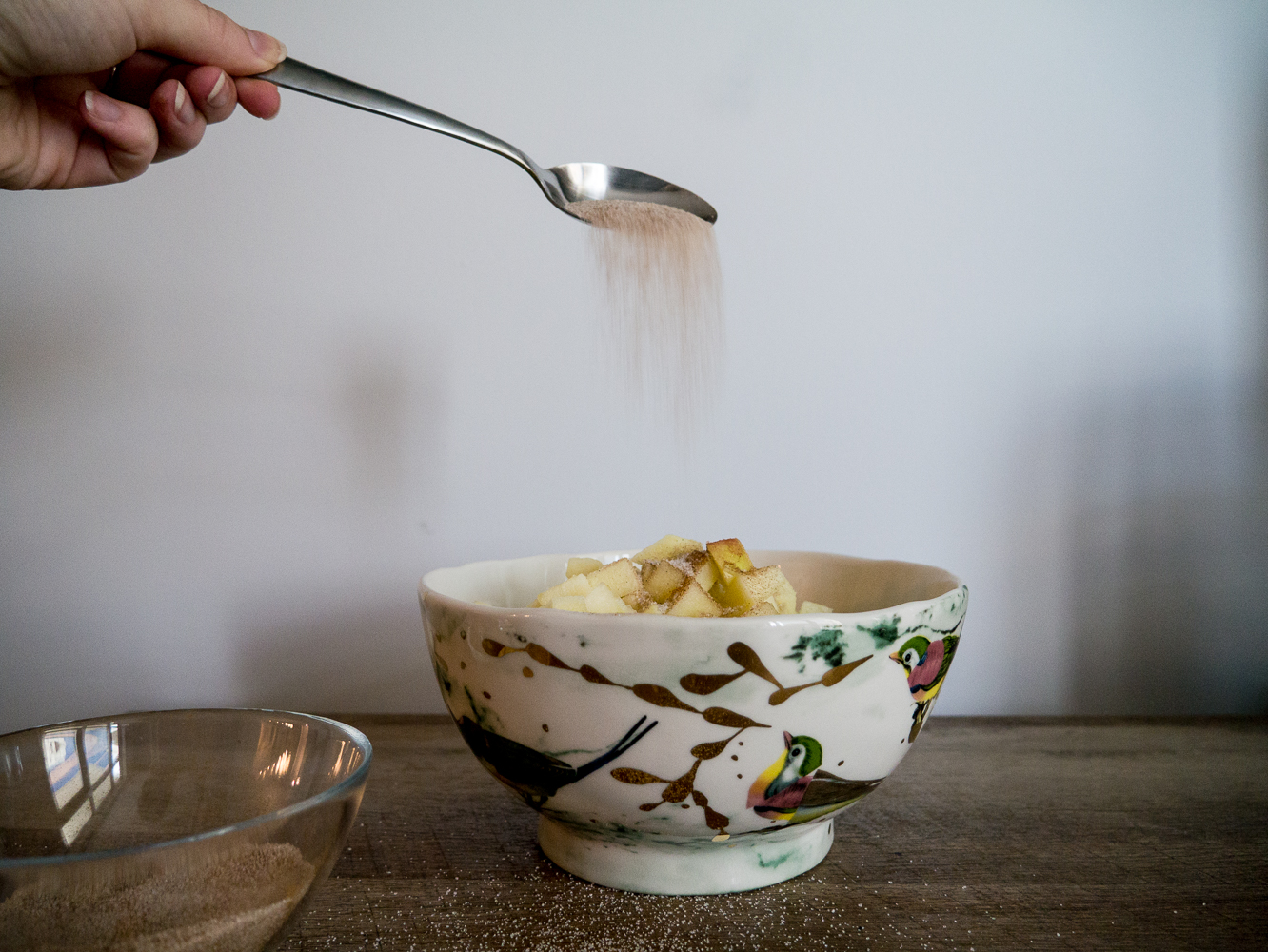 Start by peeling, coring, and chopping your apples into little cubes, and toss with cinnamon sugar.
With a stand or hand mixer combine cream cheese and sugar until well mixed. Add in a few eggs, your dry ingredients, and fold in those cinnamon apples.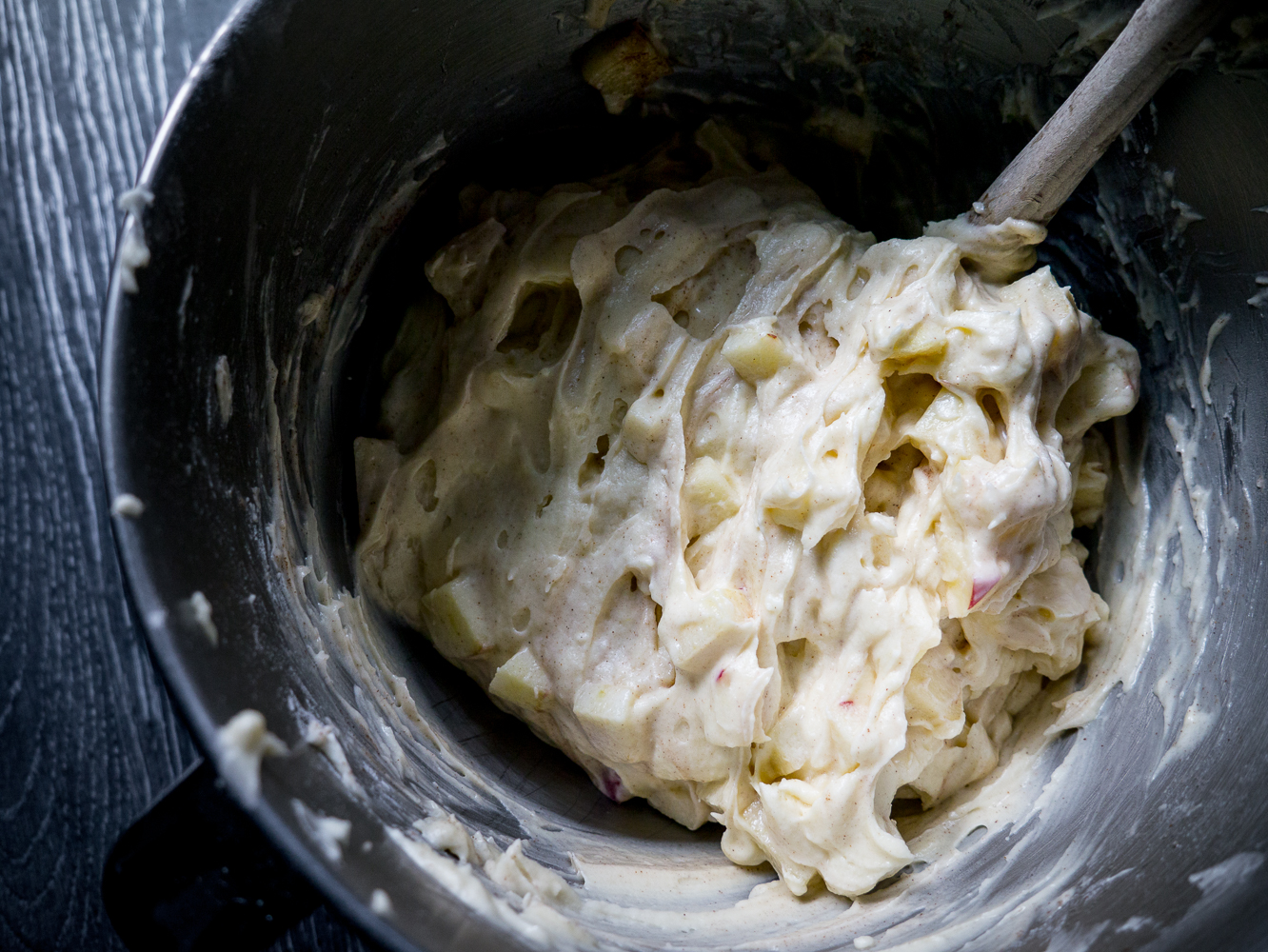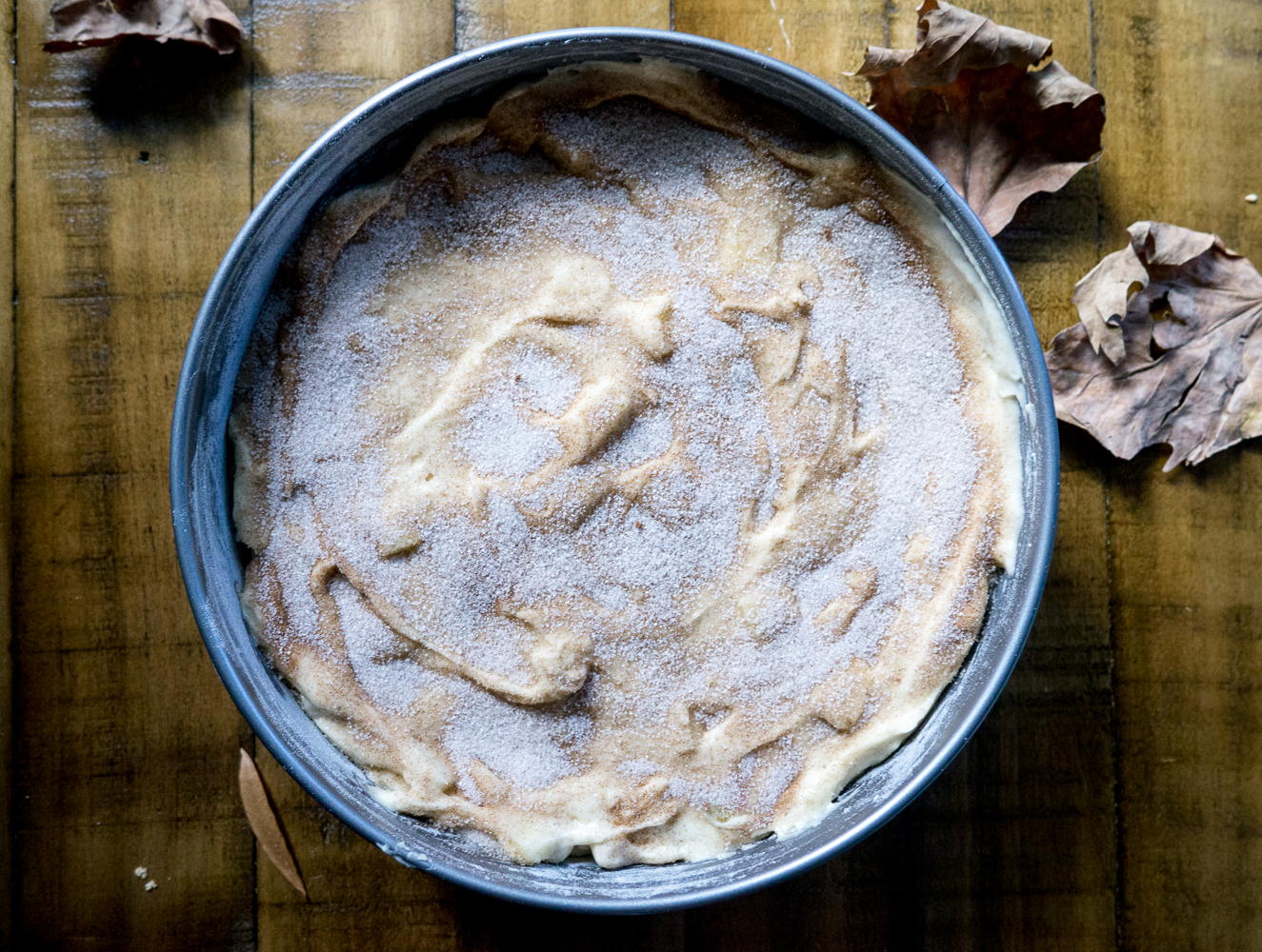 The batter alone is a thing of beauty! Scrape it into a springform pan (or other cake pan if you don't have one), and sprinkle with even more cinnamon sugar. Pop in the oven and just wait for your house to smell dreamy.
After an hour in the over it emerges looking like this: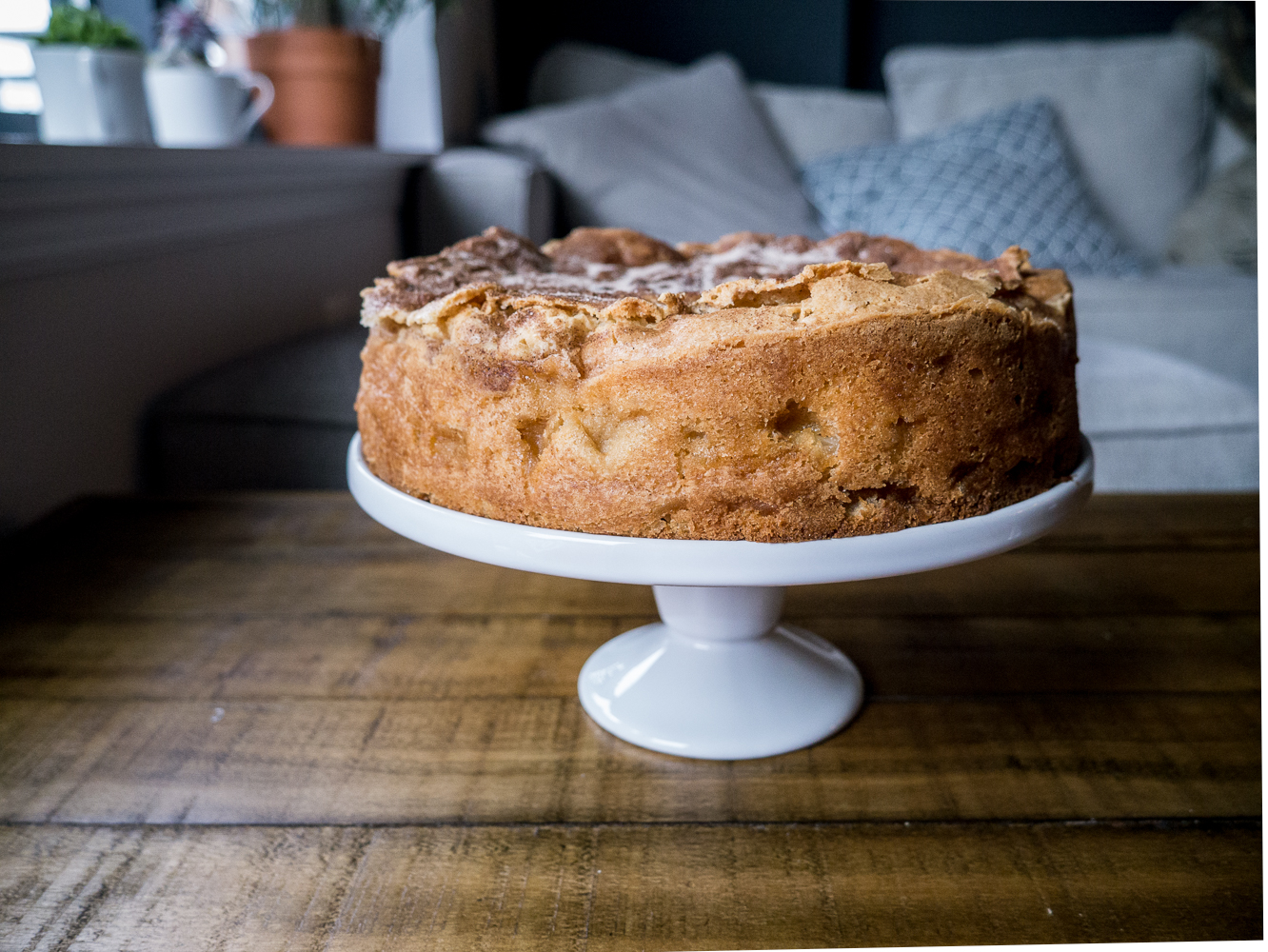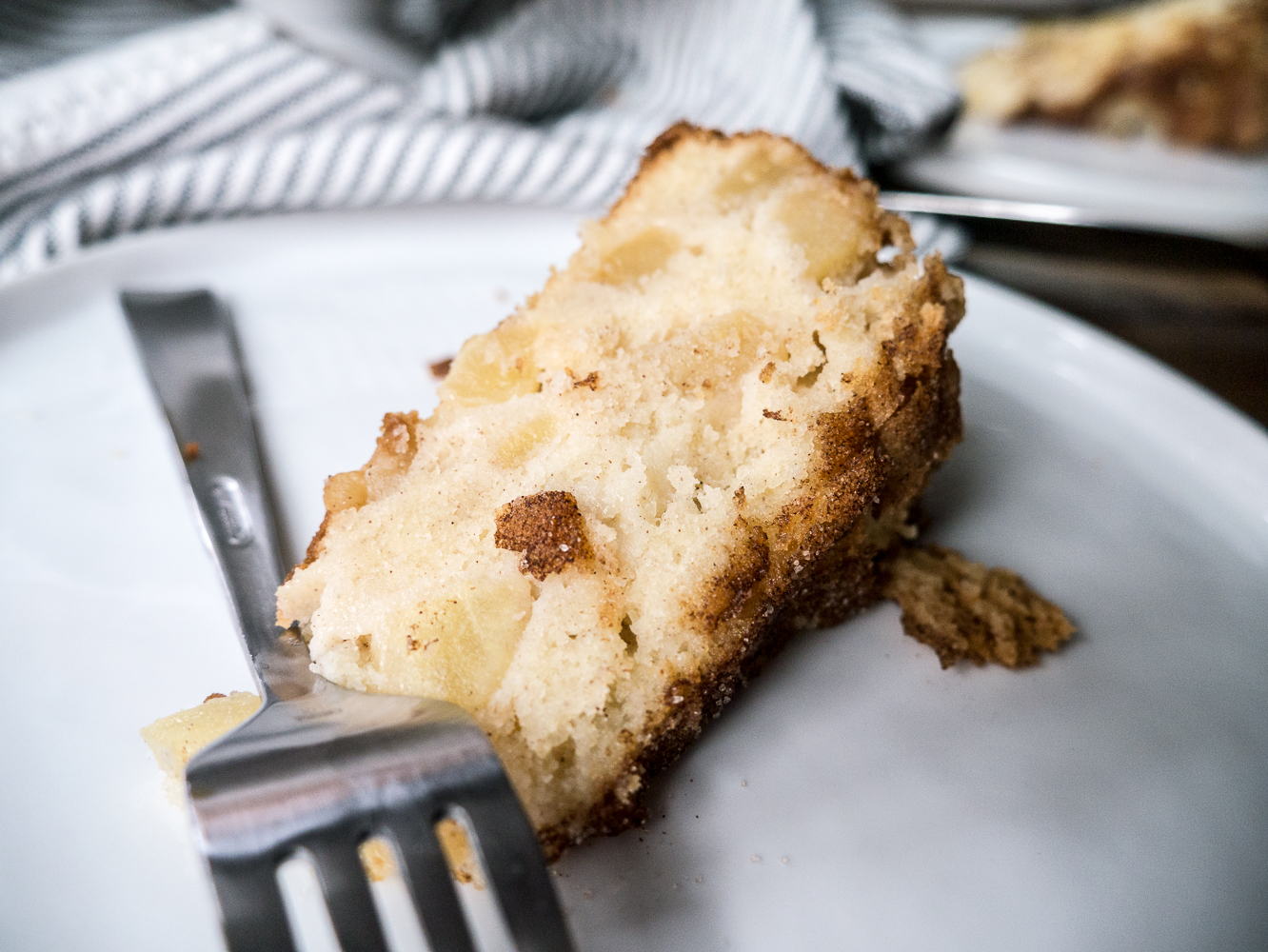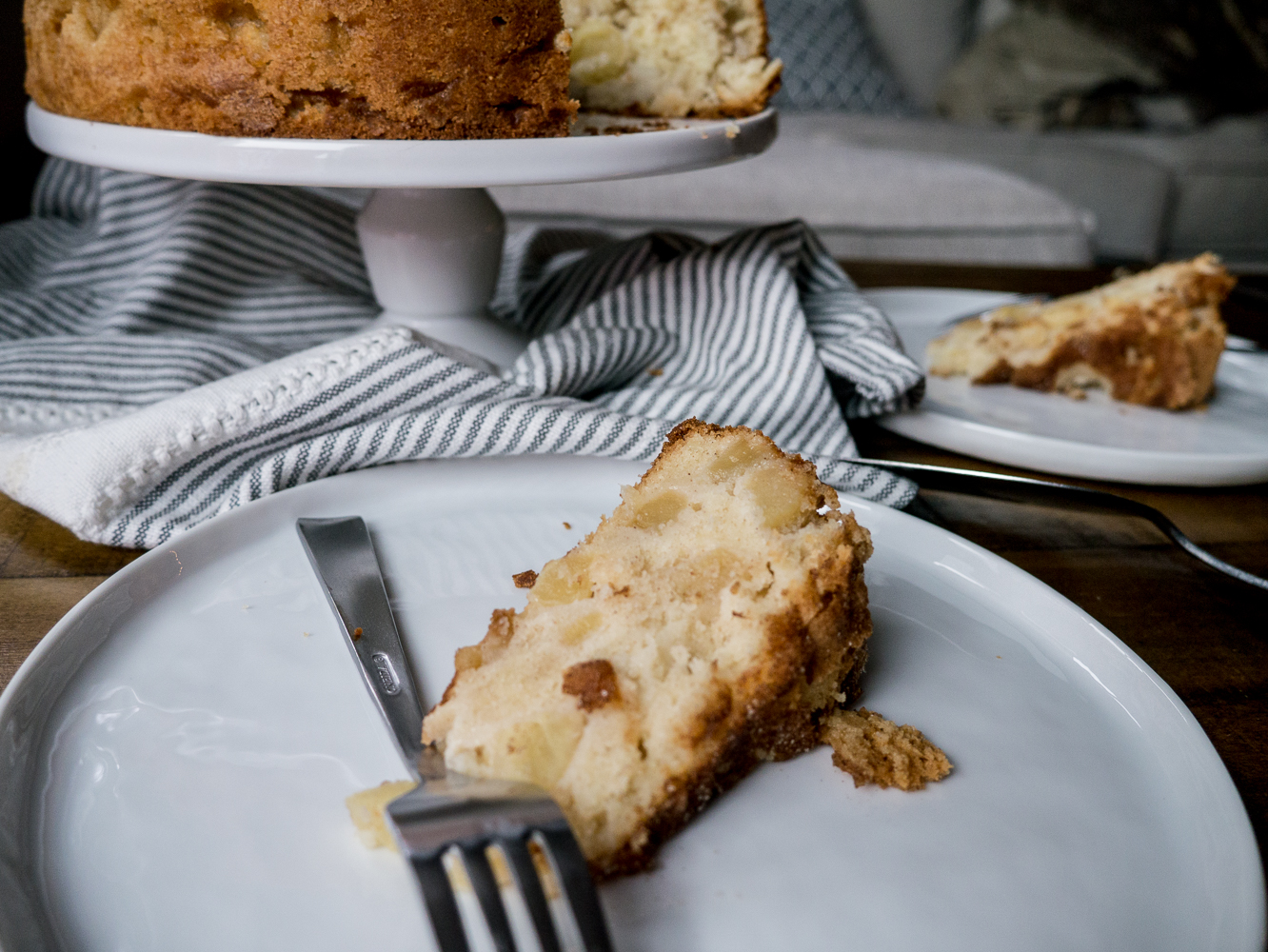 Let it cool, slice into thick pieces, and prepare for "mmmms", "oh my gosh", and "this is soooooo good" from everyone. This cake also stores incredibly well. If I happen to have leftovers, I store them wrapped in foil in the fridge and try and make them last a few days.
I don't even want to think about how good this would be sliced, toasted, and spread with peanut butter… You have to excuse me, I'm off to try it out!
Cinnamon Apple Cake (makes 1 cake, serves 8) recipe modified from here
3 Honeycrisp apples; peeled, cored, and diced into small cubes (about 3 cups)
1 3/4 cup sugar; divided
2 teaspoons cinnamon
1 1/2 cups flour
1 1/2 teaspoons baking powder
1/4 teaspoon salt
1 8 ounce package cream cheese, softened
1 stick (1/2 cup) of butter, softened
1 teaspoon vanilla extract
2 eggs
Preheat oven to 350 degrees and butter and flour (or use a baking spray) an 8 or 9 inch springform pan.
Combine 1/4 cup of the sugar and all the cinnamon, and toss apples in 2 tablespoons of that mixture. Save the rest of the cinnamon sugar for topping the cake.
In a stand mixer with the paddle attachment, or with a hand mixer, beat cream cheese, butter, 1 1/2 cups sugar and vanilla together until well blended (about 4 minutes).
Add in one egg at a time and mix thoroughly after each addition.
Combing flour, baking powder, and salt, and slowly add to the creamed mixture on low speed until blended.
Stir apple mixture into the batter.
Scrape into the springform pan using a spatula and smooth the top. Sprinkle with remaining cinnamon sugar and bake for an hour if you used a 9″ pan, and an hour and 15 minutes if you used an 8″ pan.
Let cool, slice, and eat!