I can only imagine your reaction to reading this title. When I explained to my family that my next blog post is on something called "golden milk", the replies ranged from a confused head tilt, to my brother pointing at his Golden State warriors jersey and asking if I was finally writing about Steph Curry.
Clearly that didn't go quite as expected…. When I first heard of the term 'golden milk' I too had no idea what it was, and pictured an angelic cow with wings that produced milk even more expensive than Whole Foods sells. Thankfully we all couldn't have been more wrong.
Golden milk is a drink posted on every holistic nutritionist's instagram that is a potent health tea made from an Indian spice, turmeric, that has been used for thousands of years for it's remarkable health benefirs. It has incredible anti-oxidant and anti-inflammatory properties, and the compound in the vividly yellow spice, "curcumin" is:
beneficial for digestion
can potentially prevent cancer
lowers cholesterol
protects against Alzheimer's
beneficial for your liver
and many more!
The spice has a warm taste, kind of orange-gingery, is perfect when paired with ingredients like cinnamon, and can be found in the spice aisle of nearly every grocery store. To make the spice paste for the tea, you combine turmeric with black pepper and coconut oil.
Sounds like a weird mixture? I thought so too, and then I learned that turmeric is fat soluble (dissolves in oil), and the pepper increases the absorption of turmeric's incredible properties by 2,000%! Makes sense now right?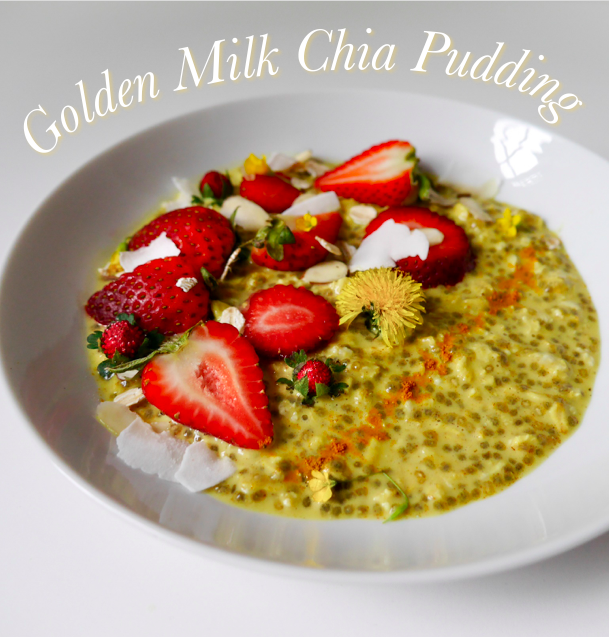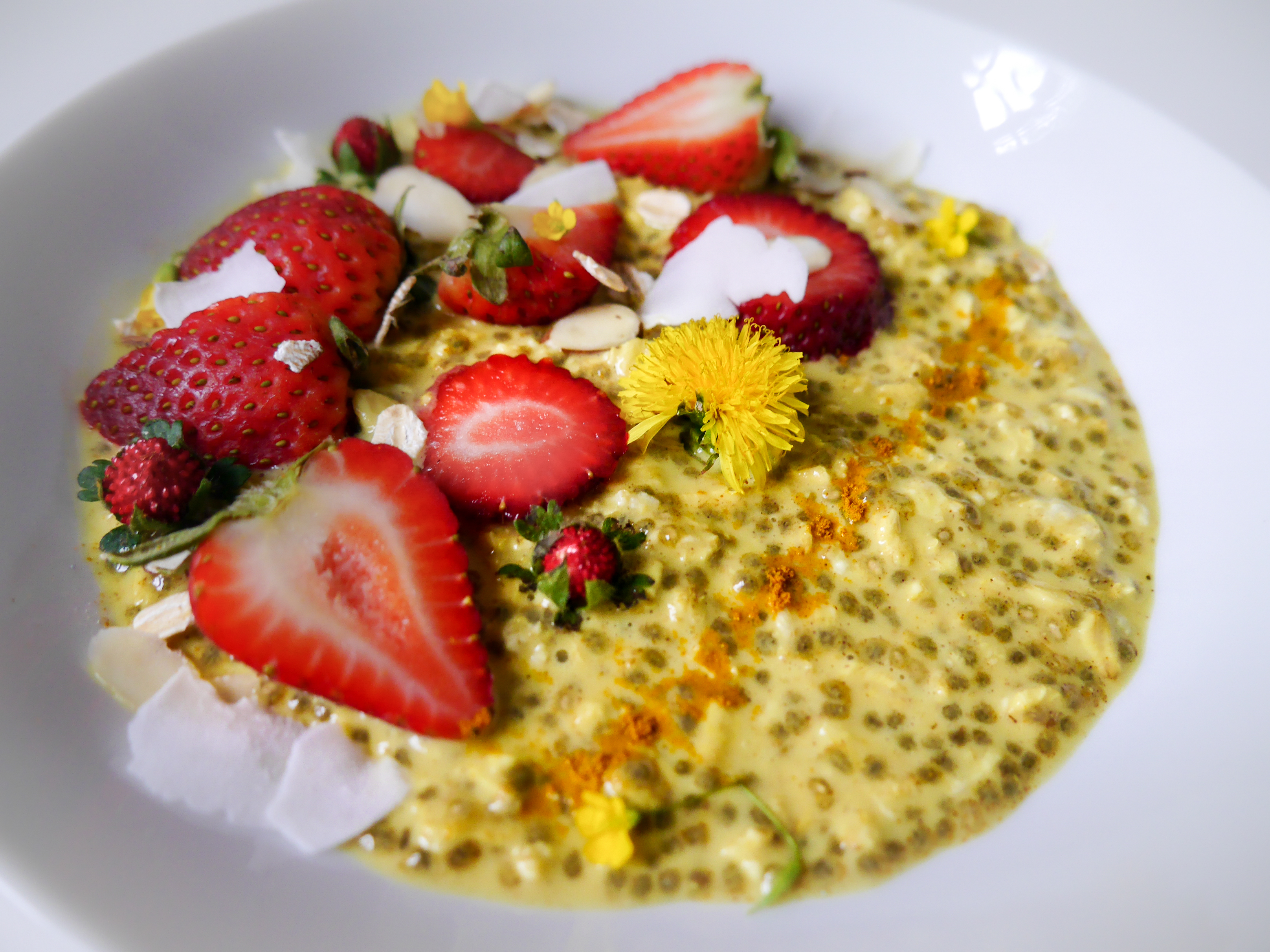 Lately I've been drinking the golden milk just plain in a latte form, or I go a step further and use the latte as the milk part of my overnight oat recipe. It's delish both ways, and knowing that you're doing something so good for your health is enough of a reason to skip the extra-hot grande skinny soy caramel macchiato (yes, that's my order. And yes, I apologize to the barista every time.)
You would think that all of these health benefits would come in a difficult to make package, but this turmeric paste that can be used hundreds of ways takes only 10 minutes! Here's how: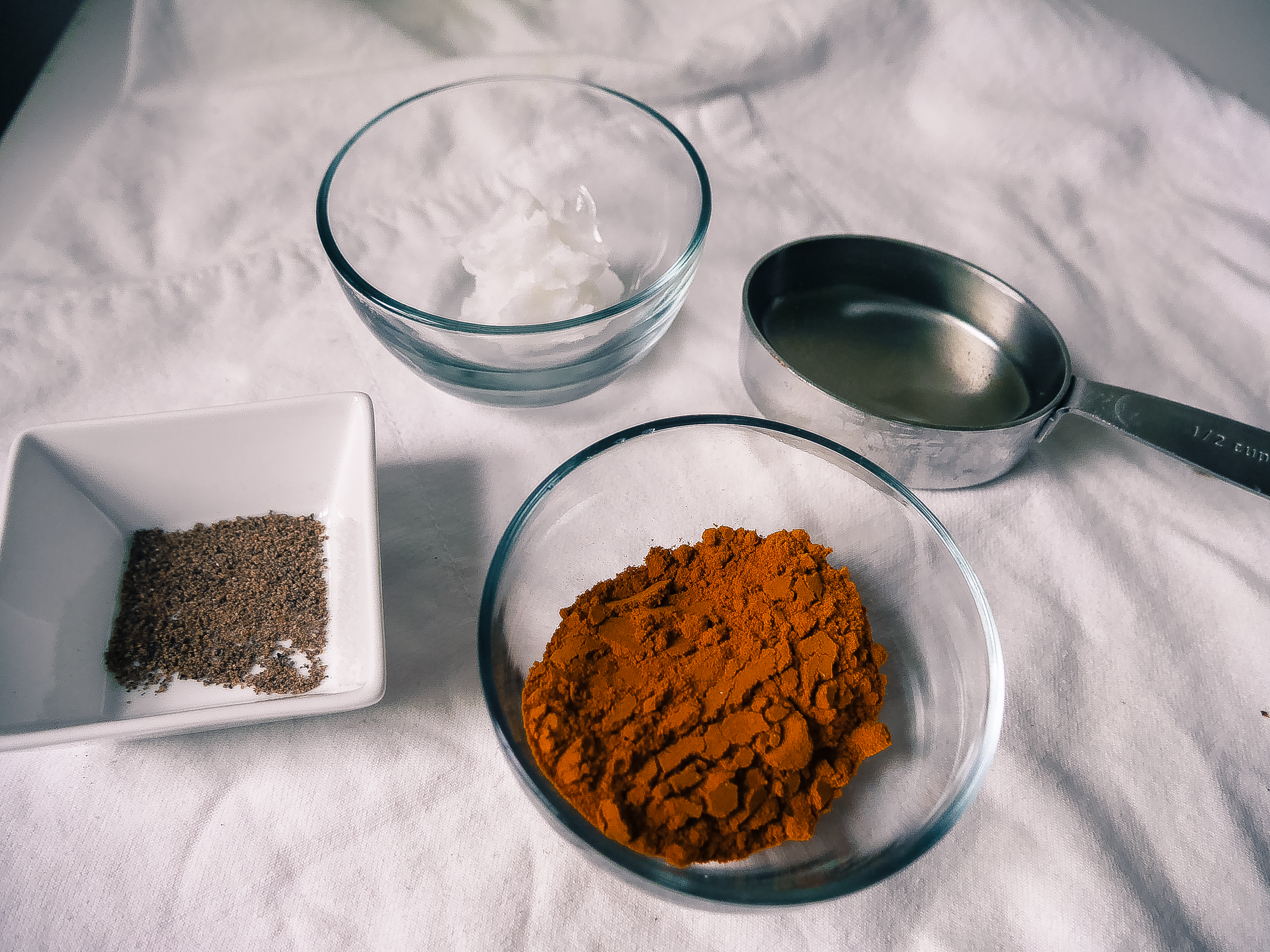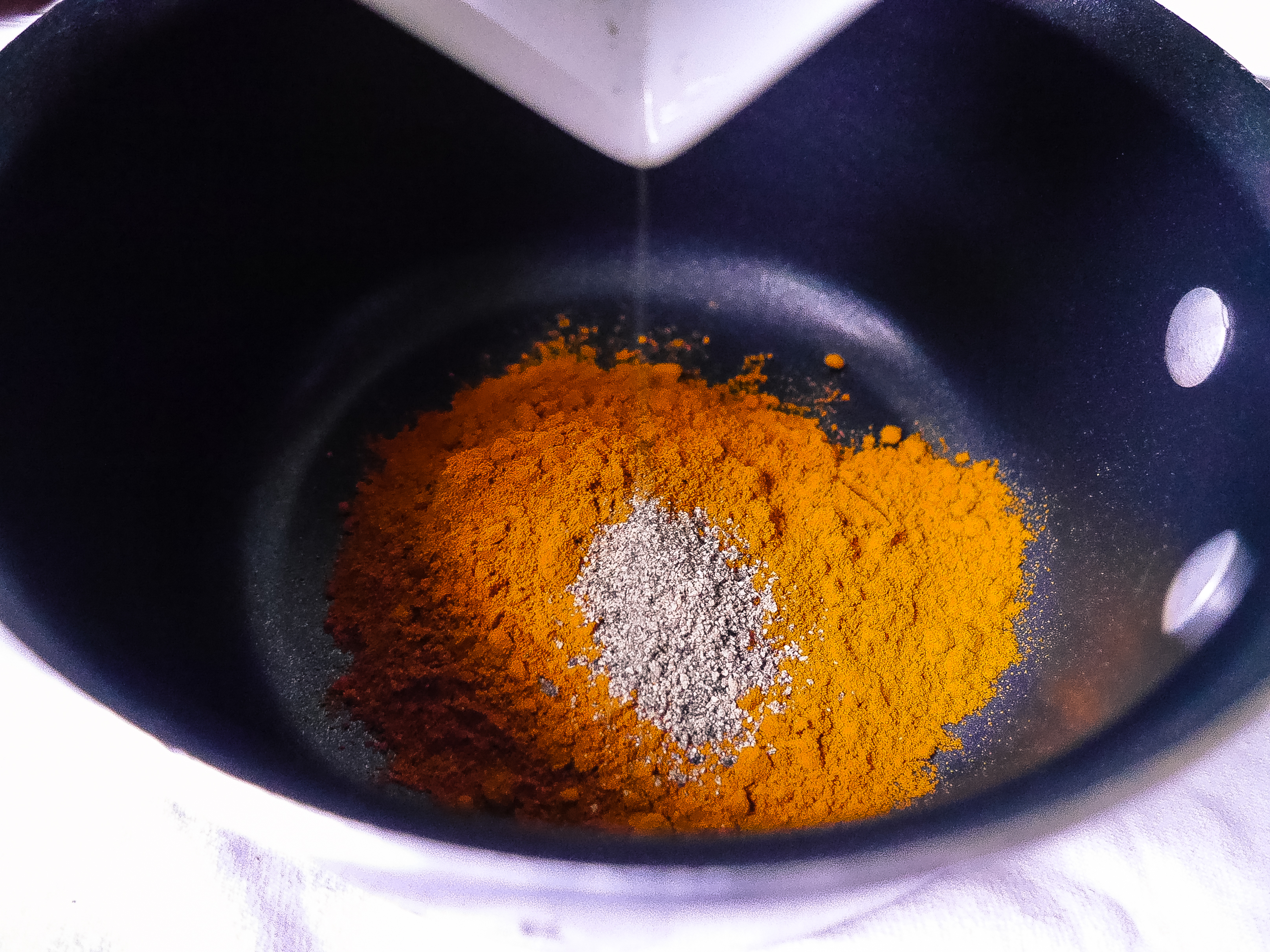 You'll need turmeric powder, black pepper, coconut oil, and water.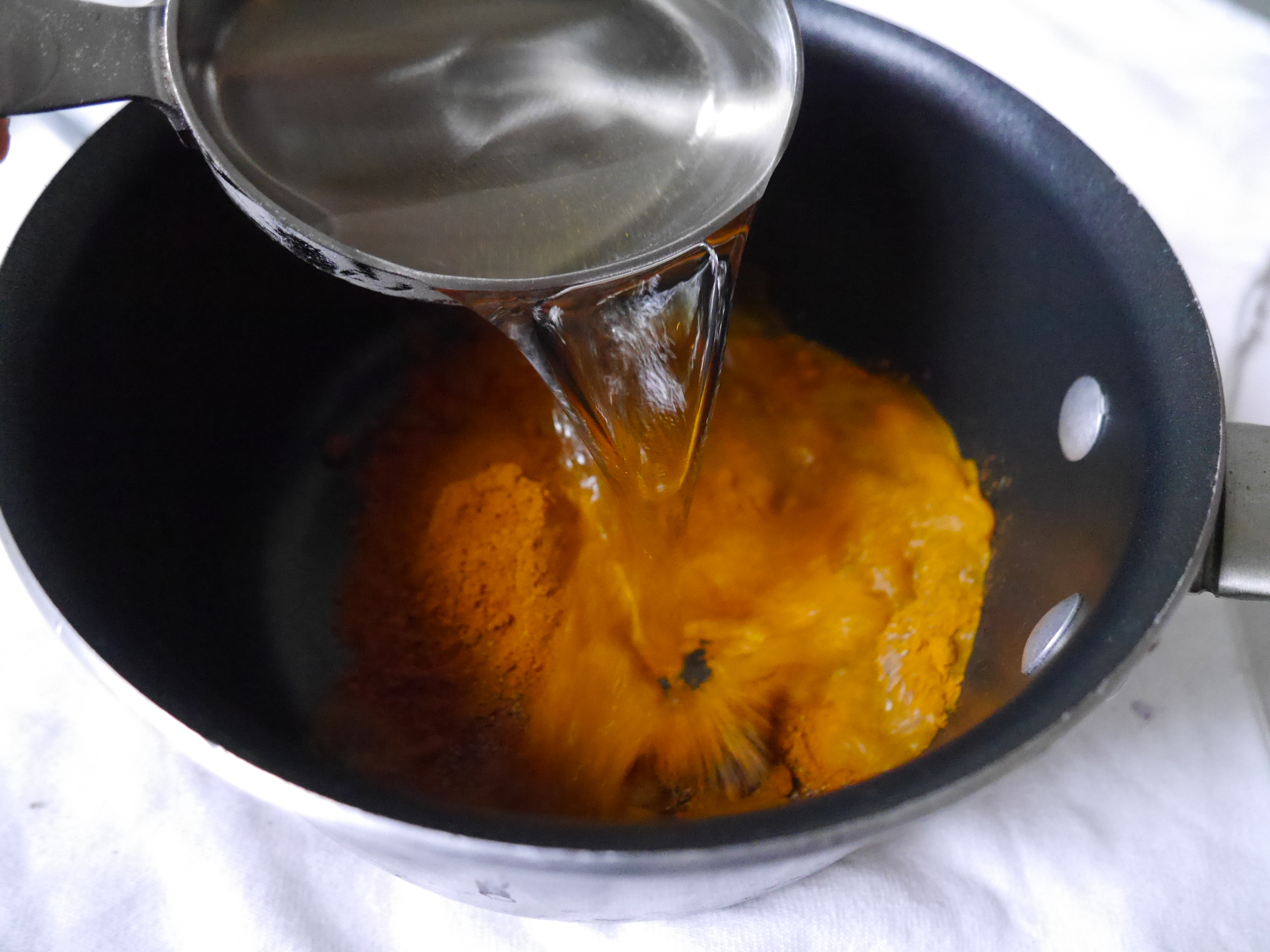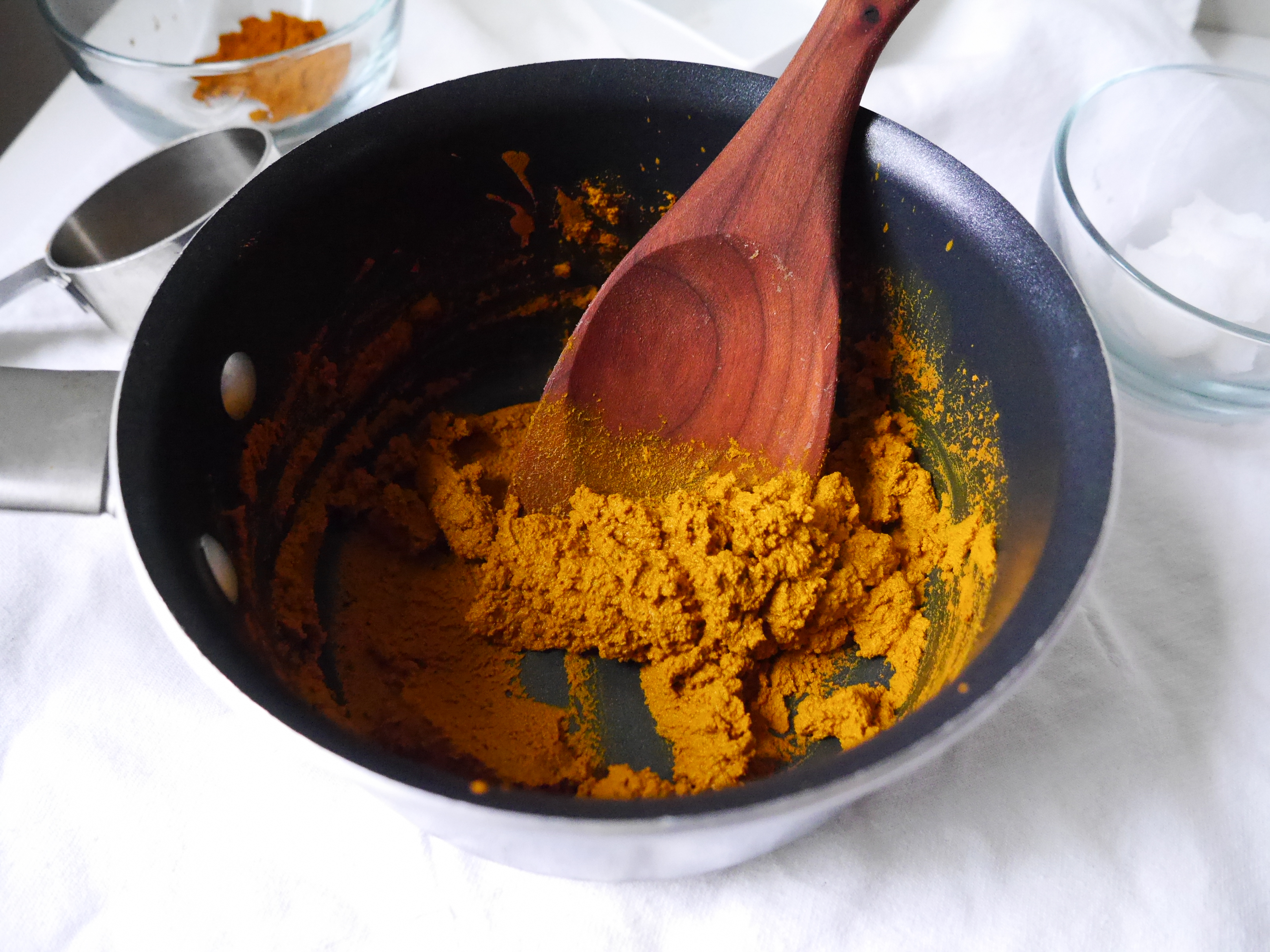 In a sauce pan combine turmeric powder, black pepper, and water. Heat over medium heat stirring constantly until a thick paste forms. This took me about 5 minutes.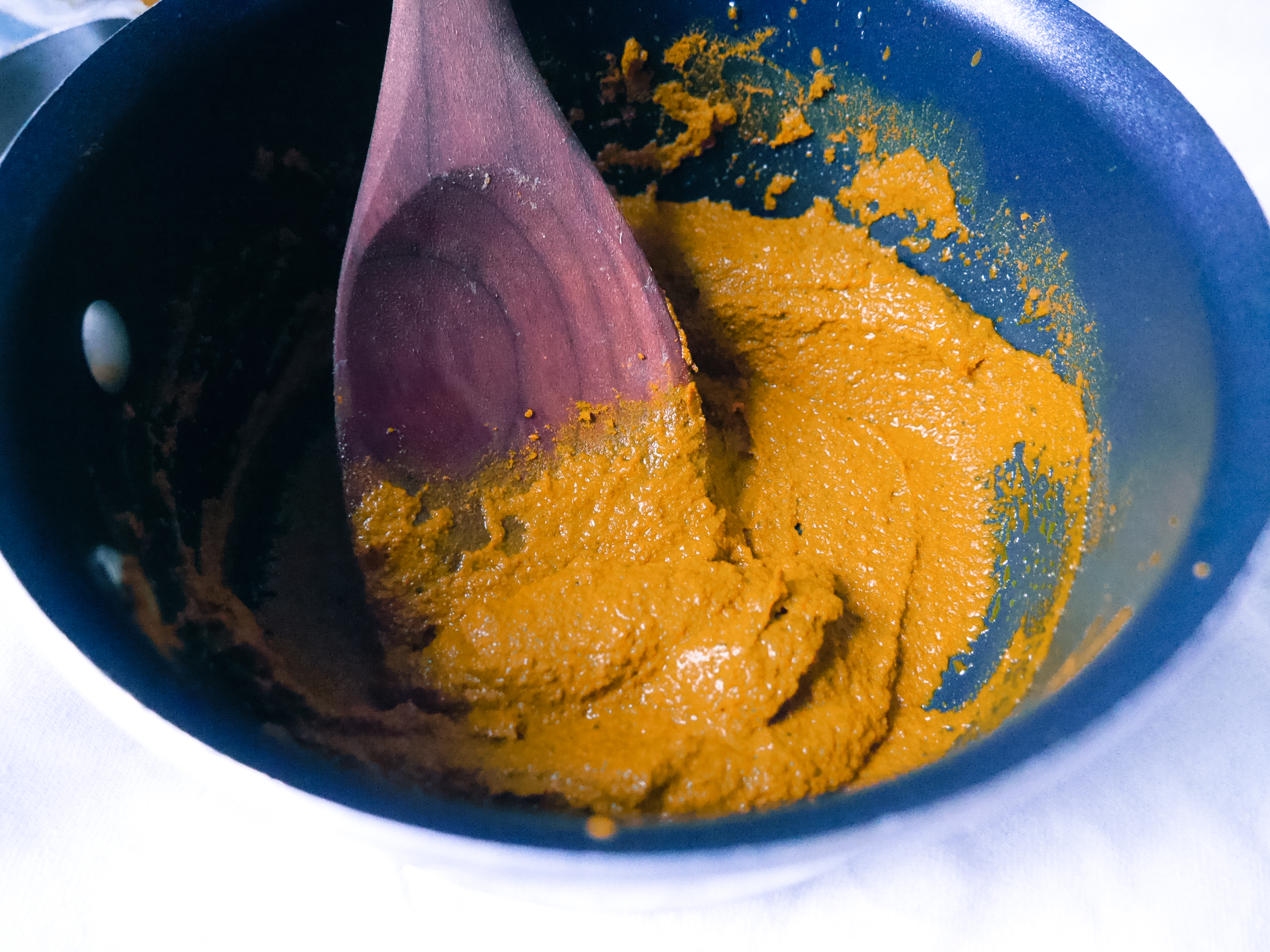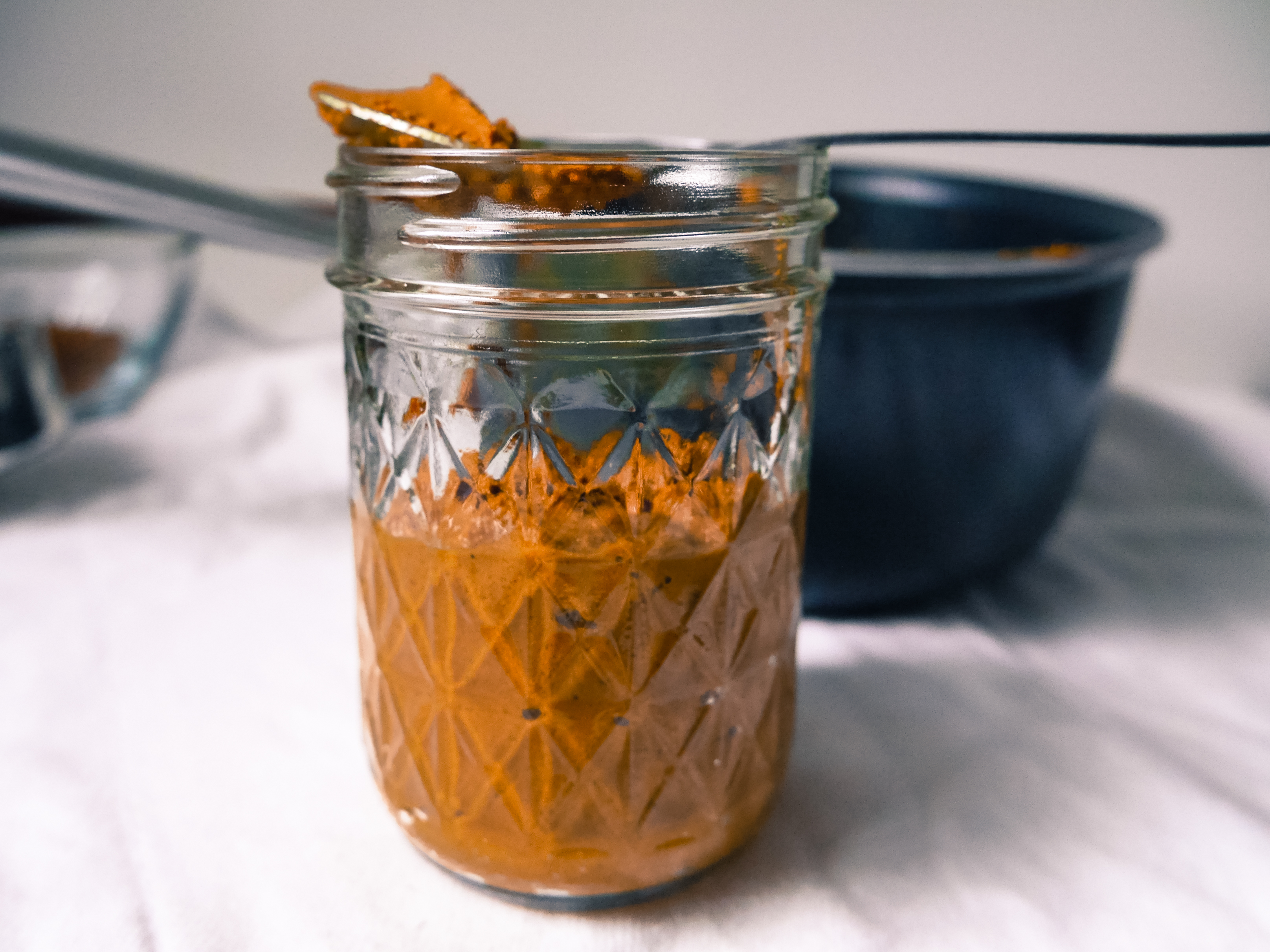 Take the pan off the heat and stir in your coconut oil. Spoon the turmeric paste into a glass jar, and store in the fridge for up to two weeks.
Ok, you have the golden paste made, so what do you do with it?? Let's start with the golden milk recipe, since that's the title of this post after all.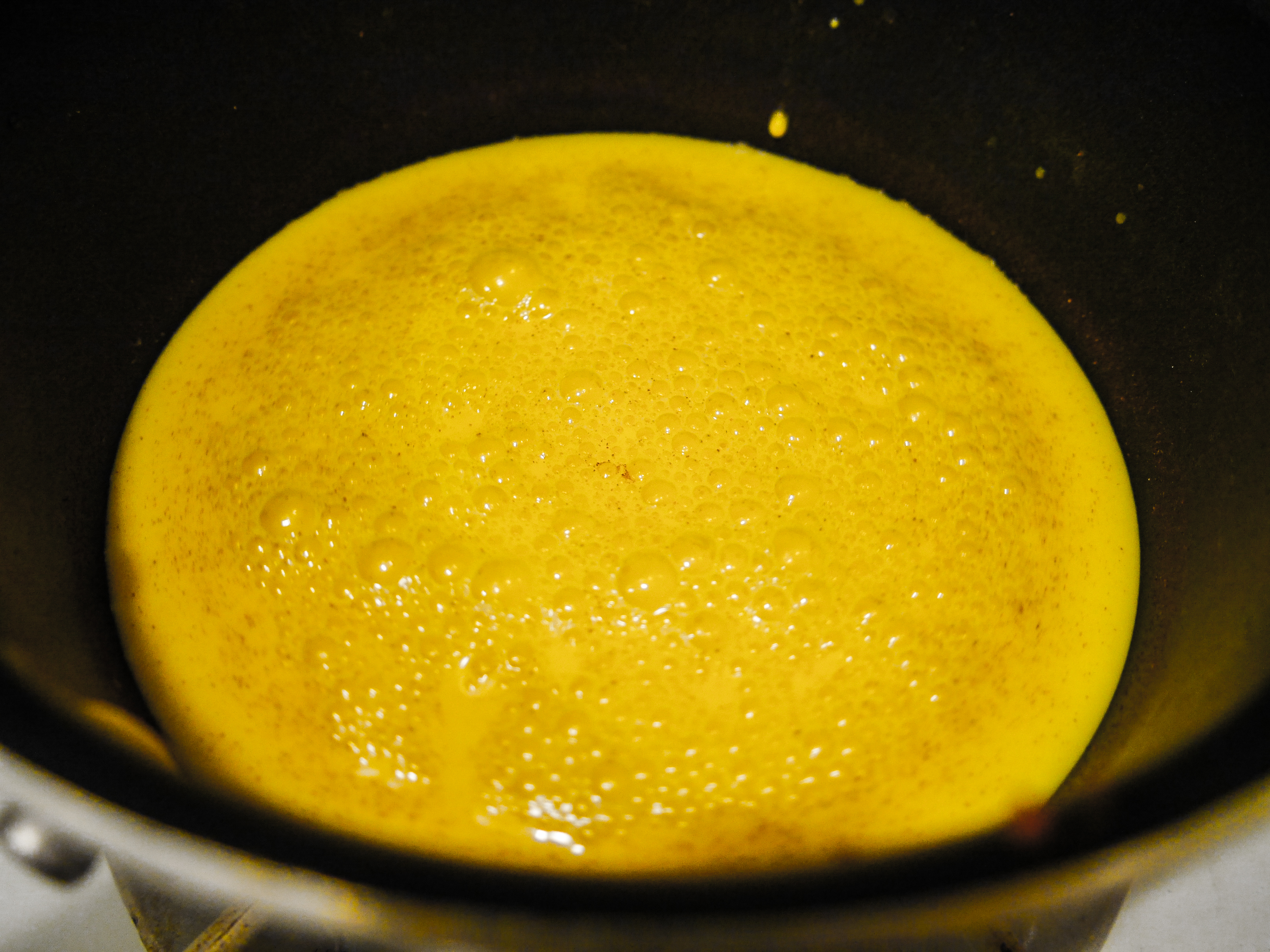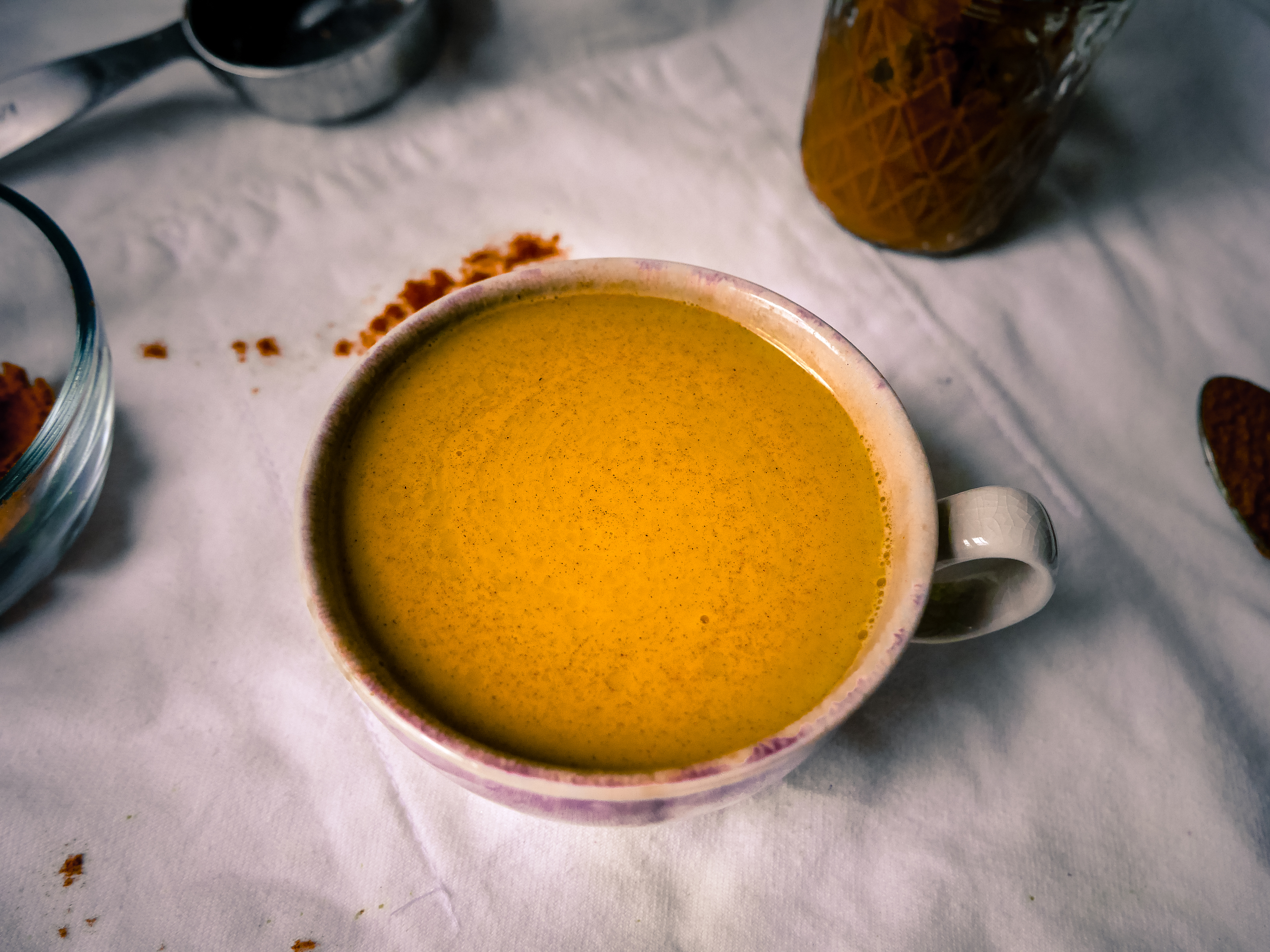 It couldn't be more simple. Combine 1/2 teaspoon of the paste, a cup of milk of your choice (I use almond milk), a tablespoon of agave/honey/maple syrup, and a big pinch of cinnamon.
Heat in a saucepan until hot, but don't let it boil. That's it, drink up!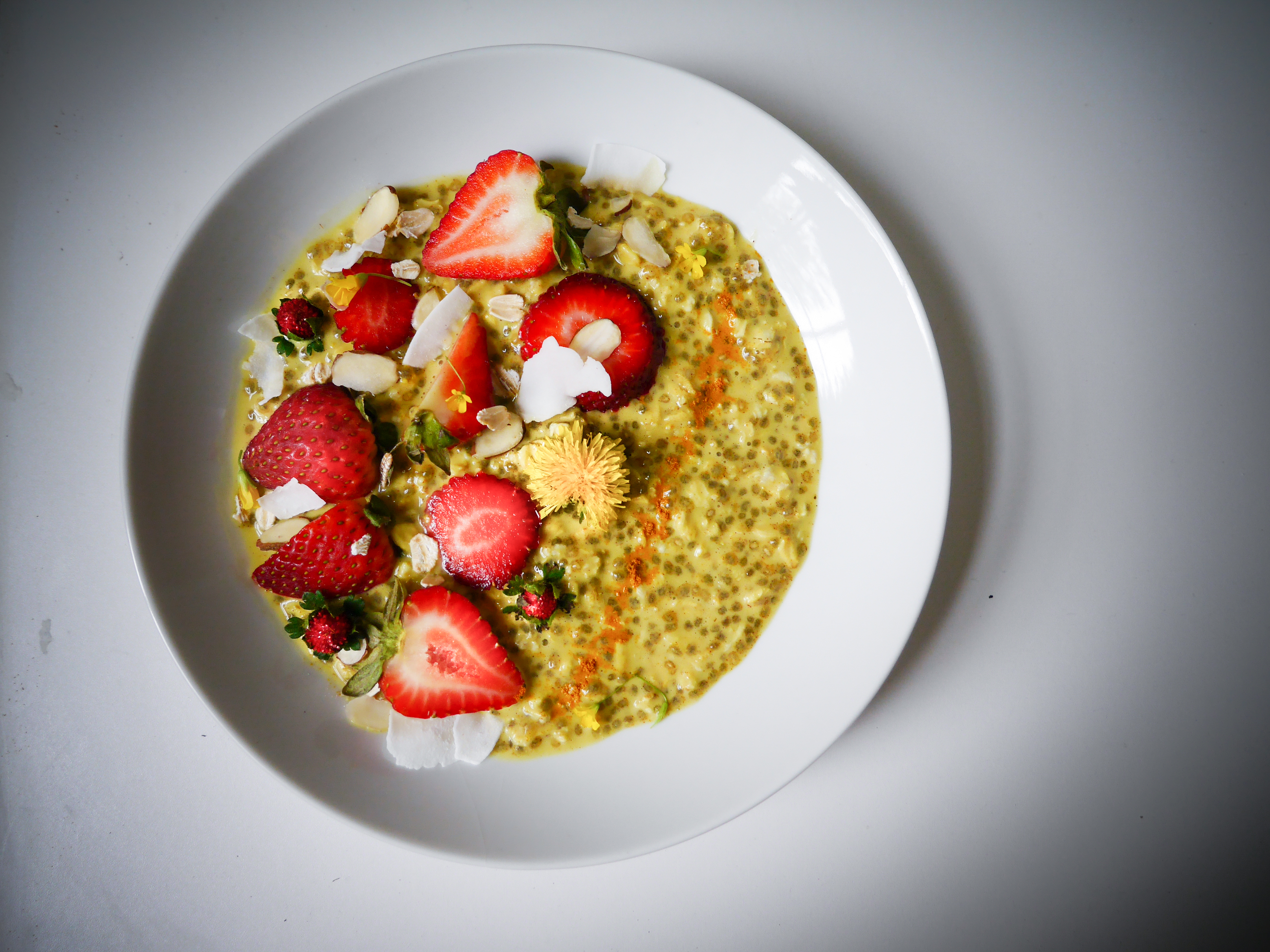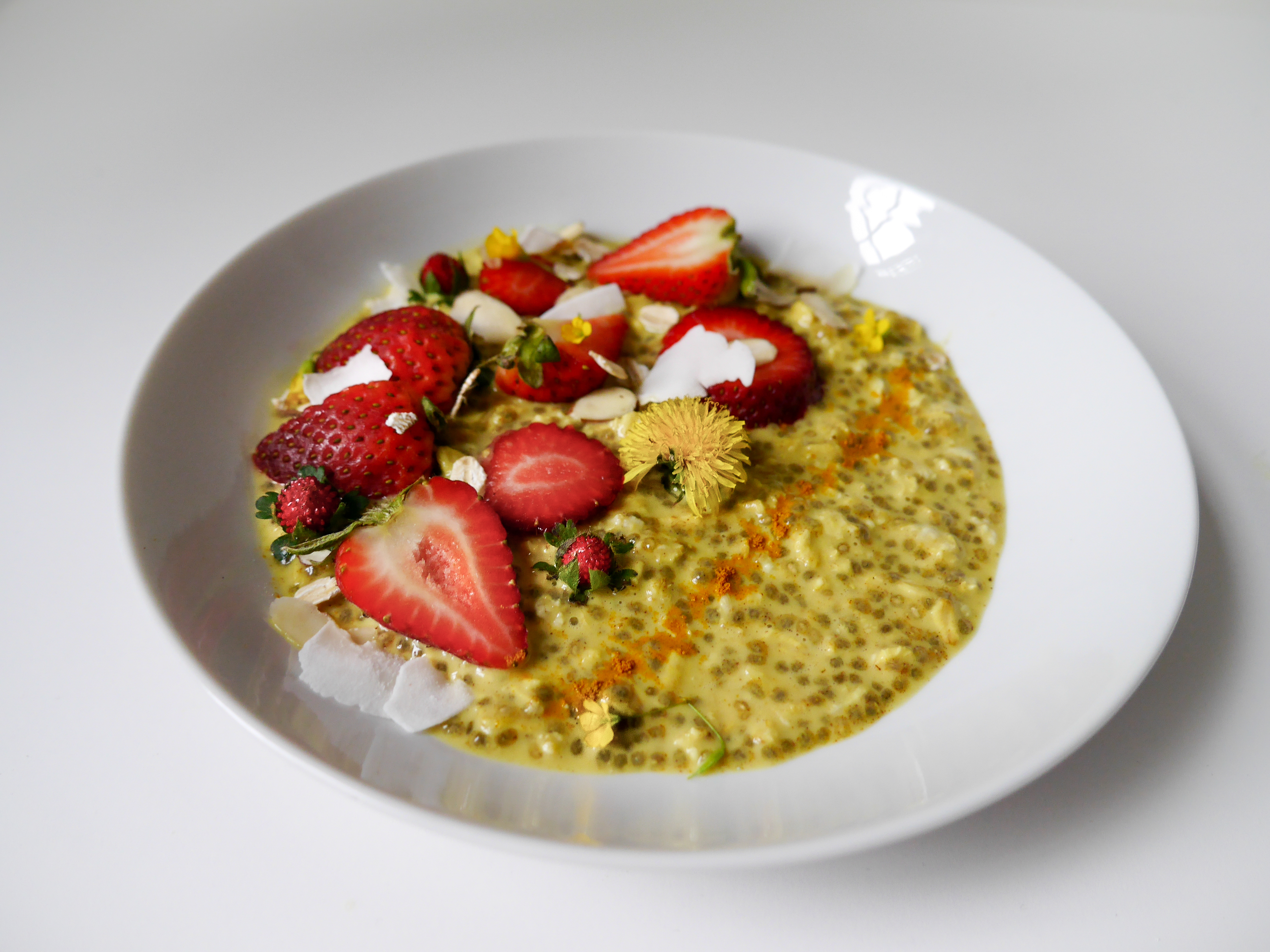 My second favorite way to use the turmeric paste is in a vegan overnight oat recipe. Combine the golden milk that you made in the previous step, chia seeds, and oats in a container. Let set overnight and top with fruit. Get creative! I did coconut and strawberries, but I think it would be amazing with fresh mango or banana.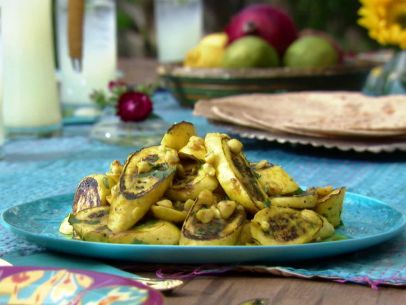 You can also use the paste in a savory way! We had the most incredible turmeric-honey zucchini last night for dinner, that I ate so fast I forgot to take pictures of 🙁 The recipe and above photo is from Food Network here.
I think the turmeric paste would also be great;
used in a coconut milk based ice cream
swirled into a chai latte
made into a salad dressing with apple cider vinegar
as a marinade for chicken or tofu
Please comment below if you have any ideas as well!
Turmeric Paste (makes about 1/2 cup)
1/4 cup turmeric powder
1/2 cup water
3/4 teaspoon black pepper
2 Tablespoons coconut oil
Combine turmeric, water, and black pepper into a saucepan over medium heat.
Stir until a thick paste is formed, about 5 minutes.
Remove from heat and stir in coconut oil.
Store refrigerated in a glass jar for up to two weeks.
Golden Milk (makes one serving)
1 cup milk (I used vanilla unsweetened almond)
1 Tablespoon Agave
1 teaspoon cinnamon
1/2 teaspoon turmeric paste
Combine all ingredients in a saucepan and stir over medium heat until warm, but not boiling.
Drink up!
Golden Milk Overnight Oats (makes one serving)
latte ingredients (doesn't need to be cooked)
1/2 cup oats
1 and 1/2 Tablespoon chia seeds
fruit to top it with
Combine all ingredients except fruit in a jar or container, and shake until combined.
 Let sit overnight to allow oats to soften and chia seeds to expand.
Top with fruit and enjoy!