When I was little and my parents would drag me around on all of their Sunday errands, we would almost always end up at the mall. I remember being a winning combination of bored, hungry and tired- all of the great feelings that work well with an 8 year old.
However, occasionally on our walk from Nordstrom we would pass the Godiva store, which would instantly change my mood. Beautiful strawberries the size of my fist were drizzled in milk and white chocolate, cases of truffles gleamed from the windows, and their signature golden boxes were stacked high on pedestals. With enough negotiating (my dad is clearly in sales), I would get my parents to stop in.
I would always get a puckeringly tart key lime truffle, and without fail my dad would buy a pound of candied orange rinds dipped in dark chocolate. I never understood his love for the bitter orange rind and even more bitter chocolate, however, after I made these candied blood oranges I am happily converted.
I think if you look at the picture below you'll see why: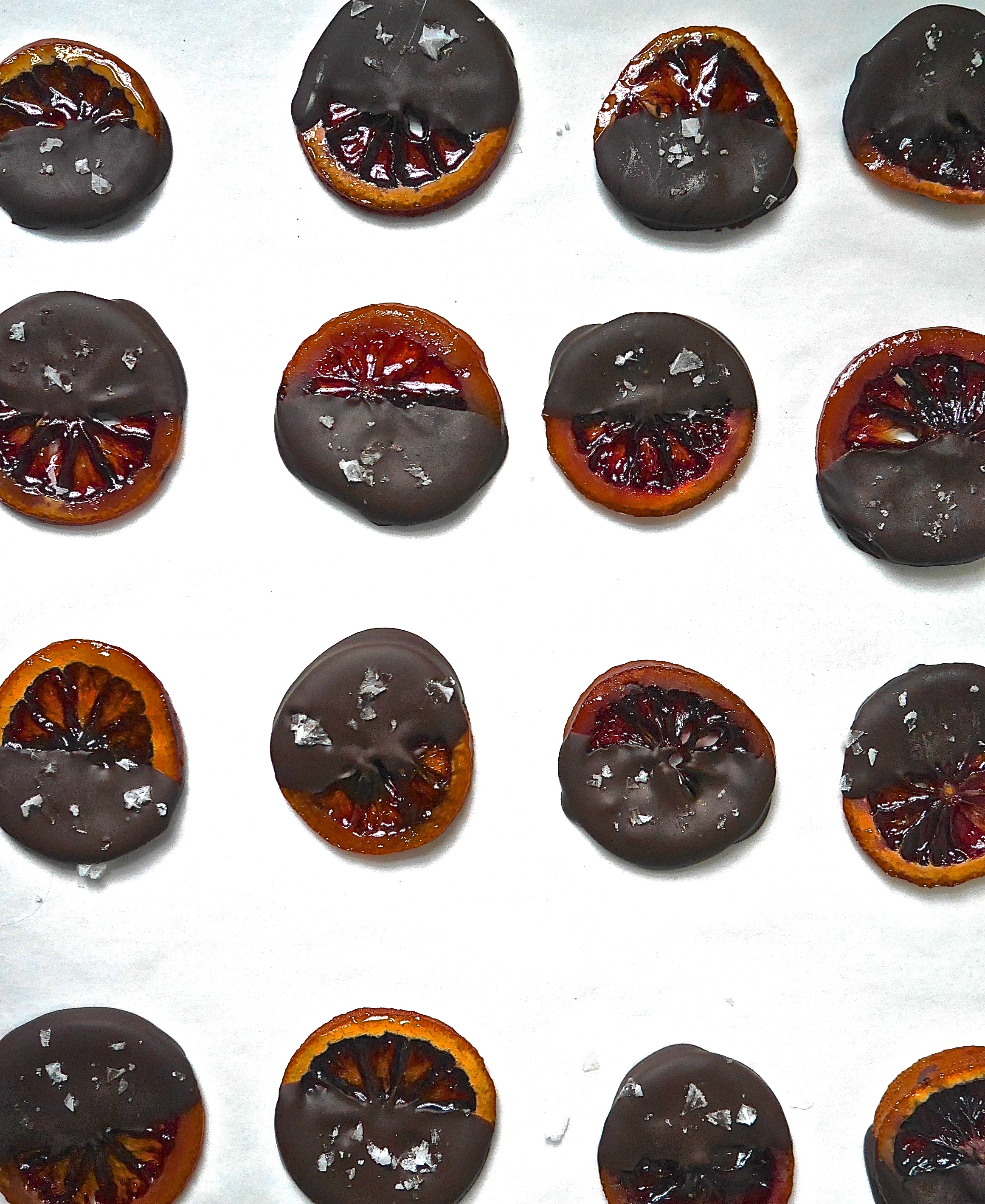 First of all, these are made with blood oranges, which are quite possibly the most beautiful citrus on the planet. They take a bath in a sugar water syrup which candies the rind until it's translucent.
They then get a dunk in bittersweet chocolate, and a large sprinkle of flaky sea salt. They're absolute heaven, and surprisingly easy! Here's how: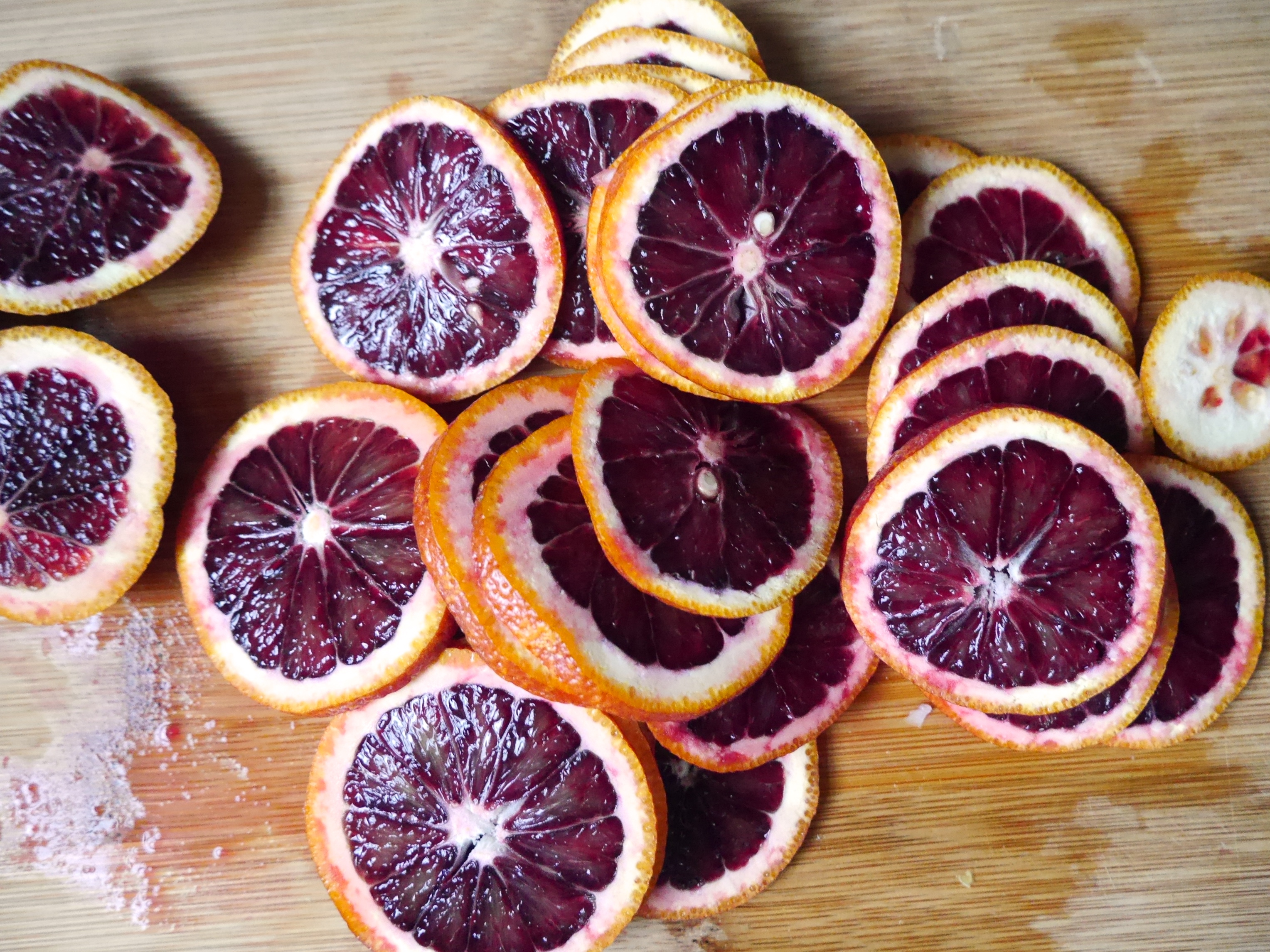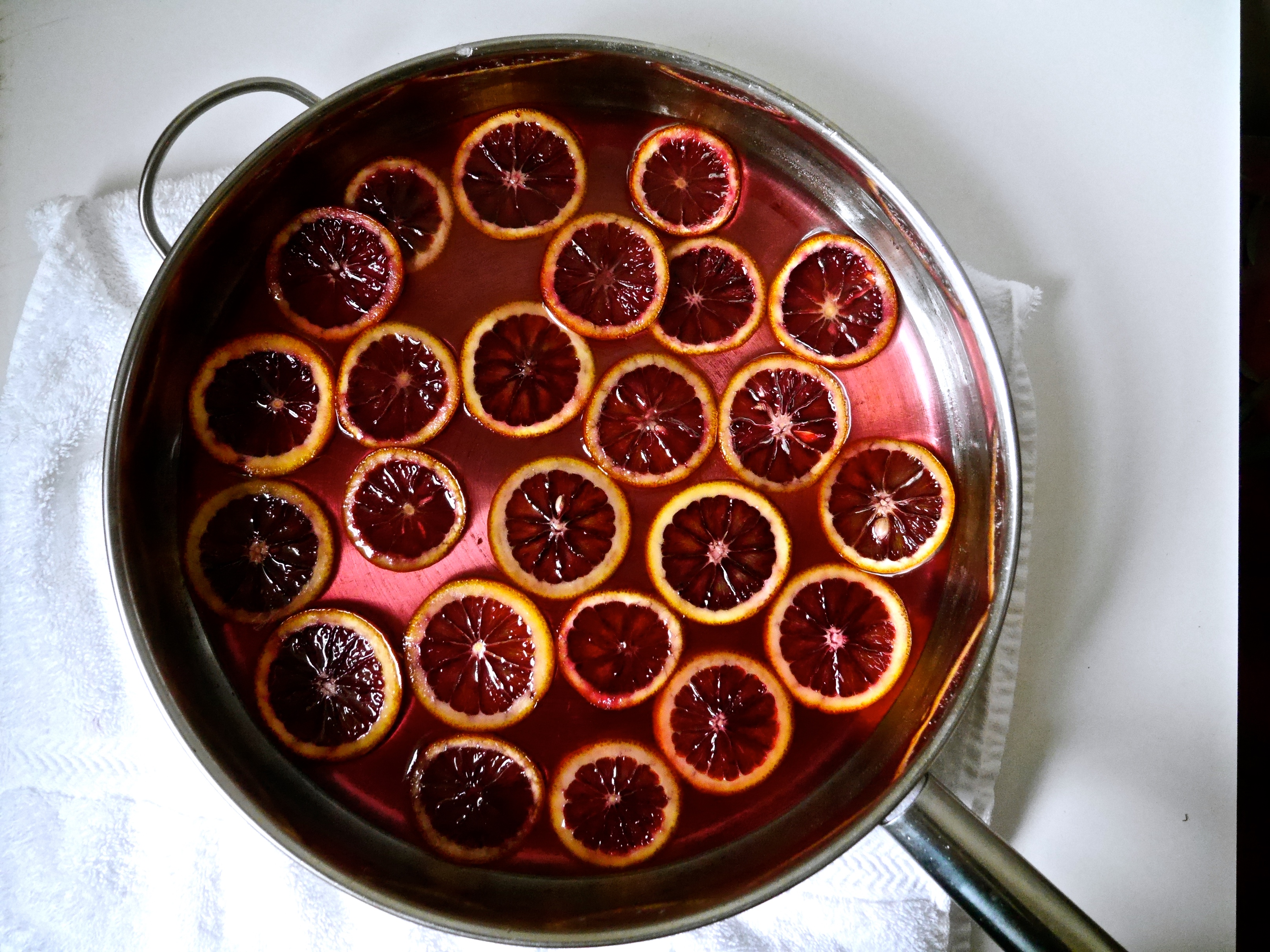 Slice your oranges into very thin slices, and place in a simmering mixture of sugar, corn syrup, and water.
Simmer for an hour, or until rinds are translucent.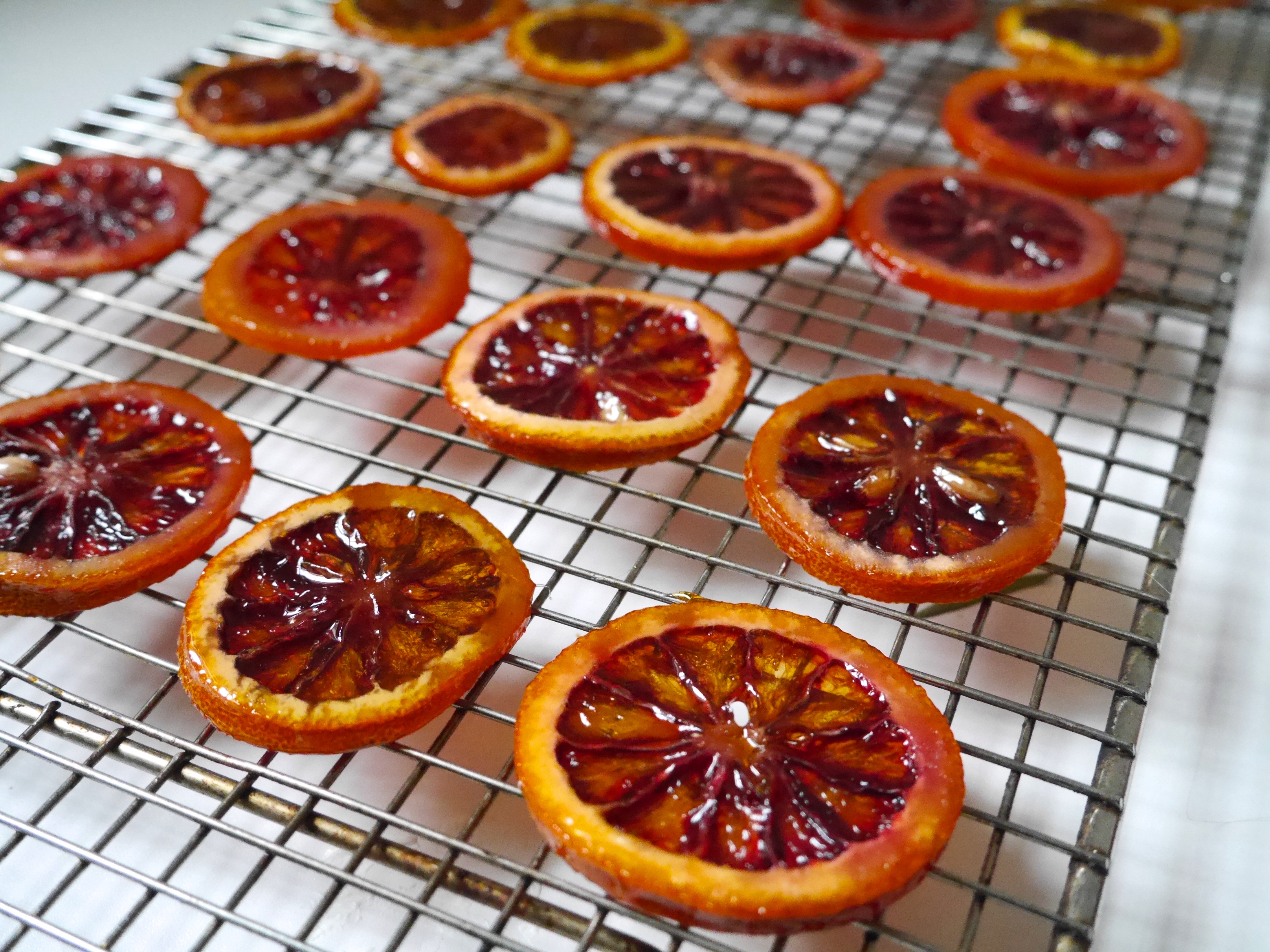 Use a slotted spoon to gently remove the oranges, and place on a cooling rack to dry. Here is the hard part, they need to dry for 24 hours to ensure they're no longer sticky. It's worth it I promise!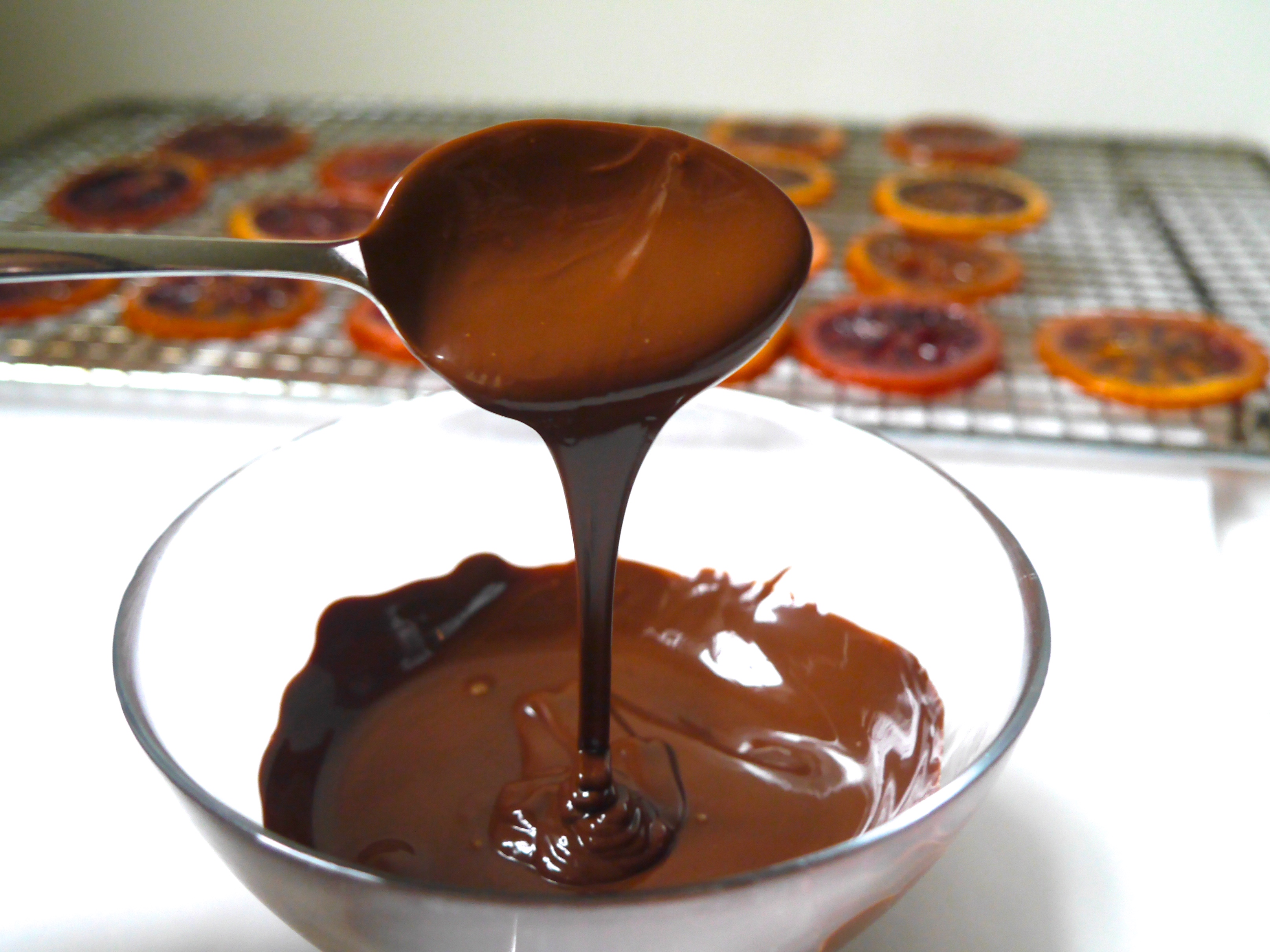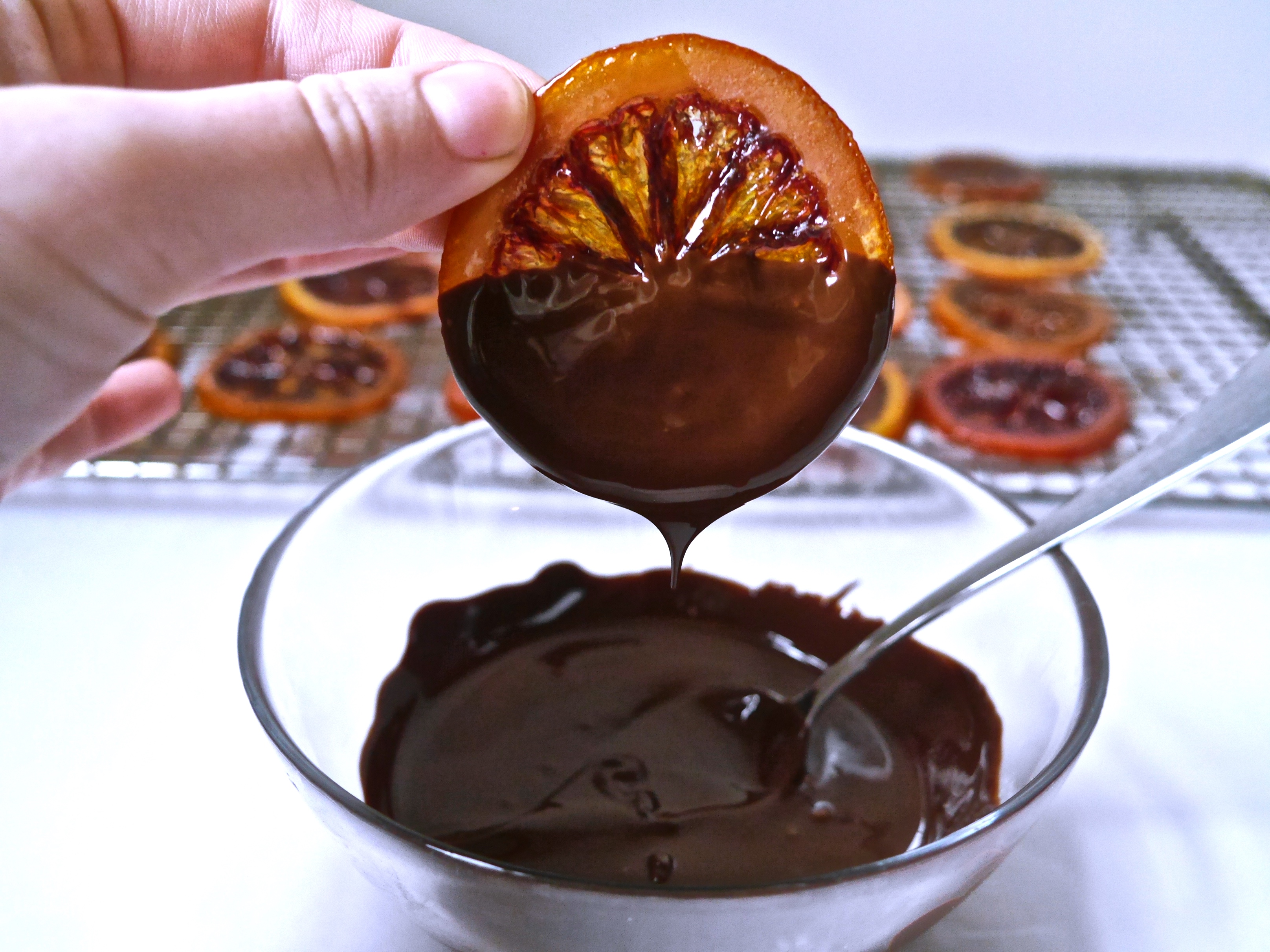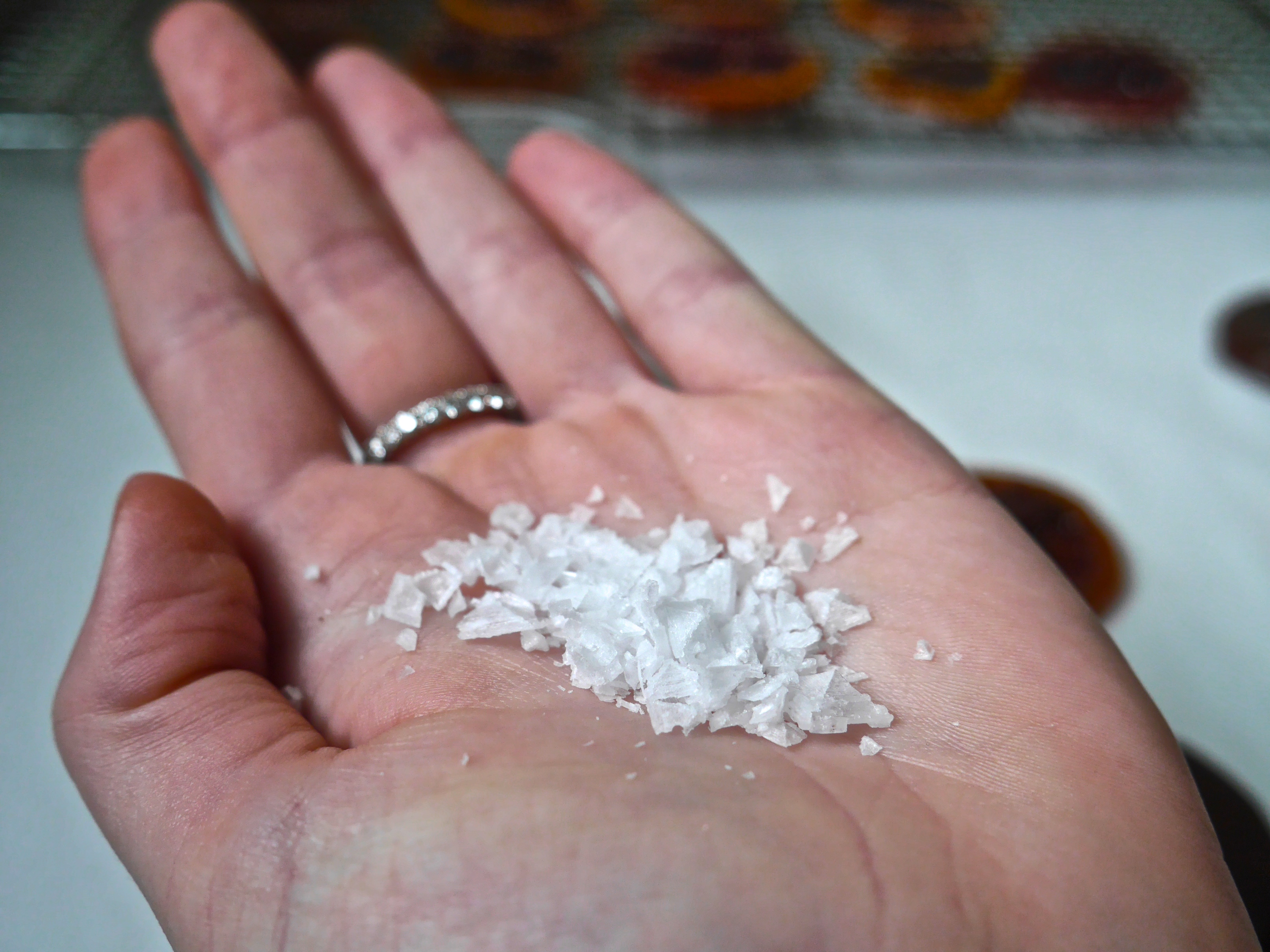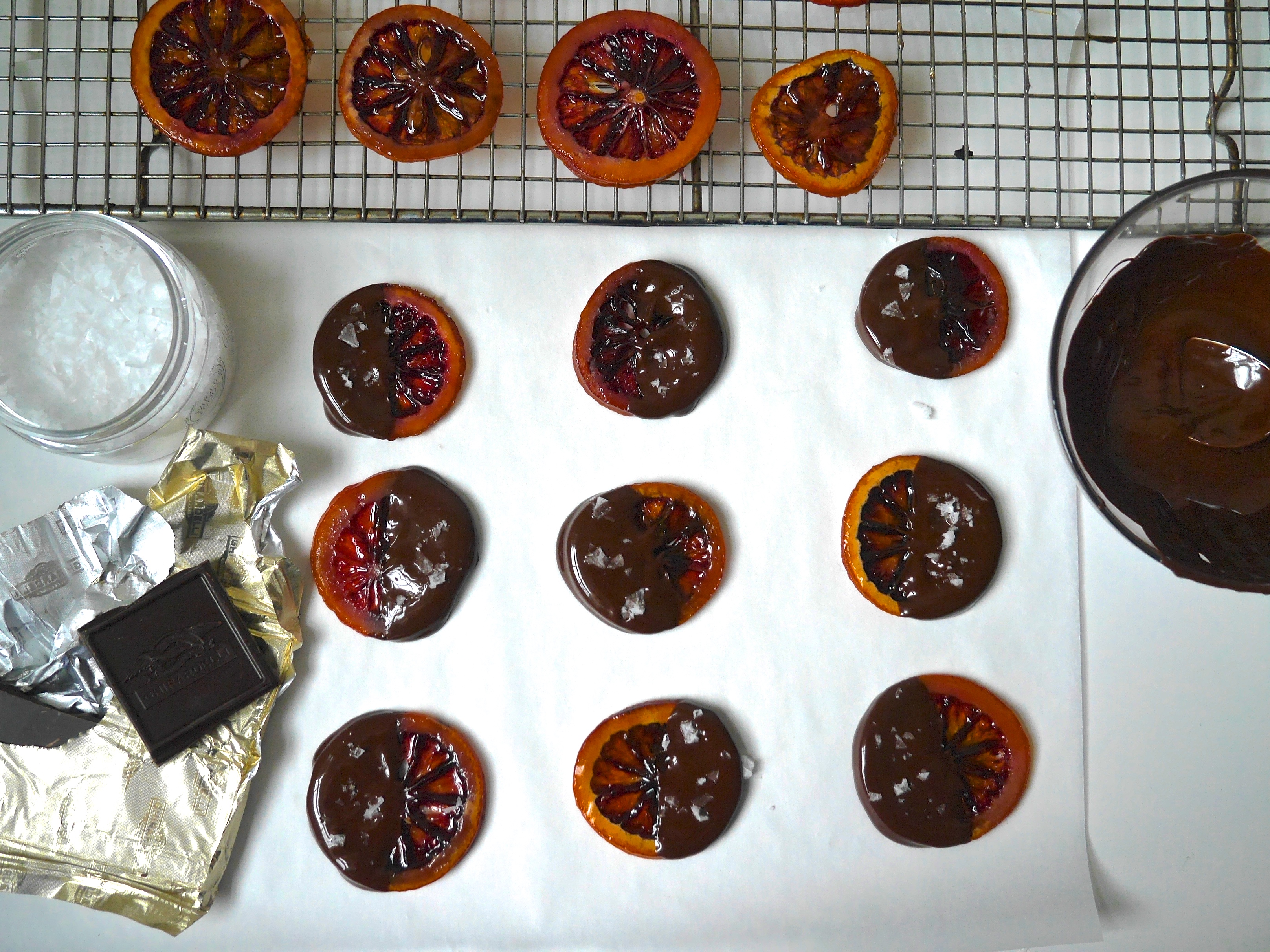 Once oranges are dry, melt bittersweet chocolate (or chocolate of your choice) in a bowl. I think these would also be crazy delish with white chocolate!
Dip the oranges half way into the chocolate, and lay on a piece of parchment or foil. Sprinkle with flaky sea salt before the chocolate hardens.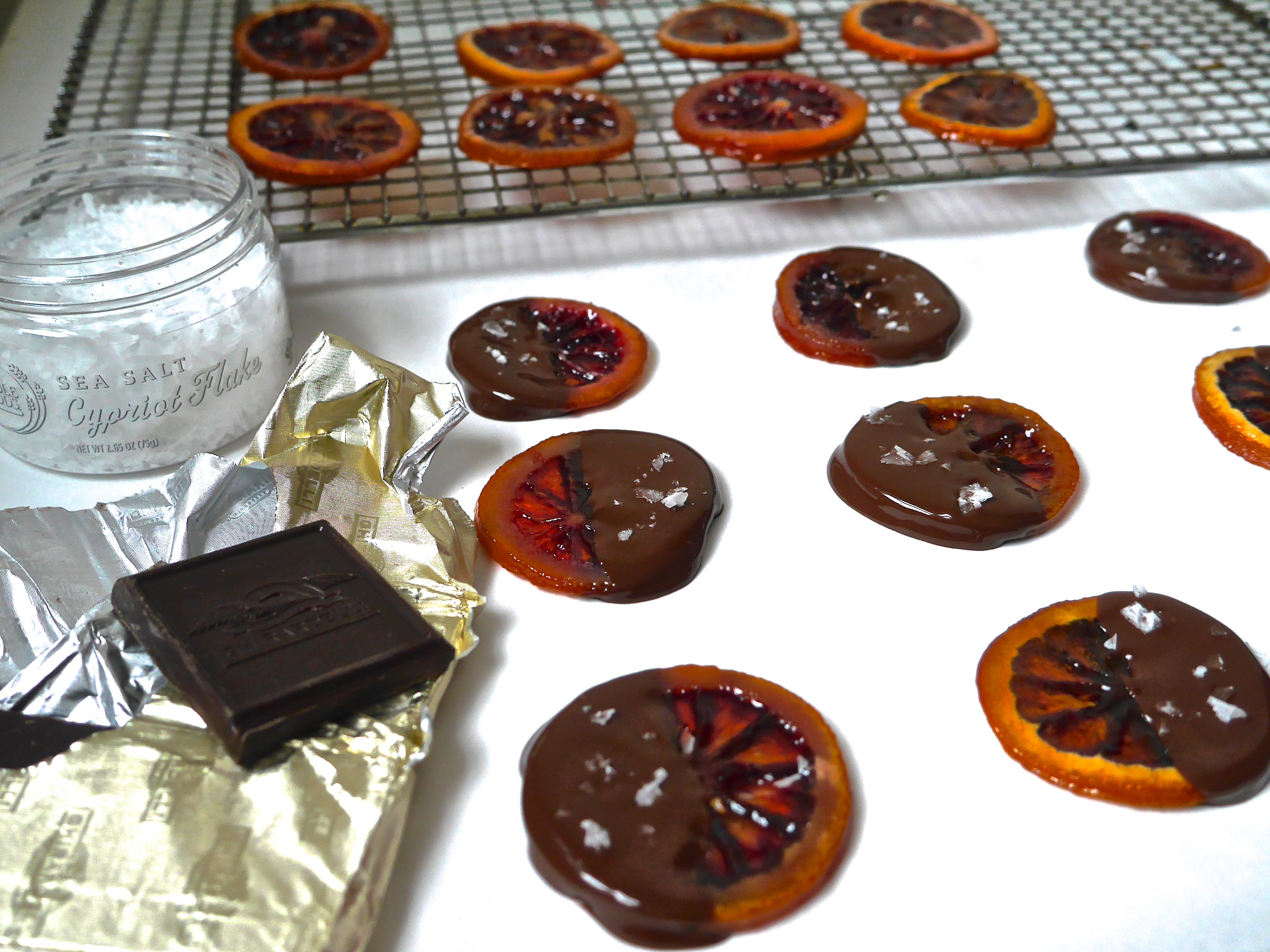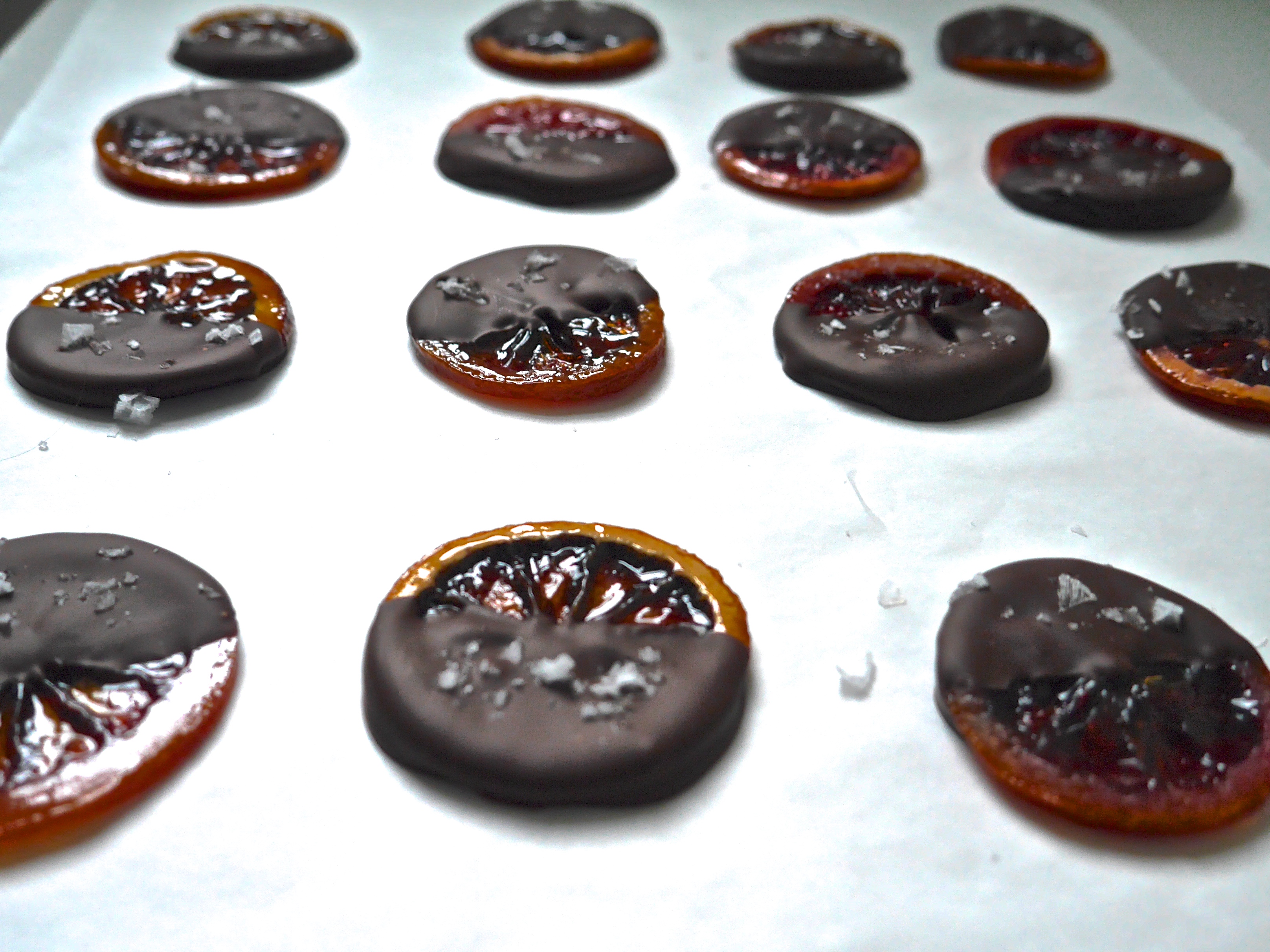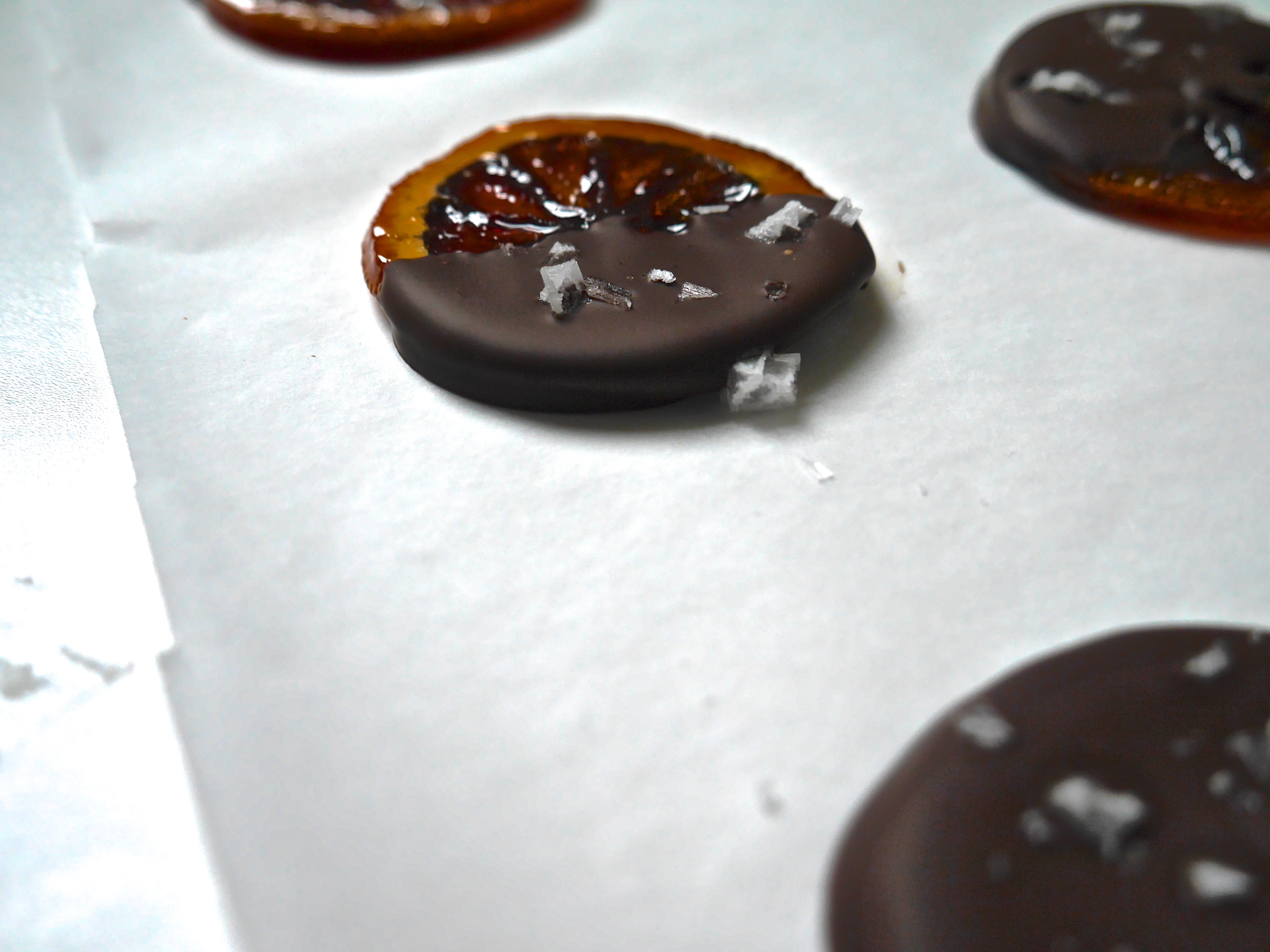 Stand back, admire your handiwork, and dig in! These make fantastic gifts, and they keep very well in the fridge, although I haven't had a chance to test that myself!
Candied Blood Oranges Dipped in Chocolate (makes around 15 slices) recipe from here
2 large or 3 small blood oranges
3/4 cup white sugar
2 T corn syrup
2 cups water
4 ounces bittersweet chocolate, or chocolate of your choice
Flaky sea salt, like fleur de sel or Maldon
Scrub outside of oranges to remove any wax, and cut into 1/8 inch slices. Gently remove seeds from slices.
In a large saucepan over medium heat, combine sugar, corn syrup, and water. Boil just until sugar is completely dissolved.
Reduce heat to a simmer, and add in the oranges so they are in a single layer and don't overlap.
Simmer for an hour or until translucent.
Use a slotted spoon to remove the slices, and place on a cooling rack to dry.
Let dry for around 24 hours, or until no longer tacky.
Pop bittersweet chocolate in a bowl into the microwave, and microwave for 30 second intervals until the chocolate is completely melted.
Dip the candied oranges in the chocolate, and then place on a piece of parchment or a greased piece of foil.
Sprinkle with a small pinch of salt before the chocolate hardens, and then let cool until chocolate hardens. Store in the fridge.