I've been in desperate need of a vacation from the computer labs that I've been metaphorically chained in for the past couple weeks. The fluorescent lights, musty smell, rude attendants, and ridiculously slow computers really start to take a toll on you.
I've showed you guys my family's gorgeous farm in Staunton last Labor Day, and decided to head down there for a a night to spend some time with my amazing aunt and uncle, and their two dogs of course!
The name of the farm, Honeysuckle Hill, couldn't be more fitting.  As you turn down the pebbly dirt road, and drive oh so carefully down the ultra-narrow bridge, you can't help but smile and breathe a sigh of relief to be away from traffic and pollution.
Barkley and Hallie!
My Uncle Terry had a very small part in the movie Lincoln, so I couldn't resist sharing this picture of him!
Patty welcomed me in the best way possible: with a bowl of icy grapes and a glass of local wine. We talked, laughed, and drank until our stomachs got the best of us, so we headed into the parlour for a feast.
The parlour is impeccably decorated: the gentle warmth and glow from the fireplace, flicker of candle light, and timeless china transported me to another era.
Patty made a gorgeous meal of crispy rosemary potatoes, baby arugula with lavender-balsamic vinaigrette, and a glorious quiche with roasted mushrooms and goat cheese.
Naturally I assigned myself as the pastry chef for the evening, and decided on something quick, easy, and so so decadent!
Here's the deal: cut bananas in half lengthwise and brush with brown sugar and butter, pop under the broiler for a few, and toast up some coconut and walnuts.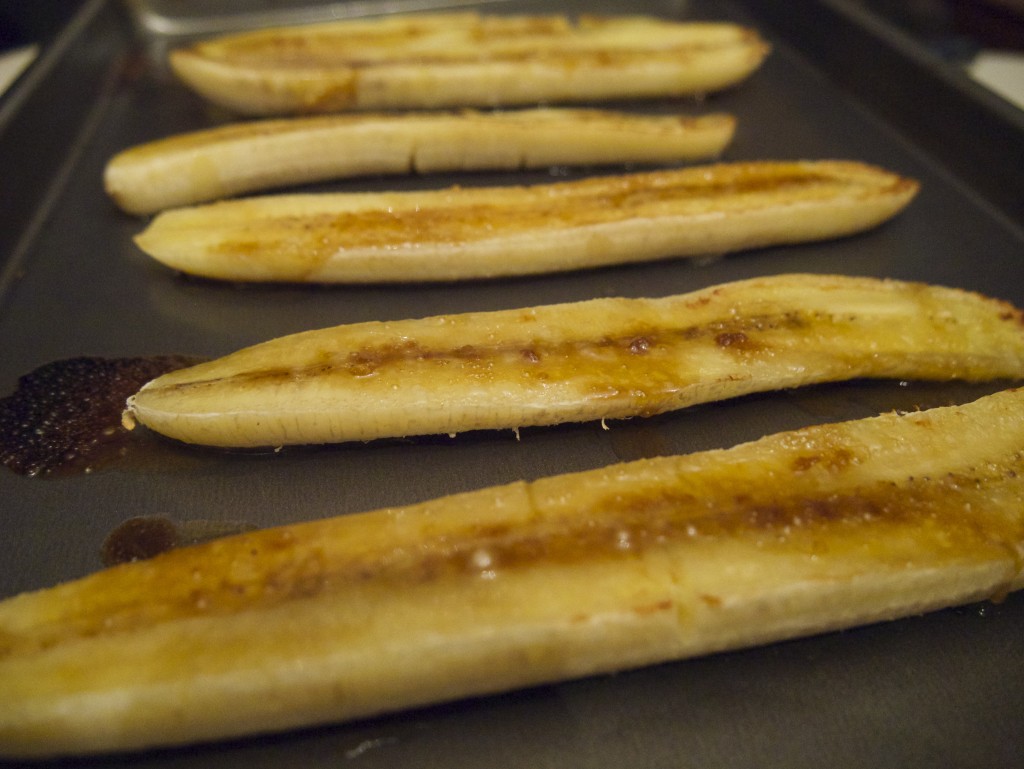 This next part is absolutely crucial. Ready? Pick up a carton of Haagen Dazs pineapple coconut ice cream. It can't be vanilla, or Ben and Jerry's, or anything except exactly what I told you.
I know, I sound bossy, but when you taste a spoonful of the ridiculously creamy coconut flavored frozen custard with shards of pineapple that taste like the best damn pina colada you've ever had, you will thank me!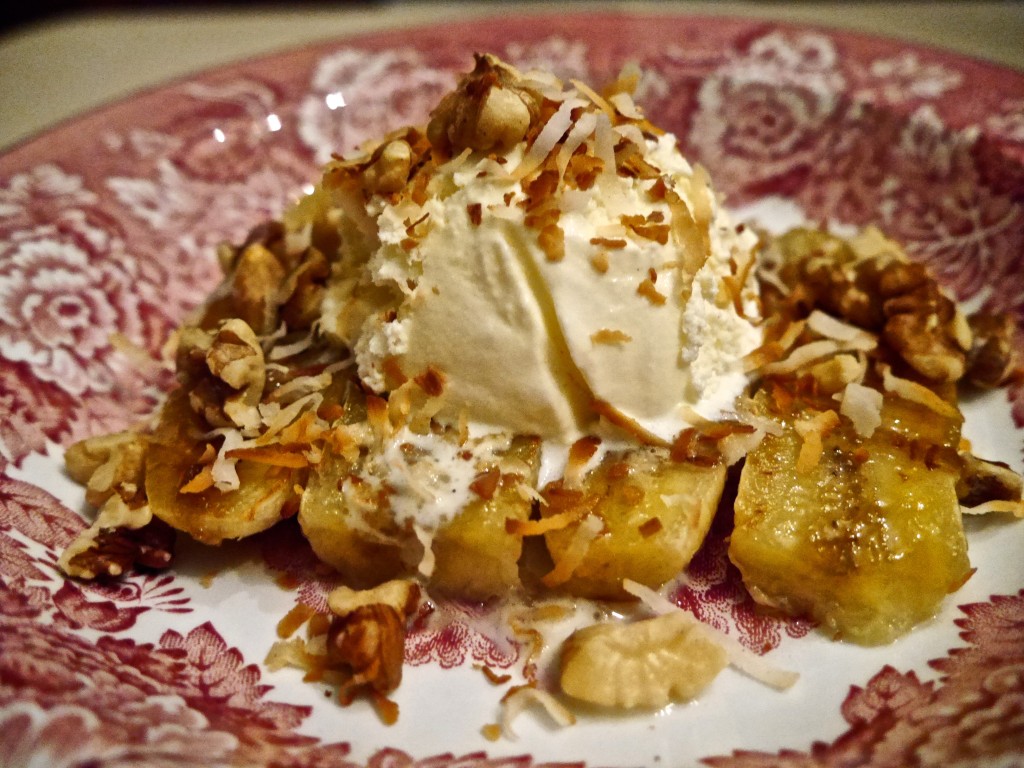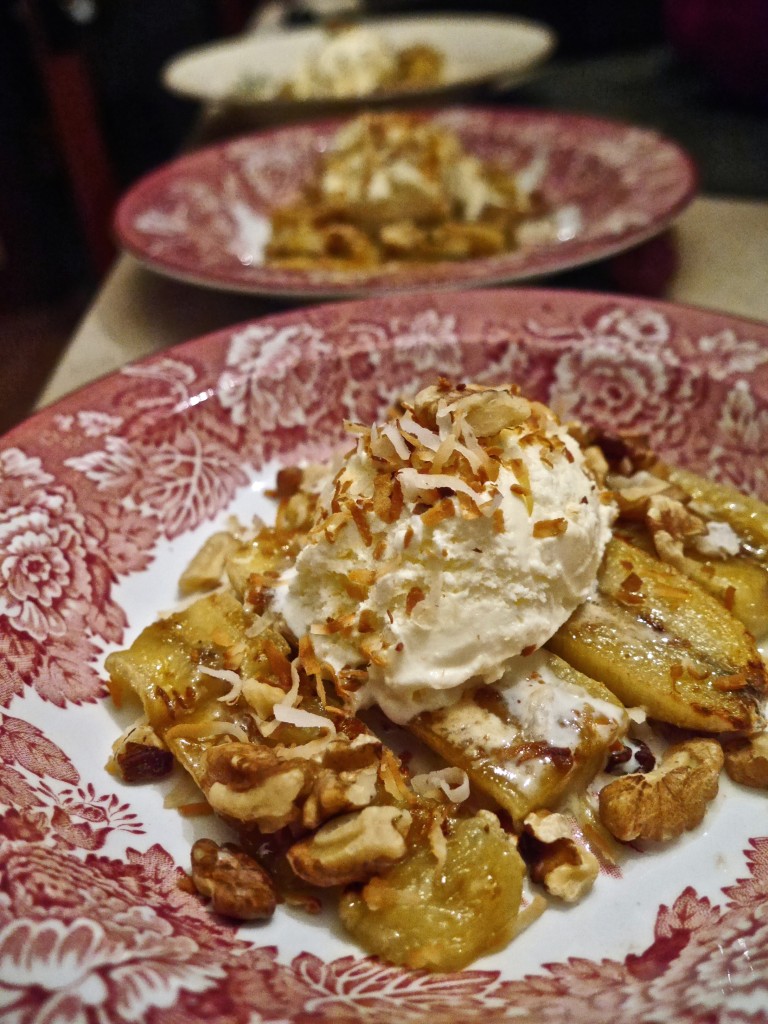 Pop a scoop of the ice cream (read, a ver very large scoop) onto the caramelized bananas, and sprinkle the whole lot with toasted coconut and walnuts. It's a beach in a bowl!
We all were in a serious food coma after all the amazing treats, and after a few minutes in front of the fire we collapsed into bed.
The next morning I was woken up with the smell of toasty pumpkin bread and fresh grapefruit. It was just the vacation I needed, and now back to work!
Coconut Pineapple Banana Sundae (serves 4)
4 bananas
2 T brown sugar
1 T melted butter
1/4 cup flaked coconut (toasted)
1/4 cup chopped walnuts or nut of choice (toasted)
Pint of Pineapple-Coconut Haagen Dazs
Cut bananas in half and lay cut side up on a baking sheet.
Drizzle melted butter and brown sugar over bananas. Broil until caramelized, but not soggy (2-3 minutes).
Plate bananas and add a big scoop of ice cream on top. Sprinkle with toasted coconut and walnuts and enjoy!