3 years ago, almost to the day, Zack and I had one of the most memorable meals of our lives at a restaurant called Scarpetta at the Fontainebleau in Miami. I was 18 and it was my first big meal that I had purchased myself, and I may have a little crush on Scott Conant (yes the Chopped judge!) who owns the restuarant. Sure, the company was great, but it was the food and service that really blew me away.
Since my first trip, I've gone back every year for Spring Break under the pretense that my skin could use a little glow from the Florida sun, but if I was really being honest the real reason is that I can't bear to part ways from the polenta with truffled mushrooms.
This year was no exception! I dragged along my family to experience once again of the best meals of my life. If you're going to go, which I highly recommend, here's how I would do it:
Arrive 30 minutes early and make a little detour to have a drink at the beautiful Bleau bar in the lobby. The Smoky Tommy is the best of the bunch!
Two suggestions that may or may not be based on experience:
1) Resist the urge to sprint over to Scarpetta the moment the clock strikes 8
2) Maybe don't read your guests the menu off your phone in giddy anticipation during drinks (guilty).
So, once you're finally seated and your ultra professional server, John, who's been there since the place opened, recites the specials, start ordering!
Our first pick? the tempura battered squash blossoms filled with fresh ricotta. The blossom was sheathed under a thin veil of batter and housed a rich ricotta filling. Divine.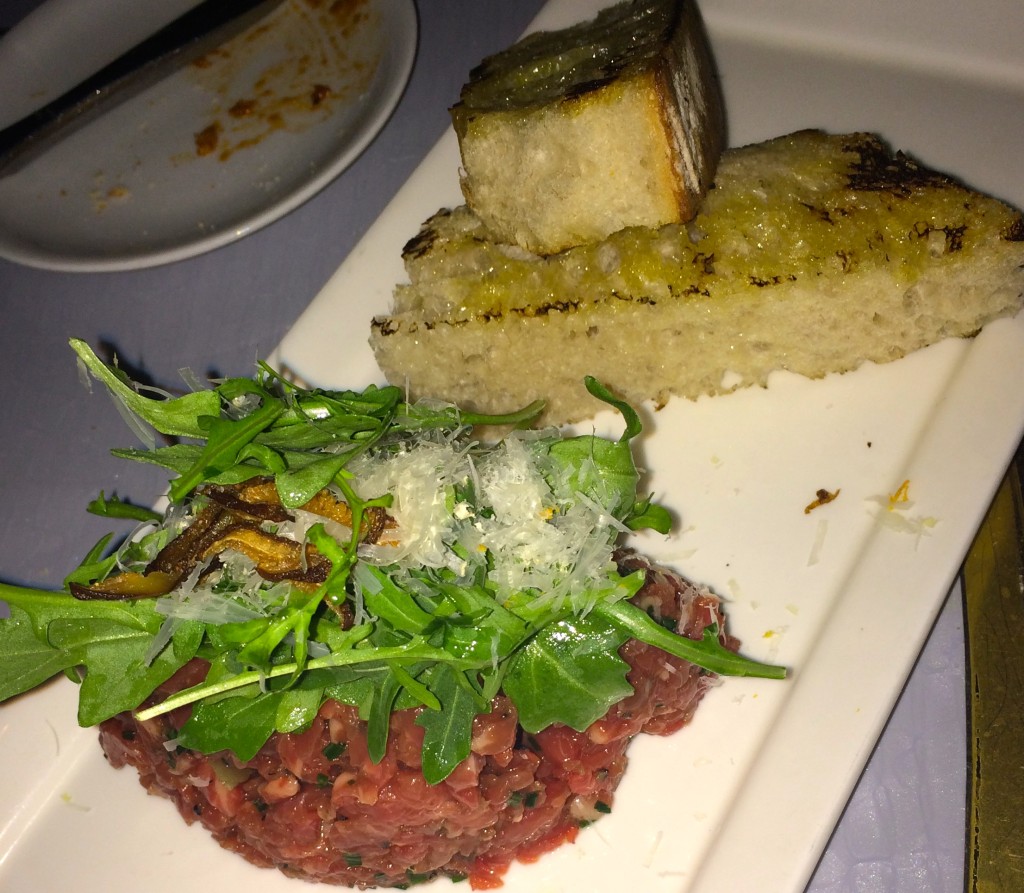 Easily the best steak tartare out there. A beautiful cut of steak that was bound with preserved truffle and smoked aioli, served with grilled bread.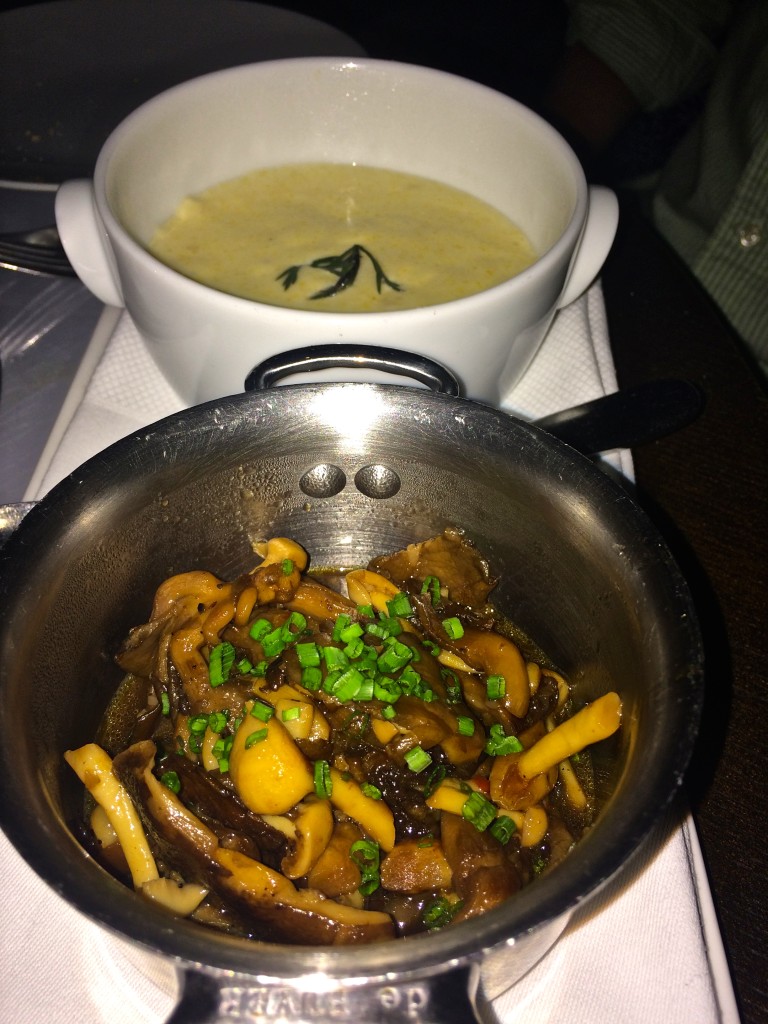 Can we all take a moment of silence before we discuss this dish? Good.
To me, the best dish on the menu. A rich stock made from slow roasted chicken bones coats a blend of wild mushrooms that are then tossed with preserved truffles. When you think it can't get any better, you scoop up the polenta that is richened with cream and a mountain of grana padano cheese.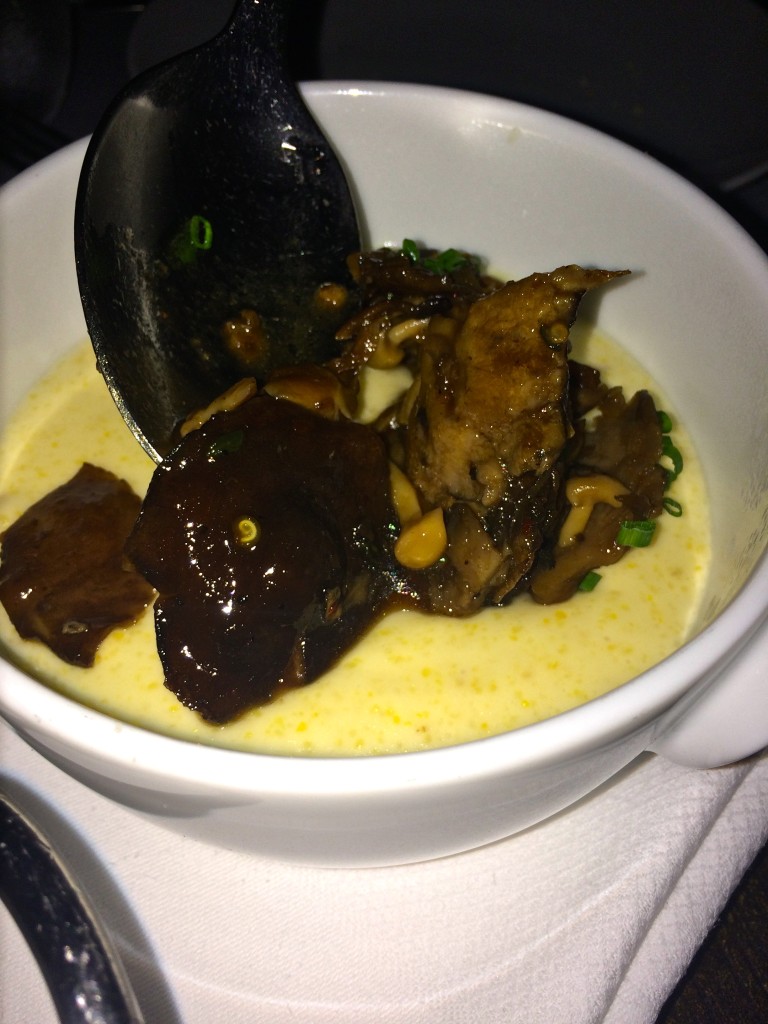 If there's one thing I would eat for the rest of my life it would 100% be this. In case you can't make the trip to Miami and are feeling a little adventurous here's the recipe!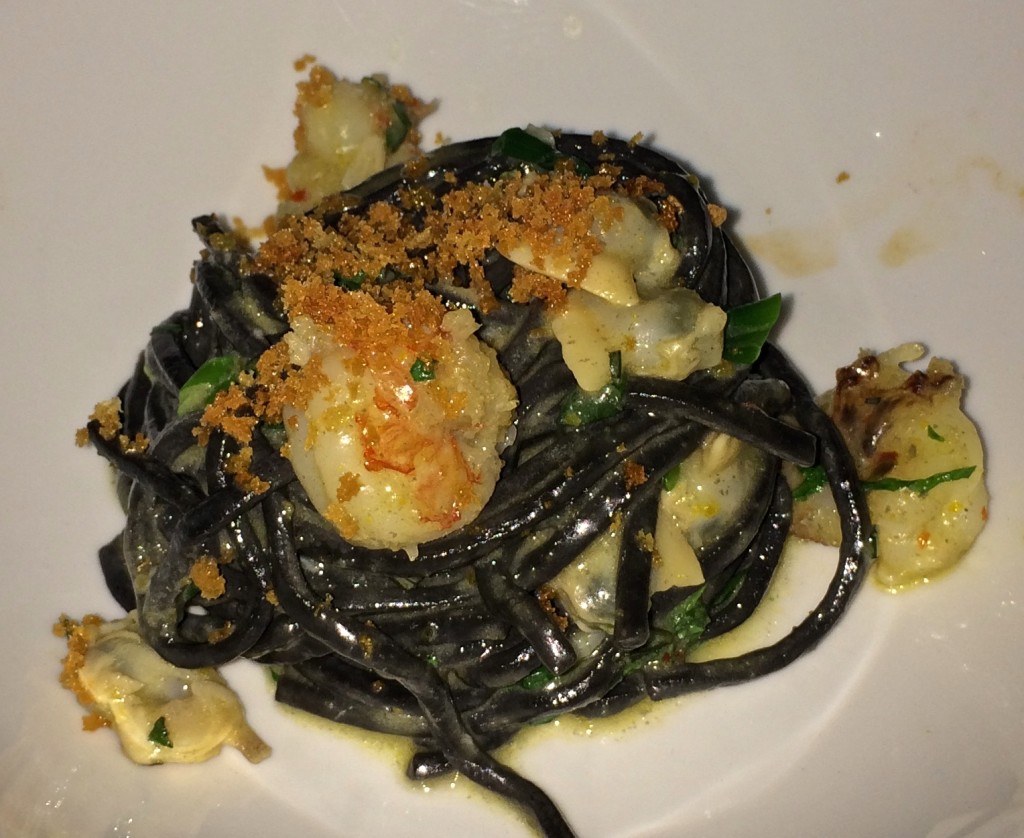 The servers recommend having a mid course of one of their house made pastas, and you should listen to them when they say that. Above is a squid ink tagliolini with rock shrimp, clams, and preserved lemon. The garlic, tart lemon, and gentle heat work together spectacularly in this.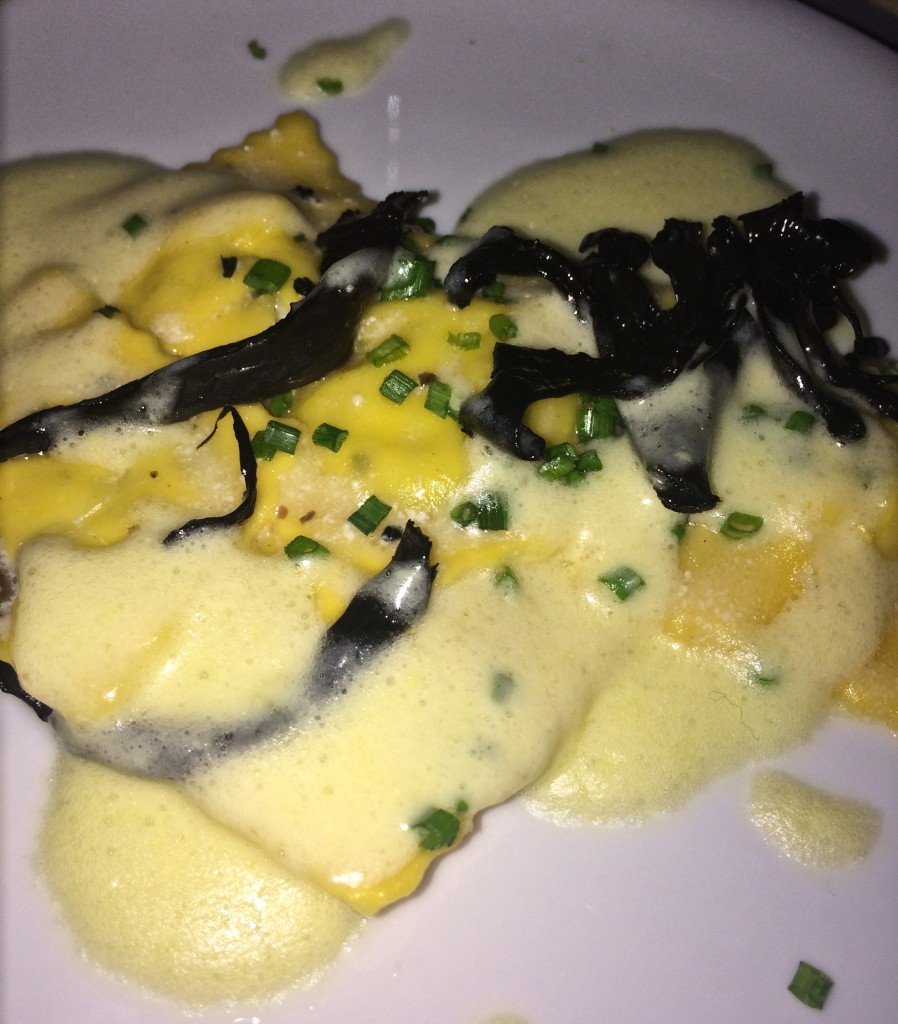 Do you know how people say a picture is worth a thousand words? That's exactly how I feel about this dish. And I know, you're wondering what this unimpressive bowl of ravioli could possibly contain that would make it so memorable, and trust me I was wondering it too.
But the moment I smelled the black truffle, and bit into the creamy ricotta dumplings, and got a spoonful of the parmesan froth, I knew that I was forever ruined. A mindblowingly good pasta dish.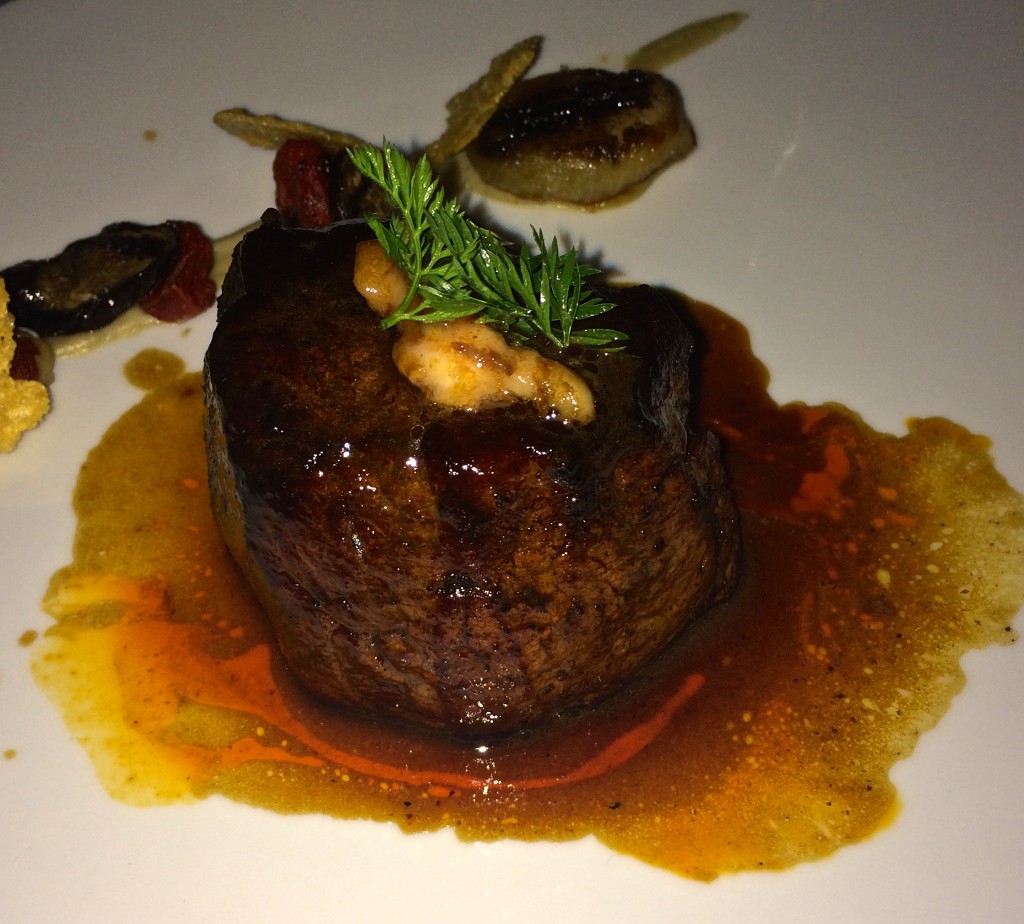 So when we were all repeatedly telling each other how amazing the first and second courses were, the entrees emerged. Above is the beef filet with smoked eggplant, charred broccolini, and bone marrow, aka the best steak any of us had ever tried.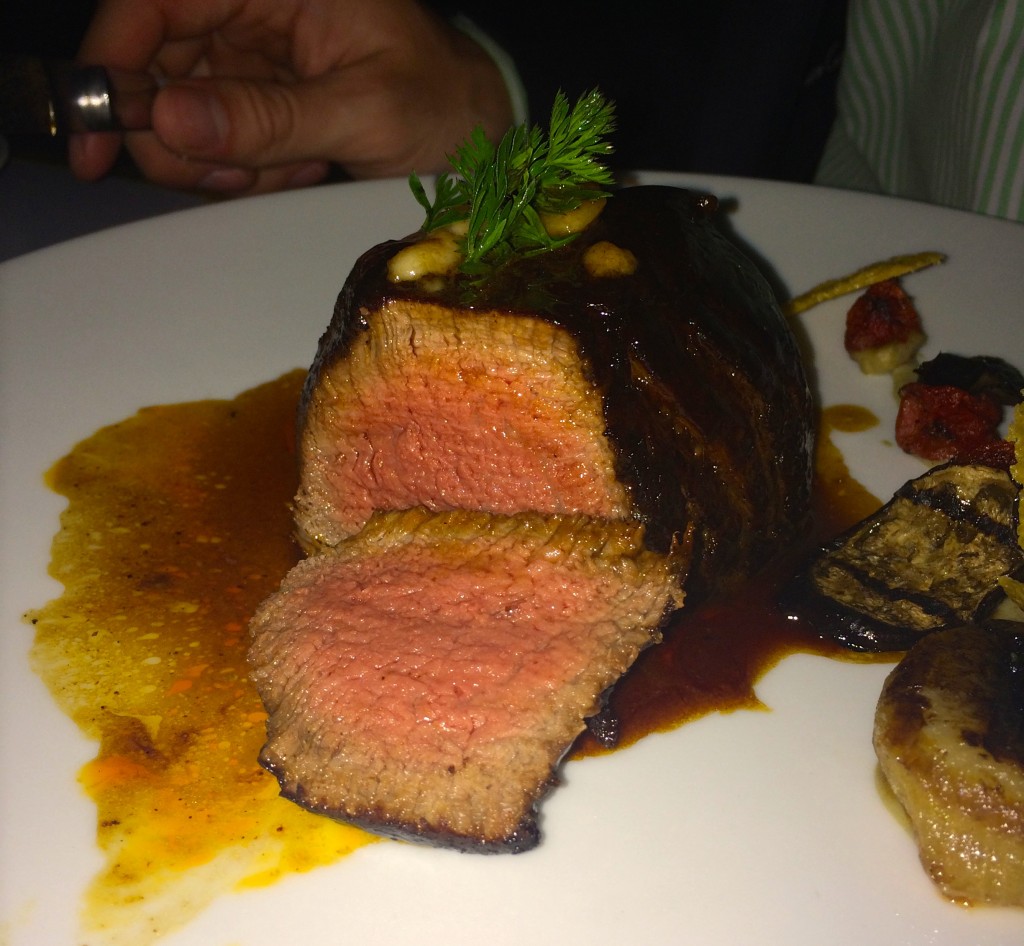 Now this is where a good waiter makes a huge difference. We were all hovering over the plate, forks flying, a chorus of "mmm" "omg" and "wow" blending together, when he took the time to tell us how the steak was prepared. It was first cooked sous vide, then seared off for a beautiful char, and then finally plunged into duck fat to rest.
Duck fat??? Yes!!! Apparently it seals the moisture in and adds a final layer of flavor.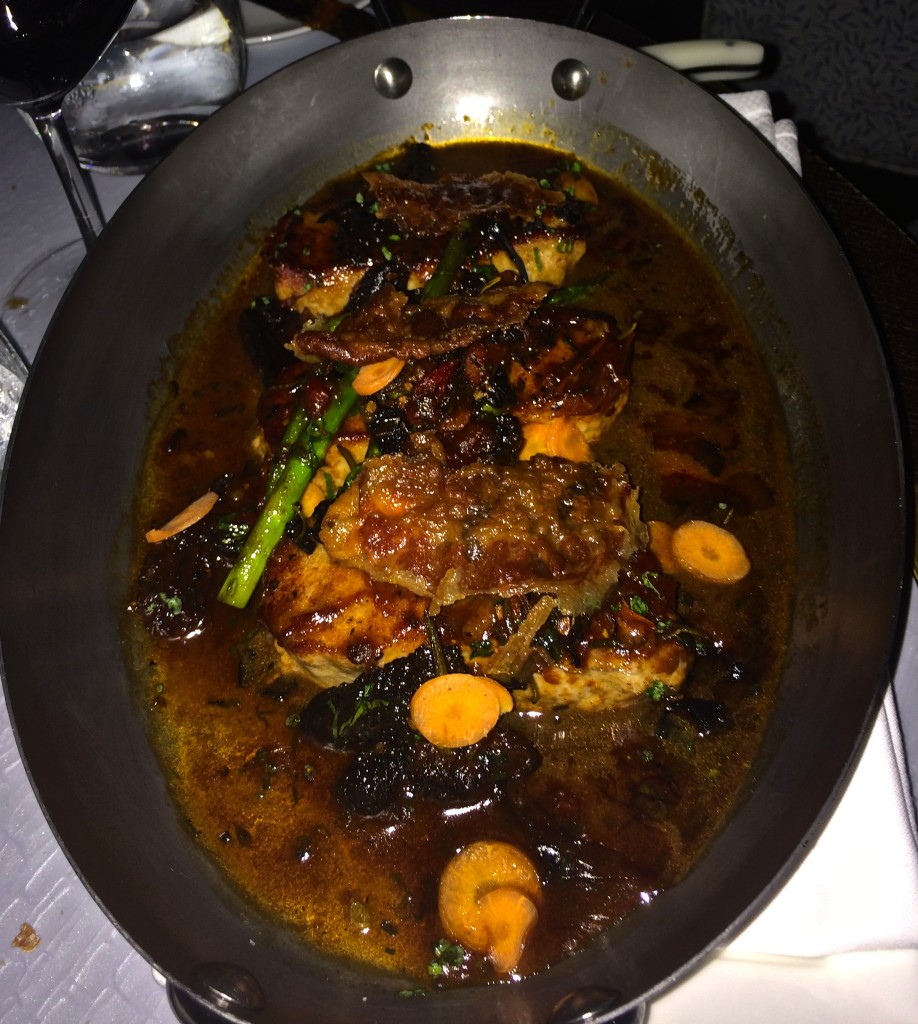 My dad got the veal sirloin with guanciale, hazelnut potato crema,  pickled onions, and caper sauce. Incredibly rich and decadent.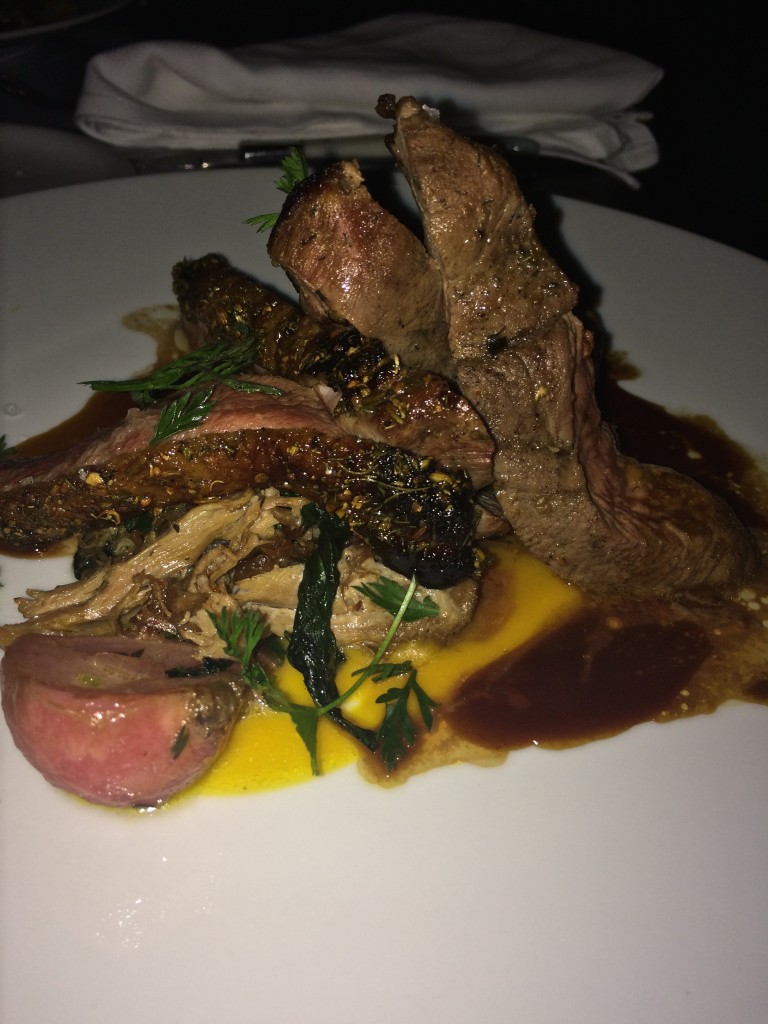 Autumn spiced Long Island duck with squash puree, figs, and swiss chard. Loved the warm spiciness in the crust on the meat and it was cooked impeccably.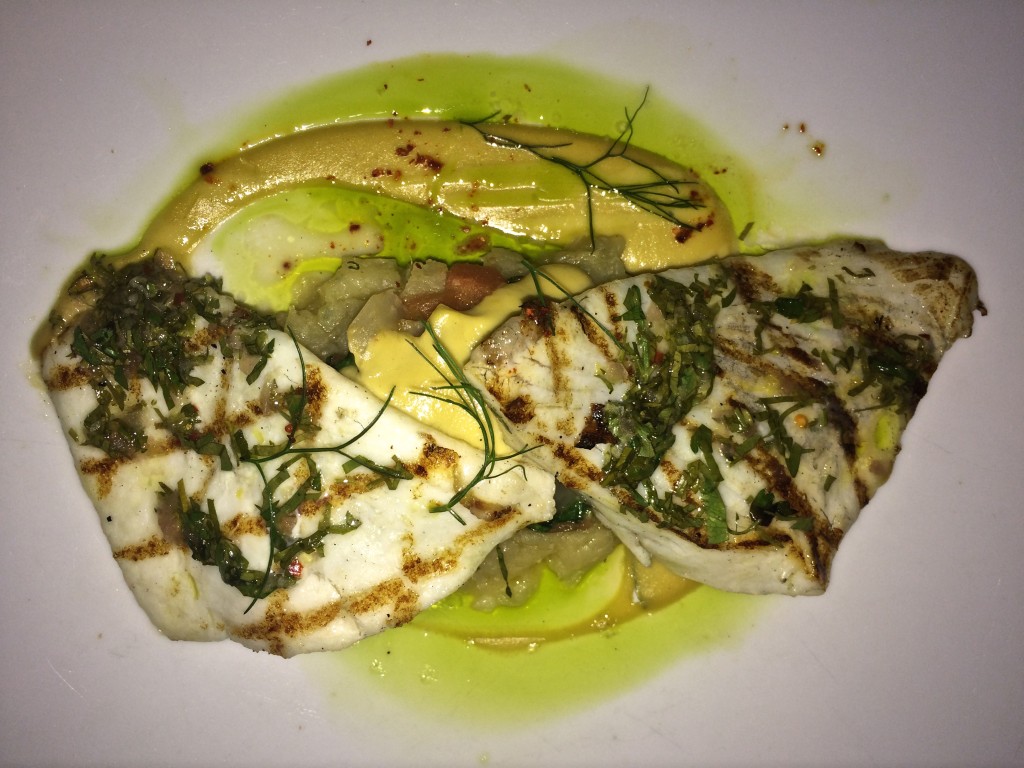 Grilled Spanish turbot with olive oil crushed potato, artichoke, and fennel. Light, yet rich with the creamy potato and luscious sauce.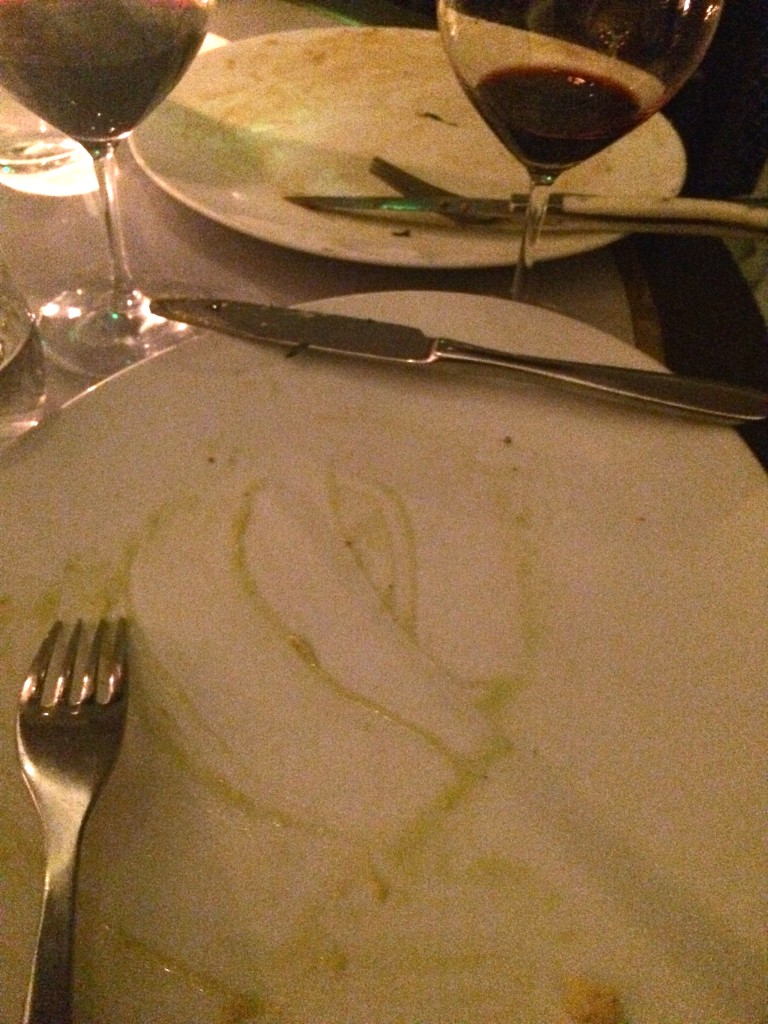 The universal sign of a good meal!
Now, at this point you're going to be so, so, full. But you need to promise me that when you go you will absolutely order dessert.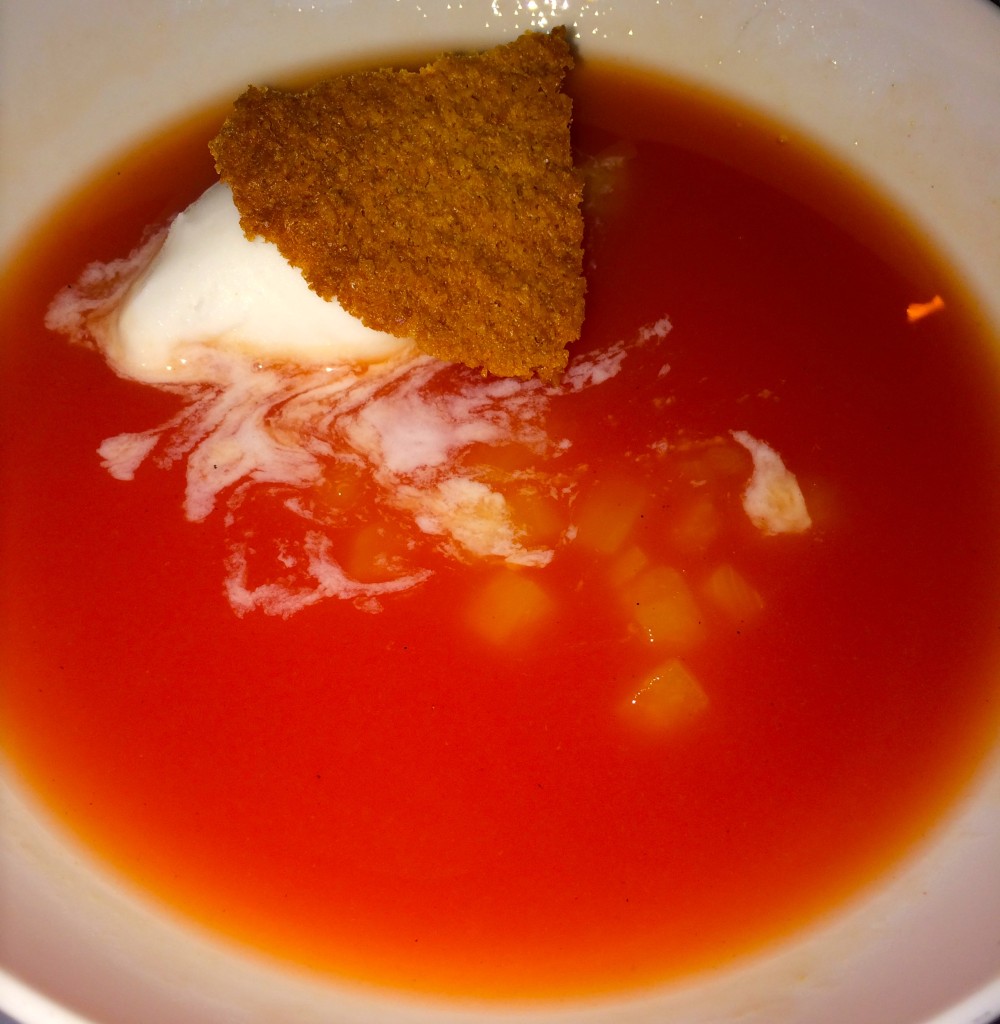 My personal favorite: the beyond silky coconut panna cotta with guava soup and caramelized pineapple. Below that vividly coral layer is an expanse of creamy coconut custard.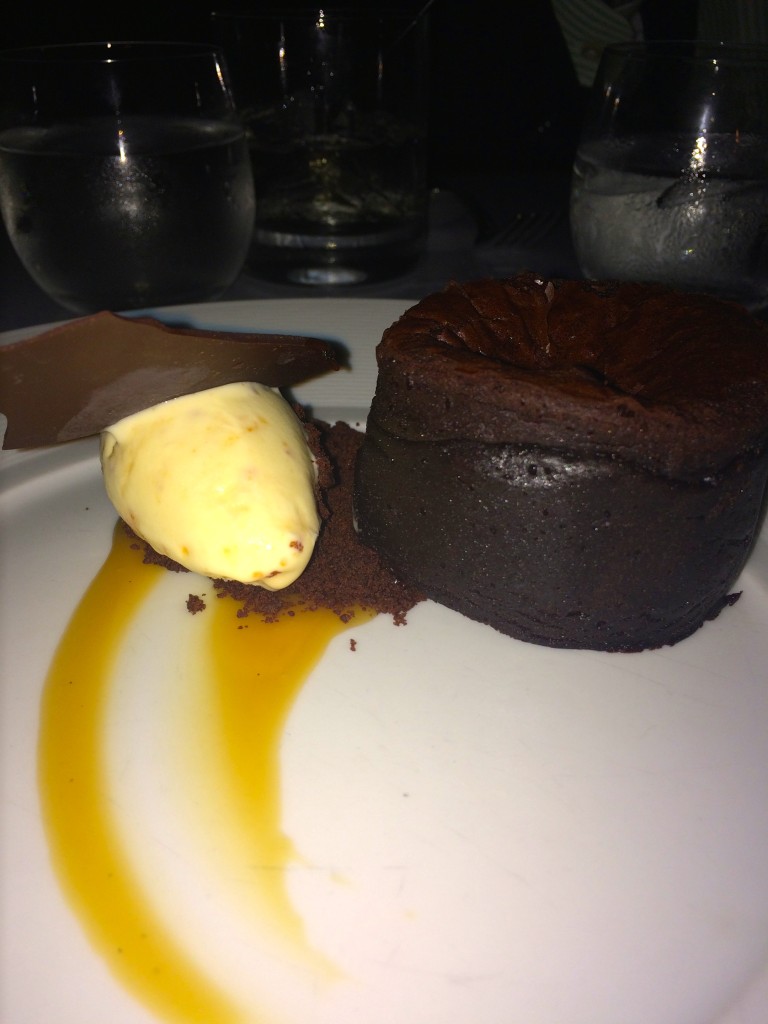 The Amedei Chocolate Cake with salted caramel sauce and toasted almond gelato. Picture the richest most chocolate laden dessert you've ever had…. now multiply that times 10. That's how rich the cocoa is in this!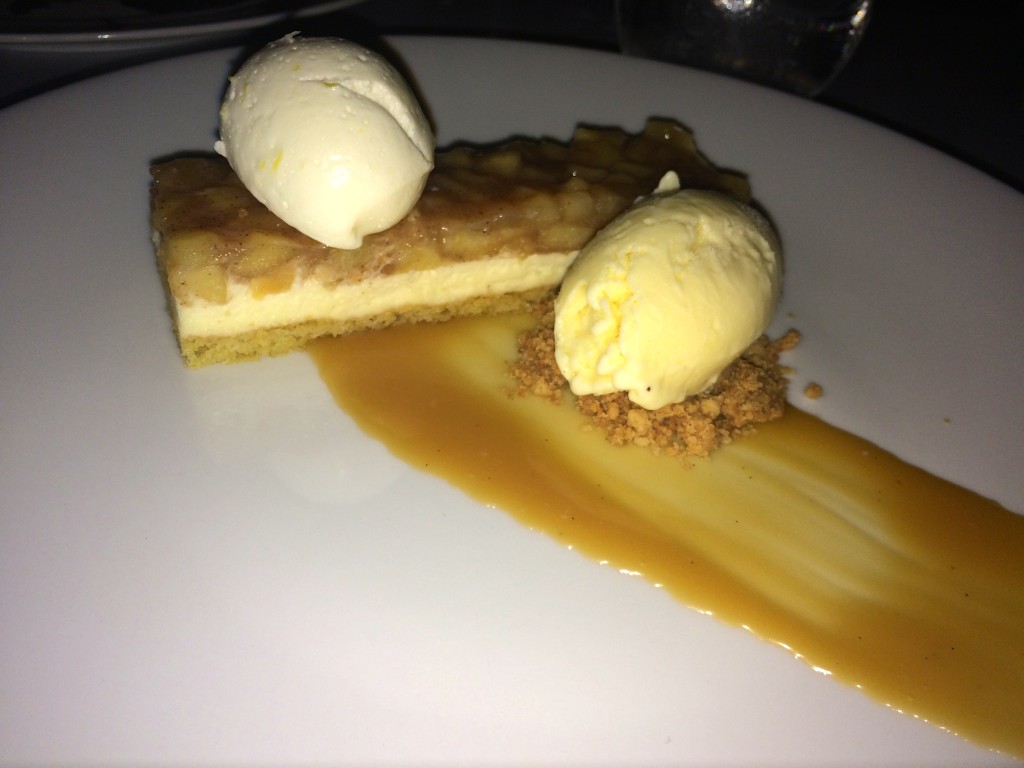 And finally, a gorgeous apple torta with rosemary gelato and salted caramel. I'm a huge sucker for fruit and herbs together, so I loved the pairing of rosemary and apple.
Phew, so there you have it! A walk through on an unforgettable meal that I hope to enjoy many more times. Thank you John for incredible service and Scott for dreaming up one of the best restaurants I've ever had the pleasure of dining at!
Now, can someone please make me that polenta???