I hate to admit this, but I am very much a creature of habit. Once I find something I like, I over do, eat, watch, and listen to it until I never want to think about it again. Choker necklaces in '99, UGG boots from '07 till…last year, and Mean Girls have all been overplayed to the point of no return.
Breakfast has undergone this same process. Once I discovered oatmeal with bubbling hot fruit and almond butter on top I've eaten it literally every. single. day.
This week I had three exams, yes I'm still recovering, so I had to impose a no-baking rule on myself that way I would study instead of trying out a bourbon caramel apple pie I've been drying to make. *Recipe coming soon*. By day 3 I was about to erupt into cold sweats (no I'm not being dramatic at all); I had to come up with something quick, comforting, and delish.
It was 11:00am when I got the uncontrollable urge, so naturally it had to contain oatmeal. A quick look around the fridge left me with a half full can of pumpkin (I only say half full not empty because my breakfast sandwich dripping with Gruyere put me in an unseasonably good mood), some cherries, and oats. Here's the result: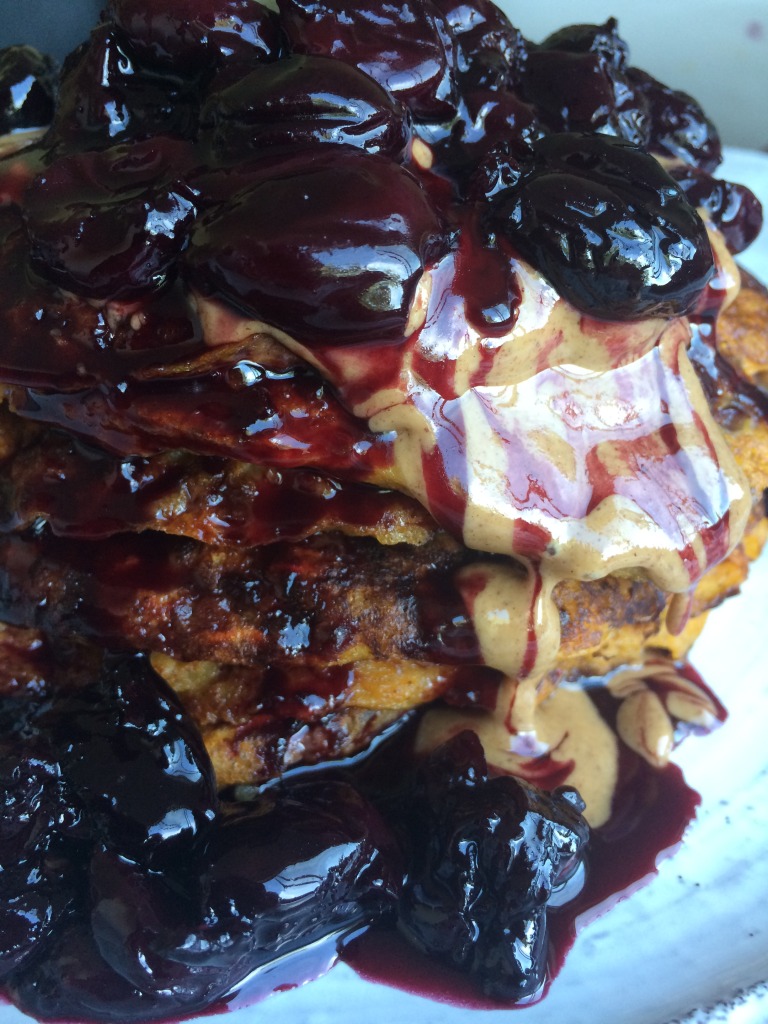 Pumpkin pancakes held together by oats, smothered in a cherry-ginger compote, and dripping almond butter. Oh yes. Shall we?
Combine buttermilk, oil, pumpkin, egg, and vanilla in a bowl and stir to combine.
Mix up instant oats, baking powder and soda, salt, sugar, and pumpkin pie spice, and whisk the wet ingredients into it.
Note: I didn't have instant oats so I cooked mine before adding them to the mix. I wouldn't recommend this, just buy the instant oats, it turns out waaay better.
Scoop a half cup of batter onto a hot buttered pan, and flip after a couple minutes. These take a little longer to cook than original pancakes, since you have to make sure the oats are cooked through.
Pile up the pancakes as you make them to keep 'em warm. All done? Time for the compote!
Into a pot on high heat toss in frozen cherries, a piece of ginger, vanilla, some maple syrup, and a pinch of salt. Let bubble away until thick and syrupy, then stir in a tablespoon of butter. The butter makes the compote extra luscious, so don't skip it! Take out the ginger and keep warm until ready to assemble the masterpiece.
Pour over a few tablespoons of almond butter, and spread it so it seductively drips over the sides of the pancakes.
Now, spoon over some of that gorgeous compote. Let the almond butter and cherries swirl together to make the most beautiful pancake stack you've ever seen.
I wish you guys could've seen me take this picture. I had to dangle out my window, arm outstretched precariously balancing the plate of pancakes, while trying to get the perfect nature photo with my other hand. This may or may not explain why my neighbors don't say hi….
Pumpkin Oat Pancakes (Makes 8 pancakes) recipe adapted from here
1/4 cup flour
1 cup quick cooking oats
1/2 t baking powder
1/2 t baking soda
pinch of salt
1/2 t pumpkin pie spice
1 cup buttermilk (or mix a scant cup of milk with a splash of lemon juice)
2 T butter, melted plus more for cooking the pancakes
1 egg
1/2 cup pumpkin puree
1 t vanilla
Almond butter for serving
Combine flour, oats, baking powder and soda, salt, and pumpkin pie spice.
Whisk together buttermilk, butter, egg, pumpkin, and vanilla until smooth.
Mix together the wet and dry ingredients until combined, and pour a half cup into a buttered pan on medium heat.
Let cook until bubbles form on the top, and flip.
To assemble pour over almond butter and cherry compote and devour.
Cherry Ginger Compote (Makes a cup)
2 cups frozen cherries
1/4 cup water
2 T maple syrup
Splash of vanilla
Pinch of salt
1 T butter
In a pan over high heat combine all ingredients except butter, and let bubble away until thick and syrupy, about 5 minutes.
Take off the heat, remove the ginger, and stir in the butter.
Link Parties: