I'm sitting in my kitchen nibbling on a white and bittersweet chocolate cookie typing this post up,and realizing it's been too long since I last posted. Sooo to make up for it, this one is extra long!
Zack, my boyfriend, lives with 5 German exchange students (creatively dubbed  "The Germans") and a guy named Bruce. Bruce is from Philly, so last Thursday we all headed up to celebrate the 4th with Bruce and his family. Bruce has triplet sisters, Ashley, Brooke, and Danielle, and Ashley and Brooke are absolutely incredible cooks. See below.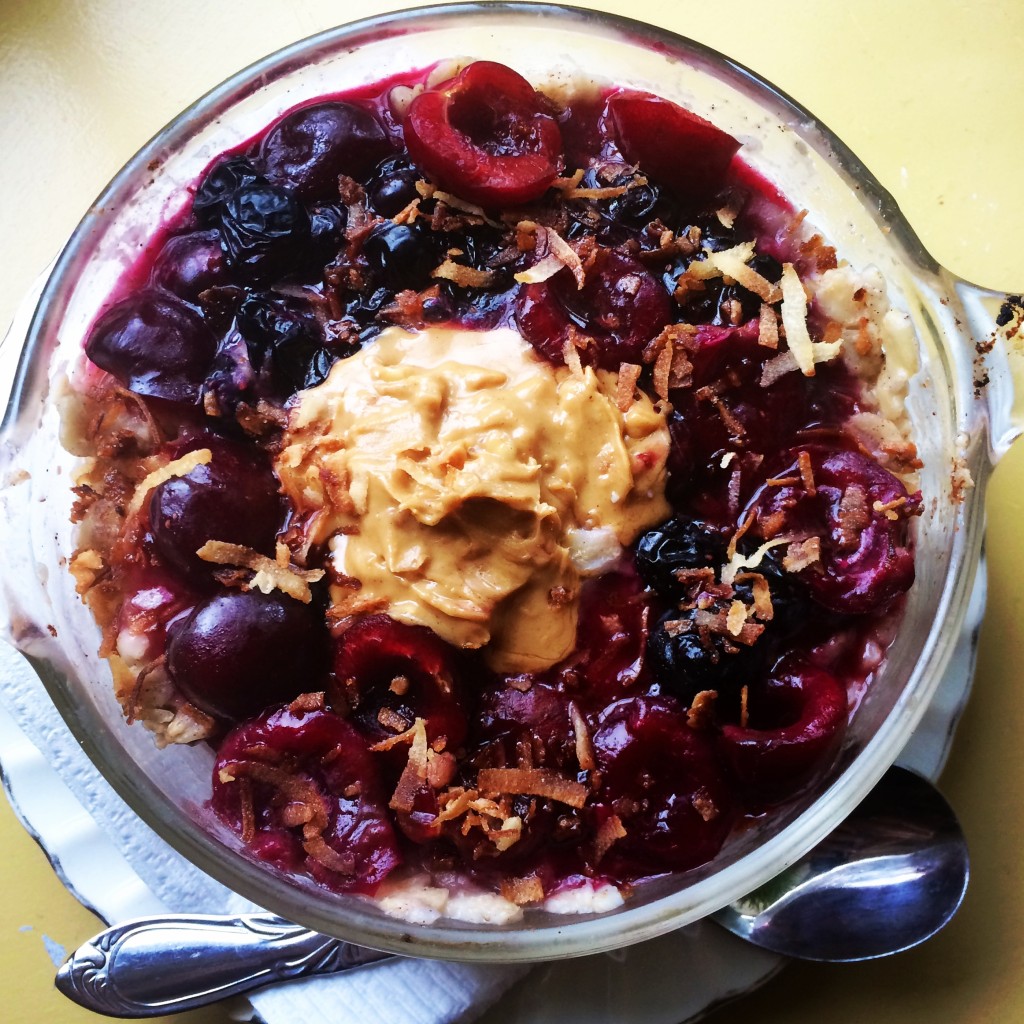 Friday morning I got woken up with banana bread oats topped with melted berry compote, crunchy peanut butter, and toasted coconut. Heaven in a bowl.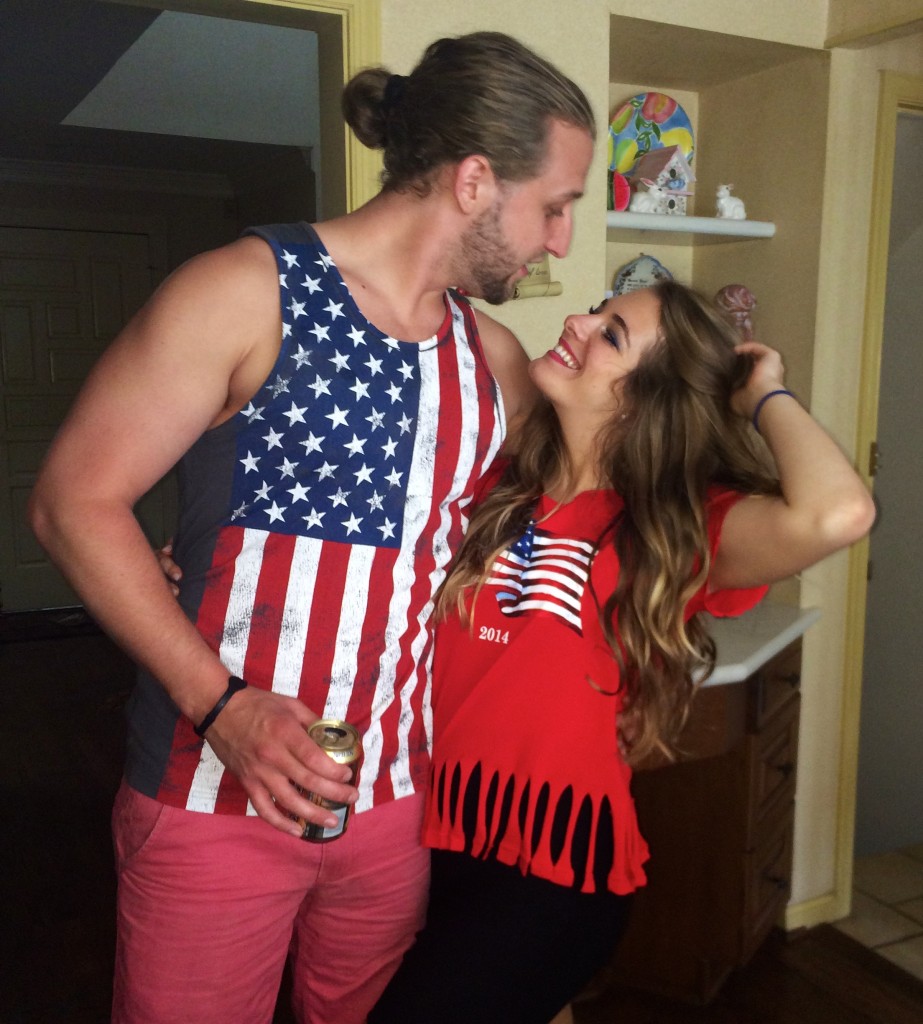 Bruce made plans for us to go to the Party on the Parkway (the largest free concert in the country!) so we all got decked out in our best patriotic clothes and headed downtown.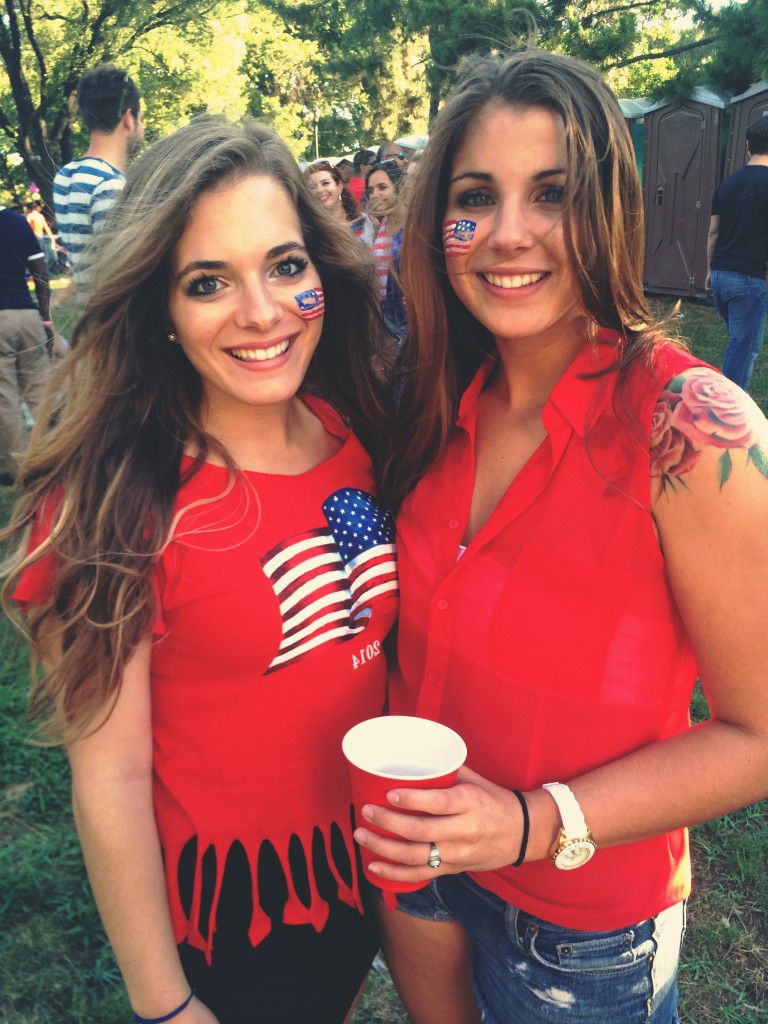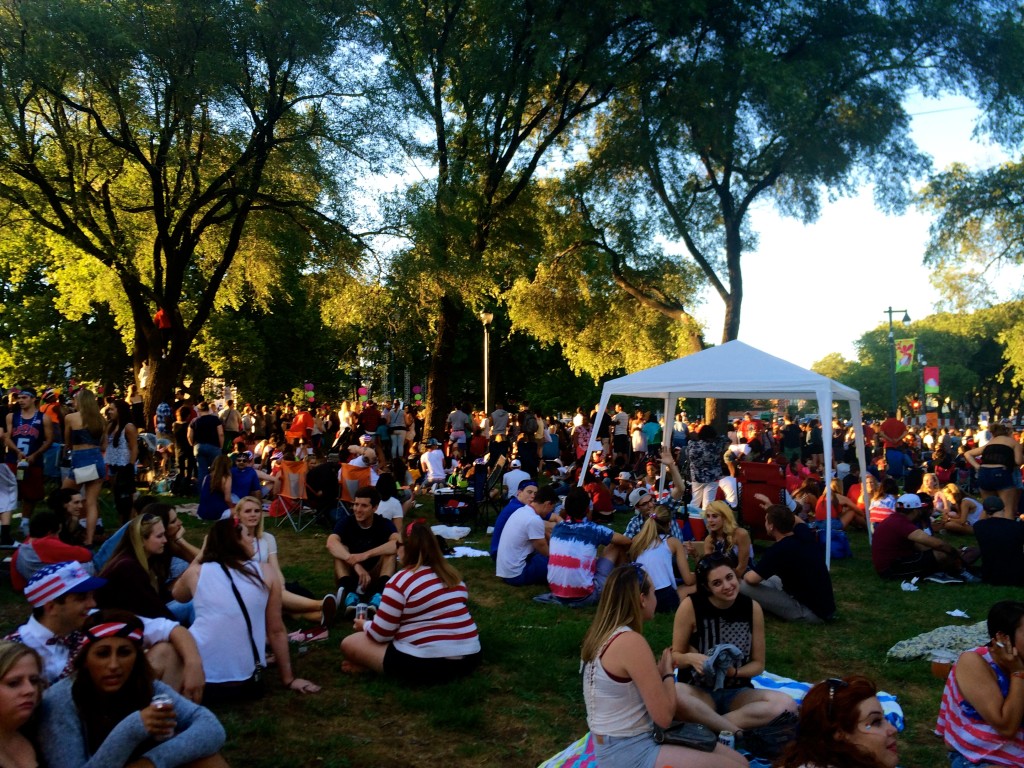 There were thousands of people camped out on the lawn drinking, tailgating, and playing flunky ball of course.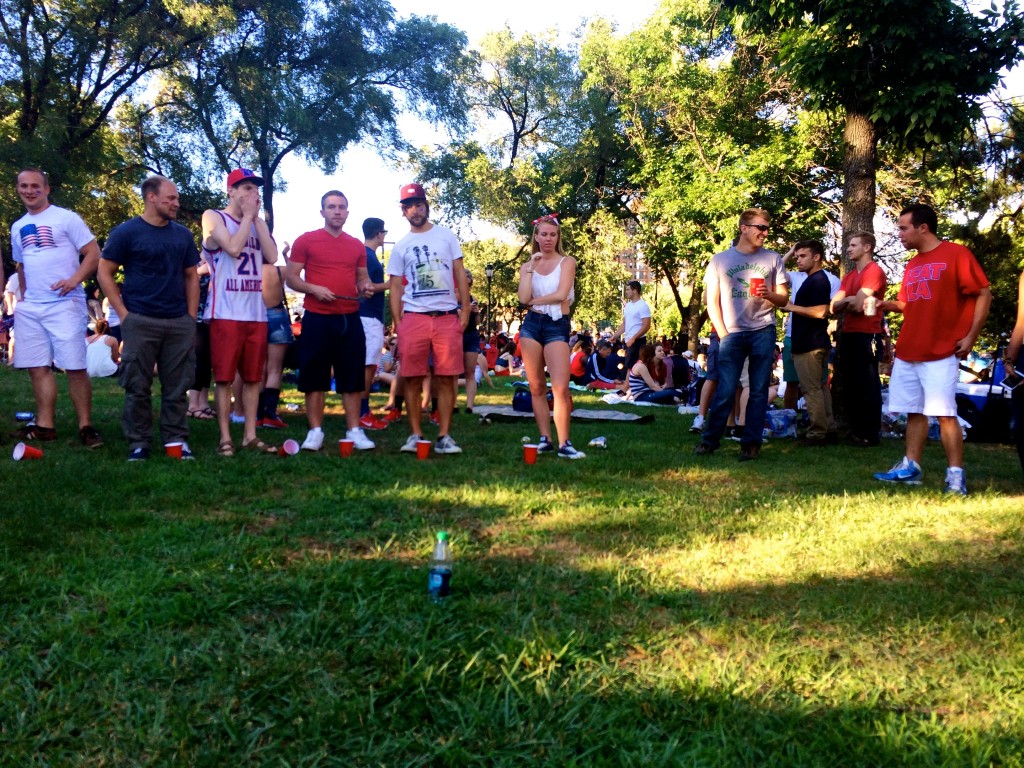 In case you haven't been to Germany, flunky ball is a German drinking game that the boys taught us where you have two teams lined up opposing each other, and a liter bottle in the center.
One person from the team throws something (usually a roll of duct tape) at the liter bottle, with the goal of knocking it over. If it gets knocked over, that team drinks until someone from the other team sprints to pick it up. Whatever team finishes all their beers first wins!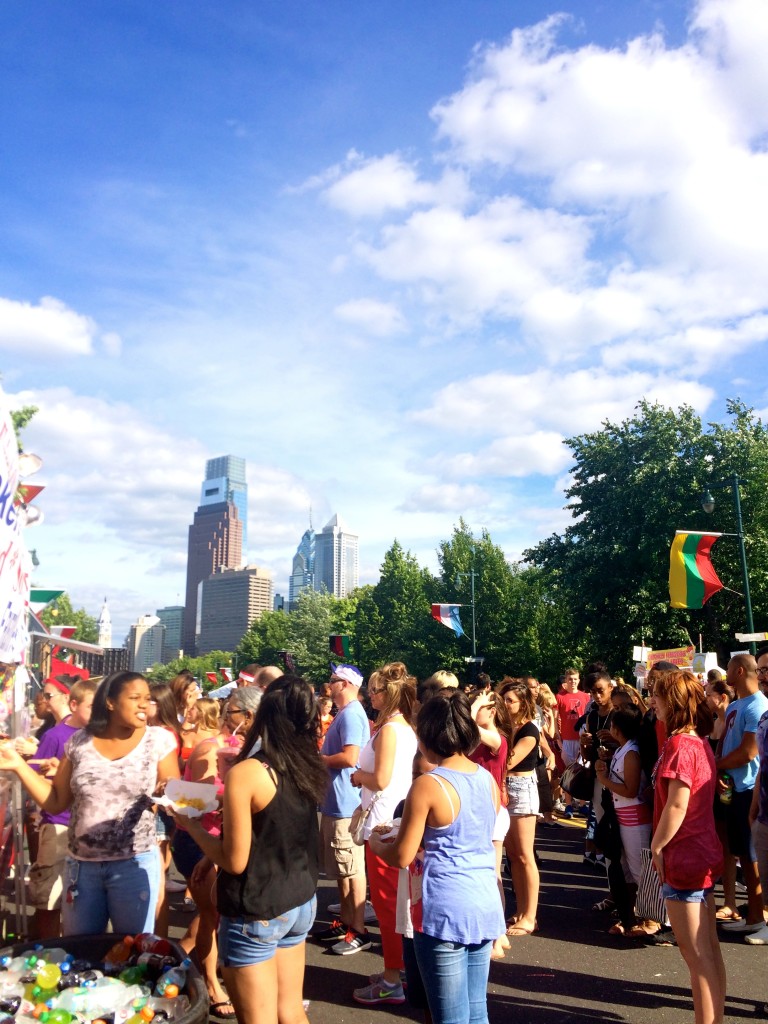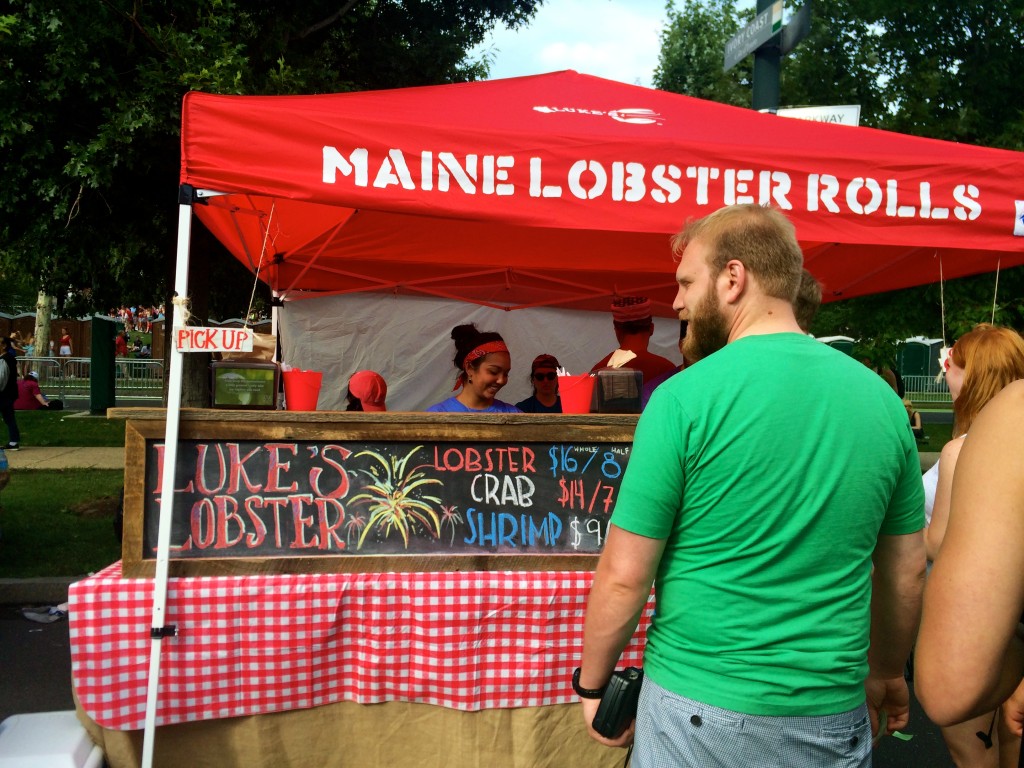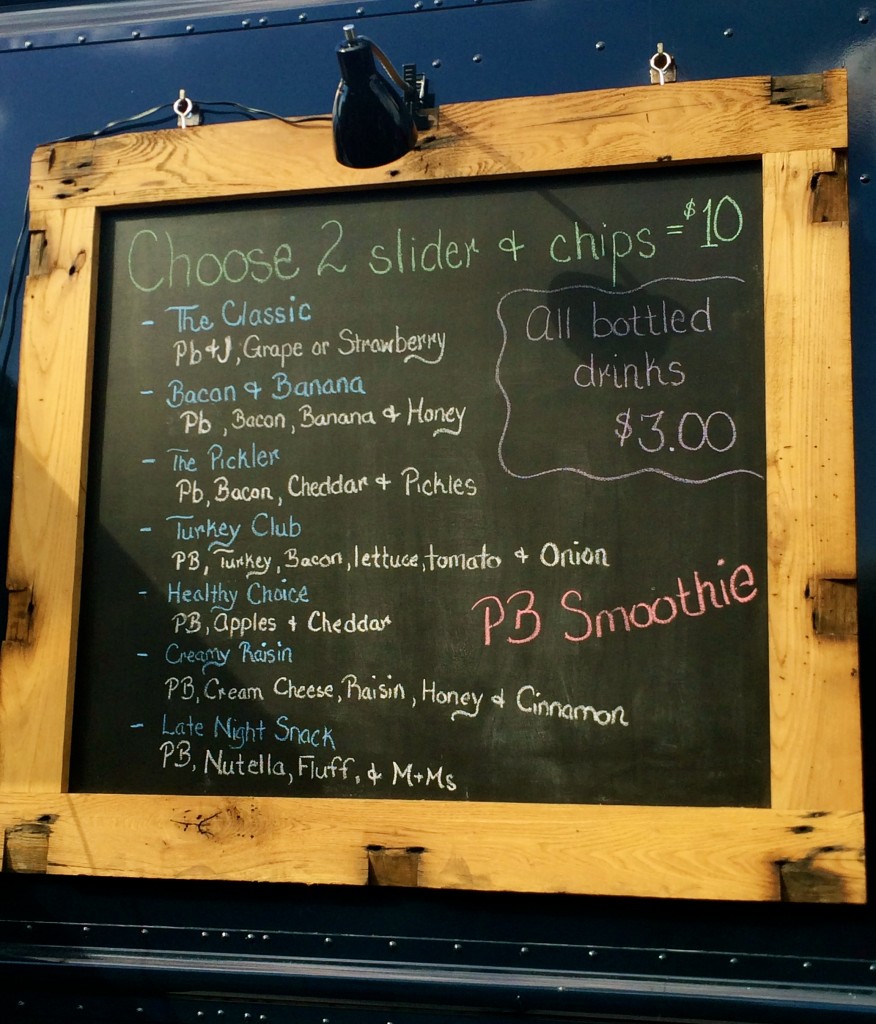 Naturally I was hungry after such a strenuous game, so we pried ourselves away from the group and over to the food trucks. There was everything from gourmet PB&Js to arepas (corn pancakes) to Maine lobster rolls.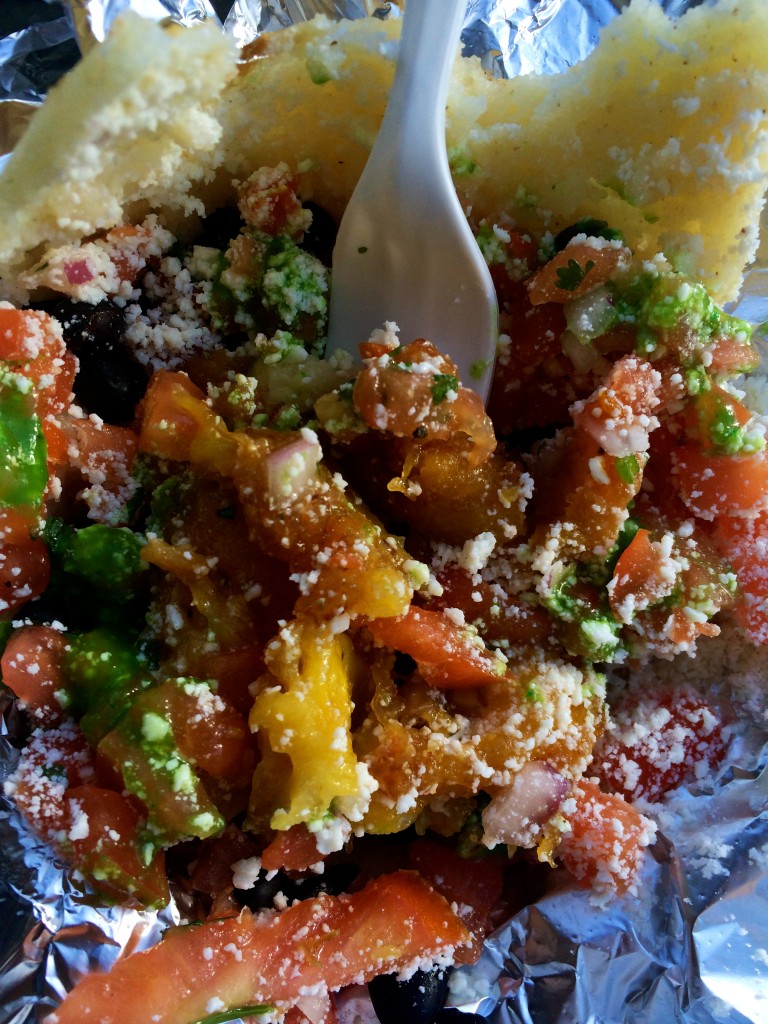 I decided on the arepa filled with sweet plantains, pico de gallo, black beans, and cotija cheese.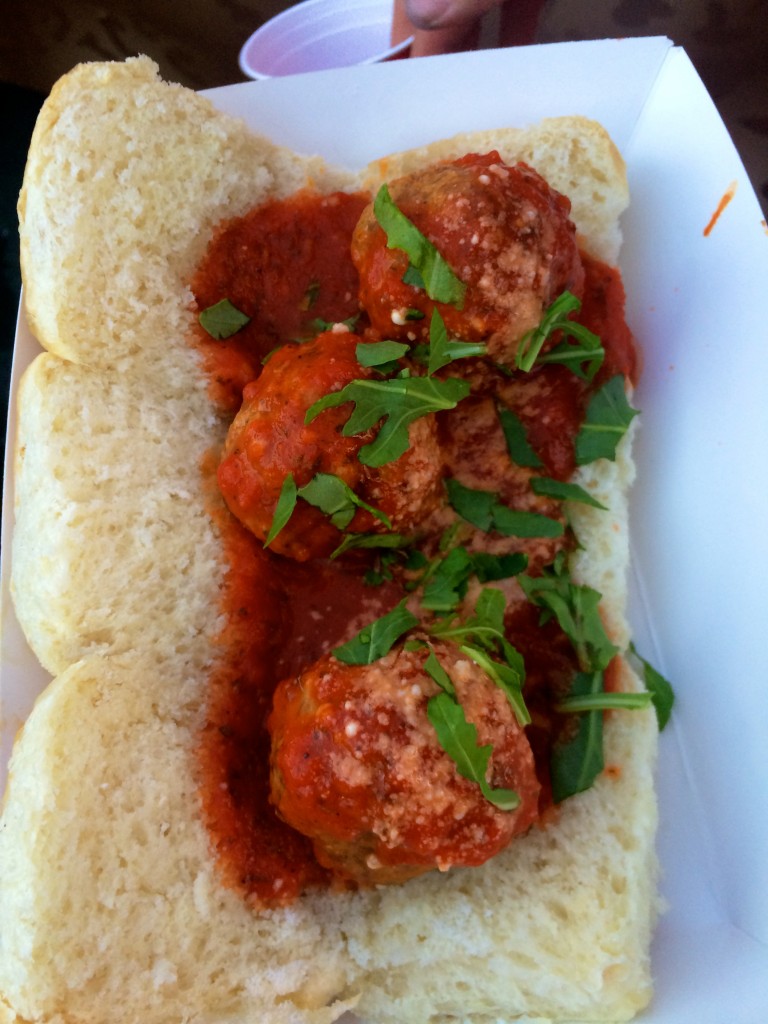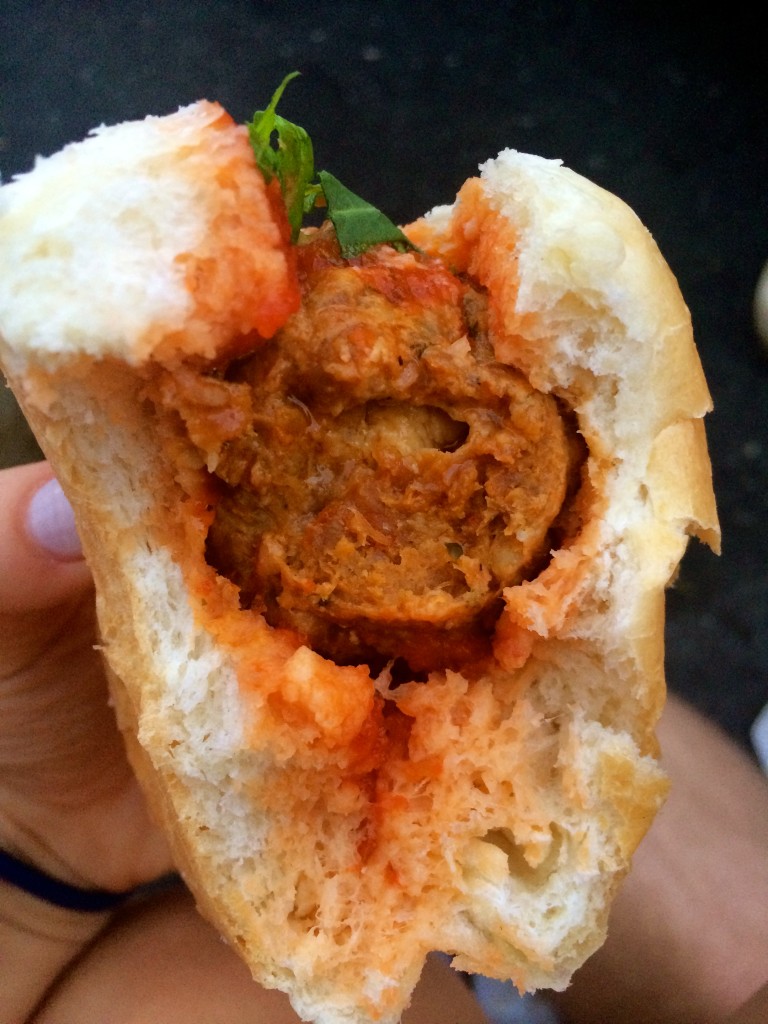 Zack got the best meatball sub I've ever had in my life, big statement I know but seriously this thing was incredible. Tender pork, veal, and beef meatballs were blended with jalepeno, mozzarella, and basil and ladled onto a soft sub roll. Drool.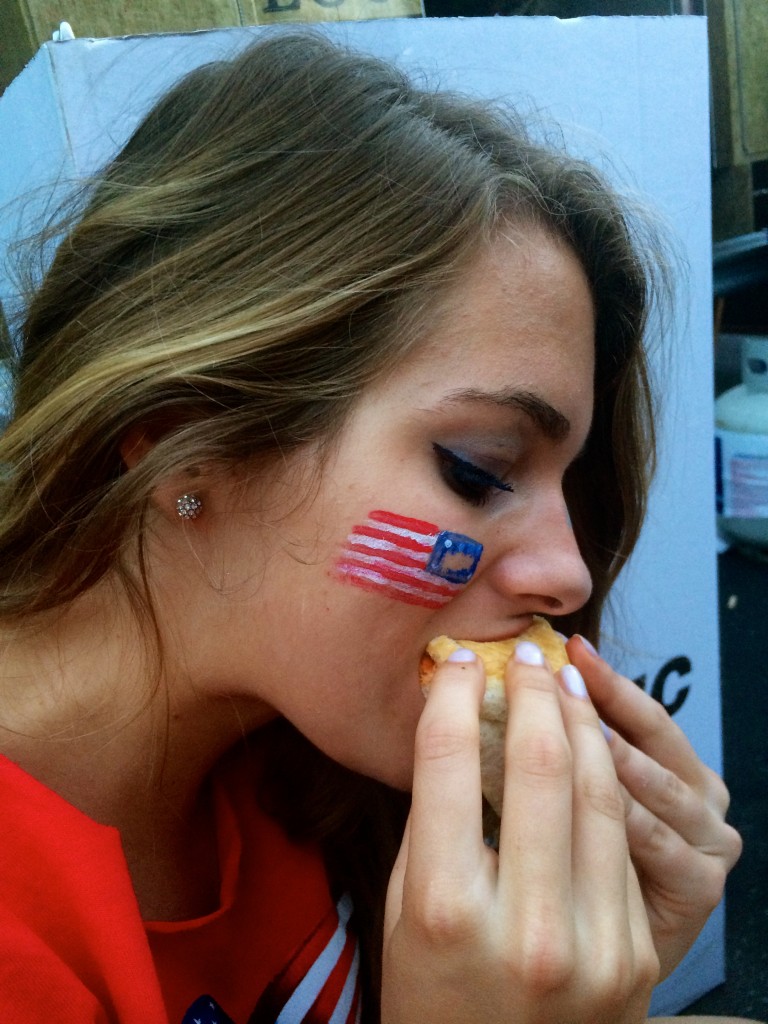 Me in my element chowing down. Please ignore my backwards flag, I did it in the mirror after one too many…..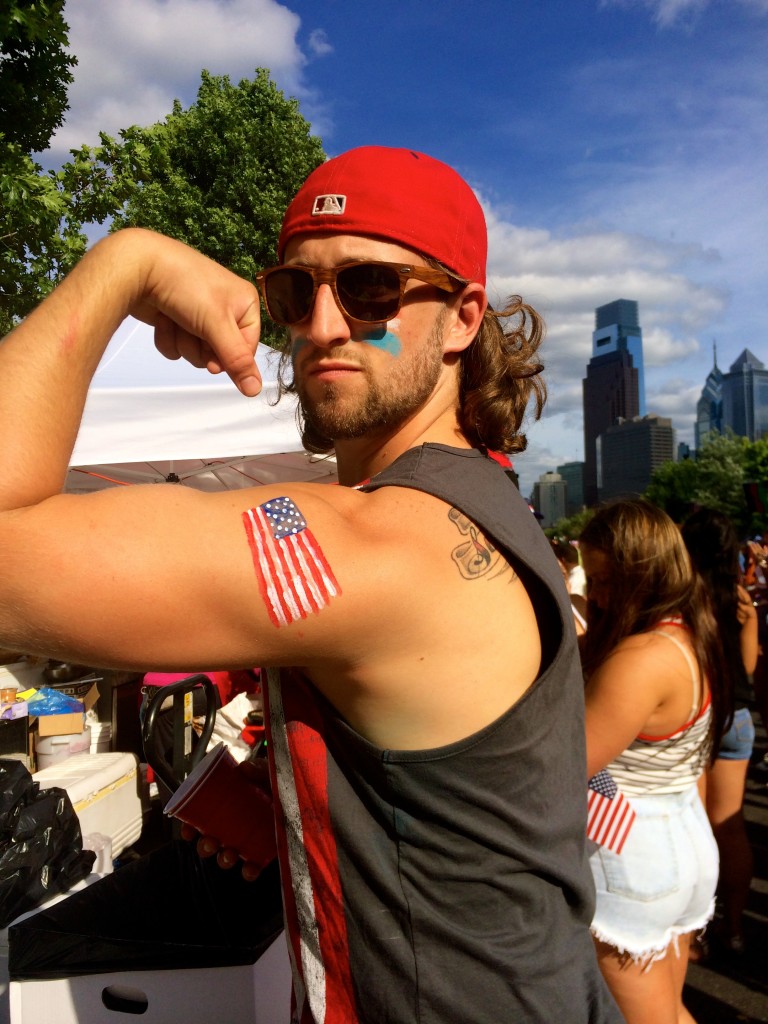 Whats a blog post without Zack flexing??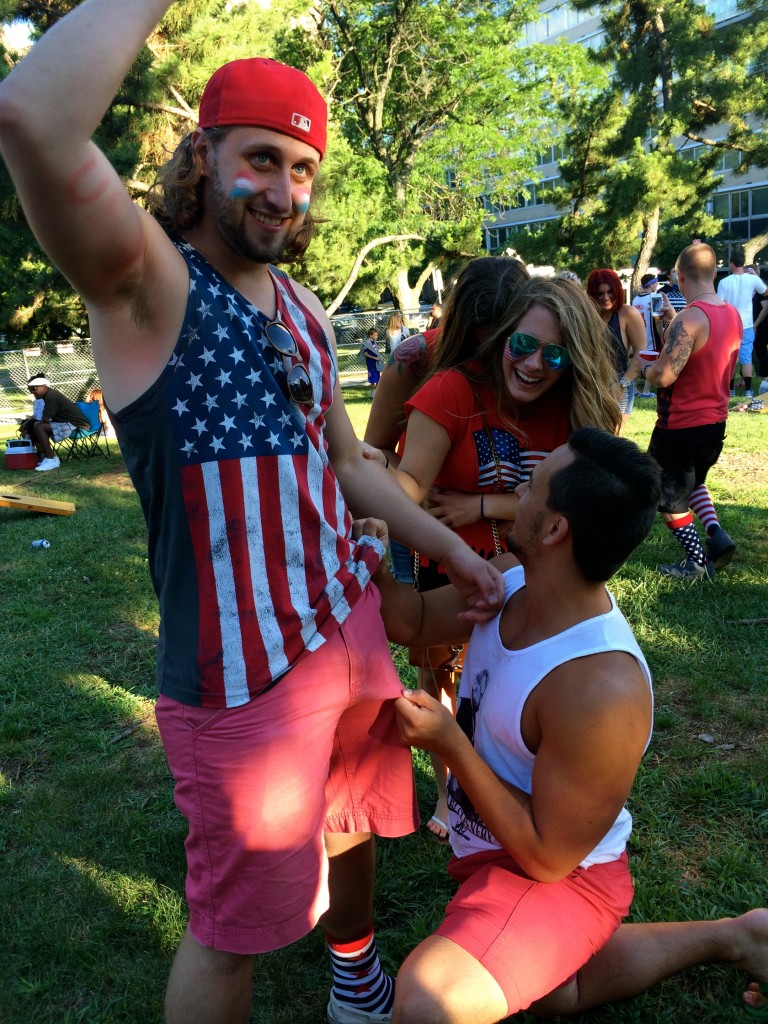 Things started to get a little weird.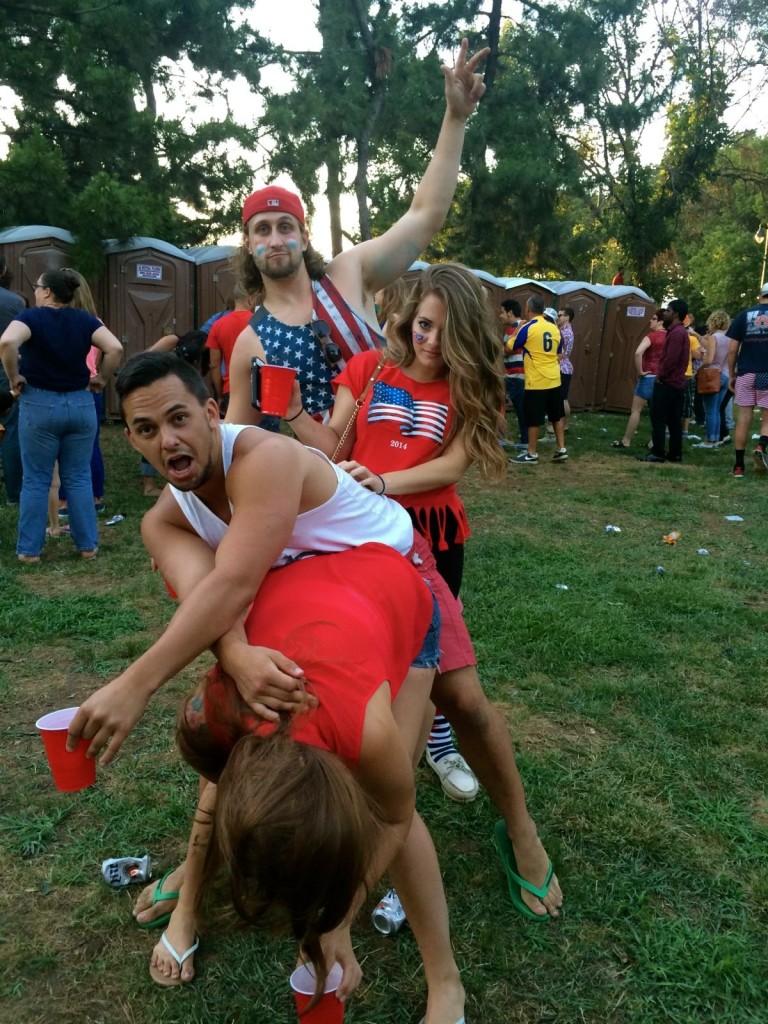 Okay, really weird.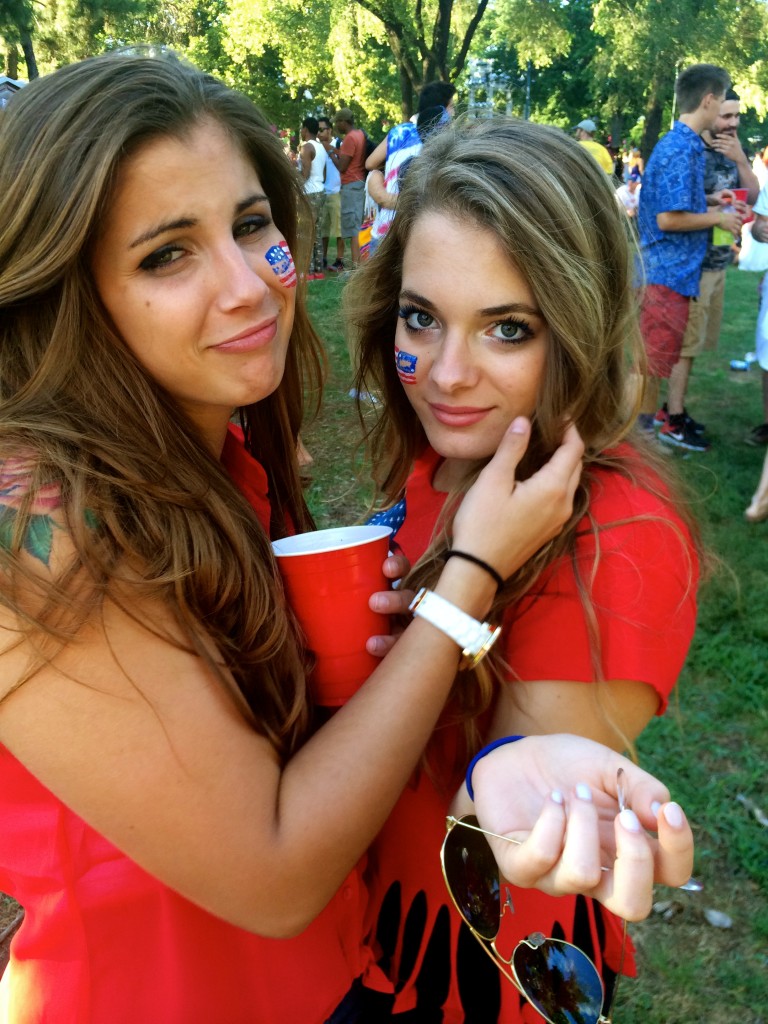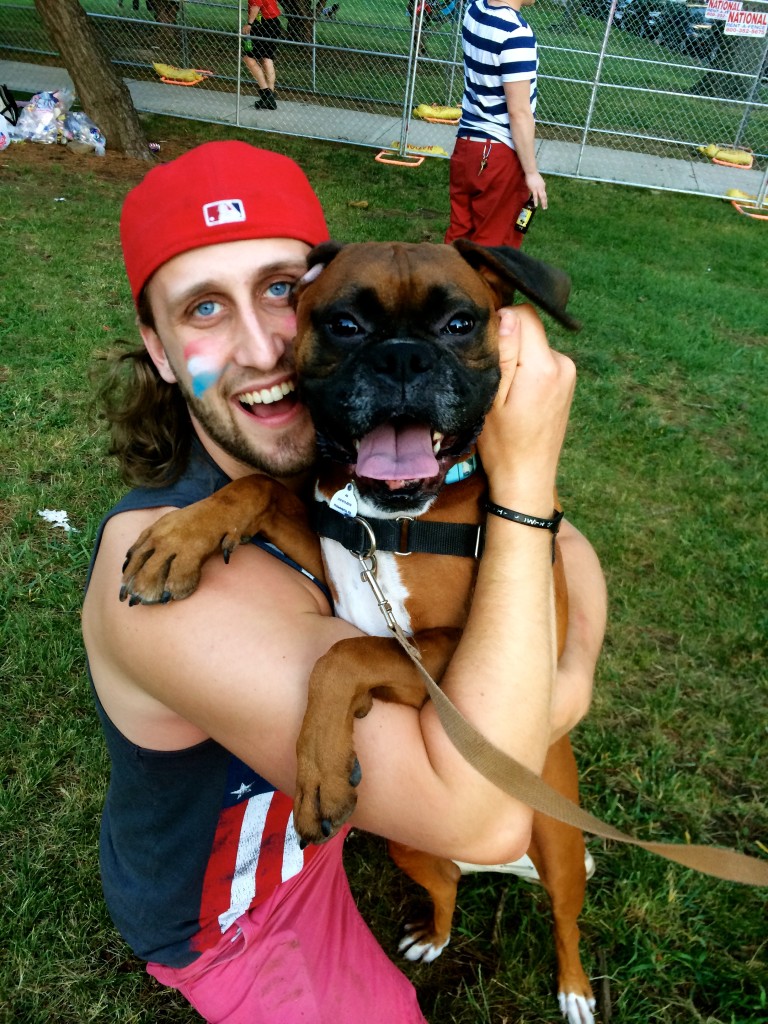 Zack made a friend!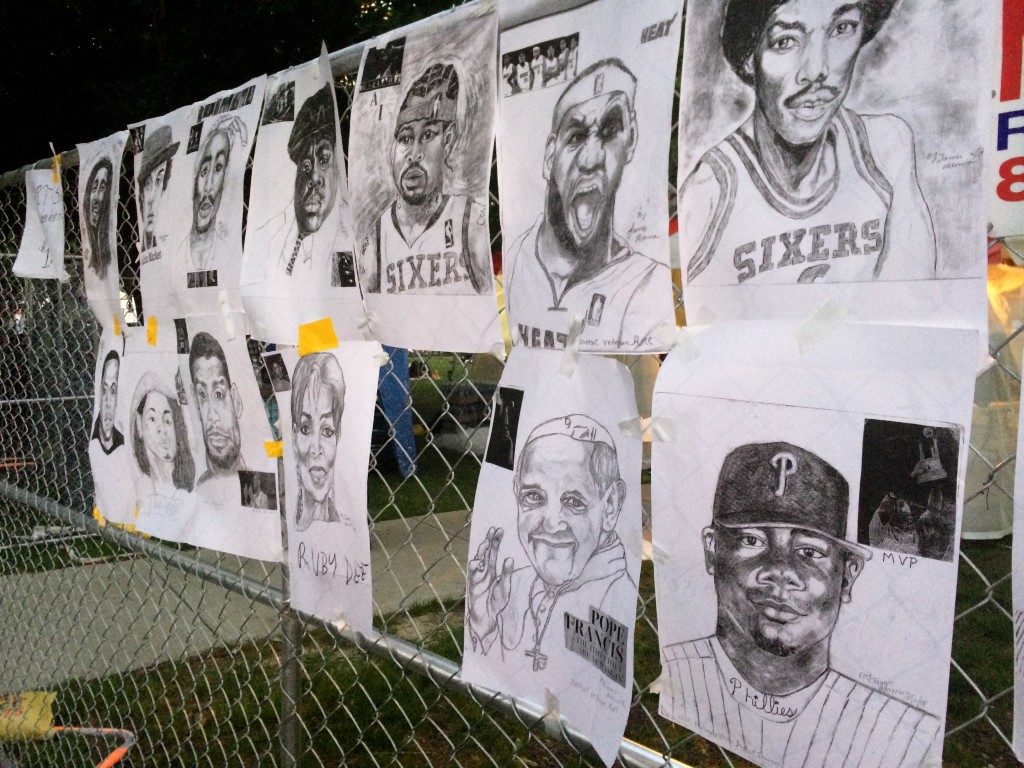 Hand drawn portraits gilded the fence surrounding the concert.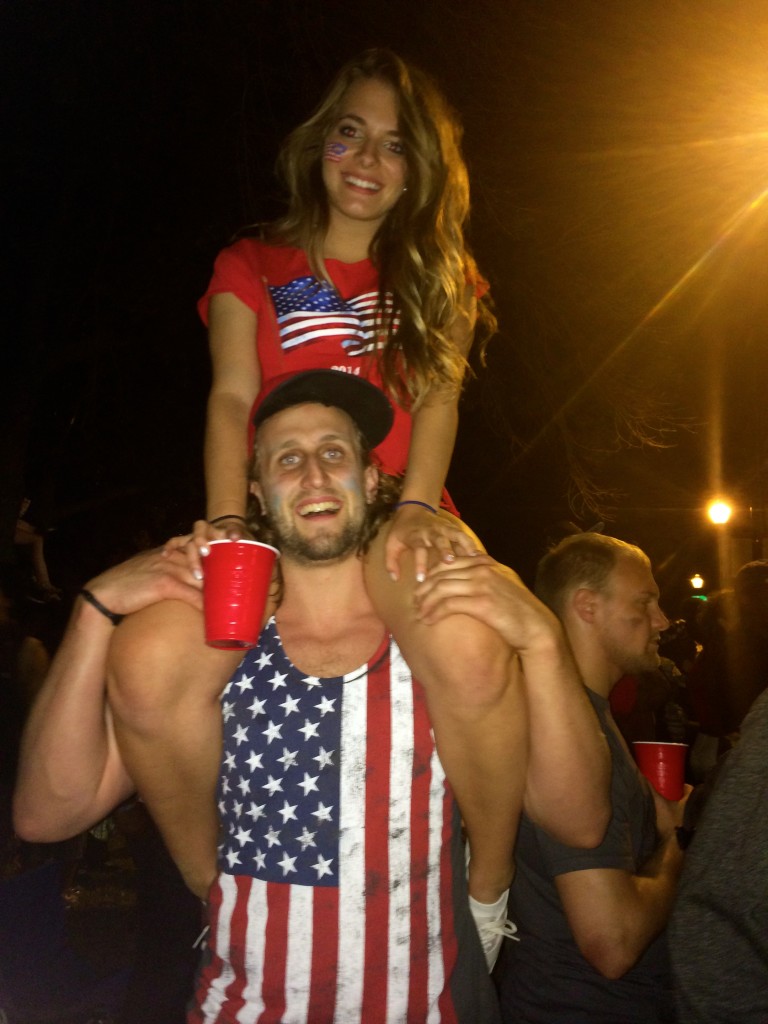 As the sun went down, we hopped up on the boys' shoulders to go see Nicki Minaj, Aloe Blacc, and The Roots perform.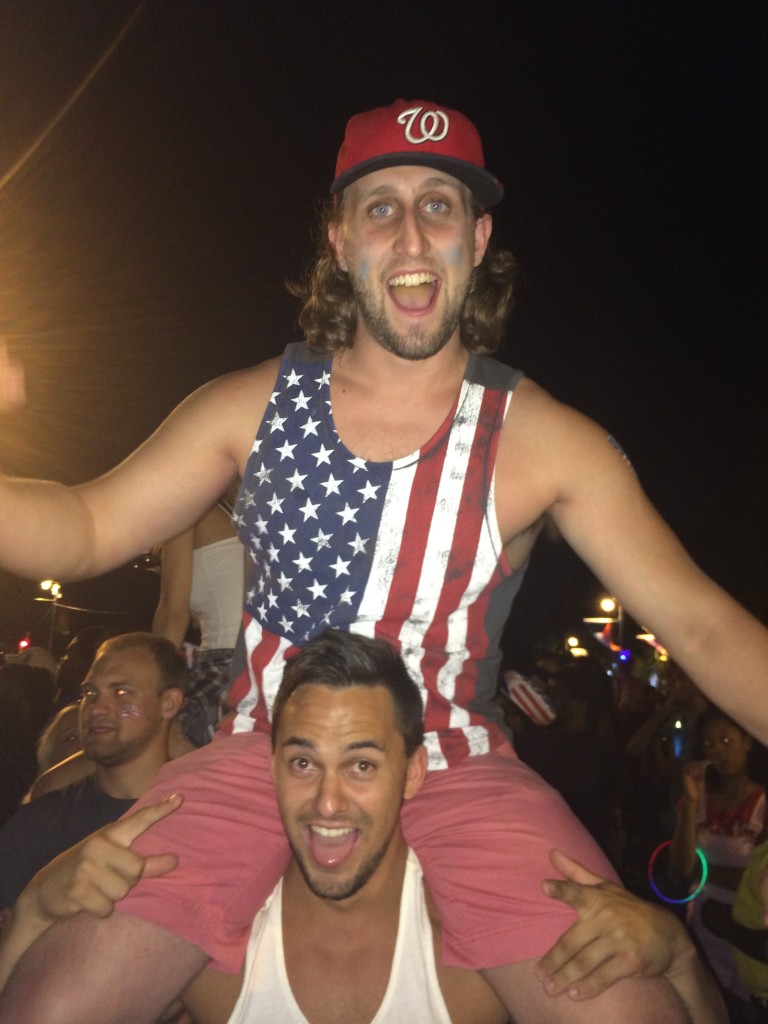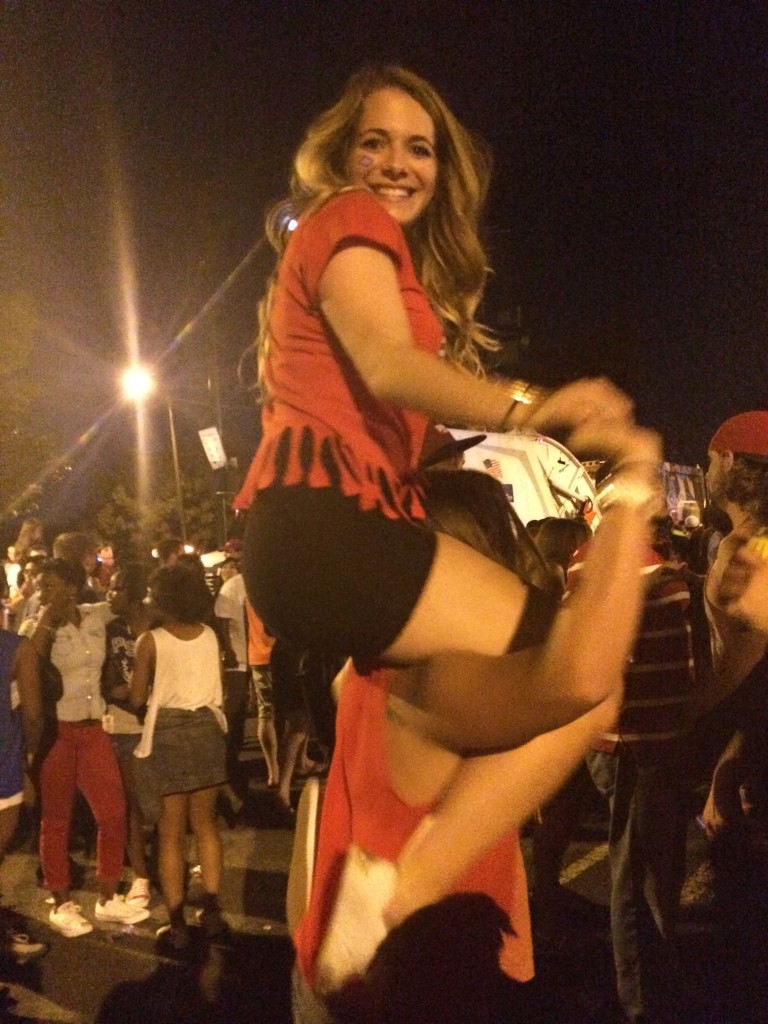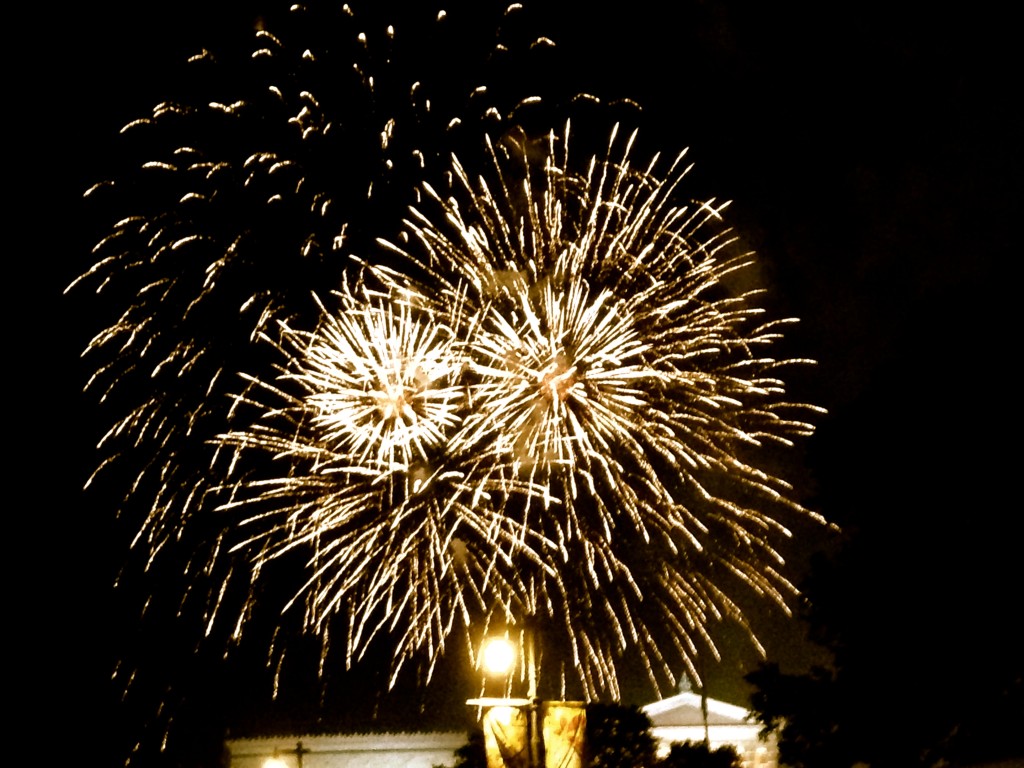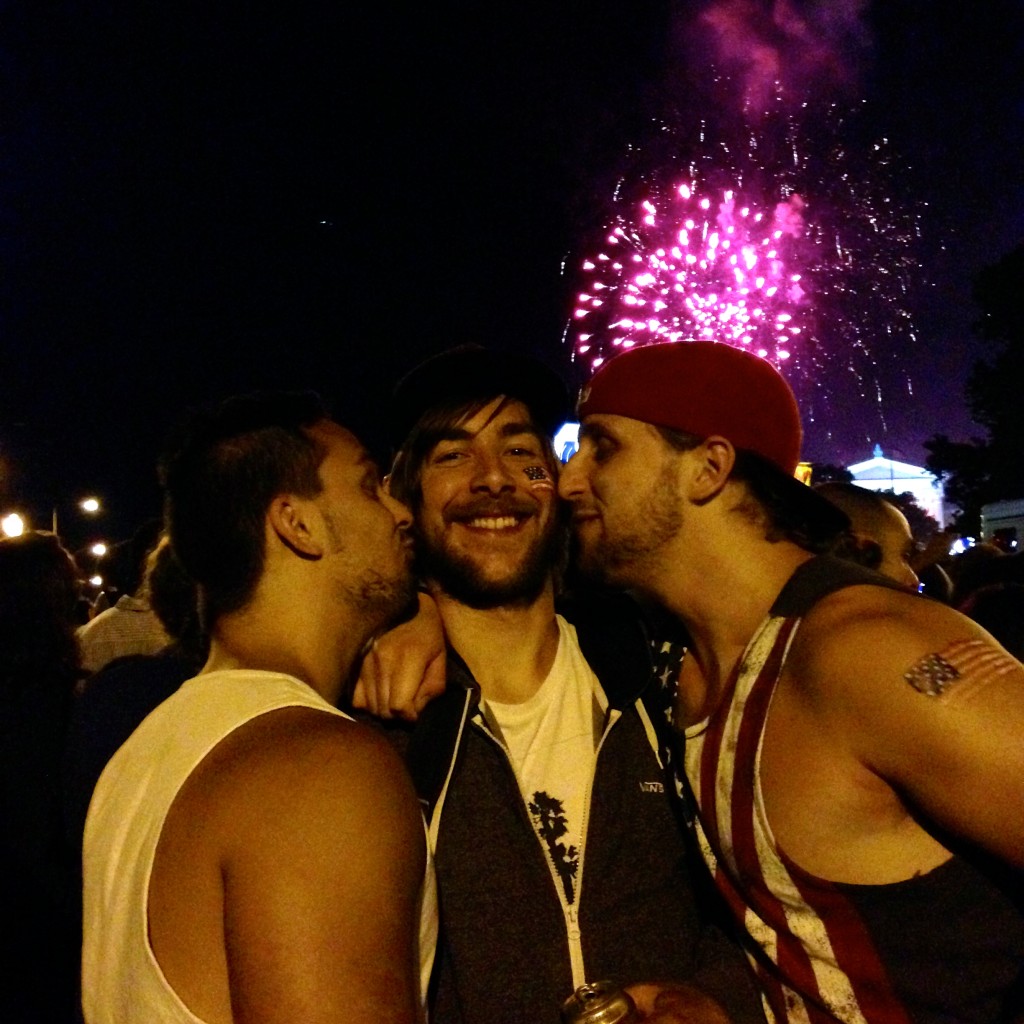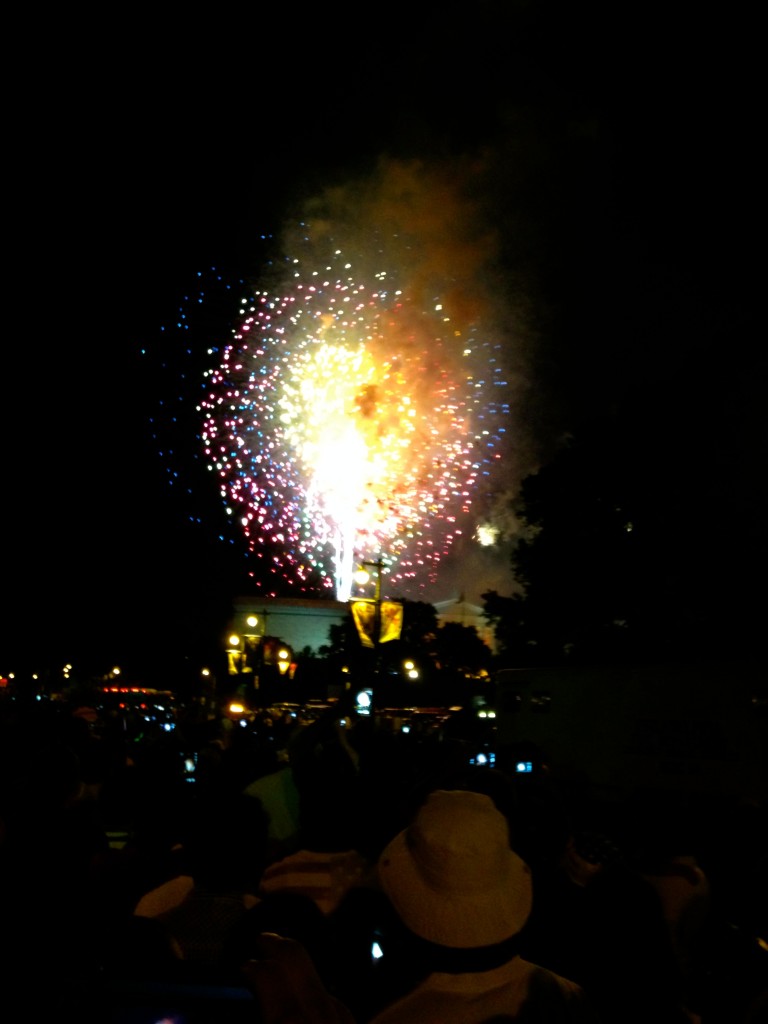 We watched the fireworks, and Nils, Zack, and Bruce got a little (too?) romantic underneath the stars.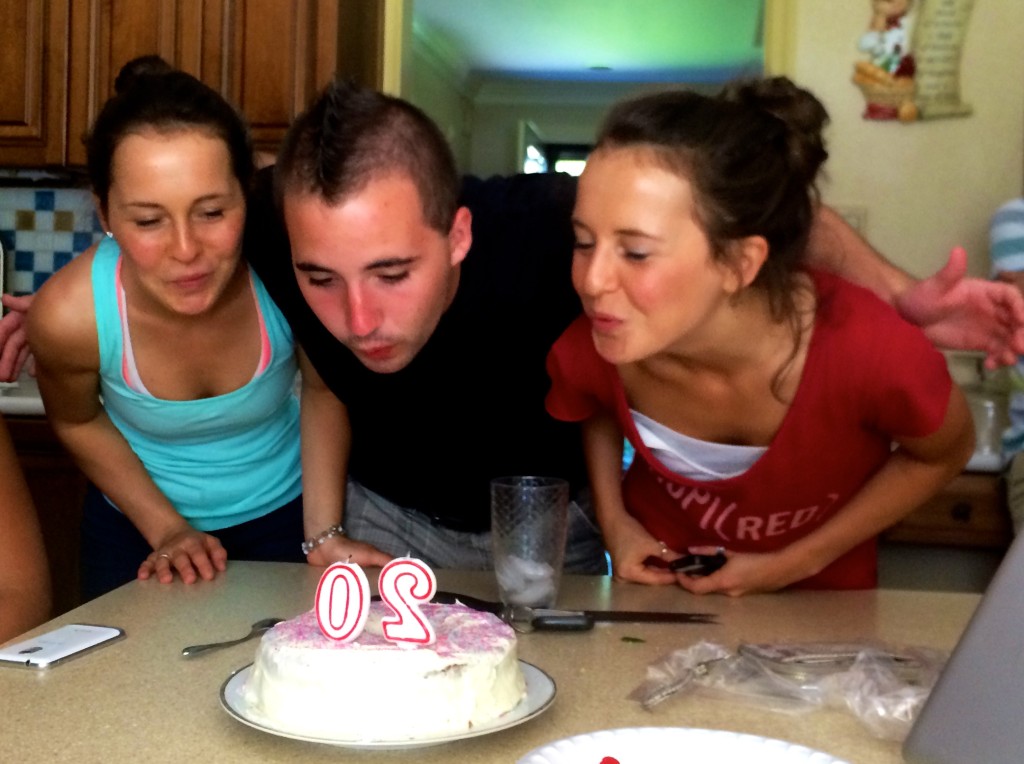 The next morning we celebrated Ashley, Brooke, and Michael's birthday, and then drove downtown for the day.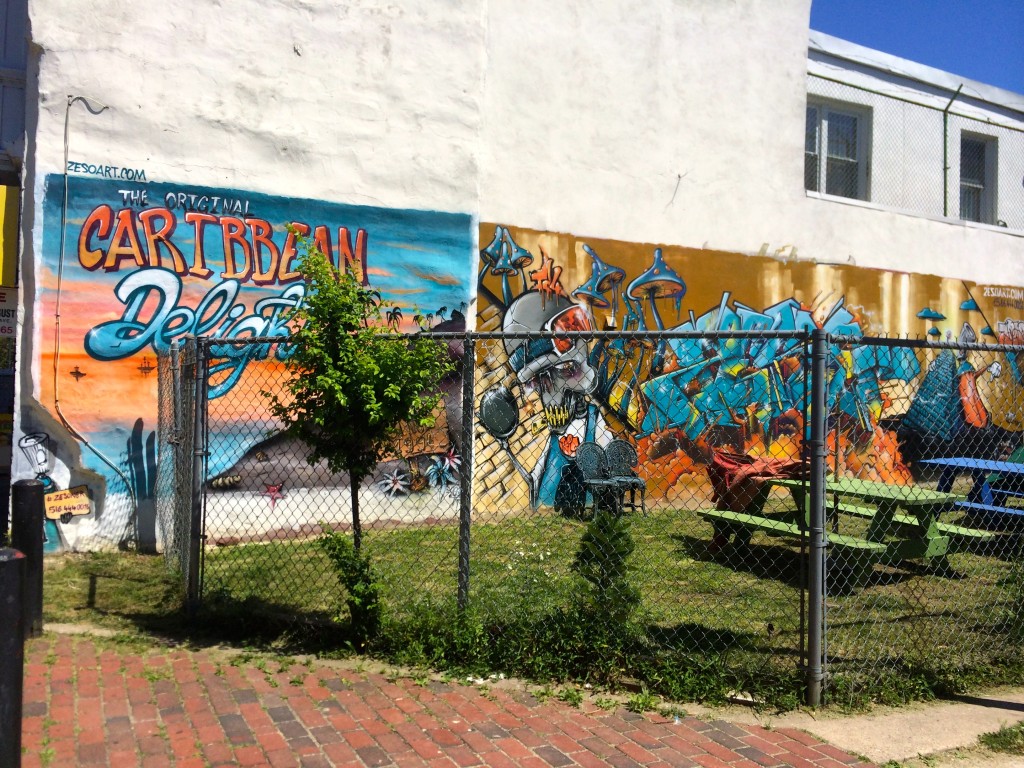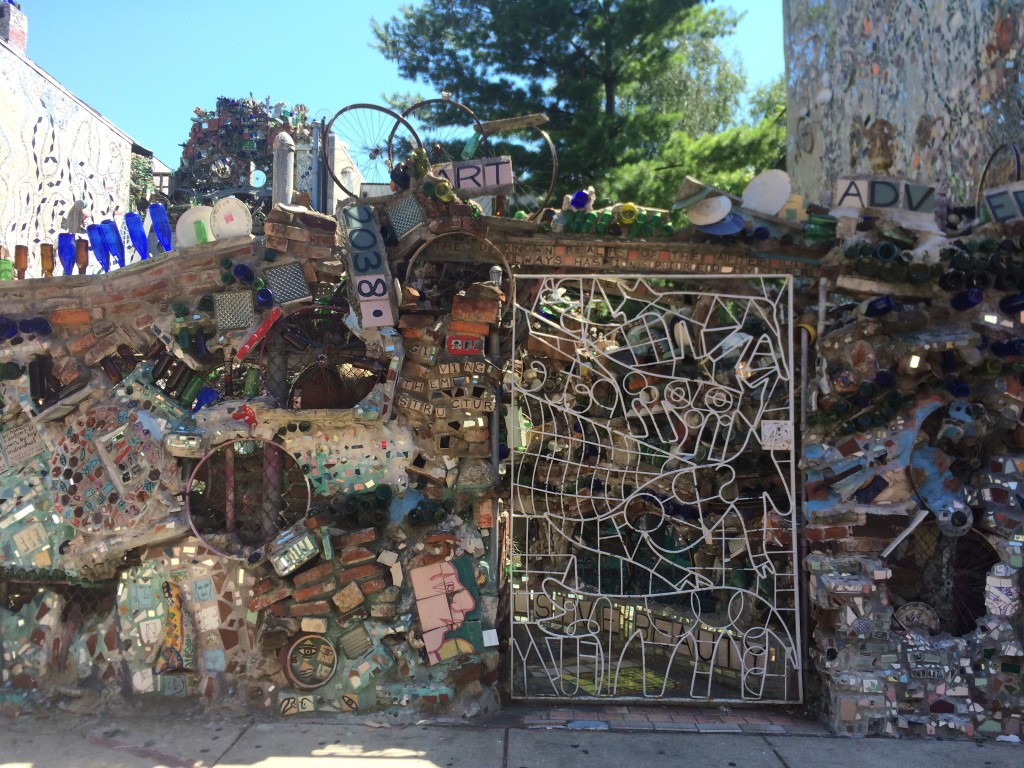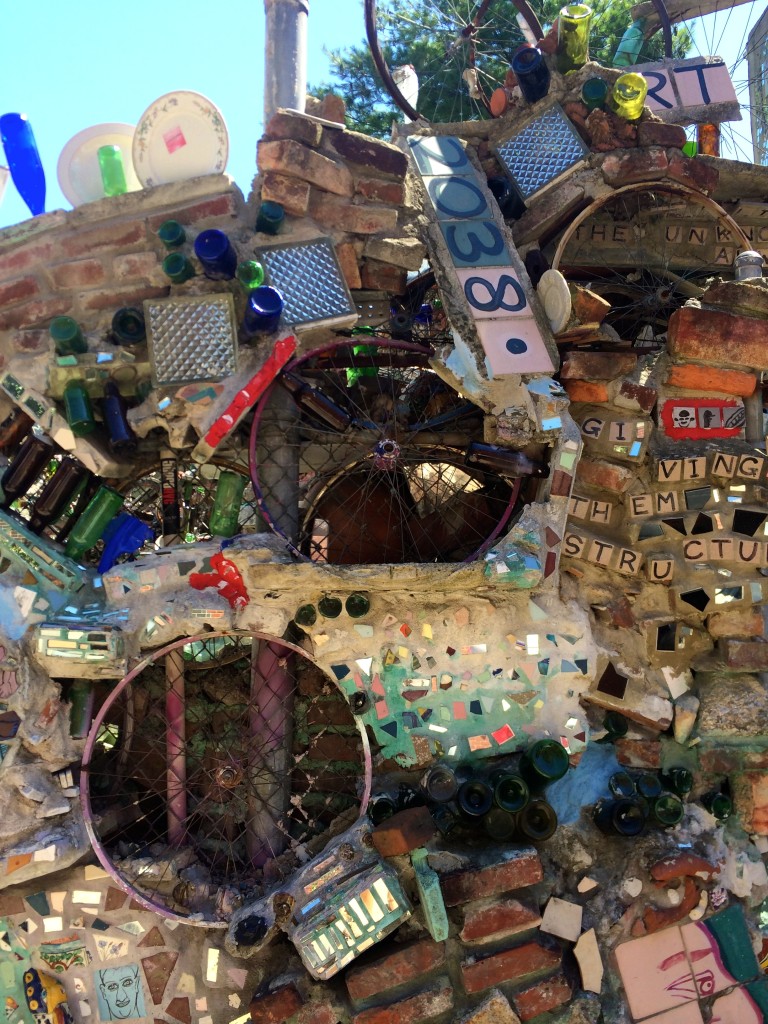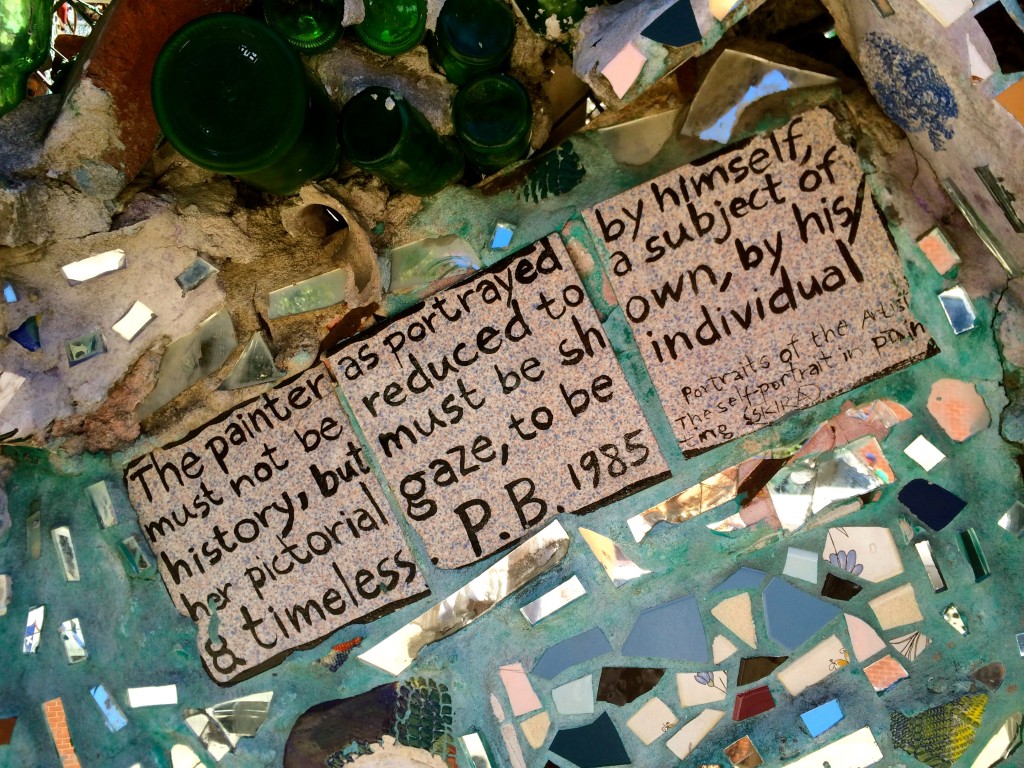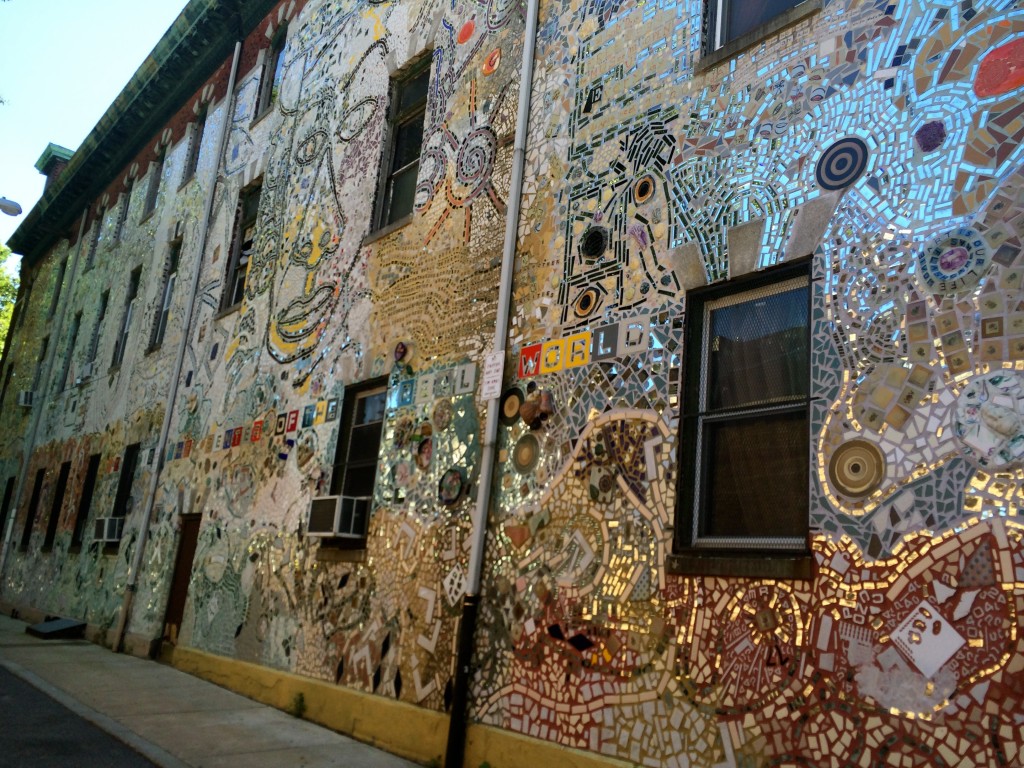 Philly had the coolest buildings made of mosaics from recycled glass, mirrors, old bicycles, and ceramics. )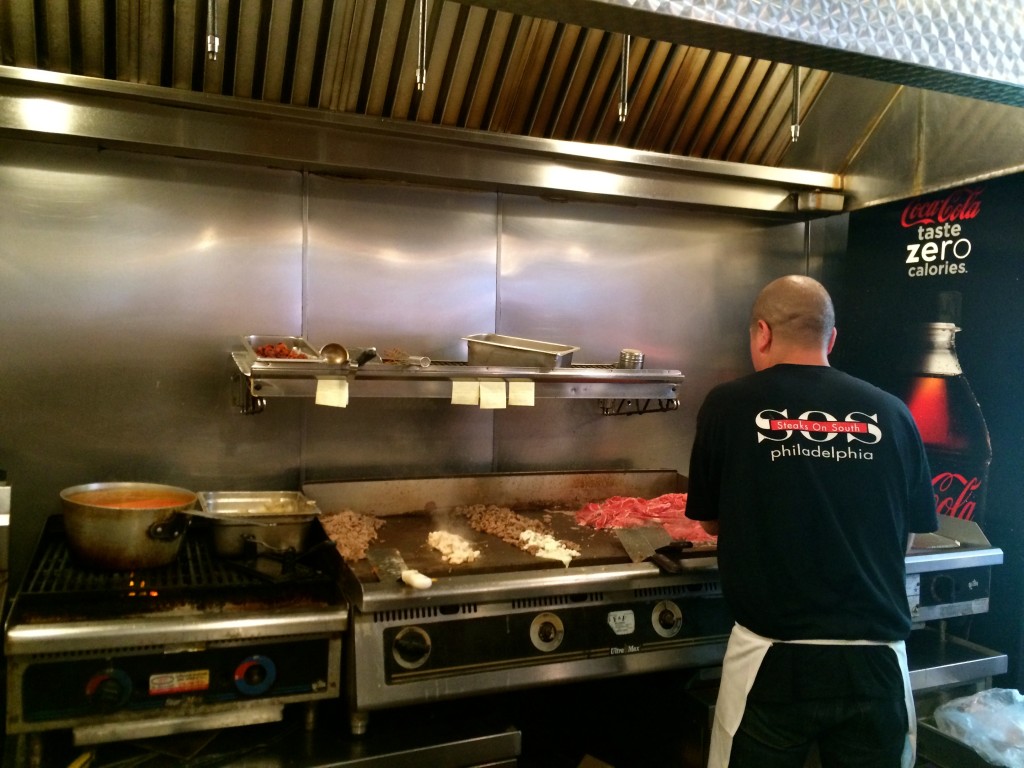 The boys got the obligatory cheesesteak from SOS on South Street (decent, not great) and then Zack and I left to head home.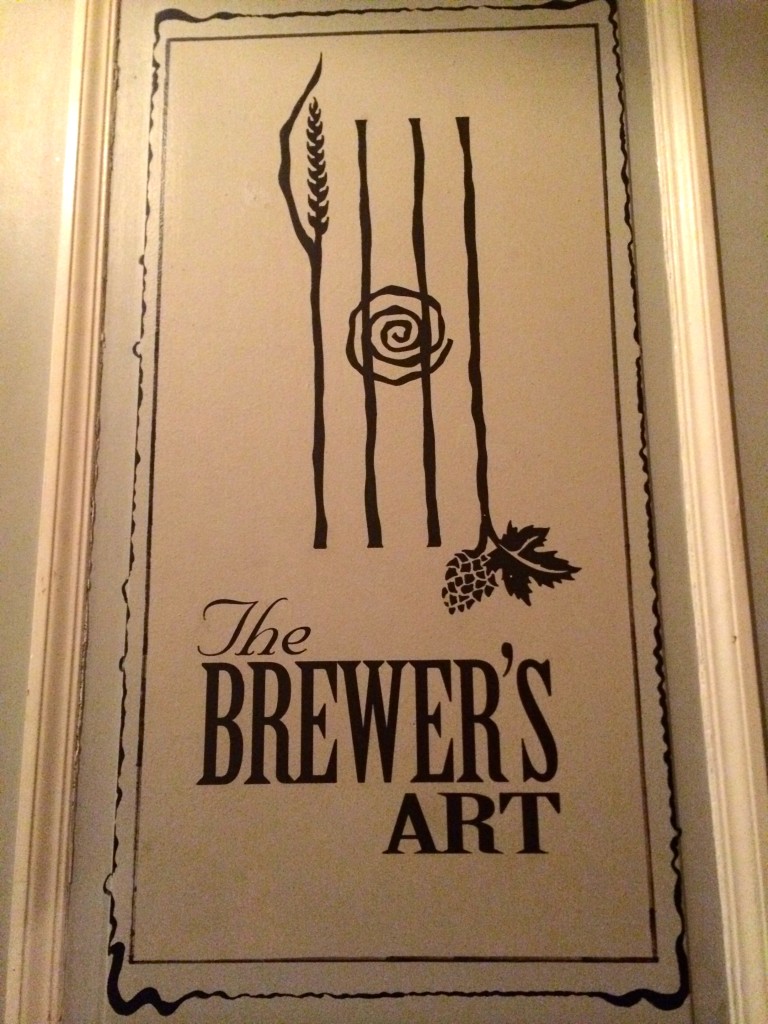 On the way home we decided to stop in Baltimore to grab a quick bite to eat, and stumbled upon The Brewer's Art, a cute brewery restaurant in downtown Baltimore.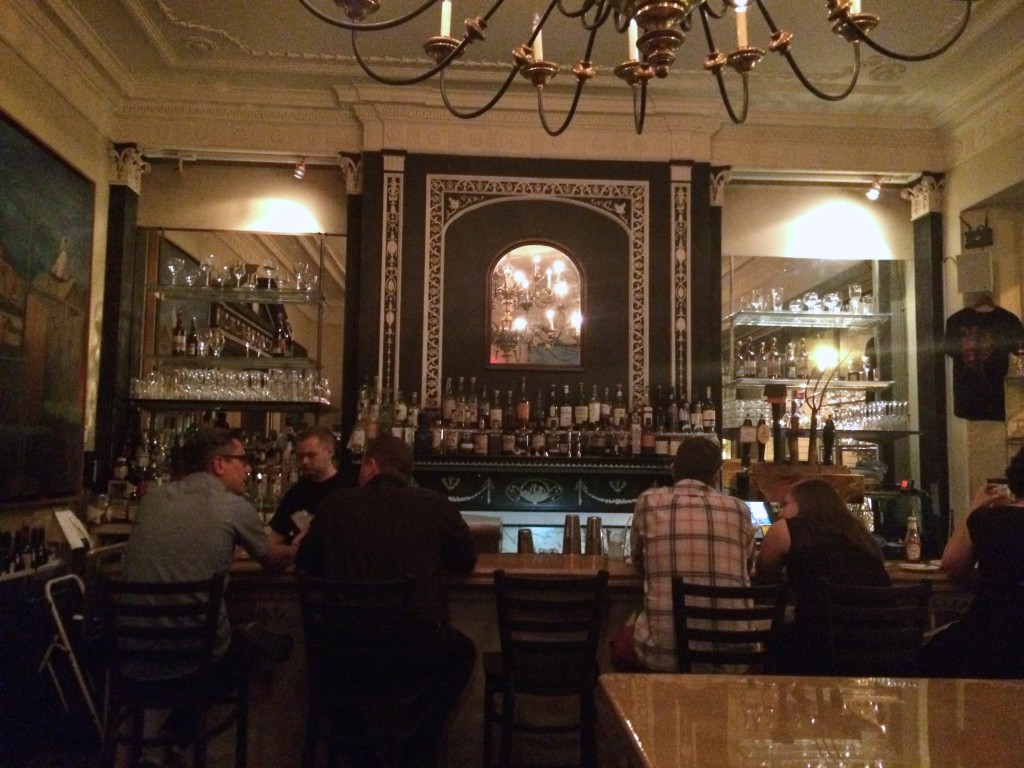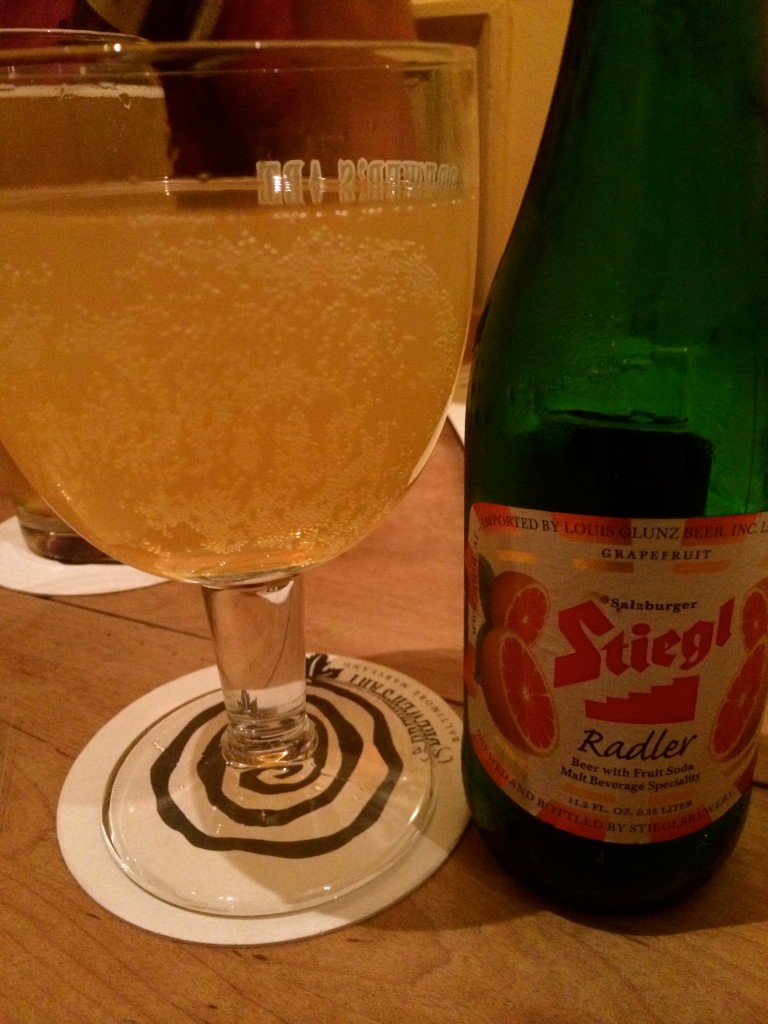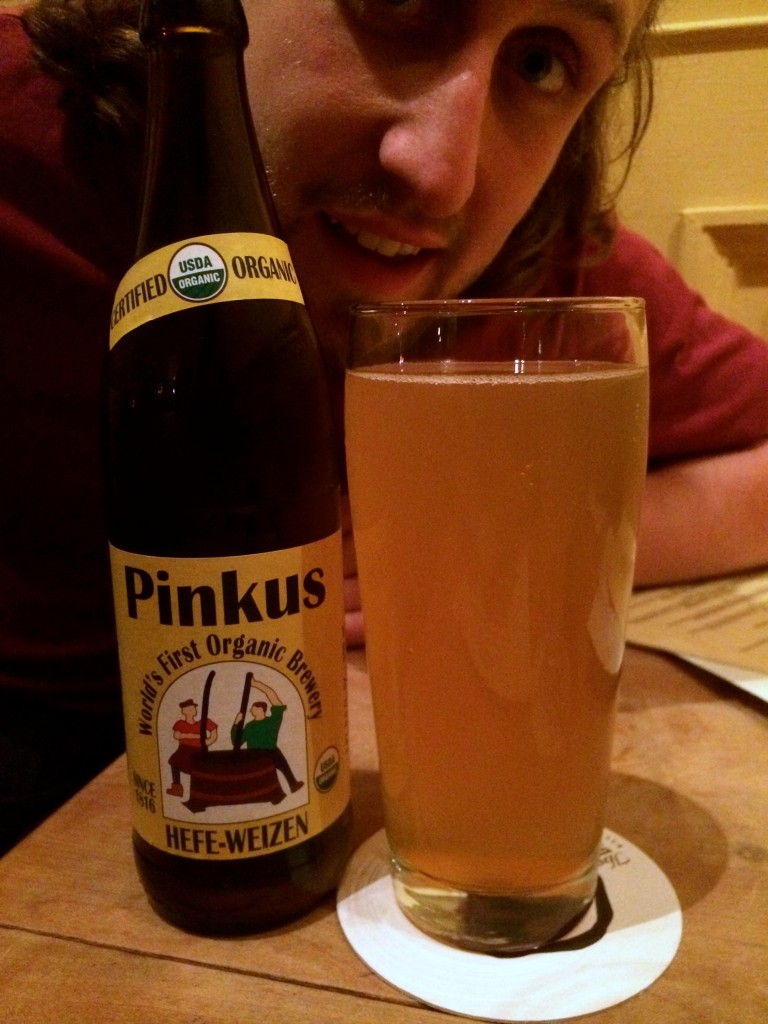 I had a refreshing grapefruit beer, and Zack had the Hefe-weizen that the German's recommended. If there's one thing I would trust the German's on it would be beer!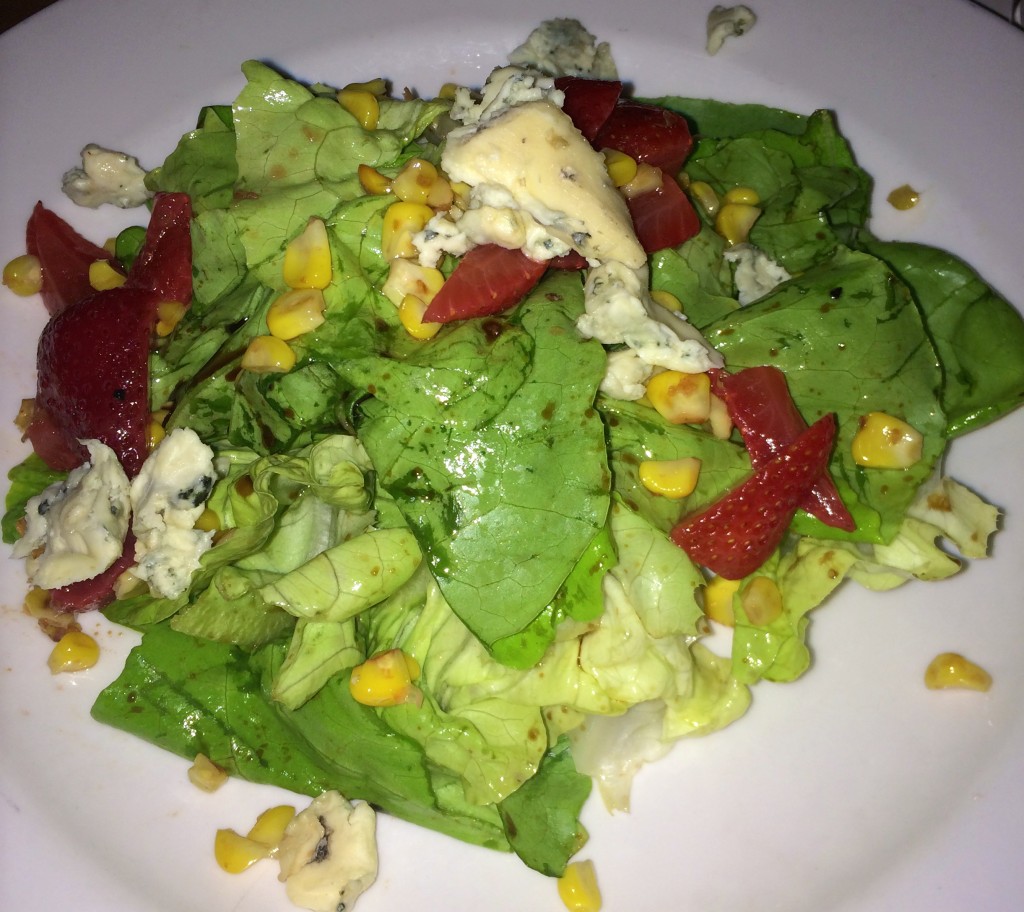 The butter lettuce salad was ah-mazing. It had roasted corn, pickled strawberries, and thinly sliced Fourme d'ambert cheese with a walnut oil and aged balsalmic dressic.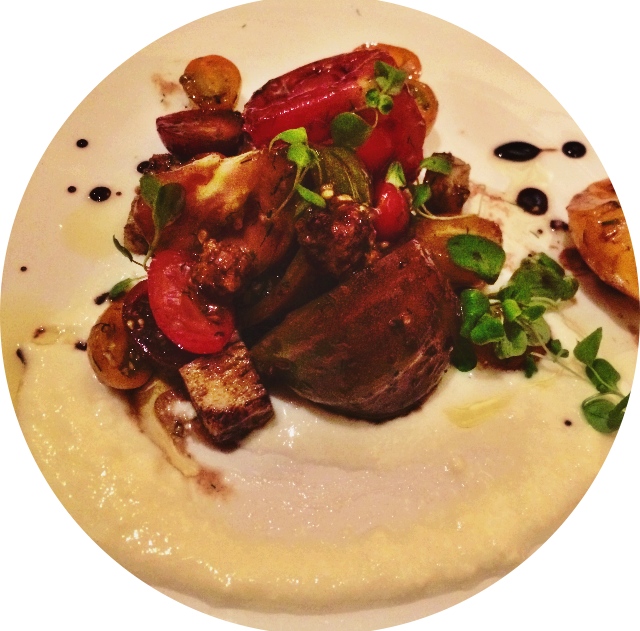 Next up, an heirloom tomato salad with a yogurt emulsion, vin cotto, and olive oil soaked croutons. This was easily the best tomato salad I've ever had. The salty and creamy yogurt complemented the sweet syrupy vin cotto perfectly, and the tomatoes had the best flavor I've had this season.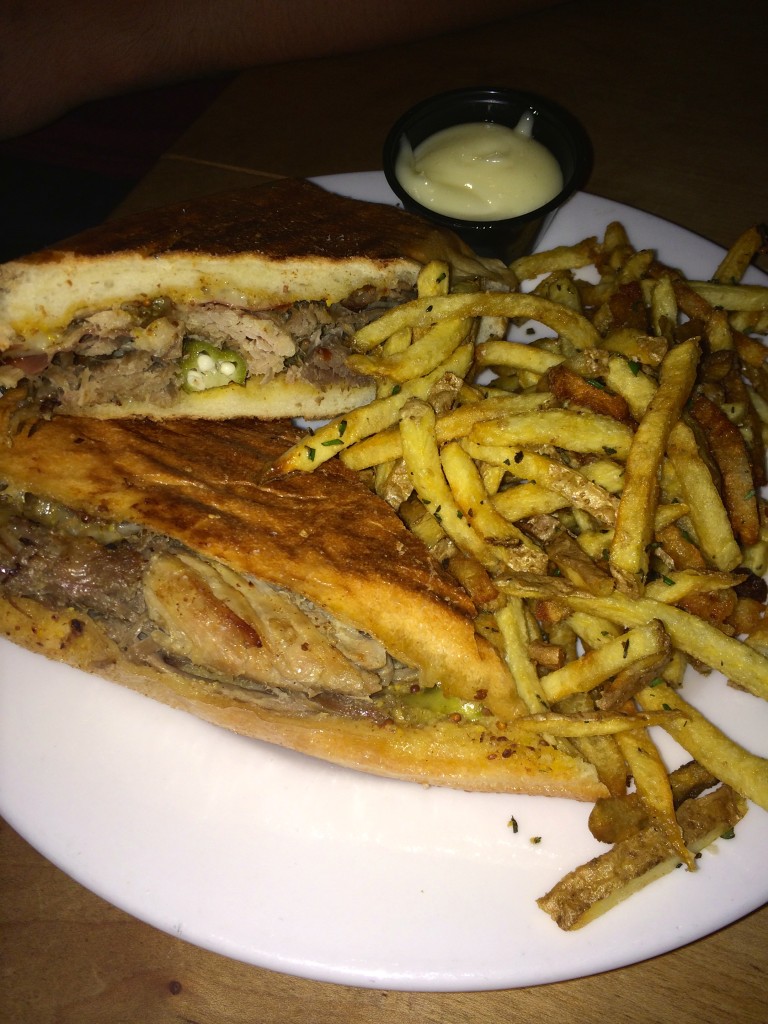 Zack of course got something with pounds of meat, or in this case the Cuban sandwich. Braised pork, speck ham, and pickled Okra came together with crispy shards of rosemary fries.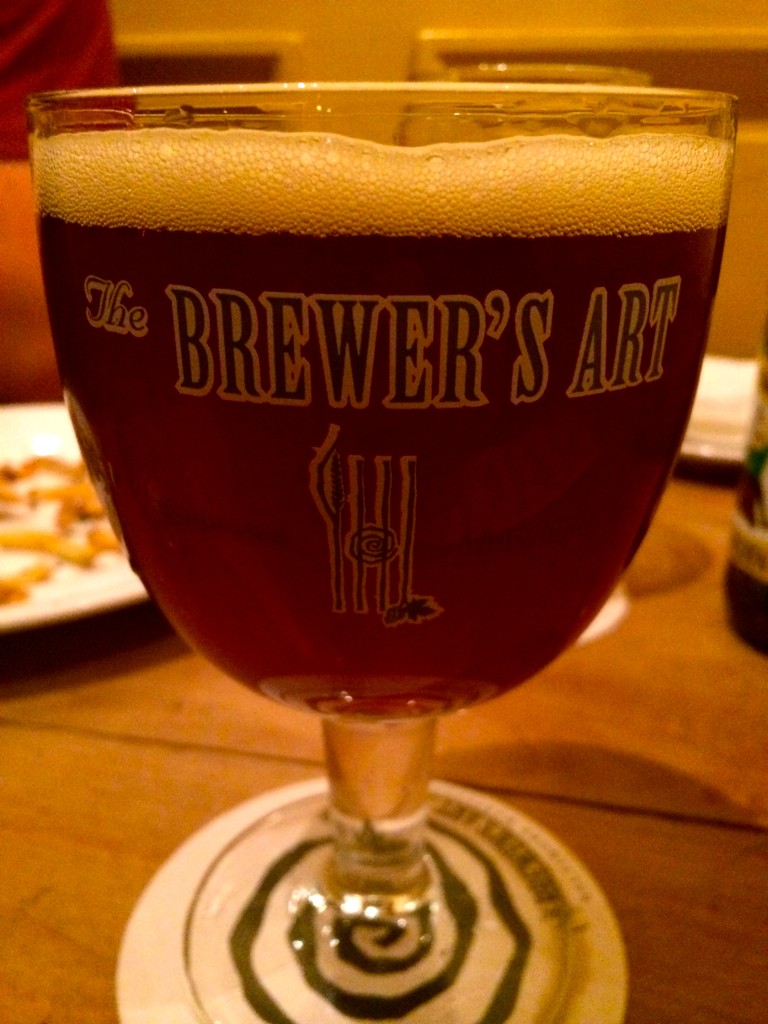 We had one of the house brews (the Gruit) and then walked over to Max's for a nightcap. We had gone there for the Raven's playoff game last year and it was crazy, so we decided to give it another go.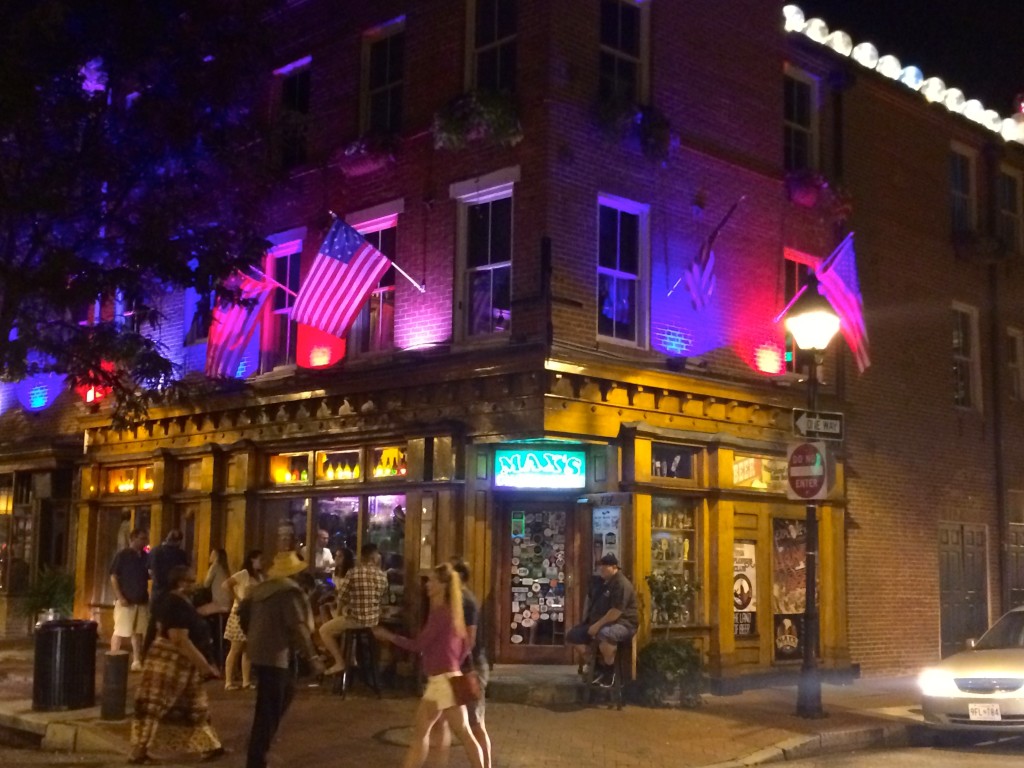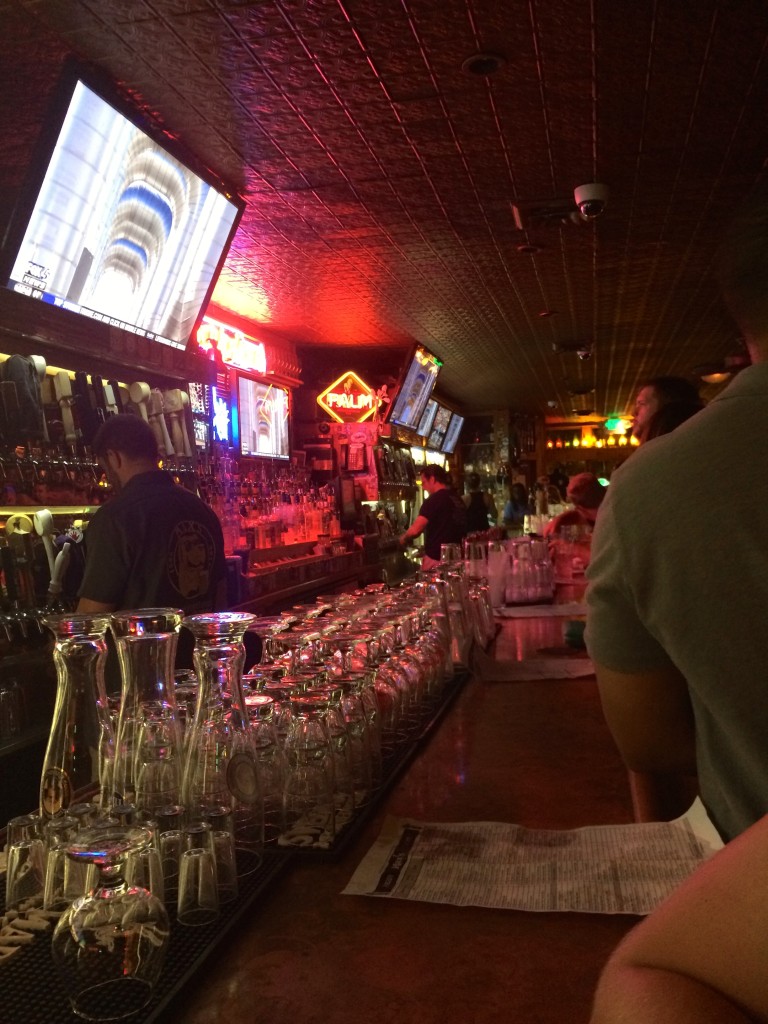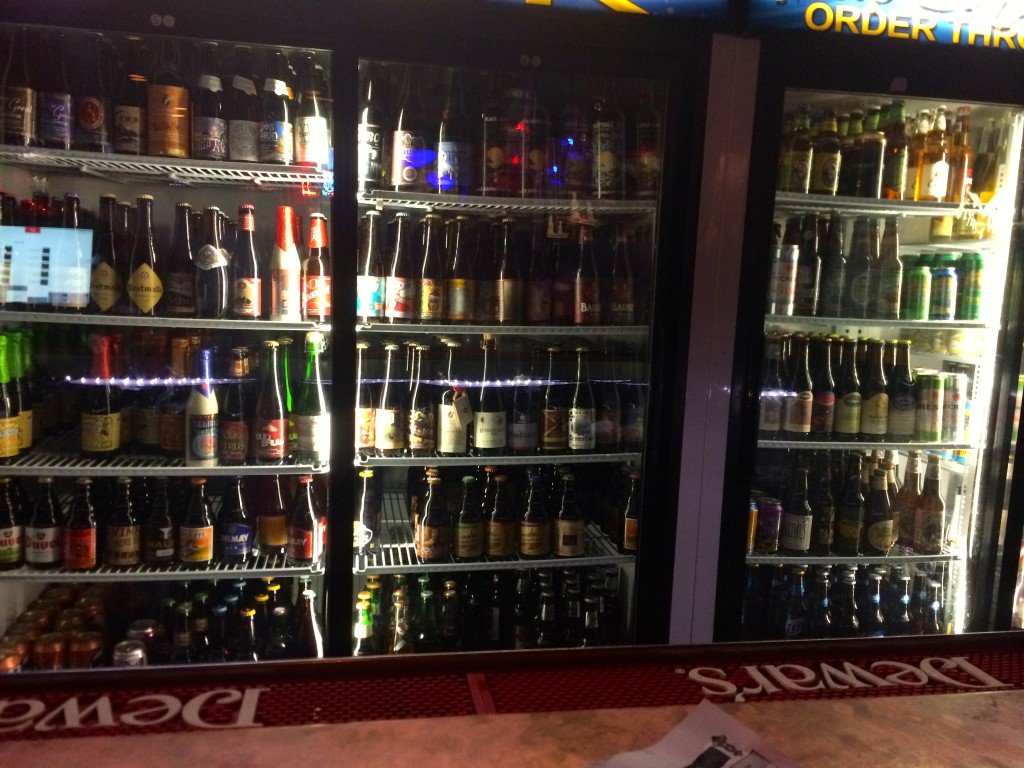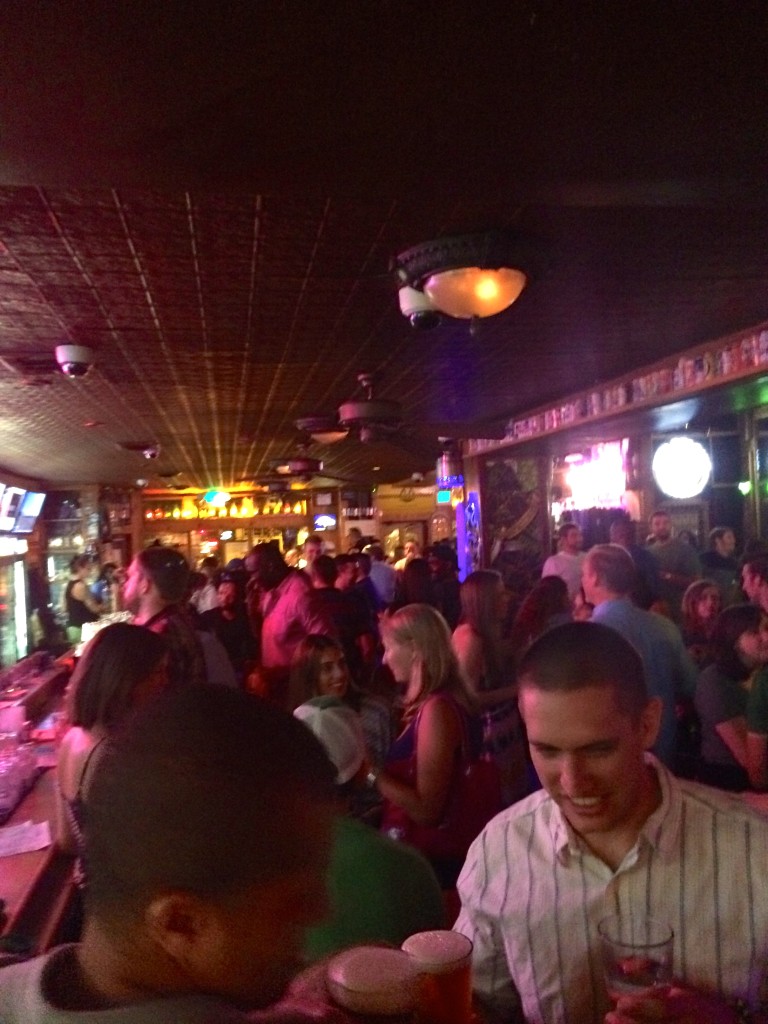 Even on a regular Saturday night it was just as packed as during the Superbowl, and their endless selection of beer makes it a landmark of Baltimore.
I hope you guys had as good of a 4th as we did, let me know what you ended up doing!