I just got back from our worldwide sales conference, and a definite detox was in order. I've sworn off vodka sodas, vodka tonics, and pinot noir for at least a week (realistically that won't last), and am trying to get the hashtag #saynotoconferencefood trending. So when I think detox, I think kale.
This tough leafy green is packed with Vitamin B6, calcium, fiber, iron, Vitamin B1, Niacin, etc. It's a nutritional powerhouse. Usually I try to camouflage the taste by hiding it in smoothies, but I had a kale salad at Caboose that changed my tune on the vegetable.
Kale is super tough, so (don't laugh) you need to massage it prior to eating it. No, I'm not kidding. Just a few squishes of it with a little balsamic dressing turns it from fibrous to a silky green that would give arugula a run for it's money. Feel free to talk to it while you're massaging, but be prepared to get strange looks from anyone nearby….not that I would know from experience.
Now of course, just kale alone couldn't be a meal, so as I was taking my weekly romantic stroll through Trader Joe's I saw peaches, sweet corn, and refreshing cucumbers. Supermarket produce can sometimes be less than inspiring, but I have a little trick for you when fruit isn't ripe yet…grill it!
I know I know, "Hailey, are you saying we need to massage our kale and grill our fruit??" YES! Trust me on this one. The peaches get a smoky charred flavor from the grill that pairs perfectly with tart goat cheese, sweet corn, and a fruity balsamic vinaigrette. We also add quinoa for a little bit of protein and heft.
The vibrant colors scream summer time, and I promise the salad is so easy and quick! Here's how: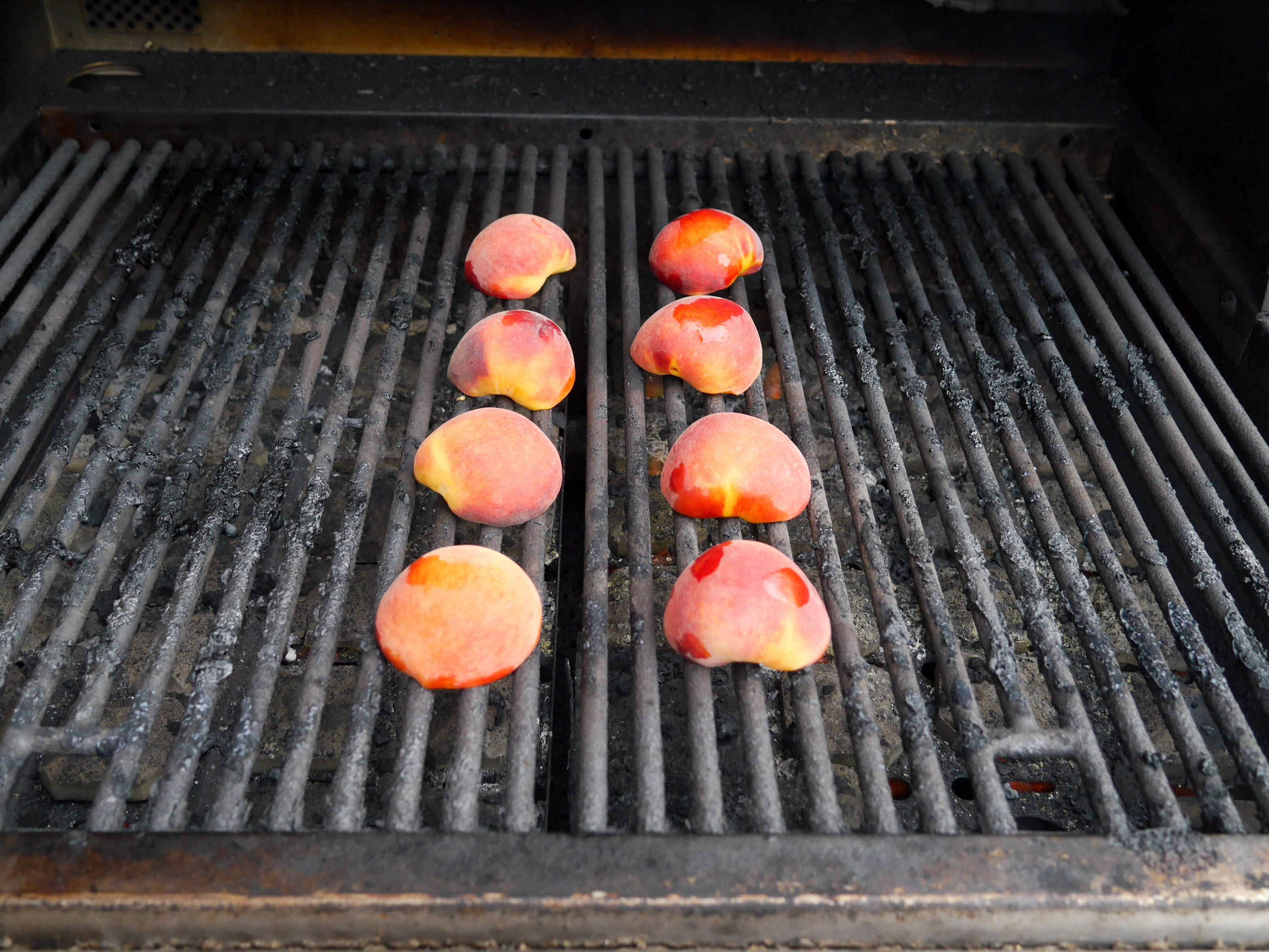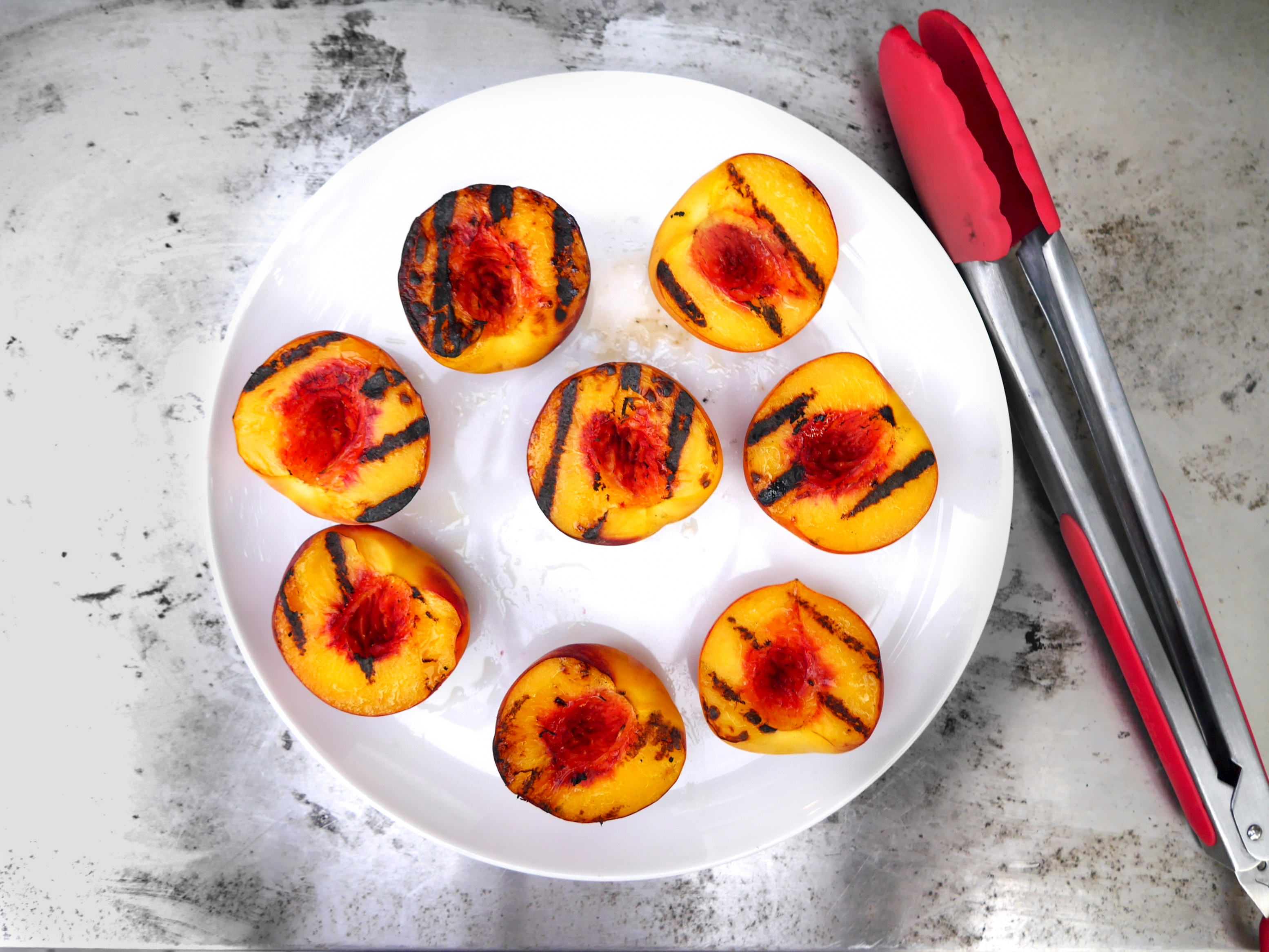 Cut peaches in half, remove the seed, and drizzle olive oil liberally over each half, cut side up. The olive oil will keep them from sticking to the grill.
On a medium hot grill, place peaches cut side down for about a minute, or until charred grill marks appear.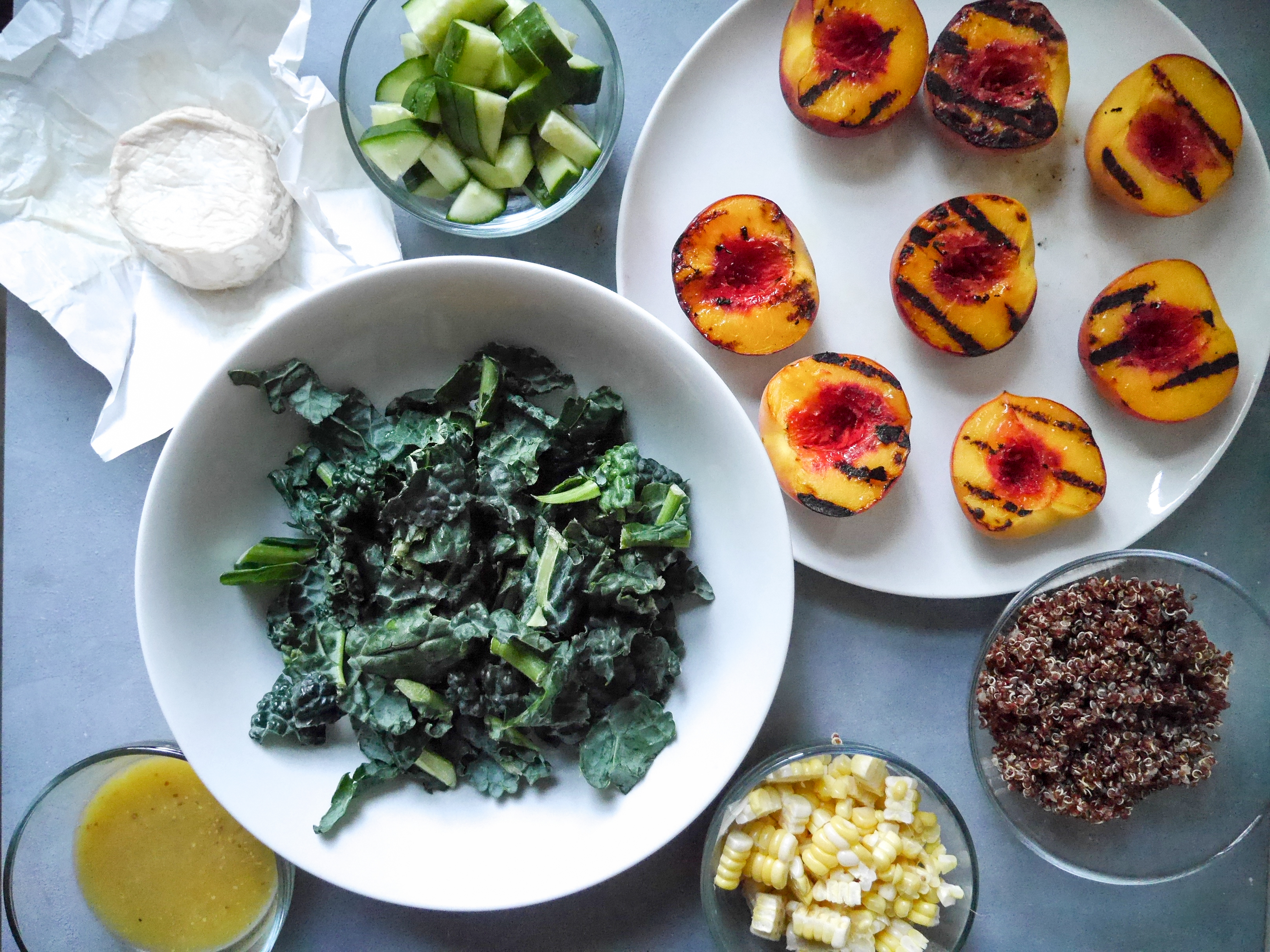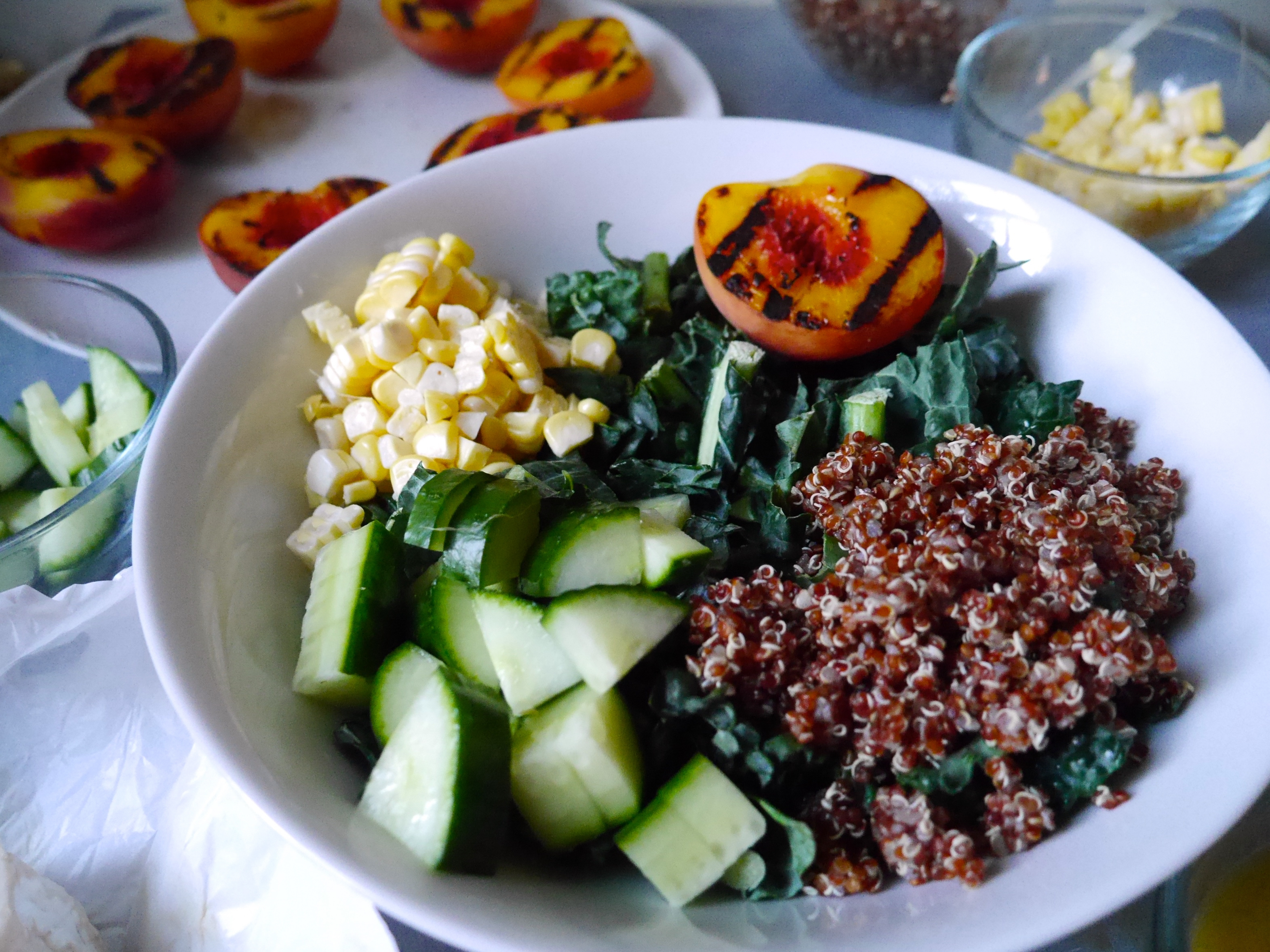 Chop your cucumber and corn, cook your quinoa, and massage your kale (lol).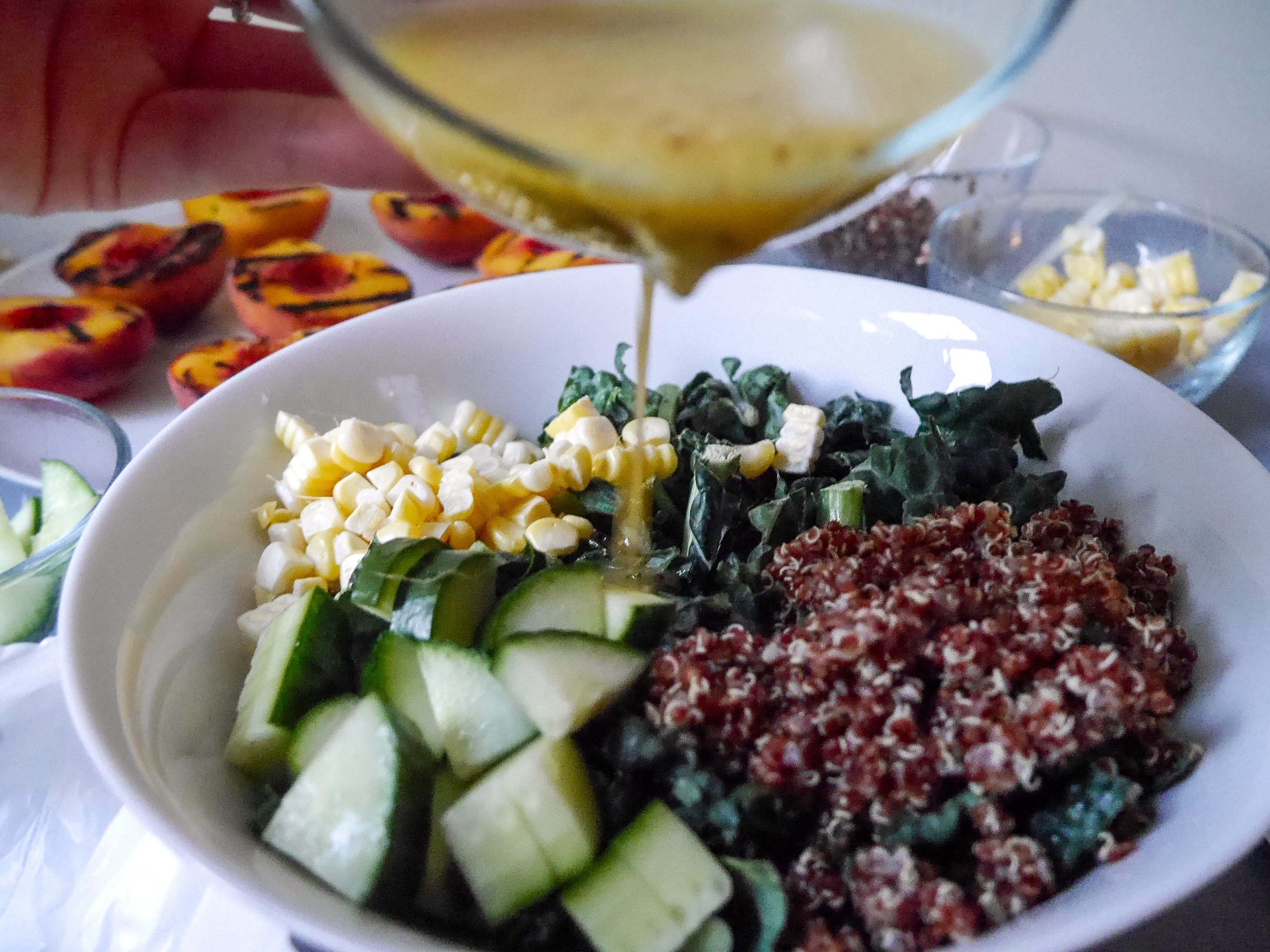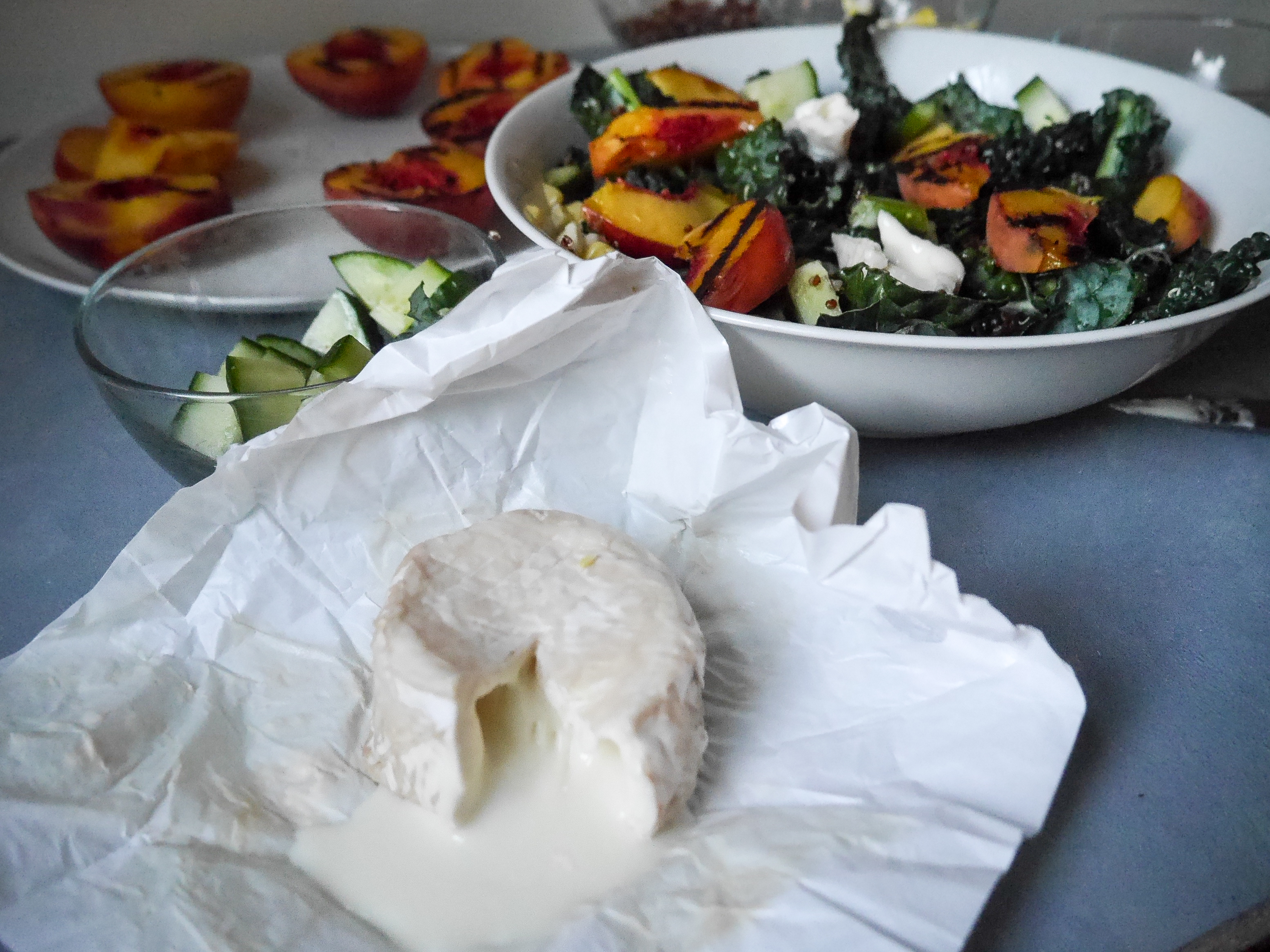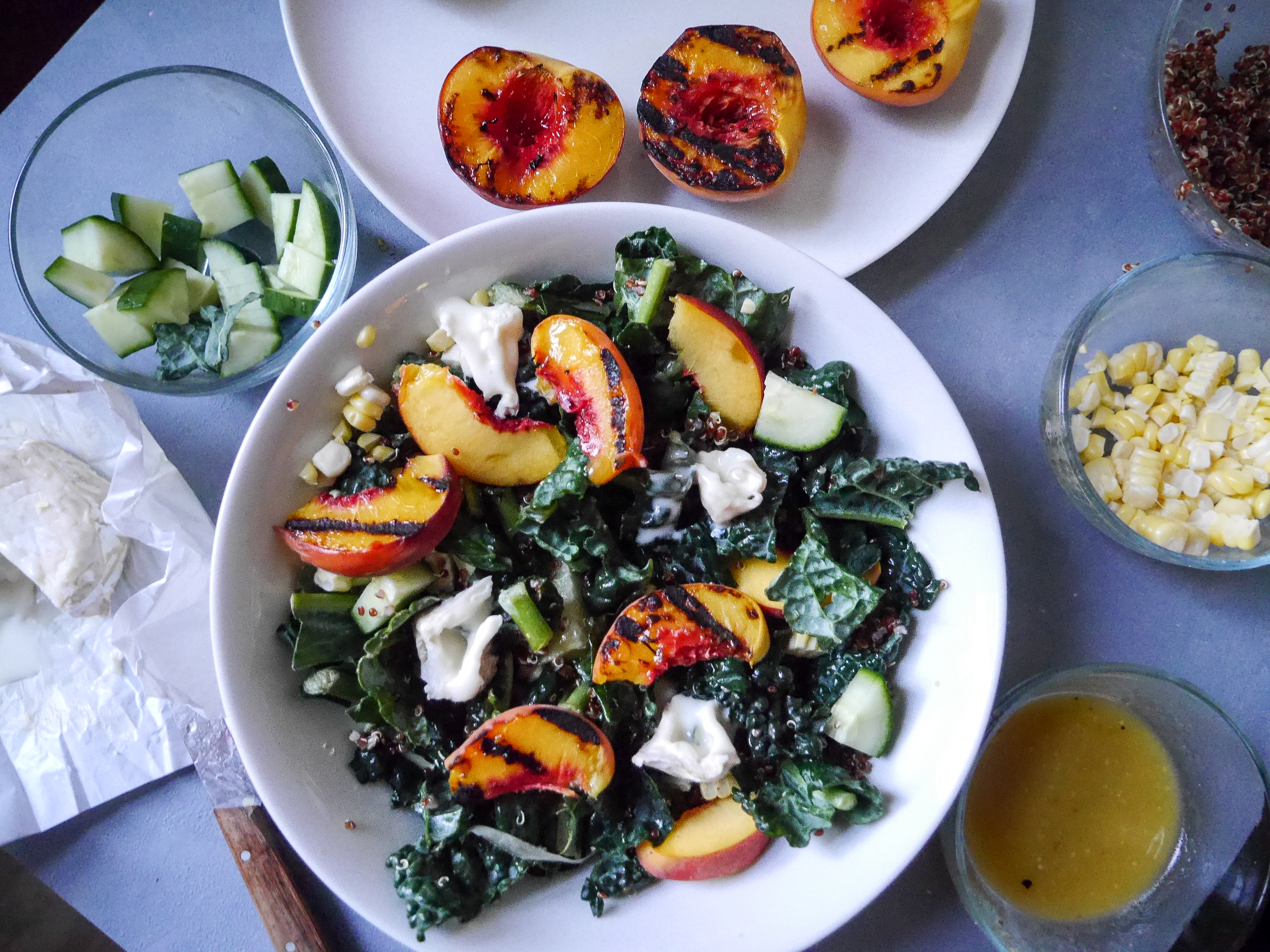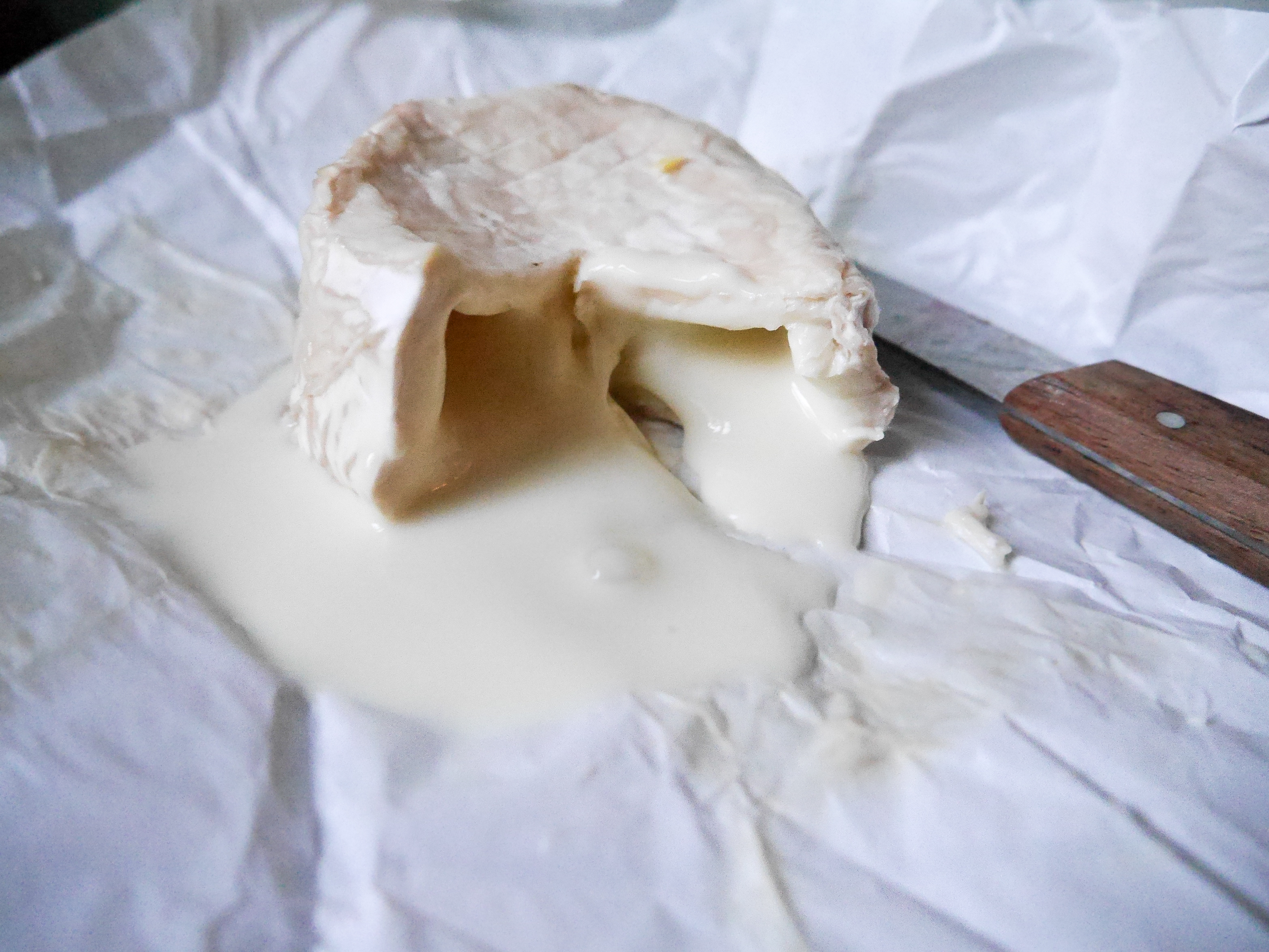 My parents (best roommates ever) found me this incredibly melty aged goat cheese from one of their vineyard trips (#relationshipgoals), but I promise any goat cheese will do.
Arrange your grilled peaches on top of the salad, crumble a little goat cheese on top, and shout "Kale yeah!" as you dive into your healthy yet delish lunch… Ok, the last part is optional 🙂
Kale Salad with Grilled Peaches (serves 4)
1 bag of chopped kale (or 4 large handfuls)
2 ears of raw corn, cut off the cob
1 large seedless cucumber (chopped)
4 peaches, cut in half and seeds removed
4 ounces of goat cheese
1 cup of quinoa (cooked according to package directions)
balsamic dressing (recipe below)
Preheat your grill to medium high. Drizzle peaches, cut side up, with olive oil.
Grill peaches cut side down for 1- 2 minutes, or until charred grill marks appear. Keep grill open during this so you only get char marks, not mushy fruit.
Remove peaches, and slice.
Massage kale with balsamic dressing until soft, and toss with corn, quinoa, and cucumber.
Arrange peaches on top, and crumble goat cheese over salad. Serve!
Balsamic Vinaigrette (makes 1/2 cup)
1/4 cup balsamic vinegar
1/2 cup olive oil
1 T agave or honey
1 t dijon mustard
salt and pepper to taste
Combine all ingredients in a tupperware, and shake until combined. Store in the fridge.