I want to start out by confessing that I ate this past weekend easily enough to feed a family of four….for a month. I trekked on over to NYC to visit my friend Rachel for the weekend, who luckily has the same unbridled passion for food that I do! I know, it's a match made in foodie heaven.
She's absolutely the best host of all time, and had a killer itinerary waiting for me when I arrived. Warning, this post is long but I promise it will be so worth it. Our first stop? Buddakan!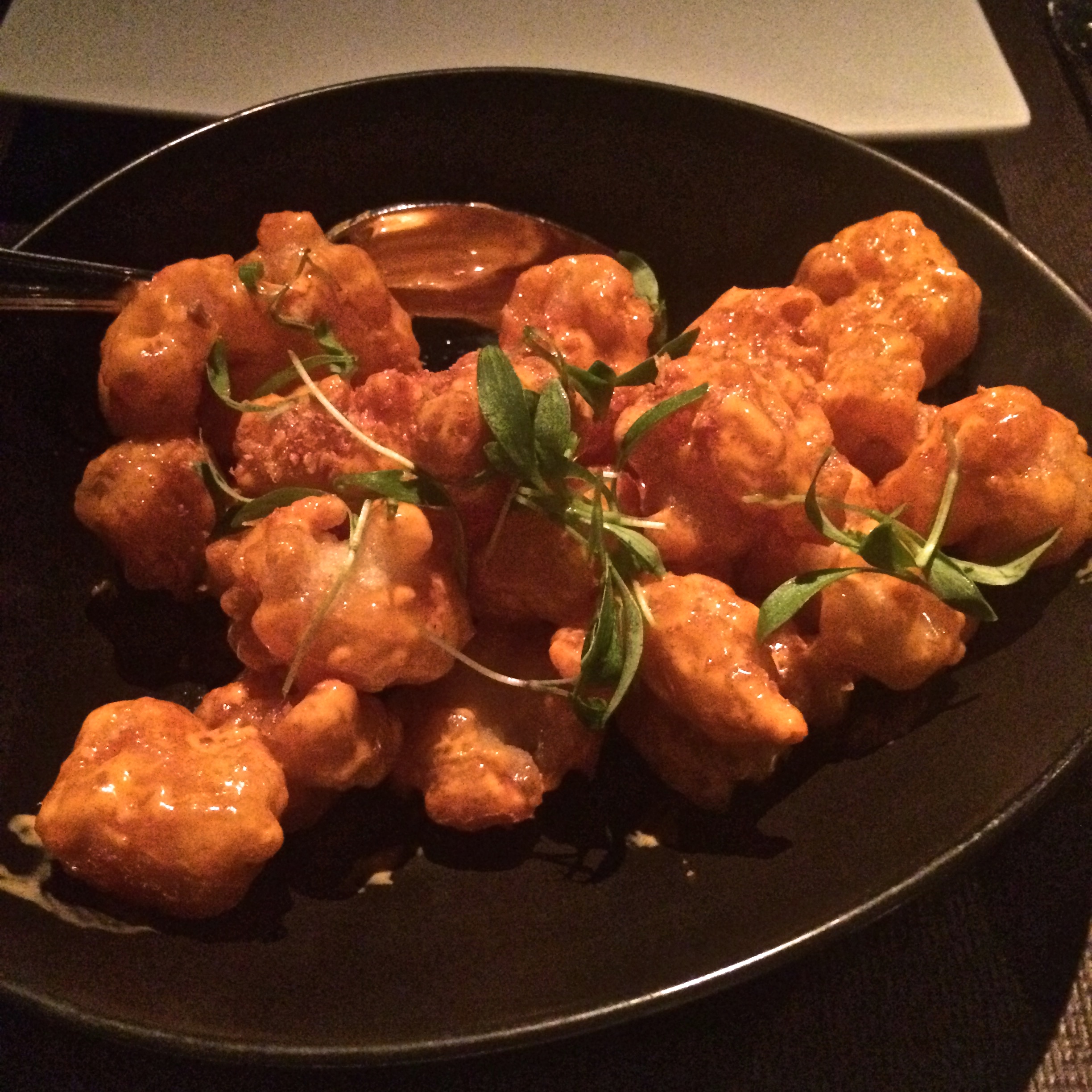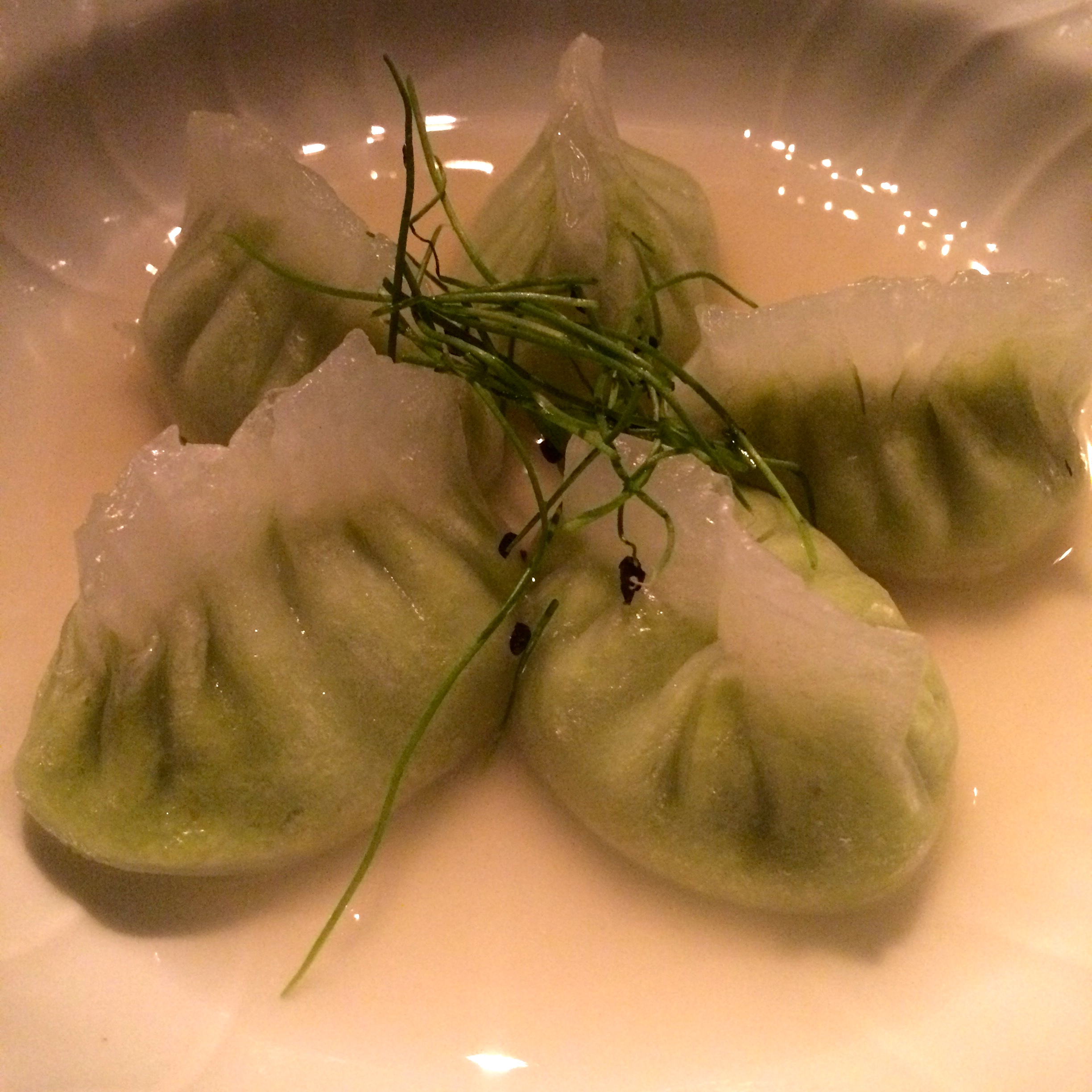 They have two signature dishes, the chili rock shrimp and the edamame dumplings.
The shrimp are lightly battered and fried and then tossed in a spicy mayo that's so rich and tangy.
The dumplings are a gift from the gods. Creamy edamame puree laced with truffle oil fills the delicate wonton wrappers. The little parcels sit in a shallot sauternes broth that put this dish over the top.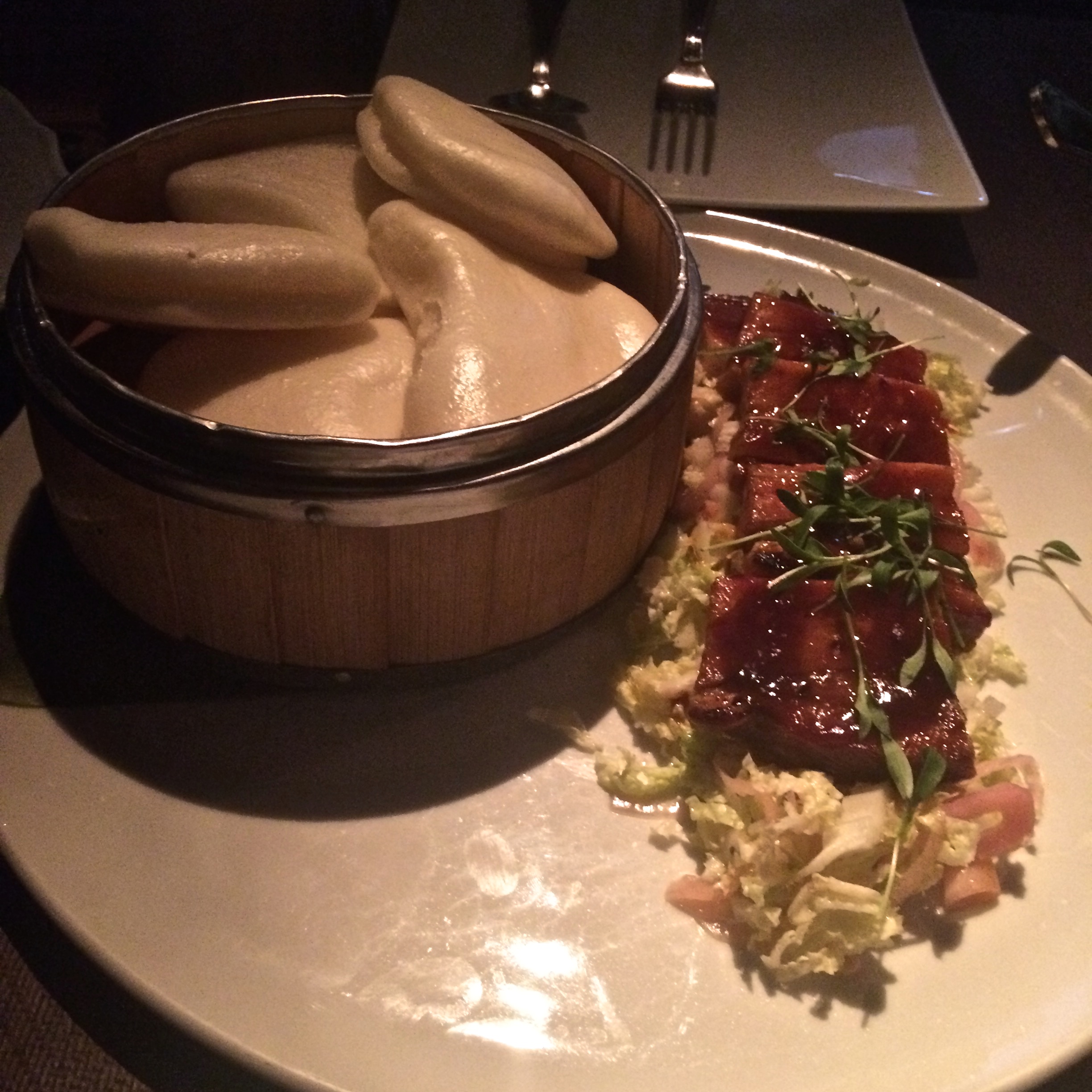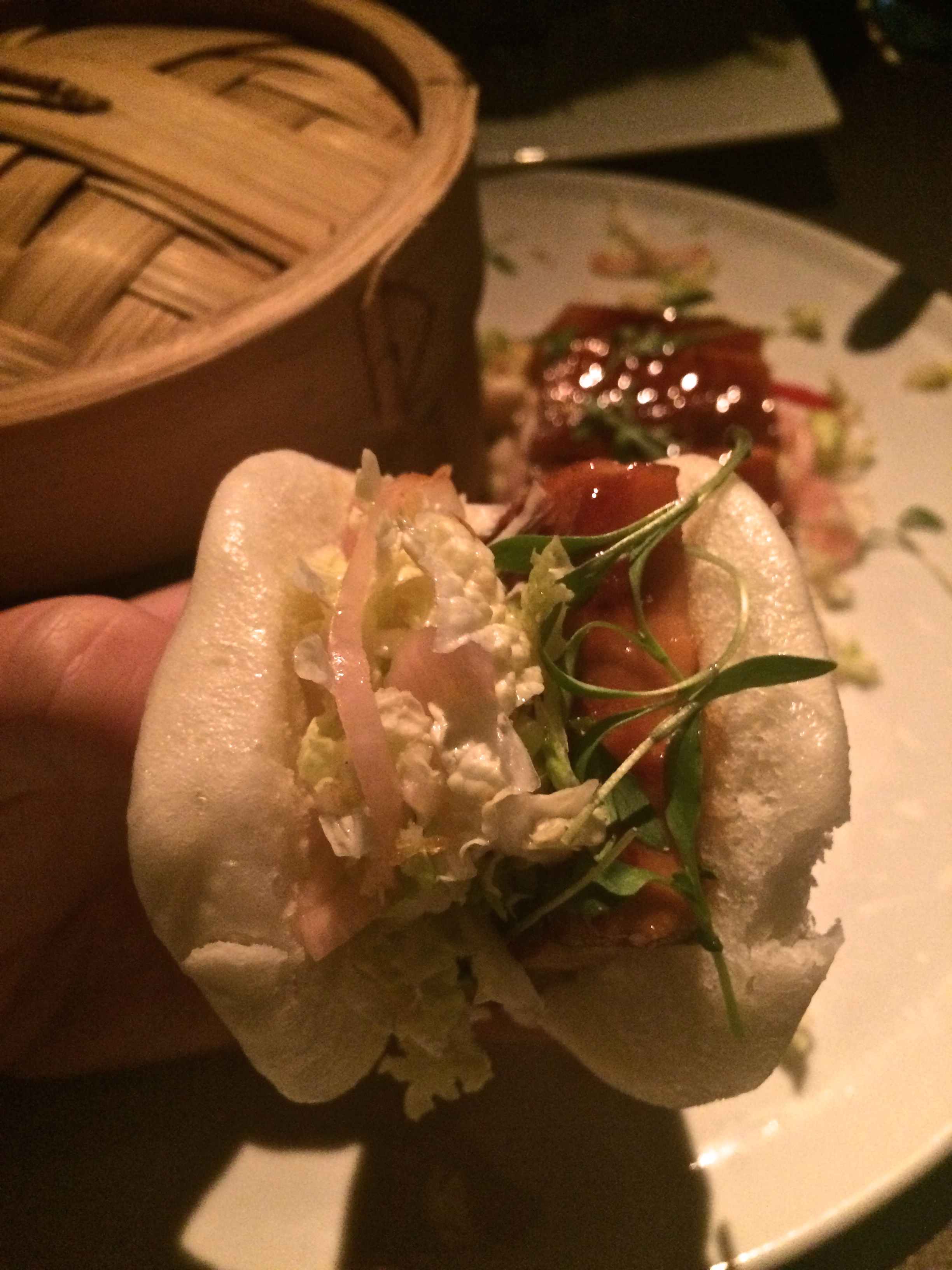 Next up was the hoisin glazed pork belly with cabbage slaw and steamed bao buns. You take the bun, stuff a piece of the pork inside, pile on the slaw, and dig in!
The combo of the crunchy slaw, sweet pork belly, and light-as-air bun was ridiculously good.
Last up? The soup dumplings! Tiny dumplings filled with spiced chicken and a general tso's broth. When you bite into the dumpling, the little pocket holding the broth explodes, leaving you with a delicious mix of textures in your mouth!
For dessert, we walked on over to Chelsea Market for mini donuts from Doughnuttery.
We chose the pumpkin pie and lavender pistachio, which were both fantastic.
After all that eating we walked over to Le Bain at The Standard for great views and even better champagne!
They have this crazy room inside that has a hot tub, disco ball, and dj! We weren't too keen on stripping down after eating all the food, but you can bet that some brave (ok, tipsy) soul will do it!
After our cocktail, we ran home, quickly changed and headed out with some of Rachel's friends.
The bar was so fun, but the true best part of the night was Artichoke's pizza! Think spinach and artichoke dip that's been baked onto a pizza. SO good and even better at 3 am!
Happy, full, and sleepy we headed to bed ready to face Smorgasburg the next day!
Smorgasburg is the most insane outdoor food festival in Williamsburg that boasts beautiful views of the water and over 30 vendors for you to try!
We started off with a lobster roll from Red Hook's that no joke, changed my life. Dramatic, yes, but I promise you it is the best sandwich you'll ever have.
Rich, meaty chunks of lobster are lightly dressed in lemon mayo and piled high into the butteriest bun!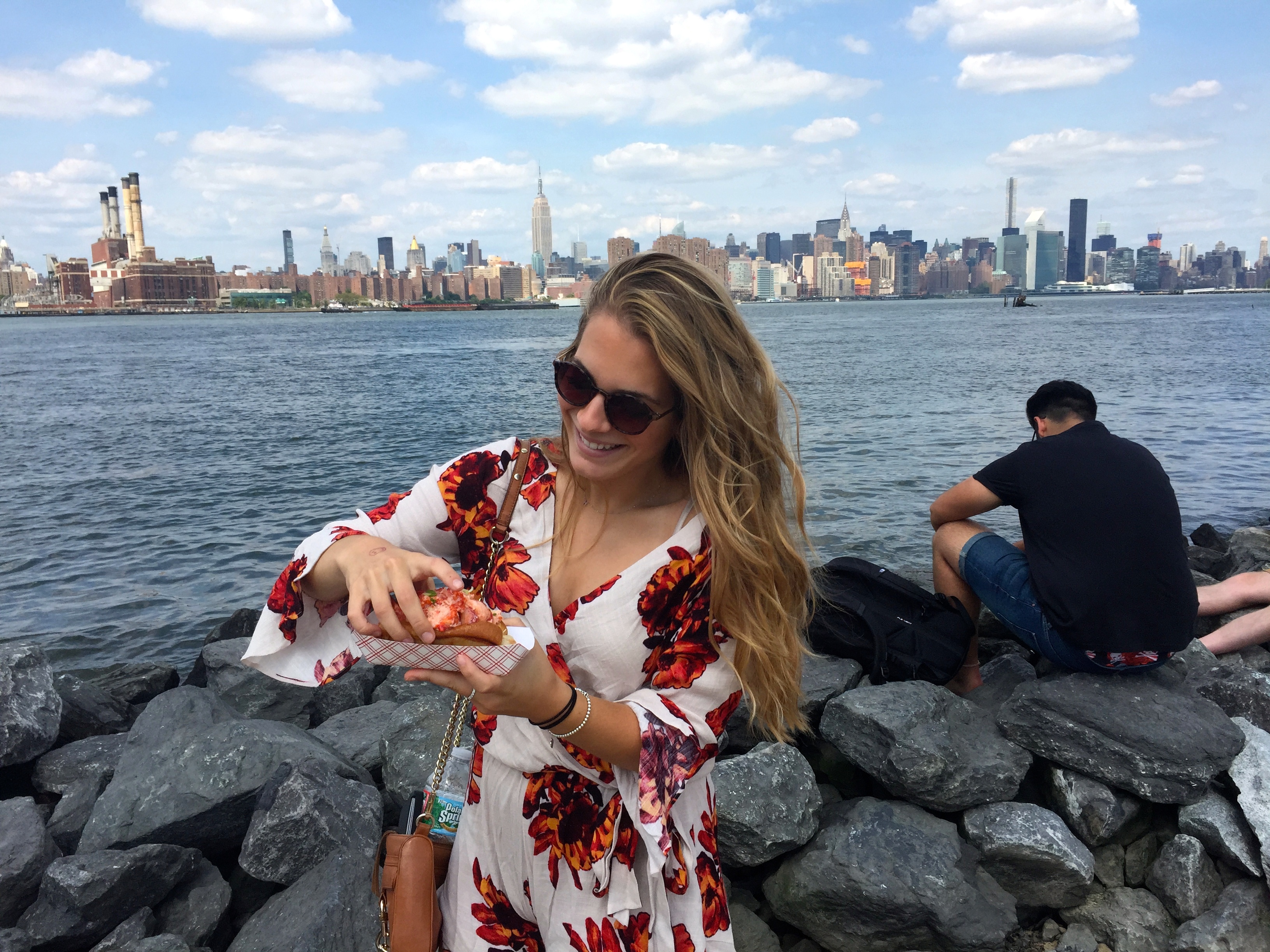 I was super excited that my sandwich matched my outfit. I know, I don't get out much..
The next dish we went for was the infamous ramen burger. Two "buns" made from ramen sandwich a patty topped with aioli and arugula. It was good, but a little greasy for me.
Another game changer? The passion fruit donut from Dough. I don't even know if I can describe how good this was, but I'll try.
The yeast donut was perfectly pillowy and soft, the glaze was beautifully tart and floral, and the cacao nibs on top added just the right amount of crunch. I'm seriously considering taking the train up for another one of these.
We then grabbed a blackberry mint ice from People's Pops, and a hibiscus lychee tea from Thirstea to cleanse our palates.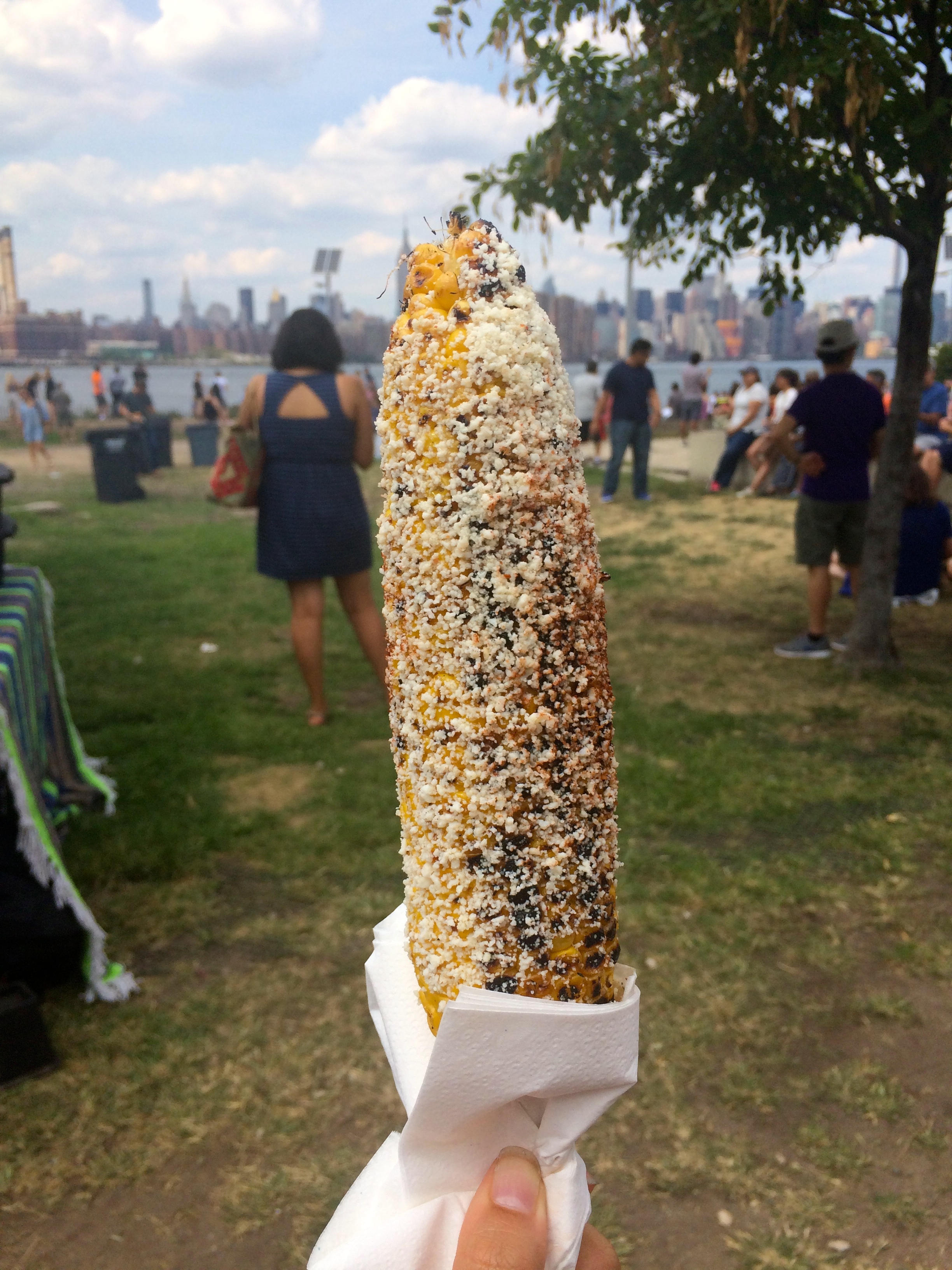 Our final destination? The buttery, chili, queso fresco topped grilled corn. So. Good.
You better believe that after we left we had the best damn nap of our lives. We groggily woke up a few hours later and realized we were hungry again (don't judge).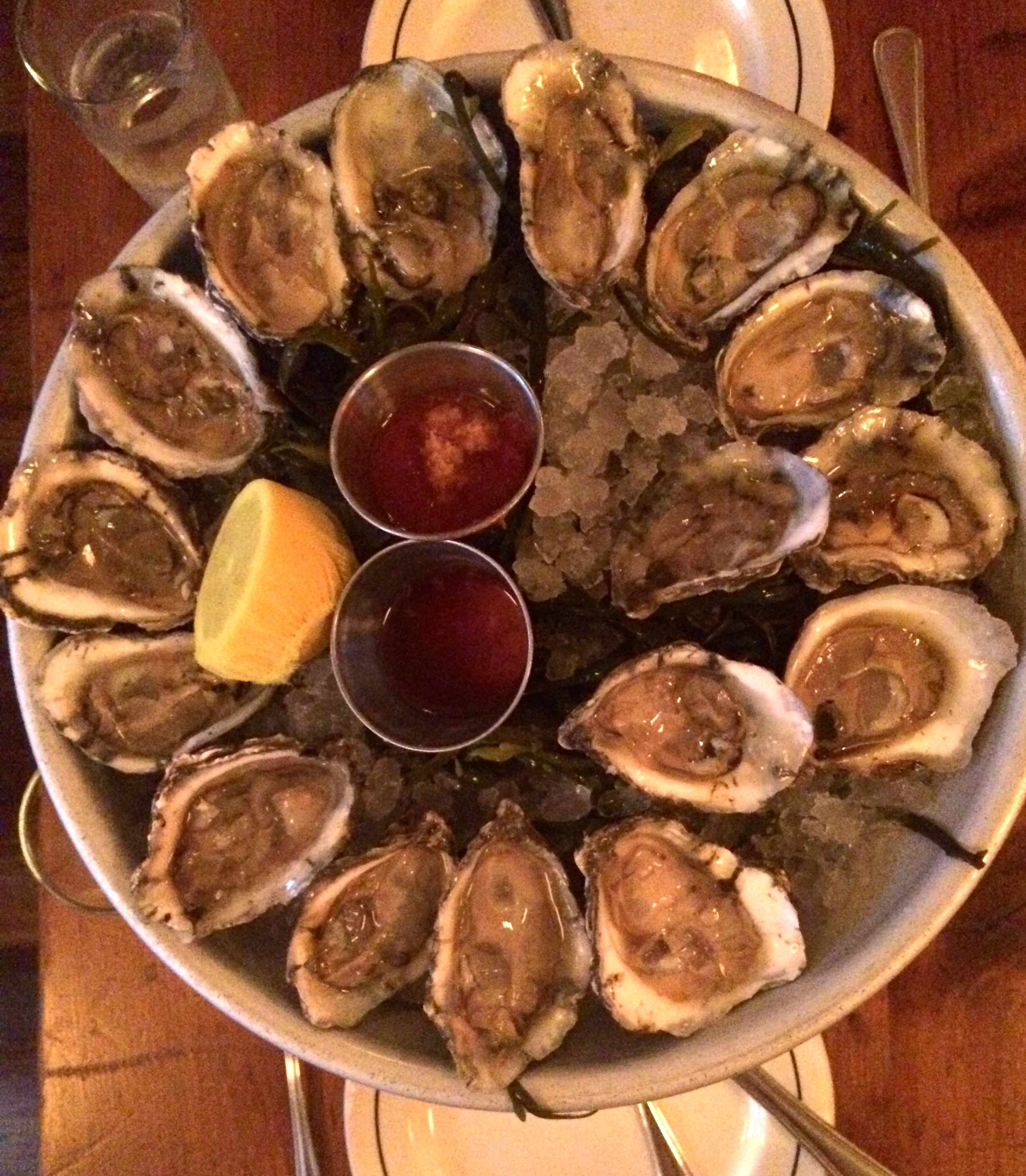 Rachel lives right next to The Mermaid Inn where we grabbed a few happy hour oysters at just $1 a piece!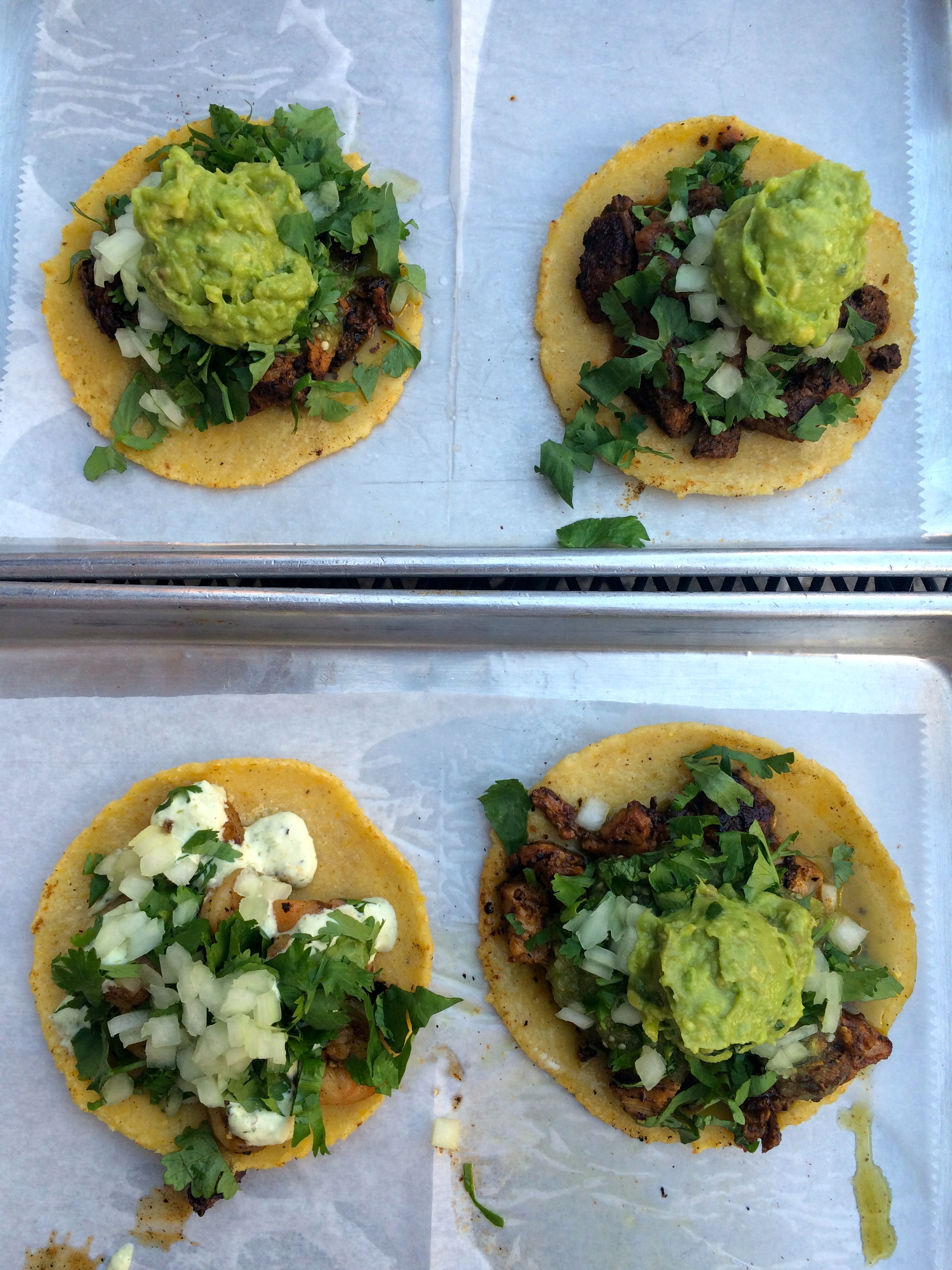 Otto's Tacos was the next stop for shrimp tacos with poblano crema and guac topped carne asada.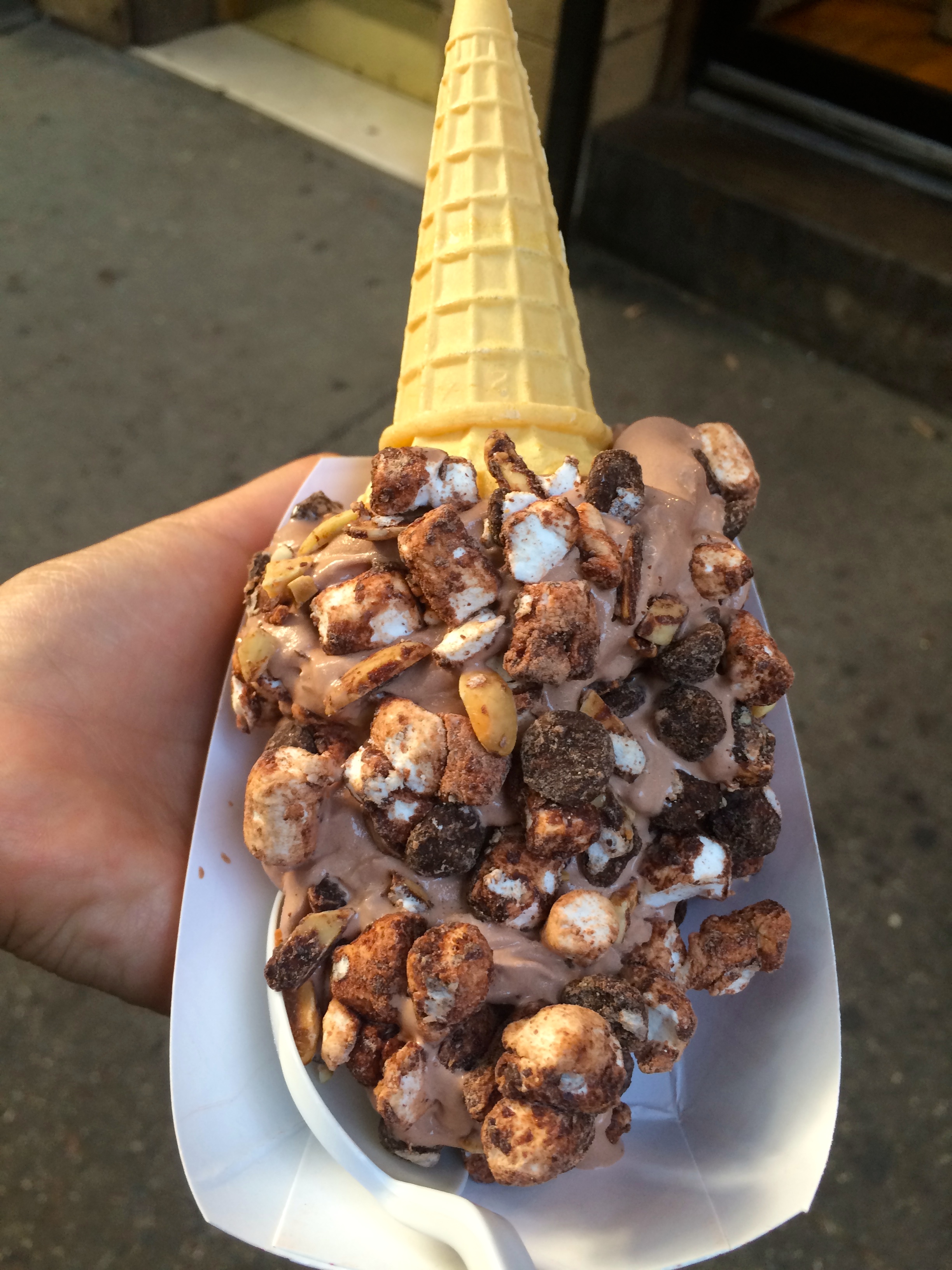 Our final destination was Big Gay Ice Cream for their ridiculous Rocky Road cone. Mini marshmallows, peanuts, and chocolate chips encased chocolate soft serve.
We finally called it quits for the food, for that day at least, but I was in the city for one more meal! So naturally, we brunched.
The Smith had the BEST egg options I've ever seen. Rachel got baked eggs with artichokes and burrata, and I had avocado toast with poached eggs.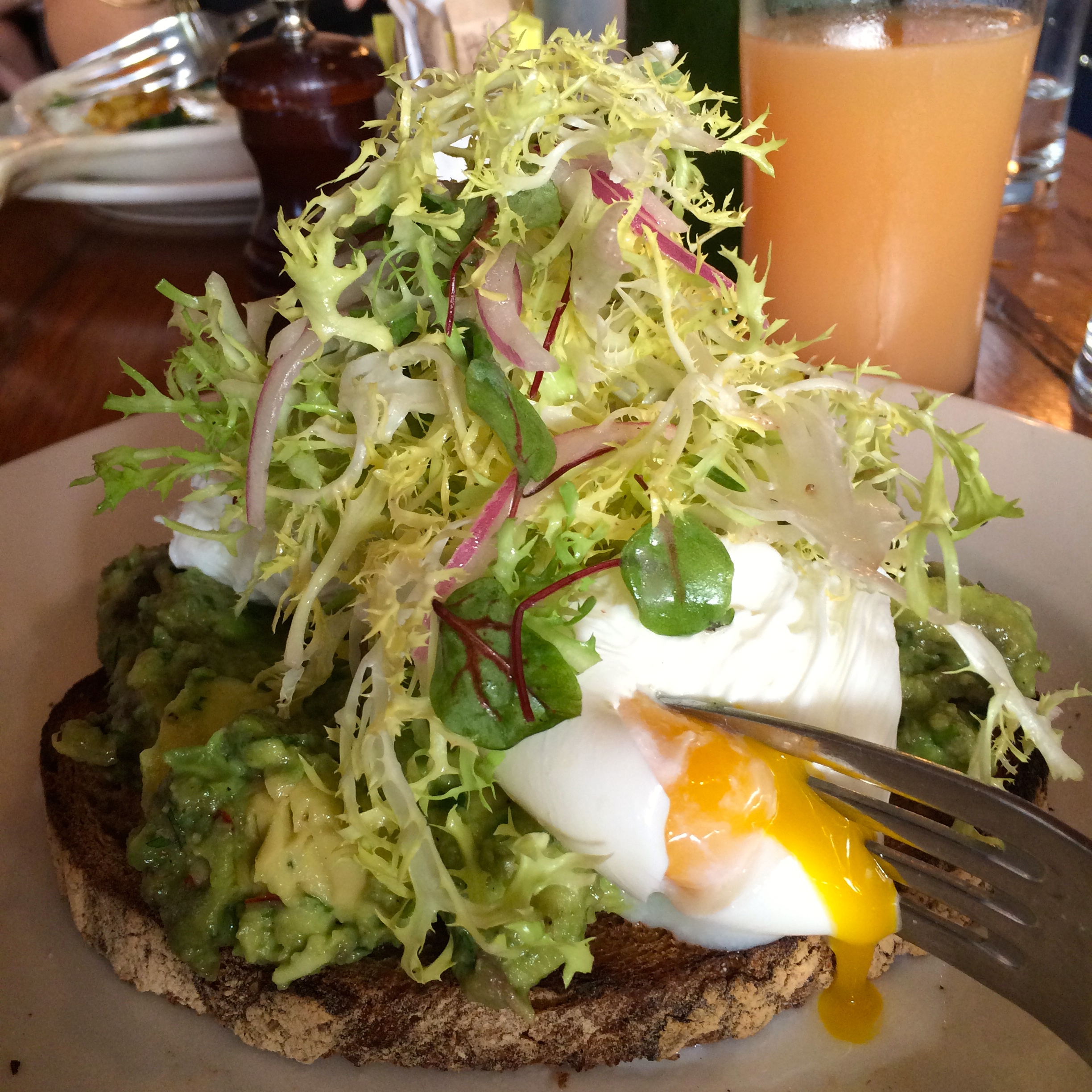 The eggs were just the right amount of runny, the avocado was laced with chili, and the greens were perfectly lemony.
Finally, our binge we over and I headed back to D.C.. It was by a mile the best food weekend of my life, and Rachel was a fantastic host that I miss so much already!
If you are able, please try to make it to NY before Smorgasburg closes in November! I hope everyone had a great weekend!