I think it's no secret by now that I love pancakes. There's at least a handful of recipes for various pancakes on this site like the one for pumpkin pancakes with ginger cherry compote or vegan pancakes with apple chia jam. However, Zack and I just went to Mexico, and stayed at the most jaw dropping all inclusive resort where we both came home with even less of a six pack than we started with. Read: our abs are leaning more towards the 'keg' look at this point. While I loved the Nutella churros and endless shots of Don Julio (not together!) that were available all day, my waistline did not.
I thought going back to work after spending a week lounging in sun drenched cabanas and drinking Miami Vices would be tough, but unsurprisingly the hardest part was fitting back into my J Crew pants. I may have worked from home in my finest sweatpants a few times that week…Don't judge!
While at home, I had a breakthrough in my "lab" (kitchen in my parent's basement) and figured out a way to make 3 ingredients that everyone has in their pantry into an amazing, fluffy, filling stack of pancakes. These are my new go-to when I get tired of the same old bowl of oatmeal or greek yogurt. They take only a little more effort than a normal breakfast, but you can make them super fancy if you're ready for some insta worthy #foodporn.
Besides them being easy, and photo worthy, they're also super healthy. For a stack of pancakes it's 250 calories, 10 grams of protein, and 5 grams of fiber! I know, we're losing weight just talking about them.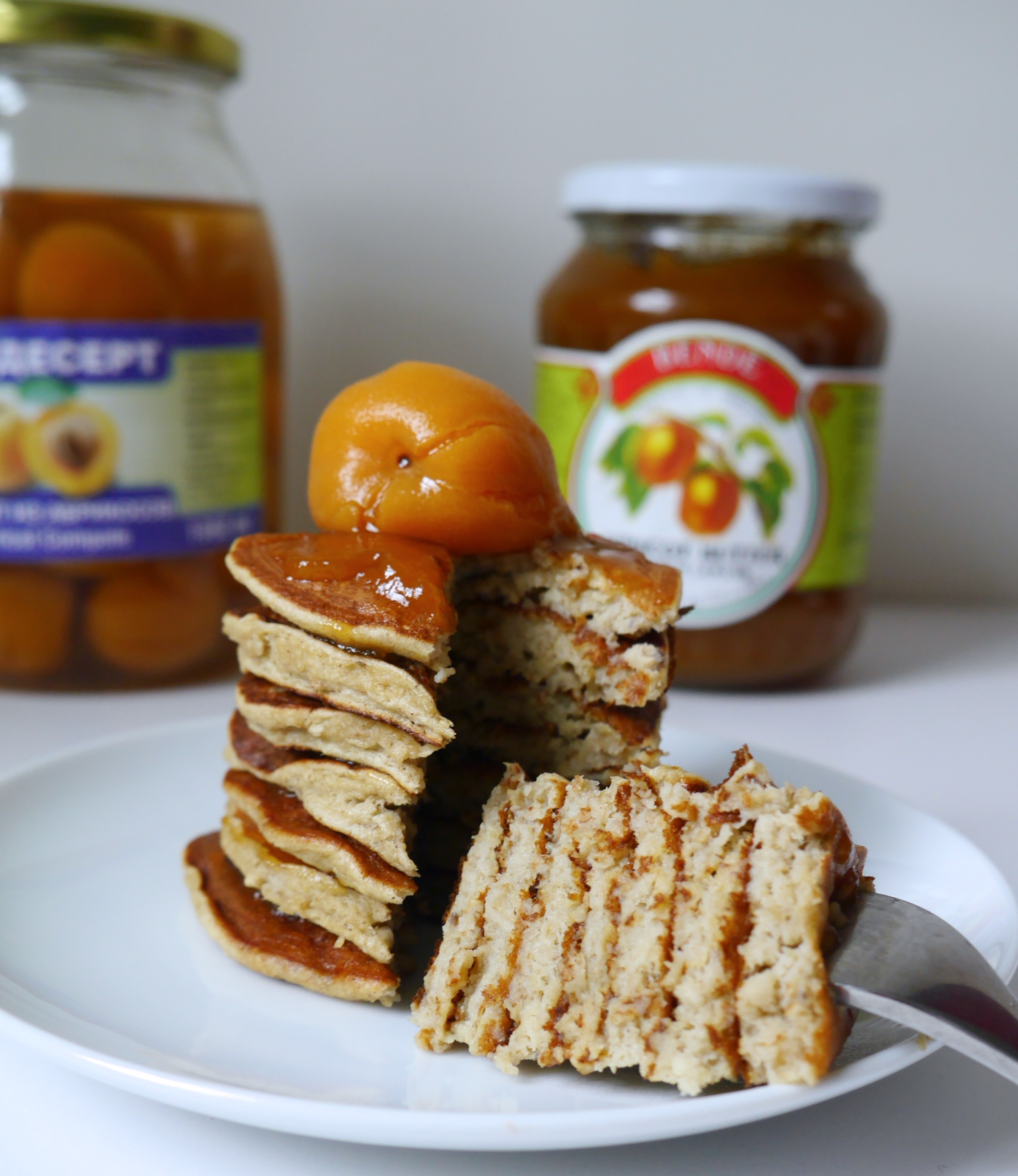 My favorite part besides the nutrition of these is how easy it is to make them interesting. In this recipe I used apricot butter from a little Ukranian market I found in Arlington, but I've made these with strawberries, peanut butter, even ricotta for a little indulgence.
Please modify the toppings as you like, but here's the basic recipe: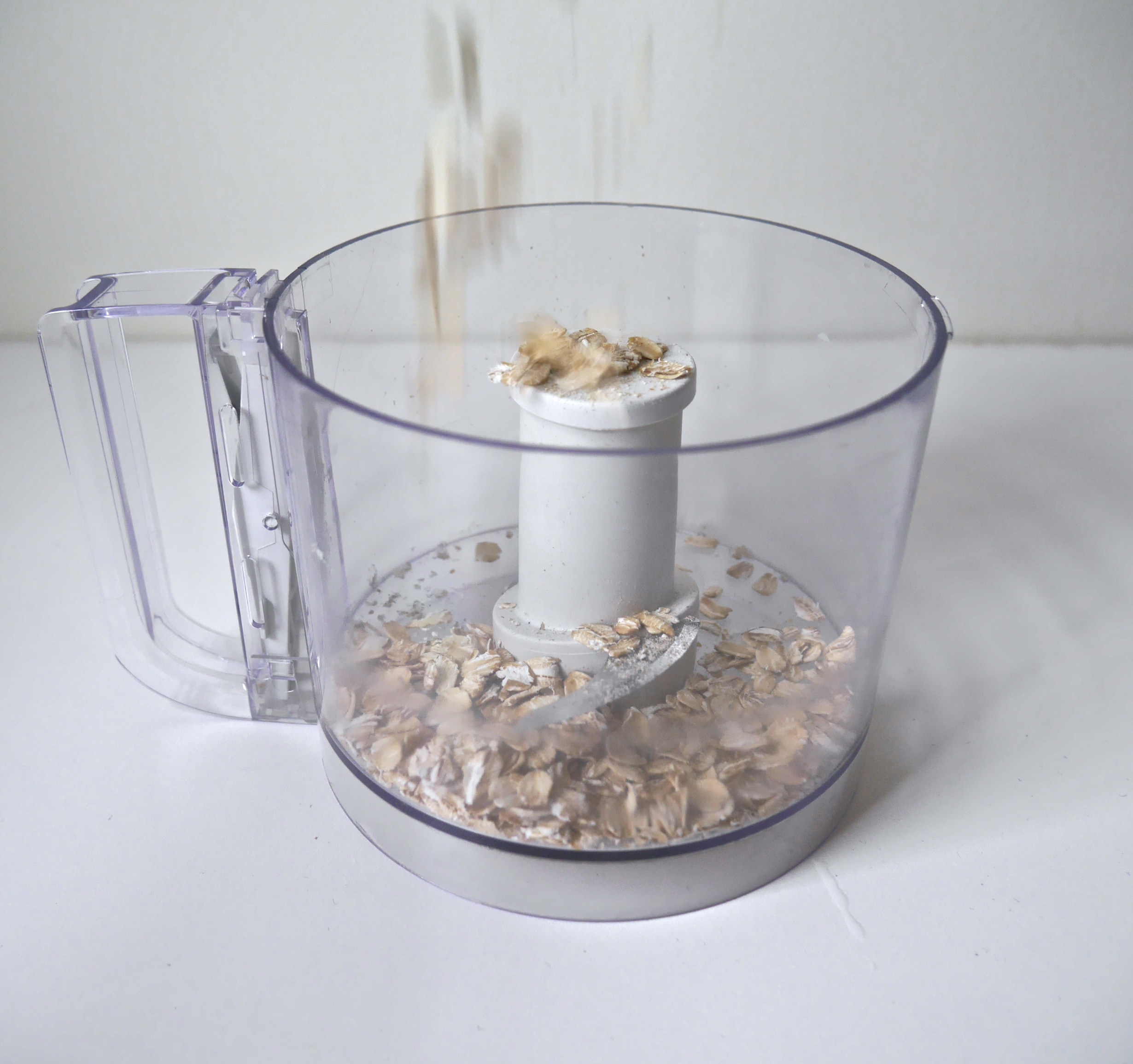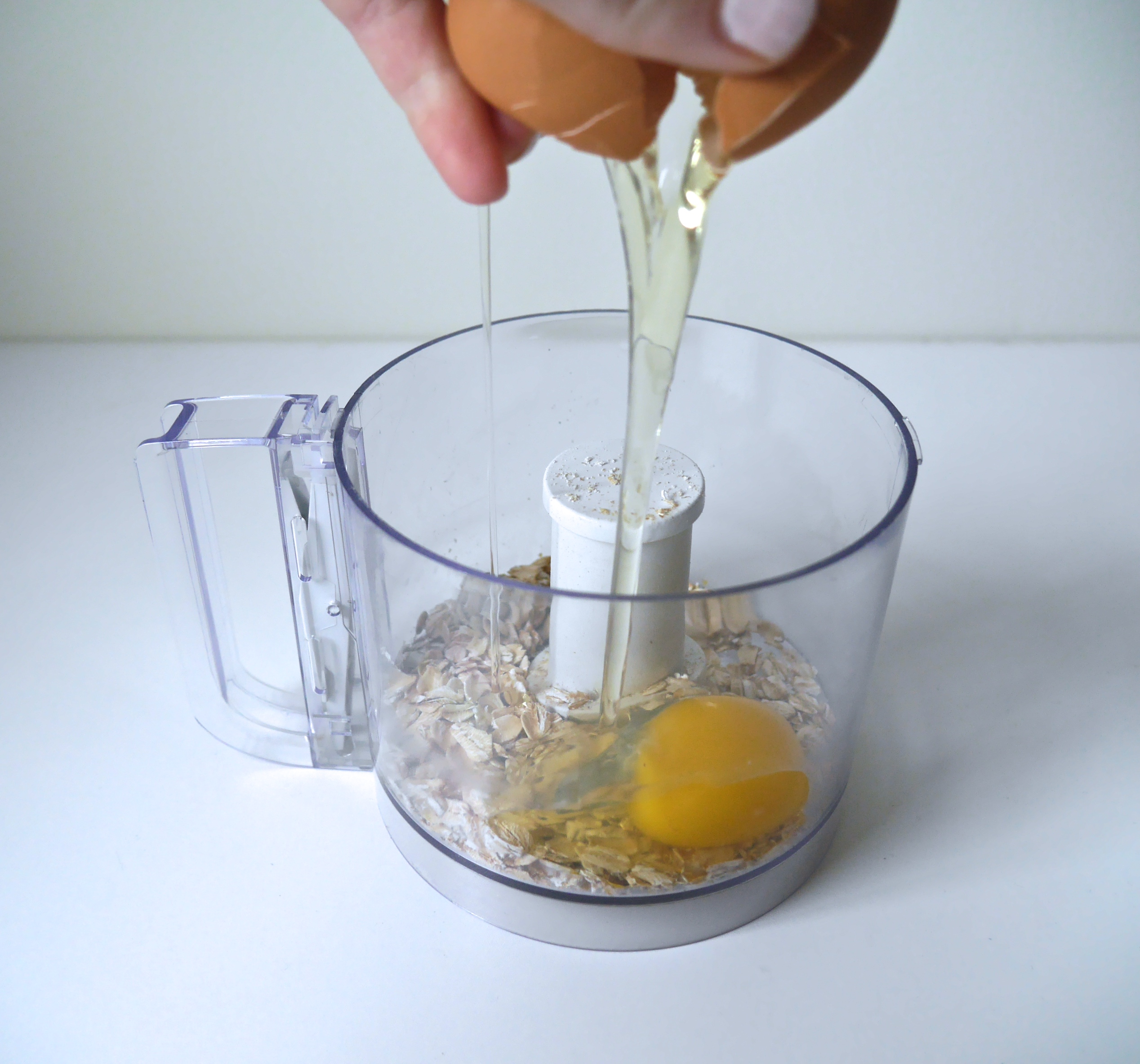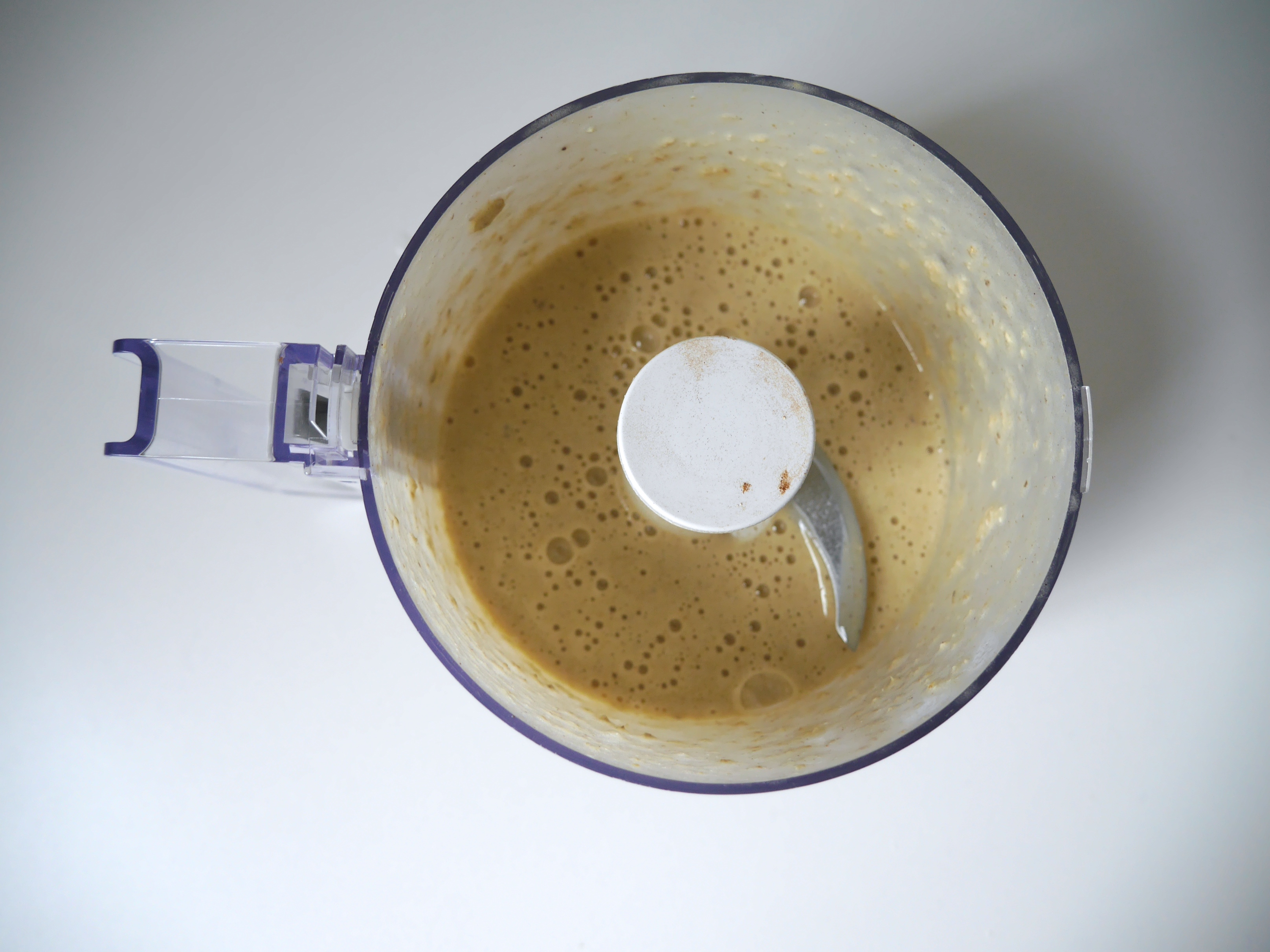 In a blender or food processor, blend together oats, a ripe banana, an egg, and baking powder. I usually add cinnamon and vanilla extract at this point, but it's up to you if you're into that or not.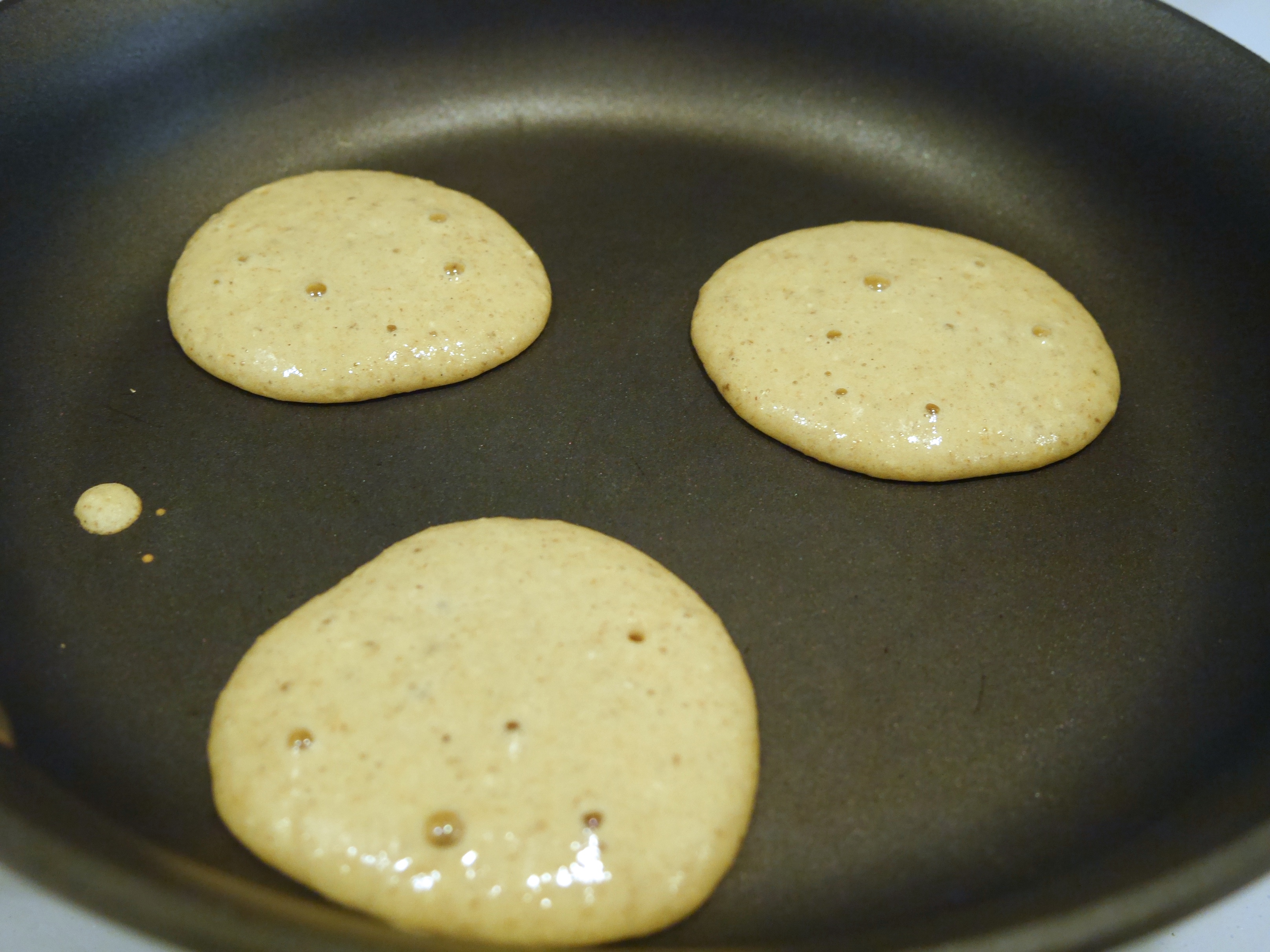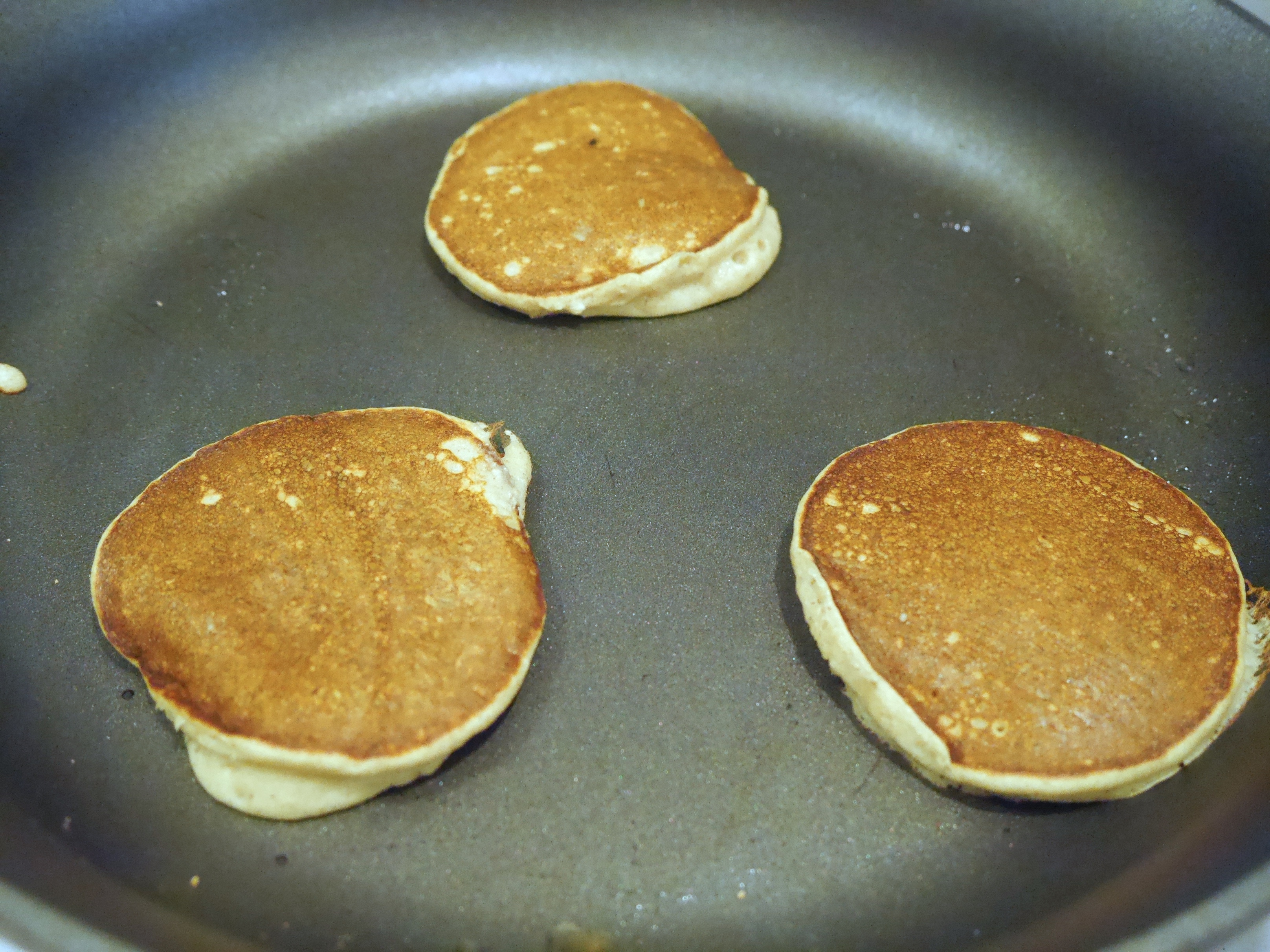 In a frying pan over medium low heat, melt a tiny bit of coconut oil, butter, or vegetable oil. Swirl it around so your pancakes don't stick, and then ladle a spoon of batter onto the skillet. I make my pancakes silver dollar size, and this usually makes about 7.
Cook for about a minute on each side, or until the middle of the pancake is set.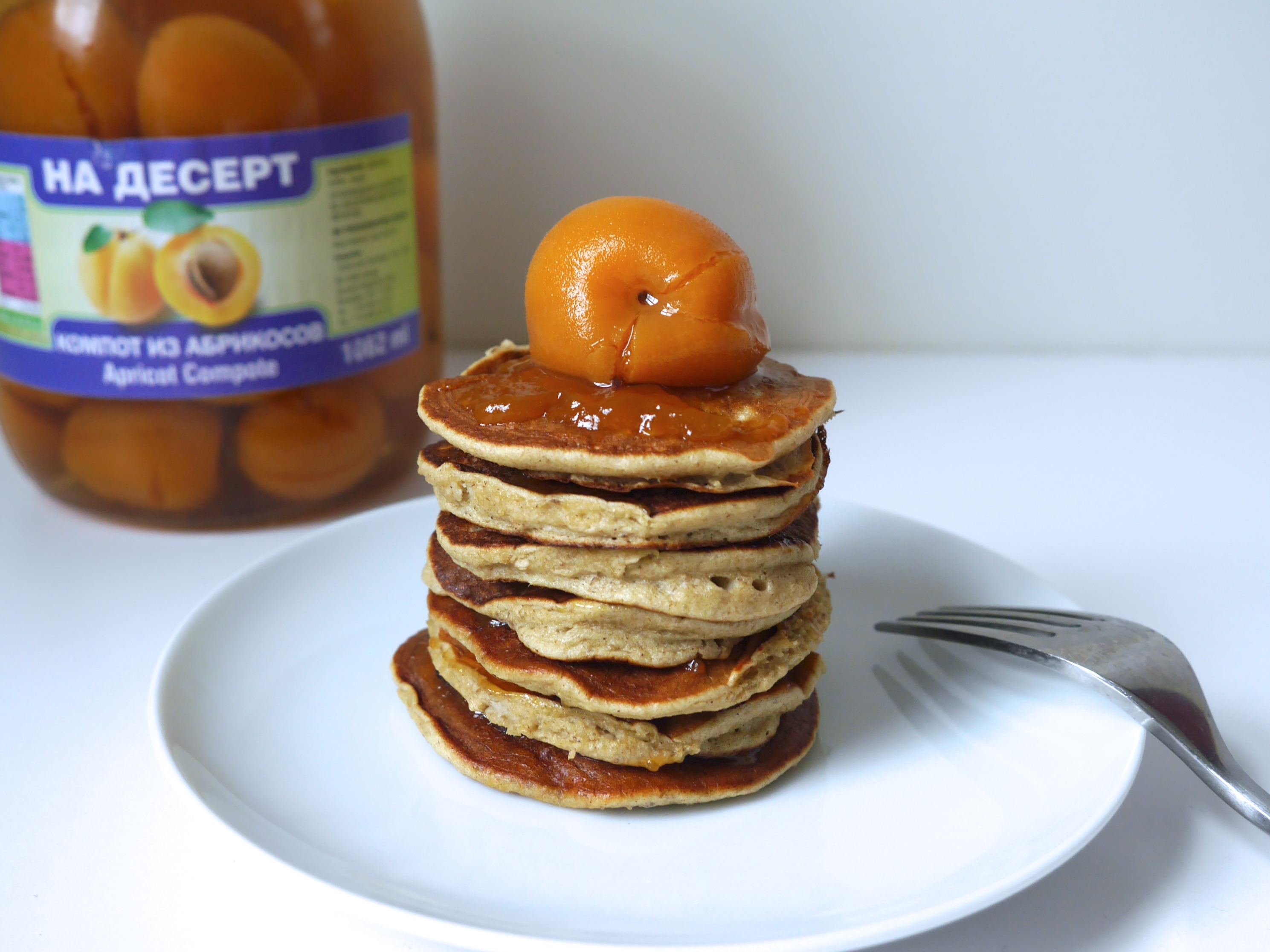 Pile up, and add your toppings! This stack was apricot butter and a macerated apricot on top, but below are my other variations!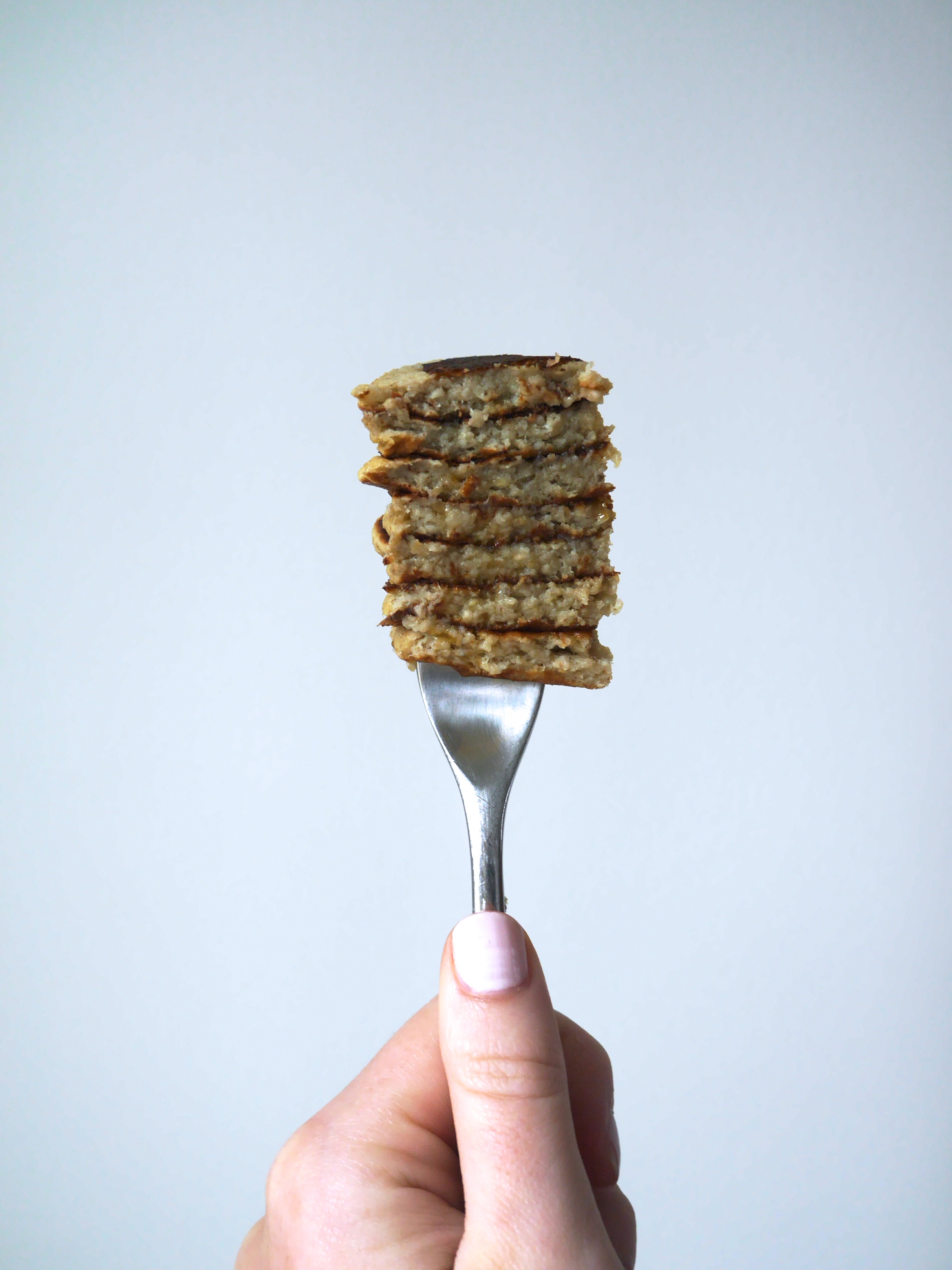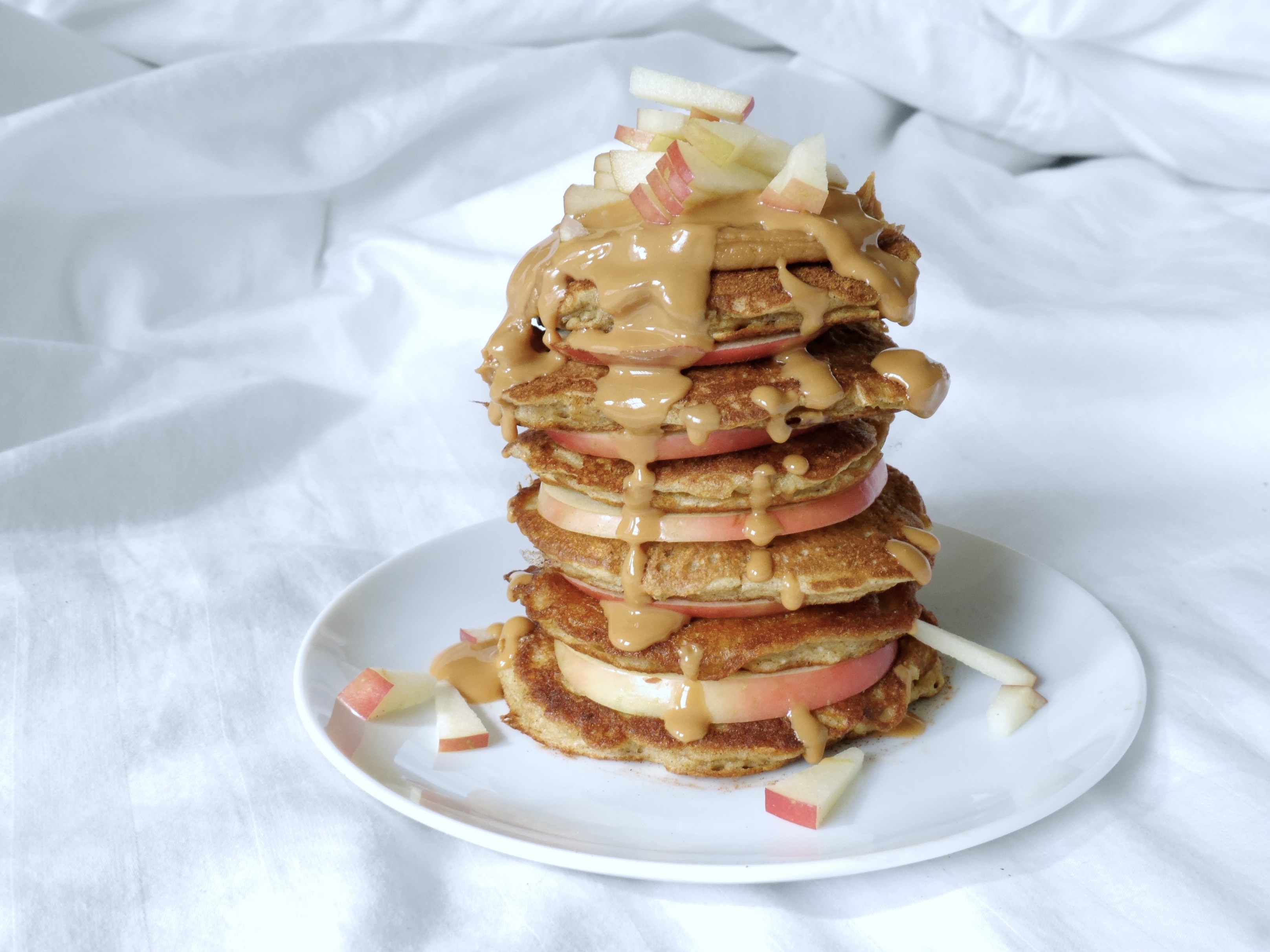 Apples and peanut butter.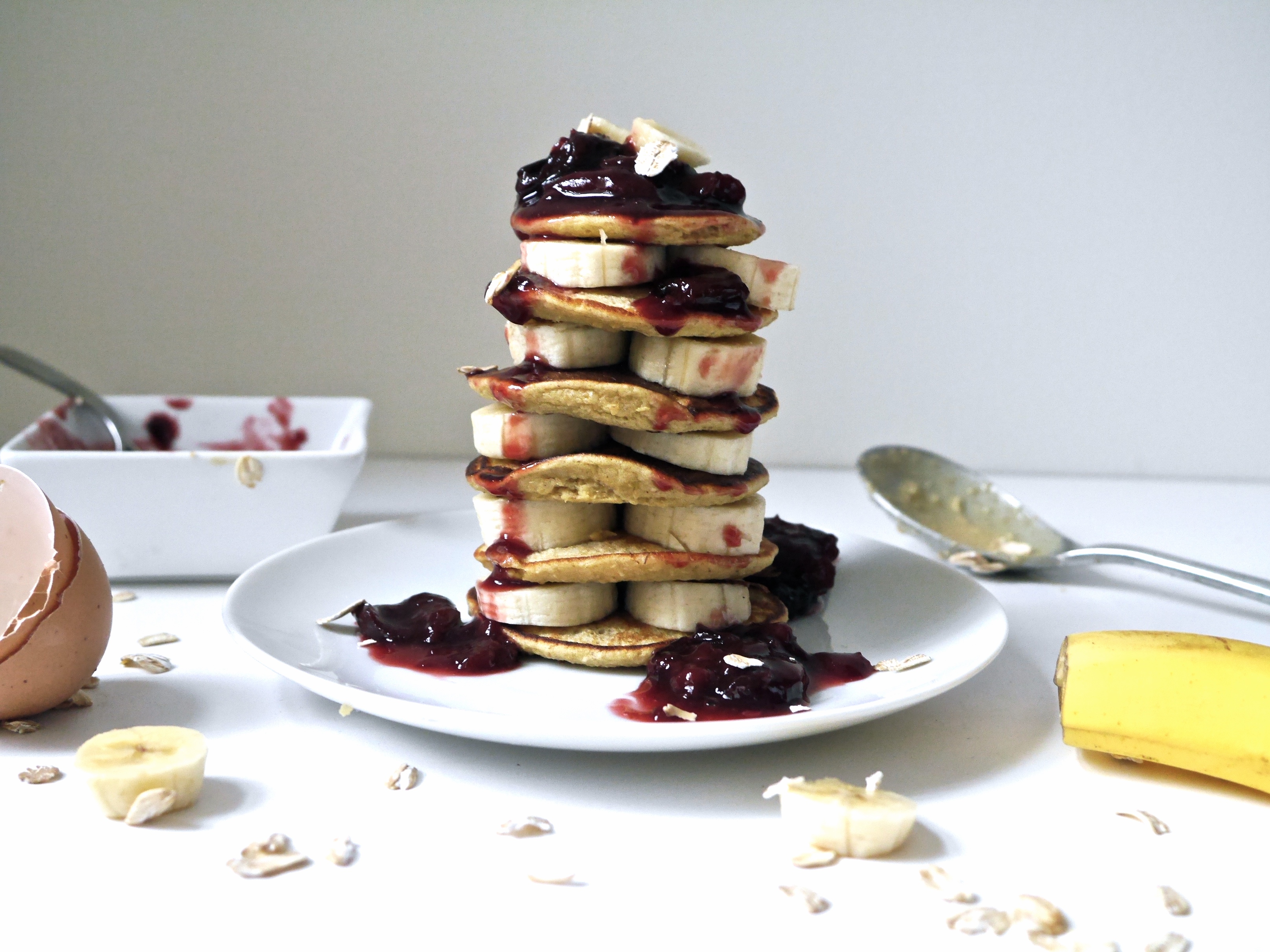 Banana slices and cherry compote.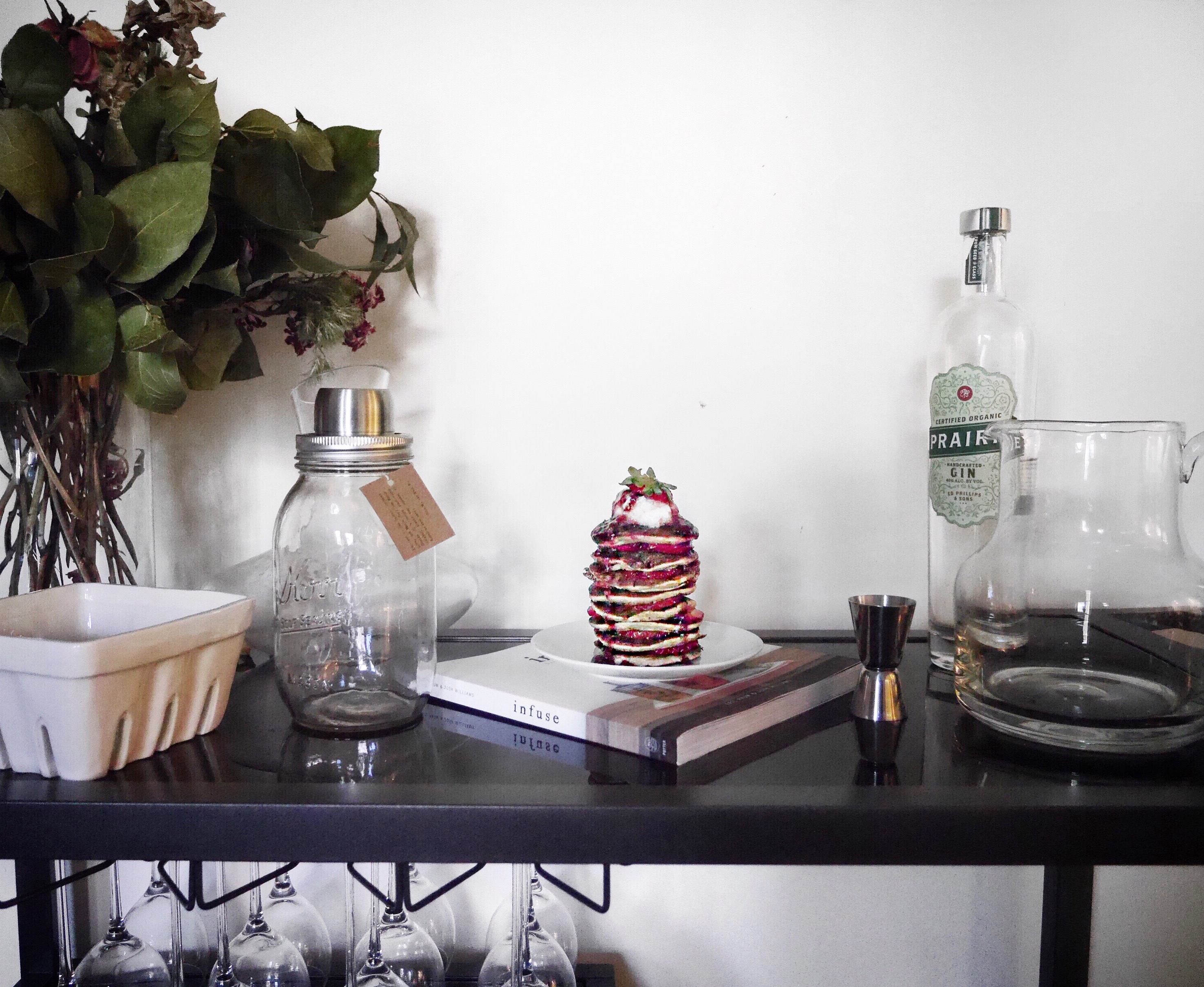 Strawberry jam and ricotta. Comment below if you have flavor combinators you love that I should try next!
Like this healthy breakfast idea? Try my protein overnight oats next!
Healthy Oatmeal Pancakes (serves 1)
1/3 cup old-fashioned oatmeal
1 ripe banana (brown spots are good!)
1 egg
1/2 t baking powder
pinch of cinnamon (optional)
splash of vanilla extract  (optional)
In a food processor or blender, combine oatmeal, banana, egg, and baking powder. Blend until completely smooth.
Heat a skillet to medium low heat, and melt a little coconut oil or butter. Drop spoonfuls of batter into your pan.
When the top of the pancake has bubbles, and the sides look set, flip over. Usually 1-2 minutes on each side.
Repeat with remaining batter and top with whatever you like/have in the fridge that day!