I'm so excited to announce *drumroll please*…..that my best friend Sam just had the most beautiful baby girl!! Amelia Grace was born on January 5th at 6 pounds 4 ounces and is perfectly happy and healthy, although I think she's has gotten a little more sleep than her momma the past couple weeks….
Sam handles the waking-up-every-two-hours thing a million times better than I could, but it still takes a bit of a toll on her, so I figured bringing over dinner would give her one less thing to worry about. When I came up with the idea of a "white" lasagna with alfredo sauce instead of traditional tomato, I realized I wanted one as well, so I made two and I'm so glad I did!
Layers of pasta get smothered in ricotta, spinach, caramelized onions, and juicy roast chicken, before being drenched in alfredo and cheese. Comforting, so delicious, and filled with veggies so we can call it healthy (muahahaha). Best part? We use bottled alfredo and a rotisserie chicken from the grocery which makes this an easy meal that has become a week night staple at my house.
Let's begin, but first, a picture of Amelia: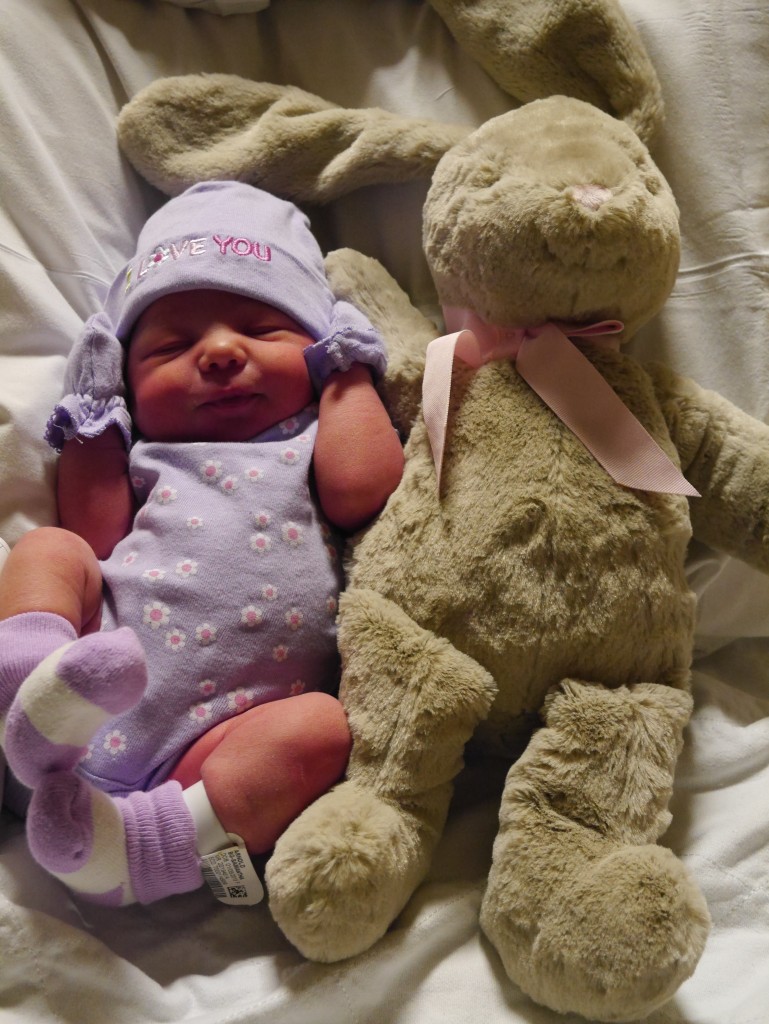 How cute is she?!?! Now on to what you came here for: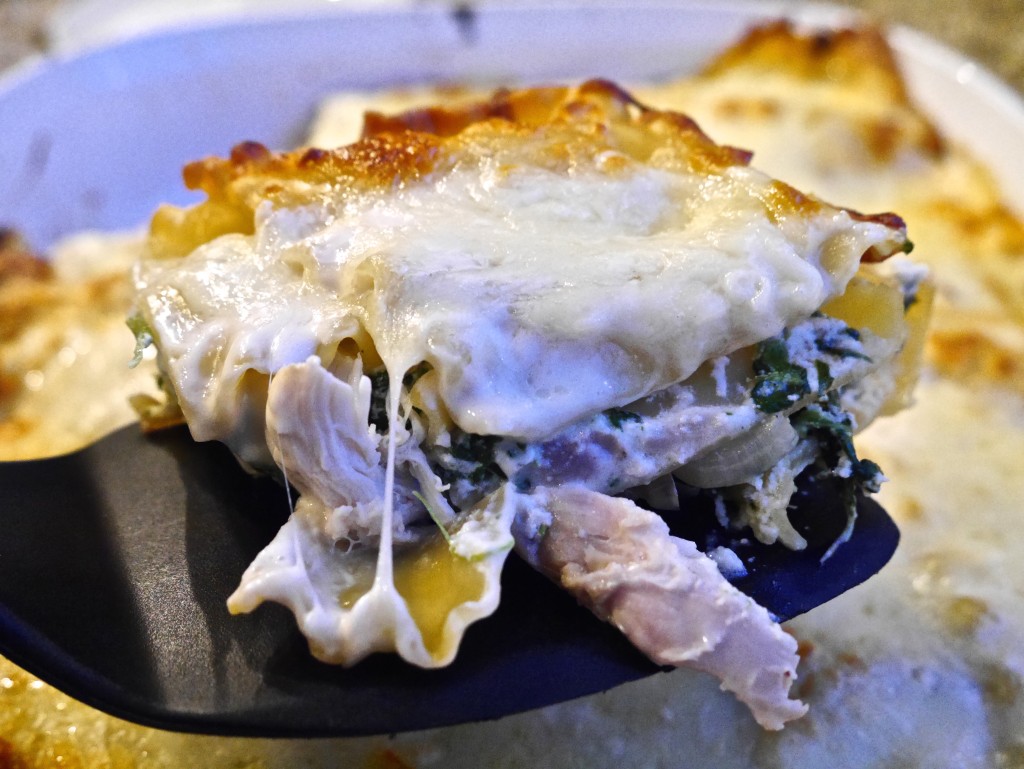 Look. at. that. cheese. porn.
The lasagna is a bit of prep work, but once you're done you just pop it in the oven and dinner is ready in 30 minutes! Alright:
One thing to point out before we begin is I made two lasagnas, so if it loooks like I have a ton of ingredients that's why. Start by slicing up an onion, soaking your noodles in the hottest tap water you have, and shredding the meat off a rotisserie chicken.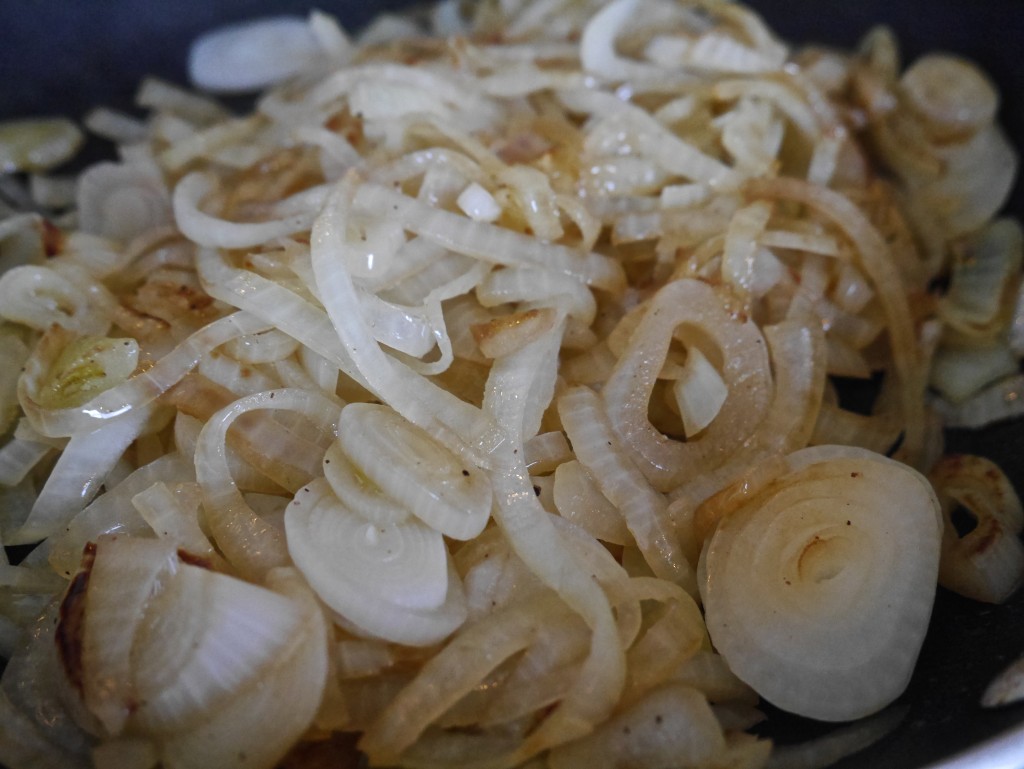 Saute the sliced onions with a little olive oil, salt, and pepper over medium heat until caramelized and soft.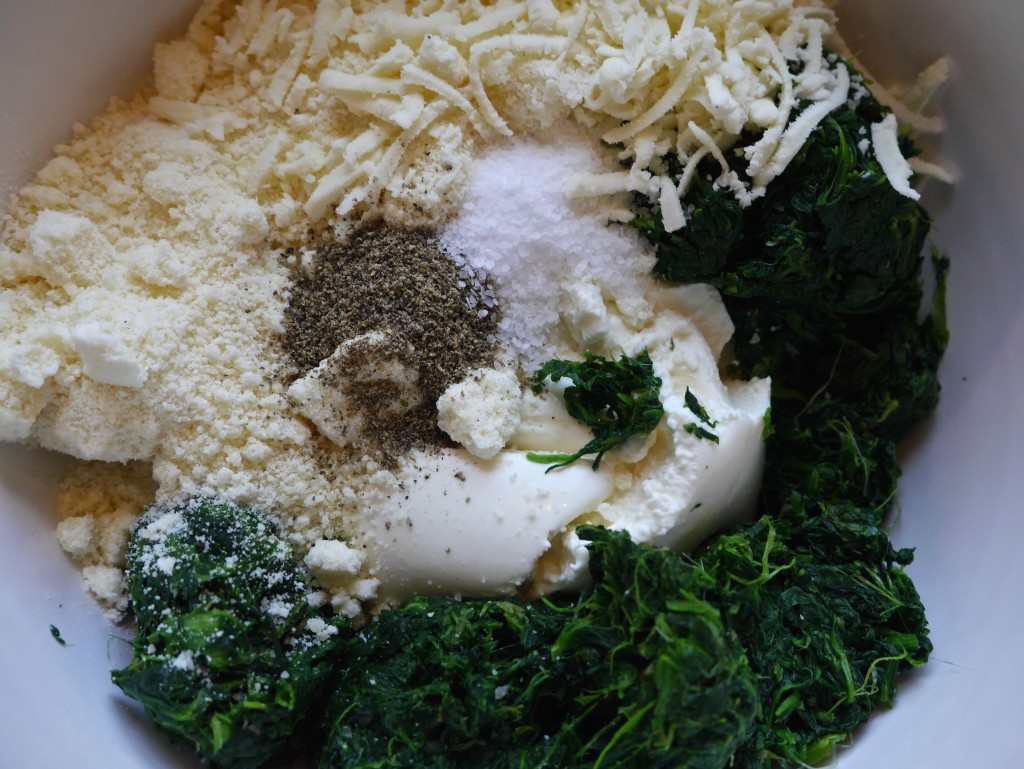 Combine ricotta, spinach, parmesan, mozzarella, salt and pepper into a bowl. Mix and season to taste and then stir in your egg.
Lay your first layer of noodles down into your pan, and then spread out the ricotta filling over.
Sprinkle over half of the roast chicken and onions, and then drizzle with alfredo. Repeat with another layer of the noodles, ricotta, and then chicken and sauce.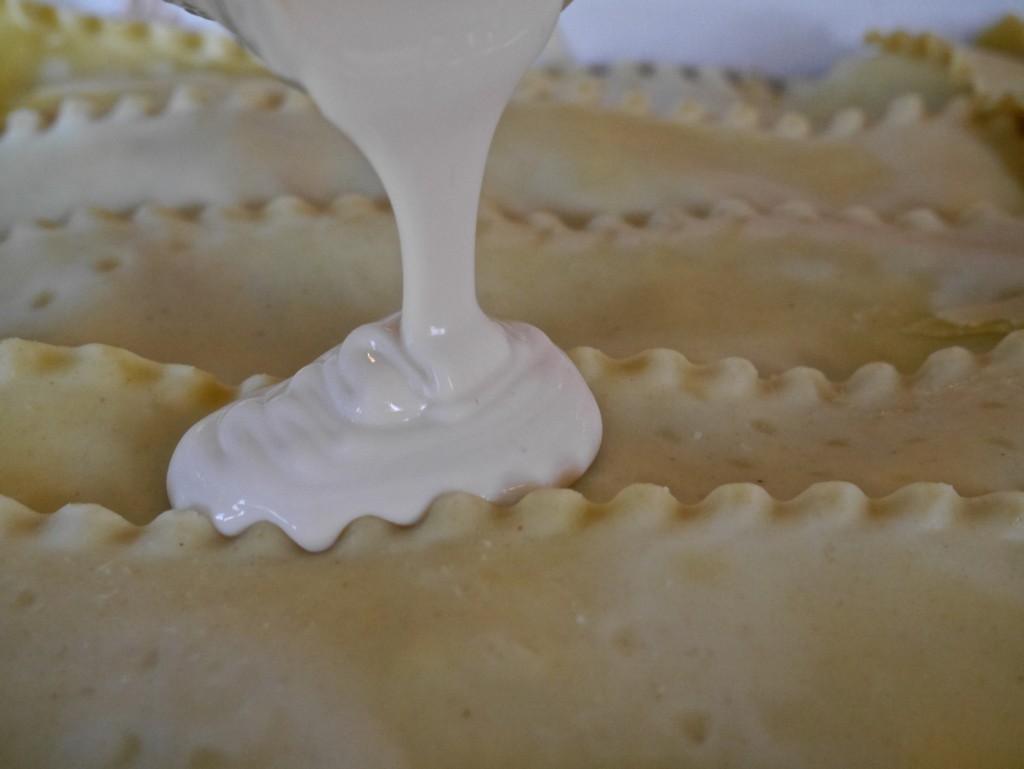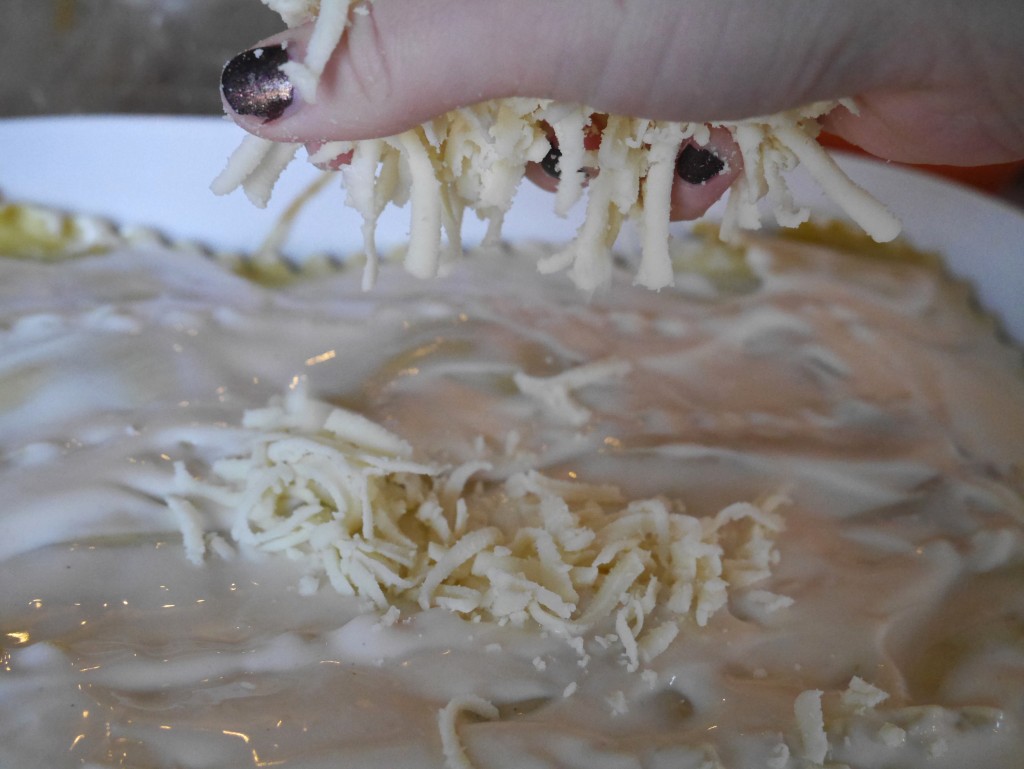 For the final layer, top with noodles, alfredo, and mozzarella.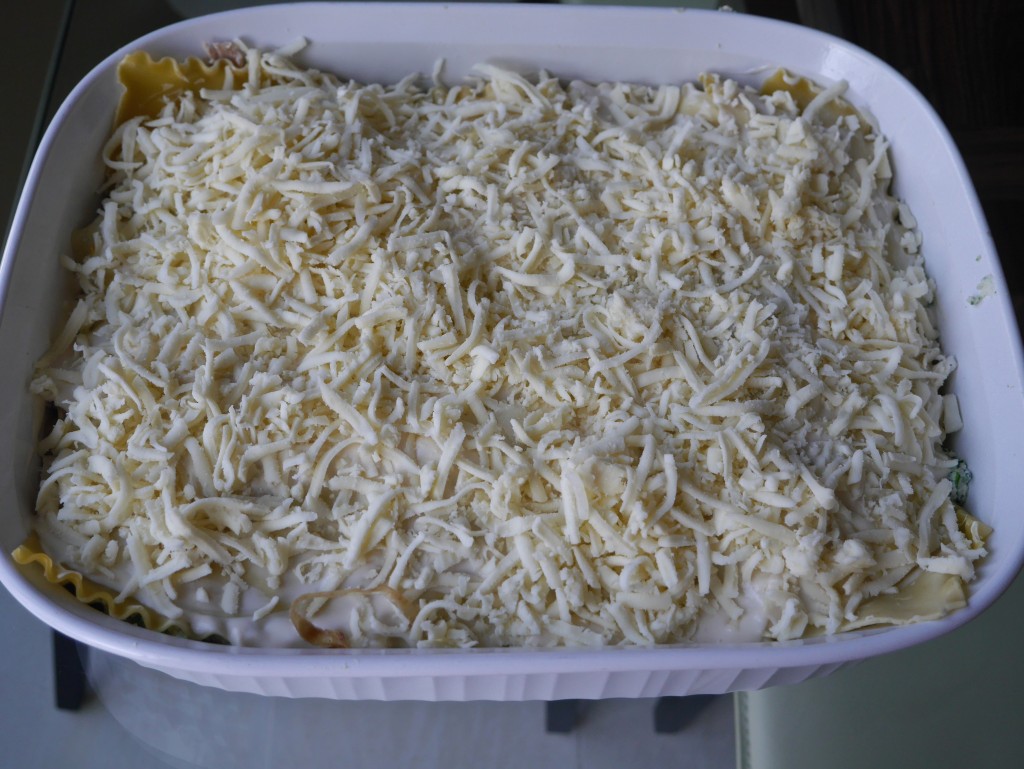 Cover that baby with foil and pop in the oven for 30 minutes, and remove the foil and bake uncovered until the cheese is golden and bubbly like so:
Cut out a (huge) slice, toss together a simple green salad, pour yourself a glass of wine (Doctor's orders), and you have the best Wednesday night you've had in awhile!
"White" Lasagna with roast chicken, spinach, and alfredo (serves 8)
1 box Lasagna noodles ( I used Barilla)
1 15 ounce container of ricotta
1 8 ounce block mozzarella, shredded
1 egg
1 10 ounce package of frozen chopped spinach, thawed and water squeezed out (amount doesn't really matter, I just found one that was 10 ounces)
1 cup parmesan
1 roast chicken
1 onion, sliced into thin slices
1 jar Afredo (I used bertolli garlic alfredo)
Olive oil
Salt and pepper
Preheat oven to 400.
In a bowl large enough to hold all your noodles, add the pasta and submerge under the hottest tap water you have. Let soak while you make the rest of the dish.
In a pan over medium heat add a splash of olive oil and saute onions until caramelized and soft, about 5 minutes. Salt and pepper to taste.
Combine the ricotta, 1/4 cup of the mozzarella, parmesan, and spinach and stir. Add salt and pepper to taste and then add the egg. Mix well.
Into a 9x12x2 inch pan, add small amount of olive oil and 1/4 cup of sauce to just coat the bottom of the dish.
Lay down your first layer of noodles and scoop half your spinach ricotta filling over the noodles. Gently spread over the pasta.
For the next layer add half of the pulled chicken and half of the caramelized onions. Drizzle over 1/2 cup of sauce.
Lay down another layer of noodles and then a layer of ricotta, chicken, onions, and sauce.
Top with the last layer of noodles, the remaining sauce, and the remaining mozzarella.
Cover with foil and bake for 30 minutes. Remove the foil and bake until cheese is bubbly and golden on top. Devour.